Einoti started at St Jude's just one month ago, while Christina, after 14 years at the school is preparing to complete her Community Service Year internship and apply for higher education.
We invited Christina and Einoti to meet and tell each other, and us, more about themselves. Glimpse into Einoti's bright future and take a trip down memory lane with Christina. See the impact of fighting poverty through education.
1. How did your families react when they found out you were accepted into St Jude's?
Einoti: My mother cried, she kept saying 'thank you' and she hugged me so tight. She threw me up to the sky!
Christina: I will never forget how overwhelmed my mum was. The first time I applied to St Jude's, I did not pass the entrance test. I was determined to try a second time, and when I passed, it was the happiest moment for Mum. We held onto each other for so long. Having a chance at St Jude's is amazing, and any family would want their child to have that chance.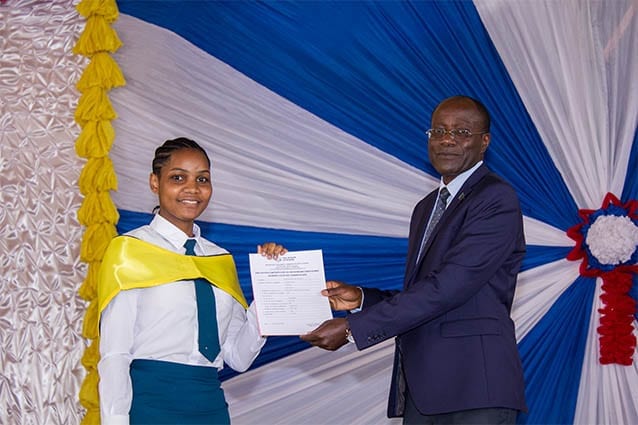 2. What do you want to become in the future?
Einoti: I would love to be a teacher because I enjoy learning very much.
Christina: I dream to be a social worker. I love people, and I want to help empower youth and girls.
3. Who are the people you admire most?
Einoti: I love my dad, because he teaches me things all the time.
Christina: Gemma [Sisia, school Founder]. She is an example of a woman who is strong and daring. I am sure most girls admire her and would love to accomplish something like she has. It is very challenging to start a school with only $10! It should be known by everyone that if you try something, you can get through and succeed.
4. Describe a little about your family.
Einoti: I just know that my mother cooks small bites on the side of the road. They are very long days for her. When I go home from school, I help her wash the dishes. I do not have any brothers or sisters, but I like to play with my neighbours.
Christina: Attending St Jude's has helped improved my whole family. I taught my young brother, who was not taught English in a government primary school. It was easy for me to teach him English because I learnt it through my entire schooling. Therefore, it was not so hard for him when he started at secondary school. My free education meant that Mum did not have to struggle so much to pay my brother's school fees.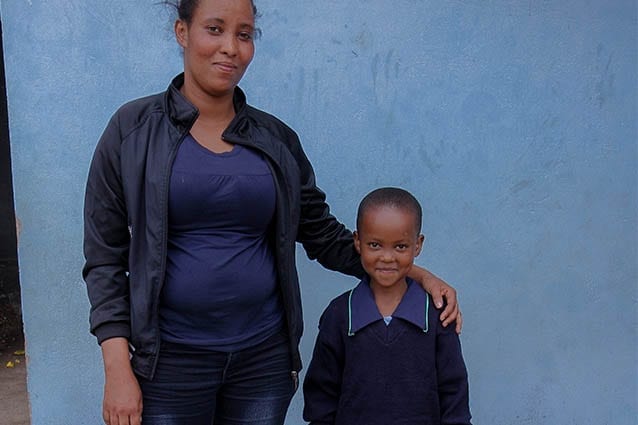 5. Einoti, why do you like coming to school at St Jude's?
Einoti: Because I love to learn, especially mathematics. And I enjoy eating the school lunches, rice with vegetables is my favourite!
6. Christina, how does it make you feel to see students like Einoti, who are just beginning their St Jude's journey?
Christina: It is emotional. It helps me reflect on my own journey, it makes me feel that there is progress and hope. Now, I can do anything I want with my life. Like Einoti, when I started school, I was quiet and shy. I never thought I could be a leader and yet in Form 5 I was elected as Head Girl to be our year's lead representative. St Jude's gives students the confidence and self-esteem to see challenges in the community, and find solutions. I hope that students like Einoti will have the same journey and positive outcomes as I have.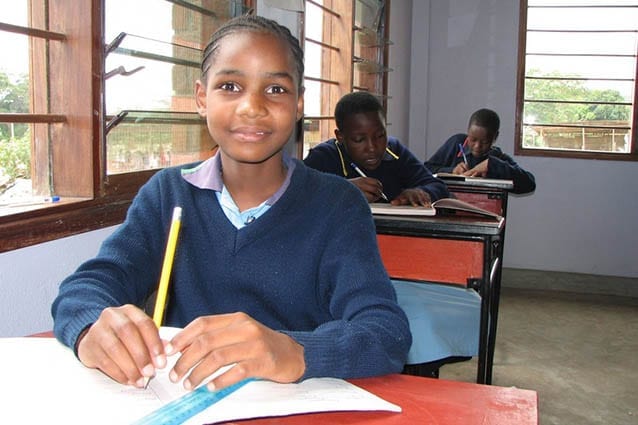 I can't believe it's that time of year again! My calendar is filling up fast, the wheels are in motion and it's thrilling to think that in less than one month, Godwin, our 2018 graduate, and I will be touching down in Melbourne – the first stop on The School of St Jude's 2019 promotional tour.
Godwin is an exceptional young man and a shining example of how St Jude's, the school so many of you helped to build, is transforming lives and communities in Tanzania.
Respect, responsibility, honesty and kindness are key values that underpin St Jude's. Many years ago, we decided to hang these words on signs across our school campuses. I dreamed our graduates would personify these qualities. Godwin does exactly that. I know you will love meeting him during the promotional tour, and I certainly look forward to catching up with old friends and making many new ones.
Between late February and the end of March, Godwin and I will be zipping between Australia's eastern and southern coasts and hopping over to visit our friends in New Zealand.
Click here for a list of upcoming events in each region.
See you soon, mates!
Gemma Sisia, Founder, The School of St Jude
Getruda is seven years old, she dreams of becoming a doctor. She lives with her mum, dad and three siblings in their two-roomed house in a suburb of Arusha.
Having applied to attend The School of St Jude along with over 600 other six and seven year-olds, she was one of the lucky few to secure a place and the opportunity of a free, high-quality education.
Her mother, Veraeli, who works from home repairing clothes, remembers the day she brought Getruda to St Jude's student selection testing.
"When I saw how many people were waiting and hoping their kids would get a chance at St Jude's I gave up and thought, 'there is no way she is going to get a chance', but I am so thankful to God that she was able to get in."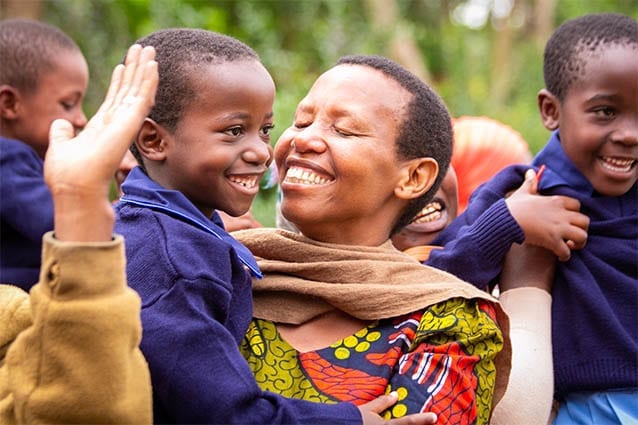 Like the majority of the adult Tanzanian population, Veraeli and her husband didn't go to secondary school and only received seven years of formal education. She hopes of a different life for her daughter.
"I also really wanted to go to school and even higher education and really wanted to one day be a teacher, but due to the situations of life I couldn't reach those goals," Veraeli reflected.
"Ever since Getruda was in kindergarten she said she wanted to be a doctor and now since she is going to St Jude's and because St Jude's is a very good school, among the best, I truly believe she will reach her dreams."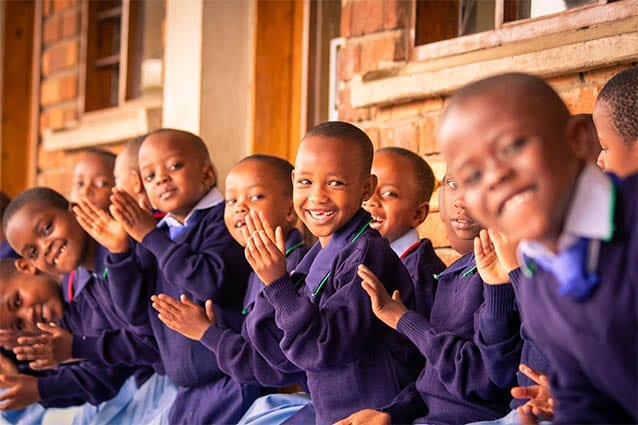 As a student at St Jude's, Getruda will have access to quality teacher support, appropriate class sizes, facilities such as science and computer labs, educational excursions and will be taught in English, giving her a huge head start compared with her peers in government schools.
Veraeli knows that Getruda has a special chance and that her education at St Jude's can make a difference to the whole family.
"I expect a lot from the education that she will receive at St Jude's, I hope that she will be able to help her siblings in learning what they haven't had the opportunity to. Even the older ones will be able to learn from her."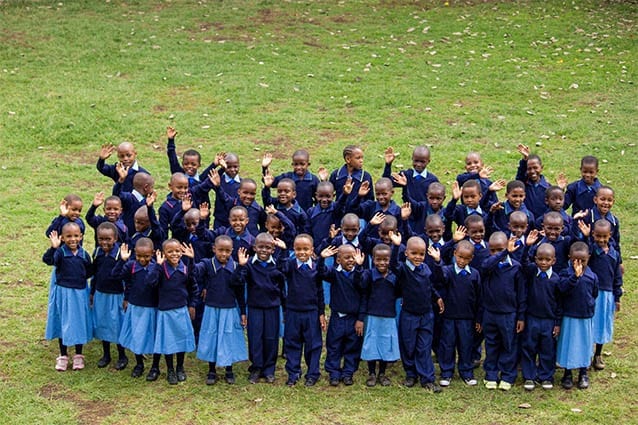 Attending St Jude's also removes the extra burden of having to find the money for uniform, books and contributions towards food that Veraeli already has to pay for her two older children to attend school and is standard practice throughout Tanzanian government schools.
"It makes me feel so happy to have my child study here. I know my child will get the education that I wouldn't be able to offer her in a better school out there. I am so happy."
If Getruda successfully retains her academic scholarship as she moves from each school level, she will have the opportunity to graduate Form 6, an achievement that less than 3% of children in Tanzania achieved in 2018. And with it, the chance to go on university and become the doctor she dreams of being.
Donate to St Jude's today to help make dreams come true.
Godwin can't wait to tell you about how receiving a free, high-quality education at St Jude's has changed his life.
The aspiring electrical engineer graduated last year, topping his class in both maths and science and is currently completing his Beyond St Jude's Community Service Year as a volunteer teacher in an under-resourced, local government school.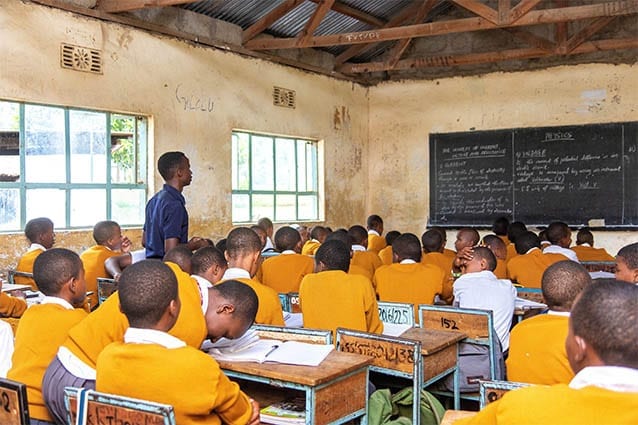 His sense of community spirit, determination and aptitude has certainly paid off; in addition to being invited by Gemma to join her for St Jude's 2019 international promotional tour, Godwin recently found out he has successfully earned a full scholarship to study a Bachelor of Engineering in the United States.
"It has been a great year for me so far! I have so many opportunities in my hands, and it is all thanks to The School of St Jude. It is my great pleasure and honour to meet so many St Jude's supporters, the people who have helped me become the young man I am, and thank them for what they have done, what they have given me," Godwin said.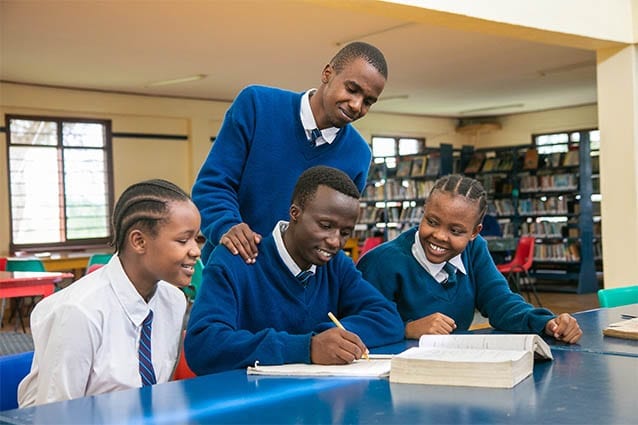 Like so many of our students, Godwin, who was raised by a single mother, has faced significant obstacles and challenges along the road to success.
"I did not start at St Jude's until secondary school, in 2012. I attended a government primary school and we did not have enough seats, teachers or textbooks. I remember each day around lunch time, I was so hungry that all I could do was daydream about drinking the porridge my mum would cook in the afternoon. It was all we would eat for the day," he shared.
"Sometimes, we had to skip meals. When I came to St Jude's, it was like paradise. We had three meals a day and everything a student needs to study hard. We were encouraged by our teachers. Thanks to St Jude's, I had chances to enter essay competitions and was fortunate to even win some of them. These small victories gave me confidence when I was applying for university scholarships. I have had a golden chance and the sky is the limit!"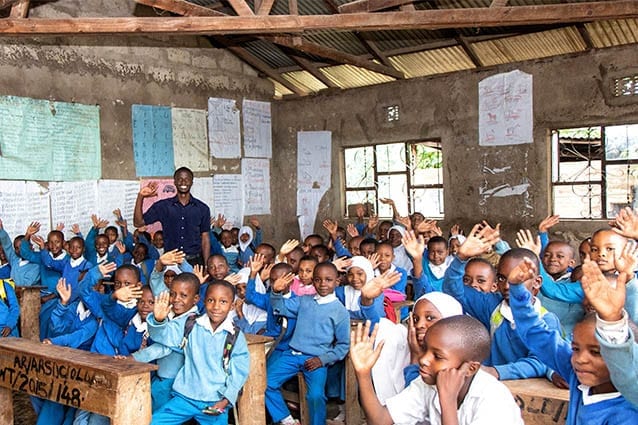 Godwin's educational journey has come full-circle. He is completing his Community Service Year at the secondary school he would have attended, had he not been accepted into St Jude's.
"I look at my students and see in comparison how tough it is for them. The government school has only two physics teachers for 1,500 students. There is no doubt that education is the most important weapon to fight poverty, and St Jude's supporters are helping us do this every day."
Don't miss out on the opportunity to meet Godwin and find out more about how St Jude's is changing lives. Stay updated with our 2019 tour itinerary!