*Mama Ngonahe quotes translated from Kiswahili and Maasai*
Stepping off the bus, visitors were greeted with stark conditions but a warm embrace and the smiling faces of dozens of children. They've arrived in the village of Langidare and are about to meet some of the most iconic and culturally rich people of East Africa.
The bright yellow St Jude's buses are well known here, as it's the home of Form 5 student, Lomayani, who belongs to the Maasai tribe.
Lomayani only returns home during midterm and end of term breaks, but the community know his St Jude's education is one of the only roads that will lead their village forward in the fast-changing modern world.
"I am so happy that Lomayani goes to St Jude's and I hope when he finishes there he can support himself and support our family when we need," Mama Ngonahe shared proudly.
Mama Ngonahe is one of three wives to the family chief, a cultural norm still widely practiced today. She is partly responsible for the survival of her community, where water is a luxury and wealth is measured by the number of animals the family owns.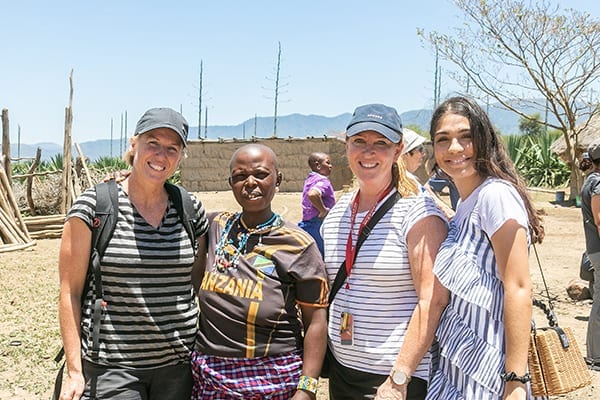 "There are some challenges here, especially getting water as there is not enough. There are also not enough homes for the children because each of these homes have about nine children staying there," Mama Ngonahe said, looking at her feet.
Knowing this, the visitor group didn't go empty handed, they've spent the morning at Goat Street, a bustling local marketplace for locals trying to jag the best goat. St Jude's Visitor Coordinator and fellow Maasai, Felix, purchased the pick of the morning's offerings, a pregnant doe, that the group later appropriately named 'Judy' after the school.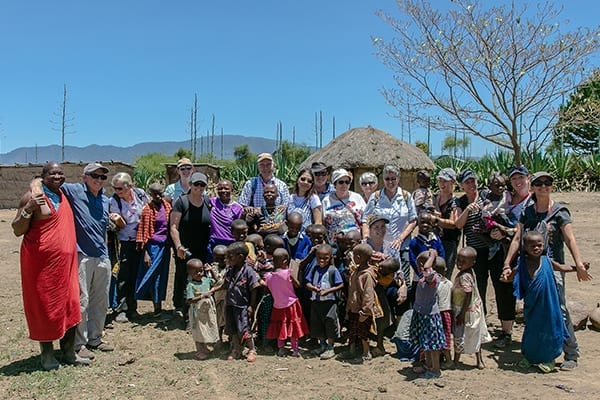 Gifting a goat goes a long way in the Maasai tribe, they're not only a source of nutrition but goat breeding can be a pathway out of poverty, meaning the family group couldn't believe their luck when he saw Judy was pregnant.
'Judy' was formally presented to the tribe leader by a male member of the visiting group and then an impromptu dance was performed by the Maasai children.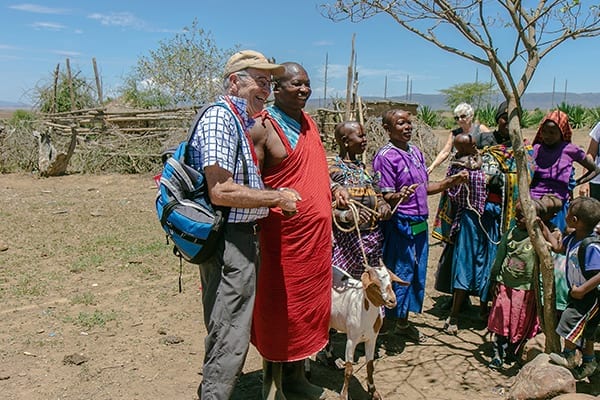 The Maasai have long captivated the imagination and intrigue of western travelers, their iconic red blankets (shukas), wooden staff (orinka) and sandals made from cowhide or car tyres, can often be spotted grazing their cattle along the roadsides of Northern Tanzania and Kenya. The opportunity to visit the traditional homes of this ancient tribe is an unforgettable experience.
For 25-year-old Melbourne Orthoptist, Olbie El-Ali, the chance to mingle with the Maasai is life changing. As she walks around the small mud huts in the boma- the traditional name for a Maasai dwelling- the children jump into her arms, intrigued by her skin and hair.
"I have really noticed the difference that education can make to a community like this. You can see the potential with the kids within this village and what an example Lomayani is setting for others," Olbie said wide-eyed.
Registered nurse, Lyn Whitlam from Sydney, spent time with the wives and was overwhelmed by the welcoming and nurturing nature of the tribe.
"The young children really looked after each other, the older ones were carrying their little siblings on their back to help out. To see a group of twenty-plus children looking out for each other was really special. Until they got the biscuits, then it was everyone for themselves," Lyn laughed.
The sugar biscuits were another gift from the group and a hot commodity amongst the children.
"We are very lucky. I feel that there would be a lot of people in Australia, and in other western cultures, that would love to experience what we have seen here and I will certainly be going home and spreading the word about what St Jude's is doing. I fully believe in the ethos of the school, fighting poverty through education, I think it's marvelous," Lyn reflected.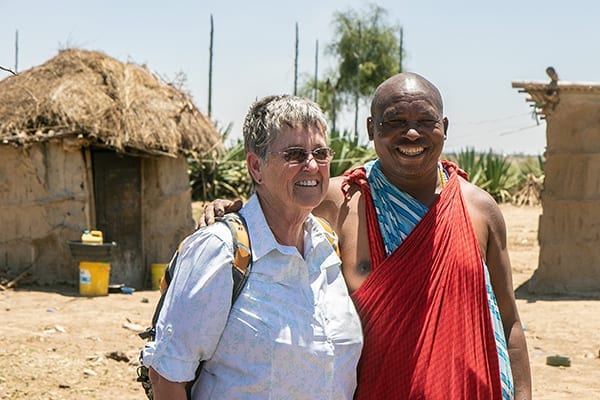 For St Jude's, educating students like Lomayani and giving visitors the chance to visit their villages, threaded with tradition, is helping strike a balance between positive change for the Maasai tribes' survival and maintaining tradition and identity.
"It's a happy life here, we are very happy," Mama Ngonahe smiled.
"Experiences like this change you and the way you think about what's important," Lynn replied putting her arm around Mama Ngonahe.
Experience a Maasai boma for yourself, pay us a visit and enjoy many Tanzanian cultural adventures.
Replies