Among the hustle and bustle of one of the fastest growing cities in the world, five St Jude's tertiary scholars are working hard towards an achievement that Founder Gemma only dreamed of for her students, when she started the school 17 years ago.

In just two years Hosiana, Suleiman, Esuvat, Elizabeth, Joshua and Abdulaziz will be the first scholars to graduate from medical school, and on their way to being leaders in the medical field.
"The School of St Jude has built us to become people who can initiate change, so I thought if I am a doctor, I can help. Not only will we be the first graduating medical students from St Jude's, we'll also be the first doctors on the streets and in the villages we are from. It's not just about practicing medicine but if something is wrong in the system then you should be the first one to speak up and improve it," 25-year-old Suleiman reflected looking out over his university campus.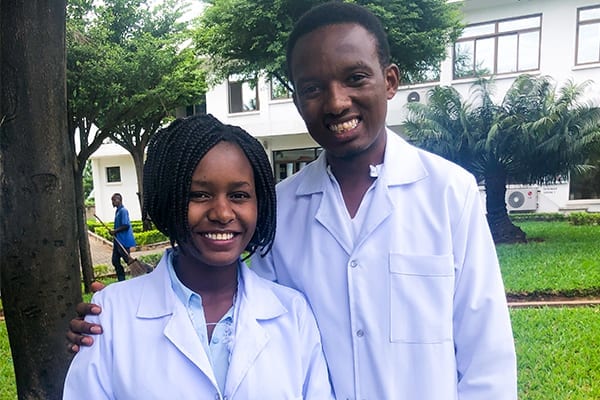 After graduating from St Jude's in 2015, the five bright St Jude's scholars are in their third year of the five-year degree at Muhimbili University, widely regarded as the top medical school in Tanzania. They are already making a difference to patients by spending some of their time out of the classroom and on ward rotations in the hospital attached to the University.
"We've just finished pediatrics and so far it's the most challenging department we have been to, but it is so rewarding to see a child come in very malnourished, for example, and to stay with them for eight weeks in the ward and then to see them go home nourished. As you move from one rotation to another you find you are actually able to do something, however small it is, to make a difference in a person's life," Suleiman shared.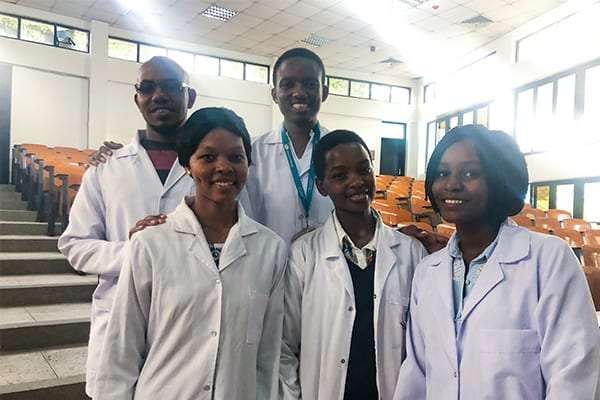 Upon completing his degree, Suleiman will undertake an internship to become a licensed doctor and plans to practice medicine before starting a Master's degree.
"As a specialist you can participate in policy making, you will have a voice and can help create change in our country. In Africa there are a lot of infectious diseases and if you don't have a good medical team you cannot combat the cycle of infections in third world countries like Tanzania. For example, we have a problem with dengue fever and malaria, and in Dar es Salaam we have had a cholera outbreak in some neighbourhoods. We need the right people in place to make the correct diagnosis and also to influence change. If you are aware of the problems you will be passionate to make a difference," Suleiman said.
That passion is shared by all five scholars who radiate pride for their St Jude's education. For 25-year-old Hosiana the transition from her home made of sticks and mud, to city living, has been easy thanks to the St Jude's community.
"Our St Jude's family has continued onto Dar. The five of us share a home together, we study, eat and socialise together. Having St Jude's behind us supporting us with a scholarship, it feels amazing to be the first group of graduating doctors. I am still connected to many St Jude's students and I help where I can with career counselling," Hosiana beamed.
This bright young woman is not only leading the way for St Jude's students but is bringing the barriers of inequality in the medical industry tumbling down.
"When I was young I thought all doctors were men as we had two doctors in our village, both were men. The ratio of male to female doctors is about 3 to 1 but it is great that the number of female doctors is continuing to increase. When St Jude's first visited my home as part of the selection process I said I wanted to be a nurse, not because I didn't want to be a doctor but because I didn't think it was possible. They made it possible for me," Hosiana expressed.
One of the driving factors motivating Hosiana when 'med school' becomes tough, is something she was told while at St Jude's.
"The school has always had this philosophy of building future leaders and I once heard Mama Gemma talk about her hopes that one of her graduates would one day be her daughter's gynaecologist because her experience showed that there were far too few of them. How special that because of my St Jude's foundation, I could be that woman and help her daughter."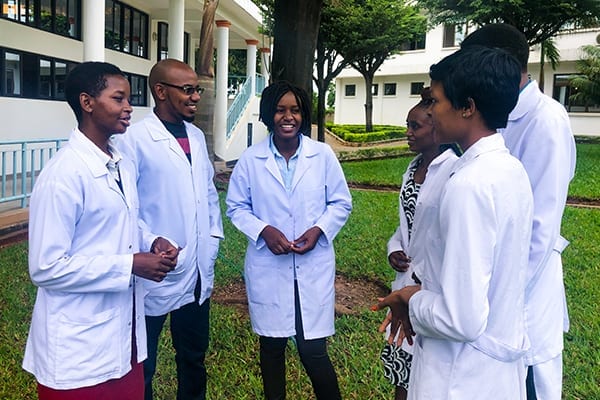 Suleiman and Hosianas' opportunity to excel is thanks to their Beyond St Jude's Tertiary Scholarships, which are supported by their long-term sponsors and covers tuition fees, students' living expenses, a laptop, textbooks and study materials.
"To be able to start my professional career without the burden of a loan to repay, is life changing. Having the chance to study in such a big city I get to meet a lot of professionals and I have received a lot of advice about what fields I should pursue," Hosiana elaborated.
Both scholars hope their achievement, come 2021, will inspire the next generation of St Jude's students and staff.
"No matter their circumstances, if they come from low socio-economic areas or marginalised backgrounds, they're not obstacles. We have been there and now we are here." Suleiman enthused.
All five aspiring doctors are true trailblazers, breaking new ground for the school they still hold close.
Their graduation in just two years is yet another milestone highlighting how the St Jude's graduates are challenging the status quo and finding solutions for the 12 million Tanzanians living in poverty.
"My family dreamed for me to be a doctor, but this experience has been bigger than I ever could have imagined. The future is bright," Suleiman beamed.
Help other students follow in the footsteps of these aspiring doctors who are working to transform their community. Sponsor a student or tertiary scholarship today.
Replies