Not many primary school students could say they've sung for a Queen, a President and a Prime Minister, let alone in the same room and at the same time!

Our School of St Jude choir had that chance at the 92nd Rotary District 9211 Conference in Arusha, held in early May.
The captivating performers passionately delivered the Tanzanian National Anthem for Her Royal Highness Queen Sylvia Nagginda of Burganda, Rotary International President Nominee Sam Owlori and Tanzania's Prime Minister Kassim Majaliwa.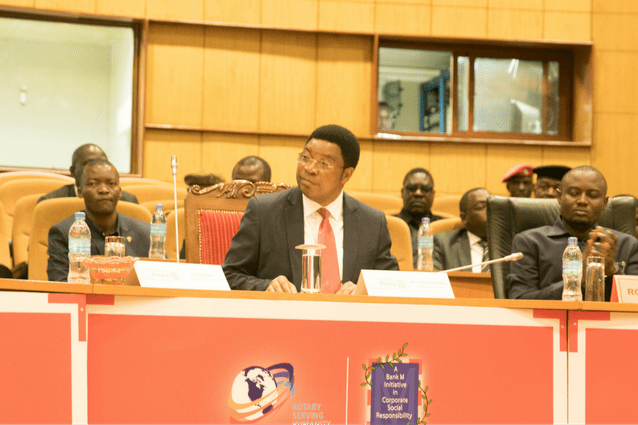 Leadership and pride echoed in their tune, setting the score for an exciting three days! 
The conference showcased the best that Rotary International has to offer. Clubs provide an environment for people of many ages to develop new skills, and have a lot of fun, while practicing the Rotary motto: 'Service Above Self'.  
On Saturday May 6, delegates braved the morning chill and painted the town red, marching through Arusha's streets donned in bold 'End Polio Now' t-shirts which were generously donated by Rotaractors from The University of Canberra. 
Our Rotary Coordinator, Sebastian Cox, glowed with pride as he walked side-by-side with St Jude's Interactors.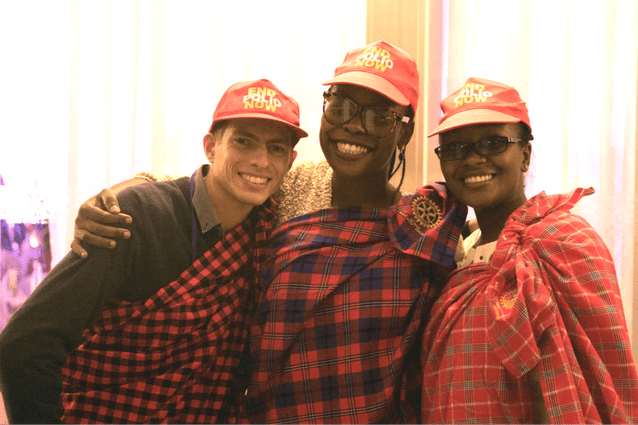 "The Polio walk gave Interactors the opportunity to be exposed to Rotary's largest project – End Polio Now."
"The eradication of Polio has been Rotary's largest project since 1985. Even though the incidence of Polio has reduced by 99.9% since 1985, an additional 1.5 billion dollars is needed to eradicate it completely."
"The walk was a highlight of the conference, given that the Rotary Foundation is celebrating 100 years," Sebastian added.
More than $2000 was raised at the march through the sale of 'End Polio Now' Caps.
Vivian Deus, Treasurer of the Rotaract Club of St Jude, says our students' contributions over the weekend were appreciated by all.  
"Earlyactors were the superstars of the whole conference! Their enthusiasm and stories brought most of the attendees to tears."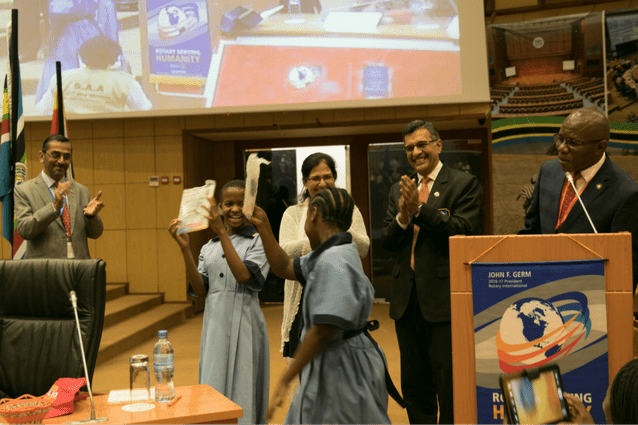 "They are living proof that our backgrounds don't define us – our future does," Vivian enthused.
St Jude's boasts the first Earlyact club in the whole district, although many have formed since.  
Our young representatives spoke fervently on what Earlyact is, the projects they have accomplished and what Rotary, as one of St Jude's founding partners, means to them. 
Interactor and conference delegate, Irene agreed with Vivian naming the Earlyact presentation, by far the most inspiring.
"They were amazing, fearless and confident. Noreen and Miriam made everyone at the conference smile and laugh."
"It's clear that St Jude's is producing excellent future leaders!"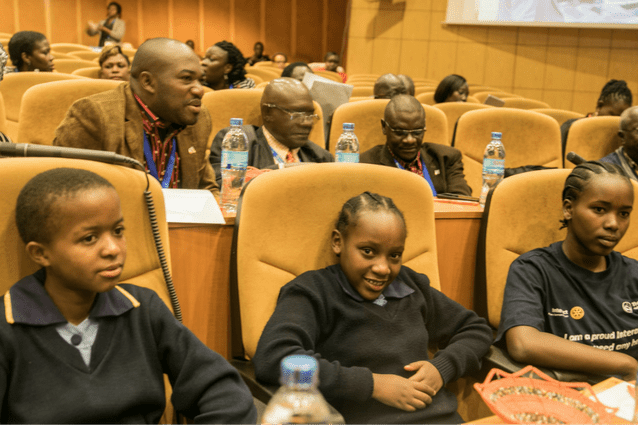 Learn more about the special relationship between Rotary and our school.
Spread the word about the success of St Jude's at your local Rotary club!  
I just came from a home visit to meet the student newly-sponsored by Seesaw (the wonderful graphic design and branding geniuses who have partnered with St Jude's to help us achieve our new look on a pro-bono basis). She's in Grade 1 and doesn't speak much English yet, but I communicated with her by drawing pictures of trees and animals in the window condensation, eliciting some smiles. It was pouring outside which created pools in the dirt roads, but after a bumpy ride, the student, the translator, Mzee, and I made it. 
 
Seeing the mother swelling with pride over her daughter going to St Jude's was a beautiful experience. It showed me that her education matters not just abstractly the way it might for you and me but in a way that will completely change and uplift the family. (She's already passing on information by tutoring her younger sister.) There's hope in the mother's eyes when her daughter shares her aspirations to become a doctor but not without the recognition that it'll be hard work which she makes clear to me.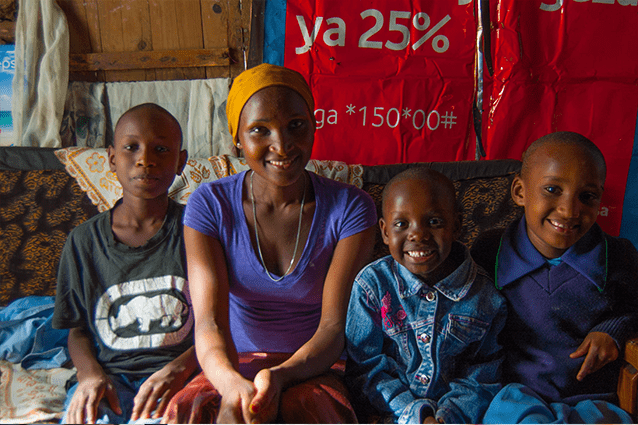 As a designer, it's a unique experience to see the direct impacts of the organisation I'm working with. Normally, I finish a project and move on to the next without much feedback beyond a short email. Working on location at St Jude's has been completely different from working remotely in Melbourne—I see the full life cycle of St Jude's mission when I work with interns who have graduated from the school. Their stories of rising out of extreme poverty to receiving acceptances into international universities are almost unbelievable.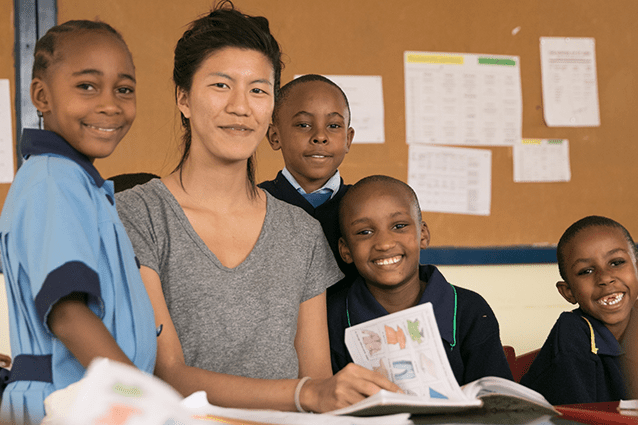 Working here as a designer, there's not much to complain about. Both my Australian and Tanzanian co-workers have welcomed me heartily. Since we're all here as part of a bigger vision, the collaboration is natural. Plus, it's a new and valuable opportunity to work within a marketing team instead of a group of designers. When working on a design team, the importance of look is elevated, but being here exercises my skills on clarity and function in relation to our target audience more so than anything else. The lesson of communicating with co-workers who have skills outside of design in order to reach a common goal has been invaluable, and I've only been here for a few weeks. I can't wait to keep learning, to keep seeing the success of the students, and to keep designing.

ou too can have a working adventure at St Jude's! We're currently looking for enthusiastic, talented people to help us spread the word, so consider applying today.
Our EarlyAct and Interact clubs are now official members of the international Rotary family!
Their initial hard work was officially recognised with a celebratory event filled with fanfare, songs and inspirational words late last year. This "Installation" event featured guests from Rotary groups in the Netherlands and Belgium, and those clubs closer to home welcomed them with open arms.
"To the students of St Jude's, I recommend you to ask us, as your local Usa Rotary Club, if you need help with your community projects as we will be there to help you," Usa River Rotary President Rebecca Saunder said.
Rebecca spoke about the benefits of the global Rotary family and, along with our school founder Gemma and fellow local Rotary district assistant governor Anna Rweyemamu, gave certificates to each of the EarlyAct and Interact students.
EarlyAct and Interact are Rotary-associated clubs that help teach the important Rotary message of service above self. EarlyAct is designed for students between five and 13, while Interact is for our students aged between 12 and 18.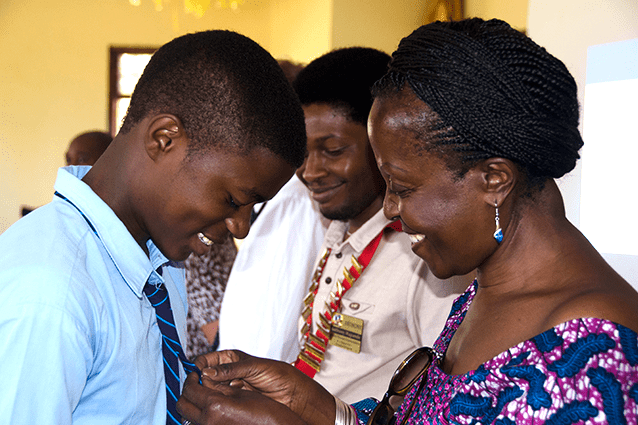 Each elated EarlyAct and Rotaract student received a certificate, handshake and praise for their hard work to set up the clubs and become officially installed. Gemma was clearly impressed by their achievement.
"All of our students involved in Rotary really put St Jude's values into practice, they represent the school wherever they go," she said.
Our EarlyAct students value their newly-recognised club, as they spoke of what they would like to achieve with Rotary over this school year.
"I want to have more kindness in our community," Anthia in Grade 3 said.
"I need a clean environment and more children to play with," Noreen in Grade 6 said.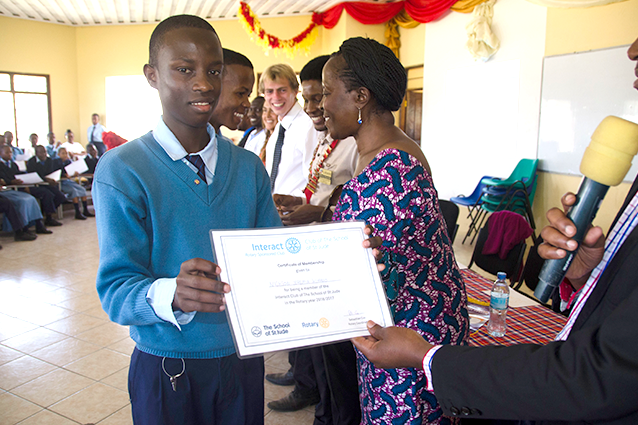 As an Interact member, Eric in Form 2 has really taken the club to heart.
"I wanted to join our Interact club to have the opportunity to help people around the world and to build friendships among those living around me," he said.
"I heard about Rotary from the community work they do. Rotary came to my aunt's village for a project that helps preserve the rain, so I decided to join Interact and help too."
Rotary is strong at St Jude with over 70 members across both groups and room to grow. Keep an eye out to see what they achieve next!
We're proud that our Interact and EarlyAct clubs are now officially part of the global Rotary family. You can help spread the word of our school, and how it has thrived thanks to our Rotary relationship, by downloading a presentation pack here.
More than 500 promising primary school graduates streamed through the St Jude's gates late this month.
They arrived early, prepared for testing and hopeful of securing a St Jude's scholarship that will ensure they receive a free, high-quality education through high school.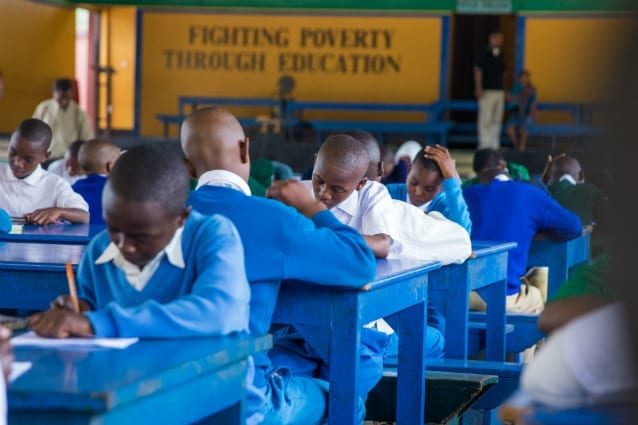 An opportunity like this doesn't come along often in Tanzania, one of the world's poorest countries. Just 7.5% of the total population over 25 years old has a secondary education, so those who are eventually chosen from this eager group already have a chance at a brighter future.
Each of these students have already showed their dedication to education – due to their impressive exam results, they were invited from under-resourced government schools to vie for fewer than 100 Form 1 scholarships available.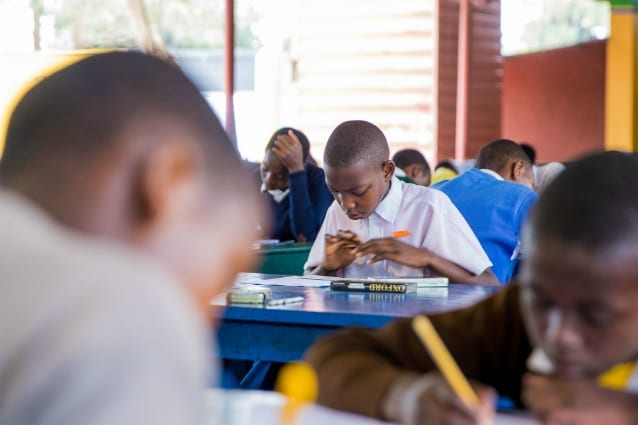 "Student selection is very important to St Jude's and it's imperative we get it right," testing co-ordinator and Community Relations Manager Charlotte Peyrat-Vaganay said.
"This process gives the most diligent students the best chance of receiving a well-educated future."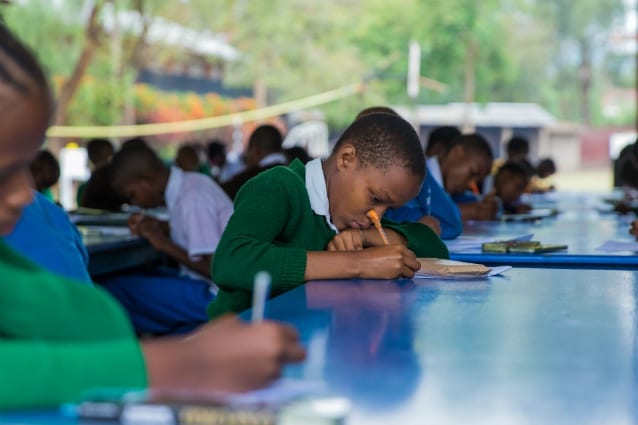 Each year St Jude's awards scholarships for free high-quality education to the poorest and brightest students in Arusha.
New students are enrolled in a number of different age groups, from Grade 1, right up to Form 5, the second last year of high school.
In August, more than 700 students from across Arusha participated in a similar process for our 2017 Grade 1 scholarships.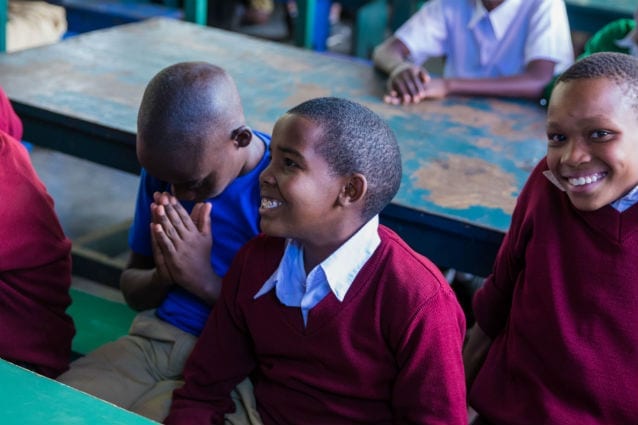 Students who successfully pass the academic testing must then pass a poverty assessment to ensure we reach the families who need your support the most.
Donate today and help our school continue to offer a high-quality education to promising but underprivileged students in Tanzania.
They've finished in the academic top 1% in the nation, and now our Grade 7's are showing their maturity by demonstrating community spirit during their holidays.
Our Grade 7s recently came third from 68 schools in the district and improved in the national rankings. All students finished with marks of either 'A' or 'B' in their national exams, qualifying St Jude's as one of the top primary schools in Tanzania.
Primary school headmaster George Stephen was unsurprisingly thrilled with the outcome.
"I would like to congratulate every one of us (within the primary school) who worked to achieve these good results. Your hard work is appreciated," he said.
"Let's continue working towards more performances like this."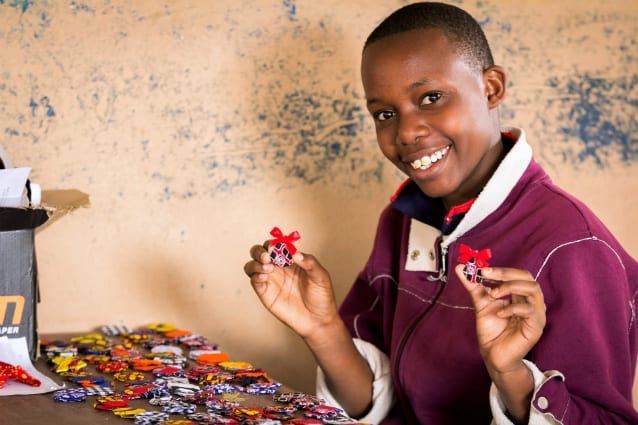 More than 30 of these enthusiastic, soon-to-be primary school graduates have busily spent their end of school-year break volunteering for our school community.
Anethi (Annette) is one such inspirational student. She has chosen to give back by helping to prepare the hundreds of meals our kitchen serves each day, as well as sharing her creative skills in the art room.
"I wanted to help so I just said I would (in both areas)," Anethi explained, adding that she knew she could be an asset in the kitchen as she often helps her mother prepare family meals.
"I help in the (school) kitchen by washing utensils, cutting vegetables and helping serve lunch."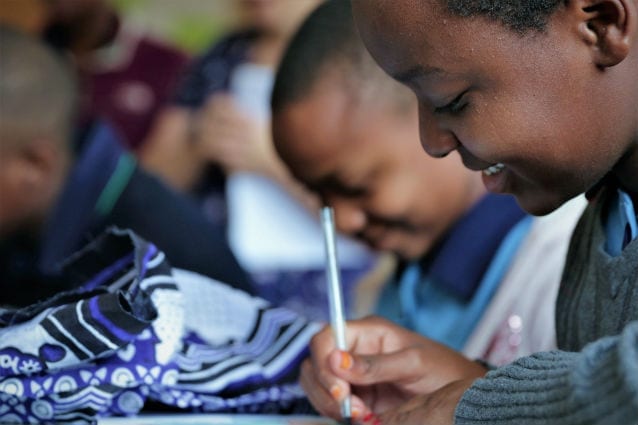 Anethi, along with her friends Nasma, Nasabi, Martha, Elizabeth, Lightness and Brenda, help create Christmas cards and crafty creations for our supporters. Her favourite project has been bottle-top earrings, which Gemma will bring on her tour next year.
"I really like making the earrings and working with my friends on crafts," she said, singing the praises of Miriam, a St Jude's Form 6 graduate who is co-ordinating the program.
"She's good, she helps us lots and it's fun. I am enjoying it very much."
Miriam said she has appreciated working with the young students, and enjoyed giving them guidance in both life and their art projects.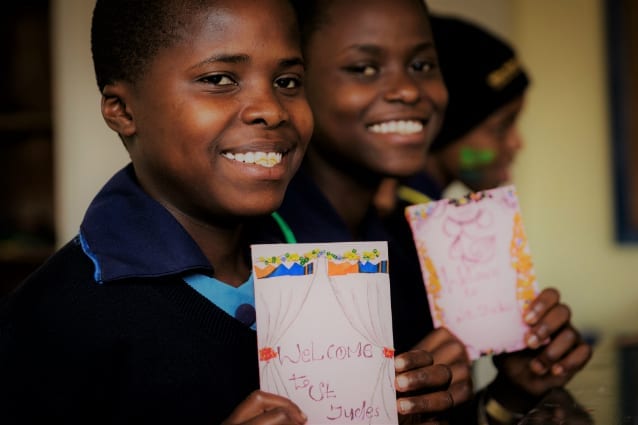 "Originally I was hoping to have 10 students (to help with projects), but the 7 I have are better than 10. They are perfect," Miriam said.
Miriam said students like shy, smiley Anethi were greatly appreciated for their volunteering, and the Grade 7 group as a whole are high-achieving, excellent examples of student leaders.
Donate to St Jude's and help us remain in the top 1% for many years to come. Go here to find out how.
2016 graduate and Community Service Year intern Godfrey has been working with the Marketing and Photography teams here at St Jude's for the last two months. The talented 21-year-old has been hard at work, helping on a range of projects and improving his skills.  
Godfrey's most recent piece of work is a short video that shares the day in the life of our boarding students. 
"I like videos," he said.
"I like the way I can tell a story through photos and videos. They are a way of expressing feelings in the modern world, they allow us to share stories about the past, the present and look into the future.
"My favourite part of the Community Service Year has been learning new skills with videos and editing and getting the chance to take photos and film videos.
"I enjoyed doing that in A levels (Form 5 and 6) very much. Now that I get the chance to do it full-time, I feel very blessed and very privileged to do what I enjoy." 
Godfrey has big plans for the future.
"I had thought of studying engineering but know I have fallen in love with graphic design and photography and videography," he said.
"I think now I will go for a course that includes graphic design, photography and videography to keep developing my skills." 
With work like this video it's not hard to see why. Keep an eye on our social media for more of Godfrey's work!