Students and staff have entered one of the most testing times of the school year this month, putting pen to paper for the midterm exams.
National Examinations in Tanzania are tough and all students across the country are required to be assessed at multiple stages of their schooling. Exams in Standard 7, Form 1 and Form 6 are particularly crucial as they will have to reach a standardised level to be able to move on to the next stage of their education.
The midterm assessments are designed to identify students' progress so far and enable teachers to give students who might be struggling additional support. They also contribute to the student's all important report card, sent home to their parents and to their sponsors.
For primary student Theresia, her five exams are helping her to thrive in high pressure environments, something she'll very much need to fulfil her dream of becoming a doctor.
"This year I think I improved because I got more time for revision and boarding has contributed a lot to my performance because we get time to exchange ideas and we get more time to revise. This year I think I am going to improve more than any other year," Theresia beamed.
Students will sit up to eight exams over the two-week period, testing their nerve, as well as their learning.
"Sometimes we get nervous but we advise each other before and after the exam. One thing that helps me is when you get the exam you first settle and read the questions twice," Theresia said taking a deep breath as she speaks of her exams.
St Jude's Primary Headteacher, Mr George ensures all his teachers help prepare the students psychologically and intellectually, especially for those where exams on this scale are a new challenge.
"At a primary level we have students who are doing the new curriculum which was introduced by the government from 2016. With the new curriculum we have a new subject called "Civic and Moral", so that is something we are all still having to adjust to," Mr George reported.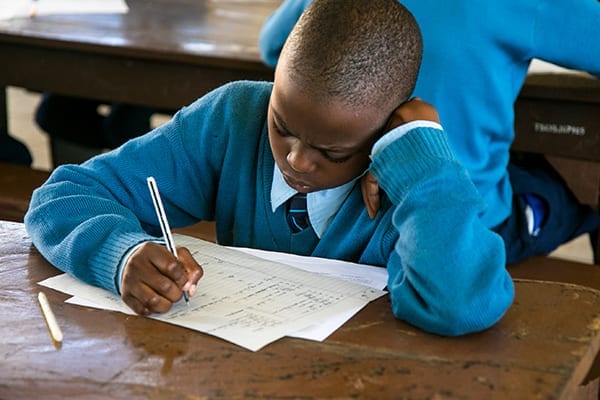 For Secondary Headmaster, Mr Mcharo, who oversees students at the opposite end of their schooling, the exams are a tool to see if his senior students are reaching the benchmark for further education.
"We have those who want to apply for scholarships to higher education which have conditions, universities need to know if students continually perform well. Students up to Form 4 are expected to have a minimum Grade B in performance and A level students need to have a Grade C," Mr Mcharo explained.
Sharing his vision for The School of St Jude, Mr Mcharo says that while the school has a history of performing well in the National Examinations he has aspirations to see the school firmly placed in the top five performing schools in Tanzania.
"We hope the performance of our school is improving because we've been a bit more strategic on how we approach assessment. We help create a similar environment and pressures to when they take their exams for real, this helps them be prepared and helps them to study consistently across the year by being assessed regularly."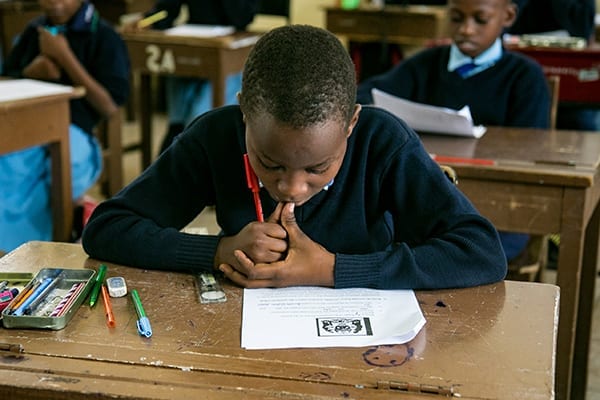 School Prefect and Form 5 student, Silvia, knows these exams are one of the key steps in her St Jude's education journey. The knowledge she's learnt ahead of her maths and science exams are giving her the best chance to become a pharmacist.
"My best subject is chemistry and I want to perform high. For me at the start of the exam, I check the questions that I can get the most marks and I start doing them first. I think studying, exercising and sleeping in the lead up to the exams helps a lot," Silvia revealed.
But perhaps the best advice comes from the aspirational secondary school leader.
"Work hard is twentieth century vocabulary; we encourage students now to also work smart," Mr Mcharo smiled while observing his students studying hard in the Smith library.
Turning one of the most testing times, into the most rewarding.
Support one of our aspirational students, and help them achieve in their exams by sponsoring an academic scholarship today.
Seated around a small wooden table, under a rusty tin roof, with poultry brushing past their legs, Australian visitors Allanah and Vanessa have stepped into a life very different from their own.
They've been warmly welcomed to Standard 2 student Selina's home in Njiro, an economically diverse residential area in Arusha, that is facing many challenges. Selina's family of seven cram into the two-roomed home each night after her father finishes work as a builder and her mother has spent the day looking after the children.
Selina has become an important member of the family after being accepted into The School of St Jude last year. She's already flourishing at the school, receiving straight A's in her last academic report and even teaching her older siblings English.
'We were very happy when Selina got chosen for St Jude's. I never thought one of my children would go to such a school, Selina's mother shared while proudly looking at Selina.
She knows a St Jude's education makes it much more likely that Selina will continue with her studies and reach university too, unlike the 97% of Tanzanians aged 17-22 who aren't enrolled in further education this year.
The conversation began to flow between the visitors and the family, with the help of Selina's teacher translating between English and Swahili.

Selina's after school activities were discussed; chores to help the family and the Tanzanian version of dodgeball for fun with her siblings. Family sizes were then compared with Selina's mother curious to ask the western women why in their culture mothers are having less babies and at a later age.
'You could see we were curious about each other; they were very welcoming. It was special to see that Selina being selected to go to St Jude's was such a big thing in their life. They feel like they've been selected amongst their people, Vanessa reflected.'It was lovely to interact, even though there was the interpreter, it still felt very personal,' Vanessa added.
A warm cup of ginger tea and roasted peanuts are offered around, with the help of the surrounding neighbours, who dropped in to see what the increased activity at the home was all about.
Vanessa and Allanah also gave the family a gift pack filled with essentials like soap, oil and a solar torch. A small gesture in appreciation for the rare and authentic interaction.
'I haven't really done anything like that before, it was good to get away from the typical touristy things that you would do on a trip and experience real life for these people and where they are living. You can prepare in your mind for what to expect, but it's never the same as being there.
Having the animals so close to the house and the small living area, their bedroom and everyone in the one room was eye-opening, Allanah commented.After a tour of the humble village, both Allanah and Vanessa walked away with a new outlook on life and understanding the wider impact St Jude's is having for the whole family of a student.
'You can see where the St Jude's money is going across Arusha every single day, it's very visible how the money is being used. It's all for a good cause and going to the right people and the right needs, Allanah said, looking at Selina as she plays with her younger brother.
'Today's visit is a good reminder for us because we keep thinking we need more and more and more and that's not really what happiness comes from, Vanessa expressed as she smiled at Selina's mother in acknowledgment.
Both Allanah and Vanessa want to visit again, cementing a special bond with Selina and her family.If you would like to meet one of our inspiring students and be warmly welcomed into their home, email our visitor team at visitor@schoolofstjude.co.tz
Fresh off running a grueling 5kms with some steep climbs and rocky terrain, Form 4 student Baraka couldn't believe he finished in the top 30 at the international contest.
The 17-year-old proudly spoke of his Kilimanjaro Marathon run, where he was met with cheering crowds in a packed out stadium as he crossed the line in 22nd place, ahead of 678 other competitors. "It was really tough; I've never run such a long distance but it was a really good experience. I was able to see some of the professional athletes compete, they are very inspiring. Some of the winners even sprinted most of the way. We have been training hard but the hills and mountains today were particularly challenging," Baraka explained, punctuated by heavy breaths.
13 secondary students from St Jude's rose before dawn to pound the pavement, with the massive mountain making for the perfect backdrop to test their limits. Competing alongside their teachers and against the best from across Africa, their impressive results are a credit to their commitment and training.
Form 2 student Lucas crossed the line in 13th position, Baraka was the 22nd arrival and Form 1 student Jenipher secured the 31st spot.
Each student competitor credited their extensive training in the lead up to the event, where they trained for an hour a day, with no excuses!
For Form 4 student, Happiness, running 5km would have only been a dream if not for the specialised training program.
"We are used to doing smaller races, metres instead of kilometres, 100m or 200m for example. We need to work on speed more. It's teaching us about determination and hard work," Happiness said red-cheeked from her run.
Students also praised the adrenaline from the crowd, who cheered them through some tough conditions that even challenged the most advanced runners.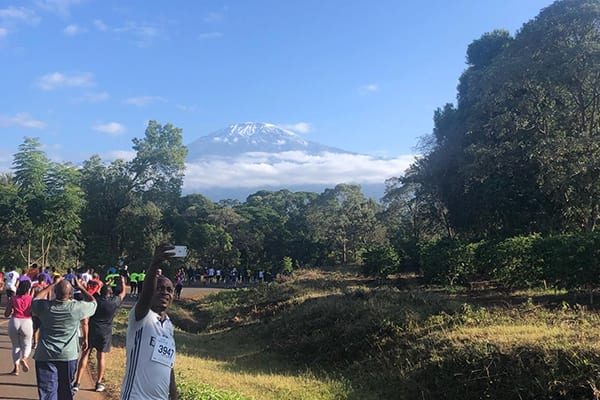 "The steep hills and mountains were definitely the hardest part. We also had to dodge a lot of runners competing over different distances but the cheering crowds made you forget about the pain," Happiness shared.
The marathon event, which also has a 21km and 5km distance, is part of the school's Vocational Skills program that includes athletics, basketball, football and volleyball programs run by the Vocational Skills department teachers. All are part of helping St Jude's students achieve outside the classroom, as well as inside it.
"I really hope to continue with my running and it can complement my studies," a beaming Baraka added.
The school's staff also tried their luck at the brutal half marathon, completing 21kms around the base of Mount Kilimanjaro.
St Jude's Photographer, Onesmo Daniel, was amongst them and crossed the finishing line in just under three hours.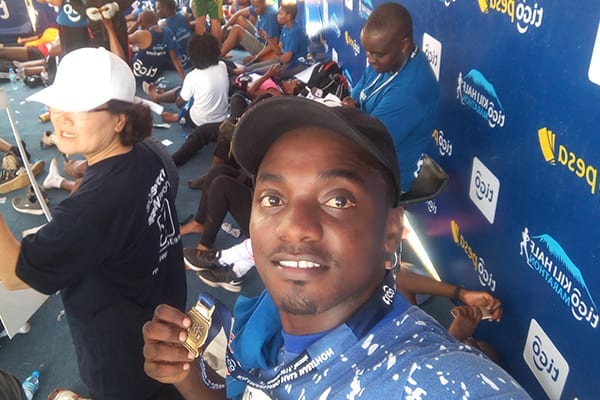 "We didn't do as much training as last year, so I was getting a little tired, but I am proud. We actually started late so the biggest challenge was catching up to other competitors, but with my final position I overtook 1,000 people. It was so nice to see our students there and I hope next year they can run the 21kms for the extra challenge," Onesmo smiled.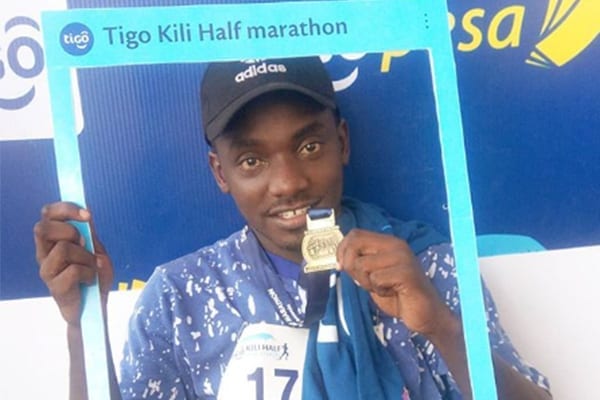 Tanzanian Athlete, Emmanuel Giniki, won the overall half marathon gold medal finishing the course in an incredible 1hr 3mins, in front of the home crowd.
But after a champion effort by our secondary students and staff, could Emmanuel have a future fierce competitor in someone from St Jude's?
"I don't see myself quitting my day job and becoming a professional but for the students I can see that because they are strong competitors, they have big futures ahead," Onesmo laughed.
Thanks to the generosity of our school's supporters, our students will continue to achieve in all kinds of arenas. You can help expand their opportunities by making a donation!
The student sat still, a stethoscope on their heart, an otoscope in their ears and an ophthalmoscope waved over their eyes.
This is just part of the routine our brilliant team of health professionals undertake when assessing every child at St Jude's from head to toe, when they visit the school each year.
They're ensuring students can read their school blackboards and books, hear their teachers and are fit for class.
It's no small task to adequately assess the needs of 1,800 students in just two weeks, but with decades of experience in a range of medical fields, the team saw the students in record time. The team then use their findings to refer students to medical professionals in Arusha for further assessment and support.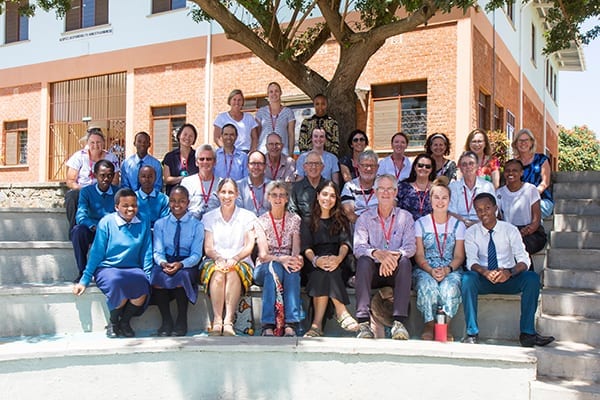 With an even wider variety of clinicians this year, there was an increased focus on 'Orthoptics' where students received a more in-depth assessment of their eyes and more recommendations could be made.
The multi-disciplinary team also included a wellbeing group, comprising of social workers and school psychologists, who held professional development seminars to help teachers identify and address mental health issues students may experience.
For Melbourne Physiotherapist, Jane Larkin, who co-led the Health Check program in its twelfth year, it's about making a tangible difference during their two-week stay.
"These students come and get ten minutes of our time and it can be life changing for them. There was a student that thought she would never be able to board at St Jude's because of her health, but now as a 17-year-old she is studying and living with her peers in boarding and absolutely thriving. Being able to facilitate that transition and for St Jude's to source things to meet her needs, I think has made a huge difference for that student, " Jane smiled.
Newcomer to the Health Check team this year but long-term sponsor, Kerrie, was part of the team that checked each child's height, weight and BMI. Not only does this highlight malnourished students who can be given an increased diet, these measurements are also a requirement from the Tanzanian government.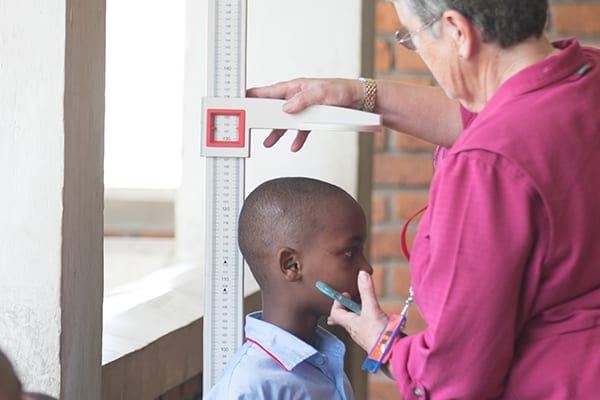 "I was impressed with how many students were really interested in finding out about their health. The older ones even wanted to know what the nutrition protocol from the World Health Organisation was for their age," Kerrie reflected.
It was a special moment when the students whose academic scholarships Kerrie sponsors went through the checks.
"It was very emotional because I hadn't seen the girls for six years, since I last was at the school, and it was just so rewarding to see how well they are doing, how healthy they are and how well they are getting on at school," Kerrie gushed.
For the Sunshine Coast local it's been a privilege watching the growth of the school and its students.
"I've noticed since I visited six years ago just how everyone's health and wellbeing has improved. The students were really open and welcoming, they just wanted to chat and engage with you," Kerrie expressed.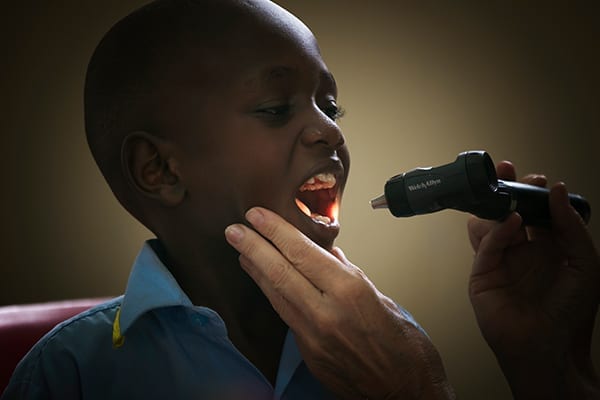 The team are vowing they'll continue to contribute for another decade, but their ultimate goal is to help upskill local Tanzanian staff, so that more minds and bodies can be kept healthy all year round, one checkup at a time.
"For us to be able to screen these students and find local follow up here in Arusha, it can actually make a difference," Jane smiled, proudly looking at her team.
Are you interested in spending time with our students and staff? Visit St Jude's and join our community!