The start of secondary school can be nerve-racking and uncomfortable for all sorts of reasons, including an introduction to more subjects, new teachers, and a new environment. Few can honestly claim that they relished the opportunity in those first uncertain weeks to fumble their way through secondary school; luckily, St Jude's students were taught and guided by some of the country's brightest teachers, and one of them is Mr Meshack.
Everyone who has gone through St Jude's secondary school probably knows who Mr Meshack is. Here at the Alumni office, we see many students who are applying for scholarships getting recommendation letters from Mr Meshack. This clearly shows us how much the students trust and find him reliable. We would like to let everyone know Mr Meshack is a Manchester City and Simba FC football fan (we hope that does not put off people from reading the rest of the article).
This year he celebrated ten years at St Jude's! Mr Meshack joined St Jude's in 2013. His first job believe it or not, was an ICT teacher; in his first interview, he was asked to be a boarding parent as well. First time he took on this specific role,he drew reference from his old boarding patron when he himself was a boarder for six years. Mr Meshack during his decade at St Jude's has witnessed may changes for example the introduction of holistic education.
Mr Meshack's current role is Head of Department (HoD) for Math's and ICT, he unquestionably has come a long way. "I never thought I could be a leader, I was shy and very cool person since primary until I graduated my Bachelor's degree. I had no confidence to stand before people and present any idea. Being a teacher at The School of St Jude, I started learning some skills and got used to standing in public and speaking." Mr Meshack said. So, as you can see with practice and time, you too can come confident, these things do not just happen overnight.
In 2016, he was appointed to be the Assistant Head of Department. He found it hectic however with good and experienced leaders to learn from he was promoted again in 2017 to his current position. In Mr Meshack's words a "leader needs to be a role model, and a person of integrity and also understand the diversity of peoples personality."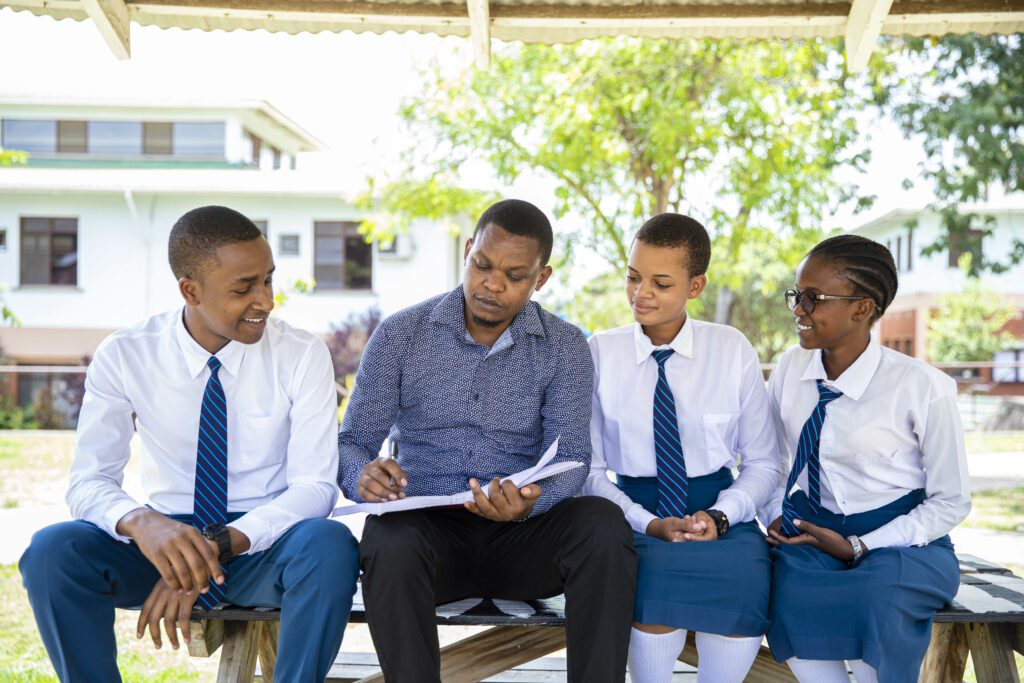 You can tell Mr Meshack is always ready to help his students. He has always loved math since pre-school, and teaching the subject now is a plus for him. After Form four and Form six back in his days Mr Meshack volunteered (like what many of our students are doing through APP or CSY) teaching math's. He volunteered at Moshono and Baraa secondary school.
We asked Mr Meshack to recall a time the students made him proud. Mr Meshack is very humble so you will be pleased to know that according to him every class he taught made him proud from 2015 all the way to 2022.
However, two classes stand out to him, the class of 2015 made him proud because not only did they pass their examinations but because of what he instilled in their minds, the skills he shared and right now some of his students are mathematics teachers, and the best part is they tell him they are applying techniques he taugh them with great success! Another class was 2019. In his words, "the class was amazing!" and he added "this class made me shade tears of joy." And he did not stop there "they hit first position in the country, unbelievable!", class of 2019 you clearly made Mr Meshack super happy as you can see.
No matter how positive Mr Meshack is about math, he says it has its challenges: "A challenge which I am facing is the false ideology which many students have that math is difficult and just for a few gifted people. This ideology hinders many students from opting for mathematics in their carrier."
The advice Mr Meshack would give all of you:
They can be whatever they wish to
In whatever you do, do it with your heart, passion and power
Believe in teamwork
If you are still chasing for job opportunity, volunteer somewhere for a while.
Be humble and a person of integrity
Leaders are not born but made
In whatever you do, always put God first
In his free time Mr Meshack likes to exercise with his friends and in the evening, he loves to read different articles specifically about the gospel of Jesus. He sometimes spends a few minutes every day going through social media to update himself on what is happening.
Are you a teacher? Especially a mathematics teacher and don't know how to make your students love maths? Do you want to have better performance in your subject? Do not hesitate to email us at alumni@schoolofstjude.co.tz or call us at 0766200609. We will help you connect with Mr Meshack.