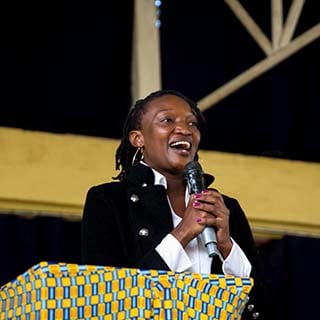 Arafa Adams (Class of 2017) has successfully managed to balance studies and part-time jobs since she started studying a Bachelor of Commerce in Tourism at the University of Dar es Salaam.
Her field of study pushed her to find part-time work, so that she could gain experience and practice, which is not taught in university class. By doing this, she improved her skills, which will help her to compete for work once she is fully qualified.
Despite her tight and busy timetable, Arafa generously found time to answer a few questions on how she managed to handle business, work, and studies. We hope that Arafa inspires to get broad experience and find part-time work while you study.
"I am now working at Gateway Editors, as Sales/Marketing agent. I have worked in three places before as my part-time job. I have worked at Kidimbwi, Rotana, Wifsey and recently got permanent employment at Gateway Editors. Potential connections and friends I made on my way played a great role in all these works. I managed to secure part-time jobs from my connections," Arafa said.
We all wish to enjoy and love what we are doing; we cannot do our work and studies correctly if we do not enjoy a balanced life in the process. Arafa enjoys meeting new people and making potential connections.
Arafa encourages her fellow scholars to try to find part-time jobs while studying.
"If you cannot go beyond and train yourself outside the course, there are high chances of not getting your dream job. You need to work your way up, you cannot become a manager as soon as you start applying for jobs."
Another benefit of working while studying, Arafa says, is earning extra income to lighten the burden.
"Working while studying boosted my savings and cut some expenses. I also found useful connections. I created a big circle of friends and professionals who can help me find better work," she enthusiastically shared.
Another great benefit of working while studying is that you can add to your CV. This is a first step towards the employment door. Experience matters in any job application, and having experience of work during school or university will lead a better way for you. If employers can see that you have managed to study successfully while also working, they will trust that you are determined and motivated.
Arafa left us with a few words of wisdom:
"Try to apply for as many jobs as coming your way. My favourite quote is: for every door closed on me, I am coming to buy the whole building. Don't give up."
Like Arafa, you can build your skills and improve your chances of finding a permanent job by working part-time or starting a small business. Are you currently employed or running a small business? If so, email alumni@schoolofstjude.co.tz so we can congratulate you!
Remember, you can find us on LinkedIn – the way of the future in networking and career-searching: https://www.linkedin.com/in/alumnischoolofstjude-a27628192/