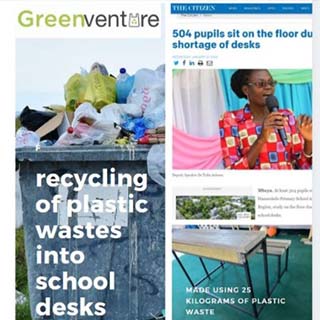 Edgar Edmund started his company, Green venture Tanzania, while still a student at The School of St Jude. He transforms plastic waste into useful treasure… affordable and durable building material. Edgar graduated from O Level at St Jude's and was then accepted into an A Level scholarship program for African leaders. He will soon join university for his first degree.
Edgar is a young Environmental activist who aims to solve an environmental problem. His dream first came to him when he was in Dar es Salaam some years ago and saw mud houses that had been washed away by flooding. Edgar made his first plastic-brick prototype for St Jude's Science Fair in 2016, hoping to one day build bricks for houses and help people who cannot afford proper building supplies.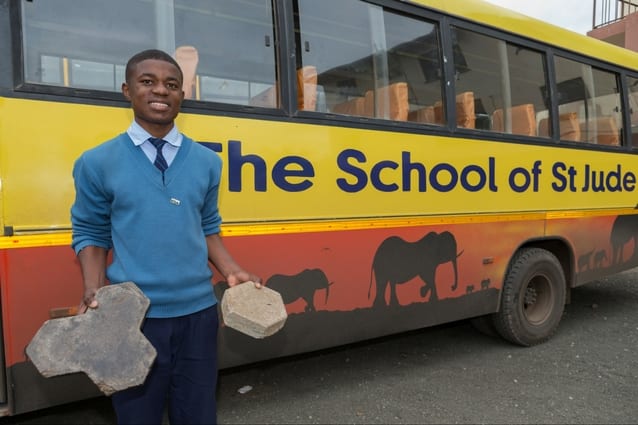 Edgar is not only turning trash into treasure, he is also changing peoples' lives by employing them in his company.
"We have five people full-time and 120 people collecting plastics around Arusha. Most people who are collecting plastics are those who do not have academic credentials to help them secure employment in other places. It is a field of work that can create employment to people who do not have a good academic background," he said.
Edgar is very humble and grateful for all his achievements. He still believes that St Jude's had played a significant role in his life, "St Jude's paved the way for my success, the science days and excursions motivated me."
Edgar is fighting poverty through education now through Green Ventures Tanzania: the company is now producing lumber-type desks, made entirely from recycled plastic, which will be given to schools. Next, he has a big dream of building a 'movable house' from recycled waste in Njiro. This will be a big step not only for Edgar and his company, but in the climate change movement.
Do you have dreams same as Edgar? Do you wish to start a business one day? The Alumni Association can give you some advice, email us at alumni@schoolofstjude.co.tz if you wish to know more.