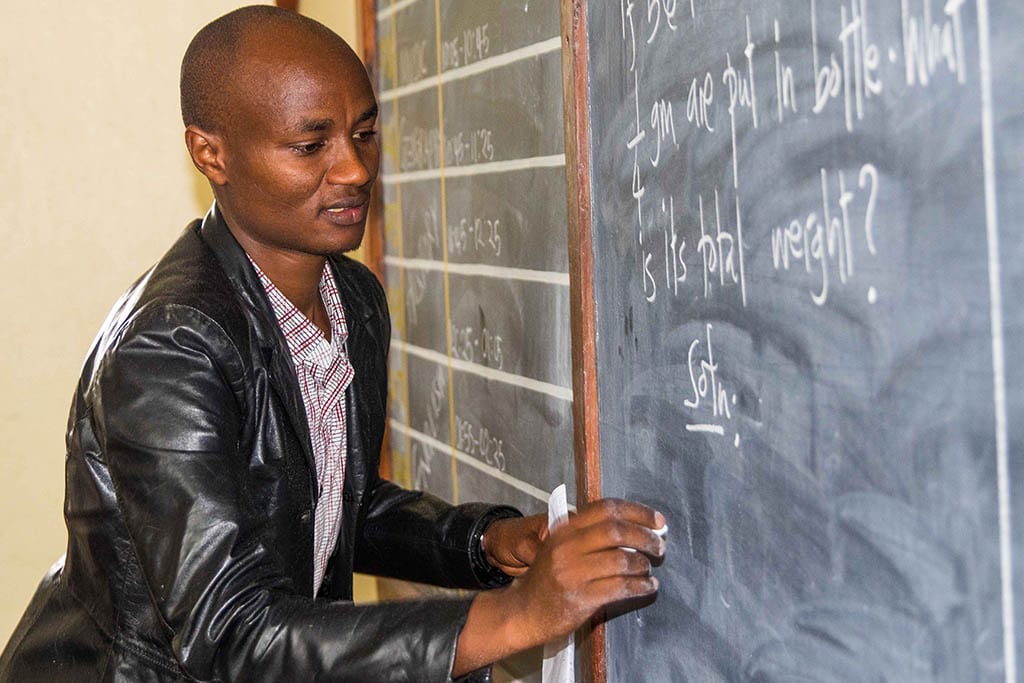 Baba Meliyo, class of 2015, is a Mathematics and ICT teacher at St Jude's, and the first Alum to be employed back at school. He is one of the best teachers and students do enjoy his subjects.
Baba wanted to be a teacher since his childhood. Him teaching now is like a dream come true, "I feel proud and great not only being a teacher but being a teacher at St Jude's, teaching back at my old school reminds me of my life as a student, despite that things are now a little different now compared to our times."
Being a teacher is challenging and fun at the same time. Teaching students and for them to understand and do well is a fantastic thing. There are things that Baba is proud of, "Most of my students are performing well both in internal and external exams. But also as an ICT teacher, students enjoy my lesson because I use to give them real practical especially Form 2, nothing can beat this feeling as a teacher."
"The best thing about teaching is you get to teach and learn new things every day, and you touch souls and gain trust from many students. Being a teacher at St Jude's gave me a chance to not only meet great students but stay in the same office with my wonderful ex-teachers," Baba shared.
Everyone has different goals and things they want to achieve when they get a job. We all have little things we celebrate and be proud of in every little step. Baba has few things he achieved so far, and he is proud of them. He shares some of his significant achievements so far since he started teaching, "I have achieved a few things like I bought a plot in Maji ya Chai, I am building a house for my mama, I help my young sister in paying for her school fees and touching the souls of great students at St Jude's."
Baba is one of the alumni who constantly use their free time to volunteer back at school. He would always help with Mathematics and ICT. He shared with us why he always wanted to give back, " Giving back to my school was the best thing and choice ever, as a teacher volunteer you not only get to assist students but also learn, use your heart, stay away from the lonely times and keeping the St Jude's spirit alive."
Baba has few principles that he lives by, and few are "Respecting everyone on regardless of his or her status. To working hard to live a better life. To help others whenever and wherever they need my help.
We also asked Baba what could be his best advice to Alumni and everybody looking upon him as a role model, "They should never stop dreaming, working hard, praying, and being kind. We might not get what we want on time, but we will always have what we deserve when the time is right."