Do you miss these celebrations? It has been years since you all participated, competed, sang and danced and ate the special food cooked on these days.
St Jude's Day 2021 has been celebrated uniquely. All these campuses came together had a special celebration for the event.
The program included:
Holy Mass: The majority will remember that the day started with a special mass, including a St Jude's prayer. Guests, staff and students from all campuses came together for a single assembly. This section involved special prayers for our school, sponsors, staff, students and people in need. There was a particular offering part, a favourite part for the students. This particular day gave a chance to students to make an offering from their homes and take it to people who needed them the most.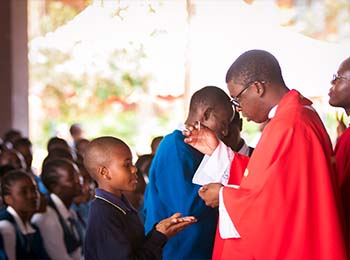 Who remembers the days after St Jude's day? The days you visited orphans and hospitals to give them what was collected on St Jude's Day? This day provided a chance to visit communities and offer them the little you collected on St Jude's Day.
Lunch: Who enjoyed St Jude's Day lunch? It looks like there is always something special about the lunch. Every student waited for this time with eagerness and a smile on their face: Wali, rojo, plus fried potatoes and banana. Soda during lunchtime made it special.
Performance and competition: This day will never be complete without competition amongst the students. The cultural dances and songs were this year's theme and competition. Mr. Beda, a legend who has been teaching cultural dances and songs for years, also taught almost every class participating in the competition.
Afrikana from Girls Secondary emerged as the winner. This was the best dance of the day, and the teacher was no other than Mr. Beda.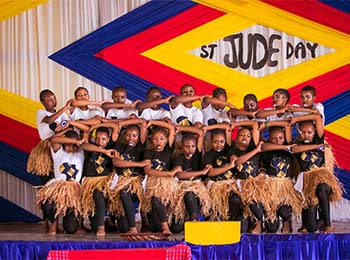 Awards: The day ended with special recognition for the parent committee, staff, and alumni who went far and beyond in St Jude's Spirit. Staff with 10 years at St Jude's had special awards too. Few alumni were also awarded, and it felt so good seeing alumni being recognised on this special day.
"I was honoured to attend this year's St Jude's day; I could feel the same energy among the students that we had those days. The traditional dances and shows reminded me of our days. It was the same. Some things were different, and the cultural competitions felt different this time. I remember we had a lot of those times, and we had like competition from each class whereas they had only two from campus. Staff could also participate in the competitions too, which they did not do this year." Hezron shared.
Please some pictures for St Jude's Day here.
Do you have any memory of St Jude's Day? Please share with us via alumni@schoolofstjude.co.tz
---