Our Standard 7s have been put to the test and aced it!
From more than 16,000 schools in the country, our 135 final-year primary students placed in the top 2% for national exams, and we could not be more proud.
"The results are really wonderful, with 68 students achieving A's and 67 achieving B's," upper primary headmaster Peter Manjalla said.
St Jude's provides scholarships to students from the poorest homes in Tanzania, helping families who would not be able to send their children to school.
Since opening with just three students in 2003, the school has grown to offer almost 2000 scholarships and consistently ranks as one of the top schools in Tanzania.
Our commitment to world-class teaching standards paid dividends in May when our first ever Form 6 (final year of high school) graduates finished in the top 10% in Tanzania.
These students, who come from impoverished families, will now have an opportunity to go to university and develop into future leaders in their communities.
Help St Jude's produce future leaders in Tanzania by becoming a sponsor today.
Debate about the most hotly-contended presidential election in Tanzania's history didn't just come from those old enough to vote.
Our Upper Primary English department hosted the final of its three annual school debates, with the rousing subject of 'Who Would Make the Best Tanzanian President?'.
The debate prompted students to educate themselves on Tanzanian politics and reflect on national policy and the qualities of good leadership.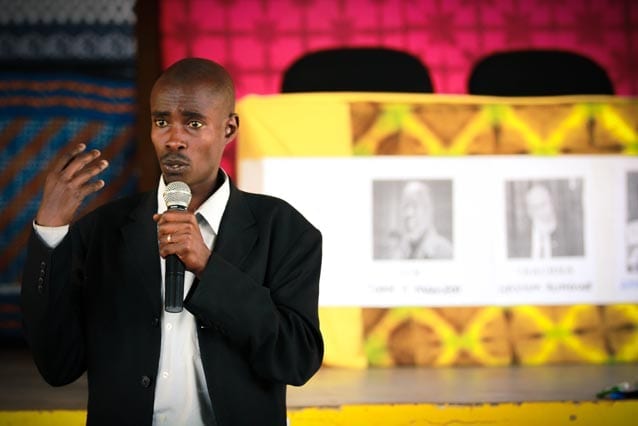 In a country that has been ruled by the CCM party for the past 54 years, rival CHADEMA has proven to be a rare, worthy opponent to contest the current Government.
/Hands held high, in either the form of a 'peace' sign for CHADEMA or a 'thumbs up' for CCM, the school audience was quick to show their support to the 20 or so students arguing their cases on stage.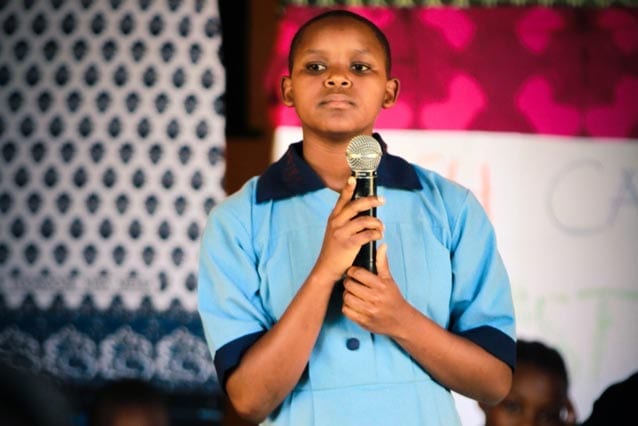 CHADEMA's popularity rose to great heights in the area around St Jude's recently, as their leader is a former Prime Minister and CCM member who hails from the Monduli region of the Arusha district.
This popularity was reflected in the debate, which focused primarily on CCM leader John Magafuli and CHADEMA leader Edward Lowassa.
Senior primary principal Peter Manjella said the English department encouraged students to focus on the qualities they wanted in a leader. Edmund Mutajuka, English Department head and organizer of the debate, has also been leading students in practicing their public speaking).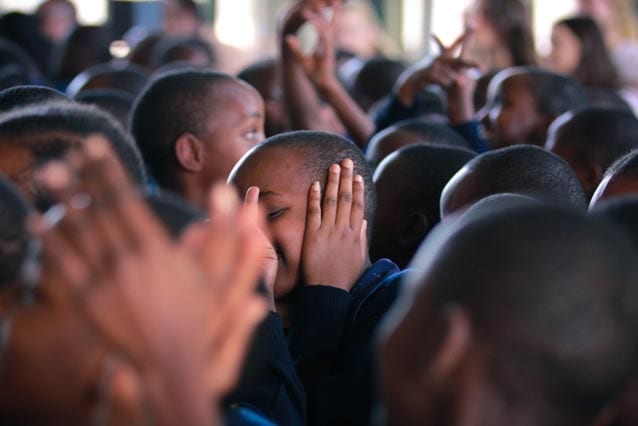 The hour-long debate was critiqued by students and teachers alike, with the event more a chance to air opinions than decide on a winner.
Meanwhile, eight of our Form 6 graduates showed their community leadership by working at polling stations during the general election. We're proud of Alfani, Judica, Justin, Negi, Elizabeth, Hosiana, Erick and Mrema doing their bit to facilitate voting!
Peter, who passed on the news, said he was thoroughly impressed.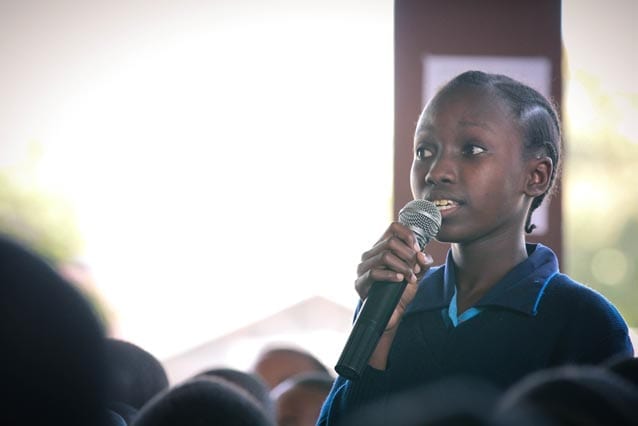 "This is really leadership, these positions were really competitive," he said.
"More than 6000 people applied for the 2860 positions, but they made it."
Tanzania's governing CCM party candidate Magufuli won the presidential election with 58% of the vote, the electoral commission said on October 29.
Support a rising leader today and sponsor one of our politically-engaged students.
One hundred and thirty-nine promising Form 4 St Jude's students reached an exciting milestone in their education by graduating over the weekend.
Proud parents, fellow students, special guests and staff made up the hundreds who attended the jubilant ceremony at Smith campus and enjoyed celebratory performances by the Ngoma Club, Africanas' group and traditional dance graduates.
"The stage that we're at has built us a good foundation," Form 4 student Christina said.
"The education we've been provided has improved our chances in numerous sectors including political, social and economic."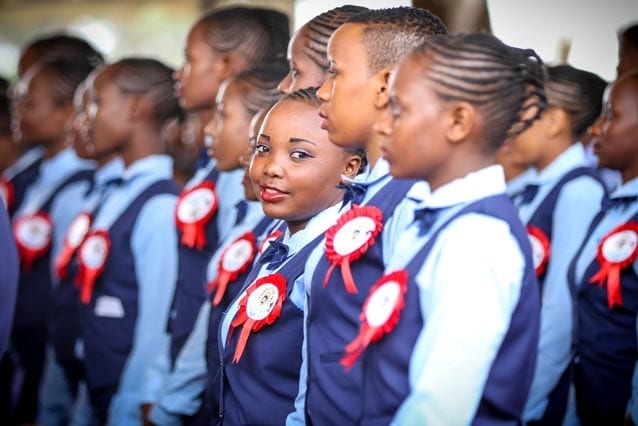 Christina's words, spoken on behalf of her fellow graduates, are all the more striking considering the gross school enrollment rate in Tanzania drops from 93% in primary to a staggering 35% in secondary. Just 2.4% of the Tanzanian students who entered Standard 1 in 2002 completed secondary school.
Professor Patrick Ndakidemi, deputy vice chancellor of The Nelson Mandela African Institution of Science and Technology, was also struck by the significance of the event.
Touched by the occasion, he opening his speech by saying he was so excited he could cry, "because (the graduates) are the future".
Prof Ndakidemi supported the sentiment by announcing he would personally give 1 million TZS Tanzanian shillings ($637 AUS equivalent) to reward students for discipline.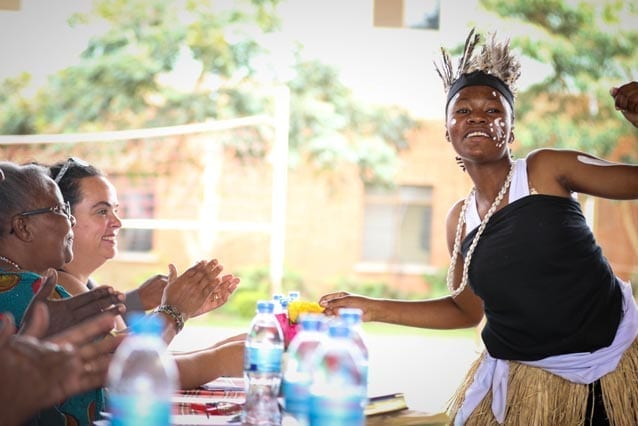 St Jude's founder Gemma Sisia encouraged graduates to take this time to carefully consider their opportunities.
"Every single university we've visited in Africa recruits on marks. It's as simple as that," she said.
"If you want to do medicine, you want to do engineering, or you want to do teaching... If you want to get into university you need to get very high marks in the subject you are studying."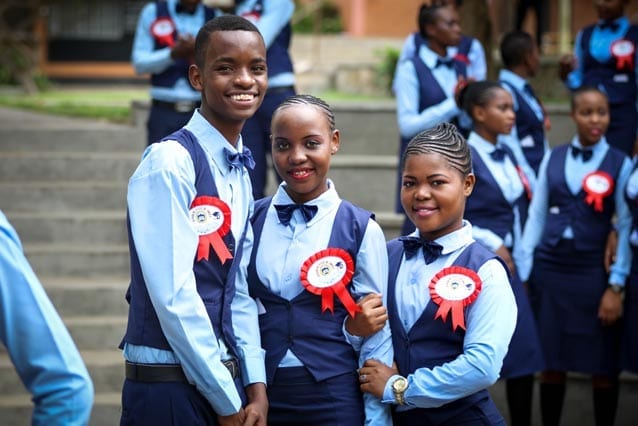 Gemma also impressed the importance of aiming for a scholarship.
"The Form 6 graduates who finished in May and are doing community service are currently filling out scholarship forms," she explained.
"Many of the questions on the form are about what you have done, spirit-wise, that makes you deserving of that scholarship. How many community service hours have you done, how many hours have you given tutoring to younger students, how often have you helped people in your village? They're the types of things you need to get ready for your scholarship forms."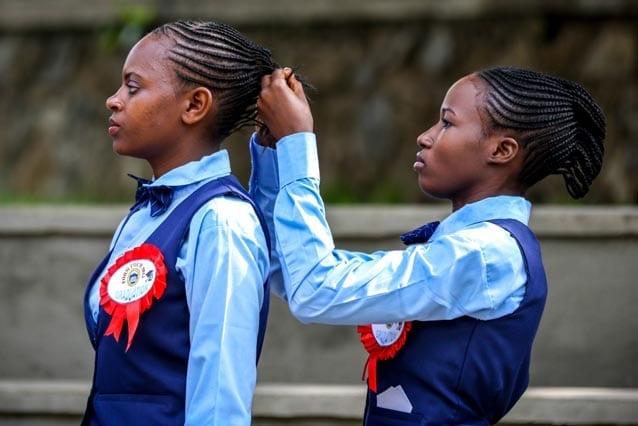 Vice-chairperson of the Secondary School Board, Jacqueline Mkindi, also had advice to share.
She said the "remarkable" performance of last year's 126 Form 4 graduates, with 70 distinctions and 55 merits, should be an inspiration to them all.
"The school was number three out of 146 schools in the region, and 24th out of 2322 schools nationally," she said.
"It doesn't matter where you're coming from, what matters is who you become tomorrow. If you want be a success in life you have to be focused, you have to work hard, you have to continuously train yourself and you have to include those principals in each and everything you do in life."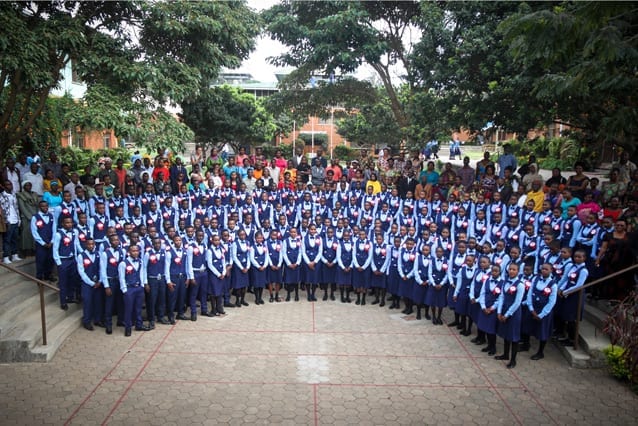 See how our Form 6 graduates are giving back to their communities in the Beyond St Jude's Community Service Program.
"There is nothing more exciting than seeing a woman doing something she is passionate about," St Jude's senior secondary (Form 6) student Emiliana said.
And she would know.
Emiliana and secondary (Form 3) student Neema are fresh from three weeks of non-stop excitement at the inaugural, invite-only Women in Science (WiSci) STEAM Camp.
The two were among 120 eager young minds from eight African countries and the US, who participated in intensive workshops run by international industry leaders in Science, Technology, Engineering, Arts and Mathematics (STEAM).
"I met different girls who are really passionate about science, and there was this lady, a mentor from Intel called Kay, who impressed me so much. When anything went really wrong with coding all the men would say 'where's Kay let's bring Kay in here'," Neema said.
"I was very inspired by her and two counsellors from Rwanda, Elodea and Anabella. Those ladies, they are only 19 or 20 and are in university; they are computer majors and they made me think I can do it if they have done it."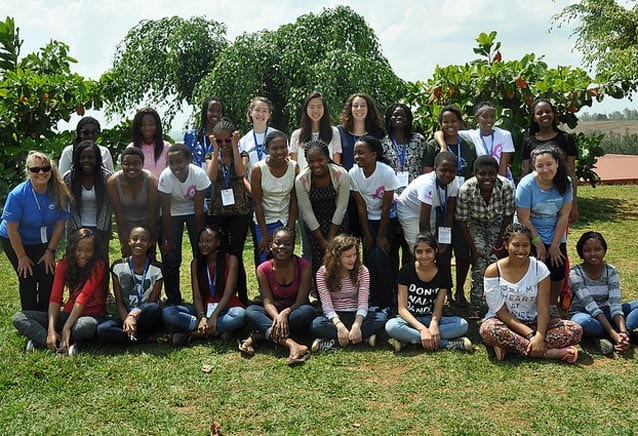 Sub-Saharan Africa lags behind the rest of the world when it comes to gender equality in STEAM fields. The UN's 2013 MDG Report shows the gap increasing as female enrolment rates in STEAM drop at the secondary and tertiary levels.
Neema and Emiliana are bucking the trend and proving they have plenty of promise, by taking out two of the three prestigious prizes during STEAM.
The first week of the camp, coordinated by Microsoft, saw the students design multilevel computer games. It was Neema's time to shine with her game being voted best of the week!
The second week had Intel build on the girls' programming skills by being instructed in engineering robots, and the third, themed around entrepreneurship and design, saw Emiliana's nous for problem solving awarded with a prize for creativity and innovation.
"We had to come up with a problem in society and show how we could use our knowledge of technology to solve it; in my group we solved a problem on deforestation which is a really big problem in Africa," Emiliana said.
"Our focus was on Madagascar because in the last 20 years it has lost 70% of its trees; we designed a sensor, you could put in a tree and it could monitor around 400 other trees. When someone is trying to cut down a tree or burn in the area the sensor would go on and it would alert officials."
Neema's group project addressed the prevalence and under reporting of rape in South Africa.
"We decided to make an app to help people report rape cases. The app had GPS which can show you nearby hospitals and clinics, psychology resources and it had a place for psychologists to volunteer and talk to victims," Neema said.
"For the final presentations, Janet Kagame came, and we also had a letter from Michelle Obama with encouraging words."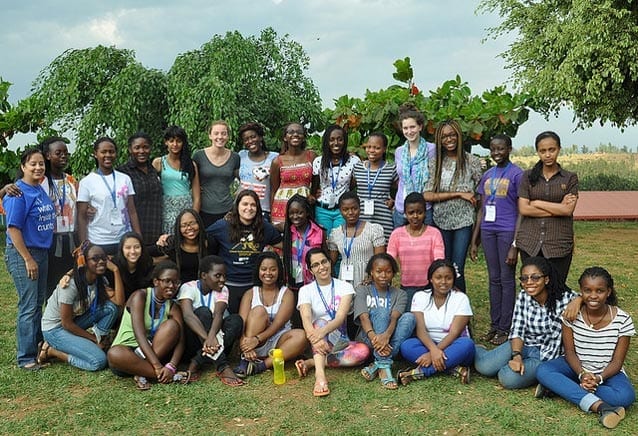 After an overwhelming final day, it was a bittersweet farewell as the girls stayed up late in their dorms, singing, dancing, crying and hugging.
"We were lucky to get that experience at the camp and we promised to share what we learned at our schools and in our societies," Neema said.
The girls are keeping in touch with their international peers via Facebook and as being official members of The United Nations Girl Up initiative. Girl Up engages adolescent women in the places where it is hardest to be a girl, empowering them to take action and transform their world.
Neema is currently putting together a programming club at Smith campus and is intent on pursuing computer science at university, while she and Emiliana are running a workshop on sensors and starting a GirlUp branch at St Jude's.
"Because of STEAM, now I really want to follow my passion, I know I can do it and I want to encourage other girls to do the same," Neema said.
Sponsor a student like Neema or Emiliana and help them achieve more.
Gemma Sisia, Nelson Mandela, Mother Teresa, Albert Einstein, Usain Bolt, Oprah Winfrey and Gandhi.
These are just some of the inspirational figures featured by students from around the globe in the Inspire>Aspire international poster competition.
St Judes' student Penueli became an international finalist for her essay on Nelson Mandela, and our international winner Amani won with words inspired by our very own founder.
Following the theme of Global Citizens in the Making, our two finalists were picked from 55,000 entries from 30 countries.
"It is part of the school passion to create future Tanzanian leaders," Amani said.
"I really wonder about Gemma Sisia. She is not even from Africa but she decided to help me, a stranger. Her heart is full of grace that's why I chose her as my subject."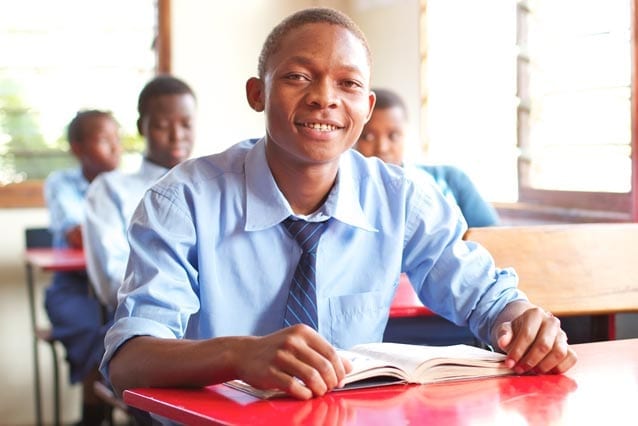 Amani, who is in his final year of school, said he would like to do "at least" a year of community service after graduating to demonstrate his appreciation for his free, high-quality education.
"When I am well financially, I will sponsor some children," the 21-year-old added.
Penueli, who is also in her final year, said she entered the competition for the challenge because she had never competed against students from other countries.
"I chose Nelson Mandela as he emphasized that we should take into consideration education to make change in our society," she said.
"I really like his quote 'Education is the most powerful tool that you can use to change the world'."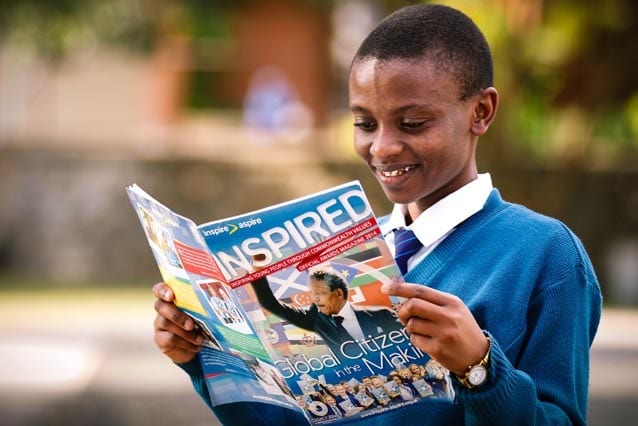 The 19-year-old said "believing in yourself" is key to inspiring others.
"If you dare to do something and put much effort into it you will always be successful," she said.
"I would like to help people around me and teach those who didn't have the privilege of a quality education, like I have at St Jude's. I would love to share the knowledge that I obtain from St Jude's."
The Inspire>Aspire Commonwealth Awards was held in conjunction with the Commonwealth Games in Scotland last year, and was promoted around the world.
"The exercise helps them to deepen their self-knowledge and self-awareness, as well as challenging them to define their vision for a better world and their aspirations for the future," program director David Lorimer said.
The UK and international winners and finalists were published in the Inspire-Aspire Official Awards Magazine. Excerpts from the winning posters were published, so you can read part of Amani and Penueli's work below.
International winner Amani, The School of St Jude:
"Gemma Sisia was born in Guyra in 1971. She started a school that provided a free and quality education to children who are smart but don't have means of supporting themselves in education. I find her qualities such as being hardworking, kind, visionary, co-operative and many others made her stay focused and led her to turn the dream she had into reality. Because of her hard work and co-operation, she shared her dream with people and brought a great change in society. She makes me feel that any human needs values and qualities, and they need to be determined, kind and hardworking. Dreams that carry vision and co-operation have the strength to bring about a great change in society. I also pray that I am granted good qualities like hers so as to achieve bringing a wonderful change in my society."
International finalist Penueli, The School of St Jude:
"'Education is the most powerful weapon which you can use to change the world," Nelson Mandela.
This quote was once given by the late Nelson Mandela and it inspires me a lot because it encourages people to try hard to acquire different skills, so a person will be able to apply themselves in solving various issues and fulfilling his or her goals in life. This is to say that education is the key to all closed doors that are to be opened to bring success and great achievements."
Find out more about Inspire>Aspire. For more about Gemma's story, click here.
Two talented students have enjoyed a slice of success with their project, Smart House with Raspberry Pi, winning a national science competition.
Achievement sparkled in the eyes of Venance and Martin as they returned from the annual Young Scientists Tanzania (YST) competition, held in Dar es Salaam in August.
Their project took out first place in the Technology category and won a special award from sponsor and major electricity supplier Songas, garnering the 17-year-old students trophies and around AUD$2000 cash and prizes for themselves and the school.
"(The experience) was so much more than what we expected, and it showed us what we can expect competing against the top students in Tanzania," Martin said.
Venance and Martin said an automatic irrigation system was their toughest competition, but their confidence grew when they saw how well their entry was received.
Their project was one of only three in 120 that was seen by former Tanzanian President of Tanzania Ali Hassan Mwinyi, who gave them a glowing endorsement.
"He told us how happy he was to have good Tanzanian scientists to teach others," a beaming Martin said.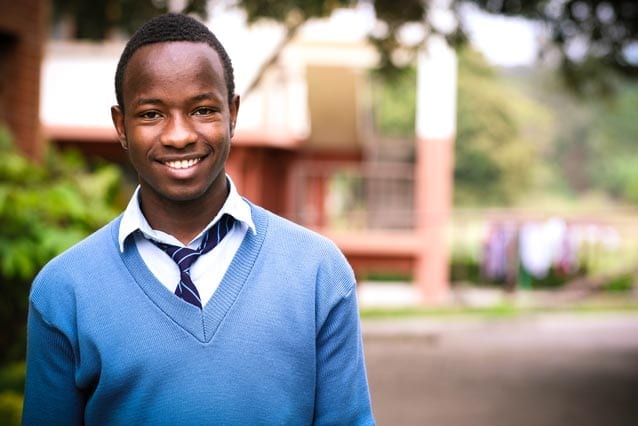 The ingenuity of their Smart House with Raspberry Pi was first recognized at this year's annual Science Day at St Jude's, where it topped more than 100 entries
Their invention took almost a year to develop, and enables control of many household functions such as temperature, electricity supply and lighting remotely, by mobile phone. It was programmed using Raspberry Pi, a low-cost, compact device.
Their win means AUD$1000 (1.5million Tanzanian Shillings) worth of computers or books for the school, as well as cash prizes for the students and teachers.
At last year's YST, St Jude's students Ntekaniwa and Hashim won a special award for SMS Voting software and the year before Liston and Riziki won second prize in the Technology category for their Hybrid Generator project.
St Jude's has emerged as a national leader in science, with this year's inaugural Form 6 graduates placing in the top 10% of chemistry, physics and advanced mathematics in the national exams.
Now Martin and Venance have returned to St Jude's with big plans.
"We would like to proceed with our talents (in science) and develop more projects," Venance said when asked about what they would do with their hard-earned prize money.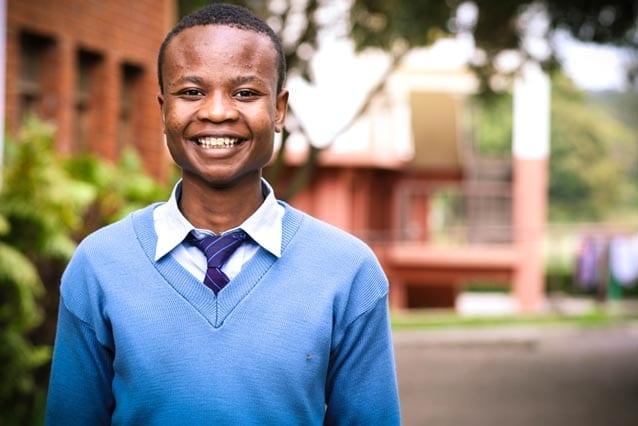 They've already converted the school's manual bell to automatic, and have begun developing an egg incubator at Smith campus.
"We need more technology in Tanzanian schools," Martin said, explaining that projects like the incubator could provide employment for many.
Both students said they were very thankful for the help they've had, specifically mentioning former school technology teacher Brendan Lawlor, Smith campus Head of Science and ICT Nzinyangwa Mcharo, and Science and ICT teacher Denis Eziron.
With Venance and Martin still a few years off completing secondary school, we're very much looking forward to what more these rising stars can show us.
Support a rising star today and sponsor one of our brilliant students.