In the early hours of a blustery Thursday morning, flash flooding at Usa River, the site of St Jude's Smith Secondary Campus, swept away huge parts of the School's main boundary walls.
Standing 2.7 metres high, the wall crumbled in two large sections beneath the weight of recent heavy rains. The total length of wall damage is 250 metres — the length of a football field, and then some — and will cost almost AU$49,000 to repair.
The School of St Jude Facilities Manager, Laurian, is overseeing the repairs and explained the toll it has taken on our school community, infrastructure and budget.
"When the askari (guards) heard the wall collapsing before the sun rose, they immediately contacted the Smith Secondary Campus leadership to inform them."
"It was clear we would need to employ more askari to patrol the destroyed sections of the boundary wall. We employed six new guards — three for during the day and three overnight," Laurian said.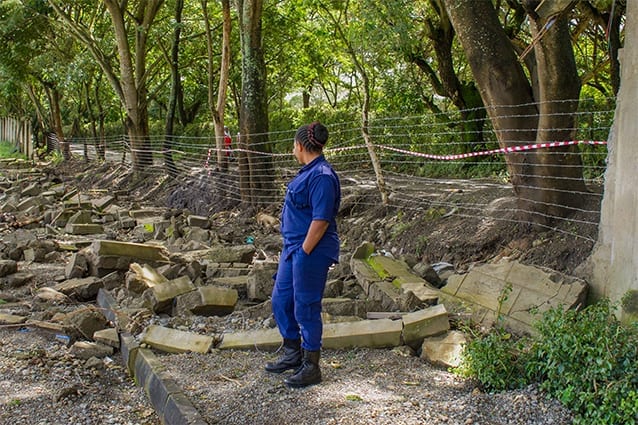 In addition to six new guards, it will take 18 local construction workers almost two months to restore the wall to tip-top condition.
"To prevent this from happening again, we are increasing the depth of the passages which allow water to flow under the wall from 60 centimetres to 90 centimetres. The problem with flash flooding is that the water quickly blocks the passages. The weather we have had in Arusha this year has been unusual and unpredictable," Laurian remarked.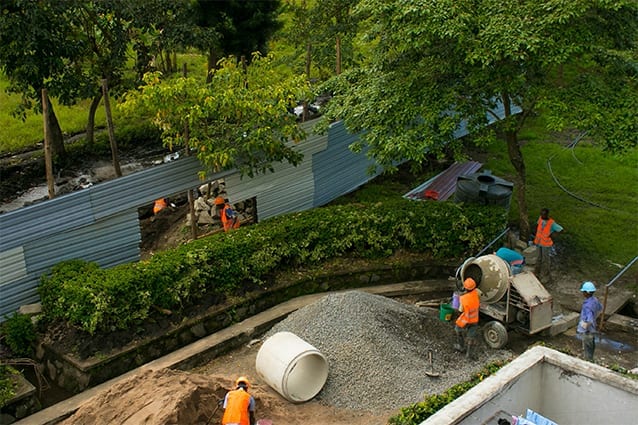 "It is difficult to explain this year's weather scenario," Laurian said.
"We are putting in place more preventative measures so we are best prepared if this happens again. The emergency response from everyone on the ground, from the askari, to the maintenance team and the workers, was impressive under the circumstances," he added.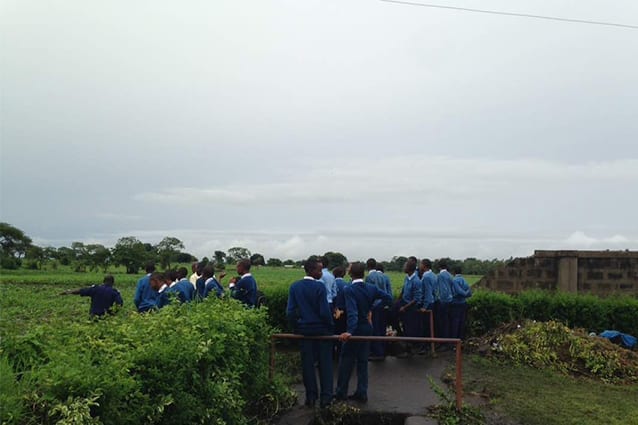 "We face unique challenges as a school and not-for-profit organisation based in Africa. Unpredictable events like this occasionally crop up and cause us to reconsider strategies and goals. On top of that, it means, from time to time, we must call upon our friends around the world for some extra support," Gemma said.
Day by day, our wall is being restored to its original condition, but we still need all hands on deck! Will you give us a hand? Your money will be doubled, thanks to our Appeal match. Donate today to our Area of Greatest Need.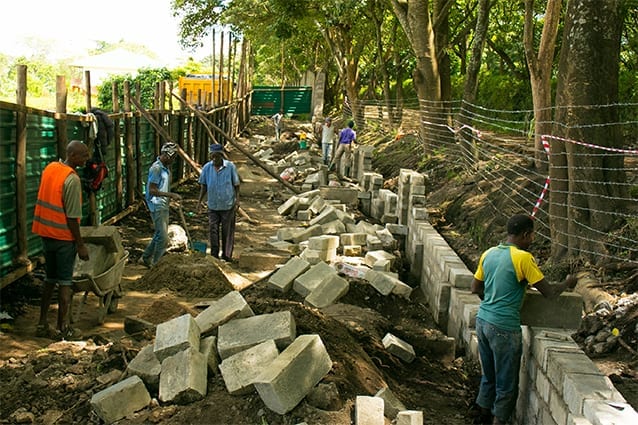 Seraphina is one of St Jude's first graduates, studying for a Bachelor of Science in Agriculture, Natural Resources, Economics and Business at the University of Dar es Salaam, one of Tanzania's top universities. 
According to Tanzania Invest, 67% of Tanzanian workers are employed in the agricultural industry. It is Seraphina's dream to match entrepreneurial skills with her passion for farming, and help build Tanzania's economy. 
Life hasn't always been smooth-sailing for the aspiring business leader. 
Seraphina attended a Tanzanian government high school until Form 5, when she successfully gained one of St Jude's highly contested academic scholarships for her final two years of high school.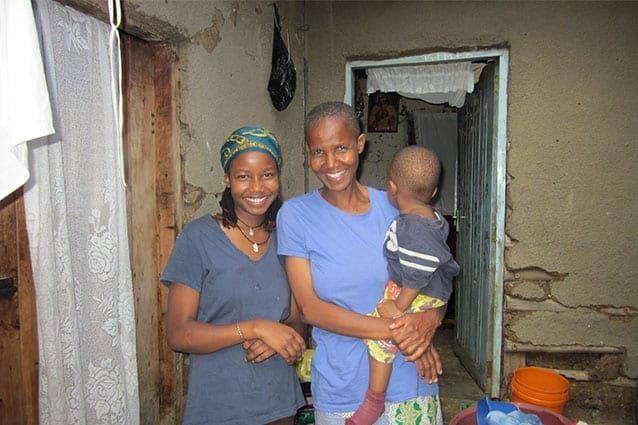 Seraphina came to St Jude's with limited English, yet she had a fierce determination to make the most of her free, quality education. 
"When I first dressed in my St Jude's school uniform, I just thought, 'wow, this is a dream come true!'" 
"My family and I were so excited that I had been accepted [into St Jude's]. It was the opportunity of a lifetime," Seraphina said. 
"At first, in classes, I was not confident. My teachers didn't mind if my English was not good at first, they just wanted to encourage me to speak. They empowered me, and my school friends helped."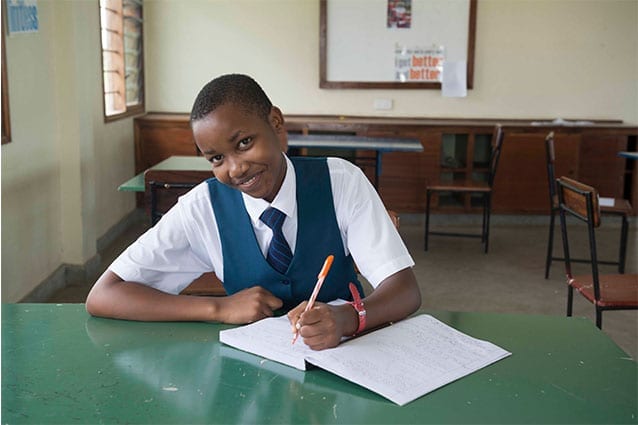 Seraphina is proving indeed that, through hard work and opportunities, anything is achievable. 
The decision to participate in the Beyond St Jude's Community Service Year was an easy one to make. 
"I was so happy to do community service at St Jude's. I worked as a boarding parent at St Jude's Moivaro campus. My responsibilities were to help young students with their studies, make sure they were safe and clean and help them prepare for school." 
"I learned so much. You have to love children. They really helped to improve my confidence."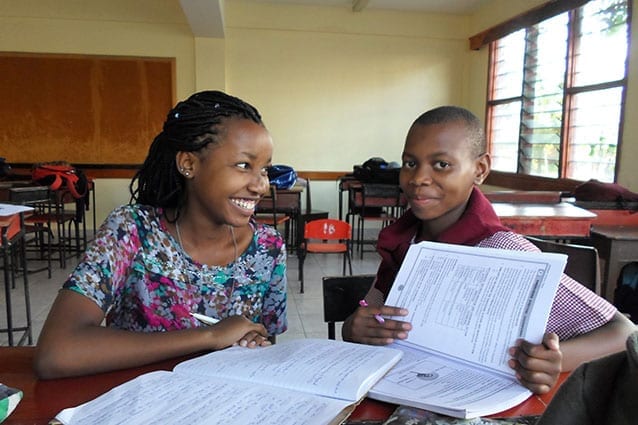 When speaking with Seraphina, it's difficult to imagine her as anything other than self-assured. Obviously, hundreds of her classmates agree. 
The second-year university student was nominated to be Senior Secretary for her university hall. Seraphina is now the peer-elected leader of 600 females.
"I have learned at university that I am self-motivated, and I can motivate other people. In May, the student council President came to me and said,
'Sera, what if you contest to be a leader for the University of Dar es Salaam?'" Seraphina explained.
"I said, 'no, there are so many people, I can't do it, I'd have to campaign. What if I lose?'"
"The President replied, 'you just have to be self-confident, you have to try and be yourself.'"
"I thought, 'okay, I can do that.' I gave it a try, I did a campaign and then I was chosen!"
Seraphina has been inspired by St Jude's staff like Vivian, our Beyond St Jude's Coordinator, who she aims to emulate to serve her classmates.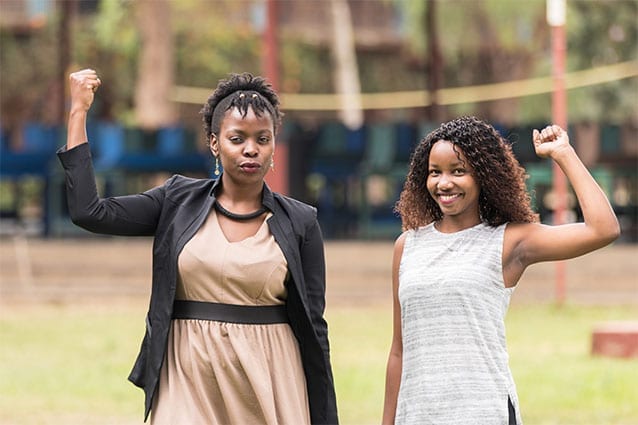 "She's got incredible confidence and when she talks to me, I feel like I can achieve anything." 
Seraphina's St Jude's journey has helped her emerge as an advocate and mentor in her own right. 
"I enjoy motivating people and giving advice. I was chosen to be a leader. There are changes I can make."
"A big challenge for women in Tanzania is lack of education. Tanzania has a history of not allowing women to be equal, we were always just supposed to do domestic duties."
"These days, more girls are motivated to study. When you have an education, you have a chance at making your own life. You get choices."
Seraphina's higher education scholarship is currently only half-sponsored. Please support students like Seraphina to ensure they can complete their higher education and create change. Donate now. 
Every school deserves prefects like Jackson and Rehema. Our Head Boy and Head Girl, both in Form 5, have enjoyed a St Jude's education for more than 10 years and feel that now is the time to make their mark.
Inspired by former student leaders, the enthusiastic duo are committed to leaving a legacy of cultural pride and excellence when their term ends next year. 
"I nominated to be Head Girl because I admired Christina, who was the leader before me. She brought about so many changes and encouraged everyone to do their best. I want to be like her," Rehema said. 
Rehema has adopted her predecessor's persistence and critical thinking. 
"Christina proposed the idea of group discussions between students, resulting in higher academic performance and better communication." 
"Conversation is essential. We cannot apply our ideas forcefully. We have to understand other students and make a way for them to achieve their goals. Jackson and I both wanted to be in this position when we were younger." 
For Jackson, a yearning for new experiences prompted him to apply for the top job. 
"Passion, courage and wanting to be a persuasive role model is what motivates me, always."
"To be a good leader, you must be cooperative. There is no point in making plans without cooperation from others in the school."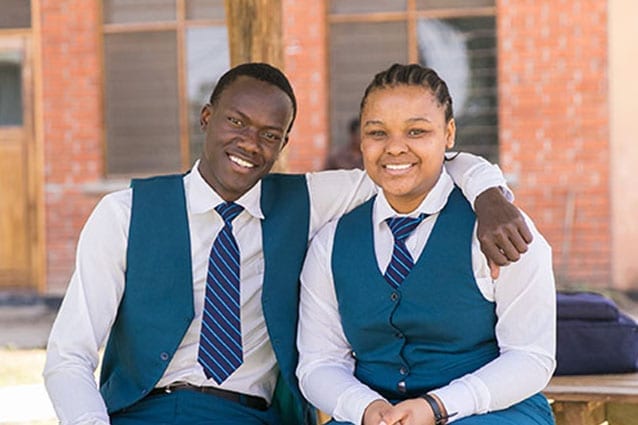 It's no surprise that Rehema and Jackson had their sights set on student government from an early age; leadership is in their blood. 
"I think about my grandfather, who was a tribal chief in the Lake Victoria area. I was told he was a good leader who talked to people so they could understand him. He brought people along with him," Jackson shared. 
Rehema's greatest inspiration is also someone close to home.  
"My mum is a role model to me, my family and the community around us.  The best thing about her is that she will always try her hardest. I have two brothers and one sister, and I am the youngest. Our mother is so courageous. I learn my leadership skills from her."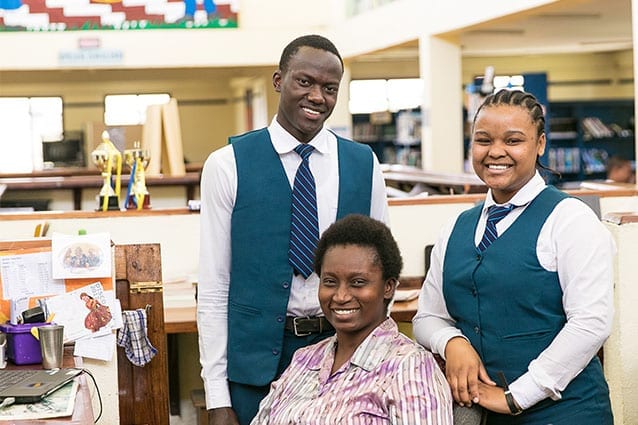 And, there's certainly no shortage of heroes at St Jude's!
"Our school helps us to be our very best. I really admire people like Ms Linda [librarian at Smith secondary campus]. She is passionate for the students and her work," Jackson remarked. 
"For me, Mama Gemma is absolutely a good example. She looks to the problems facing our society and finds a way to solve them."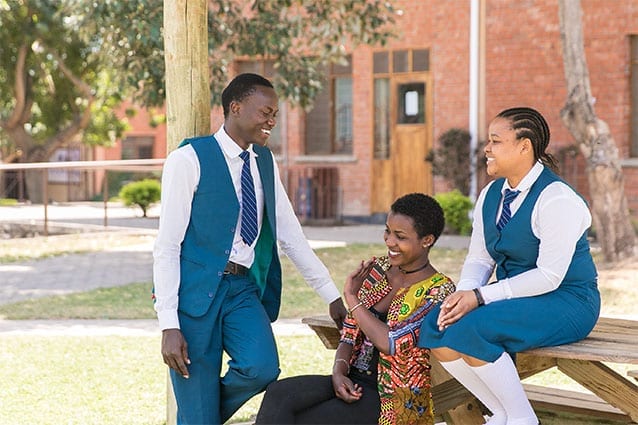 "After graduation, we both would like do a Community Service Year and teach in a government school. I can't compare the quality of education we receive at St Jude's, to the quality in government schools. We will both carry our passion for leadership into the future," Rehema said. 
You could support a young Tanzanian leader. Become a sponsor this month! 
St Jude's aspiring engineers, doctors, scientists and entrepreneurs gathered in the Smith campus hall, bursting with anticipation on Career Day 2017!
Students, staff and visitors erupted in applause as Bibiana Mardai, Chairperson of The School of St Jude Board Ltd, opened the fair with words of wisdom for Tanzania's leaders of tomorrow. 
"St Jude's students are already innovators and inventors…" Bibiana began. 
"…You are appreciated in Arusha and Tanzania. Today, you will see things that inspire you to be who you are. Always ask questions. Always stay curious," she advised.  
"I raised a family, while practicing my career as a medical technologist until I retired!" she said.  
Bibiana's opening remarks echoed the sentiments of Career Day's theme:
"Personal goals may be satisfied through a combination of work, community, social and family roles!"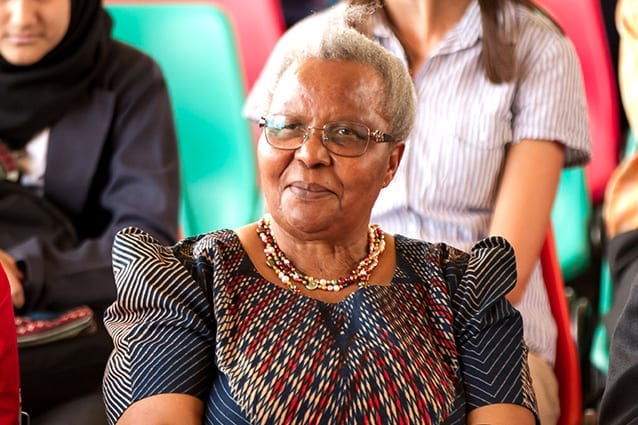 Invited professionals representing Tanzanian industries drew on this theme, encouraging students to pursue their passions. 
Honoured guest, Mr Rod Gomez, General Manager of Ngurdoto Mountain Lodge at Usa River, spoke with conviction about decisions which led to his success. 
"We need to surprise ourselves sometimes. We need to know our abilities and potential, and our limitations, so we open opportunities for a successful life," he emphasised.
After official proceedings ended, the lively crowd eagerly heeded Bibana's advice, 'asking questions' of invited professionals and showcasing their personal projects.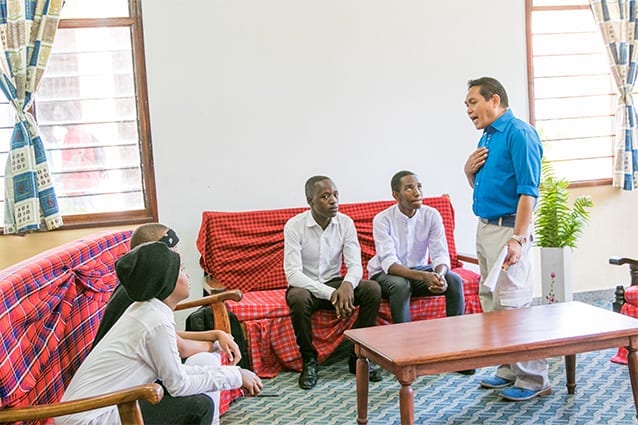 Form 3 student, Shamsia, shared her enthusiasm for business and economics.
"I have wanted to be an entrepreneur for many years. I am working hard at school now so that my dream comes true!" 
"I would really love to start working in my own community and build up our people. I also want to learn to address challenges." 
"Career Day is great because we can learn and be creative!" Shamsia said.
St Jude's Tembo Club certainly showcased their creativity, motivating students to take action against elephant poaching, promoting animal welfare and sustainability.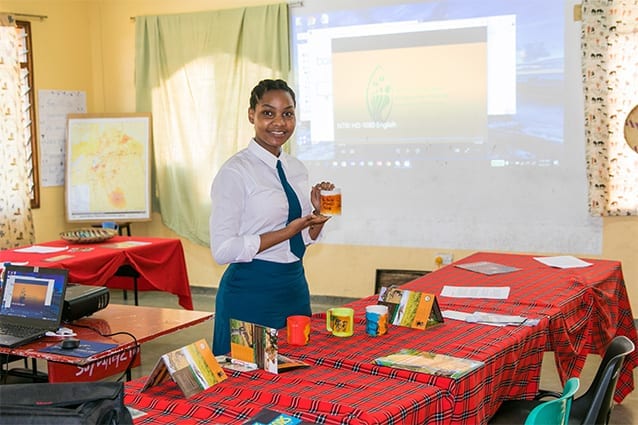 According to the World Travel & Tourism Council, more than 470,000 people are currently employed in Tanzania's tourism industry. This number is expected to double by 2027. 
Alphonse, a guest presenter from one of Tanzania's major elephant conservation projects, inspired students to be proud of their country's contribution to global tourism, and to champion the anti-poaching cause.
Our promising wildlife rangers were more than impressed!
Career Day tore down faculty walls: scientists mingled with writers, artists mixed with mathematicians, and economists networked with graphic designers. 
It proved to one and all that curiosity, determination and achieving success go hand-in-hand. The possibilities are endless for St Jude's bright leaders!  
Would you like to guide our students towards the life of their dreams? Making a donation means making a difference!
*St Jude's is grateful to Benson & Company and Kase Book Stores Arusha for their generous sponsorship of the event. 
It was Rotarians who built our first classroom; Rotarians with bricks, mortar and an insuppressible sense of service who literally and figuratively, helped build Gemma's dream of a free private school in Africa.
Rotary has remained an integral force behind the success of St Jude's for more than 15 years. A number of initiatives are ensuring that a new generation of Rotarians are ready to pay it forward!
It's never too early to act!
Our youngest members are the Earlyactors, who meet once per week at Sisia Campus. These pioneering primary students comprise the first Earlyact club in East Africa!
Since their installation late last year, 39 Earlyactors have undertaken a paper recycling project and fundraised to supply solar lights to community members in need. 
"We are building on values, critical thinking and project management skills in each meeting," Rotary Coordinator, Sebastian Cox said. 
"Our goal is to instill a creative community service mindset from a young age."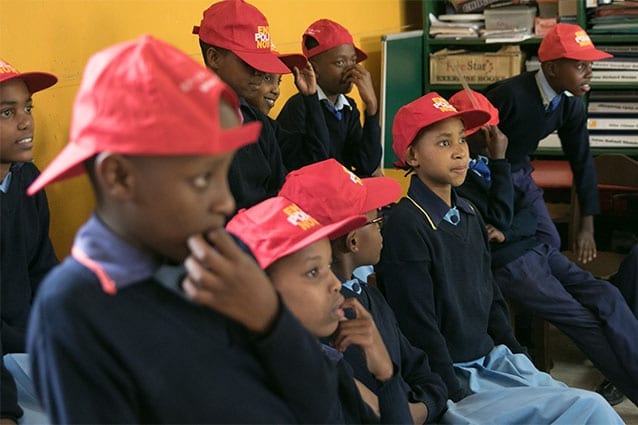 What's next?
The Club is currently scripting and rehearsing a music video. The video will be produced as a fundraising appeal for their upcoming project providing much needed supplies to a local orphanage.
Interesting Interacting
Holding the Rotary torch at Smith campus are the 29 Interactors. These creative, community-minded students have been flaming in Arusha, presenting for the Queen of Uganda and Prime Minister of Tanzania at the District Rotary Conference, organising a walk to raise awareness for Polio eradication and participating in the region's first Interact Rotary Youth Leadership Awards (RYLA). 
"I was so inspired working with the Interactors at RYLA. They had such innovative ideas. They created clothesline wire using recycled water bottles and used fabrics offcuts to create fashionable items like purses and bracelets.
They have such broad minds, they just need to be encouraged and empowered", Interact Officer and 2016 graduate, Miriam said.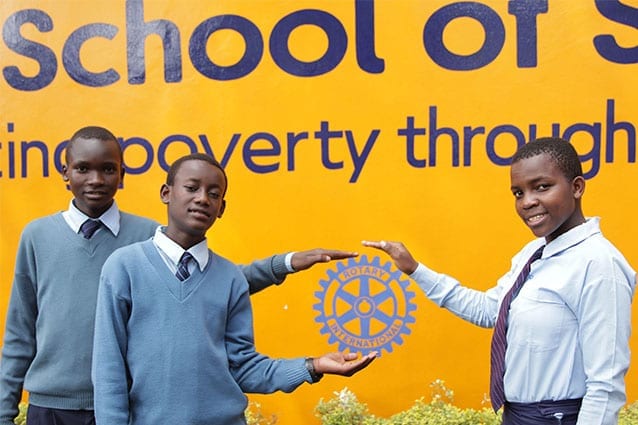 What's next?
Next up our young guns plan on recording self-devised, inspirational anthems in a local studio, supporting local orphanages by producing and supplying practice exam papers as well as creating 200 more of their 'signature' recycled blackboard dusters for schools. Closer to their home (in boarding) they will be rolling up their sleeves and holding their noses as they throw themselves into a Smith campus composting project. 
Serious Rotaraction
At the helm of our youth clubs are Rotaract. Their Rotary Vijana Poa project has educated and empowered unemployed youth through workshops on entrepreneurship and employment skills as well as work placements and business startup grants. The majority of participants who previously struggled to find any work, are now gainfully employed or operating successful business ventures.
"The Vijano Poa project is an opportunity to empower youth and to make their dreams come true. I'm amazed to see how successful this project has been", Miriam said.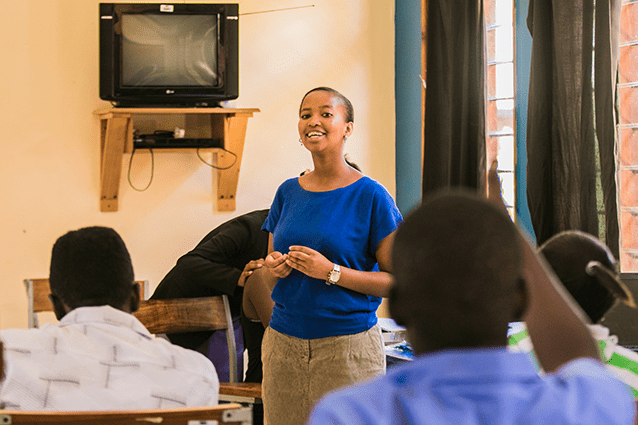 What's next?
Always up for having fun while fundraising, they will hold a pool competition to raise money for upcoming projects focused on women's rights and maternal health.
Those that work together grow together, and this is what the three clubs plan to do. Literally! Rotaract will soon be leading their junior clubs in 'Mission Green' – a District wide tree planting project.  
"I am so impressed by the initiative these future Rotarians, what they have already achieved and their ambitions for the future. I truly hope every Rotarian who lent a hand to our mission over the years shares in my joy over the enthusiasm and accomplishments of our young clubs", Gemma said.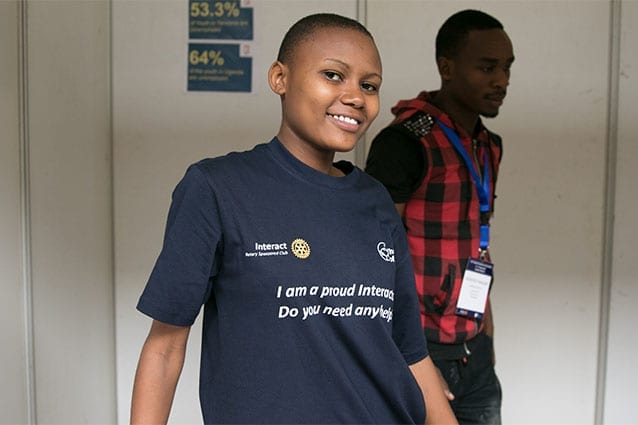 Help our students make a difference to others, by making a difference to them - sponsor one of our bright students!
If you had to choose between facing death, seeing a spider or speaking in public, which would it be?
There's no argument over which option some of our young leaders would choose!
Public speaking is commonly ranked as the number one phobia, but students at The School of St Jude are suited up in an armour of cool confidence and delectable diction. Watch out, parliament!
English teacher, Mr Elisa, believes Debating Club is a way for students to improve their leadership skills and that it helps them practice English in a fun, unique way.
"The students enjoy the competition – it makes learning a new language exciting!" Mr Elisa enthused.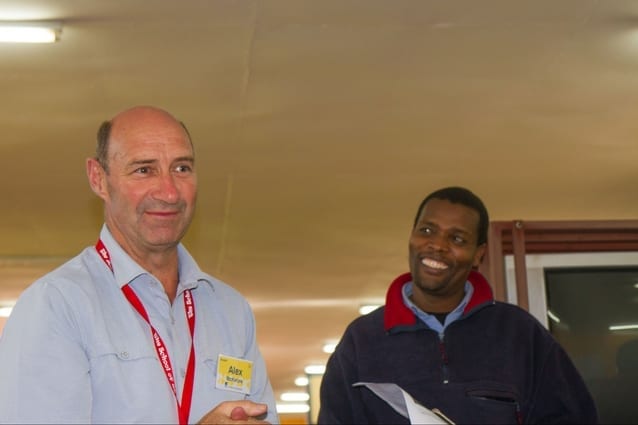 During Graduation Week, Standard 6 students impressed our international visitors with their quick wit in a two-hour series of debates.
Topics on the table ranged from 'rural life is better than urban life' and 'education is better than money', to 'boarding school is better than day school'.
Student Council Secretary, Faith, stood with poise and spoke eloquently as Madam Speaker of the debate. It was her job to choose the winner of her round – that 'teachers are better than robots'.
"The opposing side said that robots just give students motivation. Children need to also have love to be motivated, and teachers give love. So we decided that… teachers are better than robots!"
The audience couldn't agree more. Our international visitors wildly applauded the brave students, who humbly accepted the praise.
"I do debating because I would like to be a leader in the future and I love to speak in front of people!" Faith giggled.
Faith's debate-mates, Nice and Rahim, couldn't agree more.
"Debating gives me the courage to share my feelings. The teachers who help us are confident and we learn from them as well," said Nice.
"When you debate, you gain knowledge, hear many opinions and learn about differences," Rahim added.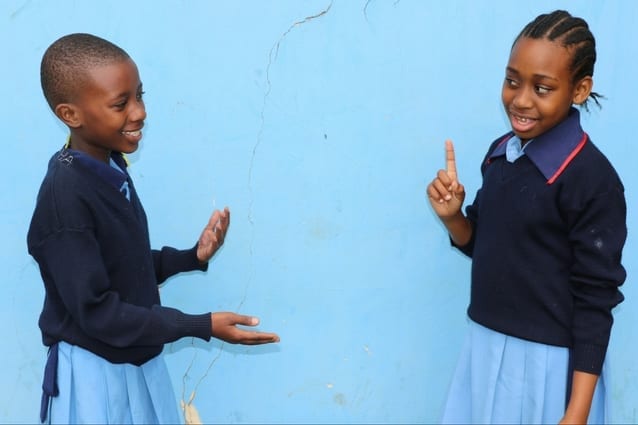 Whether for personal growth or leadership pursuits, our students are determined to use their 'gift of the gab' to serve the community.
"I want to increase my confidence because if I am to become a leader, then being a good speaker will help me express the wishes of the people I want to help," Faith explained.
Mr Elisa knows Faith's commitment will serve her well.
"Faith's English is especially good because she is always speaking and practicing her skills."
Fearless Faith and her friends are only 12 years old and already they've conquered one of the world's most terrifying tasks! With a St Jude's education under their belts, there's surely no podium too high for them to reach – we can't wait to see what else these young leaders will conquer!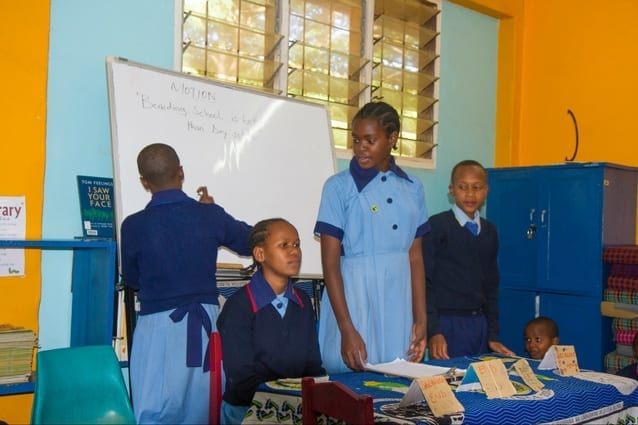 Consider a visit to The School of St Jude, where you'll take part in the action and get to meet some of Tanzania's future leaders!