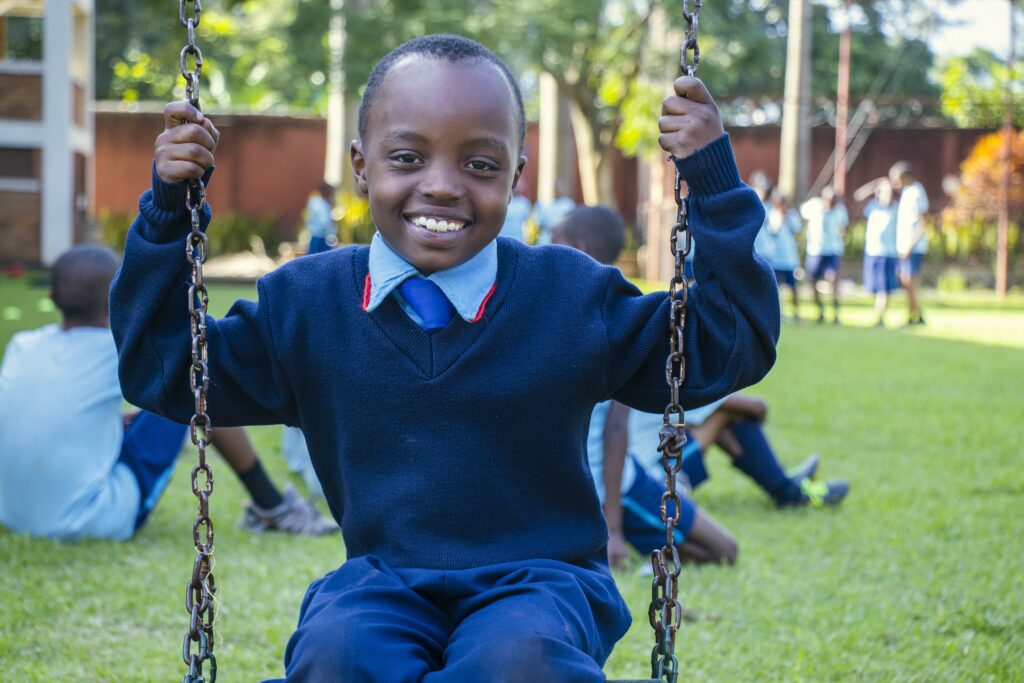 "When I grow up I would like to be a soldier," says Victa, a Standard 2 student.
Victa is six years old and has hope for a bright future with St Jude's education. "I love playing on swings during breaks and at home, I love reading during my free time," he says shyly.
For 20 years, St Jude's has been educating bright students who come from considerably poor backgrounds, providing them with learning resources, school uniforms, daily nutritious meals, safe and reliable bus transportation, highly qualified and well-resourced teachers and everything required for a successful education and to prepare them to be future leaders of Tanzania.
Although Victa is only in his second year of school, he already has his sights set on a leadership position.
"One day, I want to be Head Boy and make sure that all the students pick up rubbish in the playground," he explains.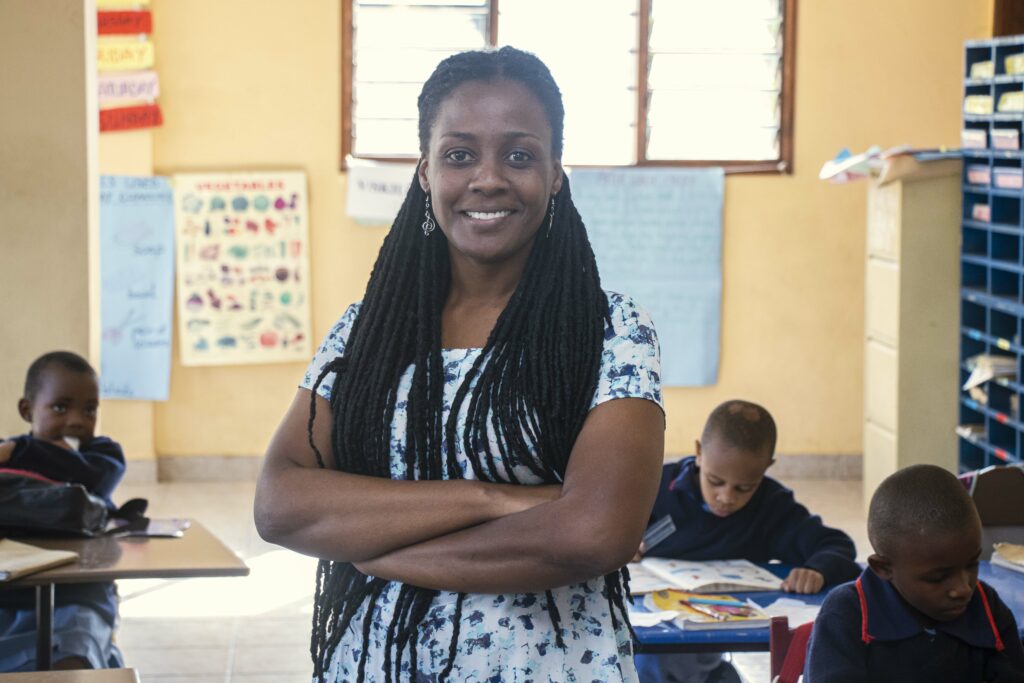 Ms Juliet is one of the school's dedicated teachers. She teaches Standard 2 and sees the impact the school makes on these future leaders. "St Jude's is creating an impact in these students' lives. Knowing this feels good because I know that the education they get at St Jude's will help their family and themselves in the future," says Ms Juliet.
"As a teacher, I encourage them to make their own decisions such as choosing the storybooks they want to read instead of choosing for them. I also encourage communication and teamwork, as I believe that for a person to be a good leader one has to be a good communicator and a good team player," she adds.
Ms Juliet, who has been working at the school for a decade, has welcomed many students into her class who are offered scholarships following St Jude's Scholarship Application Process.
"It feels great and exceptional to receive pupils from different backgrounds and help them settle into our school," explains Ms Juliet.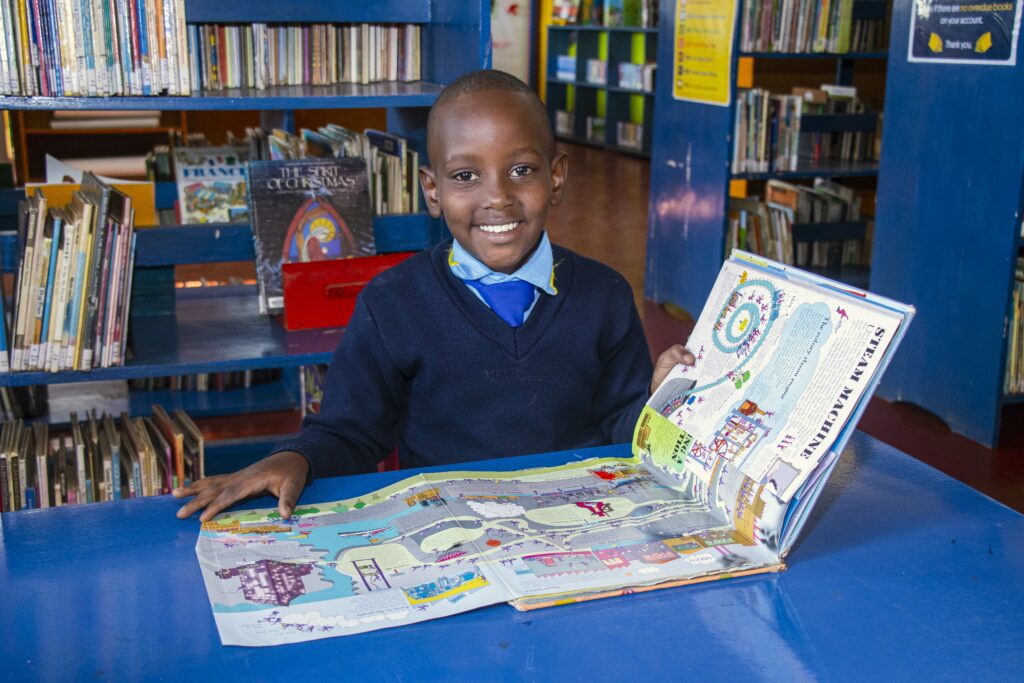 One of the newest students to join the St Jude's community is Brayden. He's in Standard 1 and loves reading and writing.
"I love the St Jude's school environment," he says. "At my old school there was no library and the playground was full of stones."
Brayden is one of the 48 students who joined in Standard 1 and 2 in 2022. He is eager to fulfil his academic potential and reach his goals.
"When I am older, I want to be a Sports Prefect," Brayden shares. "Then, when I grow up, I would like to be a doctor, so I can treat sick people."
St Jude's has grown from three students to 1,800 in just 20 years. In that time, the school has touched thousands of lives, so that today, the school's first students are now entering the work force, supporting their families and driving change in the community. But for students like Victa and Brayden, the change is just beginning. Though they are among St Jude's youngest students, they have everything they need to become Tanzania's future leaders.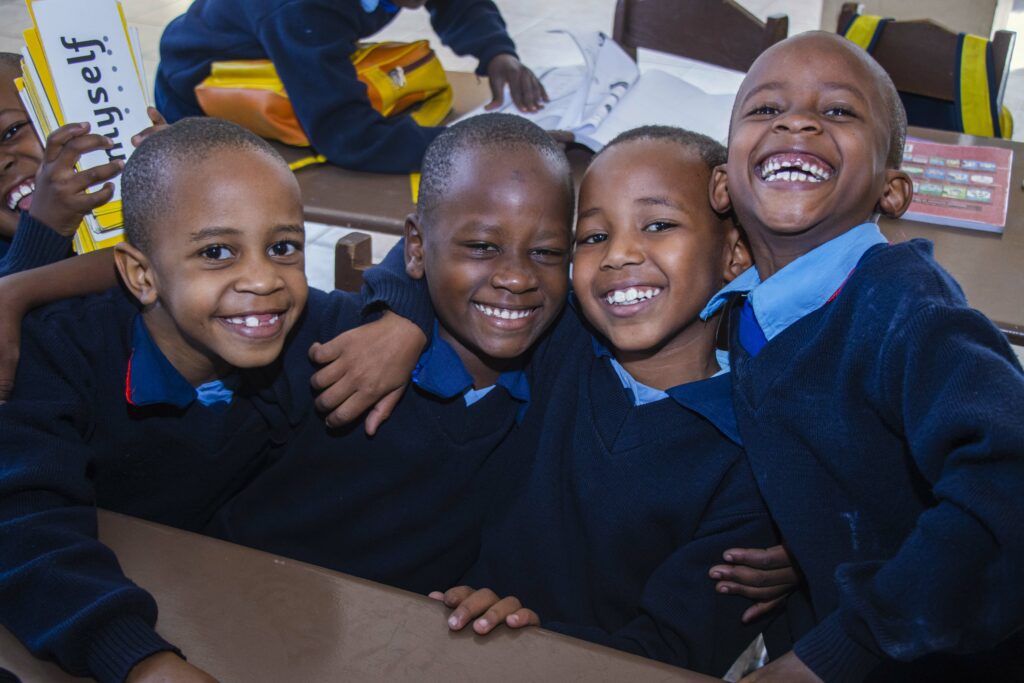 On 8 March, International Women's Day, St Jude's Girls' Secondary School celebrated with a special assembly, where students gave joyous performances and inspiring speeches.
However, gender equality is year-round work. For the last two years, St Jude's has been making a concerted effort to reach an equal ratio of male and female academic staff in order to empower students and staff alike.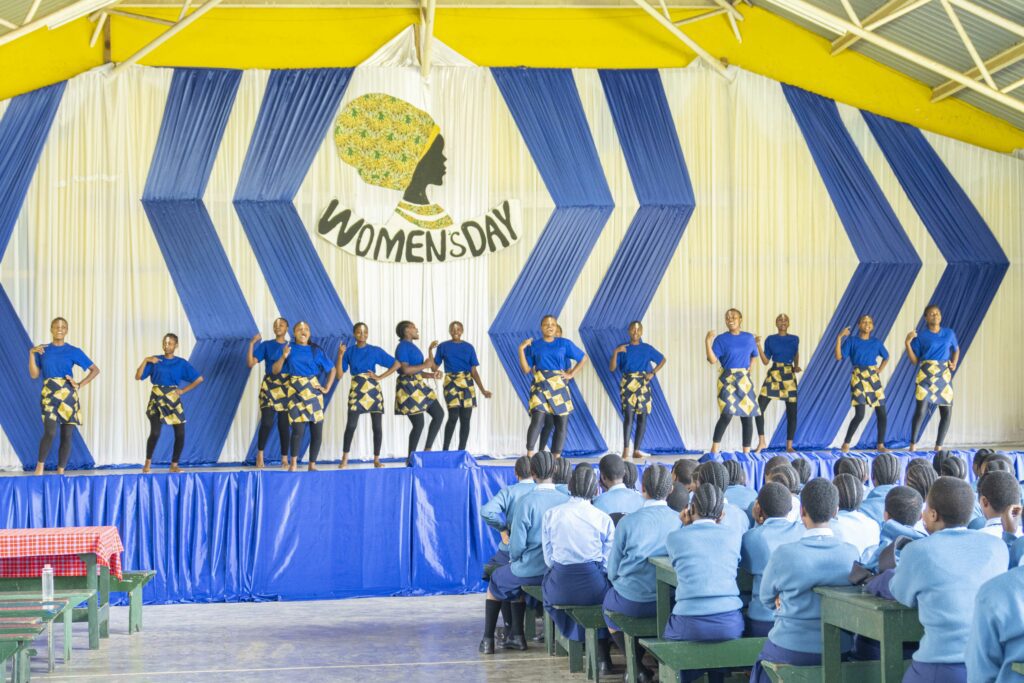 "Back in 2020 at Smith Campus, the number of male teachers was 93%," begins Mr Mcharo, St Jude's Academic Manager. "At our girls' school when we first opened it was 85.7% and in primary school it was 82%," he continues.
This imbalance is not isolated to St Jude's, but is seen in many Tanzanian schools. There is a particular disparity in mathematics and science subjects.
"This can disadvantage girls, it can make them think perhaps to be a teacher or to teach certain subjects, you have to be male, which is not true," Mr Mcharo explains.
After two years of work, St Jude's hard work is beginning to pay off, particularly at St Jude's Girls' Secondary School, where 42% of teachers are now female. Recently, Mr Mcharo was proud to hire a female Mathematics Teacher and the school's very first female Physics Teacher.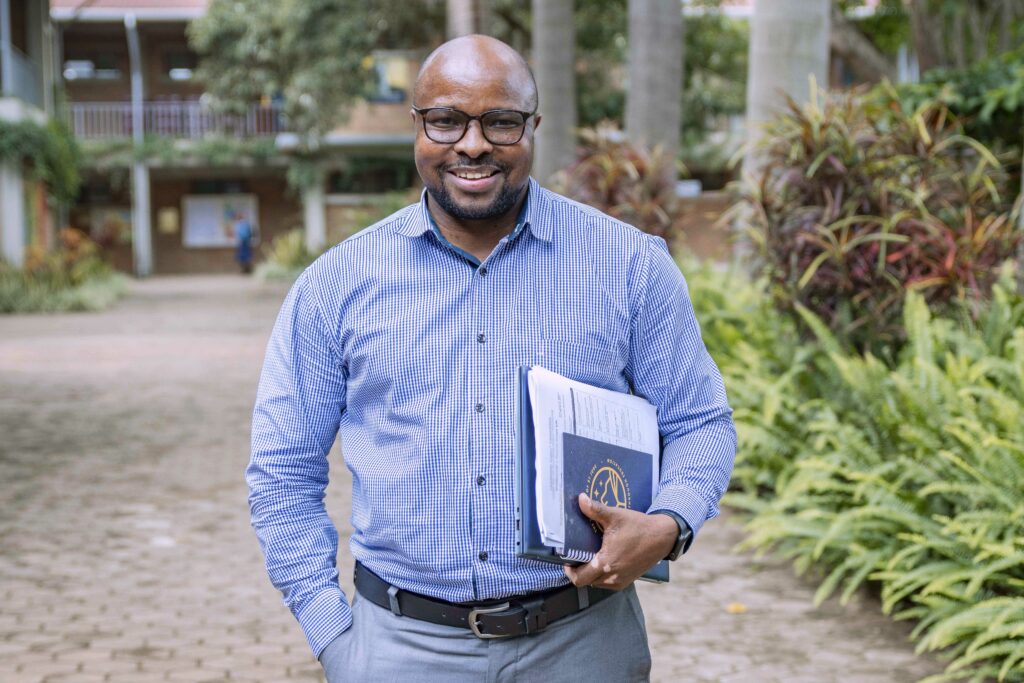 These teachers are Madam Rehema, who teaches mathematics, and Madam Jackline, who teaches physics.
"There is an ideology in society that mathematics is difficult for women, so less women become mathematics teachers," says Madam Rehema, who holds a Master of Mathematics. "Even if there is one, other people won't believe she can teach mathematics, so then she has to convince people, convince society. You have to prove yourself."
Madam Jackline says there is a similar perception in physics.
"Many people say that physics is hard for girls, but it's a matter of having passion and putting your effort into it. I love it and I love teaching physics," says Madam Jackline.
Both new teachers are working hard to challenge these perceptions with their students.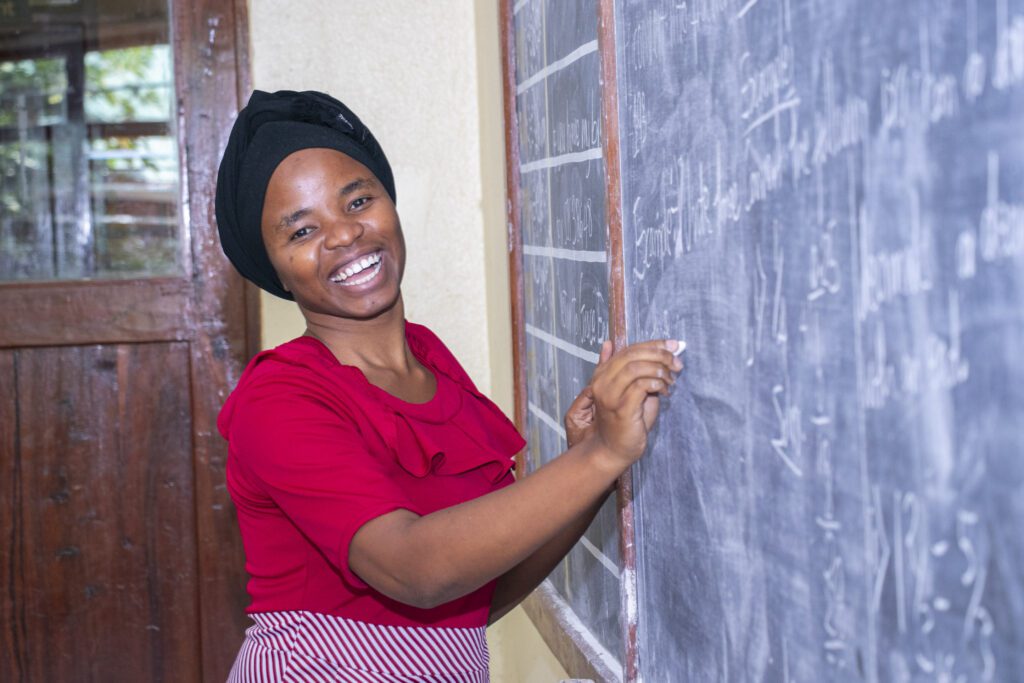 "First, I try to remove that ideology that mathematics is too hard. I try to encourage the girls to keep up. I tell them that mathematics has broad applications. Computer systems are all about mathematics. Business is the application of mathematics. You can apply mathematics as a doctor or engineer," says Madam Rehema of her approach.
Madam Jackline is particularly excited to become a role model for her students, despite not having one herself. "In my whole school and university journey, I've never had a female physics teacher, she explains. "At university in my class, there were five women and 30 men."
With such a small numbers of female teachers, hiring can be difficult, but St Jude's Human Resources (HR) team is up for the challenge.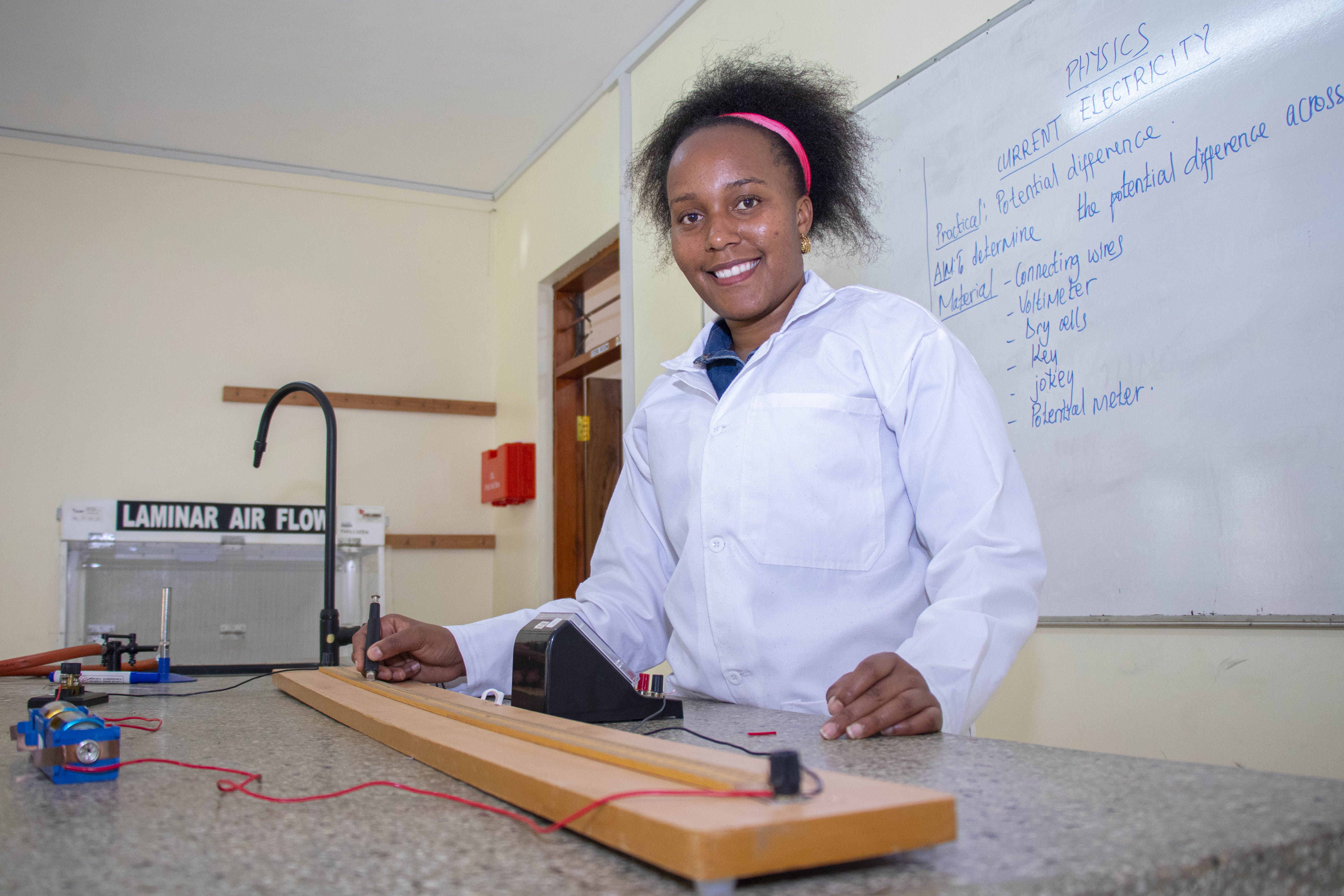 Happy, the school's HR Manager, has devised a number of ways to attract high quality female teachers.
"All our adverts now say that we highly recommend female candidates apply. We do a lot of headhunting as HR and we also ask current female teachers for their recommendations," she describes.
The school has also introduced a referral process, where staff can receive a small financial bonus for recommending a successful candidate for an open position at St Jude's.
"You can see in interviews, female candidates are often less confident than male candidates," says Happy. "But once they are employed, they grow in confidence in their roles."
With a larger number of female staff, the school has also had to bring a greater focus to its maternity leave program. In accordance with Tanzanian labour laws, women receive 84 days of maternity leave after the birth of their children, followed by six months of reduced hours to allow continued breastfeeding.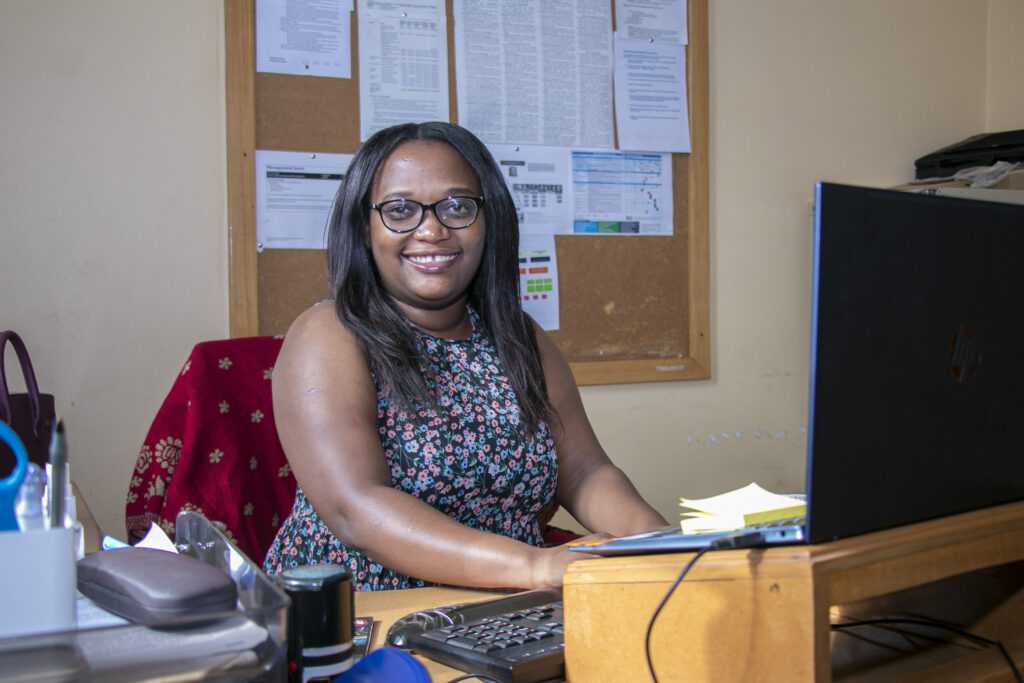 "During that time, we schedule all their classes in the morning as they will go home early in the afternoon to breastfeed, so we support them. For female boarding staff, we might move them into the day school so they don't need to be at school overnight," Mr Mcharo says.
While organising maternity leave for teaching staff can be a challenge, it's a challenge St Jude's is ready to meet in order to reach a balanced number of female staff.
"We want to empower women, because women can teach too, and we want our students to see that," says Happy.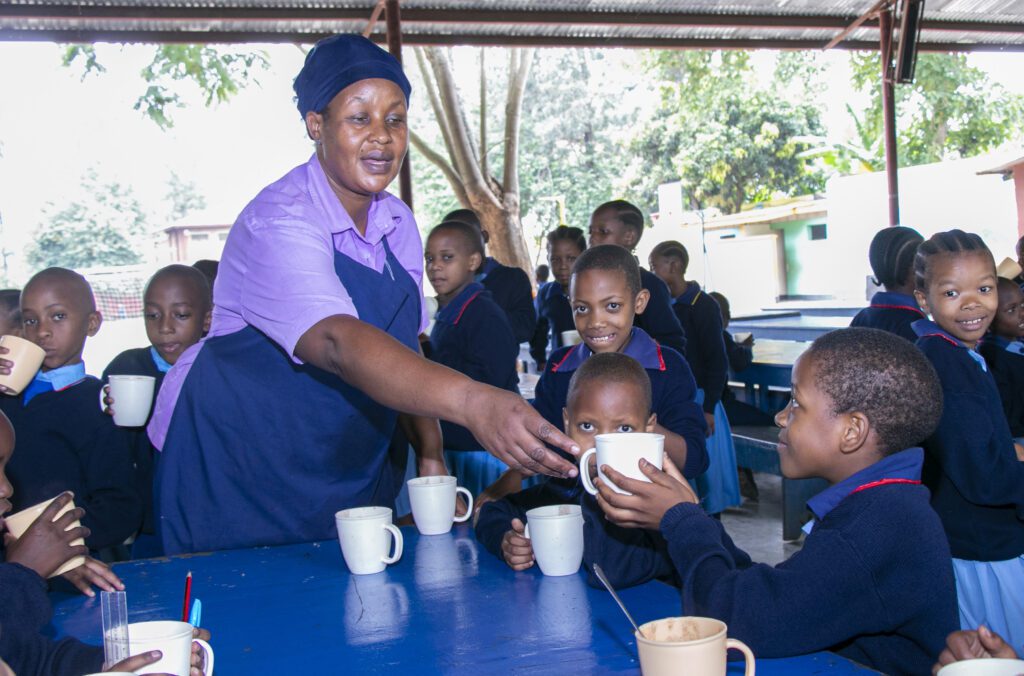 "Tea break is at 10:30 am. We are serving porridge today," explains Rehema as she sets a table in the primary school dining hall.
Rehema, the Head Cleaner at St Jude's, is always cheerful and kind to students and staff.
"I joined St Jude's in 2019. Before I was promoted to lead the cleaning staff, I helped to clean school offices and other areas of the school," says Rehema.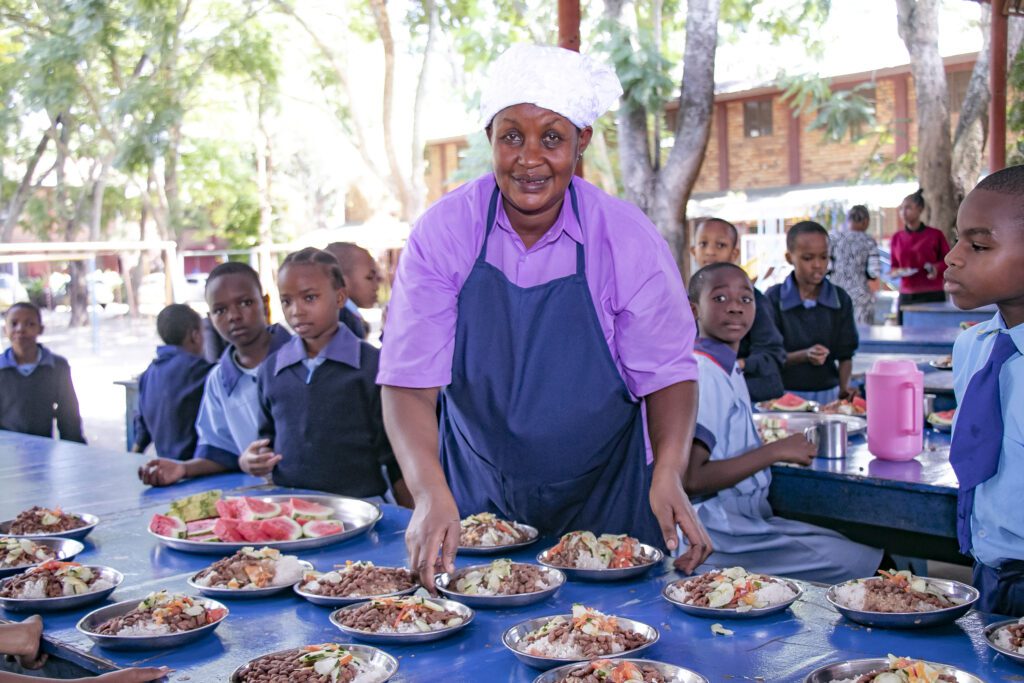 "My responsibilities as the head cleaner are to supervise and ensure cleaning procedures are followed, cleaning staff complete their assigned tasks, and the school environment is clean and safe, from classrooms, toilets, and kitchens to all offices," she explains.
Rehema believes her love for children is the biggest motivation in her work at St Jude's.
"I like to cook and I have always wanted to work with young students. Getting the job at St Jude's was a dream come true for me. Seeing these students every day gives me the drive to continue to do my very best for them. And when they say, 'Thank you, Ms Rehema,' I feel accomplished because I know that my work has a positive impact on them," says Rehema.
All students at the school receive hot, nutritious and healthy meals with a menu featuring produce part-sourced from the school's farm. The school serves over 29,000 meals per week!
Rehema, who ensures all students get healthy meals and safe water daily, understands how St Jude's is helping to change lives, including her own. "Through St Jude's, I've been able to send my children to school, build a house, and run my day-to-day affairs," she shares.
'I would like to thank Gemma for all she is doing for bright, poor Tanzanian students, giving them hope for a brighter future, and also for employing Tanzanians like myself, empowering and giving us an opportunity to take care of our families," says Rehema.
Staff like Ms Rehema are invaluable. Her work at St Jude's ensures that our students can learn in a clean environment and enjoy nutritious, daily meals. However, it's not just the students who benefit… Staff are empowered to take on greater responsibilities at work and transition into leadership roles while supporting their families and improving their lives with their St Jude's salary.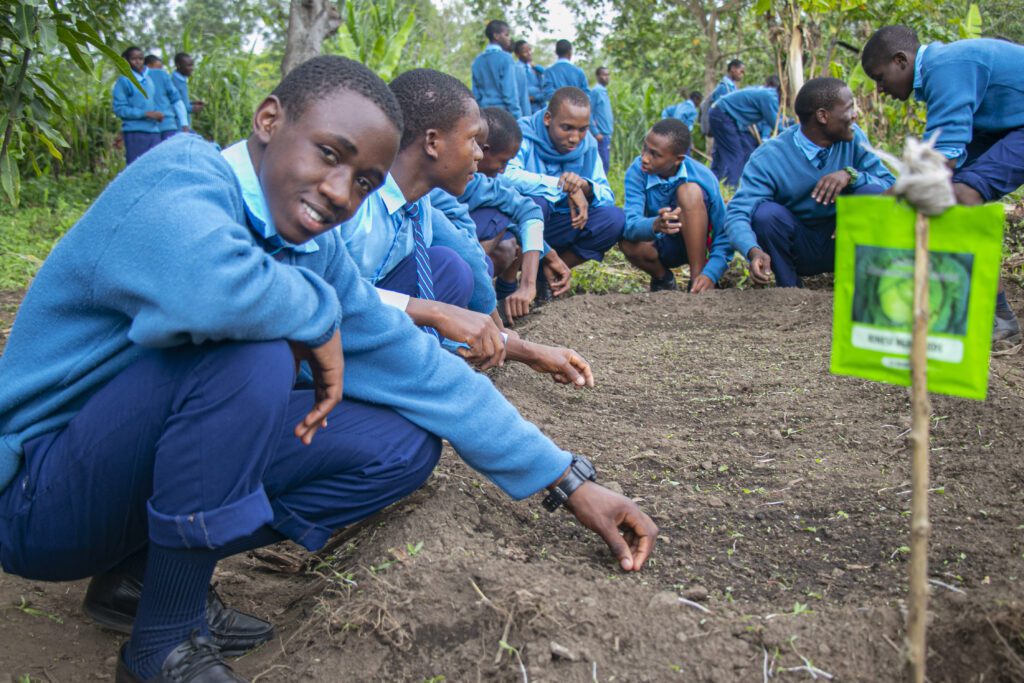 At St Jude's Secondary School in lush, green Usa River, a dedicated group of students is working to conserve the environment, one plant at a time.
They are members of the Malihai Club, which meets each week to work on environmental conservation projects. This club is just one of around 50 extracurricular activities (ECAs) available to St Jude's students. These ECAs provide an opportunity for experiential learning and a way for students to discover and explore their passions.
Student Chairperson, Karim from Form 3, explains, "Malihai is a Swahili word. It comes from 'mali' which means resources or wealth and 'hai' which means life or living. So, if you join the two words, it's living wealth. So Malihai is about the environment and conservation."
"Malihai club is a club that deals with environmental conservation and wildlife management," Mr Elia, Malihai Club mentor, adds. "At a school level, we are planting and managing trees and cultivating vegetables."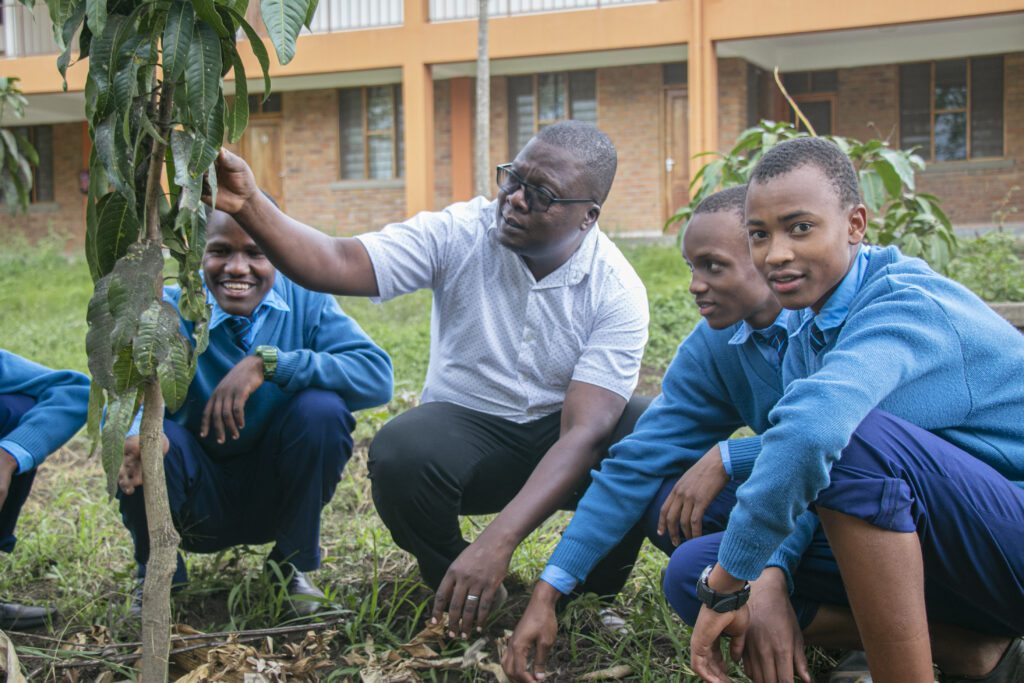 Mr Elia has a great interest in the environment and works hard to spread the word about the importance of conservation. He says, "Environmental conservation is a global issue. We need to bring awareness to many people."
Mr Elia's involvement with Malihai is certainly making an impact – the club now has 63 members, including Karim and Assistant, Kelvin, from Form 5.
"I think it's important to conserve the environment to protect biodiversity and to conserve different species of tree for the future," says Kelvin, who clearly shares his mentor's passion for conservation.
While the club has big goals, they are working to effect change on a local level. A major project for the Malihai Club is counting, maintaining and naming the campus' approximately 200 trees.
"We are naming the trees around the school with their common and botanical names, so that the students can learn more about them," shares Karim.
In addition, the club is planting more trees, mostly avocado and mango species, with hopes that future students will be able to enjoy their fruits.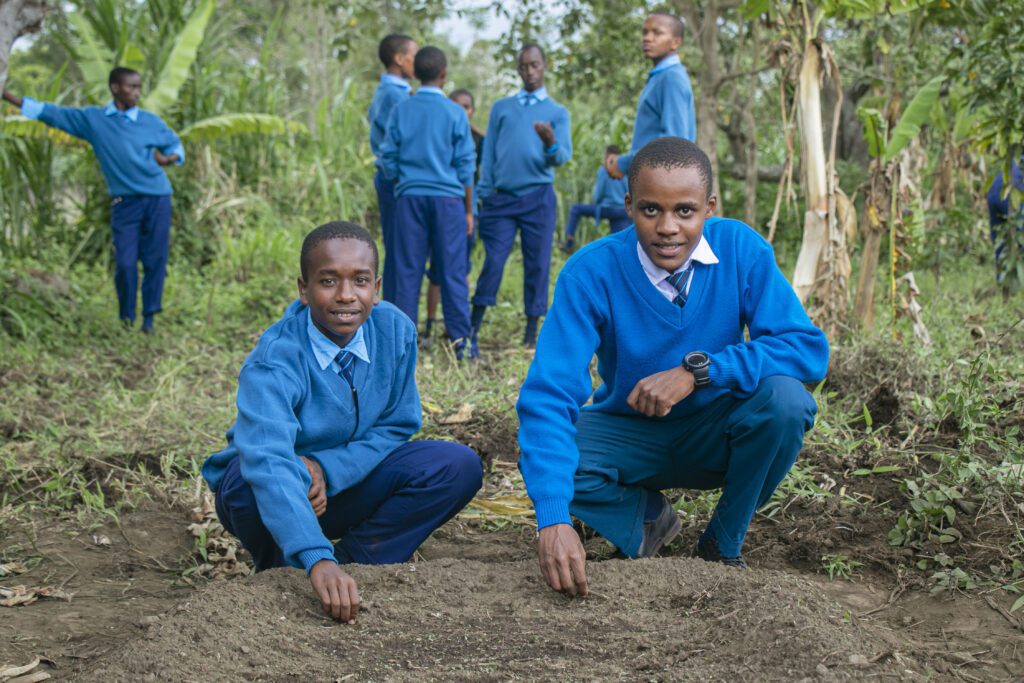 The club's other project, vegetable cultivation, is also popular with club members. Many Malihai members already study agriculture, but the club gives them the opportunity to do additional practical work.
The school's shamba (shamba means farm in Kiswahili) already grows many varieties of vegetables, so the Malihai club decided to grow different types of vegetables to diversify the crops. After some discussion, the students decided on cabbages and onions. Soon, the vegetables the club is planting could be on their classmates' plates!
Agriculture is a major industry in Tanzania, and many St Jude's students plan on agricultural careers – including Kelvin and Karim. Malihai gives these students an opportunity to learn more and get their hands dirty.
"With the knowledge I gain from the club, I can use it to benefit others by helping them with farming. I am planning to study horticulture," shares Karim.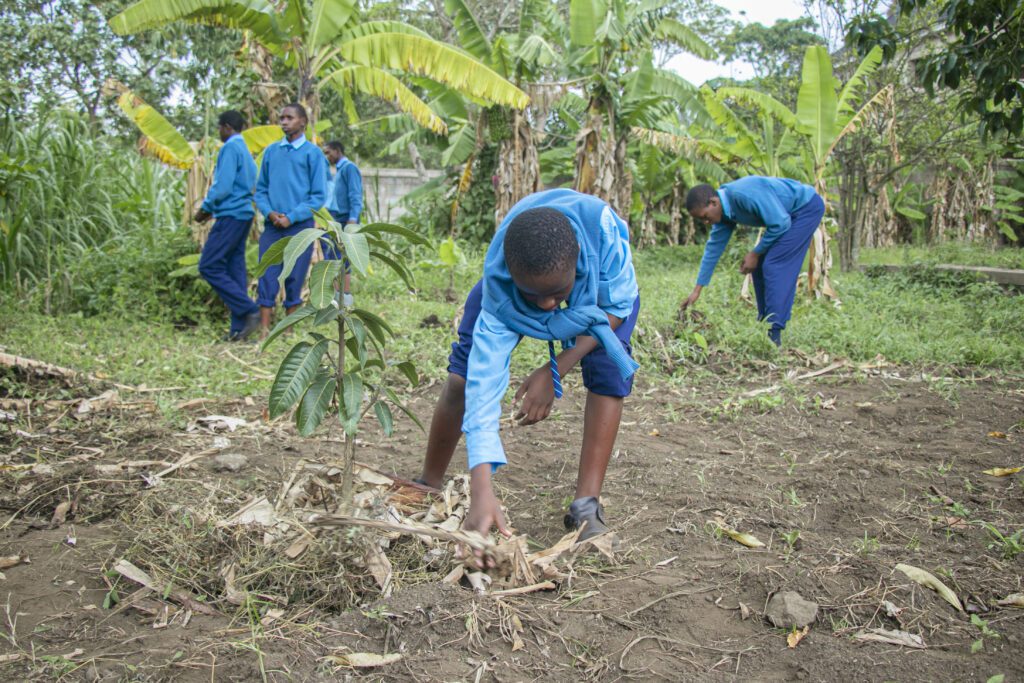 Extracurricular activities, like the Malihai Club, are essential components of a holistic St Jude's education. Through self-directed activities, like tree cataloguing and vegetable cultivation, students learn in a way which complements and extends their academic studies. Clubs also present opportunities for leadership and, perhaps most importantly, allow students to discover their passions.
The Malihai Club at St Jude's Secondary School is a wonderful example of the way St Jude's holistic model of education helps students fulfill their potential – all while conserving the environment.
Blood isn't something we tend to spend a lot of time considering. Some people might even feel a bit lightheaded at the thought of it! However, if you fall ill, blood products could save your life.
In 2021, staff at The School of St Jude learnt about the lifesaving impact of blood donations first-hand, when Standard 5 student, Petro, urgently required transfusions of platelets. Later in the year, after Petro had made a full recovery, they were inspired to donate again, to share this important resource with others in need.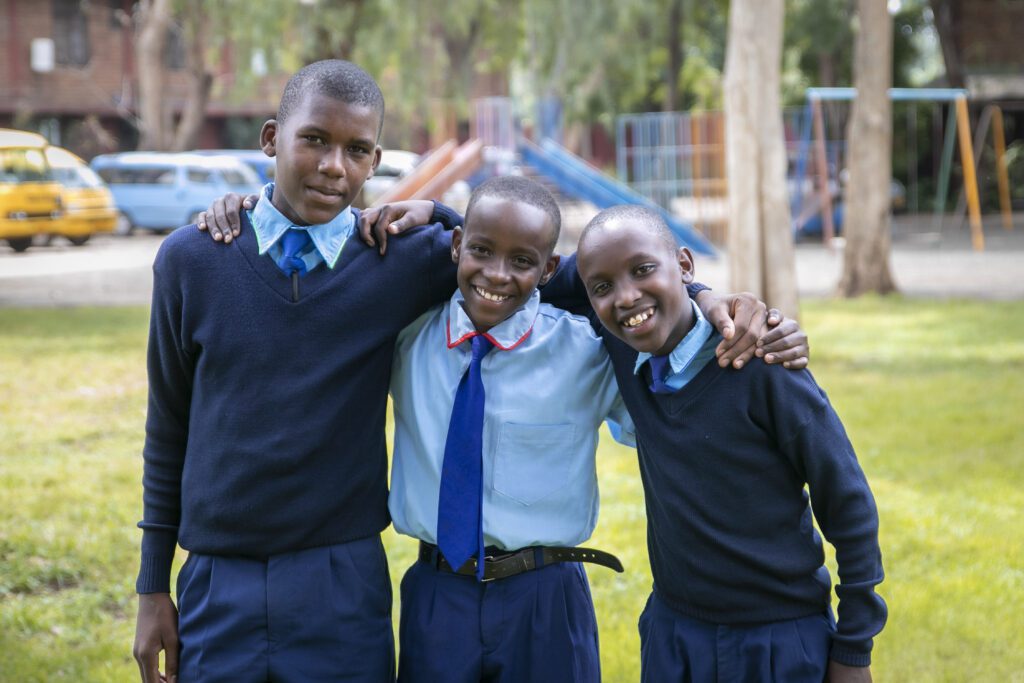 Petro, now in Standard 6, is an enthusiastic and friendly student. In March 2021, he was diagnosed with leukaemia (cancer of blood-forming tissues). Faced with expensive treatment, Petro's family successfully applied for St Jude's medical fund, which covers medical and transport costs for the families of severely ill students.
"In the hospital, it was not so fun, but I was happy because teachers and people from St Jude's came to visit me. They brought me some work to study and also puzzles," Petro recalls.
While Petro's treatment was incredibly effective, a common side effect is a reduction in platelets, which can be life-threatening, as platelets are crucial for blood clotting. In May and again in August, Petro's platelets neared zero, and St Jude's made a call out for members of our community to donate blood.
"I had a lack of platelets because of the chemotherapy, so I needed some blood transfusions. I can't remember how many! I got to learn my blood type which is O+," explains Petro, who is clearly fascinated by the science behind his treatment.
One staff member who answered the call for blood donations was Mr Focus, who works in the Head Office.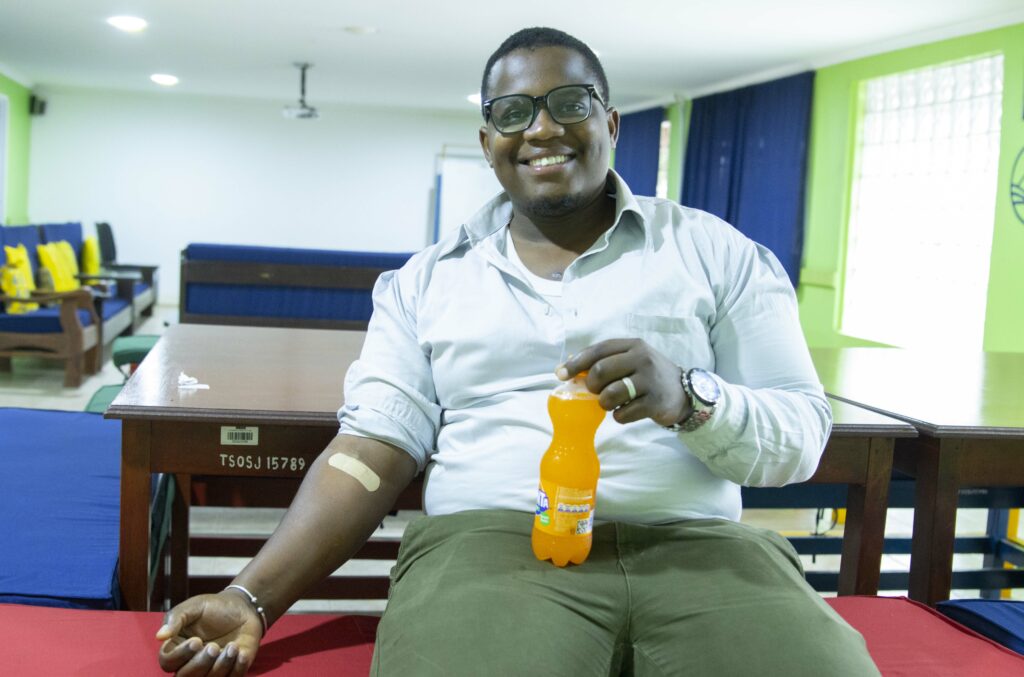 "It's just excellent to know that we could help him," says Mr Focus. "I believe our little contributions made a difference and I am so excited that Petro is back at school."
Thanks to donations from people like Mr Focus, and continued medical treatment, Petro was found to be in remission in late September. In October, he returned to school!
"I am very, very happy to be better. I came back to school at the end of the year and I was very happy, seeing my friends, seeing my lovely teachers and studying science," beams Petro.
While everyone at St Jude's was overjoyed to welcome Petro back to school, his challenges had opened the staff's eyes to the great need for blood donations in Tanzania. In order to help others in need of blood products, St Jude's staff decided to make another round of donations.
Here in Tanzania, around half of all blood transfusions are administered to children under five years old. The next most common use is for women who are pregnant or who have recently given birth, while around 5% of transfusions go to people with cancers, like Petro.
In early December, around 20 St Jude's staff members gathered to donate blood. Some people made their very first donation, while others were return donors.
One donor was Brenda, who is currently completing her Community Service Year (CSY) through Beyond St Jude's, our program for St Jude's secondary graduates.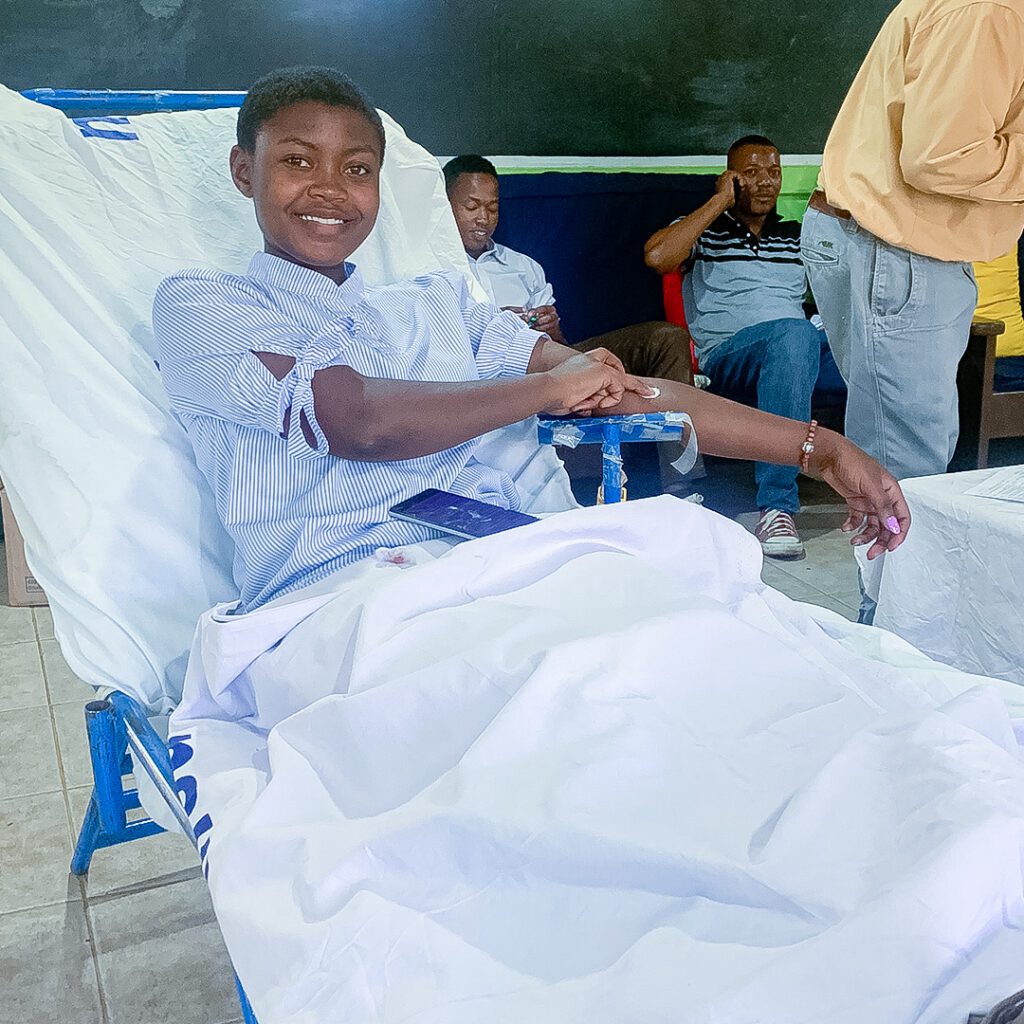 "I know that there are some people who are having a hard time and don't have access to blood. So, by donating I can reach out a hand to those people who are sick," Brenda explains of her motivation for donating.
"I wasn't nervous to donate, I was actually happy. I would do it again," she enthuses.
Despite donating earlier in the year for Petro, Mr Focus was keen to donate again when he could, and he joined Brenda at the donation day in December.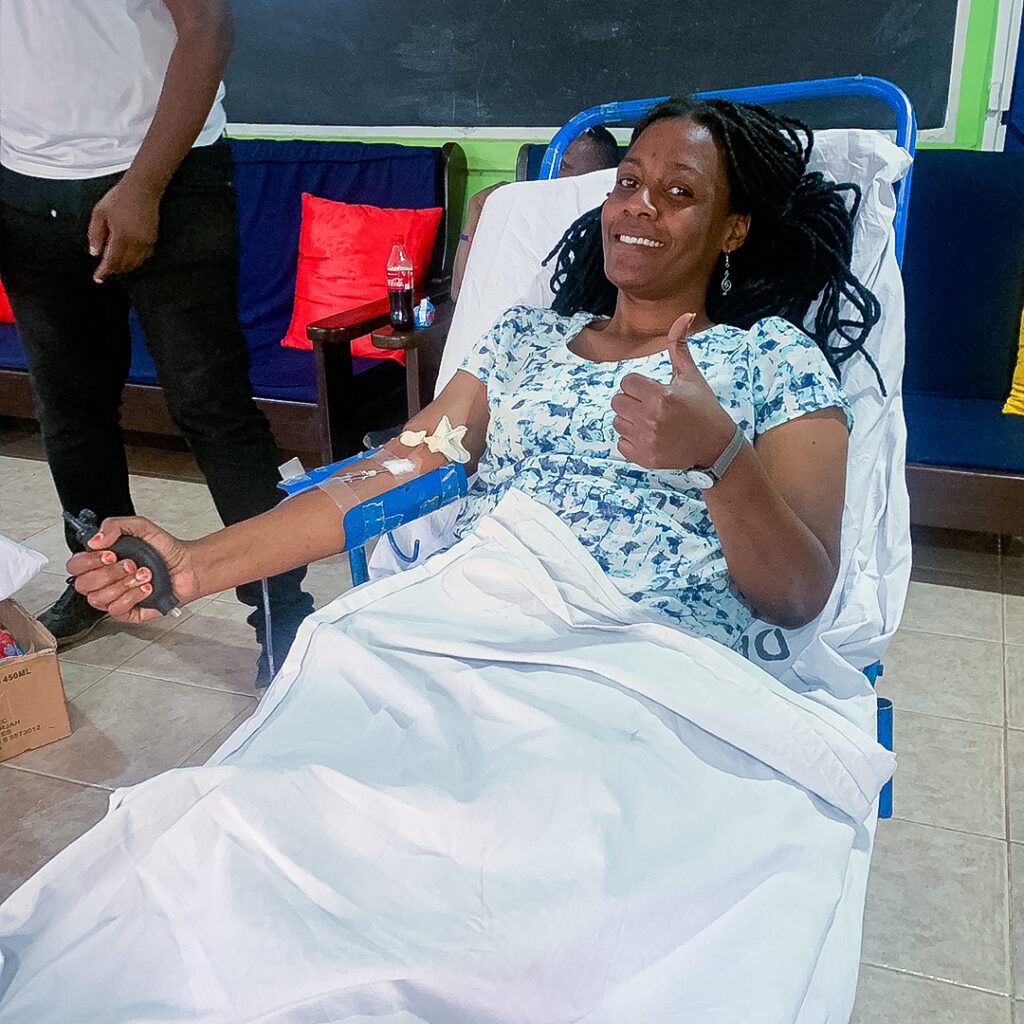 "It's a chance to do something good for humanity," smiles Mr Focus. "And you always get a soda and biscuits afterwards, so how could I be nervous?" he adds with a laugh.
While some people were nervous, the thought that they could help others, like Petro, gave them the courage to complete their donations.
Of course, the main work at St Jude's is fighting poverty through education, but we're proud to say that our staff are always looking for different ways to help our community. Inspired by our resilient student Petro, we're honoured to be able to help those in need by donating blood.
In the early hours of a blustery Thursday morning, flash flooding at Usa River, the site of St Jude's Smith Secondary Campus, swept away huge parts of the School's main boundary walls.
Standing 2.7 metres high, the wall crumbled in two large sections beneath the weight of recent heavy rains. The total length of wall damage is 250 metres — the length of a football field, and then some — and will cost almost AU$49,000 to repair.
The School of St Jude Facilities Manager, Laurian, is overseeing the repairs and explained the toll it has taken on our school community, infrastructure and budget.
"When the askari (guards) heard the wall collapsing before the sun rose, they immediately contacted the Smith Secondary Campus leadership to inform them."
"It was clear we would need to employ more askari to patrol the destroyed sections of the boundary wall. We employed six new guards — three for during the day and three overnight," Laurian said.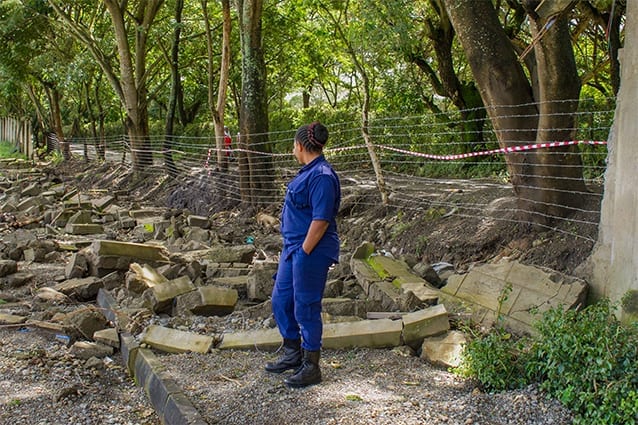 In addition to six new guards, it will take 18 local construction workers almost two months to restore the wall to tip-top condition.
"To prevent this from happening again, we are increasing the depth of the passages which allow water to flow under the wall from 60 centimetres to 90 centimetres. The problem with flash flooding is that the water quickly blocks the passages. The weather we have had in Arusha this year has been unusual and unpredictable," Laurian remarked.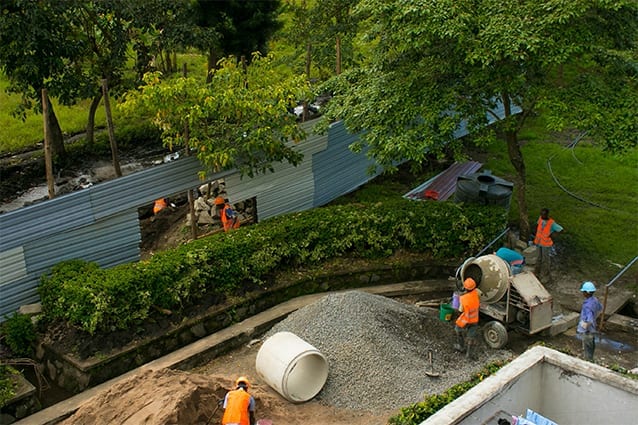 "It is difficult to explain this year's weather scenario," Laurian said.
"We are putting in place more preventative measures so we are best prepared if this happens again. The emergency response from everyone on the ground, from the askari, to the maintenance team and the workers, was impressive under the circumstances," he added.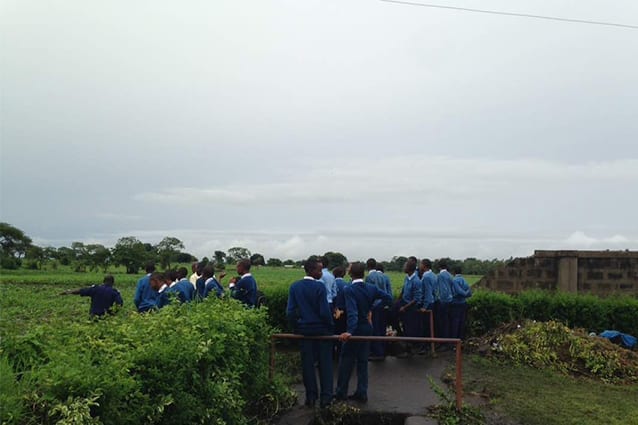 "We face unique challenges as a school and not-for-profit organisation based in Africa. Unpredictable events like this occasionally crop up and cause us to reconsider strategies and goals. On top of that, it means, from time to time, we must call upon our friends around the world for some extra support," Gemma said.
Day by day, our wall is being restored to its original condition, but we still need all hands on deck! Will you give us a hand? Your money will be doubled, thanks to our Appeal match. Donate today to our Area of Greatest Need.