Two months ago we welcomed a new staff member to St Jude's - Meet Maddie!
The curly-haired wonder hit the ground running - literally, running - after our students and staff.
As a Communications Officer, she is charged with supporting our fundraisers and sniffing out the best stories she can to share with our school community.
Maddie's St Jude's story had its start seven years ago in a South Australian high school classroom, where her teacher played the 'Africa Calling' - Australian Story episode.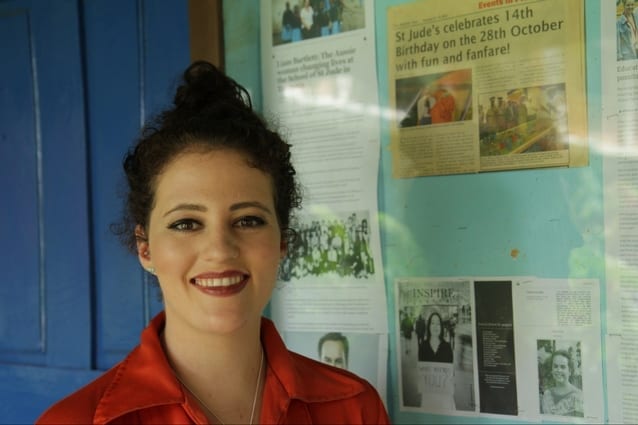 "Mum and Dad raised me with a solid work ethic and moral compass. They always encouraged me to be kind; to believe one person could make a difference. Learning about The School of St Jude as a teenager brought that message home to me," Maddie recalled.
"I was taken by the story of everyday Aussies, rolling up their sleeves and giving something a go. They did it without knowing what would happen years down the track and the opportunities they'd be giving to exceptional children who are in great need," she said.
With the story of The School of St Jude firmly planted at the back of her mind, Maddie set about making a difference, however she could, to young people in Australia.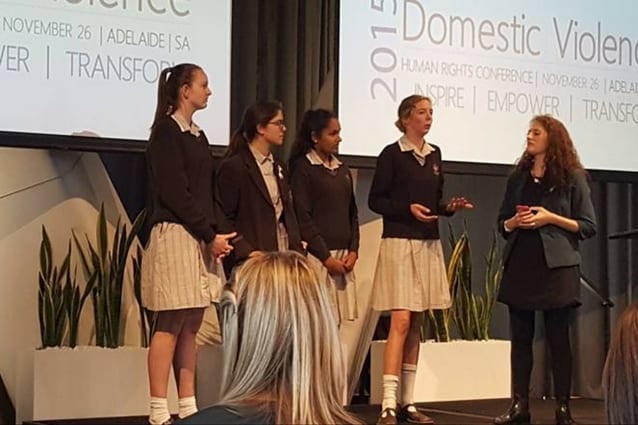 While completing university, she worked part-time for the Sisters of Mercy and at St Aloysius College in Adelaide, facilitating their Social Justice Program.
"I love communicating a message in a way that motivates and promotes action. I got to do that every day with students in Australia, and now I do it in a different way at St Jude's!"
What drove this young go-getter?
"Passion for the cause propels me. There's nothing more inspiring than a resilient attitude – gritting your teeth and getting an important job done, even if it's hard.'" she said.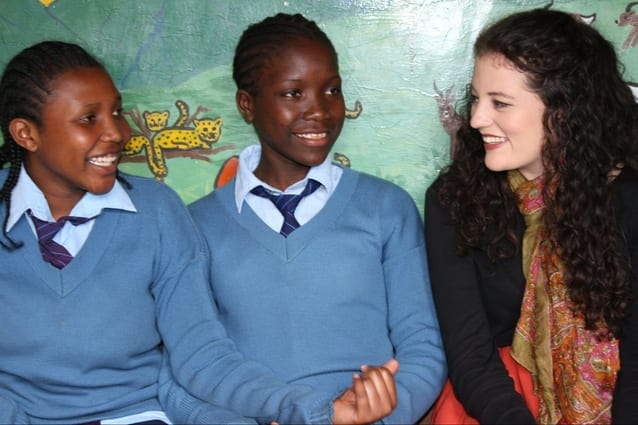 The little seed sewn years earlier finally saw the sun, when Maddie received a phone call from her Mum late last year.
"If it weren't for Mum, I might not have had the courage to apply. She phoned me when she heard about St Jude's for the first time on 60 Minutes and said, 'You need to find a way to get involved. This is so you.'"
"I gave it a few days' thought, visited the school's website, saw the advertisement for Communications Officer and sent in my application," Maddie grinned.
The rest, as they say, is history.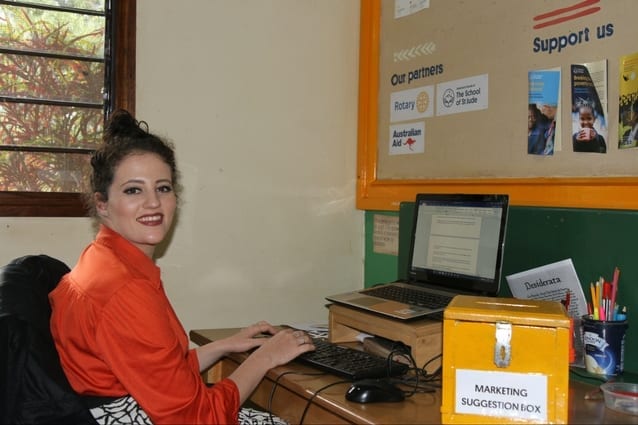 "After finding out I got the job, I went online to see if Gemma and Winrose were planning a visit to Adelaide on the March tour. They weren't – but, they were booked in to speak at my best friend's church, literally a stone's throw away from her home in Melbourne!"
"I wanted to visit loved ones there before leaving Australia, so the timing couldn't have been more perfect."
Maddie went to the talk at Holy Saviour Church, Glen Waverley, where she met Gemma and her now-friends and colleagues, Carla and Winrose.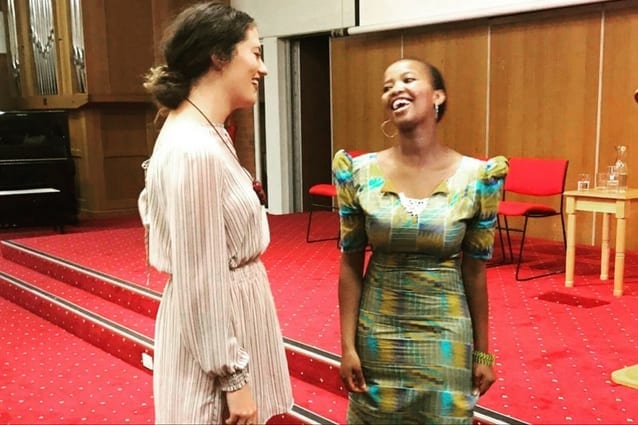 "People representing St Jude's and all in the crowd who'd visited, spoke about the school with a twinkle in their eye and a burning passion that warmed my spirit. Everyone, regardless of age, race or religion, is united by a shared vision of 'Fighting Poverty Through Education,'" she insisted.
The woman who inspired that vision is thrilled to have Maddie on the team.
"Maddie is doing a WONDERFUL job here at St Jude's. Her Head of Department can't stop raving about her! It's great to know that this is such a win-win," Gemma affirmed.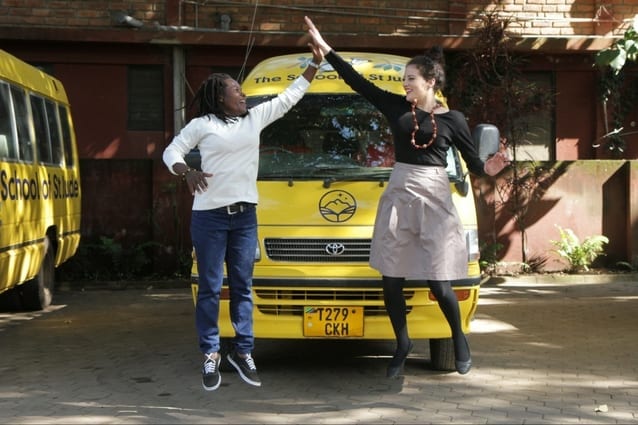 When sixteen-year-old Maddie watched 'Africa Calling', she had no way of knowing it would be her first call to Africa.
"Coming to St Jude's was a leap of faith that sent me soaring. There's nowhere else I'd rather be." 
Do you want to help 'Fight Poverty Through Education'? Join us today!
Amani is known to many as a, "gentle, social and intelligent," young man. 
He first came to St Jude's 12 years ago as a bright-eyed 10-year-old from a large local orphanage and has called St Jude's 'home' ever since. 
Amani is one of 23 St Jude's graduates volunteering their time to give back to the local community through our Beyond St Jude's Program. 
The kind and thoughtful intern is currently working in our Beyond St Jude's' office.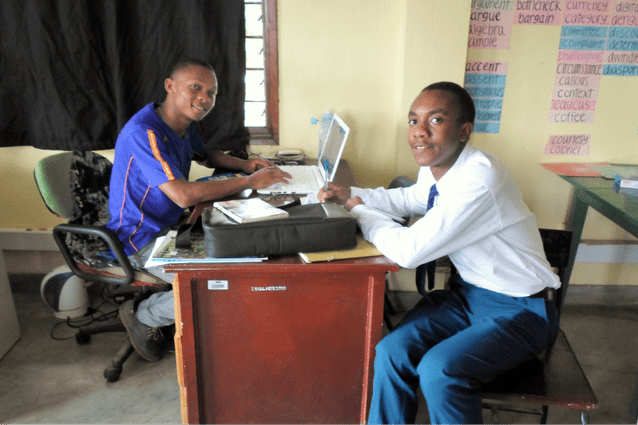 "Beyond St Jude's is the bridge between The School and the students in Form 6, the current interns and those now studying at university," Amani said.
Amani ensures the transition for graduates between school life and the real world is a smooth one. He also does his best to keep past students connected through the alumni page.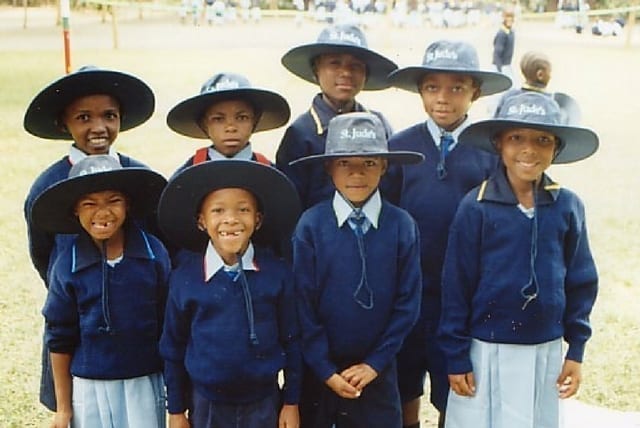 Growing up in the orphanage, Amani lived with other children, who he affectionately calls his, 'brothers and sisters.'  
Many of them also attend St Jude's. 
When asked how he feels about their different career paths and the future, he revealed he's nervous. 
"When I think about it, it really pains me. We have grown up together for so many years, shared many happy moments; will they have the same warm, loving home? Will they be with people that are kind and love them, take them the way they are and support them?"
The advice he offers his siblings?
"Hard work pays off, as long as you work hard you will be prosperous".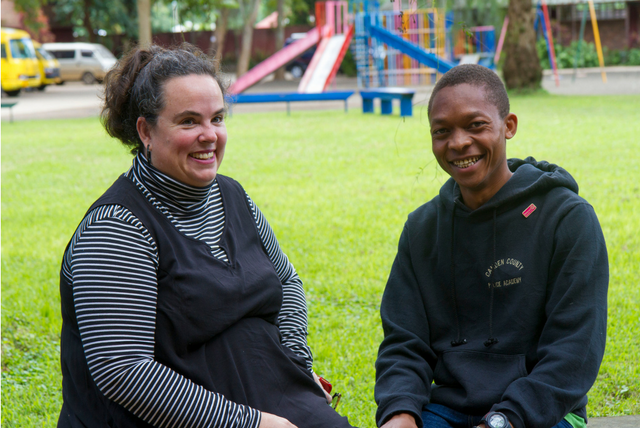 Amani's role models include school founder, Gemma, without whose support, he says, he would not be 'as much of a person,' as he is today. 
"She has shown me that I can also be a help to those I don't know, those I've never even met in my life. Building a school like this does more than just educate people but raise them, give them a place where they can not only focus and plan their future but actually see it forming in front of their eyes. She could have done many other things, she had a family of her own but she chose to come to Africa and help us."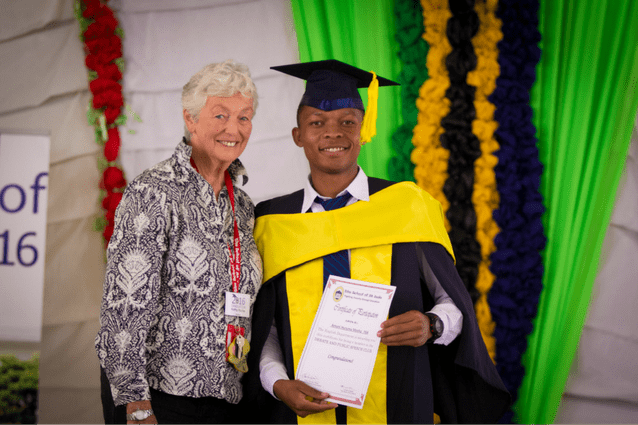 Amani's fondest memory?
Graduation day 2016.
"I saw my sponsor, who congratulated me. The night after my graduation, I remember reflecting… I realised I had made the biggest step of my life. I tried to find the language to thank the school and my sponsor but I couldn't find the words. I couldn't wait to come back to the school for my internship. I am so proud of the day I graduated."
When asked what he will miss most about his year of community service, he replied, "my lovely team. If I meet another team like them I will live the best life ever."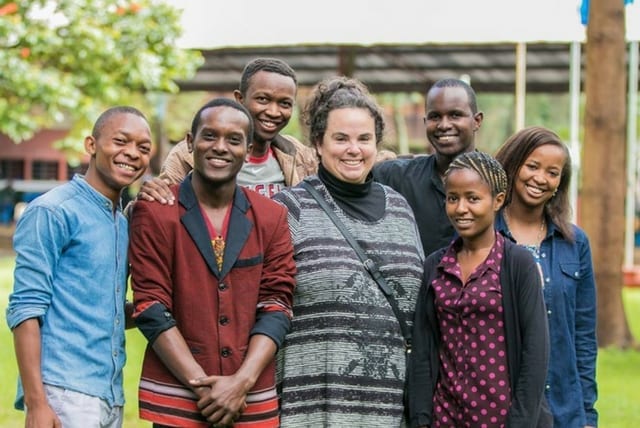 Amani is one of six St Jude's scholars who attained a scholarship through the MasterCard Foundation Scholars Program at the African Leadership Academy.
Later this year he will be moving to Zimbabwe to study Education at Africa University. 
'The future' has finally arrived! Stroll down memory lane and hear a very young Amani share his love for The School of St Jude. 
You can help a student like Amani to reach their dreams! Sponsor a student today. 
Tanzania's first ever Rotary Youth Leadership Awards (RYLA) were held at St Jude's last month.
Almost fifty bright and promising students were selected to participate in the training and awards day. Students came from seven schools in the region, nominated for their leadership skills and commitment to service.
The day began with icebreaker games designed to encourage students to interact and communicate with each other.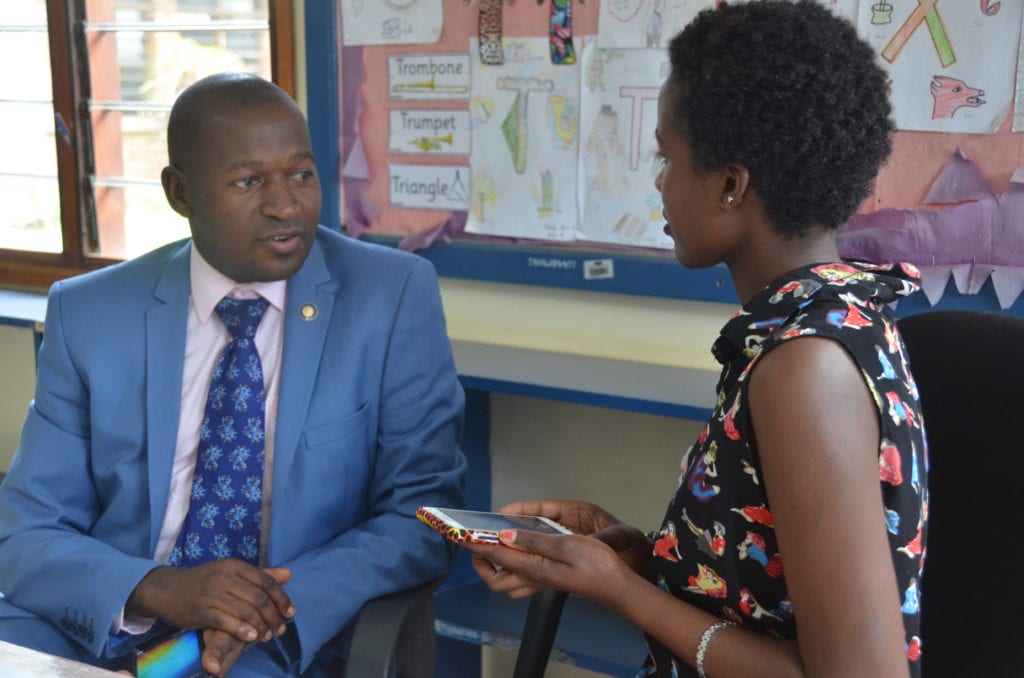 Then it was time for the Rotary formalities, with inspiring speeches from District Governor, Jayesh Asher and District New Generations Chair, Francisco Ssemwanga – it was a real coup for the students to meet such high ranking Rotarians and community leaders.
It will come as no surprise that our Community Service Year interns got involved. When it comes to leadership and service, our capable interns put their hands on the (Rotary) wheel, and they did a great job facilitating the day.
Miriam, who oversees our youth Rotary clubs at St Jude's, made an inspirational speech about her passion for entrepreneurship and ran a highly successful creative workshop.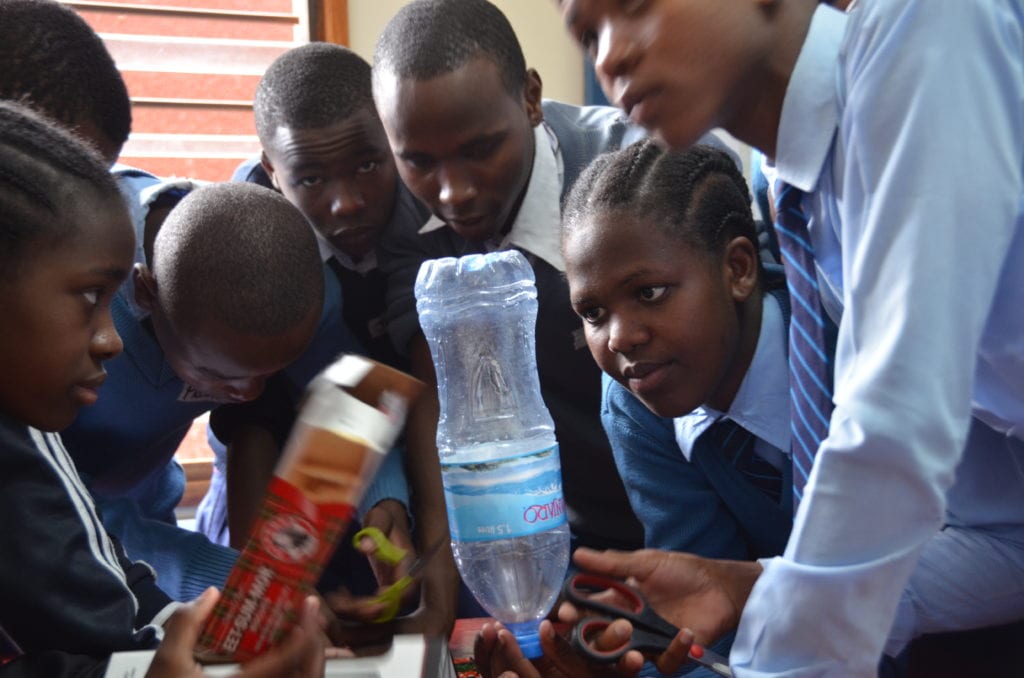 The workshop involved using everyday materials (from fabric off-cuts to empty water bottles and cans) to create something genuinely useful.
"I took away from the workshop how one can use the resources you have; even using something worthless to create something useful that can serve the community," Samson, Form 1, said.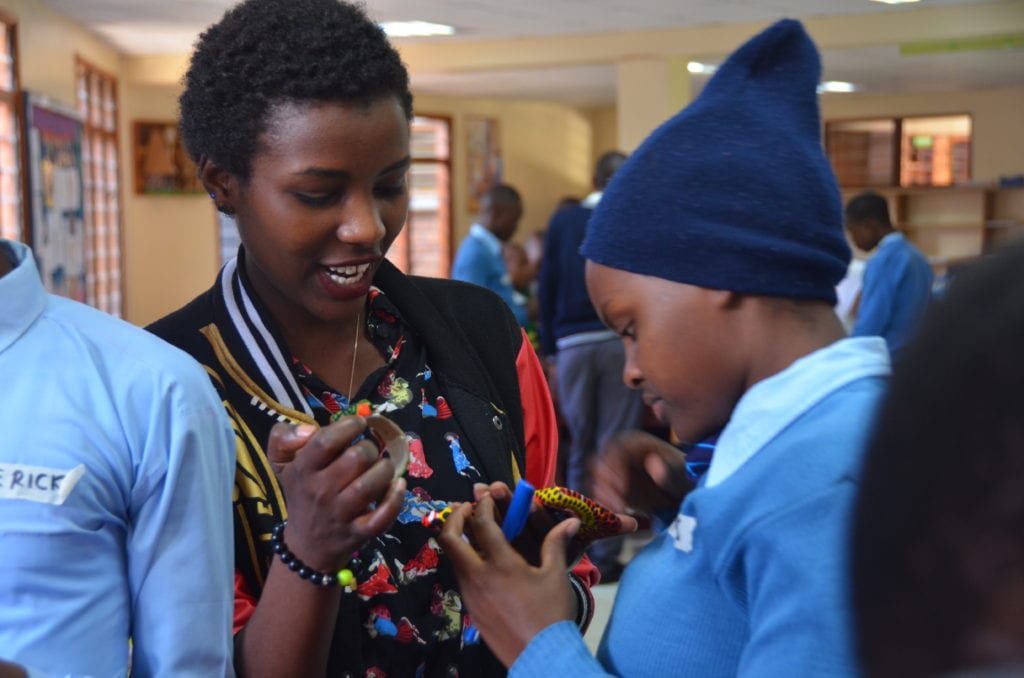 Next up was the great debate, where teams of students discussed 'Who can help the community the most?' 
The conclusion? That the young generation are the most beneficial to the community. 
Daudi, another St Jude's Community Service Year intern, served as a great mentor for the debate. Daudi is volunteering as a teacher at Njiro Secondary School and brought some of Njiro's budding young leaders to the awards day.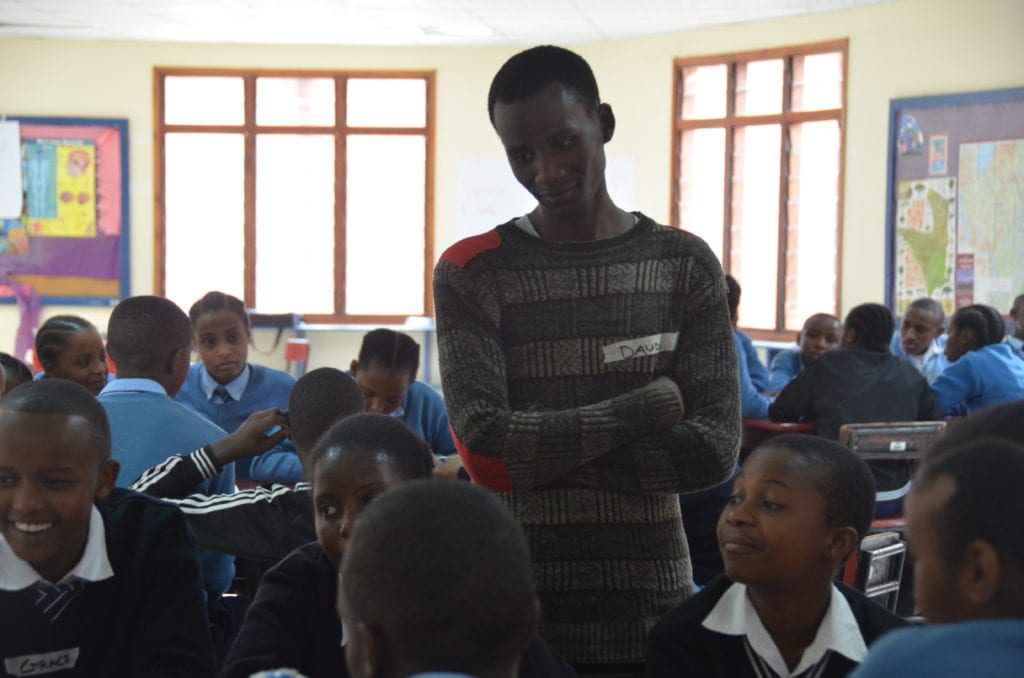 When asked, Krupa and Maahiya, from Jaffery Academy Secondary School, said the debating was "by far our favourite activity of the day," as it allowed them to "interact with different students, hear different opinions and learn teamwork skills." 
The day closed with a presentation ceremony, where each of the 48 students received a certificate for successfully completing the Interact Tanzania Rotary Youth Leadership Awards.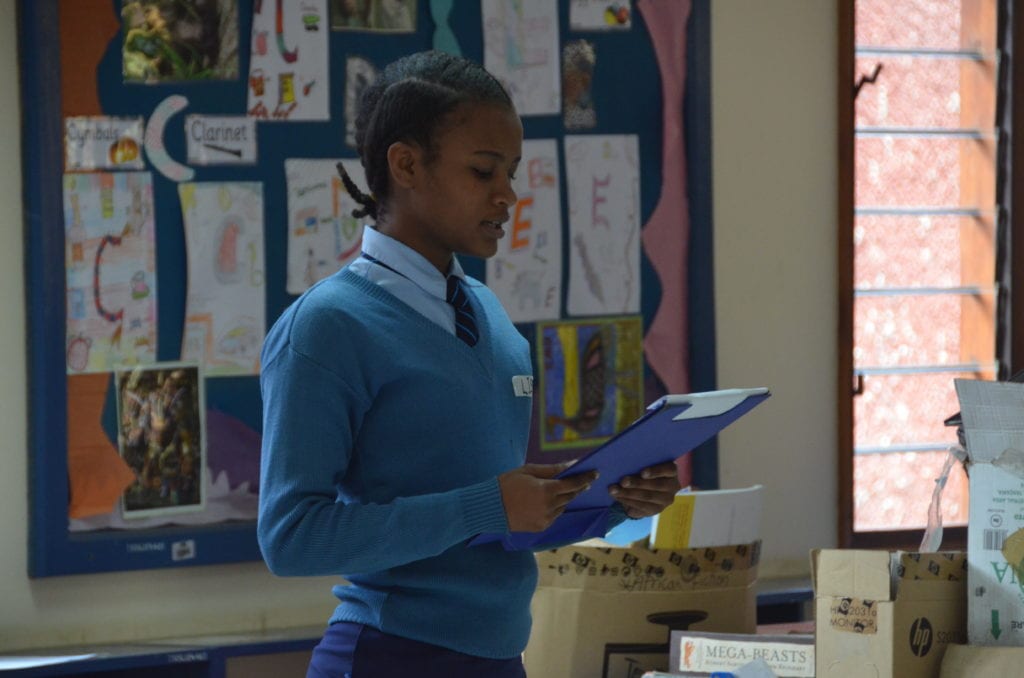 Immediate Past Interact President and St Jude's student, Lisa, said, "the highlight of the day was the speech from Mr Francisco, on the importance of not waiting for opportunities to come but rather seeking them out, and that one is not required to do something big to make a difference but rather do anything, no matter how small.
It was a jam-packed day - mix in some yummy rice, poetry recitations and brilliant dancing, and you've got the perfect recipe for an extremely successful RYLA event.
Help our students make a difference to others, by making a difference to them - sponsor one of our bright students! 
Form 6 graduation is almost upon us! We asked two of our Form 6 students how they feel about the next step towards higher education.
In less than a month, Benjamin and Joice will graduate high school, a feat achieved by far too few of their peers in Tanzania. Both of these impressive young adults have been with the school since their early days (and ours)—it's going to be a big change leaving these walls!
When asked if they have been friends for a long time they both laughed, they are not friends, they are more like family now. If you ask Joice about Benjamin she will tell you that he is a hardworking, smart young man.
"He's someone everyone can talk to! I know that after high school he will be a perfect gentleman and I have no doubt he will make it in whatever he chooses to do," she said.
Benjamin is equally quick to praise Joice.
"Joice is absolutely inspirational! When she speaks everyone gains something new from her. I know that wherever she works in the future, her co-workers will be lucky."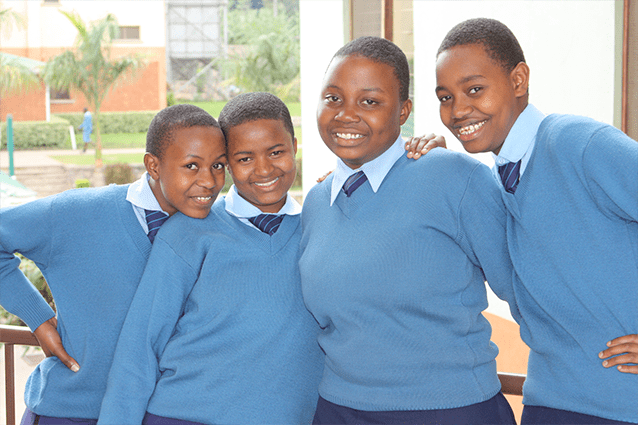 With adulthood looming, the pair have been reflecting a lot on their early days at St Jude's.
Joice laughed when she remembered how uncertain she was of her own academic abilities.
"I remember an academic master quizzing me once after class. He asked me so many hard questions that I burst into tears. But he wasn't bullying me, he was helping me! After that day I was moved up to class six!"
"This is what sets St Jude's apart from other schools. The teaching style is so good," said Benjamin.
"Not only are the teachers very skilled, but they are friendly and never resort to caning students like they do in many government schools—because of this I have not only realised what I want to do with my life, but I know I will achieve it, thanks to St Jude's!"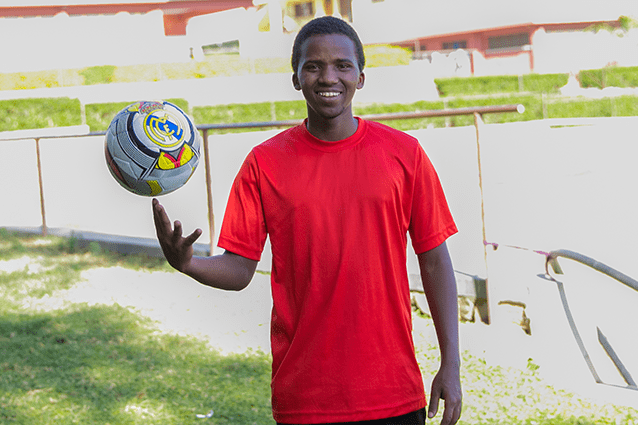 "What stands out the most when I think back on my schools days, is the fun I had with my fellow students. In O-level we would tell funny stories in the common room for hours in the evenings…stories I cannot repeat here," he explained with a cheeky smile. 
"We would laugh until we cried! These were the best times of my life and I know I will miss these moments. It will be strange not to see everyone every day," Benjamin said.
Graduation is generally an uncertain time for young people, but Benjamin and Joice have already got a plan. They have both signed up to participate in the Beyond St Jude's Program. 
The pair have chosen to spend the next year teaching in their local government schools. Impressively, both feel completely at ease with the prospect of teaching classes of up to 100 students.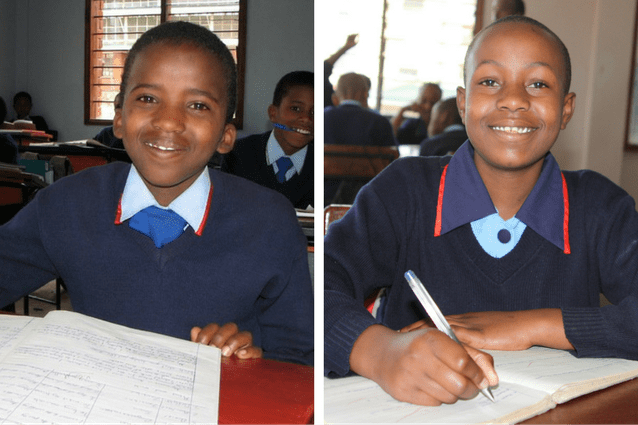 Benjamin's reasons for joining the program goes beyond simply wanting to help his community. "I want to see my impact in a tangible way," he explained. 
"I might start work and find that there is no teacher for my subject. I know that after a year I can look at the students and their results and see the effect that I had on my community. I have no doubt that I will be a positive influence on my students," he said.
For now, we are all looking forward to the big day when our students don the cap and gown. 
"Graduation is our way forward to higher education. We can't wait for our teachers, parents and supporters to come to St Jude's and share with us in what we have gained. Graduation is not just for students, it's for all of us!"
Learn more about the Beyond St Jude's program where our students are giving back to their community.
Future doctor Monyaichi was recognised with a special award at our Form 4 Graduation after excelling in a number of subjects.
The 17-year-old, who joined St Jude's as a Grade 1 student 11 years ago, was recognised as the Best Overall Student after receiving top marks in Kiswahili, Chemistry, Biology and winning Best Citizen and Most Disciplined Student.
"I was very surprised to win this award, but I have worked very hard," she said.
"I want to become a doctor so I can help people in my society. To do that, I have to study very hard."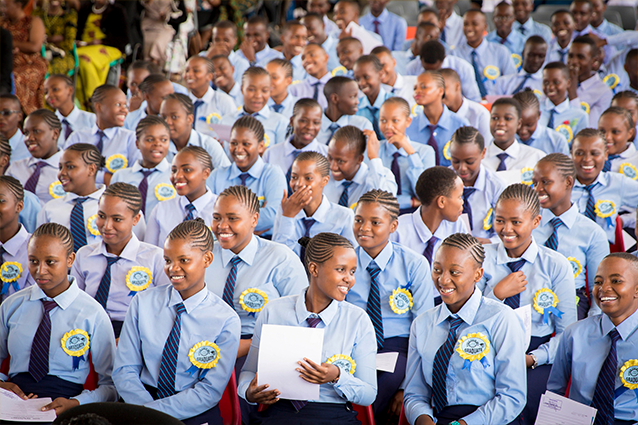 This year's Form 4 Graduation marked yet another milestone for our students. In a country where the average adult has just five years of schooling, our students are breaking the cycle.
Hundreds of families, friends and special guests were welcomed to our Smith Secondary Campus this month to celebrate the achievement in a colourful and vibrant ceremony.
Each of the more than 200 students who graduated Form 4 at St Jude's in 2017 comes from an extremely disadvantaged background and would not have been able to make it this far in school without a St Jude's scholarship.
"Education is the important thing in our daily life," Monyaichi said.
"Education is also the key to success. Without education you cannot do well in life. If you take education seriously, it may also lead you from darkness to brightness of your life."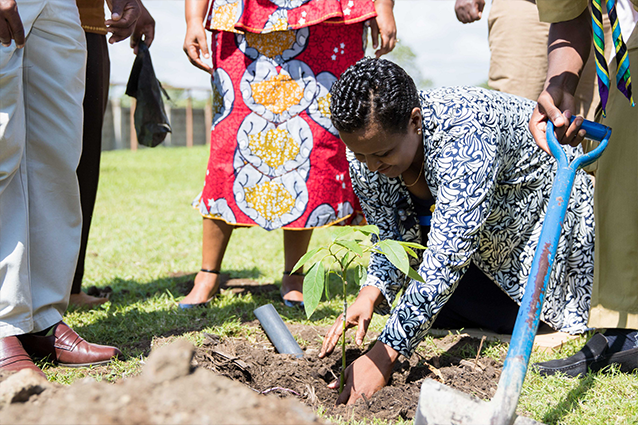 For most students, this occasion marks the first time anyone from their family has finished Form 4, the equivalent of Grade 10 in Australia.
"It is a very special milestone for these students so it was great that we were able to celebrate with their families," St Jude's Academic Manager Nestory Msoffe said.
"For these families, this is an achievement they thought would never be possible – but the best part is that this is just the beginning."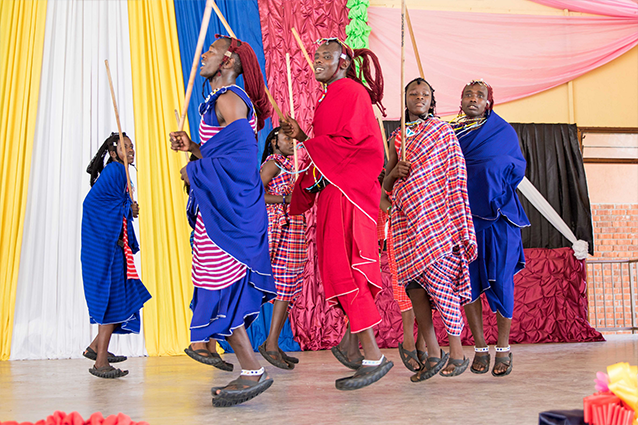 Want to help a student like Monyaichi achieve their goals and break the poverty cycle? Start a sponsorship today.
St Jude's had the honour of hosting the 2018 Gold Coast Commonwealth Games Queen's Baton Relay here at Sisia Campus on 10 April.
The Queen's Baton Relay launched at Buckingham Palace on 4 April and we were so lucky to be part of the 388-day journey through the entire Commonwealth.
We were delighted to welcome H. E. John Feakes (Australian High Commissioner) and H. E. Ms Sarah Cooke (British High Commissioner), Commonwealth Games champion Filbert Bayi, the Tanzanian Olympic Committee and the baton bearers to St Jude's.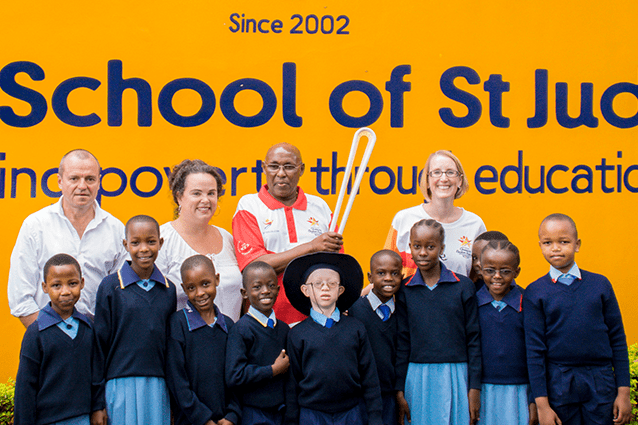 Our guests were treated to a special melodic moment–the three national anthems for Tanzania, Australia and Britain.
"Today was spectacular day with all of the students involved," His Excellency John Feakes said.
"As an Australian I am incredibly proud of the work that has been done here at St Jude's and what Gemma has achieved in such a short period of time. Providing a quality education to kids who would otherwise miss out is really life giving," he said.
"I urge people that haven't heard about St Jude to get involved."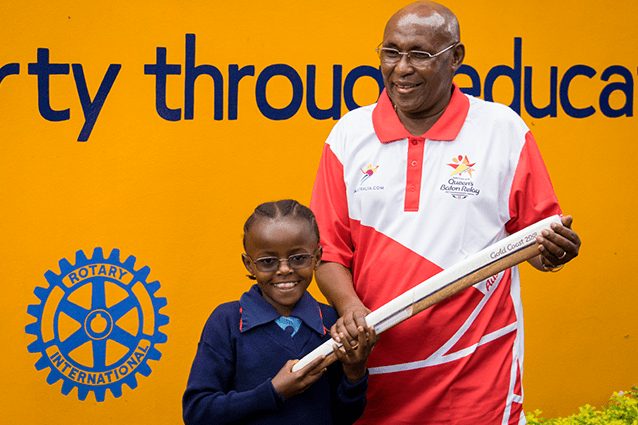 It was a day of champions! Record breaking athlete and Secretary General of the Tanzanian Olympic Committee Filbert Bayi, carried the baton into the school and had a special message for our students.
"My wish is for more Tanzanians, especially from St Jude's to break my record! I've seen so many sports fields here," athlete Filbert Bayi said.
Filbert told our students that he believes success is attributed to these things, "without working hard, without being positive and without knowing what you are doing. Without having a vision, you will never perform."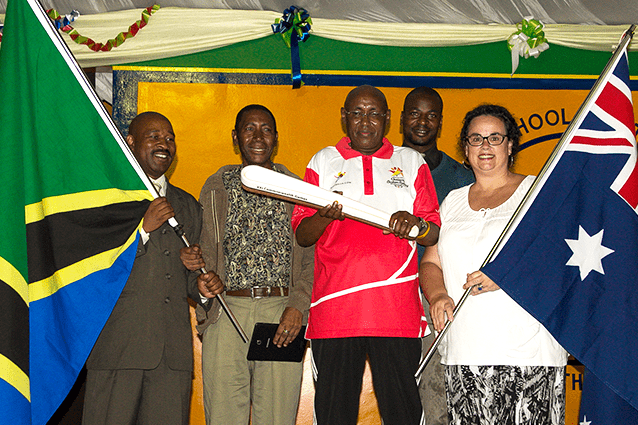 "Coming here I was so surprised. I was born in Arusha ... this place is fantastic, especially the education", said Filbert.
"I am sure in the 2020 Commonwealth Games there will be a participant from St Jude's."
Our students each were able to touch the baton. They were intrigued that there is a secret message from Her Majesty Queen Elizabeth II sealed in a special compartment to be revealed at the games.
The baton itself also has an interesting story. The materials used to make the baton represent past in the mahogany wood from the Gold Coast, present in the metal inscribed with each country it passes through and the future in the recycled plastic salvaged from the Gold Coast beaches and oceans.
It was a joyful occasion and ended with the students participating in their own mini-games!
There is always something interesting happening at our school! Visit us and see for yourself.