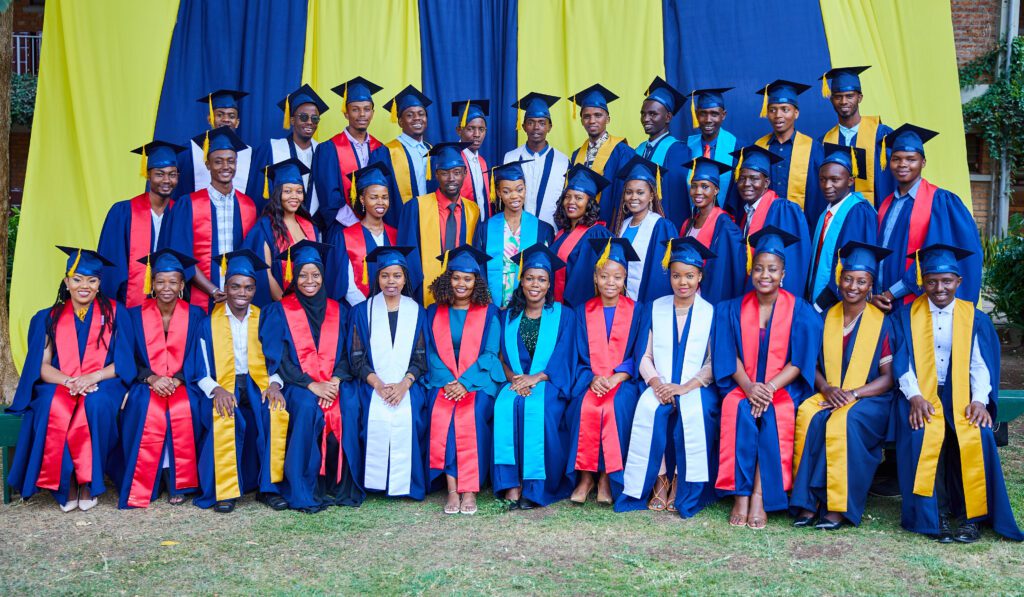 "Let me start by congratulating the 2022 graduates—Well done! Indeed, your hard work has culminated in this momentous occasion," says Bibiana, iNGO Chairperson, during the Beyond St Jude's (BSJ) Recognition Ceremony.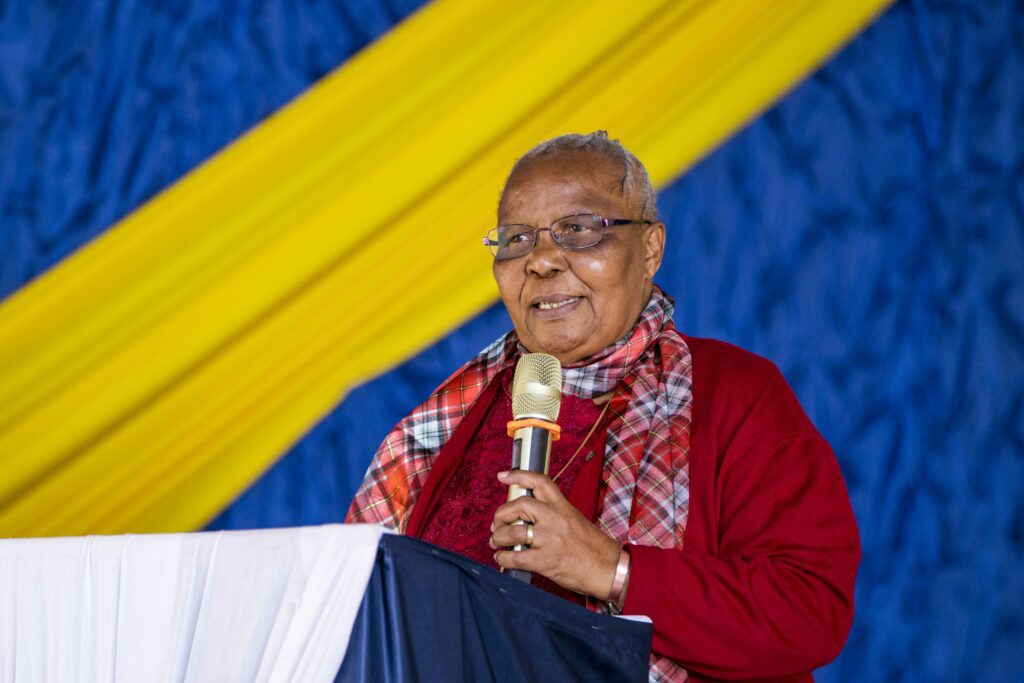 This morning, St Jude's alumni are converging on their old school, some seeing each other for the first time in years, for the inaugural BSJ Recognition Ceremony. Today, all St Jude's alumni graduating with a diploma or degree in 2022 will be recognised in heartfelt St Jude's celebration.
St Jude's alumni are scattered across the country, and indeed, the world. Some attend university with the support of a scholarship from Beyond St Jude's Scholarship Program (BSJSP), while others win external scholarships to support their tertiary education.
When BSJSP scholars began to graduate from tertiary studies in 2019, just a few representatives from the school could travel the country to attend ceremonies. This new ceremony is first of many to be hosted at St Jude's, allowing parents, staff and visitors alike to share in this special day.
"The graduation ceremony remains one of the most memorable events in anybody's life. In a way, it validates the long journey of academic and social preparations that you've been on," says Bibiana proudly.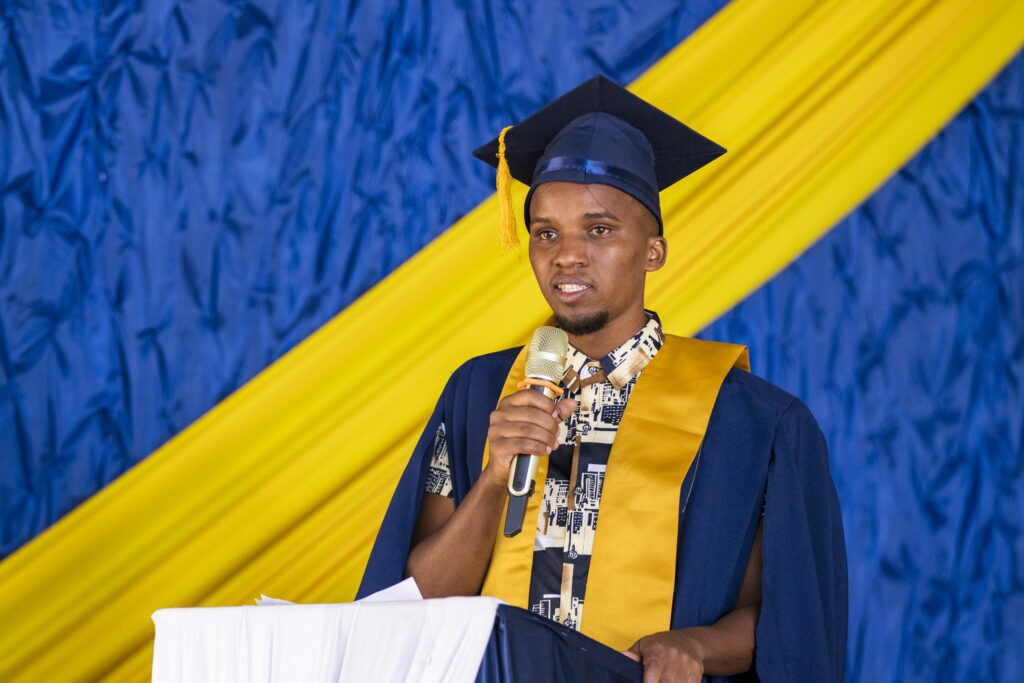 Feeling grateful and happy, Benjamin, a graduate with a bachelor degree in electrical engineering, believes he's now one step closer to reaching his goals.
"A decade or more ago, each one of us walked through the gates of St Jude's, some of us were not sure of what we wanted to be in the future, others were sure from the get go. We have come a long way," says Benjamin while addressing the audience during the event.
"We must not forget that we have the responsibility to use what we have to better our communities and help create more future leaders of Tanzania," he says.
"To our generous supporters, we thank you for your incredible support towards our education. You have taught us a very important lesson about giving back and for that we stand proud and walk tall knowing that you made a difference in our communities and now the onus is on us to pay this forward. Thank you for lighting our way!" he adds.
Graduates this year include those in the fields of health sciences, engineering, education, and business.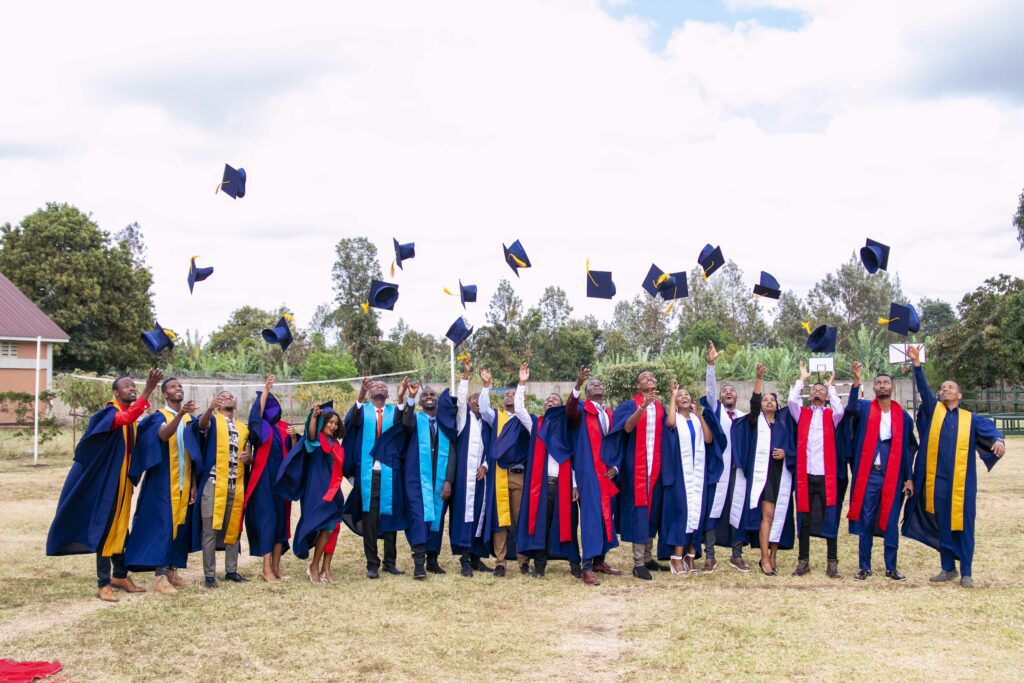 These graduates are the fourth cohort of St Jude's alumni to graduate from tertiary studies, bringing the total number to more than 350. With degrees and diplomas, they are now ready to begin impactful careers, fighting poverty in Tanzania.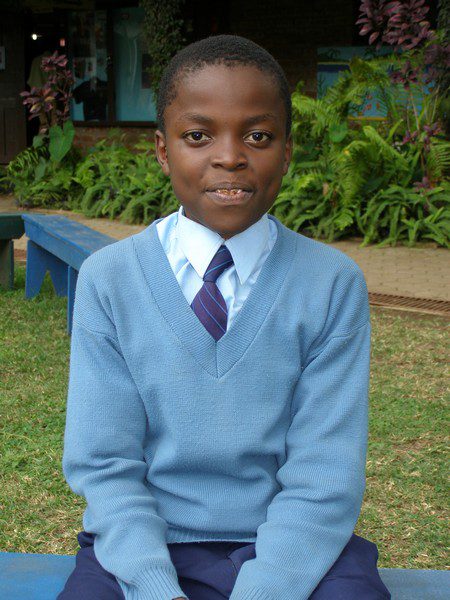 Lembris, an alum of The School of St Jude, is one of those people who has always known what he wanted to do. From the age of eight, Lembris dreamt of being an engineer. Today he is living that dream.
"I was travelling with my parents along the River Wami bridge and I was wondering how it was possible for a massive bridge to be constructed above water," Lembris recalls. "I began to imagine what we could achieve in Tanzania through engineering. Ever since then I had the dream of becoming a Civil Engineer."
Lembris' dream got a kickstart in 2009, when he was offered a St Jude's scholarship to enter Form 1, the first year of secondary school. With access to highly trained teachers, great learning resources, libraries, science labs and the stable environment of the boarding house, Lembris thrived.
"Getting a Division I (the highest grade possible) in my Form 6 national exams in 2015 gave me the opportunity to be part of the Beyond St Jude's Scholarship Program (BSJSP), which supported me not only in applying for tertiary education but also by funding my university studies," Lembris explains.
With the support of BSJSP, Lembris enrolled in a Bachelor of Science in Civil Engineering at the University of Dar es Saalam in 2016, graduating in 2020.
Today, Lembris is a Site and Office Engineer for a Tanzanian civil engineering business, contributing to projects around the country. Eventually, he hopes to establish his own construction company.
"It it feels good," smiles Lembris. "The bottom line is that I'm living my dream."
Since 2019, 289 St Jude's alumni have graduated from university or college (we call them tertiary graduates).
Of these, 142 attended university with the support of Beyond St Jude's, while 147 attended by other means.
Now, these tertiary graduates are entering the workforce!
Where are employed St Jude's alumni working?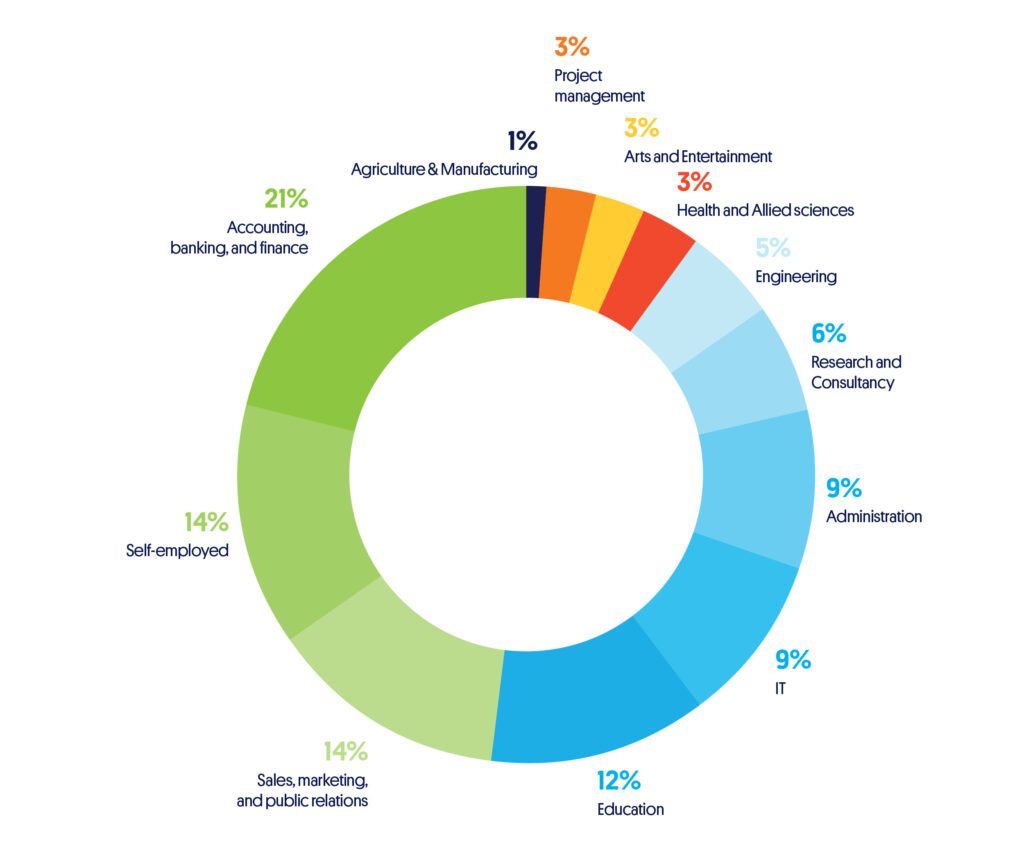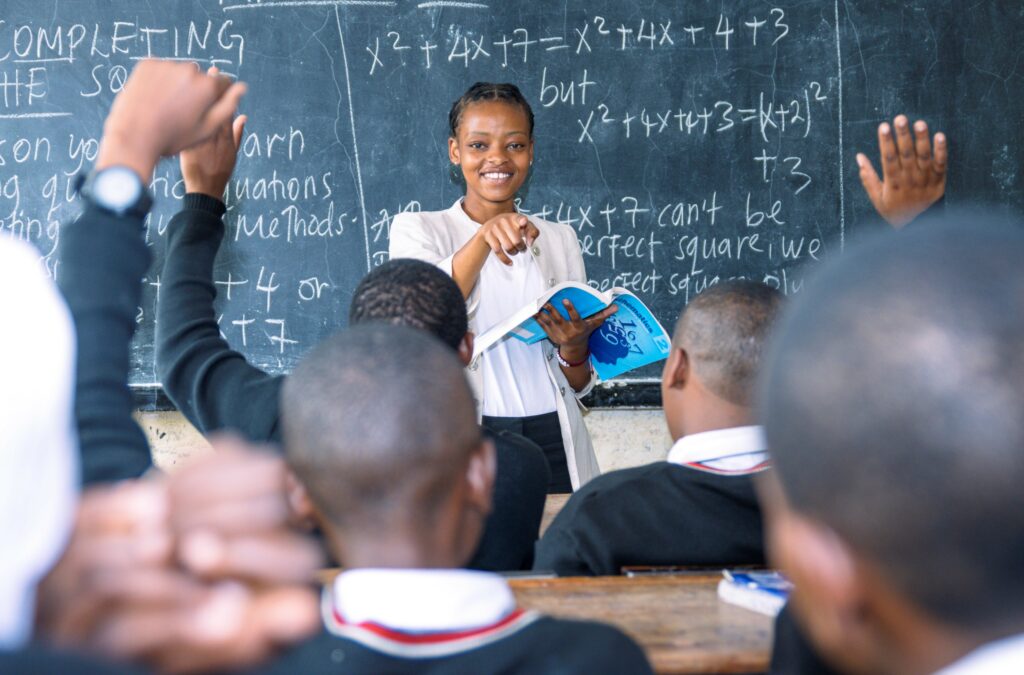 At the front of a classroom of more than 50 students stands Jesca. The students are in Form 1, the first year of secondary school, at a local government school and not one of them has a textbook. They share desks and chairs, and listen quietly as Jesca teaches a lesson in physics.
It's a challenging situation, but Jesca is accustomed to it. This class is just one of the seven streams of Form 1 she teaches – more than 350 students in total. Such a teaching load is remarkable, particularly when one considers that Jesca was a St Jude's secondary student herself less than twelve months ago.
Today, Jesca is a proud Community Service Year (CSY) volunteer.
The CSY is the first part of Beyond St Jude's (BSJ), St Jude's program to support graduates through to their completion of their first tertiary qualification. A challenging and rewarding year, the CSY is a time for St Jude's Form 6 graduates to give back to the community through volunteer work, before commencing tertiary studies. Some volunteers give their time and skills in non-academic roles on campus at St Jude's, while the majority choose to volunteer as teachers in government schools.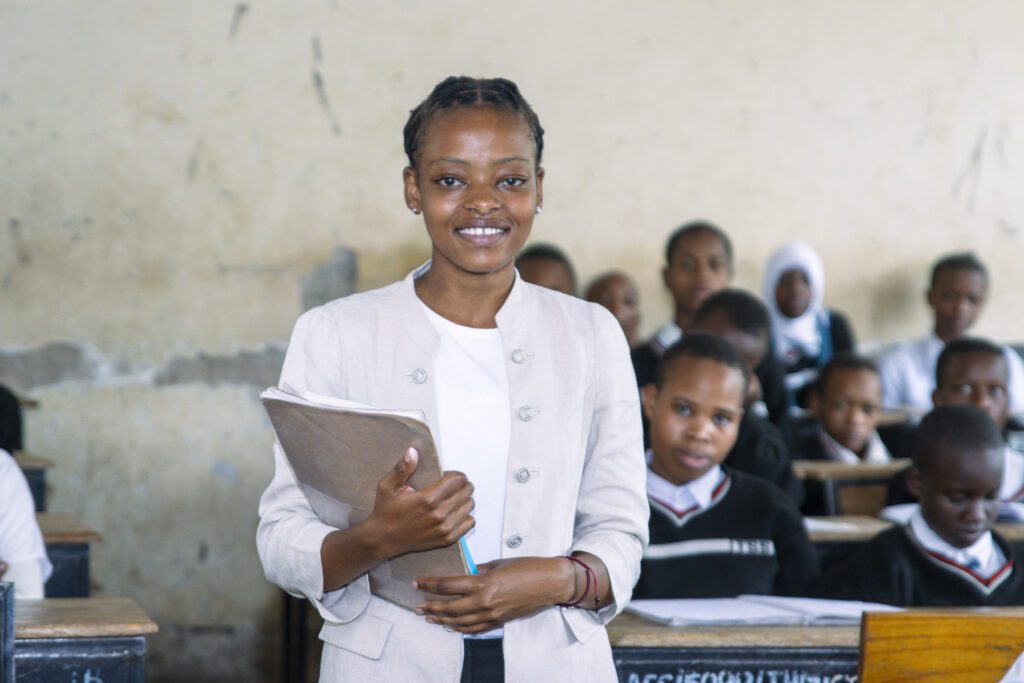 "My biggest motive to join the CSY was to give back to society," shares Jesca. "There are students out here who need someone to teach them, to mentor them, to share knowledge with them. I get to share what I have learned at school."
Since the program started in 2015, 636 volunteers have taught 85,000 government school students at more than 100 schools in the community. These students would otherwise have found themselves without teachers in core subjects, like mathematics and sciences.
There is a particular need for science teachers, which means Jesca's knowledge as a former PCM (physics, chemistry and mathematics) student is in high demand. Even so, she was apprehensive about teaching physics.
"At first, I actually wanted to teach mathematics and chemistry, but my school already had teachers for those subjects. They said they needed a physics teacher, so I said, 'Ok'. Then I wondered, 'Will I be able to do this?' But then I thought, 'People say girls can't do physics but I studied physics for A Level. So, I decided I would teach it to show girls that they can study science subjects and that physics is not too hard," Jesca smiles.
When teaching such large classes with limited resources, challenges are sure to arise, but Jesca meets them with a can-do attitude.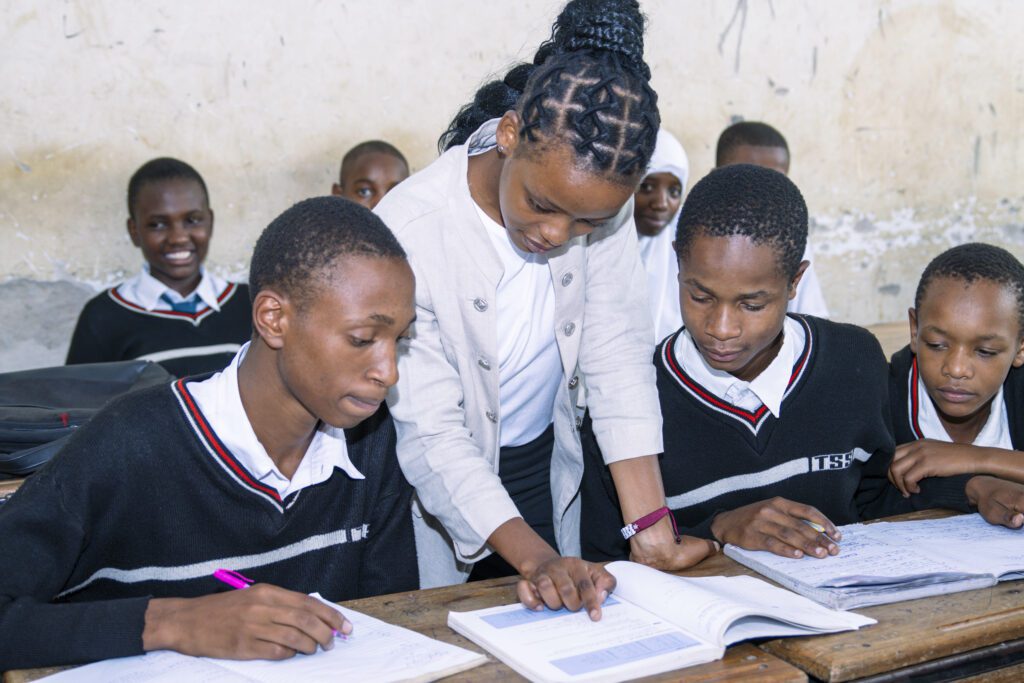 "I've been able to handle every challenge so far," she says. "One thing is, it can be hard to manage so many students, but I talked to some experienced teachers at the school where I teach and asked them, 'How can I handle these particular types of students?' I also use the skills I learnt during the Work Readiness training week with BSJ."
During the training week, Jesca and her fellow CSY teaching volunteers received instruction in classroom management, lesson preparation and basic teaching skills.
"The biggest challenge is to attend to every student. You have 40 minutes and you have to teach and reach all your fifty students. But in each class there are different types of students. There are some who can hear you and just 'get it' straight away. Then there are some who need close assistance but you can't divide 40 minutes to speak individually to 50 students," she says.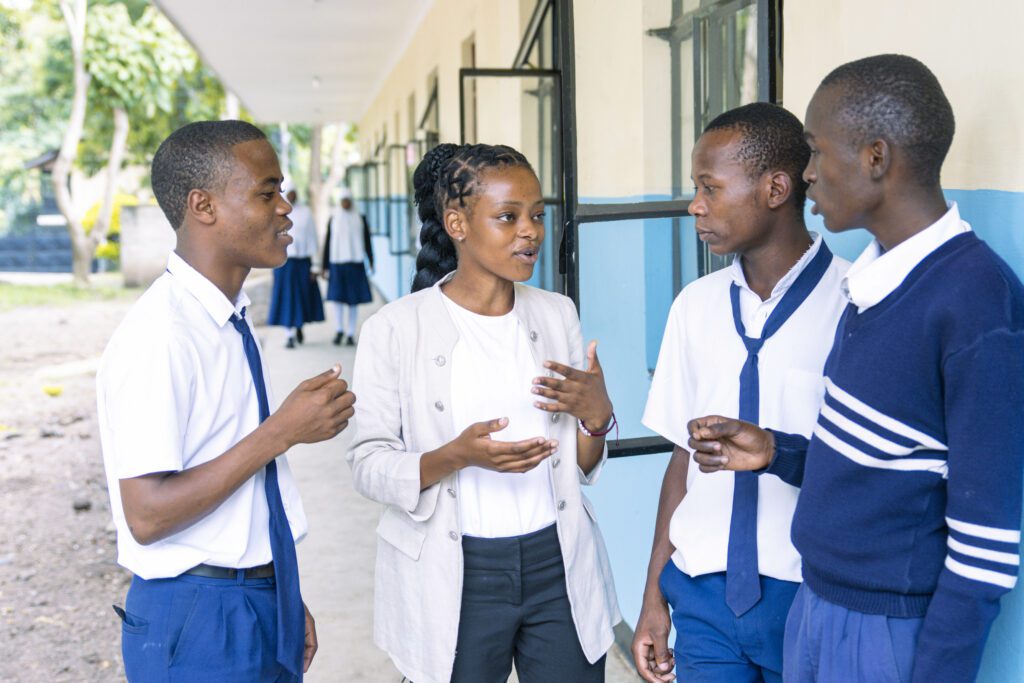 Despite these challenges, Jesca finds ways to engage students on an individual level. She explains, "I love spending time with the students, getting to know their talents. There are some who can draw, who can sing well or even compose songs. I try to use their talents in their studies to help them be more engaged."
It's not just Jesca's students who are learning; this year has been full of growth for Jesca too. In a few short months, she has transformed from a secondary student into a teacher. Soon, she'll be transformed again, when she becomes a university student. Jesca hopes to study chemical engineering.
"The CSY is preparing me for the future. I have learnt to make my own decisions, because when I am teaching, I have all the responsibility. I'm learning to be responsible for myself and for the community. Now I can see that society needs people who see the challenges we are facing and then takes action to solve them," she smiles.
It's a mature insight for a 19 year old, but not uncommon among CSY volunteers. First and foremost, the CSY is a way to give back to the community, but through their service, volunteers get the opportunity to fulfill their potential.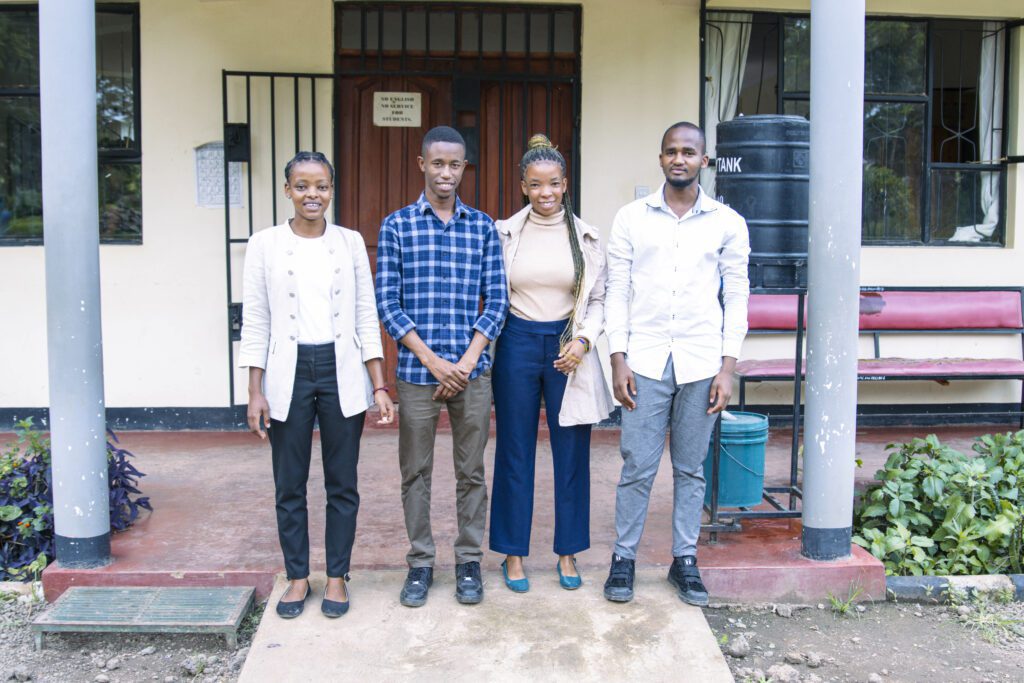 This year of community service after their Form 6 graduation gives volunteers, like Jesca, time to challenge themselves, to learn the true meaning of responsibility and to engage with the community as young adults. While challenging, it's an experience few would trade, as shown by Jesca's closing words.
"I would tell Form 6 students to do the CSY. People out there are really grateful for what we're doing and it's a blessing to help people. It's a really great experience to make a change in someone's life."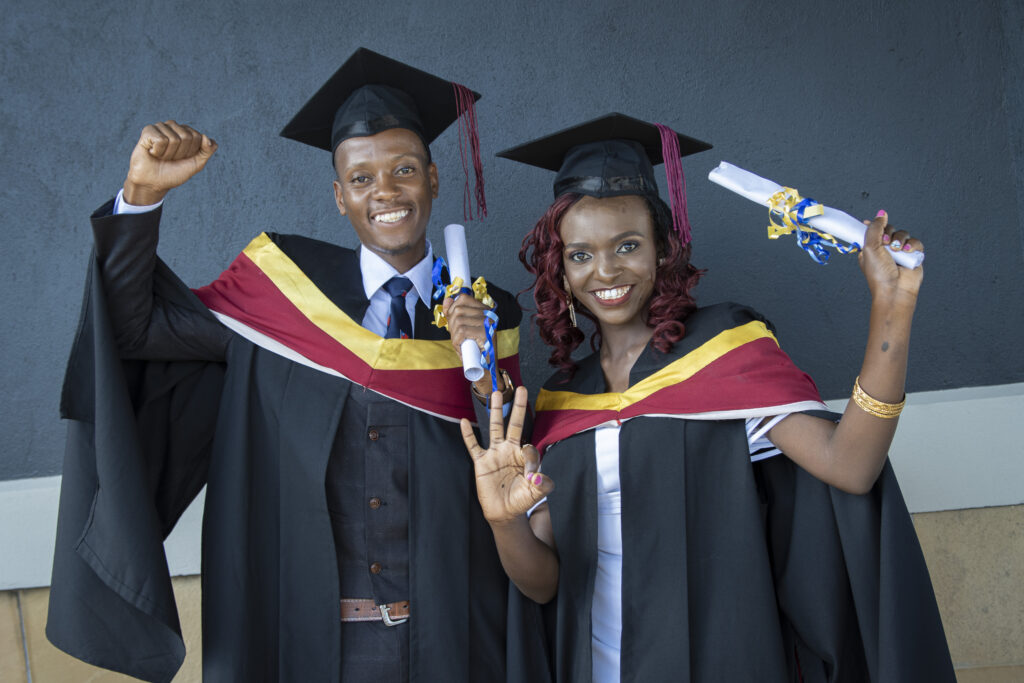 It's a big moment, today is the day the first seven St Jude's educated doctors graduate from university. In the audience are school Founder, Gemma Sisia, managers, Mr Mcharo and Mrs Vivian and proud parents. They cheer as the graduates receive their certificates, marking the end of a long academic journey and the beginning of a promising future.
The Beyond St Jude's (BSJ) Program has supported these graduates since their graduation from secondary school; first, through a Community Service Year (CSY) and then a tertiary degree, funding accommodation, tuition and related costs. It is an optional, yet popular program for secondary school graduates from St Jude's.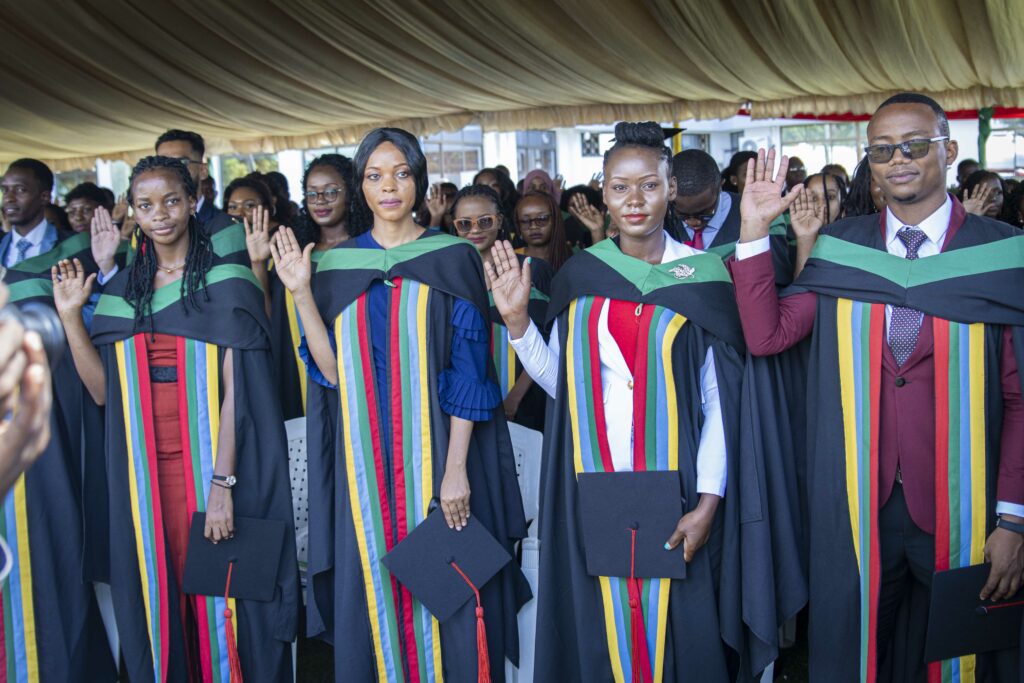 Hosiana is a BSJ Tertiary graduate who joined St Jude's in 2004 and completed her secondary education in 2015. For the last five years, she has been pursuing her degree in medicine as a BSJ Tertiary scholar.
Beaming with excitement during her graduation ceremony, Hosiana explains, "I have always wanted to become a doctor. I feel so lucky to be the first doctor in my family and the first person in my family to have a university degree."
"Without the free, quality education I received at St Jude's, I would not have achieved my dream of becoming a doctor," she adds.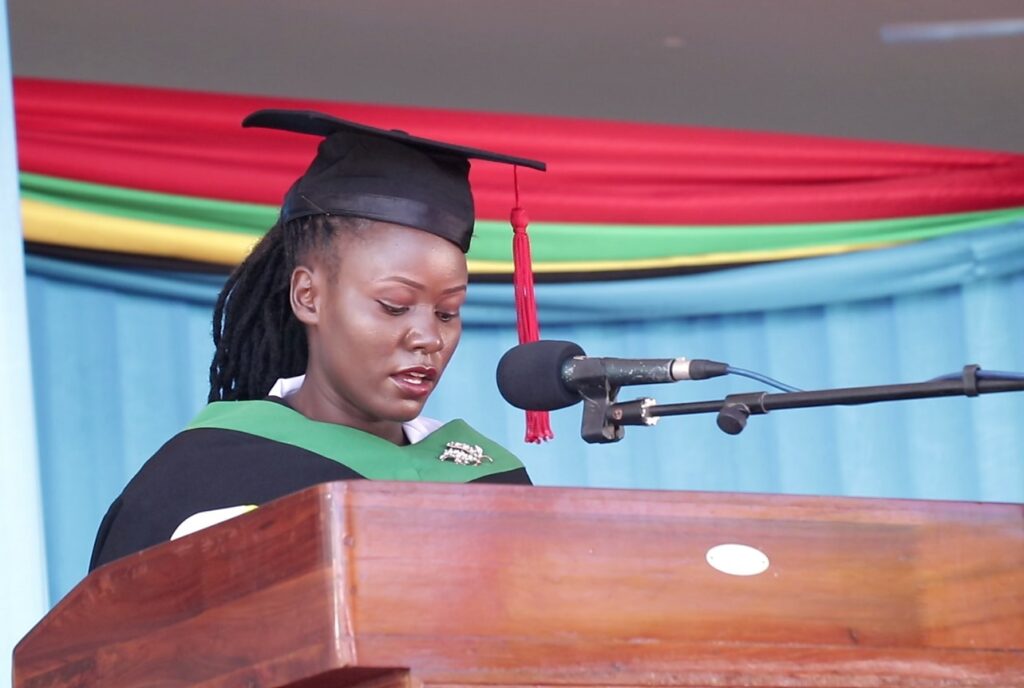 Hosiana, who is smart and hard-working, was proud to be named Valedictorian of her graduating class; one the highest academic honours in her university.
"I would like to thank the school, the management and all the sponsors and supporters for giving me and my fellow Tanzanians free, quality education from primary to higher education. Because of your support, I have everything to be a doctor," says Hosiana during her Valedictorian speech.
"Now I'm ready to be a doctor for my country. I'm currently doing my internship at one of the largest hospitals in Tanzania for a year," she explains.
"I am looking forward to putting on that white coat, helping my community, and also working toward funding my master's degree," she adds.
Last year, the BSJ Program celebrated the graduations of 87 scholars, its third and largest cohort of Tertiary scholars since the first university graduations in 2019.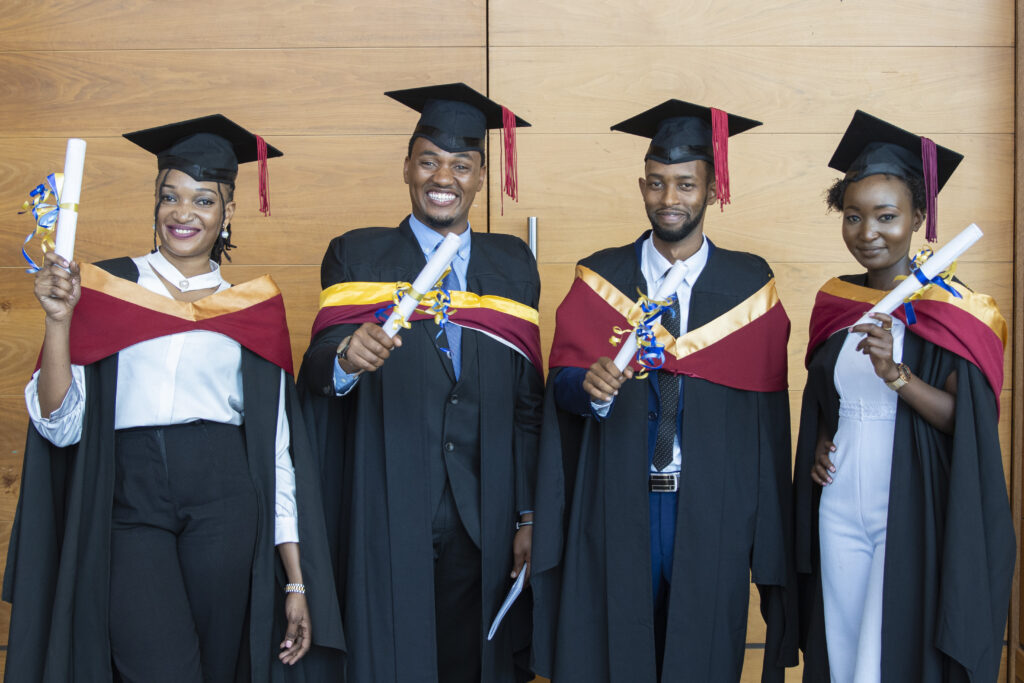 To date, the BSJ Program has produced seven graduate doctors who are doing their residencies. The program has also produced six engineers, five in community development, six in marketing, four teachers and six in accounting and finance, just to name a few and BSJ currently supports 299 scholars in tertiary studies.
BSJ Tertiary scholars and graduates are an inspiration to the next generation of St Jude's secondary graduates, helping to guide them towards a future of opportunity.
Seeing alumni in the corridors of The School of St Jude is not surprising. Many are eager to give back to the school in any way they can, embodying the true spirit of giving.
At St Jude's, an alum is a student who successfully graduated from Form 6 (A Level) (or Form 4 (O Level) graduates who have reached Form 6 age). St Jude's graduates are alumni whether they participate in the Beyond St Jude's (BSJ) Program (an optional scholarship program for our secondary graduates) or not.
The school has more than 800 alumni. Many alumni are enrolled in higher education in Tanzania, while more than 30 are studying abroad. In addition, many alumni are now tertiary graduates, working within East Africa.
Of these, 80% are working in crucial sectors to ensure Tanzania's prosperity, including engineering, health, information technology, education, finance, and accounting. 20% are self-employed and have generated employment opportunities for over 150 people within their communities.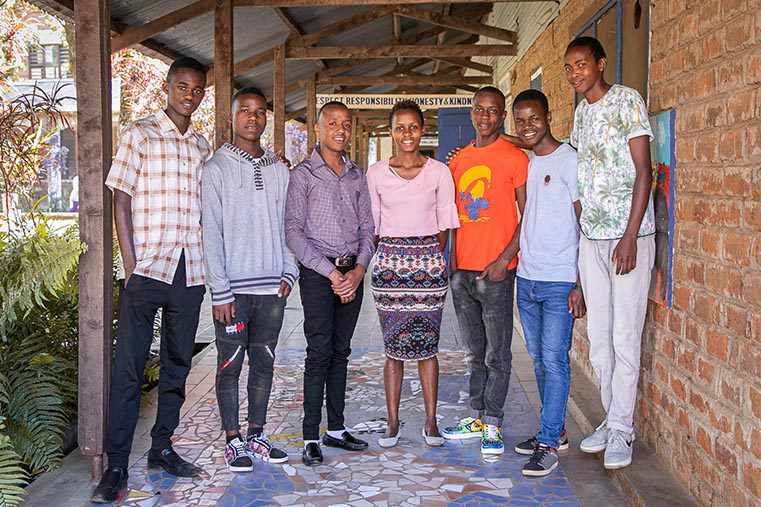 Through the St Jude's Spirit Program, St Jude's alumni are dedicated to supporting the school financially and non-financially in the same spirit with which they received their free, quality education.
St Jude's Spirit Program is a movement that unites St Jude's diverse family of change makers – students, staff, families, local community, alumni and our international supporters; with one mission of fighting poverty through education.
"The Alumni Spirit Program that is managed by Alumni Association was started in 2018 with the aim to assist unsponsored students and help the school both financially and non-financially," says Edna.
The Alumni Association of The School of St Jude exists to promote the mission, vision, educational and community aims of St Jude's to our graduates. The association also provides opportunities for members to network, offers training and skill development, share employment opportunities and organises social activities.
Edna is a St Jude's alum herself and now works in the Alumni team, engaging with fellow alumni and making sure graduates' achievements are recorded. "I graduated from Form 6 in 2015. As a proud member of the St Jude's Spirit Program, I support the school financially by donating AU$3 every month."
The school currently has more than 100 alumni donating through the St Jude's Spirit Program. Alumni donations are predominantly allocated towards St Jude's Unsponsored Student Fund, which funds uniforms, transport and learning resources for students whose scholarships are currently unsponsored.
"Alumni also support the school non-financially by sacrificing their time to assist in various school departments, help in fundraising activities and spreading the word about the school," explains Edna.
St Jude's has more than 200 alumni volunteering at St Jude's. Some are teachers, sports coaches and some help with organising alumni events.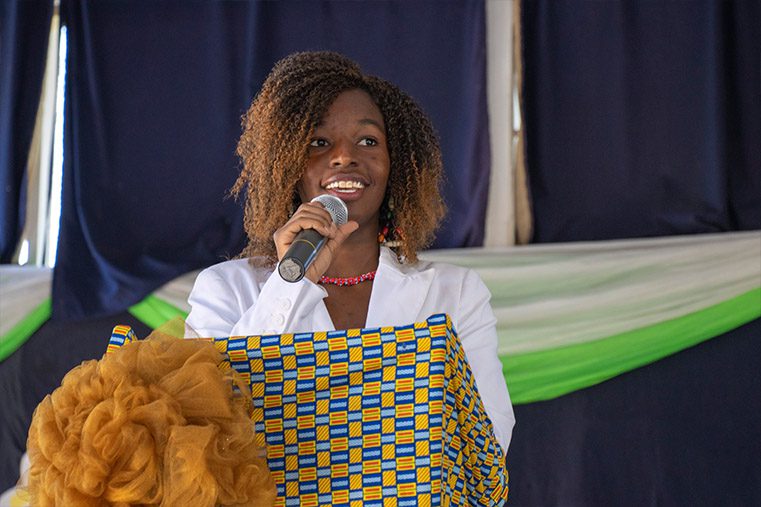 Tatu is an alum who completed her A Level education in 2021. She now volunteers in the Alumni team and she's a member of the Alumni Spirit Program.
"I feel obliged to give back to my community after acquiring a free, quality education from St Jude's. My community needs me to support them," says Tatu.
"Currently I'm supporting the school both financially by donating AU$3 each month and non-financially by volunteering in the Alumni team," adds Tatu.
Tatu, who is volunteering through the BSJ Program, hopes to one day sponsor a student once she becomes a successful accountant.
"Volunteering has been part and parcel in my life. Once I'm blessed with enough resources to sponsor a student's scholarship I will be glad to sponsor one or even two students. As a former St Jude's student, I am proof that education changes lives and I would like to transform the lives of my younger sisters and brothers," explains Tatu.
Alumni are the heart and soul of the organisation, carrying the school's legacy. Their spirit of giving is a testimony to a St Jude's education that creates hope for the future of Tanzania.