Seeing alumni in the corridors of The School of St Jude is not surprising. Many are eager to give back to the school in any way they can, embodying the true spirit of giving.
At St Jude's, an alum is a student who successfully graduated from Form 6 (A Level) (or Form 4 (O Level) graduates who have reached Form 6 age). St Jude's graduates are alumni whether they participate in the Beyond St Jude's (BSJ) Program (an optional scholarship program for our secondary graduates) or not.
The school has more than 800 alumni. Many alumni are enrolled in higher education in Tanzania, while more than 30 are studying abroad. In addition, many alumni are now tertiary graduates, working within East Africa.
Of these, 80% are working in crucial sectors to ensure Tanzania's prosperity, including engineering, health, information technology, education, finance, and accounting. 20% are self-employed and have generated employment opportunities for over 150 people within their communities.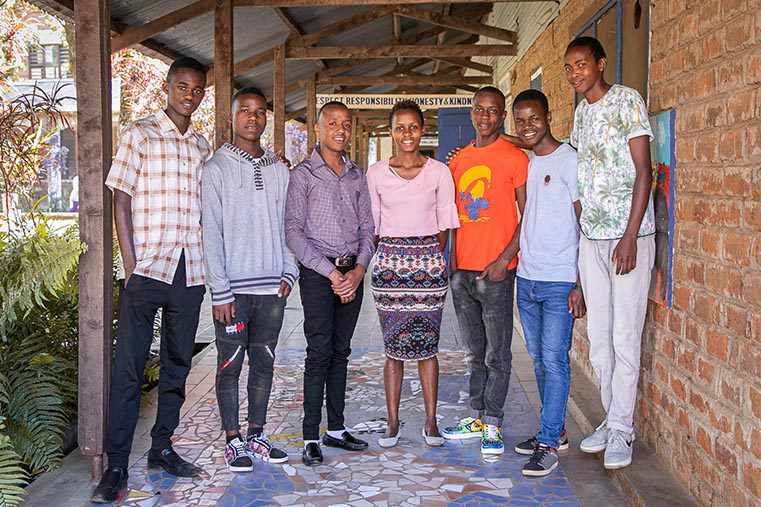 Through the St Jude's Spirit Program, St Jude's alumni are dedicated to supporting the school financially and non-financially in the same spirit with which they received their free, quality education.
St Jude's Spirit Program is a movement that unites St Jude's diverse family of change makers – students, staff, families, local community, alumni and our international supporters; with one mission of fighting poverty through education.
"The Alumni Spirit Program that is managed by Alumni Association was started in 2018 with the aim to assist unsponsored students and help the school both financially and non-financially," says Edna.
The Alumni Association of The School of St Jude exists to promote the mission, vision, educational and community aims of St Jude's to our graduates. The association also provides opportunities for members to network, offers training and skill development, share employment opportunities and organises social activities.
Edna is a St Jude's alum herself and now works in the Alumni team, engaging with fellow alumni and making sure graduates' achievements are recorded. "I graduated from Form 6 in 2015. As a proud member of the St Jude's Spirit Program, I support the school financially by donating AU$3 every month."
The school currently has more than 100 alumni donating through the St Jude's Spirit Program. Alumni donations are predominantly allocated towards St Jude's Unsponsored Student Fund, which funds uniforms, transport and learning resources for students whose scholarships are currently unsponsored.
"Alumni also support the school non-financially by sacrificing their time to assist in various school departments, help in fundraising activities and spreading the word about the school," explains Edna.
St Jude's has more than 200 alumni volunteering at St Jude's. Some are teachers, sports coaches and some help with organising alumni events.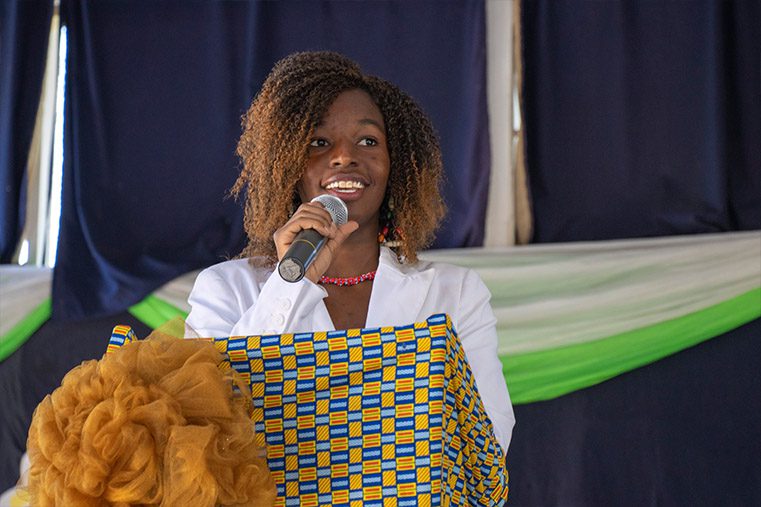 Tatu is an alum who completed her A Level education in 2021. She now volunteers in the Alumni team and she's a member of the Alumni Spirit Program.
"I feel obliged to give back to my community after acquiring a free, quality education from St Jude's. My community needs me to support them," says Tatu.
"Currently I'm supporting the school both financially by donating AU$3 each month and non-financially by volunteering in the Alumni team," adds Tatu.
Tatu, who is volunteering through the BSJ Program, hopes to one day sponsor a student once she becomes a successful accountant.
"Volunteering has been part and parcel in my life. Once I'm blessed with enough resources to sponsor a student's scholarship I will be glad to sponsor one or even two students. As a former St Jude's student, I am proof that education changes lives and I would like to transform the lives of my younger sisters and brothers," explains Tatu.
Alumni are the heart and soul of the organisation, carrying the school's legacy. Their spirit of giving is a testimony to a St Jude's education that creates hope for the future of Tanzania.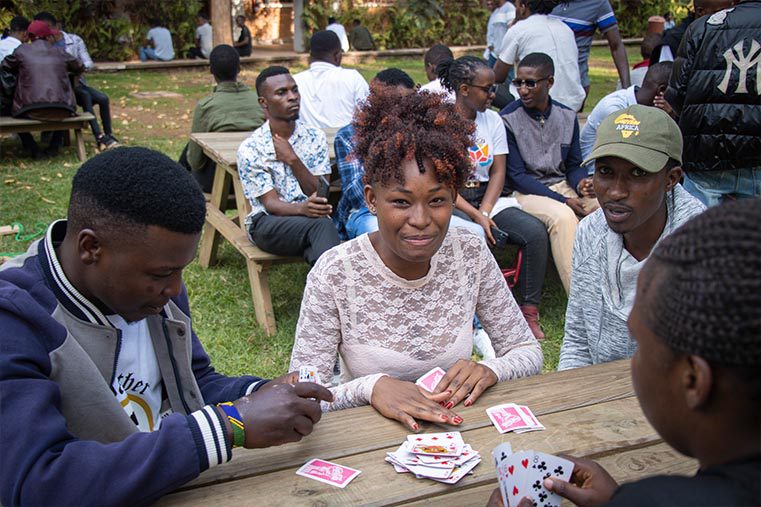 Judica's story of transformation runs parallel to St Jude's own. When Judica started at St Jude's in 2003, there was one campus and less than 100 students. Today, Judica visits as a successful banker and St Jude's comprises three schools, three campuses, a ground-breaking graduate program and more than 800 alumni.
In 2003, Judica was just eight years old. One day, her brother Ezekiel lifted her onto his motorbike and brought her to St Jude's for a Student Selection Day. Judica's family knew that the school was offering free, quality education to students from poor families and hoped she would receive a scholarship too.
"There were so many of us at home – we were nine children and I am the ninth. You can imagine it – all of us in the same house – and life was not so good. My parents were farmers, but they were farming on a very small scale. The harvests were little and it wasn't enough," she recalls.
When Judica was offered a St Jude's scholarship it was a huge relief.
Each day, Judica walked to school. While the school has 26 buses today, at that stage there was only one. Since 2004, all students and staff have enjoyed daily hot lunch at school, but in those early days Judica and her classmates walked home for lunch as the school didn't yet have a kitchen!
Since then, a lot has changed for St Jude's and for Judica. "If you had asked me what I wanted to be when I started at school, I would have said, 'A policewoman'," she laughs. When Judica reached secondary school, however, she discovered a talent for business.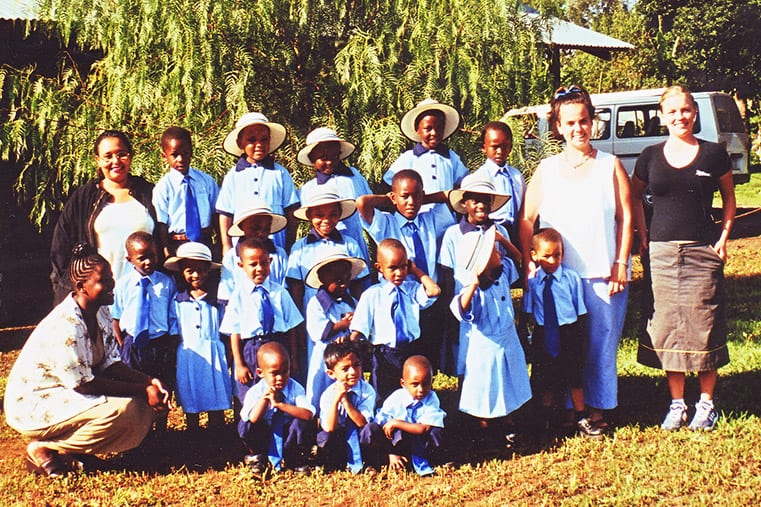 It wasn't just her career aspirations which changed as Judica progressed through St Jude's. Her story changed as she sought leadership opportunities and worked towards her future. Judica moved from primary school to O Level (the first four years of secondary school) and then A Level (the final two years of secondary school). Voted Head Girl in both O Level and A Level, Judica gained opportunities to practise her role as a future leader. In her final school years, she studied book keeping, commerce and accounting.
In 2015, after 13 years of free education, Judica completed secondary school with the inaugural graduating class. She remembers week-long celebrations with crowds of supporters arriving from all over the world to be there.
Ever a pioneer, Judica was one of the first students to take part in the Community Service Year (CSY). The CSY is the first year of the Beyond St Jude's Program (BSJ) for Form 6 graduates. During the CSY, participants volunteer their time as teachers in government schools or in non-teaching placements throughout St Jude's campuses. Judica taught book keeping and commerce at a government secondary school. "It was the best moment of my time with St Jude's as I was giving back to the community," she says.
Judica's year of volunteering made a big impact on her students. She explains, "In local schools most students don't make it to A Level, but most of my students passed and reached A Level. Many even made it to college, so I thank St Jude's for that."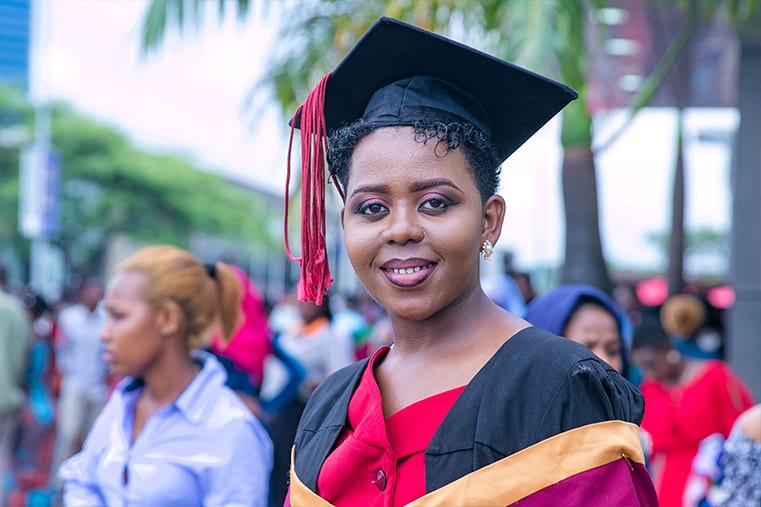 Soon it was time for Judica to begin her degree at the University of Dar Es Saalam, supported by Beyond St Jude's. "BSJ helped with the whole process of applications for universities. They visited us at university to see how we were doing. That was really encouraging, to know that we had people who really cared about us, even after we finished school."
In 2019, Judica proudly graduated from university with a Bachelor of Commerce in Banking and Financial Services and her family and BSJ representatives made the trip to celebrate. "It was so exciting," she shares.
After university, Judica began working. "I was lucky because I got my first job just one week after I graduated. I was offered a job in one of the commercial banks as a Bank Officer," she smiles. In a country where youth unemployment is high, this is a testament to Judica's drive and great education.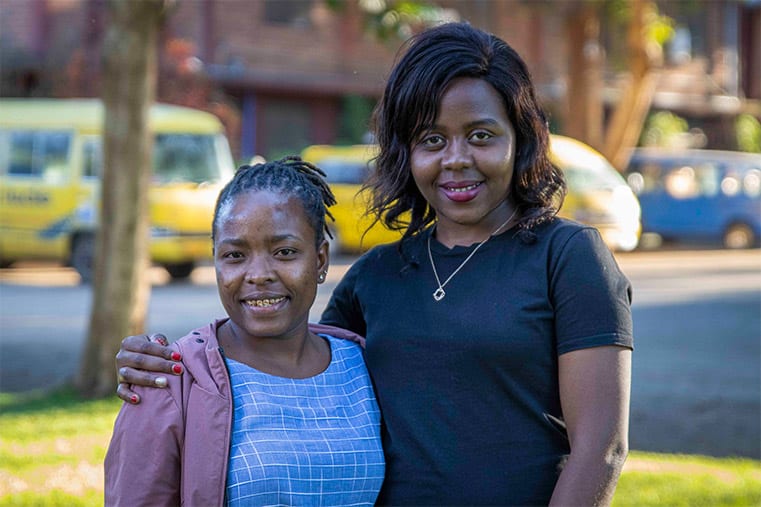 After a year, an opportunity arose at the prestigious Bank of Tanzania, where Judica happily works today. With her salary, Judica lives independently and provides her family financial support. Her older siblings are working and things have improved for her parents. "They are living comfortably now. My parents are still farming, yes, but on a larger scale, and it's enough," Judica reports.
In just eight months, Judica has grown into her new role, which takes her all over Tanzania. She is based in Arusha but also travels to Zanzibar and the capital, Dodoma, for work. Despite this busy schedule, Judica is happy to make time for her school, organising a trip home to film an interview for St Jude's.
Just as St Jude's been transformed since its beginnings, so too has Judica. With a free, quality education and her commitment to making the most of each opportunity offered to her, Judica has realised the St Jude's vision. Where a bright but poor student once stood, now stands a young leader, fighting poverty in Tanzania.
The School of St Jude is blessed with many alumni coming back to work at the school as employees. Whether it be in classrooms, sports grounds or offices, the returning alumni are supporting the next graduates of St Jude's.
The school recently welcomed back Daudi, Innocent D and Innocent M, who are now full-time employees within St Jude's Head Office.
They all received free, quality education from Standard 1 to Form 6 and then were supported through higher education by the Beyond St Jude's (BSJ) Program. Now, they wish to give back to the school's community and share their stories of transformation.
In Tanzania, there are three stages of school; seven years of primary school from Standard 1 to 7, then four years of secondary school from Form 1 to 4 in Ordinary level (O Level) studies, and finally the final two years of secondary school, Form 5 and 6 in Advanced Level (A Level) studies.
The BSJ Program supports secondary graduates to undertake a Community Service placement and then provides them with the funding and support for their first higher education qualification.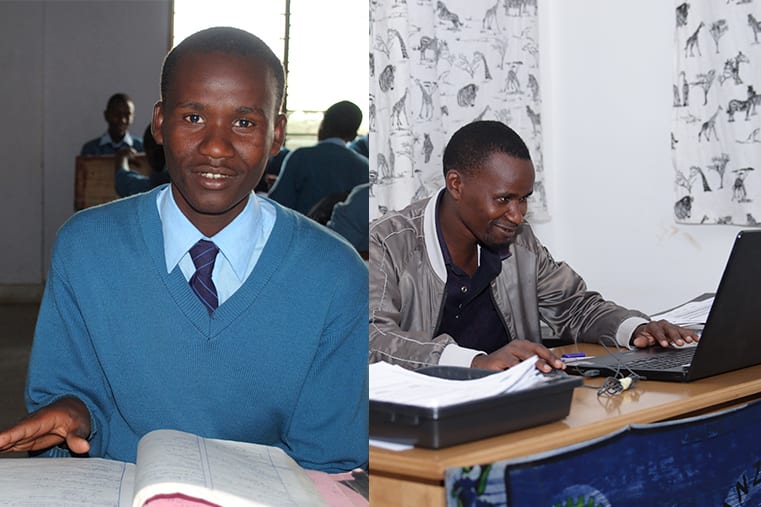 Daudi joined St Jude's in 2004 when he was in Standard 2. Throughout his school life, he showed a natural aptitude for leadership.
"I've always liked taking up leadership roles since I was young. I was Head Boy in Standard 6, Minister for Social Welfare in Form 2 and Minister for Environment in Form 5, so I always loved to lead," Daudi says with a smile.
Leadership is a prominent skill that St Jude's promotes amongst its students – nurturing the community-focused leaders of tomorrow.
"During my Community Service Year (CSY), I taught commerce and booking to more than 133 students in one class and I had to teach three streams. Before I completed my CSY, I established a leadership club at the government school; the club is still active, and in my spare time I pass by to check on its progress," Daudi explains.
He adds, "After I completed my tertiary education in Uganda through Beyond St Jude's, I wanted to come back and help. When the HR manager called me and said there's a lot to assist with here at St Jude's, I didn't hesitate! I quickly applied for the position and I got the job."
Daudi's childhood began living in a two-room, mud home in a rural village on the outskirts of Arusha. He believes if it weren't for his St Jude's education, he would not have had the chance to reach his full potential.
"St Jude's is a life-transforming place. Personally, if it wasn't for a free, quality education it would've been a far-fetched dream to get my bachelor's degree in Uganda. Because of St Jude's, I haven't had to struggle financially for my education like many of my peers. I'm forever grateful to be part of the St Jude's family," Daudi attests.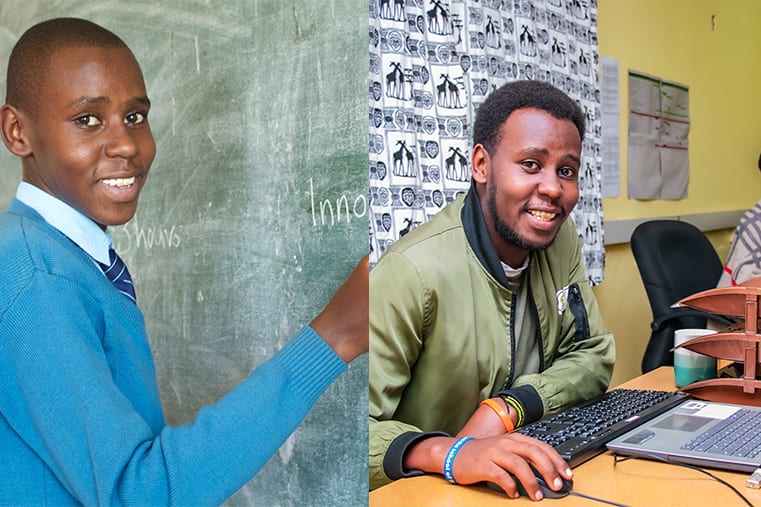 Innocent D joined St Jude's in 2004 when he was in Standard 1 and completed his final year of secondary school, Form 6, in 2017.
"My St Jude's experience was amazing because I received everything at school. My only duty was to study. This also helped lift a huge load off my father, and he was able to educate the rest of my siblings," says Innocent D.
Innocent D graduated from university in 2020, and he's currently working the Beyond St Jude's team (BSJ); the team who supported him through his higher education. Now, he follows up on the academic progress and social wellbeing of the 292 current tertiary scholars studying in 42 institutions across Tanzania.
"I'm glad to be back. This is my chance to give back and appreciate what the sponsors and donors did for me – helping me get free, quality education from primary through to my higher education. It is my way of thanking everyone for supporting me," Innocent D explains.
Innocent D, who is no stranger to the BSJ team says, "For my Community Service Year (CSY), I first volunteered at a government school, where I taught history to more than 60 students in one class. Afterwards, I volunteered in the BSJ team for six months. This allowed me to gain experience in both a teaching and office environment."
"I applied for the job after receiving an email from the Alumni team informing me that BSJ was looking for a candidate. It's great to have this chance to help my younger brothers and sisters."
"Thanks to this job, I am now able to provide for my family and help my father educate two of my siblings who are still in school," Innocent D adds.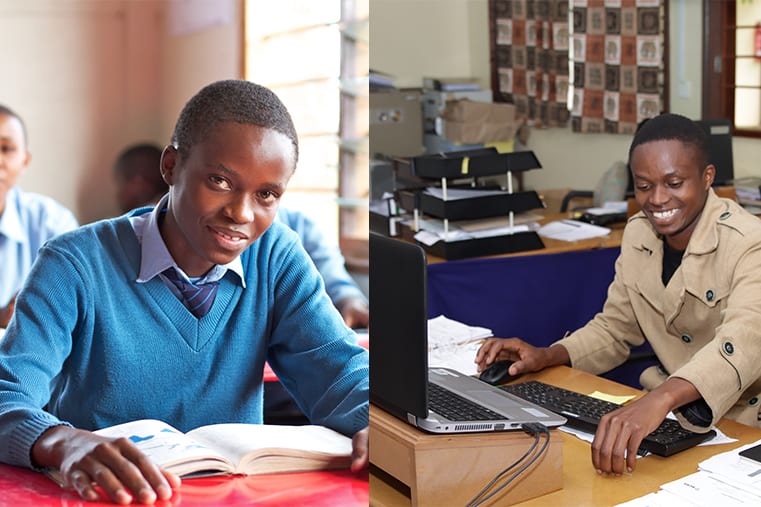 "I remember reading a book called 'Peter and Jane' for my entrance exam on St Jude's Selection Day," says Innocent M with a smile.
Innocent M joined St Jude's in 2004 as a Standard 2 student. After completing Form 6, he went on to pursue higher education in commerce and accounting through Beyond St Jude's. Now, he's back working in the Accounts team, receiving generous donations and sponsorships from supporters all of over the world.
"When the position became open in finance, I was volunteering at Smith Campus as a teacher while I waited to officially graduate from the university. I immediately applied, went for the interview and, I got in! I was so happy!" Innocent M recalls.
"Most of my friends either ended their education in Form 4 or opted to do something else… and that could've easily been me if it wasn't for St Jude's. Now, I'm working here and I'm receiving a salary, my life and my family's life has changed."
Daudi, Innocent D and Innocent M are just a few alumni whose lives have been transformed… a true testament to breaking the cycle of poverty through education!
With your support, we can continue to change the story for thousands of students and higher education graduates, creating a pathway out of poverty for the youth of Tanzania.
Three Beyond St Jude's (BSJ) dream teams headed out for their bi-annual tertiary visits where they visited more than 250 St Jude's Tertiary scholars in 14 regions across Tanzania.
BSJ is an optional, yet popular, scholarship program for our secondary school graduates and is made up of two parts. The program enables our graduates to give back to their communities in an educational context through a Community Service placement and then provides them with the funding they need to go on to access higher education.
Through the Tertiary Program, Form 6 graduates (A Level) are supported in their first higher education qualification; whether that be a degree, diploma or certificate course. A BSJ tertiary scholarship supports the graduates to continue on this transformative path, helping to cover tuition fees, scholars' accommodation, living expenses, study materials and costs of examinations.
The BSJ team provides year-round support to Tertiary scholars and visits them twice a year to check in on the scholars' welfare, academic progress, health and provide any support they may need.
"This time around we did about 294 visits across Tanzania. I spent a lot of time in Dar es Salaam because almost 60% of our scholars are based there," says Vivian, who oversees the entire BSJ team.
Vivian's team who visited Dar es Salaam, Morogoro and Zanzibar further explains, "The first visit is to check up on the first year scholars who've just started university. The purpose of that is to make sure fees and accommodations are paid, registration has been done, and they are comfortably settling into their new academic journey."
"The second visit is to check up on the continuing scholars so we can get updates on how they are faring, what are their prospective plans for field placements and also to check if they've changed accommodation," Vivian clarifies.
BSJ currently has 294 tertiary scholars enrolled in higher education institutions across Tanzania, of whom about 89 are expected to graduate this November.
Sharing her highlight, Vivian says, "One of our scholars is an assistant lecturer teaching ICT. Currently, he has volunteered to fill the gap of a sick lecturer, teaching the class full-time until the lecturer returns, and a student at the same time. This says a lot about St Jude's spirit of giving. Our students are learning the importance of giving back and you can see the ripple effect of the school is transcending beyond."
Francis, who supervises BSJ Higher Education officers, was part of the team that visited scholars in Arusha, Dodoma, Kahama, Nzega, Shinyanga and Mwanza, regions in Northern and Central Tanzania. They spent 14 days on the road and covered over 2,500km.
"We travelled to six different regions visiting more than 20 scholars. Accessing some of the universities in these regions was a bit challenging. For example, Mwanza region is famously known as 'The Rock City' and it's indeed very rocky. The roads were so rocky that cars could not get through and we had to walk up to 30mins at times to reach a scholar's university" says Francis.
"These are my first tertiary visits and I was happy to see the scholars, especially the first-year scholars who are settled in and happy. Most of our scholars choose to live together and have a culture of helping each other. This gives me hope that they will be fine and are safe."
"Some of the continuing scholars extended their helping hand by supporting the new scholars to settle in. This shows a lot of unity among St Jude's community of scholars," he adds.
Francis believes, that by visiting our scholars every year it helps to understand more about a scholar's life.
Reiterating on how remote the areas are, Lulu, who provides administrative support to the BSJ team and scholars, says, "My team and I visited Moshi, Tanga, Singida, Iringa and Mbeya, that's the Northern and Southern side of Tanzania… almost 4,000km of driving for 14 days! These places are beautiful, but getting to see the scholars was challenging. There are some places you have to take a Boda Boda (A motorcycle taxi in Kiswahili) to get to a university. All in all, it had to be done and we managed to visit all our scholars."
"Some of our tertiary scholars are holding high positions in their universities such as ministers and high positions in their university governing bodies. For example, Albert, a third-year scholar at a university in Mbeya, is Prime Minister of his university but he's looking forward to vying for the presidency in the upcoming university elections," Lulu adds.
All in all, the three teams travelled over 8,000kms and visited 294 Tertiary scholars, with each team enduring an extremely tough but rewarding journey. The stories from the visits prove that St Jude's scholars continue to lead and reach for their dreams, even beyond the school gates.
The Beyond St Jude's program is going from strength to strength, reaching yet another milestone this year: the university graduation of 10 engineers who will transform their communities.
Beyond St Jude's (BSJ) consists of two parts: the Community Service Year and Tertiary program. The two-part program was created to assist students' transition to higher education after graduating from A Level at St Jude's.
The Community Service Year (CSY) is a voluntary program for students who graduate Form 6 from St Jude's. It aims to encourage students to give back to their communities in thanks to the free education they received.
The Tertiary program provides scholarships to help our CSY volunteers achieve their dreams of completing higher education by assisting them with payment of tuition fees, accommodation, equipment and living allowances.
Over the years, St Jude's has seen a rise of students opting for science subjects in A Level. The school has nearly 60% of A Level students opting for science subjects and the rest studying arts and business subjects.
Some of the most popular choices that Tertiary scholars select as majors are Medicine and Engineering. Other selected degrees include Accounting, Banking, Business Management, Economics, Education, Financial Management, International Relations, Information Technology and Telecommunications.
Joseph and Mrema are two BSJ participants who completed their A Level scholarship at St Jude's in 2015. They are among the first engineers to graduate from our BSJ Tertiary program.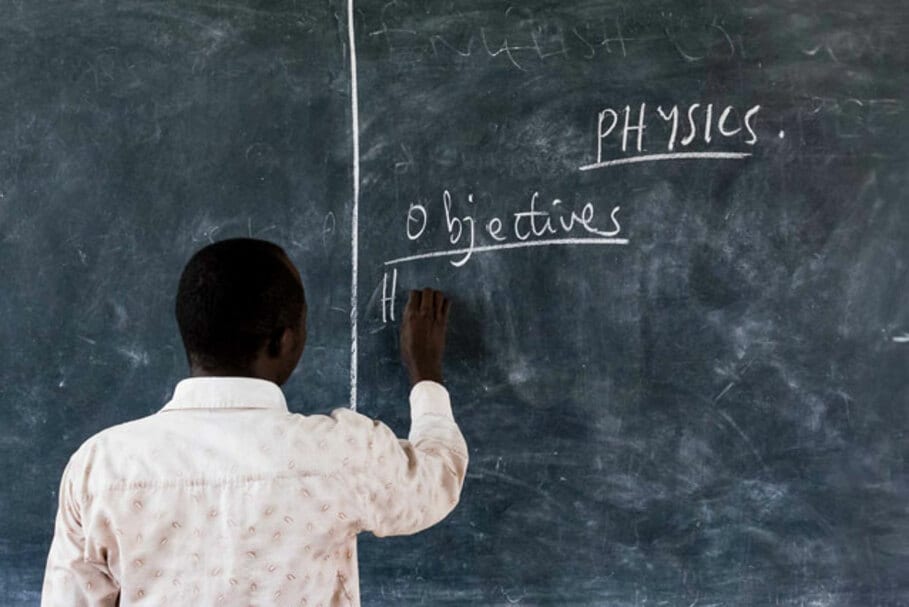 Mrema will graduate with a Bachelor of Science in Industrial Engineering degree, while Joseph will hold a degree in Bachelor of Science in Chemical Engineering.
"Graduating is a dream come true for me. Since I was young, I've always wanted to be an engineer! I was always fascinated with mathematics," Mrema said, excitedly.
"I had a brother who was a teacher, and I remember asking him what I can become when dealing with mathematics…. and he said I could become an engineer. From then on, I became curious about science subjects and, I was good at it," he further explained.
Before heading off to university, both Joseph and Mrema enthusiastically completed a Community Service Year, teaching hundreds of students in different government schools between them.
"I taught physics and mathematics to over 300 students in a government school in Arusha. I was teaching science subjects to Form 3 and Form 4 students," Mrema stated.
"One of the students that I taught at a government school in Form 4 was later selected to join Form 5 at St Jude's. He went on to become the top A Level student, and now he's off to university to study Electrical Engineering," Mrema proudly said.
Mrema, who would like to specialise in engineering for the service industry after graduation, aspires to have his own start-up business in the future.

Just like Mrema, Joseph is thrilled to be graduating this year. He will go down in history as one of St Jude's first engineers!
"I'm the firstborn out of four children. My mother goes around our village telling everyone I'm going to become an engineer," Joseph said with a chuckle.


Coming from Karatu, a rural area outside Arusha, Joseph's passion for engineering has never waned. His favourite subjects were mathematics, chemistry and physics.
"I was always curious. I wanted to know about engineering and what the industry was about. I wanted to learn about products and how they were made. I found machines to be extremely strange, and I wanted to know how they work," Joseph explained.
Since joining St Jude's, Joseph never looked back and put his emphasis on education.
"The chance to study at St Jude's took my worry and uncertainties away. I was able to concentrate on my studies and perform well," he said.
"I'll be graduating in a few weeks, thanks to all the supporters and sponsors for making this possible. I'm overjoyed… seeing my dreams become a reality."
Joseph believes that it's only through the education he received from St Jude's that he's able to receive these remarkable opportunities and he's confident about his future.
Robinson, although shy and softly spoken, has big dreams of becoming a science teacher.
Robinson joined The School of St Jude in 2017, selected for an A Level scholarship. He was one of over 300 new students carefully chosen from a government school.
"I attended government schools for my primary and O Level studies. When my Form 4 examination results came out, I did well. That's when I got an invitation from St Jude's to come for Selection Day," Robinson said with a smile.
"I really enjoyed my time at St Jude's. I loved how we could finish topics on time, and we had enough books and time to study with friends. I even learnt my computer skills at St Jude's. For my mid-term break, I didn't go home; I chose to spend two weeks learning how to type and operate a computer," he added.
Robinson was born in Mulala, a rural area on the southern slope of Mount Meru in Arusha. He's the firstborn child in his family and has three siblings. Growing up, Robinson always had a passion for teaching. He would teach his siblings and his neighbours' children what he was learning in school.
"I remember when I was in Standard 7, teachers would ask me to assist them in teaching the class. They would also ask me to tutor their children in exchange for books. My teaching continued through my O Level years, and I would teach my fellow students and revise with them," he explained.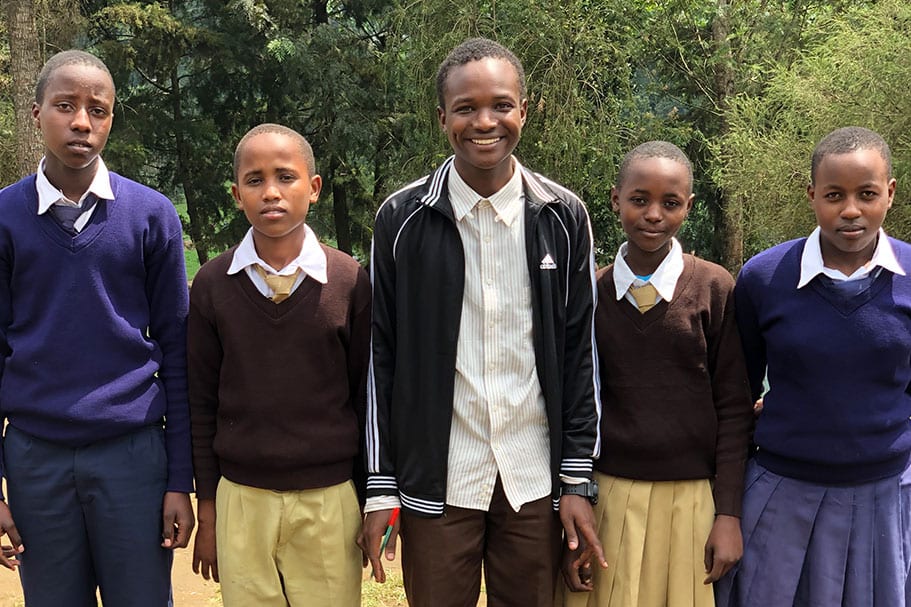 After graduating from Form 6 at St Jude's, Robinson was accepted into the Beyond St Jude's (BSJ) program as a Community Service Year (CSY) volunteer. During his CSY, he voluntarily returned to the same government school where he completed his O Level studies to teach. Robinson taught physics to over 50 students.
"I loved teaching the students so much that I had requested to extend my time at the government school before going off to university," Robinson shared.
For his next chapter, Robinson has chosen to major in Bachelor of Science in Education in Dar es Salaam. This is a significant milestone in his educational journey, as only 4% of tertiary-aged people are enrolled in higher education courses. He's looking forward to graduating from university so he can return to teaching!
"The difference between St Jude's and government schools is that St Jude's teachers use a voice of reason to discipline students. That's a model I would like to follow when I start teaching."
Robinson says he believes in having a conversation and addressing a root cause when dealing with students that misbehave in class.
"During my CSY time, I would call a student who is misbehaving and talk with them. By doing this, my class became the overall best performing physics class in the school that year!"
"I believe that teachers who use harsh methods of discipline don't get the best results out of those students. Students become scared of their teachers, and even if they have a problem, they would be scared to express themselves or ask a question," Robinson added.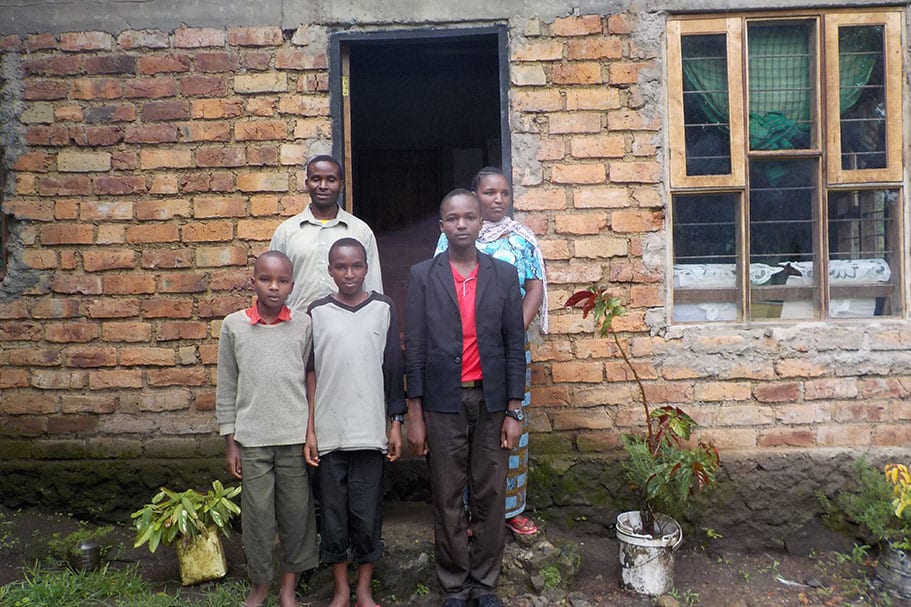 Robinson's future is bright, and his greatest wish is to come back and teach at St Jude's.
"I would like to come back to St Jude's and teach physics to secondary school students," Robinson said joyfully.
St Jude's provides a positive, supportive, safe and secure environment in which all students can live, learn and develop in their studies.