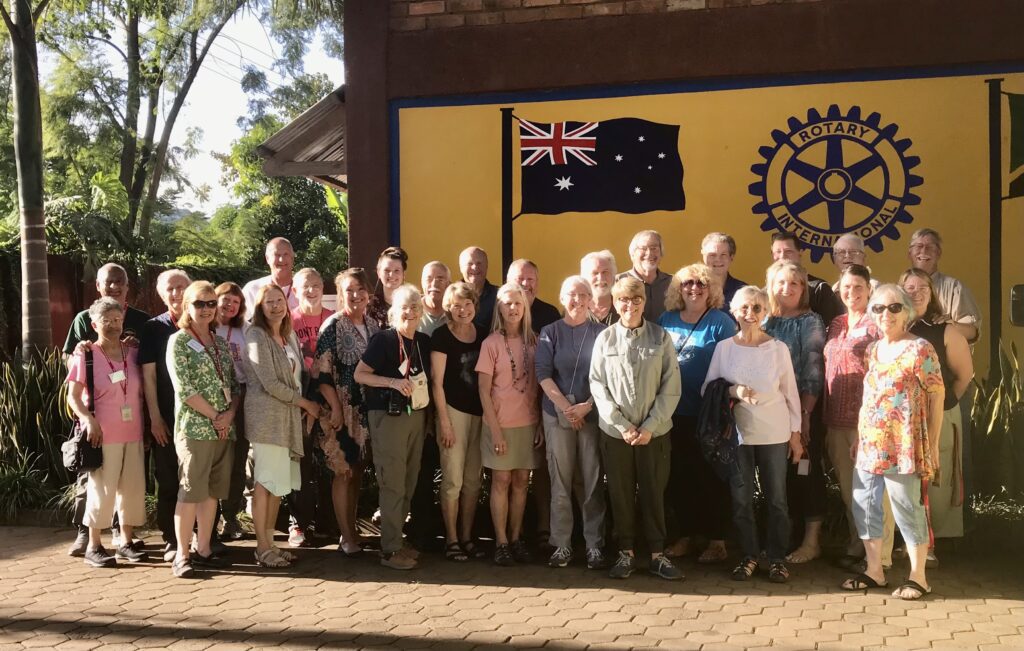 From its earliest days, The School of St Jude has found strong support in Rotary clubs from all over the world. Over the years, Rotarians have been committed fundraisers, continuously coming up with creative ideas for activities to support the school.
Recently, a US$25,000 challenge issued by the Watertown, South Dakota, Rotary Club has been matched by District 5610 Rotarians, culminating in a US$51,200 donation to St Jude's.
Matching efforts began in September 2022 at Rotary District 5610's annual Conference in Sioux City, Iowa, when $3,853 was raised through a presentation about St Jude's at one of the main sessions followed by five minutes of challenge donations. There was also a silent auction of items donated by Rotarians who spent a week at the school in May to attend the graduation of the Class of 2022.
In October, the Rapid City Rushmore Club raised another $8,000 at a special event where they served a dinner of beans, rice and watermelon similar to the lunches enjoyed by students at St Jude's. They then auctioned off delicious desserts and followed with a program of videos and speakers.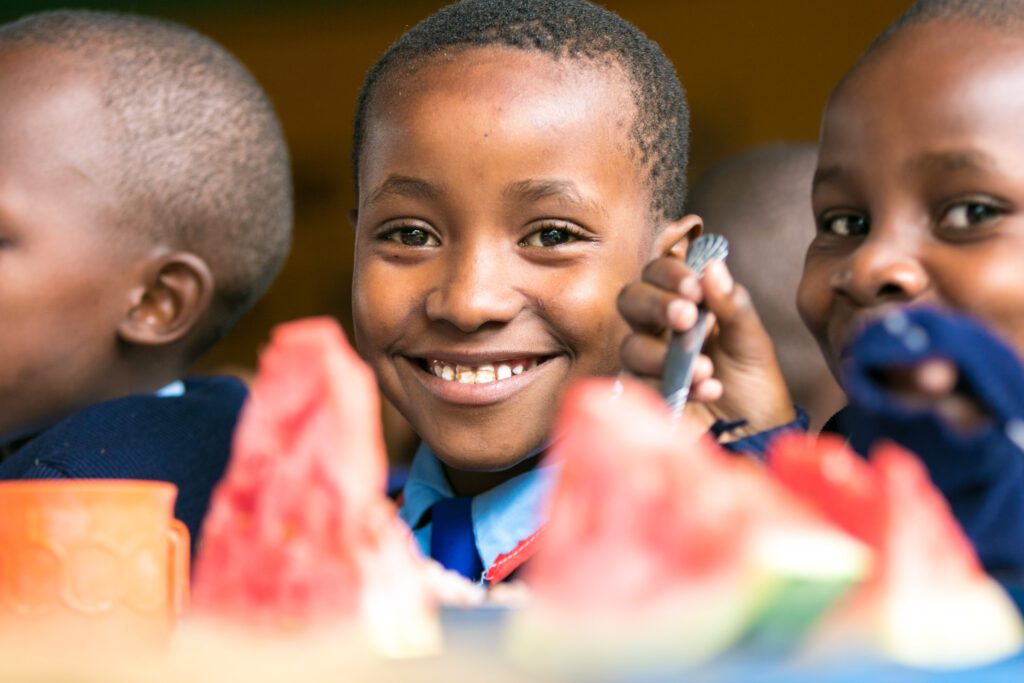 The event featured a live and silent auction with money being raised to support St Jude's holistic education approach. Specifically, the money funded sports equipment, art supplies, music instruments, gardening supplies and cooking needs among other items.
Rotarians who traveled to Tanzania in May spoke at several Rotary Clubs seeking sponsorships and money for the match. Many Rotarians and clubs responded generously.
"I am amazed and thrilled," said Pat Sutliff, a Rapid City Rushmore Club member who also is a past District 5610 governor and a founding member of the American Friends of The School of St Jude.
"When I called the District Governor about the $25,000 match", she said "he said 'I never dreamt we could do that.'"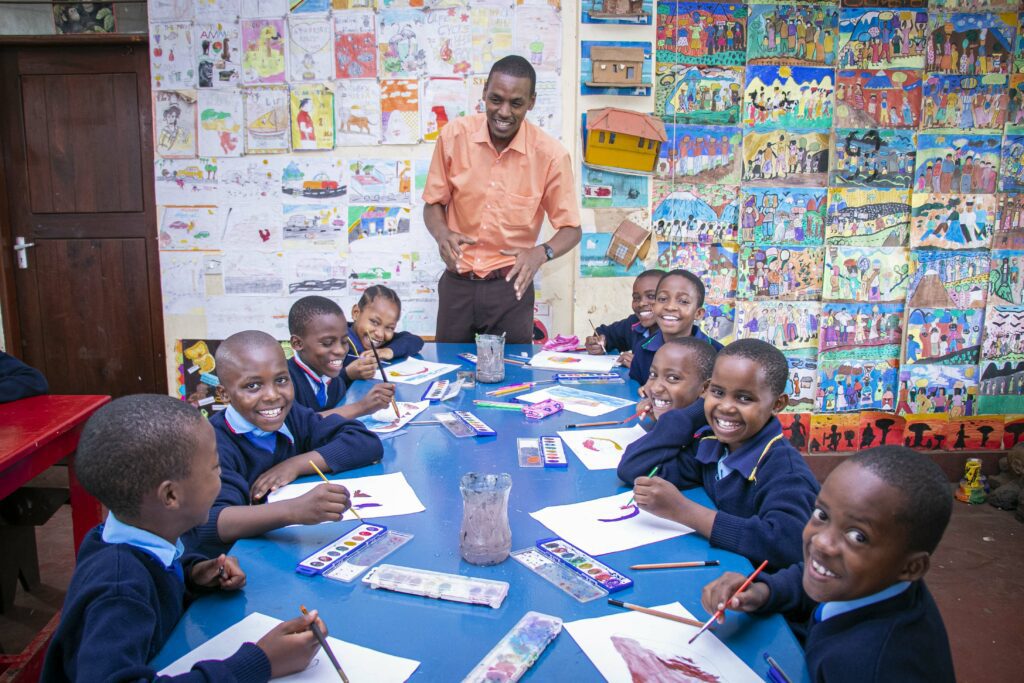 The money will help fund new sports, art and music programs and other needs at the school which now educates about 1,800 of Tanzania's brightest students.
During their trip to the school in May, District 5610 Rotarians raised about $10,000 for the school's Student Art program. That money helped fund a new staff position.
The school is funded by people around the world including many donations from Rotarians in the United States and Australia, School Founder Gemma Sisia's home country.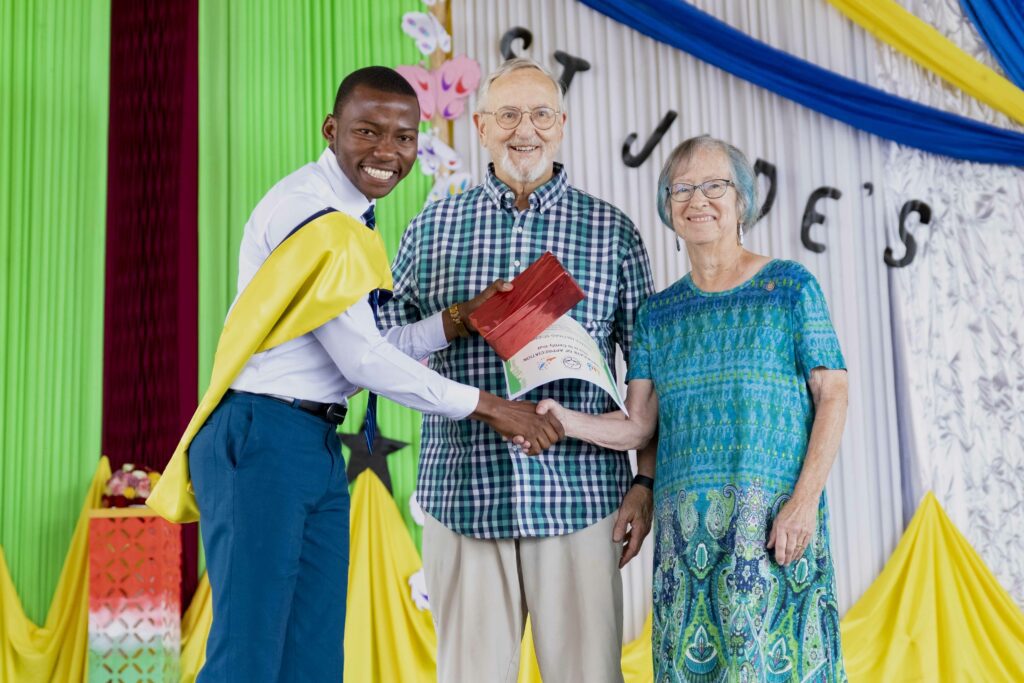 Sutliff has been engaged with the school nearly all of the 21 years of its existence. It started in 2002 with three students and continues to grow. The school provides free education to students in a country where only 30 percent of students remain in school past their first seven years.
Students enrolled in St Jude's are academically gifted but also come from families in deep poverty.
Sutliff said she is gratified by the response of Rotarians.
"If you have a great cause," she said, "Rotarians step up."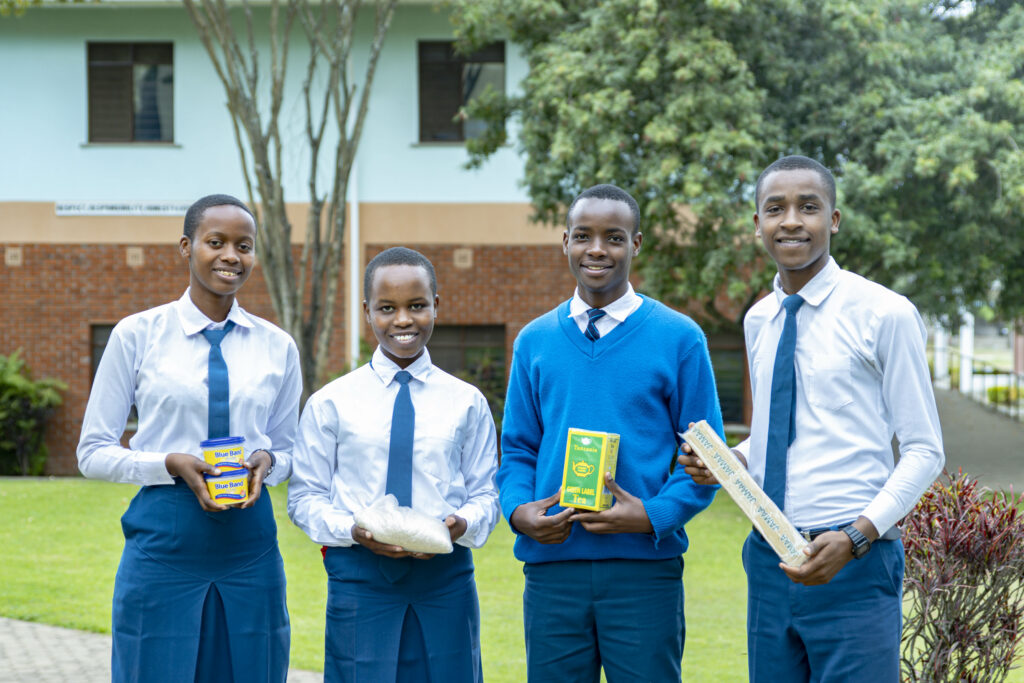 "Seeing an elderly person struggling makes me feel bad… We have a responsibility, as young citizens who have a chance to be educated and know the value of helping others," says Goodluck, the confident Head Boy of St Jude's Secondary School.
Goodluck and his fellow Student Government member, Head Girl Diana, are leading students in an ambitious project to help elderly members of the Arusha community, who are currently struggling to cope with the rising cost of living.
"The cost of some staple foods, like oil, maize and beans has gone up recently because there is a high rate of inflation in Tanzania," explains Diana.
This St Jude's Day, Diana, Goodluck and their fellow Student Government leaders are encouraging students and staff alike to donate goods to include in St Jude's Day Essential Packs for distribution to elderly people in need.
They have set their sights high, and plan to prepare 400 packs!
The St Jude's Day Essentials Packs will include soap, tea leaves, Blue Band (a popular shelf-stable margarine) and rice, donated by students and sugar, salt, beans and cooking oil donated by staff. To include maize, a true Tanzanian staple, the Student Government are calling on our international supporters to help.
St Jude's Day Essentials Packs, can be purchased on the St Jude's website for AU$50.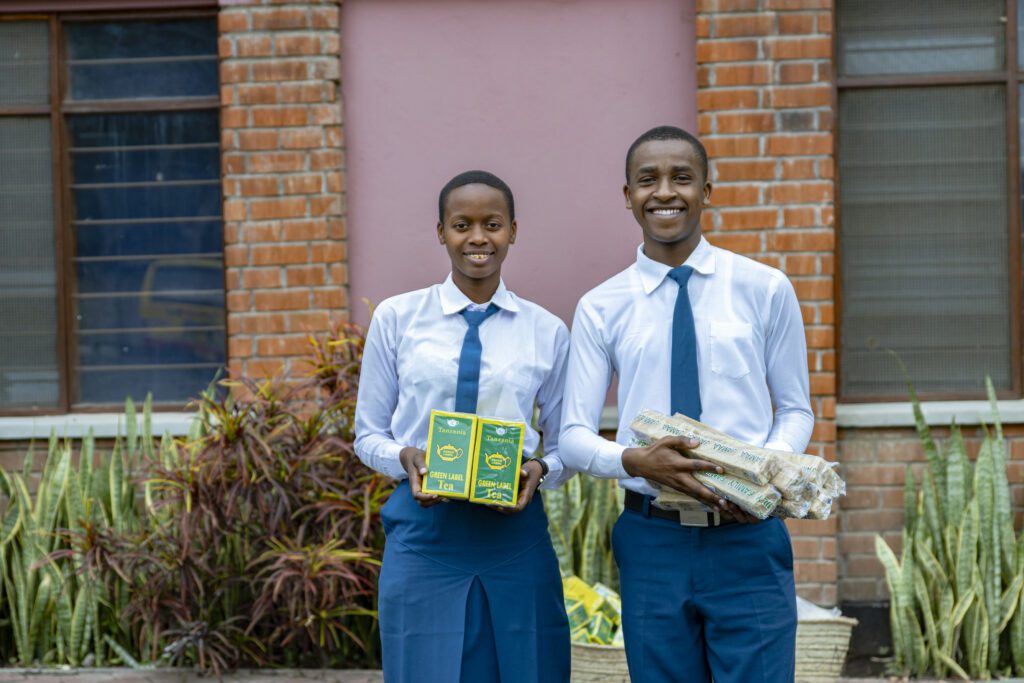 Those who are familiar with St Jude's know that the annual St Jude's Day celebration is a time for togetherness, gratitude and giving. This year, the event on 28 October will hold an even deeper meaning as everyone contributes their donations to help the elderly.
The following day, students and staff will gather again, to pack up all the donations, ready for distribution in one of the most economically disadvantaged areas of town. There, in early November, they'll host a lunch for elderly community members, giving everyone the opportunity to talk and learn from each other. Afterwards, students will accompany the elderly home, to carry their packs.
"This idea of supporting these people makes me feel proud and enjoy being part of St Jude's community," shares Diana.
Along with the cost of living, students also recognise that elderly community members face daily practical challenges.
"It's very hard for them to do their house chores such as fetching water, washing, and cleaning the house," Goodluck explains.
Diana, like many St Jude's students, assists an elderly neighbour during the holidays. "I help my neighbour with different chores such as fetching water since it's very hard for her to fetch water from a distant place, also cleaning her house, and helping out with the washing of her clothes," she says.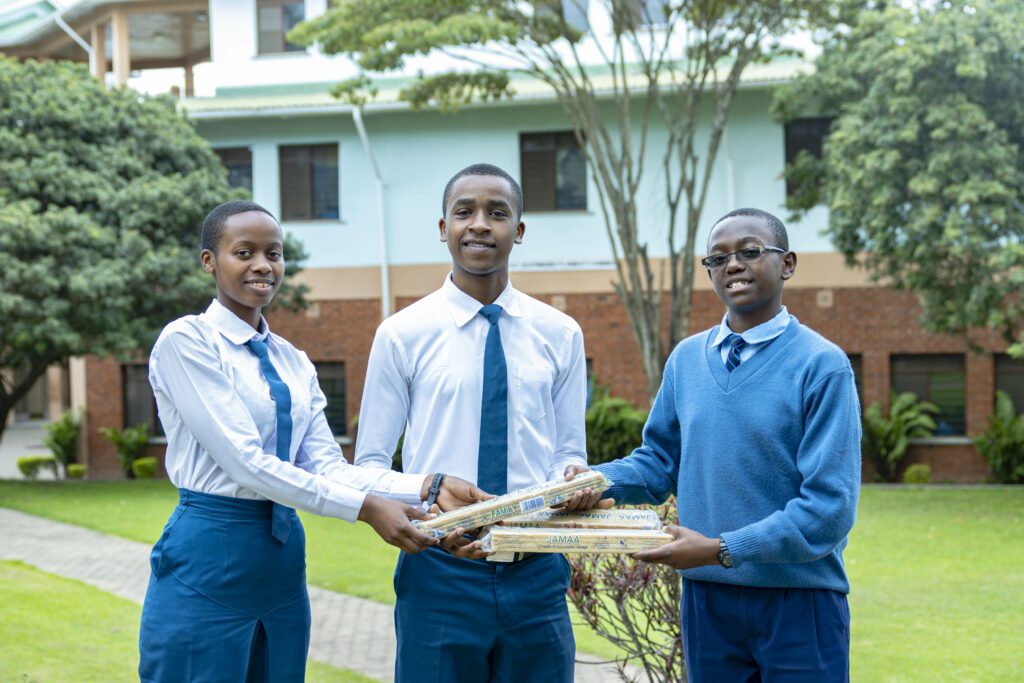 Diana and Goodluck, like all 1,800 St Jude's students, come from some of the poorest homes in their regions. In fact, on entry to St Jude's 94% of families have just AU$4.80 or less to cover their daily needs.
Yet, in spite of their own challenges, St Jude's students understand the importance of giving to those who have even less, of sharing what they have and serving the community. At St Jude's, this spirit is encouraged, as the school works to build an educated community of moral and intellectual leaders; fighting poverty in Tanzania.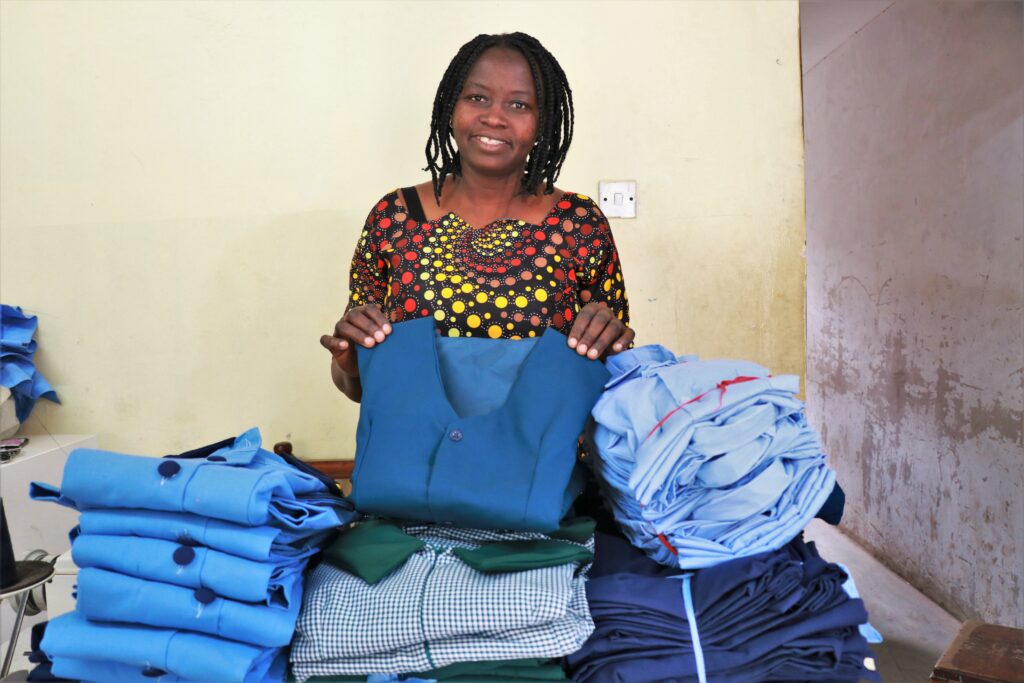 For as long as she can remember, Ms Tarimo has always wanted to own a tailor shop and make her own designs. So, when she eventually landed her first job, she immediately started saving for her first sewing machine.
"I still remember my first design," says Ms Tarimo, St Jude's uniform supplier of six years. "It was a nice little red blouse I made for my niece."
She started by working out of the corner of her sitting room. Little by little, word spread and orders started coming in. Over the following year, she found her niche specialising in school uniforms and went full-time into tailoring. Her ambitious spirit enabled her to get ahead in the tailoring business early on.
"Back in the day, I would go around town and find customers the old-fashioned way," says Ms Tarimo. "I would simply show up at a school and pitch my tailoring services," she explains.
As far as schools in Arusha go, Ms Tarimo had set her ambitions on one school in particular.
"I would see these colourful buses carrying students around town," Ms Tarimo recalls of her first impression of St Jude's. "It simply stood out from any other school I knew," she added.
So she made it her mission to supply uniforms for St Jude's, and started finding out as much information about the school as possible from her friends and customers. She took note of St Jude's uniforms, observing the different colours, materials, and designs. Finally, in 2012, Ms Tarimo made the trip to St Jude's to pitch her tailoring services.
"They were very kind," says Ms Tarimo. "They explained the bidding process to me and how they acquire suppliers. It was all very formal," recalls Ms Tarimo.
When the new tenders were announced, Ms Tarimo gave it her best shot – and won!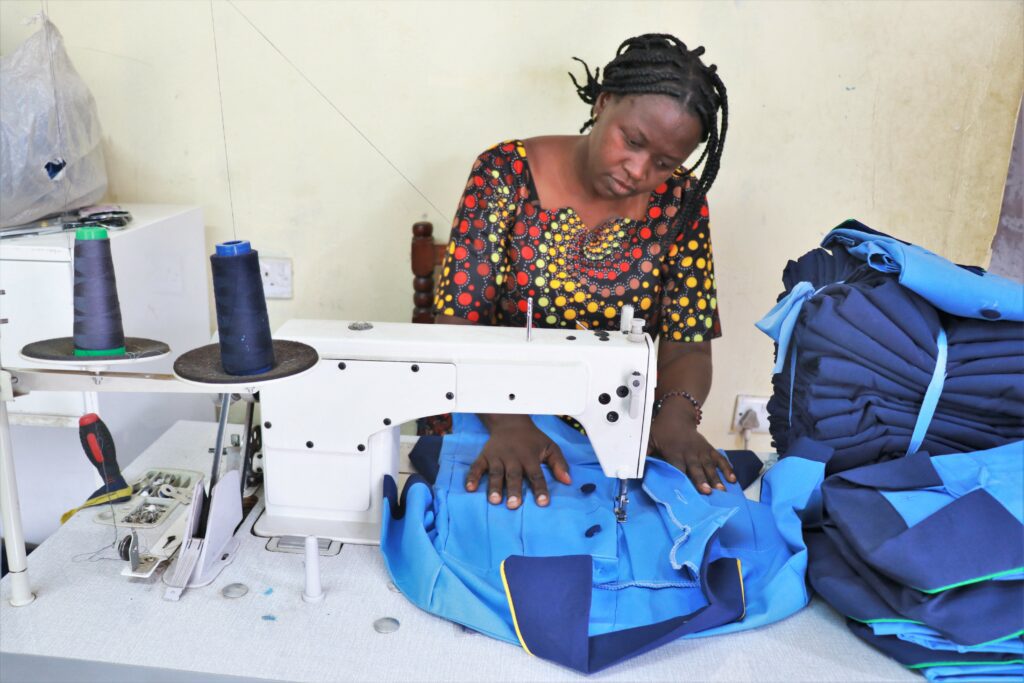 "That was the turning point of my business and life in general," Ms Tarimo recalls passionately.
Within only a year of working with St Jude's, Ms Tarimo purchased an additional four modern sewing machines, expanded her workforce, and set up a tailoring workshop in downtown Arusha. Furthermore, h Her experience with St Jude's paved the way for opportunities with large companies and organisations in Arusha.
"I won a tender to make uniforms for the Bank of Tanzania," she recalls proudly. "Some of my other top clients over the years included construction companies, private banks, and government agencies."
Today, Ms Tarimo employs up to 16 workers at her workshop at peak times. She even purchased a pickup truck to deliver bulk orders to her clients around town.
Ms Tarimo looks back on her resolution to work with St Jude's, and later, the motivation to keep working with St Jude's as one of the biggest reasons for her success.
"St Jude's has particular procedures and requirements," she says, "As a supplier, I learned plenty just working with St Jude's."
"Suffice to say, my business is orderly and systematic today largely because of St Jude's" she adds.
The School of St Jude is committed to helping the growth of the local economy and extending its mission beyond the school gates. One of the ways of doing this is by supporting local businesses and services in Arusha through trade and commerce.
In 2021 alone, St Jude's injected AU$ 8 million into the local economy, purchasing goods and services within Tanzania. Your donation to St Jude's has a ripple effect, it doesn't just end at one student; it touches the entire country.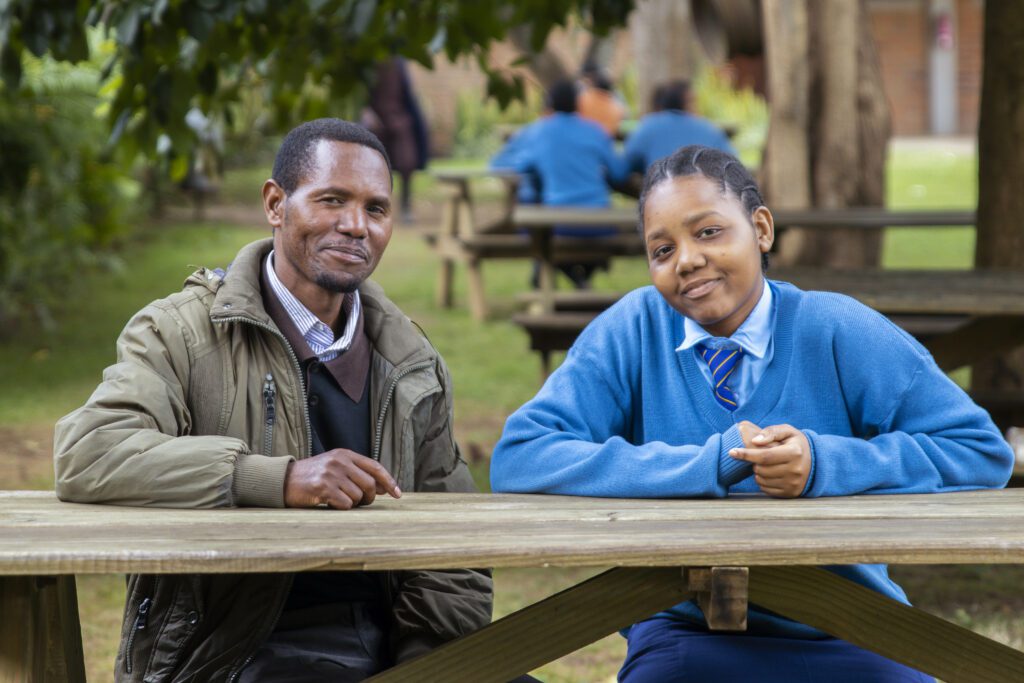 There's an old African proverb, "It takes a village to raise a child". This statement certainly applies to St Jude's vision of a community of moral and educated leaders; fighting poverty in Tanzania. With 1,800 students receiving free, quality education at St Jude's and about 300 graduates on university and college scholarships, collaborative efforts between the school and community cannot be overstated.
"I have been involved with St Jude's since my daughter's enrolment about 12 years ago," says Mr Charles, a member of St Jude's Parent Committee, and father of Form 4 student, Irene. "I feel part of the school myself."
Mr Charles first heard about St Jude's in 2010, when a local radio station made a public announcement for scholarship applications for primary students in Standard 1 and 2. Primary education in Tanzania is the first seven years of school; starting in Standard 1, students progress annually and graduate primary school after Standard 7.
"There was already talk in the community about a private school giving students a free, quality, and English medium education," recalls Mr Charles. "So, when I heard the announcement, I resolved to bring my daughter."
St Jude's made an impression on Mr Charles from day one. He was amazed by the systematic way with which the scholarship process was carried out. When his daughter was eventually selected to join St Jude's, Mr Charles quickly decided to help the school.
"I was very curious," says Charles, "always asking questions and seeking clarifications during parents' meetings. I must have made an impression because I was appointed to serve on the Parent Committee the following year."
For Irene, spending time with her father means getting fresh inspiration and guidance to motivate her to put extra effort in her studies and pursue her dreams.
"My father is very well informed about the school. So his insights are relevant and timely" says Irene.
She sees her father's service in the Parent Committee as a testament to his support for her.
As a member of the Parent Committee, Charles and his team maintain constant communication between the school and parents. They also facilitate and oversee parents' involvement with the school.
"We are a voice for parents, and a bridge between parents and the school," Charles elaborates. "We relay complaints, concerns, ideas, opinions, and suggestions from both sides of the aisle. Over the years, we have developed an effective communication system with the school on a wide variety of matters."
The Parent Committee plays a crucial role in the social welfare and security of students outside St Jude's. In case of any family issues, the Parent Committee works with the school to assess, investigate, advise, and resolve the problem. On some occasions, the student may be relocated to foster care.
For Charles, an opportunity to serve on the Parent Committee presents him with an outlet to give back to the school.
"As a parent, I share a deep sense of responsibility to St Jude's", he shares. "Fortunately, through the Parent Committee, we have been able to start a program where parents can volunteer their time and efforts assisting with various activities at the school."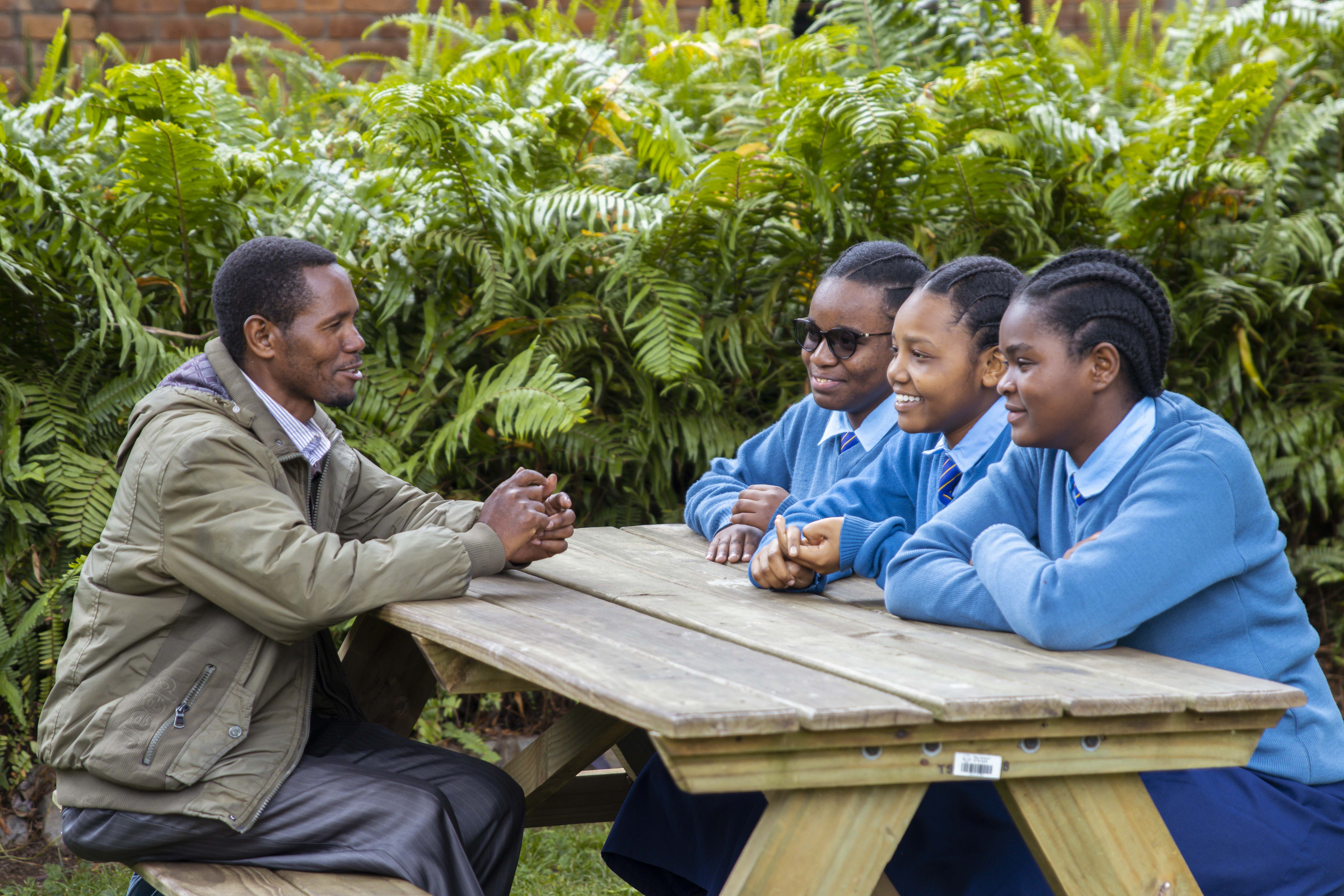 The joint efforts of St Jude's staff and a close community of parents play a crucial role in shaping a student's dream and developing their future. Parents and guardians are their children's first teachers and their continued support makes all the difference to students at St Jude's.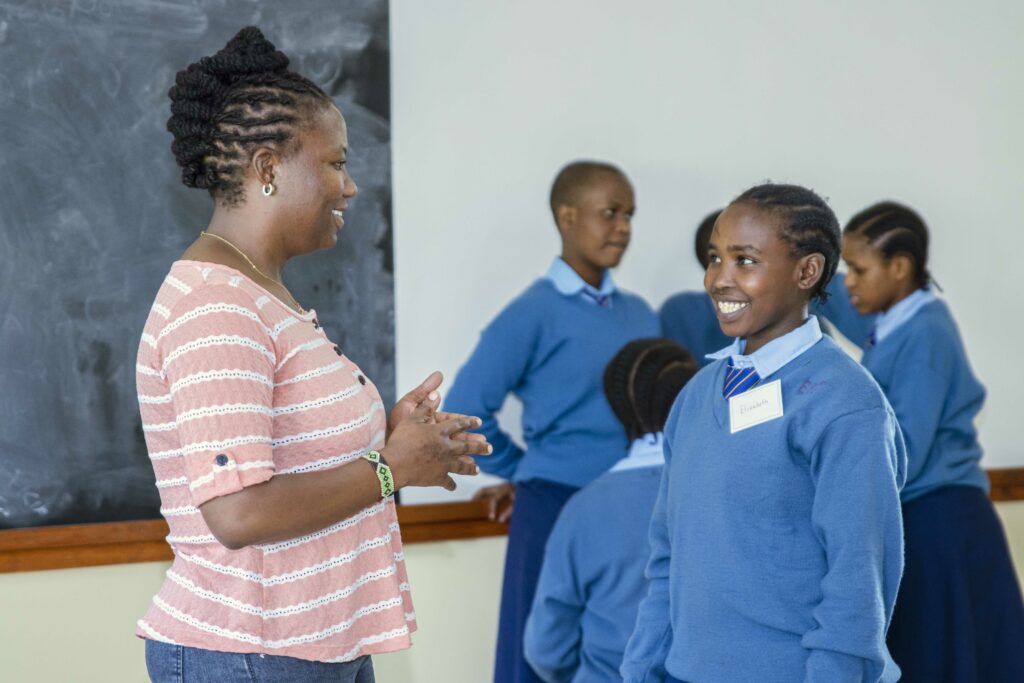 At The School of St Jude, staff are trying something different in order to provide students with truly holistic education. From the beginning of 2022, all staff, from administrators, to teachers, to gardeners, have taken on a second core duty.
St Jude's 300 staff are now mentors and coaches for more than 50 extracurricular clubs and around 10 different sports. The result is that students are better served and more engaged in sports and clubs than ever before.
"To me, education is far more than what you get in class," says Nganashe, who works in Sponsor Communications and mentors the girls' school Public Speaking Club. "In the Public Speaking Club, you see the interaction of students from different classes. They share the skills they have and they learn from each other. They're learning so many skills."
"I was excited to work with the Public Speaking Club. I did quite a lot of public speaking and debating at school and thought I could share my skills and help students grow in confidence," Nganashe shares.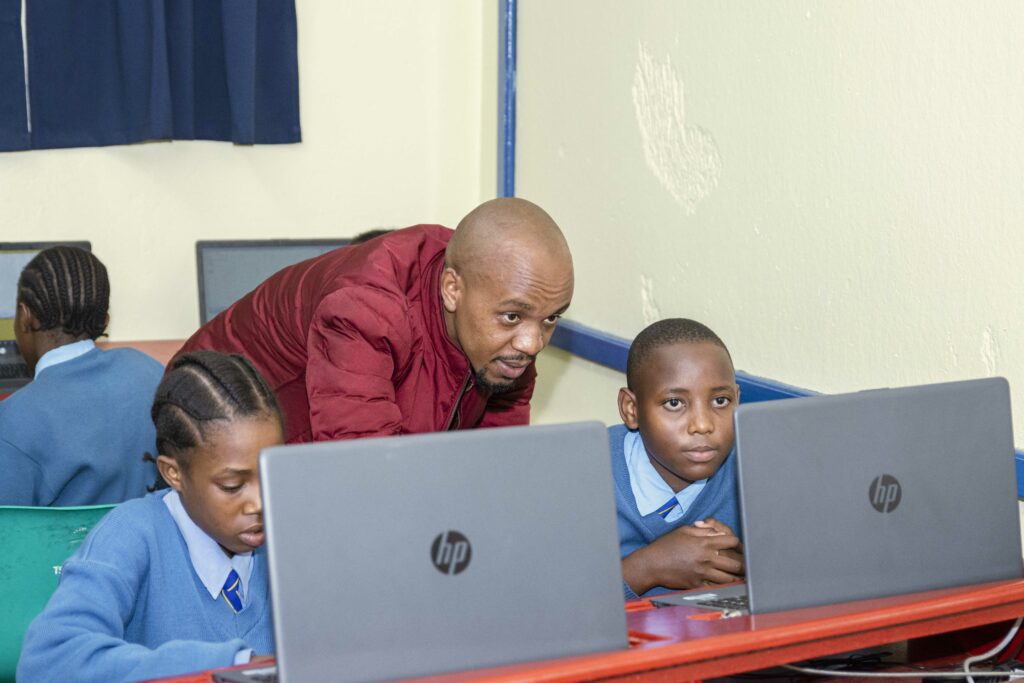 Over in the computer lab is Francis. Usually, Francis works in Beyond St Jude's to support scholars at university, but once a week, he shares his considerable IT skills with the girls' school Programming Club.
"There are about 70 students in the club and we are a team of five staff mentors. At the moment we are using Scratch Programming. It's a very simple programming tool which gives you drag and drop options to teach you programming," explains Francis.
Nganashe shares that she was initially worried about how the club would fit into her busy schedules, but she's found that her work as a club mentor adds welcome variety to her week.
"For me, it's a little getaway from my desk. When the students present their speeches I am amazed by what they know, the way they understand things and their opinions," she says.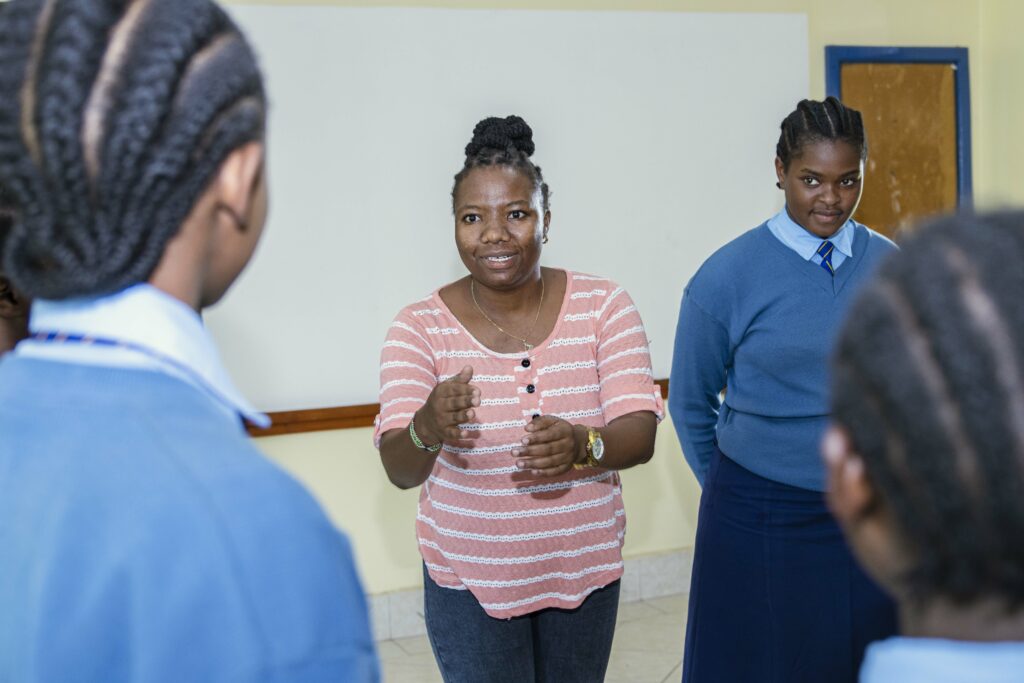 Francis agrees, saying, "It's been a good refresher for me. I'm revising my coding knowledge."
Clubs are student-led, so while staff acts as mentors, students decide on the club activities and direct their own learning.
Of course, each club has its own challenges, but with the help of their staff mentors, students are overcoming difficulties and gaining new skills.
"For Form 1s (the first year of secondary school) who come from government primary schools, they haven't had access to computers before. So, what I did first was to give them an introduction to computers in general and then we introduced Scratch Programming. Some of them had never even seen a computer before this!" adds Francis.
Undoubtedly, the best thing about being a club mentor is seeing students learn and grow.
Nganashe shares that a particular highlight for her is the progress of a Form 1 student, Elizabeth.
"She's outstanding because when she started in January, you couldn't even hear what she was saying. She used to have this tiny voice, but as time goes on, I see her improving. She's audible now and I think she really likes games because every time we play, I see her winning!"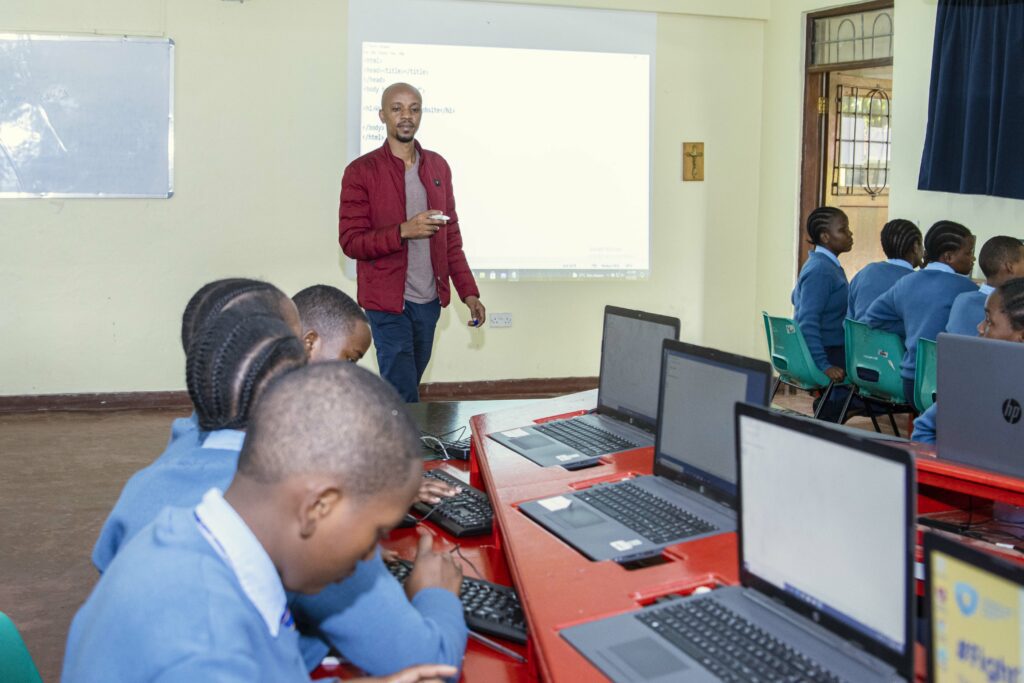 Francis is particularly impressed by the students' passion for programming. He says, "They are very keen to learn. It's amazing how much they love it. When club time is over, they never want to leave the lab, they just want to stay there and practise."
It's clear to see how sports and extracurricular activities complement and extend students' academic learning; they are an essential element in the school's holistic approach to education. This year, students are benefitting even more, as St Jude's multi-talented staff share their knowledge, skills and wisdom.
In The School of St Jude community, neighbours play an important role.
Our neighbours show support and go above and beyond to help realise the school's mission and vision. In appreciation for their generosity, St Jude's invited 74 neighbours from the community to a special lunch, socialise, and tour the school.
We Love Visitors: Dalton, a Beyond St Jude's Tertiary scholar shows Mr Cosmas and other neighbours around the campus.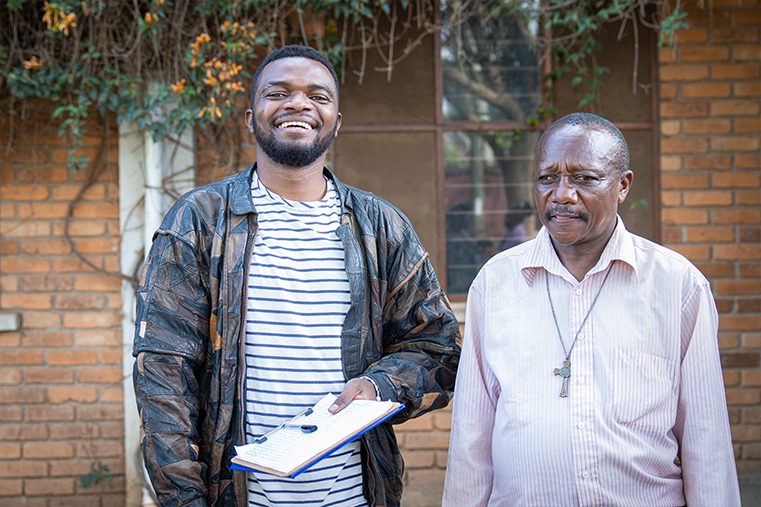 "I've lived in this neighbourhood for more than a decade. I witnessed St Jude's being built from the foundation up to what it is today," remembers Mr Cosmas who has lived near Sisia Campus in Moshono since 2000.
Sisia Campus houses both the primary and the girls' secondary school.
"It's my first time taking a tour of the school. It is amazing to see how the school has grown from its humble beginning to where it is today," adds Mr Cosmas, expressing his joy.
"Honestly, I'm happy to be here today. The St Jude's community is kind. Everyone has received us with warm smiles, from the students to the staff and we all had lunch together."
Listening Keenly: Ms Regina listening carefully to the history of school.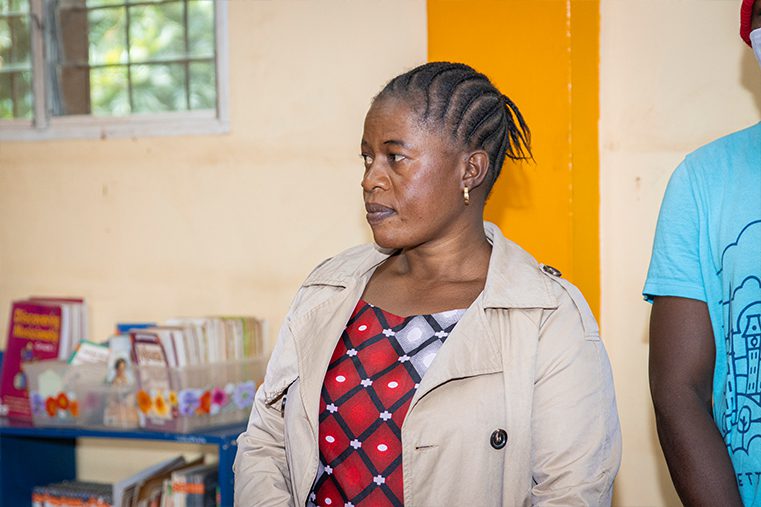 Regina has lived near the site of St Jude's Moivaro Boarding Campus for 27 years. "I was delighted to receive the invitation. I enjoyed touring the school and seeing the facilities… libraries, labs, sports grounds…," Regina shares.
Moivaro Boarding Campus houses students from girls' secondary school. The campus has capacity for 600 boarders.
Boarding offers students, particularly girls, a safe and supportive learning environment, which combats social issues such as early marriage, teenage pregnancy, child labour and unstable family arrangements caused by economic hardship.
"St Jude's has been helping the local community around this area by offering academic scholarships to children who are considerably poor. The school also provides locals with job opportunities," she explains.
"I applaud the school for its work. St Jude's graduates are already helping their communities. The doctors, teachers, and engineers, for example, are not only needed in our local community but also nationally," she adds.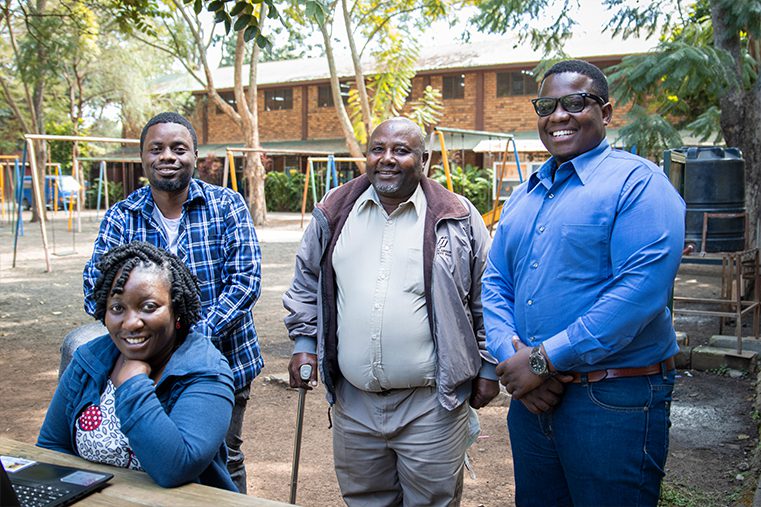 Facilitating the tour was Focus, who works closely with the community.
"My role is to come up with different initiatives to engage our direct and surrounding neighbours. Our direct neighbours are those with whom we share a fence, while our surrounding neighbours are those living close to our campuses," explains Focus.
"Getting to know our neighbours is one of the initiatives. We would like to involve and engage the neighbours in our Spirit Program," he adds.
St Jude's Spirit Program is a movement that unites students, staff, families, local community and international supporters in fighting poverty through education.
Through the program, the school aims to recognise and celebrate those who go above and beyond to help nurture the future moral and intellectual leaders of Tanzania.
"In Africa, we believe that it takes a village to raise a child. Our neighbours are more than just neighbours, they are parents to these students. When they see something that is out of place or doesn't reflect our values, they report it for further action. This small act is a big support to the school," states Focus.
Having lived for more than 19 years near Sisia Campus, Mr Didas has seen St Jude's students come full-circle. "I have seen students start from primary school and now they're graduates and working at the school."
He adds, "Focus mentioned that eight doctors are expected to graduate this year. That's great news. Who knows, they might open a St Jude's hospital one day! "
St Jude's extends its mission beyond the school gates. The school invests in the improvement and empowerment of its neighbours; transforming the lives of students, families and the wider community.