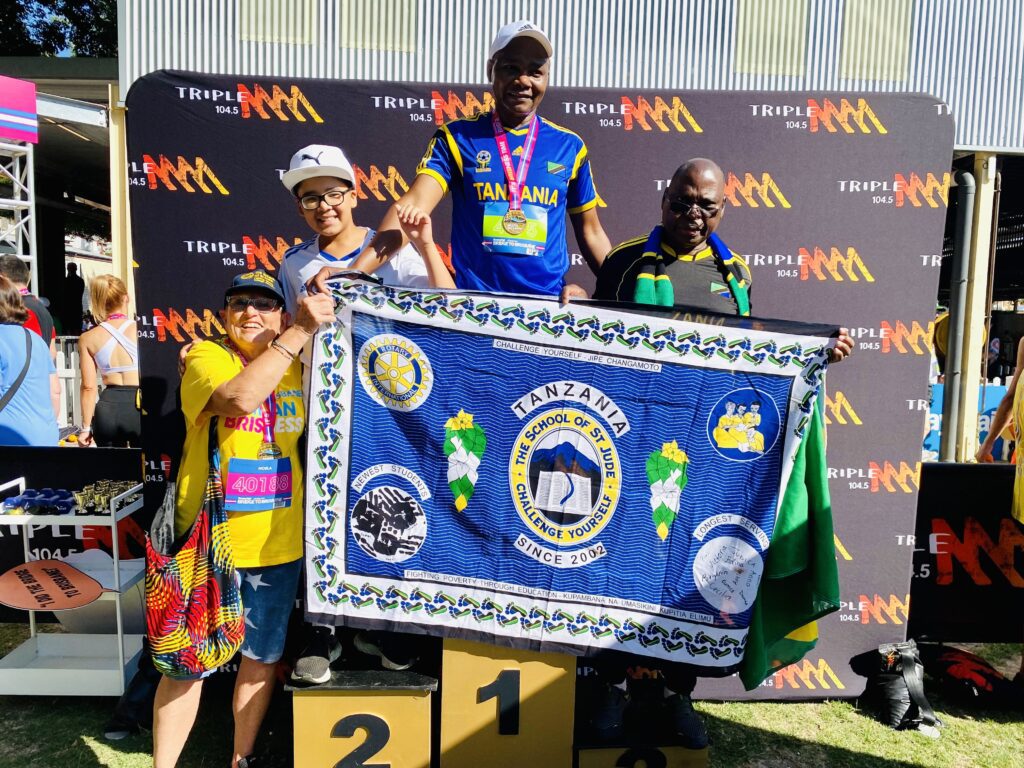 The Sunday of October 15 was a special one for Africa, an enthusiastic supporter of St Jude's. He had just competed in a 10 km run and helped raise over AU$5000 for The School of St Jude.
"I participated in Queensland's largest fun run to raise funds for St Jude's," says Africa. "I completed the run in one piece and raised an impressive AU$5860 – and the count is still rising," he adds proudly.
Africa, who currently resides in Australia where he works as a senior electrical engineer, has been a long supporter of St Jude's. He and his wife, Yvette, found out about the school during one of their many trips to Tanzania and immediately became supporters.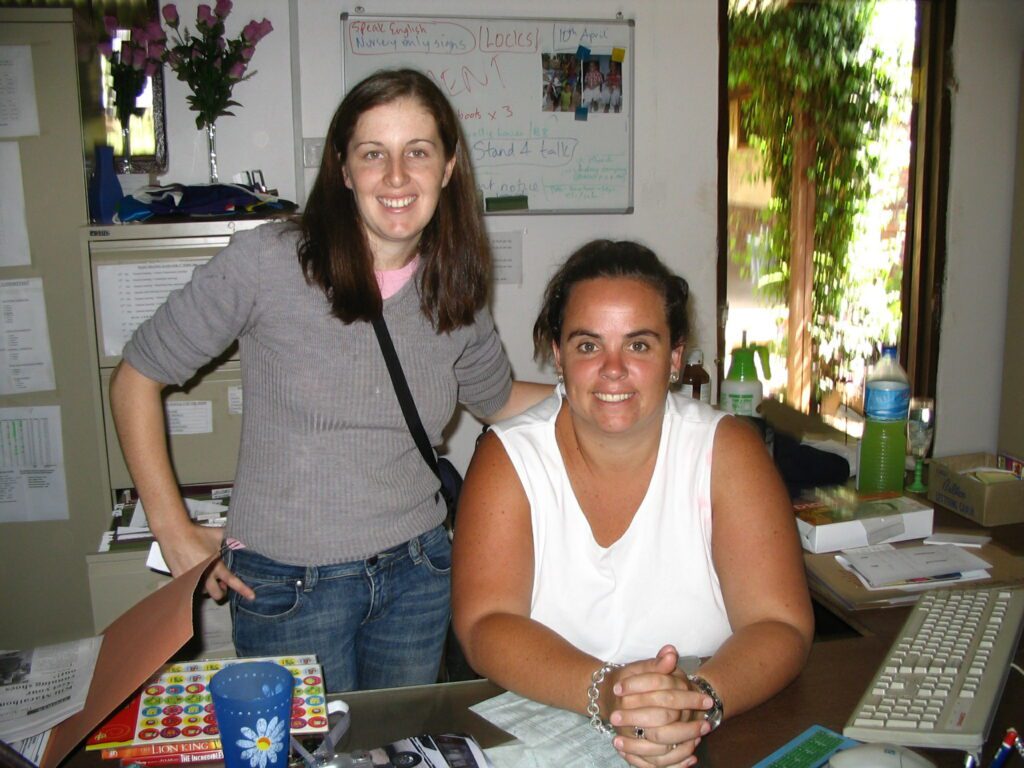 Long-Term Supporters: Africa (right) and his wife (left) have been supporters for 19 years!
"St Jude's dedication to providing quality education to underprivileged children in Tanzania resonates strongly with my values and aspirations," says Africa. "I know this because I have experienced it first-hand," he adds.
Africa was born and raised in one of the villages along the slopes of Mt Kilimanjaro, in northern Tanzania. Growing up, he enjoyed playing football and developed a liking for mathematics and science subjects at school.
"Some of my favourite memories were those of my father tutoring me," shares Africa. "He instilled in me the value of a good education from the beginning. My father would even assign daily learning tasks to reinforce the skills and subjects in the classroom," he continues.
His father's efforts paid off and Africa achieved high primary and secondary school results which allowed him to attend the best government schools in Tanzania. This opened up more opportunities for Africa to pursue further studies in the United States and Australia.
"I am deeply grateful to have a parent who believed in the power of education. I want to extend the same spirit to the next generation of aspiring Tanzanian professionals," says Africa. "This is why I decided to challenge myself in the Bridge2Brisbane fun run this year to raise funds for a cause that is close to my heart," he adds passionately.
Over the years, Africa and his wife have been ardent supporters of St Jude's, through sponsorship, organising fundraising activities, and raising awareness. Africa was awarded the Rotary Paul Harris Fellow Award for his dedication to assisting his native community in Tanzania, notably his former primary school and advocacy for St Jude's.
As long-term sponsors, Africa and his wife, Yvette, have personally experienced the transformative journey of a sponsored student at St Jude's.
"When I learned of St Jude's and its mission of fighting poverty through education, my wife and I agreed to sponsor a student. I was the first ever Tanzanian sponsor!" says Africa.
"The student we sponsored recently graduated with a Bachelor's degree in Engineering," says Africa happily. "This is particularly special because I am an electrical engineer myself, and it is inspiring to know that I had a role in influencing his career choice to follow in my footsteps," he adds.
Africa's passion for St Jude's mission also inspired the original Brisbane High Rise Rotary Club visit to St Jude's in 2012, which has now grown to six visits and more than 100 Rotarians being introduced to St Jude's.Africa is one of many St Jude's supporters who have gotten creative in raising funds and awareness for the school. By combining his hobby for athletics and passion for St Jude's, he found a new way of supporting the school. Like Africa, there are many ways to join the fight against poverty. Our resource page may be a good place to start for aspiring supporters looking to raise funds for St Jude's.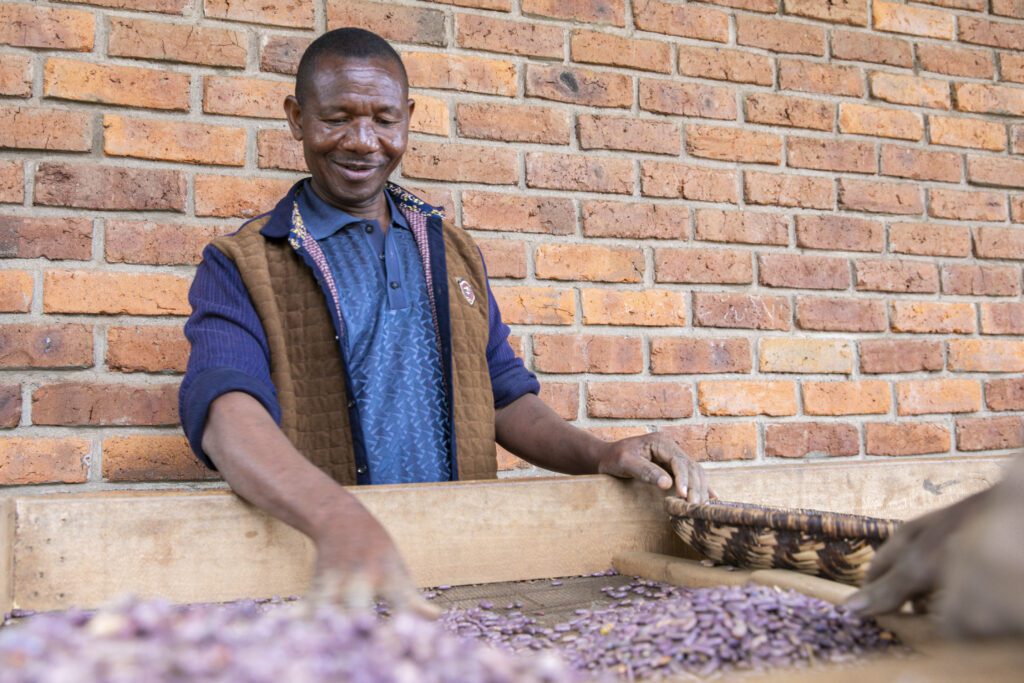 There are many reasons why The School of St Jude is a success story, including its extended community of parents and guardians.
Shabani is one of the dedicated parents who serve as an exemplary role model. He has dedicated his time by volunteering in the school's kitchen for the past five years.
Shabani, whose child, Farida, is a student at St Jude's Primary School in Class 7A, believes that volunteering is a meaningful way to express gratitude to the school for providing free education to his daughter.
"Volunteering in the kitchen to prepare meals is one way we thank the school for providing free education for our children. It is a way of collaborating with the school and staff in providing meals for every student," he shares.
Shabani and fellow parents highlight the invaluable impact of collaborative efforts between parents and the school. Their unwavering dedication in the kitchen and on the farm has ignited a spark within students, propelling them towards similar endeavours that cultivate self-reliance and entrepreneurship.
"We want to show the way for our children, empowering them to embrace responsibility, nurture their skills, and create a thriving community rooted in shared values," says Shabani.
Parents like Shabani who embrace the spirit of giving encourage students to learn the valuable lesson of giving back to the school and the wider community... cultivating a culture of gratitude and philanthropy at St Jude's.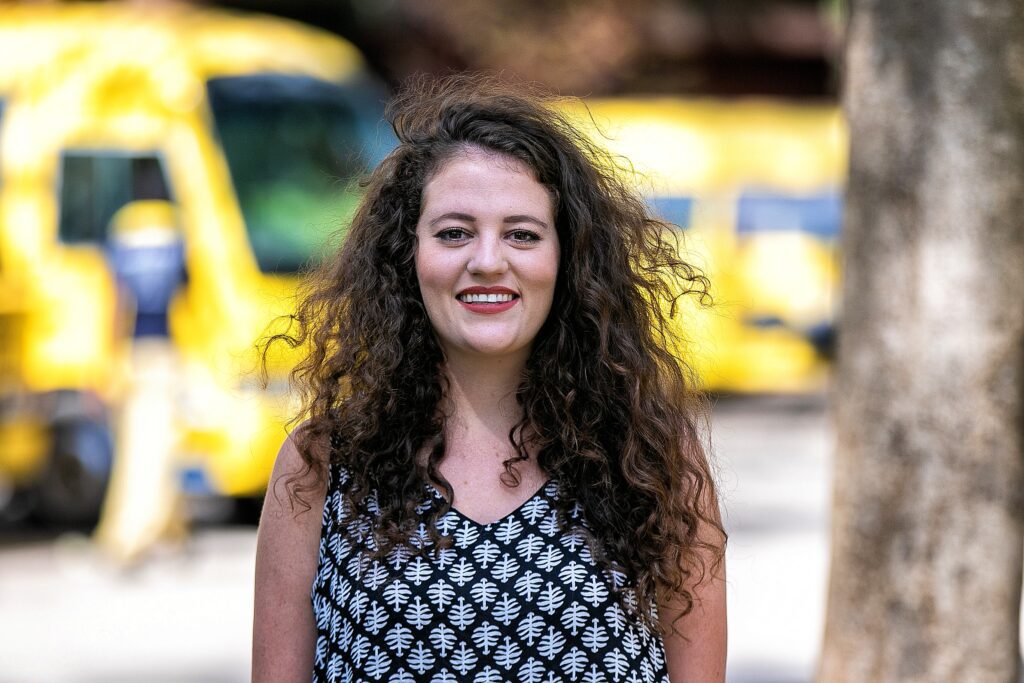 Inspiration
Madeleine was inspired to become a writer by her father, John Kelly, who is a published poet. Her childhood memories include her parents reading her and her siblings classic authors like Charles Dickens and C.S Lewis before bed.
First Impression
Madeleine first heard about The School of St Jude from her teacher when she was 16 years old. The teacher showed the class an episode of the Australian Story about St Jude's which marked the beginning of Madeleine's interest in the school. 
Start of a six-year adventure
Madeleine arrived at St Jude's in 2017 shortly after completing her university studies and ended up spending the next six years of her life at the school. She took on several roles in the Marketing department, Alumni Office, and later as a Communication and Editorial Specialist. 
Start of the book project
Gemma approached Madeleine with the idea of writing a book in 2021 after supporters suggested the idea during a recent Australian Tour. Madeleine felt "nervous" at first but honoured that she could be trusted with such a magnificent story.
The writing process
Madeleine wrote the entire book while living in Tanzania at the school. She would dedicate the early morning hours to writing and the afternoons to interviewing people and editing her work. 
The writing experience
Madeleine spent many hours interviewing St Jude's stakeholders from all walks of life. She describes connecting with people from around the world who share something special about St Jude's as a humbling and incredible experience.
A fun fact
Madeleine has a twin sister who barely looks like her!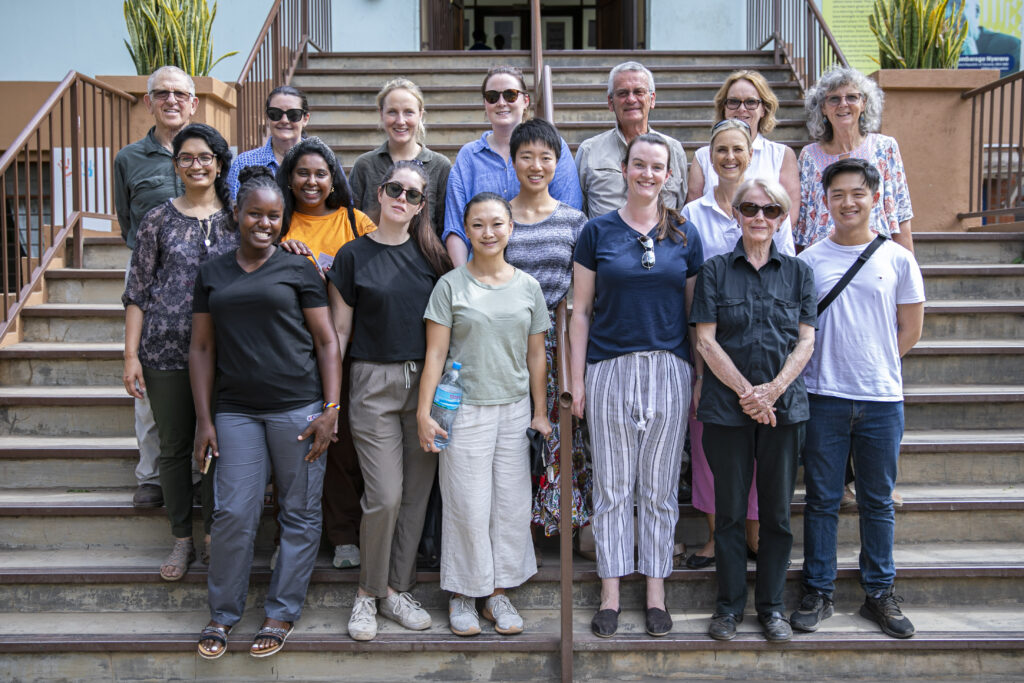 The start of the year is usually a busy time at The School of St Jude. Students are fresh from the holidays and eager to start the new academic year on a high. Yet amid personal ambitions and academic goals, one thing is important to keep in mind.
"A successful academic year requires healthy students," says Jane, the leader of the Health Check team at St Jude's. In Australia, Jane is a busy physiotherapist and brings these specialist skills to the team.
This February, Jane arrived as part of a team of 21 international and local health care professionals to conduct health checks on St Jude's students. Under Jane's leadership, this team assessed 1,800 primary and secondary school students, running tests and providing recommendations.
"A health check consists of a variety of tests that enable us to assess students' overall health in relation to academic capabilities," says Jane. "The tests include malnutrition, vision and hearing, height and weight, and many others. We also have a well-being team that works closely with staff to develop strategies that improve students' well-being such as mental health, counselling, and other well-being issues," she adds.
Based on the tests, Jane and her team make recommendations on any actions that should be taken to improve a students' health, and make referrals for any health issues that should followed up on by the school and the students' families at local hospitals. Recommendations may involve simple alterations such as a diet change and reading glasses, to hospital referrals for more serious issues.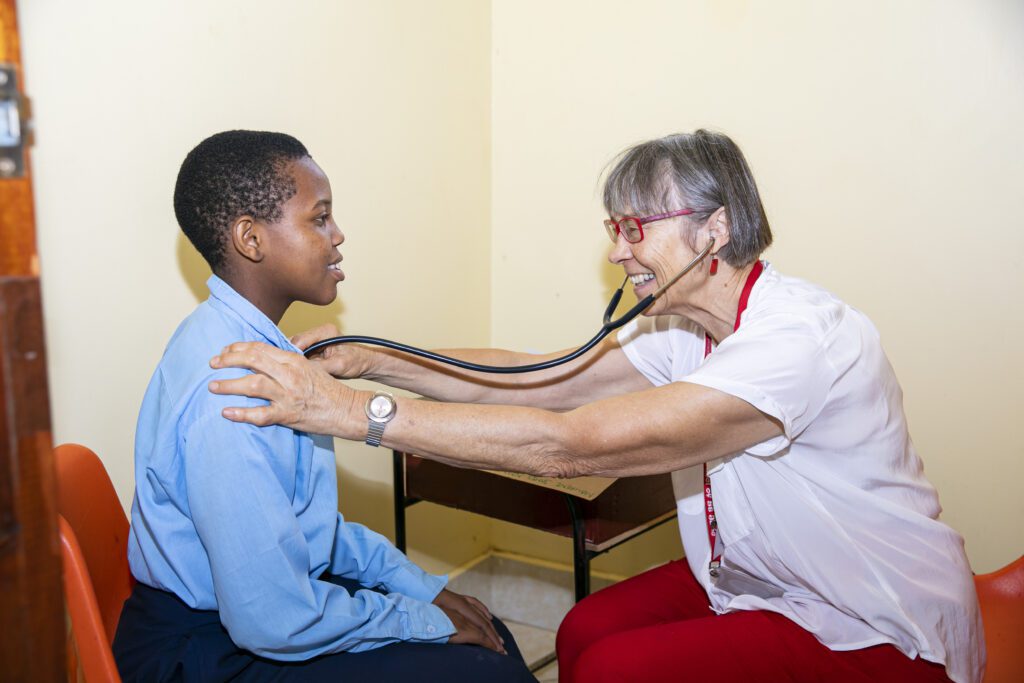 The health checks typically happen once every year, usually around February. Jane joined the program for the first time in 2015 and has since taken a leadership role.
"This year's health check is much busier than the previous ones," reflects Jane. "Due to travel restrictions, we couldn't organise health checks in the previous two years. This year, we had an astounding 700 new students at the school who had never done a full health check before! So, we had to be very thorough with our assessments," she explains.
Along with Jane is Dr Philip, a General Practitioner from Armidale, New South Wales, Australia. Like Jane, Dr Philip is a regular health check volunteer since joining the health check program in 2017.
"I first heard about St Jude's from Gemma at an event in Armidale," Dr Philip recalls. "When I heard of the opportunity to volunteer in a medical capacity, I quickly jumped aboard and have enjoyed it ever since," he adds with a smile.
Dr Philip believes academic excellence is best achieved when students are in their best physical, mental, and emotional health. Being a regular volunteer of the Health Check team grants him the opportunity to optimise students' academic excellence in a special way.
"Having been on the team for several years now," says Dr Philip, "students would usually remember me, and I would recognise some familiar faces every time. The best part of my experience is to see the joy in students when we tell them they are fine and healthy," he adds.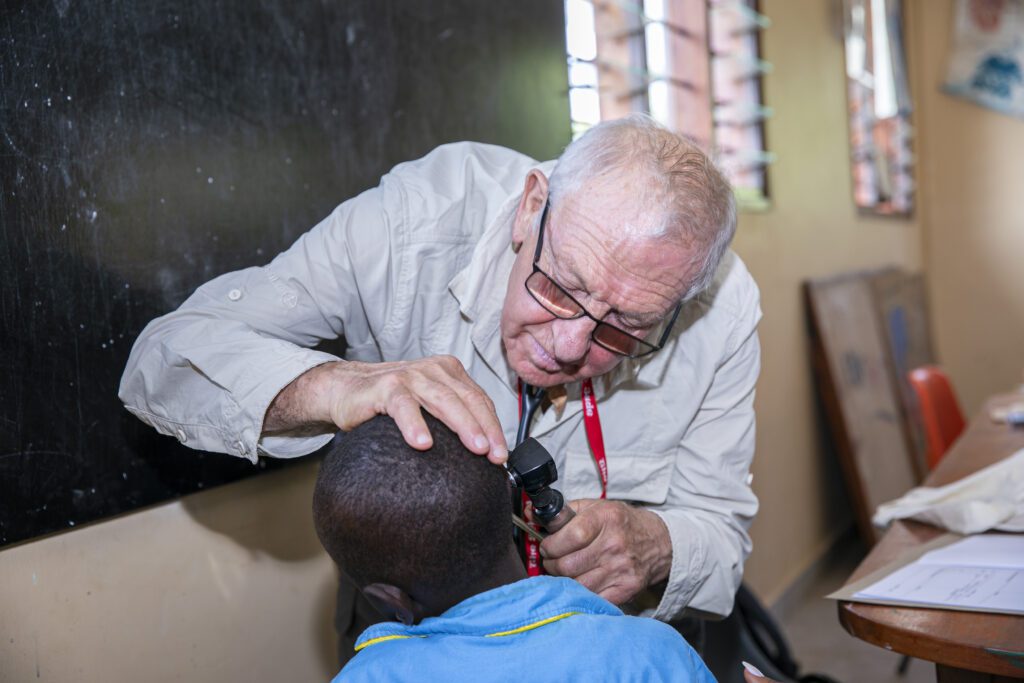 Although the Health Check team has historically consisted of a diverse team of international volunteers, this year saw a pleasant surprise. For the first time, a St Jude's alum, Dr Hosiana, joined this special team.
"I had just completed my doctoral internship year when I saw an advert from St Jude's asking medical professionals to volunteer for the health checks," recalls Dr Hosiana, a St Jude's alum who graduated from secondary school in 2015 after 13 years at the school and is now a practising doctor. "I naturally applied," she adds excitedly.
Hosiana's dreams of becoming a doctor stemmed from her experiences as a child. She grew up in a small village with a single health officer who was also looking after other nearby villages. Desperate to help, she resolved to study hard and become a doctor herself.
"My hard work paid off and I was awarded a scholarship to St Jude's!" recalls Hosiana. "Things only got better after that, the plenty of resources and teachers at the school only reinforced my ambition," she adds.
Hosiana looks back on the health checks as one of many things at St Jude's that reinforced her ambition to study medicine.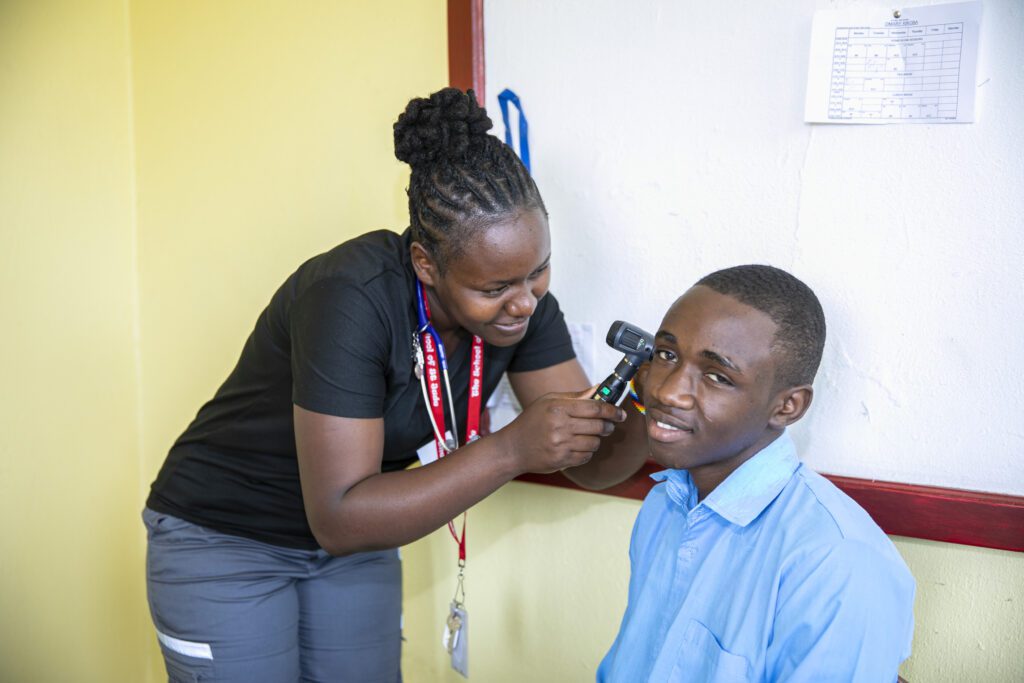 "I would usually have plenty of questions for the doctors," recalls Dr Hosiana with a smile. "This time I also met some curious students with ambitions of being a doctor. They reminded me so much of myself," she adds.
Along with Jane is Dr Victor who is also volunteering for the first time in the health checks. Victor was part of a team that carried out eye examinations for students.
"Students spend quite a lot of time studying," says Victor. "So regular vision checks are very important," he adds.
Victor's favourite part of the experience was interacting with students and sharing his experience.
"We'd usually have a few minutes to chat with students at the end of the tests. It was rewarding to answer all their questions and listen to their experiences," explains Victor.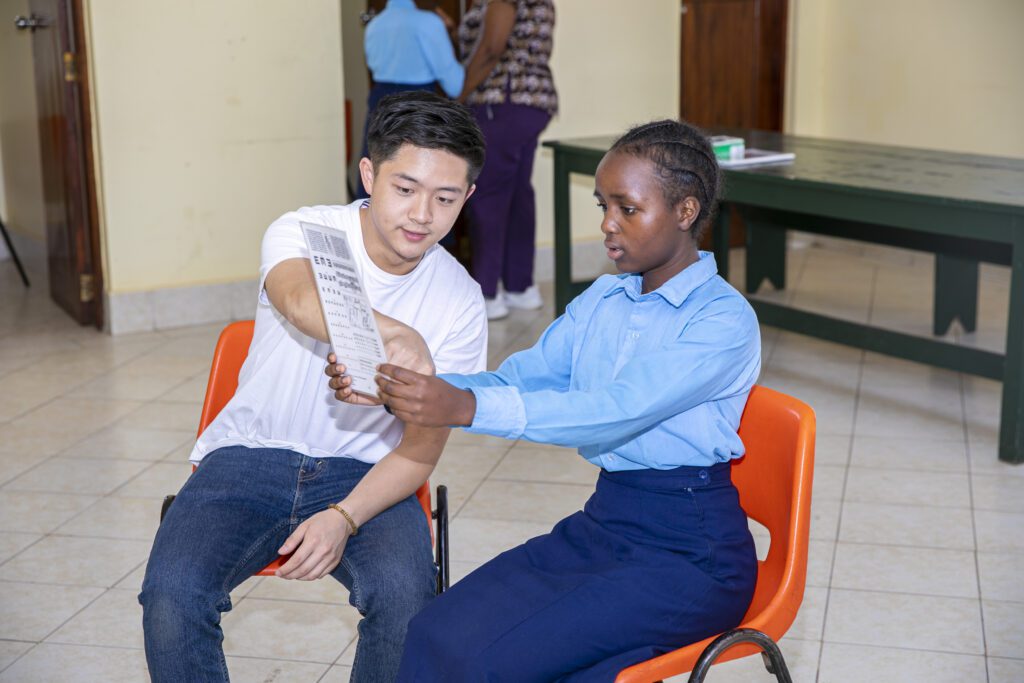 This is the fourteenth year that a team of international doctors and health professionals has volunteered for two weeks at The School of St Jude to perform free health check-ups for all students. After travel restrictions in recent years, it's wonderful to see the Health Check team has risen to the challenge and successfully ensured 1,800 students are all off to a healthy start for 2023!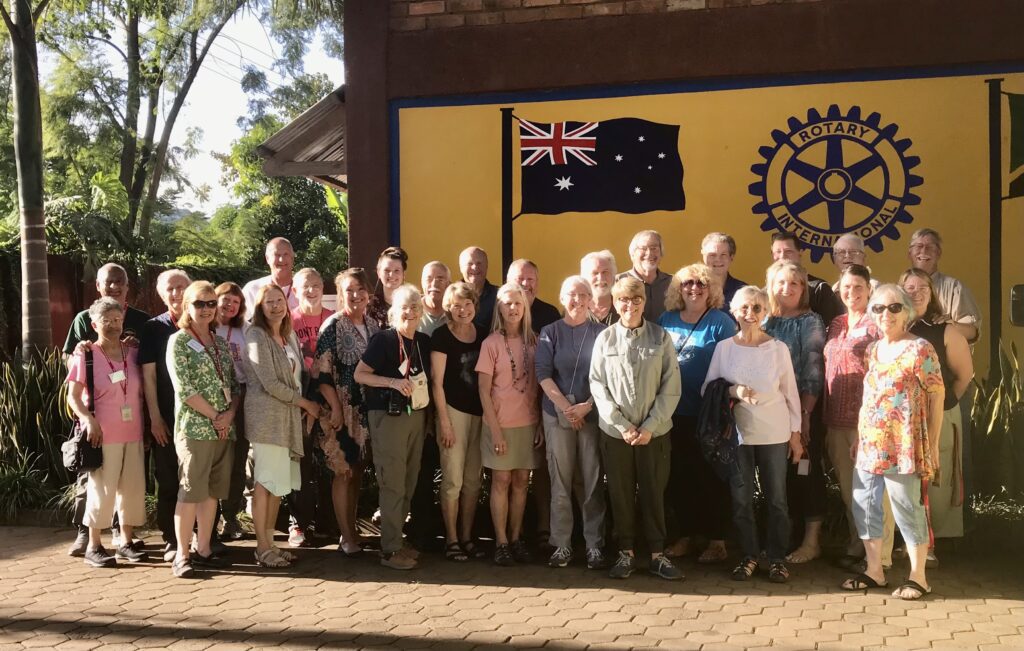 From its earliest days, The School of St Jude has found strong support in Rotary clubs from all over the world. Over the years, Rotarians have been committed fundraisers, continuously coming up with creative ideas for activities to support the school.
Recently, a US$25,000 challenge issued by the Watertown, South Dakota, Rotary Club has been matched by District 5610 Rotarians, culminating in a US$51,200 donation to St Jude's.
Matching efforts began in September 2022 at Rotary District 5610's annual Conference in Sioux City, Iowa, when $3,853 was raised through a presentation about St Jude's at one of the main sessions followed by five minutes of challenge donations. There was also a silent auction of items donated by Rotarians who spent a week at the school in May to attend the graduation of the Class of 2022.
In October, the Rapid City Rushmore Club raised another $8,000 at a special event where they served a dinner of beans, rice and watermelon similar to the lunches enjoyed by students at St Jude's. They then auctioned off delicious desserts and followed with a program of videos and speakers.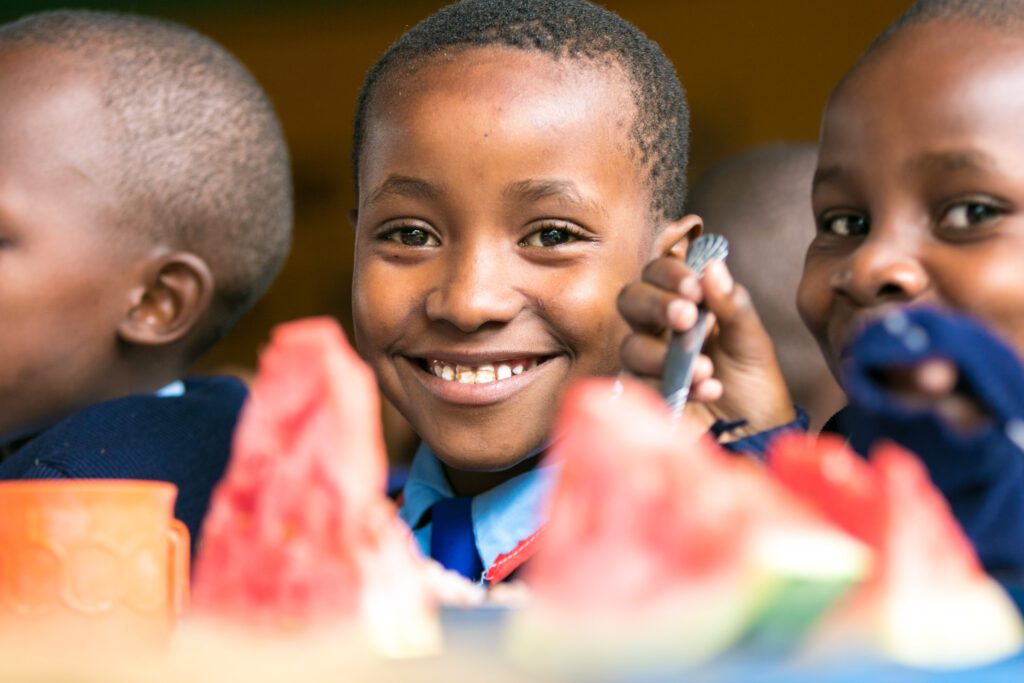 The event featured a live and silent auction with money being raised to support St Jude's holistic education approach. Specifically, the money funded sports equipment, art supplies, music instruments, gardening supplies and cooking needs among other items.
Rotarians who traveled to Tanzania in May spoke at several Rotary Clubs seeking sponsorships and money for the match. Many Rotarians and clubs responded generously.
"I am amazed and thrilled," said Pat Sutliff, a Rapid City Rushmore Club member who also is a past District 5610 governor and a founding member of the American Friends of The School of St Jude.
"When I called the District Governor about the $25,000 match", she said "he said 'I never dreamt we could do that.'"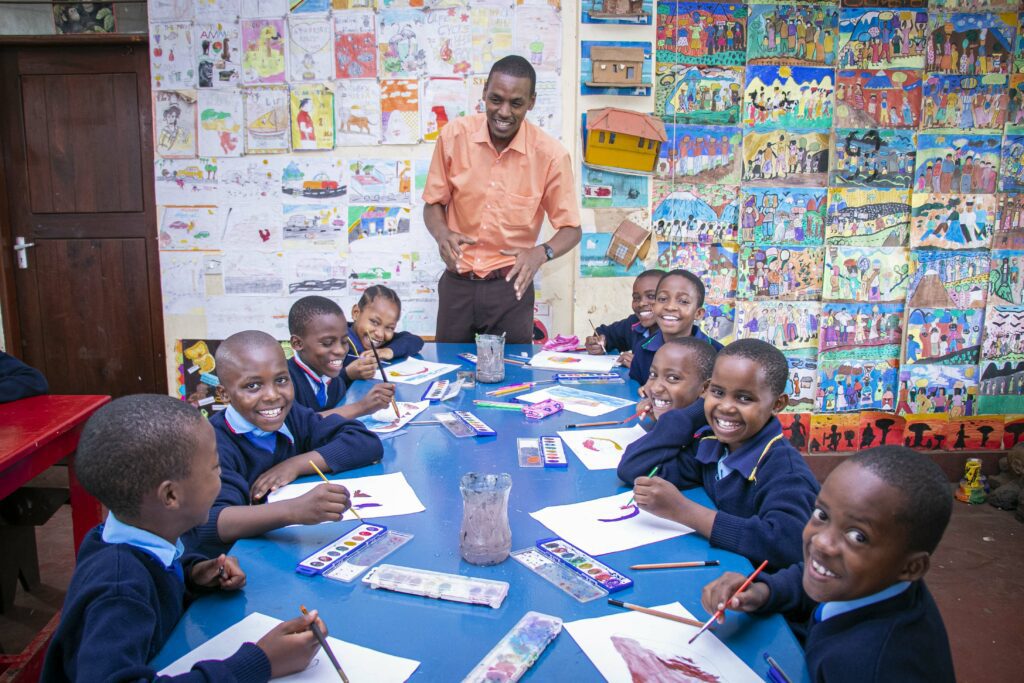 The money will help fund new sports, art and music programs and other needs at the school which now educates about 1,800 of Tanzania's brightest students.
During their trip to the school in May, District 5610 Rotarians raised about $10,000 for the school's Student Art program. That money helped fund a new staff position.
The school is funded by people around the world including many donations from Rotarians in the United States and Australia, School Founder Gemma Sisia's home country.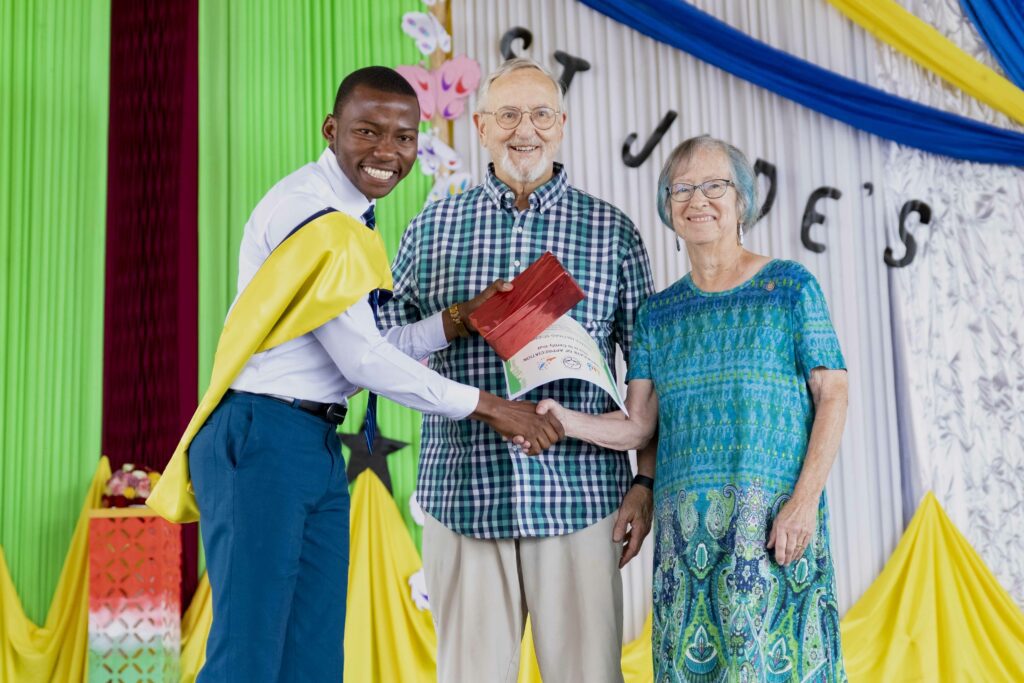 Sutliff has been engaged with the school nearly all of the 21 years of its existence. It started in 2002 with three students and continues to grow. The school provides free education to students in a country where only 30 percent of students remain in school past their first seven years.
Students enrolled in St Jude's are academically gifted but also come from families in deep poverty.
Sutliff said she is gratified by the response of Rotarians.
"If you have a great cause," she said, "Rotarians step up."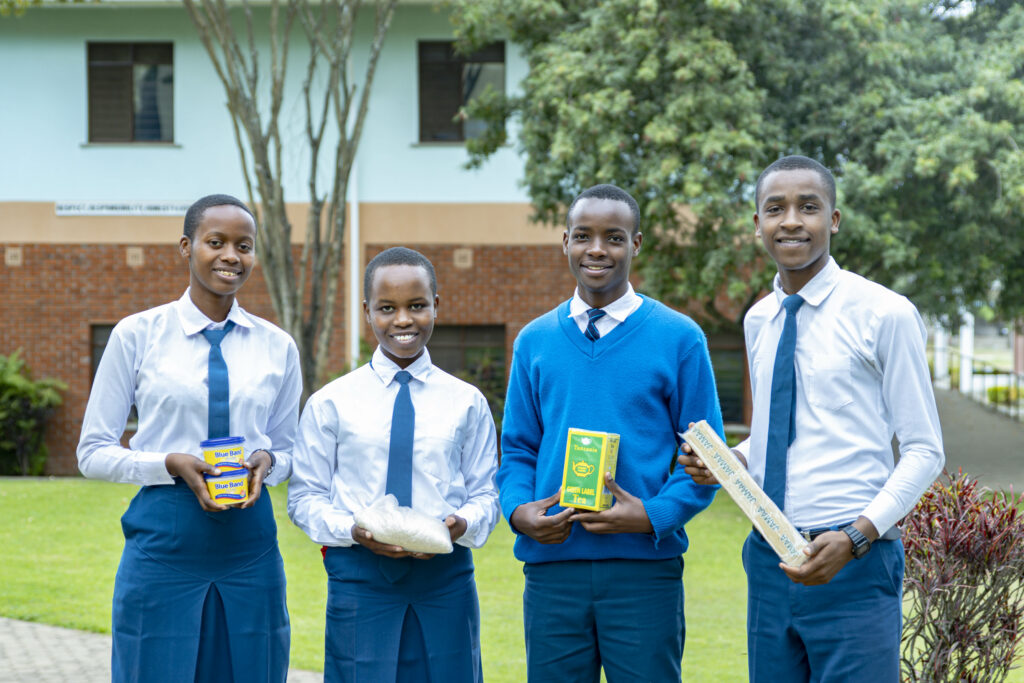 "Seeing an elderly person struggling makes me feel bad… We have a responsibility, as young citizens who have a chance to be educated and know the value of helping others," says Goodluck, the confident Head Boy of St Jude's Secondary School.
Goodluck and his fellow Student Government member, Head Girl Diana, are leading students in an ambitious project to help elderly members of the Arusha community, who are currently struggling to cope with the rising cost of living.
"The cost of some staple foods, like oil, maize and beans has gone up recently because there is a high rate of inflation in Tanzania," explains Diana.
This St Jude's Day, Diana, Goodluck and their fellow Student Government leaders are encouraging students and staff alike to donate goods to include in St Jude's Day Essential Packs for distribution to elderly people in need.
They have set their sights high, and plan to prepare 400 packs!
The St Jude's Day Essentials Packs will include soap, tea leaves, Blue Band (a popular shelf-stable margarine) and rice, donated by students and sugar, salt, beans and cooking oil donated by staff. To include maize, a true Tanzanian staple, the Student Government are calling on our international supporters to help.
St Jude's Day Essentials Packs, can be purchased on the St Jude's website for AU$50.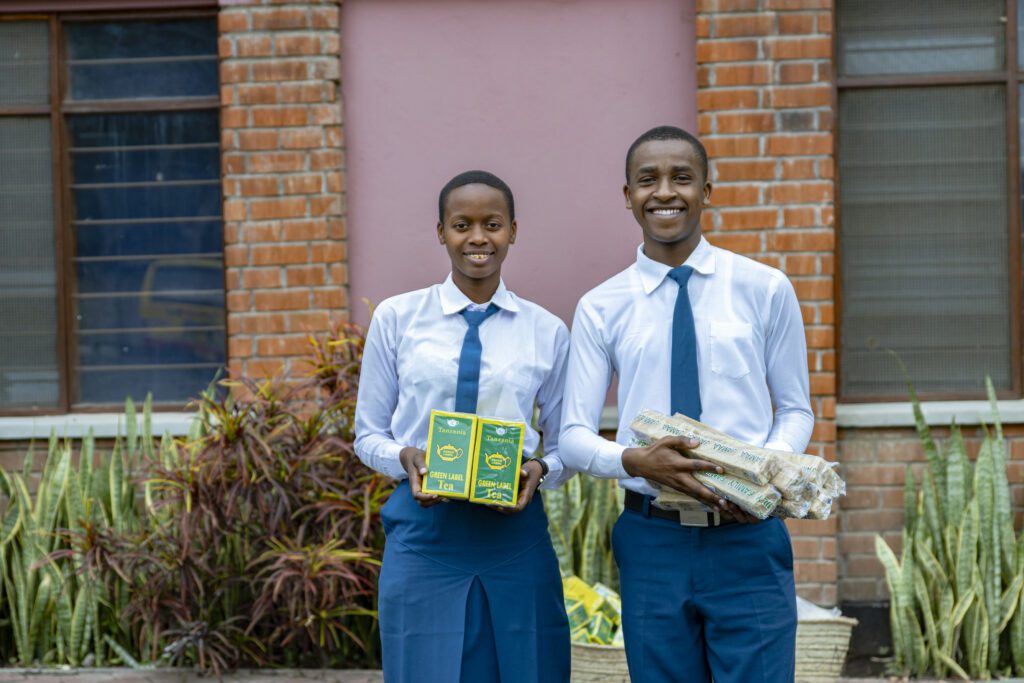 Those who are familiar with St Jude's know that the annual St Jude's Day celebration is a time for togetherness, gratitude and giving. This year, the event on 28 October will hold an even deeper meaning as everyone contributes their donations to help the elderly.
The following day, students and staff will gather again, to pack up all the donations, ready for distribution in one of the most economically disadvantaged areas of town. There, in early November, they'll host a lunch for elderly community members, giving everyone the opportunity to talk and learn from each other. Afterwards, students will accompany the elderly home, to carry their packs.
"This idea of supporting these people makes me feel proud and enjoy being part of St Jude's community," shares Diana.
Along with the cost of living, students also recognise that elderly community members face daily practical challenges.
"It's very hard for them to do their house chores such as fetching water, washing, and cleaning the house," Goodluck explains.
Diana, like many St Jude's students, assists an elderly neighbour during the holidays. "I help my neighbour with different chores such as fetching water since it's very hard for her to fetch water from a distant place, also cleaning her house, and helping out with the washing of her clothes," she says.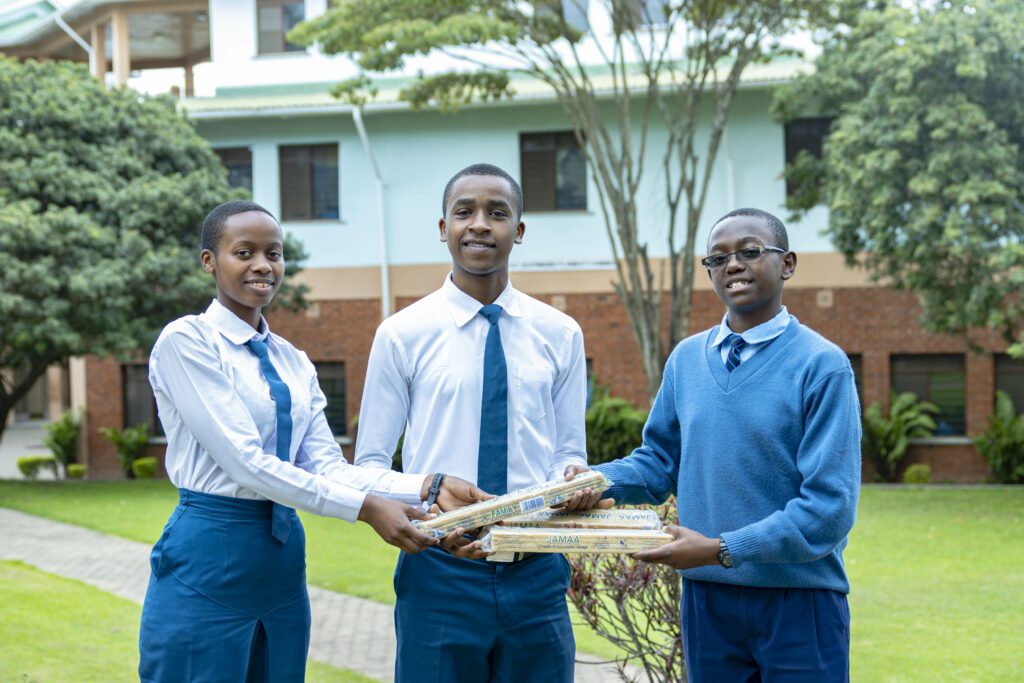 Diana and Goodluck, like all 1,800 St Jude's students, come from some of the poorest homes in their regions. In fact, on entry to St Jude's 94% of families have just AU$4.80 or less to cover their daily needs.
Yet, in spite of their own challenges, St Jude's students understand the importance of giving to those who have even less, of sharing what they have and serving the community. At St Jude's, this spirit is encouraged, as the school works to build an educated community of moral and intellectual leaders; fighting poverty in Tanzania.