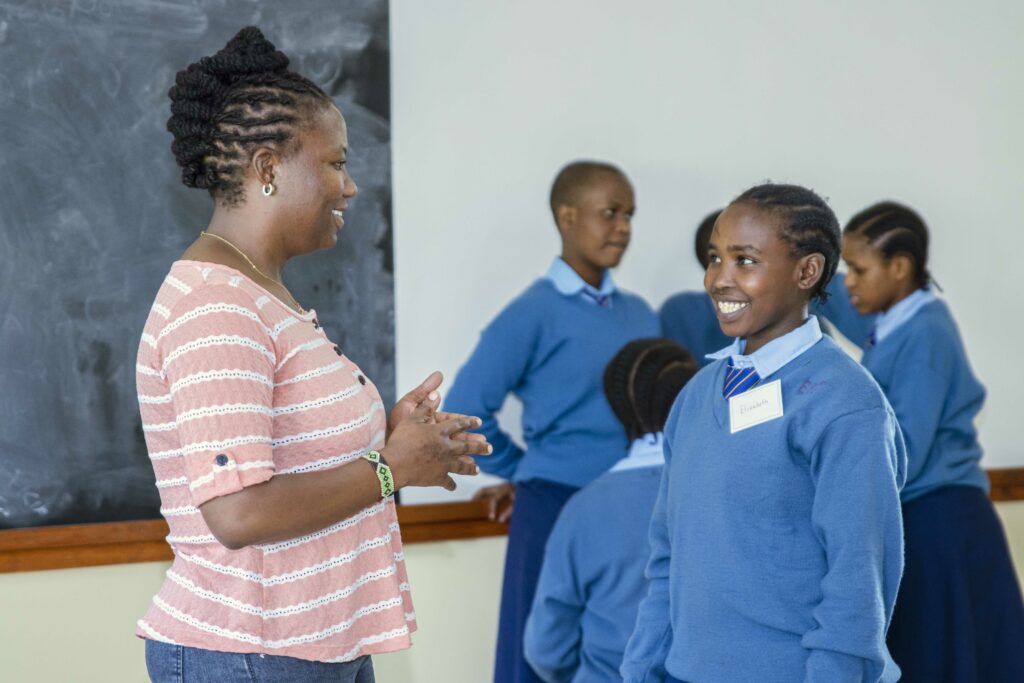 At The School of St Jude, staff are trying something different in order to provide students with truly holistic education. From the beginning of 2022, all staff, from administrators, to teachers, to gardeners, have taken on a second core duty.
St Jude's 300 staff are now mentors and coaches for more than 50 extracurricular clubs and around 10 different sports. The result is that students are better served and more engaged in sports and clubs than ever before.
"To me, education is far more than what you get in class," says Nganashe, who works in Sponsor Communications and mentors the girls' school Public Speaking Club. "In the Public Speaking Club, you see the interaction of students from different classes. They share the skills they have and they learn from each other. They're learning so many skills."
"I was excited to work with the Public Speaking Club. I did quite a lot of public speaking and debating at school and thought I could share my skills and help students grow in confidence," Nganashe shares.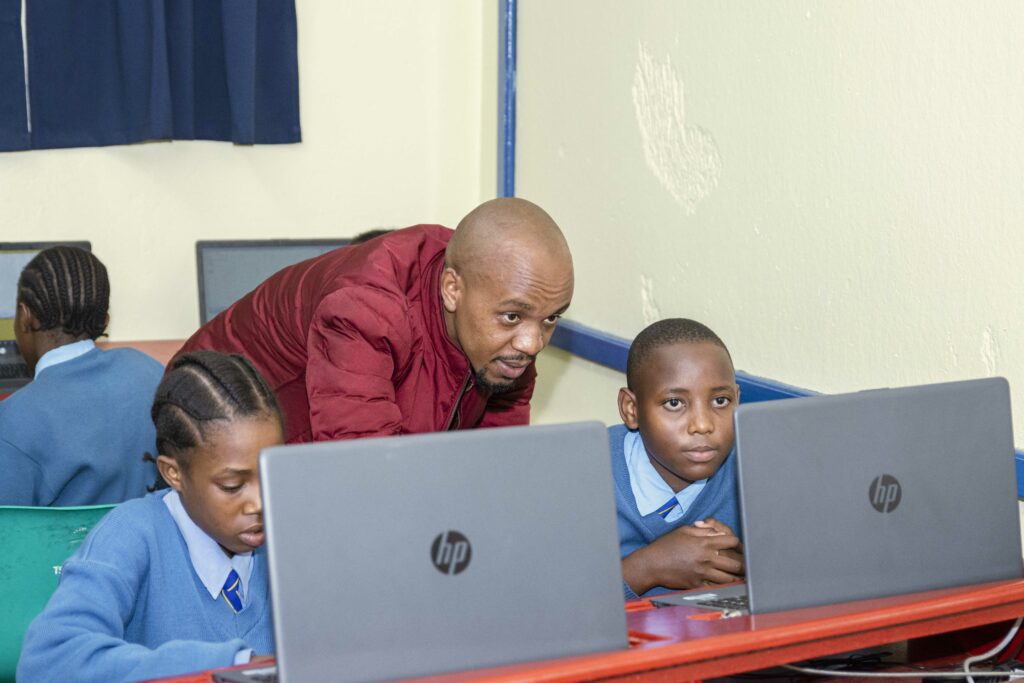 Over in the computer lab is Francis. Usually, Francis works in Beyond St Jude's to support scholars at university, but once a week, he shares his considerable IT skills with the girls' school Programming Club.
"There are about 70 students in the club and we are a team of five staff mentors. At the moment we are using Scratch Programming. It's a very simple programming tool which gives you drag and drop options to teach you programming," explains Francis.
Nganashe shares that she was initially worried about how the club would fit into her busy schedules, but she's found that her work as a club mentor adds welcome variety to her week.
"For me, it's a little getaway from my desk. When the students present their speeches I am amazed by what they know, the way they understand things and their opinions," she says.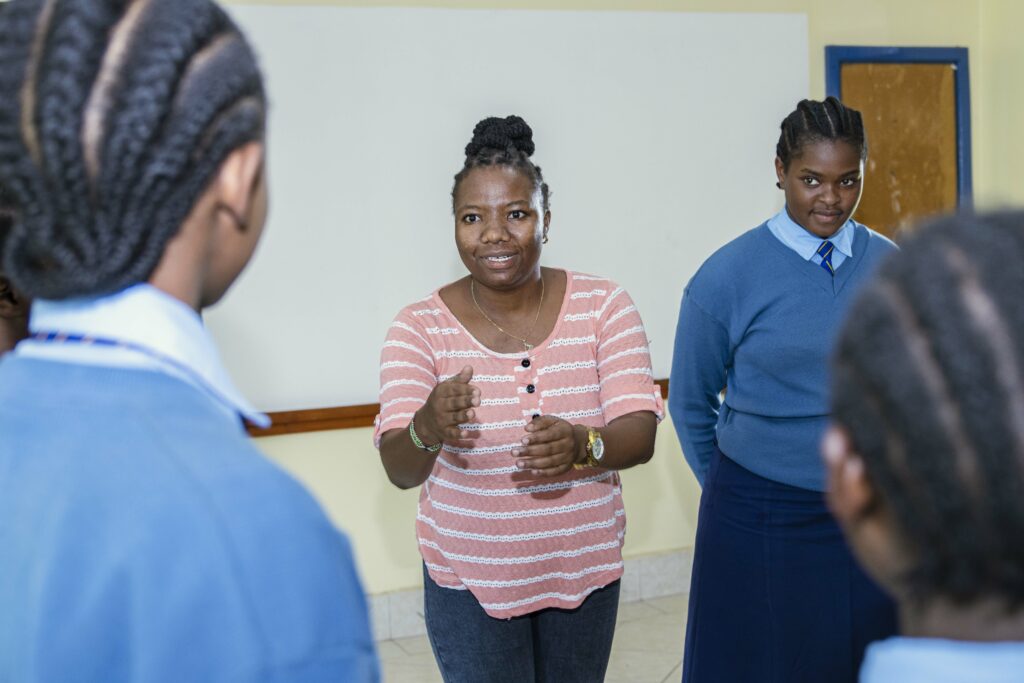 Francis agrees, saying, "It's been a good refresher for me. I'm revising my coding knowledge."
Clubs are student-led, so while staff acts as mentors, students decide on the club activities and direct their own learning.
Of course, each club has its own challenges, but with the help of their staff mentors, students are overcoming difficulties and gaining new skills.
"For Form 1s (the first year of secondary school) who come from government primary schools, they haven't had access to computers before. So, what I did first was to give them an introduction to computers in general and then we introduced Scratch Programming. Some of them had never even seen a computer before this!" adds Francis.
Undoubtedly, the best thing about being a club mentor is seeing students learn and grow.
Nganashe shares that a particular highlight for her is the progress of a Form 1 student, Elizabeth.
"She's outstanding because when she started in January, you couldn't even hear what she was saying. She used to have this tiny voice, but as time goes on, I see her improving. She's audible now and I think she really likes games because every time we play, I see her winning!"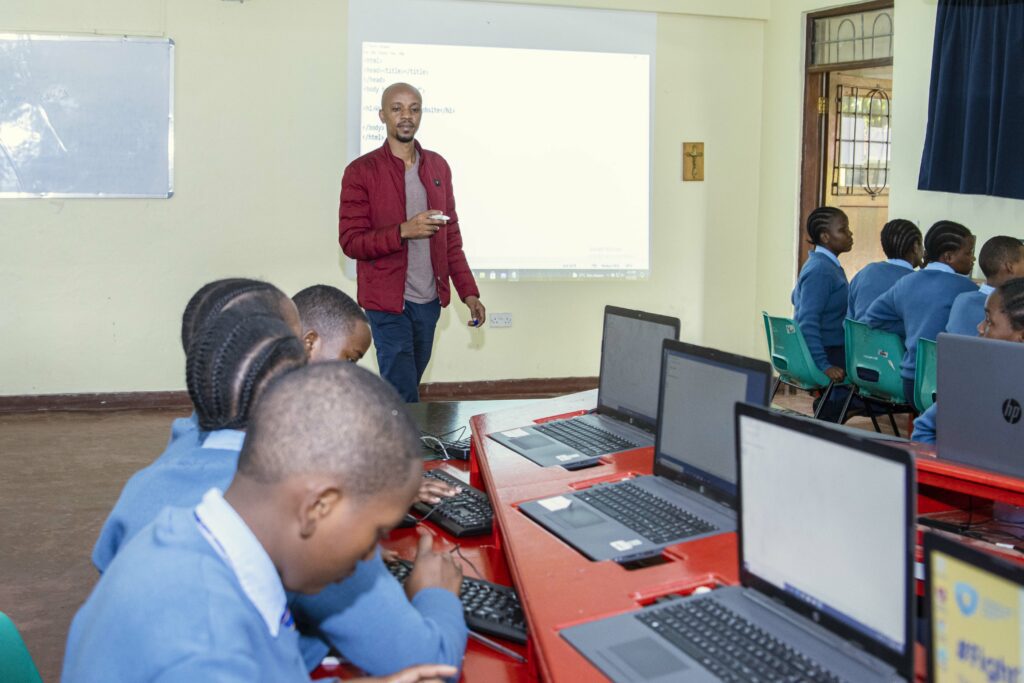 Francis is particularly impressed by the students' passion for programming. He says, "They are very keen to learn. It's amazing how much they love it. When club time is over, they never want to leave the lab, they just want to stay there and practise."
It's clear to see how sports and extracurricular activities complement and extend students' academic learning; they are an essential element in the school's holistic approach to education. This year, students are benefitting even more, as St Jude's multi-talented staff share their knowledge, skills and wisdom.
In The School of St Jude community, neighbours play an important role.
Our neighbours show support and go above and beyond to help realise the school's mission and vision. In appreciation for their generosity, St Jude's invited 74 neighbours from the community to a special lunch, socialise, and tour the school.
We Love Visitors: Dalton, a Beyond St Jude's Tertiary scholar shows Mr Cosmas and other neighbours around the campus.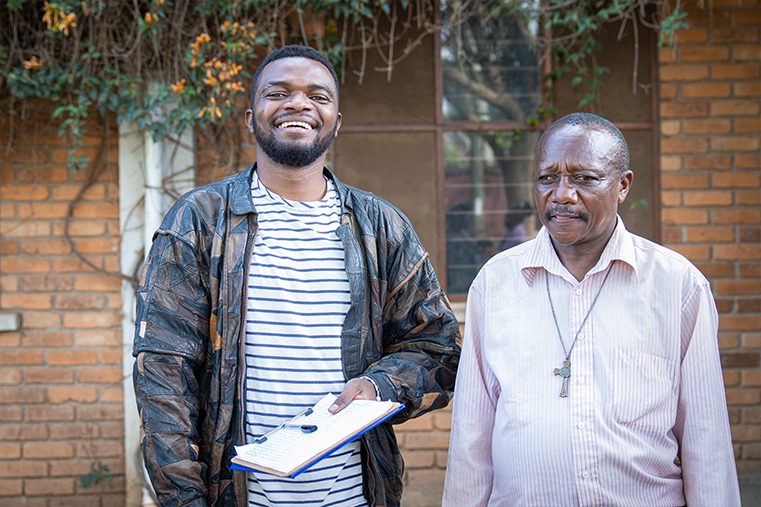 "I've lived in this neighbourhood for more than a decade. I witnessed St Jude's being built from the foundation up to what it is today," remembers Mr Cosmas who has lived near Sisia Campus in Moshono since 2000.
Sisia Campus houses both the primary and the girls' secondary school.
"It's my first time taking a tour of the school. It is amazing to see how the school has grown from its humble beginning to where it is today," adds Mr Cosmas, expressing his joy.
"Honestly, I'm happy to be here today. The St Jude's community is kind. Everyone has received us with warm smiles, from the students to the staff and we all had lunch together."
Listening Keenly: Ms Regina listening carefully to the history of school.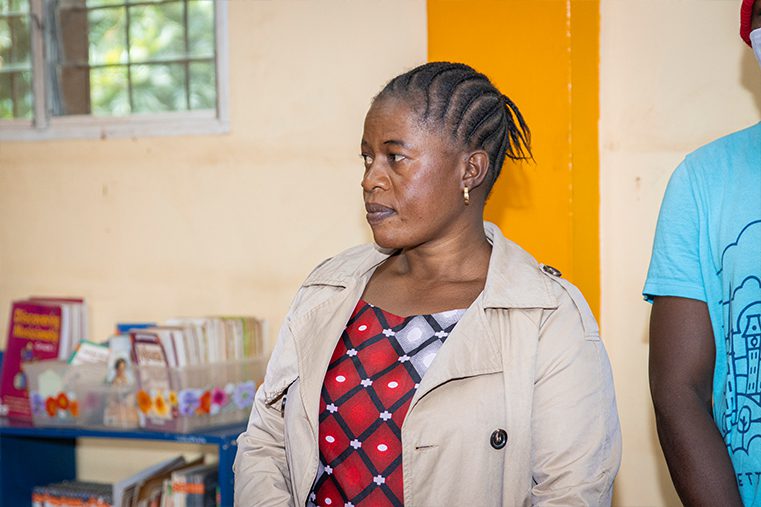 Regina has lived near the site of St Jude's Moivaro Boarding Campus for 27 years. "I was delighted to receive the invitation. I enjoyed touring the school and seeing the facilities… libraries, labs, sports grounds…," Regina shares.
Moivaro Boarding Campus houses students from girls' secondary school. The campus has capacity for 600 boarders.
Boarding offers students, particularly girls, a safe and supportive learning environment, which combats social issues such as early marriage, teenage pregnancy, child labour and unstable family arrangements caused by economic hardship.
"St Jude's has been helping the local community around this area by offering academic scholarships to children who are considerably poor. The school also provides locals with job opportunities," she explains.
"I applaud the school for its work. St Jude's graduates are already helping their communities. The doctors, teachers, and engineers, for example, are not only needed in our local community but also nationally," she adds.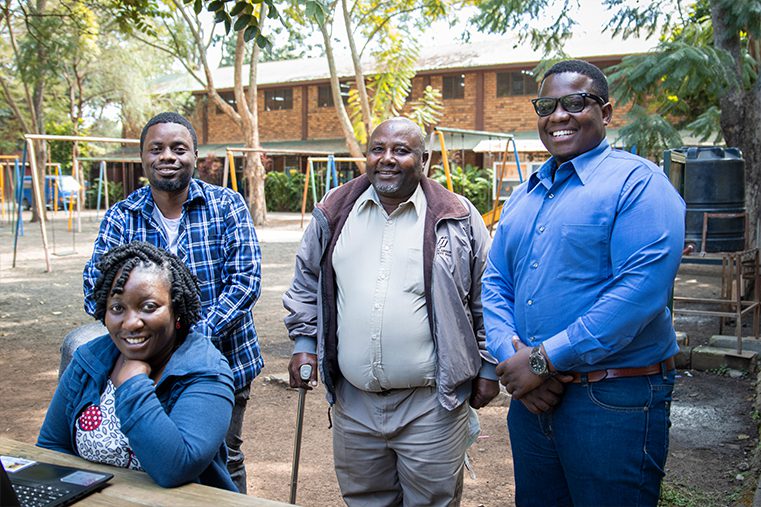 Facilitating the tour was Focus, who works closely with the community.
"My role is to come up with different initiatives to engage our direct and surrounding neighbours. Our direct neighbours are those with whom we share a fence, while our surrounding neighbours are those living close to our campuses," explains Focus.
"Getting to know our neighbours is one of the initiatives. We would like to involve and engage the neighbours in our Spirit Program," he adds.
St Jude's Spirit Program is a movement that unites students, staff, families, local community and international supporters in fighting poverty through education.
Through the program, the school aims to recognise and celebrate those who go above and beyond to help nurture the future moral and intellectual leaders of Tanzania.
"In Africa, we believe that it takes a village to raise a child. Our neighbours are more than just neighbours, they are parents to these students. When they see something that is out of place or doesn't reflect our values, they report it for further action. This small act is a big support to the school," states Focus.
Having lived for more than 19 years near Sisia Campus, Mr Didas has seen St Jude's students come full-circle. "I have seen students start from primary school and now they're graduates and working at the school."
He adds, "Focus mentioned that eight doctors are expected to graduate this year. That's great news. Who knows, they might open a St Jude's hospital one day! "
St Jude's extends its mission beyond the school gates. The school invests in the improvement and empowerment of its neighbours; transforming the lives of students, families and the wider community.
At The School of St Jude, one of the most important days on the calendar is the annual Standard 1 and 2 Student Selection Day. Long-term supporters will know the images of a sea of brightly-dressed students and parents at the St Jude's gates. Each year, 1000 or more government school students are invited to the school for the first step in St Jude's student selection process.
What these familiar images do not show are the months of planning and preparation needed to make Student Selection Day, and therefore our mission, a success.
This mission is to give bright, poor Tanzanian students a free, quality education. Through student selection, we find students who will benefit most from everything St Jude's has to offer, including free uniforms, stationery, transport to school, daily meals, tuition and extracurricular activities. They'll join a class of around 25 students, compared to classes of around 60 students in many of their government schools.
The job of organising student selection belongs to the Community Relations team. Theopister, who works in Community Relations, explains:
"Student Selection Day is the first part of our selection process. We invite students from government schools to come and try for a chance to join St Jude's. This year we started planning it more than two months before the selection, in May."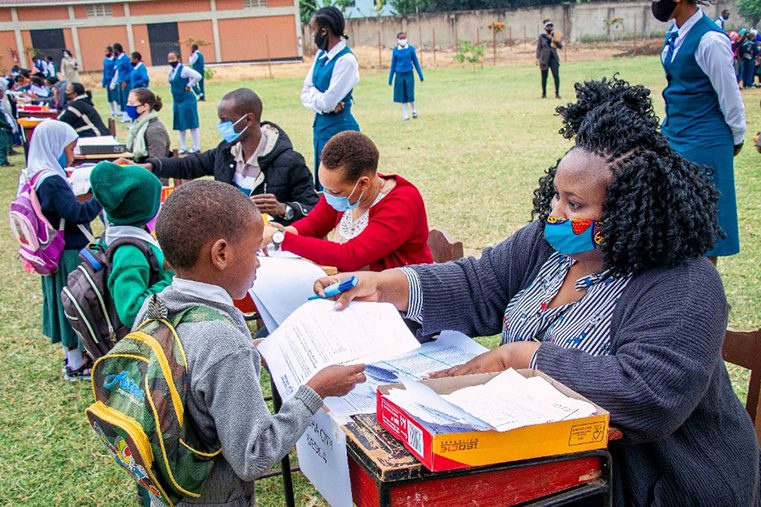 The planning process begins with inviting potential government school students. Theo's team works closely with the Regional Education Officer to find the most academically gifted students St Jude's should consider. "We get the top ten names from each stream at all the surrounding government schools in Arusha," she says. "Then, we send an invitation letter to each student through their school and the headmasters give the letters to the respective students."
The Community Relations team also makes an announcement on local radio about the upcoming Selection Day and, this year, a group of staff visited a number of markets to give out pamphlets and spread the word further to parents of potential St Jude's students.
"Getting to interact with people was fantastic," says Ziada, a member of the Marketing team who handed out pamphlets and spoke to community members about St Jude's. "It was great to hear from the parents that our school is trying to reach."
Finally, after months of planning, the big day arrives. This year, it's 31 July. Today, 1,778 students and their parents have come to St Jude's, all hopeful of receiving one of 50 academic scholarships to start at St Jude's in 2022. A scholarship can change everything for a student and their family.
"Government school is free, but if you want lunch you have to pay. You need a uniform, you have to pay. Some parents will tell their children to skip their meals because they won't be allowed to eat if they haven't been able to pay. So some of these students will eat just once per day," explains Theopister.
The school gates open at 7am and many people have been lining up since before 6am! When the students enter, their parents remain outside and the huge task begins.
"The process starts in the registration area. First we split the students up into districts; Arusha, Arusha City, Arusha DC and Arusha Meru and our staff help them move to the right area. Then we check their documents," says Theopister.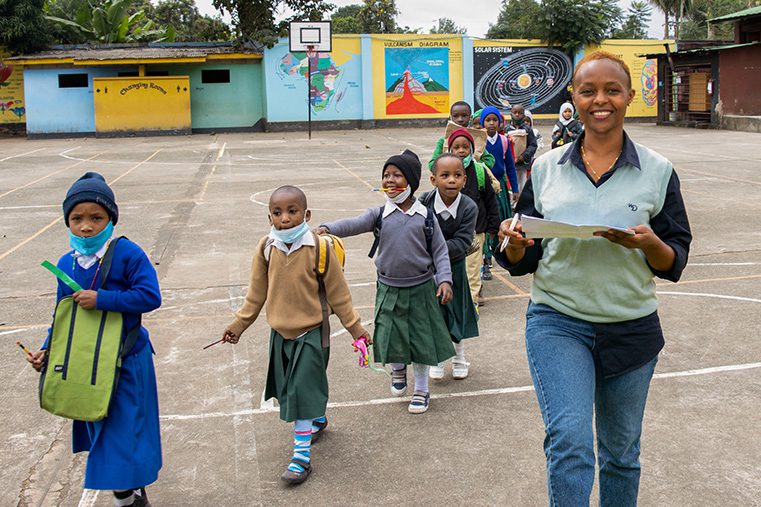 After that, it's time for testing, gently overseen by our academic staff.
"We do arithmetic, counting one to ten and one to 20, recognising numbers. And writing a self-introduction in Swahili," says Miss Juliet, a Standard 1 teacher who has now been involved in nine Standard 1 and 2 Student Selection Days.
It's a huge day, but there are small moments when staff have time to think about what's being achieved.
"My favourite time is when I'm in the hall, doing the reading test and I find a student who is just reading perfectly. It's exciting," smiles Miss Juliet.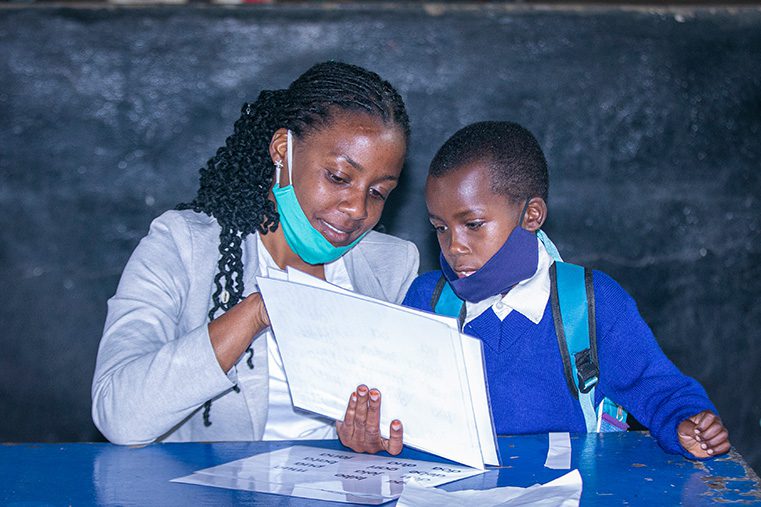 When the potential students are not being tested it's the role of staff to keep them safe and contained. Luckily, the St Jude's Primary School offers plenty of fun.
"Our school is blessed because we have playgrounds, and some of these students, they have never seen anything like this. So, we take them to the playgrounds and supervise them to keep them busy between testing," she explains.
After testing, document checks and time on the playground, there's a shortlist of potential students who meet document requirements and have passed their exams with distinction. They're reunited with their parents and given a note, explaining when they should return to school for the next step in the selection process.
Like most staff, Miss Juliet is glad to be part of Student Selection Day at St Jude's. In 2022, she'll have the unique privilege of teaching the students she helped select today.
"When they come into my class, I feel excited. You get to see the change from the day you select them to the day they move to the next class," she beams.
For 50 students, today is the beginning of that change.
St Jude's recently launched a new program called St Jude's Spirit as a way to appreciate and share stories about people all over the world who go above and beyond to help nurture the future moral and intellectual leaders of Tanzania. All St Jude's stakeholders – supporters, students, families, alumni, local community and staff – can be a part of St Jude's Spirit.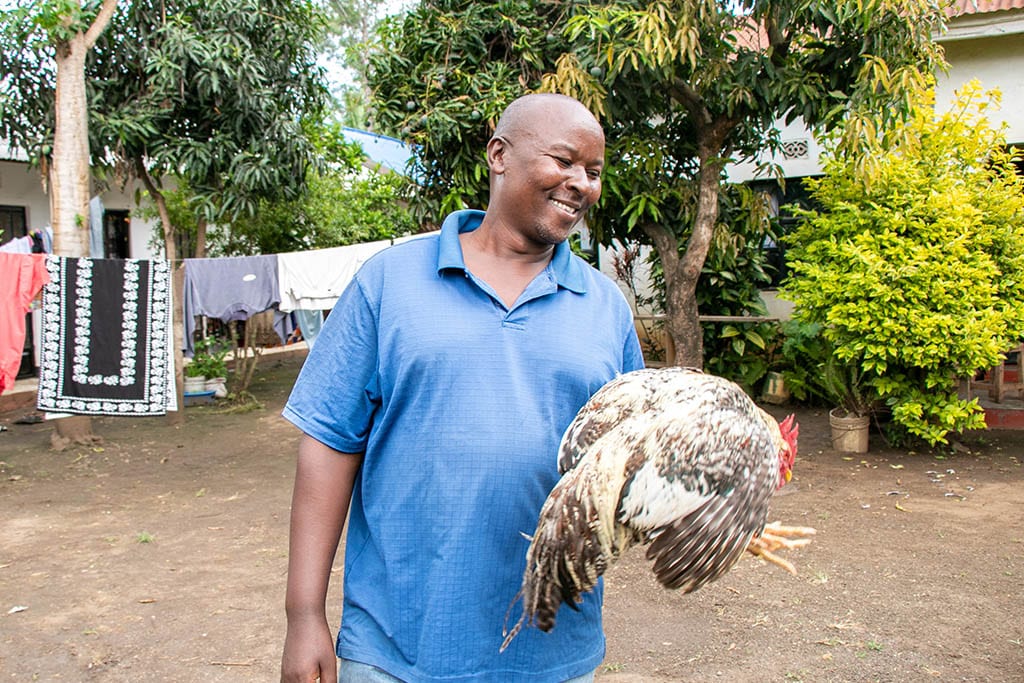 Amos is one of many local community members who performs small acts of service that leave a lasting impact on St Jude's community.
With a chicken in his hand, Focus, who works closely with the community for St Jude's, knocks on the door of Amos at his home near Sisia Campus.
Focus surprised Amos by gifting him and his family a chicken – a special present in Tanzania. It was rewarded to them for their constant kindness towards St Jude's. For years, Amos, who live in Moivaro, right near the girls' school boarding campus, have been generously keeping a lookout and stopping anyone who intends to disturb the secondary girls.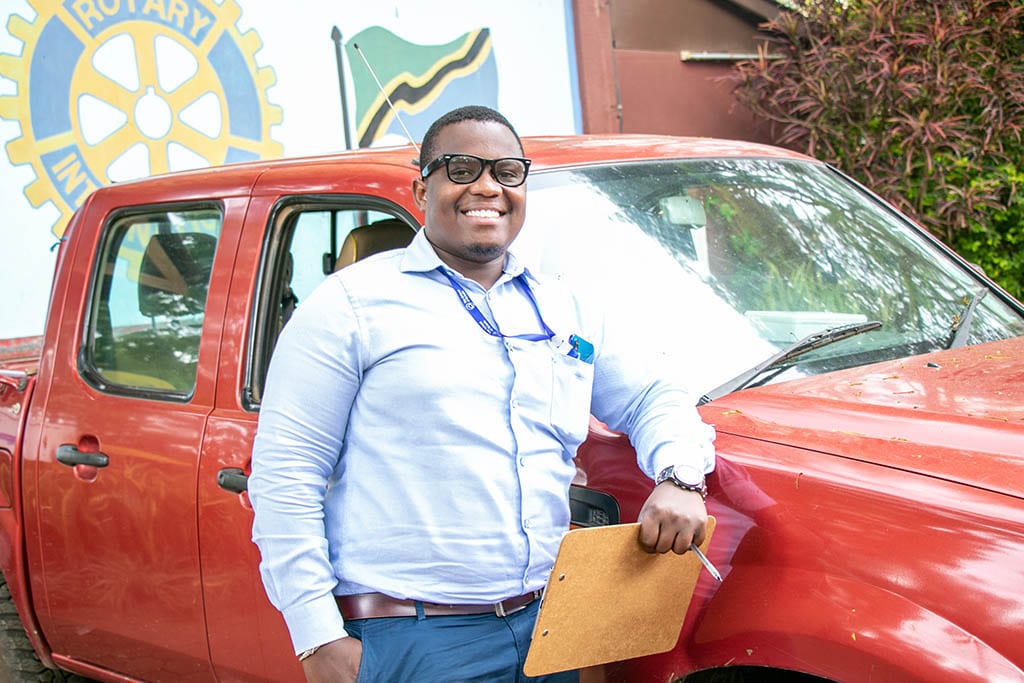 "When you give, you make a difference, and no matter how small the act of kindness is, it deserves to be appreciated," says Focus, who engages and develops relationships with the local community.
Focus has been visiting members of the local community who have contributed towards the school, the students and all its members, or have given what they can to strengthen the mission and vision of St Jude's.
"The Spirit Program is a movement. Through this program, we aim to give back to the community by first recognising and bringing together our key stakeholders, and second, by rewarding our stakeholders for their continuous generosity," says Focus.
"Each stakeholder has a vital role to play in this program. Stakeholders can participate in this program financially or non-financially. For example, we recently gave our token of appreciation to some of our suppliers for being part of the school community for a long time."
The Spirit Program serves as an effective way of highlighting the efforts made by St Jude's community, while also serving as the glue that solidifies St Jude's community.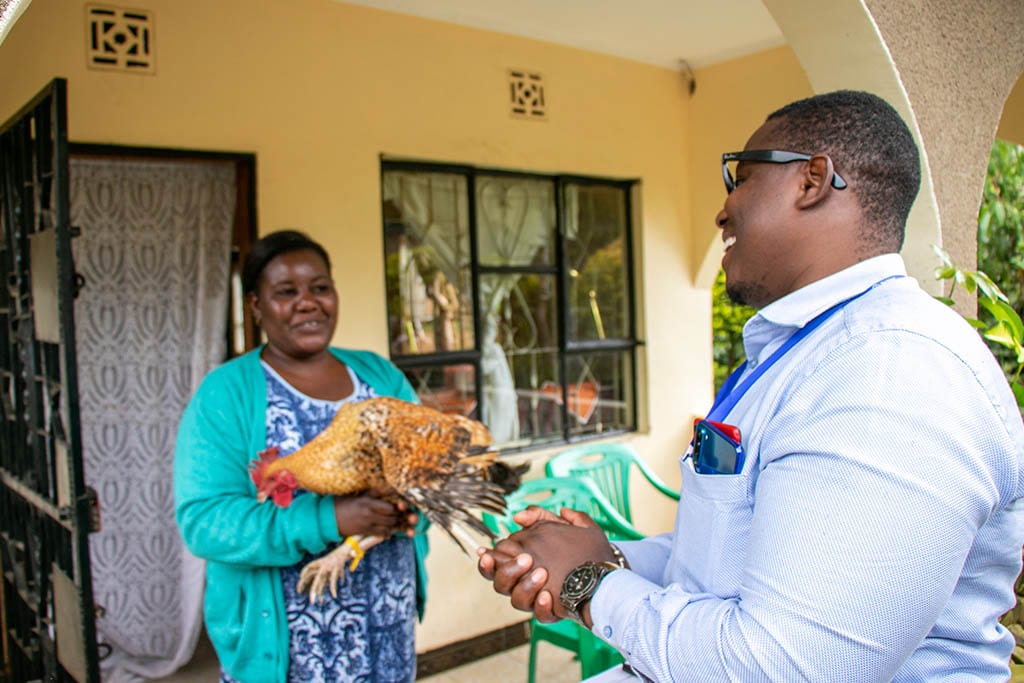 In the coming weeks, staff will also be invited to participate in the program either financially or non-financially. Staff can decide to either volunteer, donate through salary sacrifice or a pre-determined amount that can be deducted every month.
"We will encourage staff to participate by showing financial generosity, and we will encourage staff to spread the word in their communities and around their neighbourhood about St Jude's," Focus explains.
"We have flyers in school buses. Staff can take these brochures and educate people in their communities about the good work being done at St Jude's. This is an amazing movement because really any generosity through thoughtfulness and goodwill is appreciated here at St Jude's."
St Jude's community is grateful for the continuous support we receive from thousands of people worldwide… it is people like you, and all who contribute to building St Jude's Spirit, who are fighting poverty through education. St Jude's Spirit program will also be launching to all our international supporters this year, so keep an eye out on how you can take part in this movement.
Long drives, bus breakdowns, walking for hours and crossing rivers on foot are just some of the experiences that The School of St Jude staff encountered while performing house checks for potential Form 1 students. However, these run-ins did not discourage them from going above and beyond the call of duty.
A house check is the final stage of the selection process after prospective students go through registration, academic entrance tests and document verification during Student Selection Day. During a house check, St Jude's staff conduct a poverty assessment at the students' home and interview their family to determine their level of need.
This year, staff stretched far beyond Arusha region, extending the pool of selection of bright, poor students to Kilimanjaro and Manyara regions.
Although the roads were treacherous and some of the homes were barely reachable, this did not extinguish the staff's spirits.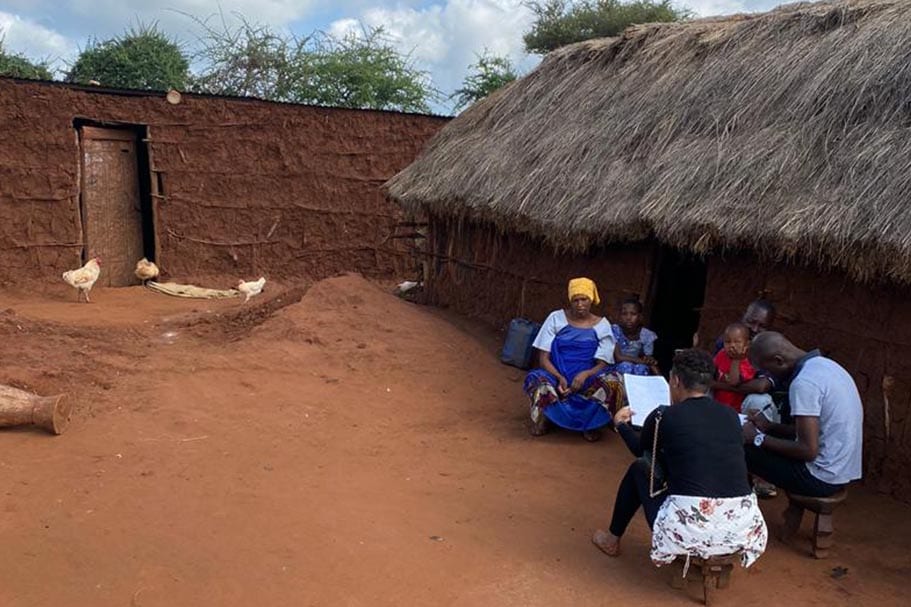 "We had to drive between 5 and 15 kilometres from one house to another. And at times we had to leave the car and walk the same distance to reach these students' homes," said Philip, Head of Community Relations.
Sharing his experience, Philip explained, "It was an intense and emotional experience for me. There were a lot of things that were different in comparison to our normal house checks in Arusha. We realised some people around these regions were extremely poor. Finding basic things like wooden chairs was hard in some of these homes, we had to do house checks either standing up, sitting on the floor or sitting on tree logs."
"My highlight on this house check was when I met a man with nine children and four wives who were struggling. When we talked, he said to me that he didn't believe in education, but after talking to teachers and as time went by, he regrets not having educated the rest of his children. To make up for his mistake, he would like to give his daughter, who is last born in the family, a chance to be educated."
According to World Bank reports, 80% of the Tanzanian populations lives on less than AU$4.60 per day with over 45 million living below the poverty line. Beyond the persistent gaps between urban and rural areas, there are large disparities in the distribution of poverty across geographic regions.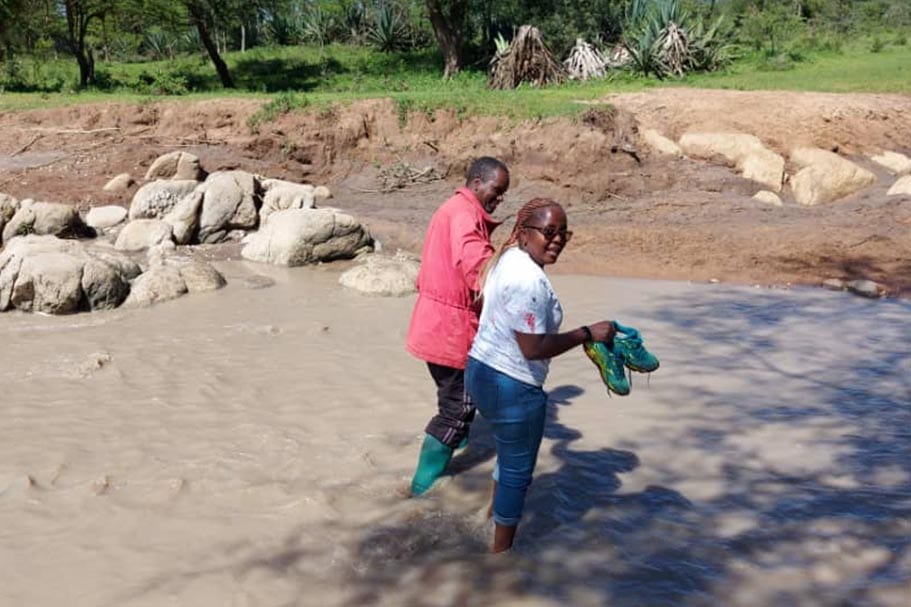 Recalling the experience, Elizabeth, Donor Relations Coordinator, uttered, "This is my second or third time doing house checks. Honestly speaking, with these faraway house checks, we saw more students who are in greater need of free, quality education which St Jude's can provide."
"Though we got stuck, and at some point, we were even walking on our hands and knees…" Elizabeth chuckled, "… but we had to do all that we could to select these students. To me, that was true, team spirit. It was worth it, and I will never forget that."
"At the end of the day, it's really fulfilling to see success stories of our students especially once you know where they are coming from, their living conditions and their family backgrounds," Elizabeth commented with a smile.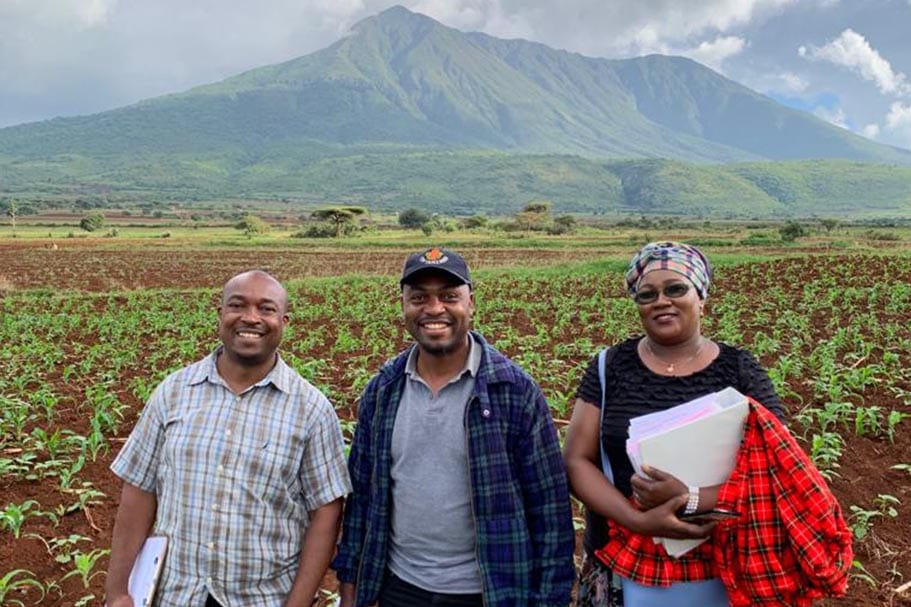 With all hands on deck, eight teams were spread across Northern Tanzania, ensuring that every student had a fair chance of being selected for an academic scholarship at St Jude's. A team comprises a scribe, a translator, an investigator, a parent representative and a driver, each role just as important.
Noel, Database Coordinator, was one of the investigators during the house checks. He jokingly said, "I think I've done all the exercise I need for this year."
"The neighbours live far apart from each other. Most of these families live in the middle of nowhere among snakes, hyenas, leopards and other wild animals. So investigating was a bit challenging. I remember I had to walk very far to look for some of these families' neighbours," Noel explained.
"For the students that qualified, we really delivered some good news to these families, it was the happiest moment for them," he added.
Doing house checks this far from Arusha and for this many nights was a first and a humbling experience for St Jude's staff.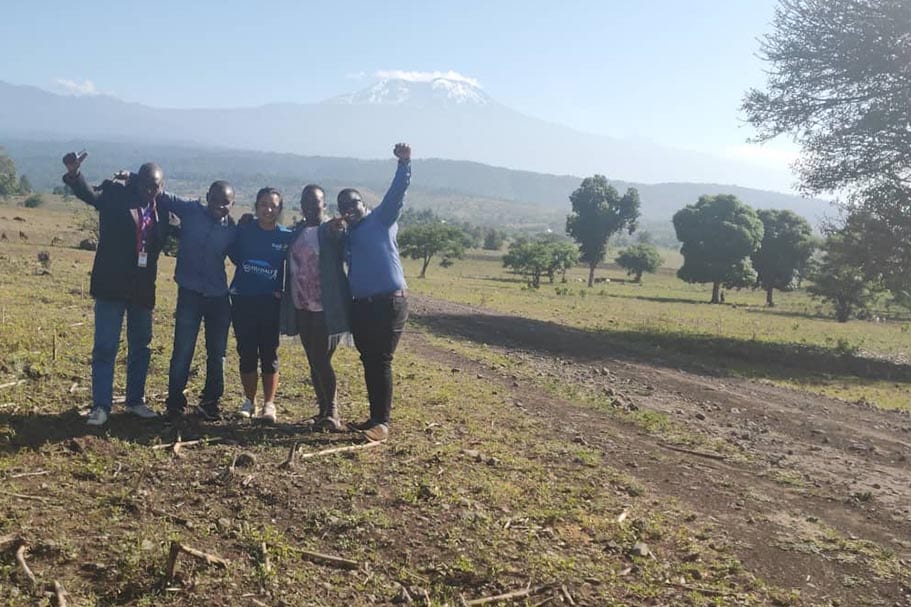 "This house check experience has taught me to be more appreciative of life. As humans, we complain over small things, but these families are poor and seem very happy," Focus, Community Development Coordinator, described enthusiastically.
With the help of all eight House Check teams, St Jude's successfully selected and enrolled 112 new Form 1 students who commenced their academic scholarships earlier this month. The new students, plus our existing 131 students, makes a grand total of 244 total students enrolled in Form 1 at St Jude's this year.
St Jude's is spreading its wings and expanding its scope, united by one mission; to educate disadvantaged, bright students in Tanzania to become the moral and intellectual leaders Tanzania needs, fighting poverty through education.
The Parent Expectations Meeting is hosted annually by the school. On this day, students' parents or guardians get to meet the school's leaders and discuss what is expected from both sides.
For the new parents, the morning was exciting. The School of St Jude staff, assisted by smartly dressed girl scouts, directed the parents to the appropriate locations… primary students in the primary dining hall and secondary students in the girls' secondary school.
Parents and students grabbed their seats and eagerly waited for the meeting to start.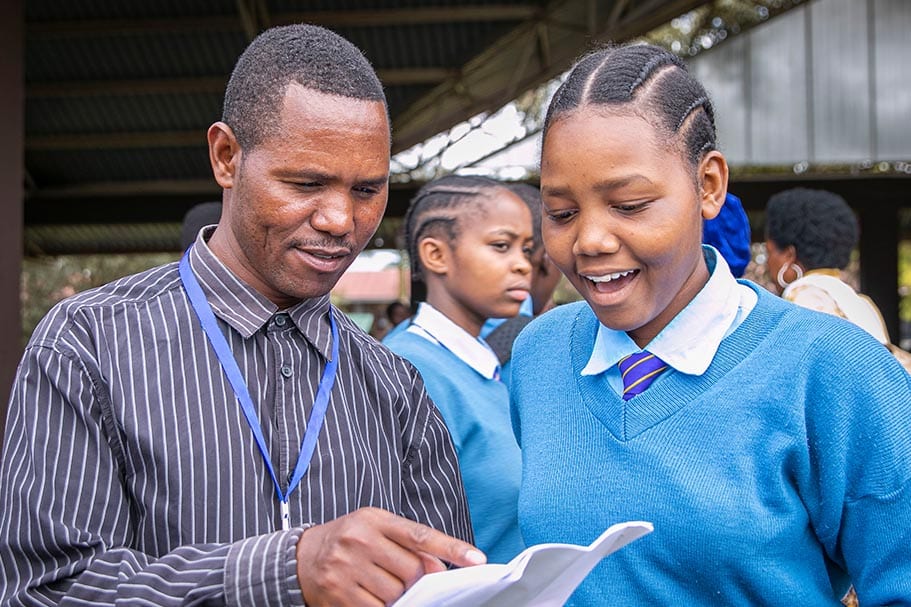 "It's important for parents to meet annually and be reminded of the school's policies and what they should expect from the school and vice versa," said Charles, a Parent Representative.
The school strongly encourages parent involvement and is fortunate to have five dedicated Parent Leaders who oversee a larger committee of nearly 50 volunteer Parent Representatives. These representatives are voted in by the school parent community to act as spokespeople for all parents and guardians of St Jude's students.
The Parent Representatives each oversee an area in which students' live in the Arusha region. Working closely with the school, Parent Representatives investigate any issues at home and keep parents informed at all times by holding meetings with fellow parents and giving feedback to the school's leadership.
Charles added that, "It's imperative for all parents to read and understand these rules and regulations. That's why, once we agree and sign, one document stays at the school and we take a copy home to make sure we read, understand and don't forget the provided guidelines."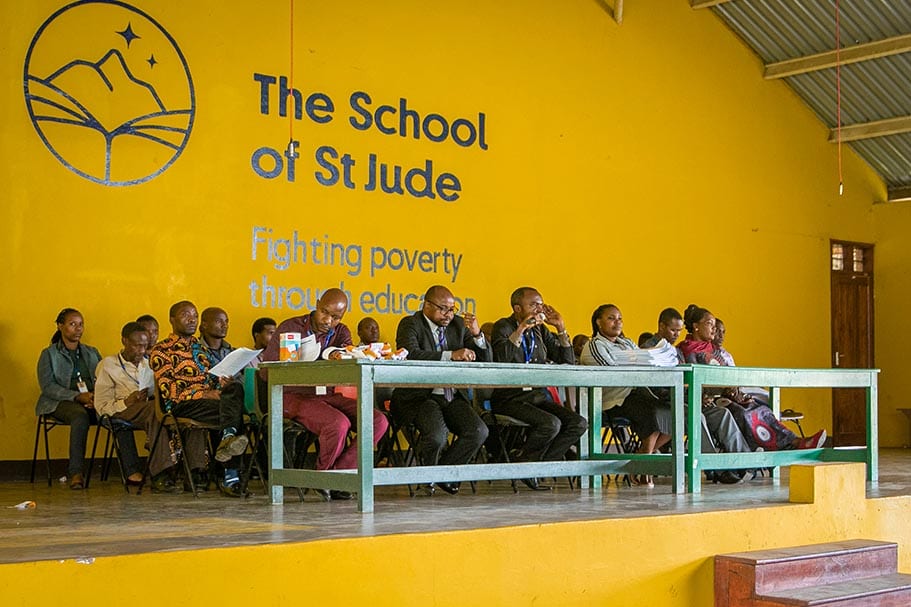 Echoing the Parent Representatives, Mr Elimringi, Headmaster at the girls' secondary school, explained that is was also important for students to understand the expectations.
"This document is an agreement between the parent, student and the school. That's why it's essential for all students to sign this agreement as well. Once the parents sign and leave the campus, what remains is the implementation of these directives. That's why it's absolutely necessary for the student to also agree and sign this document," clarified Mr Elimringi.
The document covers general expectations, uniform and dress code, communications, academic expectations, health and welfare with a strong emphasis on the fact that their child is receiving a free, quality education that must not be taken for granted. Another one of the school's policies mentioned is that, all students must follow and live by the school's values and principles, which are; Honesty, Respect, Responsibility and Kindness.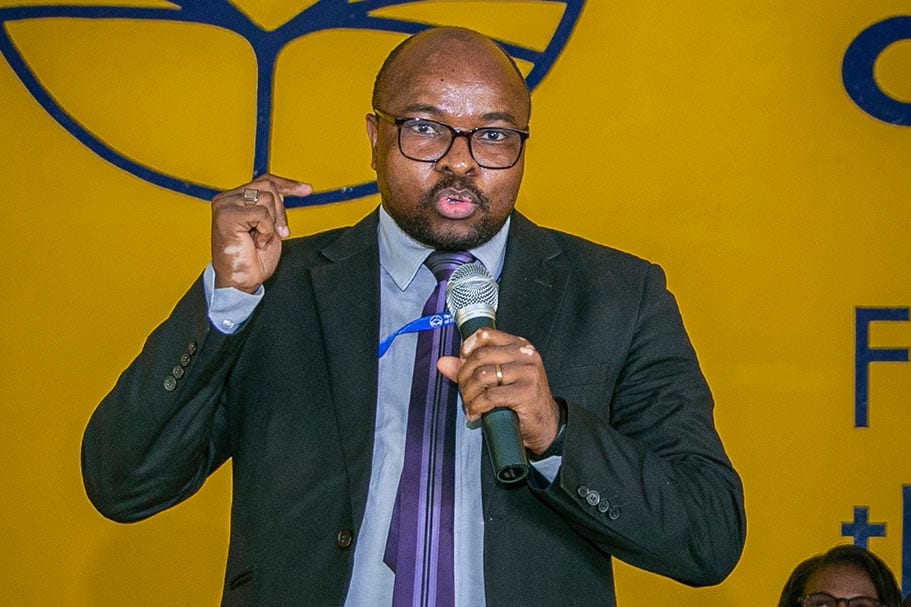 "Parent Expectations Meeting is the best part of the year. This is when we get to introduce the school to the new parents, what we do and what we expect. If we cannot sign this document with the parents, it means that we can't hold the parents accountable," said Mr Mcharo, Academic Manager.
Describing the importance of the meeting, Mr Mcharo further added, "Before anything or any documents are distributed to the parents, we have to educate them first. I would say this meeting is like a workshop, as both parents and students also get a chance to ask as many questions as possible about the school and how these policies work."
"For the old parents, this meeting is a chance to update them about the school's progress and students' performance. It's crucial for both new and old parents to attend this meeting because rules and regulations are adjusted from time to time. So it's vital to get this information out to everyone," he insisted.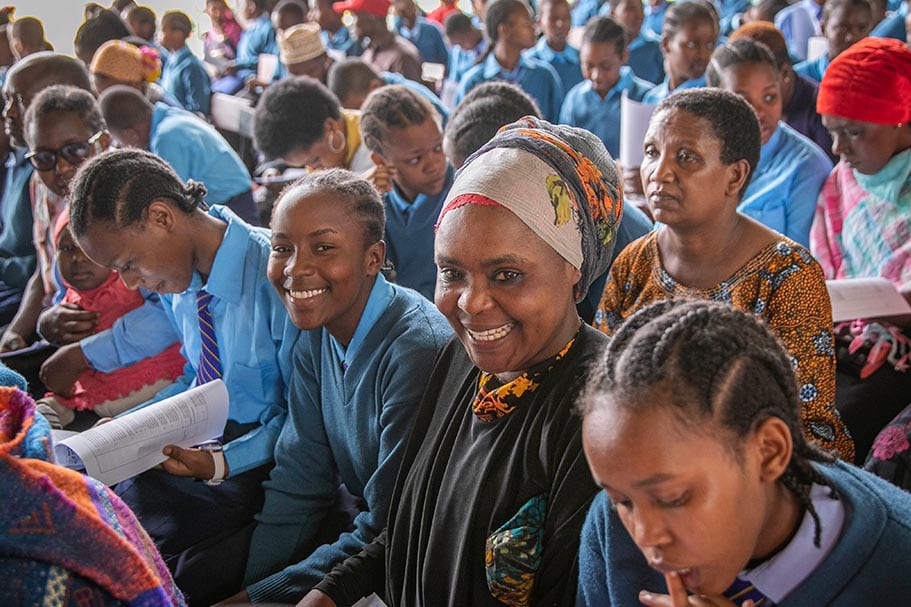 The Parent Expectations Meeting is organised annually. For primary and O Level, parents meet with the academic leaders and teachers in January, while the A Level meeting is hosted in July, when the academic year for Form 5 and 6 starts.
The School of St Jude thrives off its parent and guardian community, all united in fighting poverty through education, so their children, can one day become the future leaders that their country needs.