In the last 20 years, The School of St Jude has grown so much that it's almost unrecognisable. Buildings, fields, buses, campuses and whole new schools have been added to keep pace with the need for free, quality education in the Arusha region.
Over these two decades, St Jude's has celebrated milestone after milestone. Barely a term passes without something new here, but as we look back we can see the turning points which have shaped St Jude's into the school it is today.
1998

1998 is a little more than 20 years ago now, but it's a very important year in St Jude's story. In this year, Gemma Sisia was gifted the original land on which St Jude's was built, by her future father-in-law.
Following the gift of land, Gemma began to plan in earnest and collect donations for The School of St Jude. "The aim is to raise over $150,000, and even if it takes 10 years I am determined to build it," she wrote, in a 1999 newsletter sent to supporters of what was then called the East African Fund.
Little did Gemma know how generous people would be – in less than four years, St Jude's first students would be learning on the land she had just been given!
2000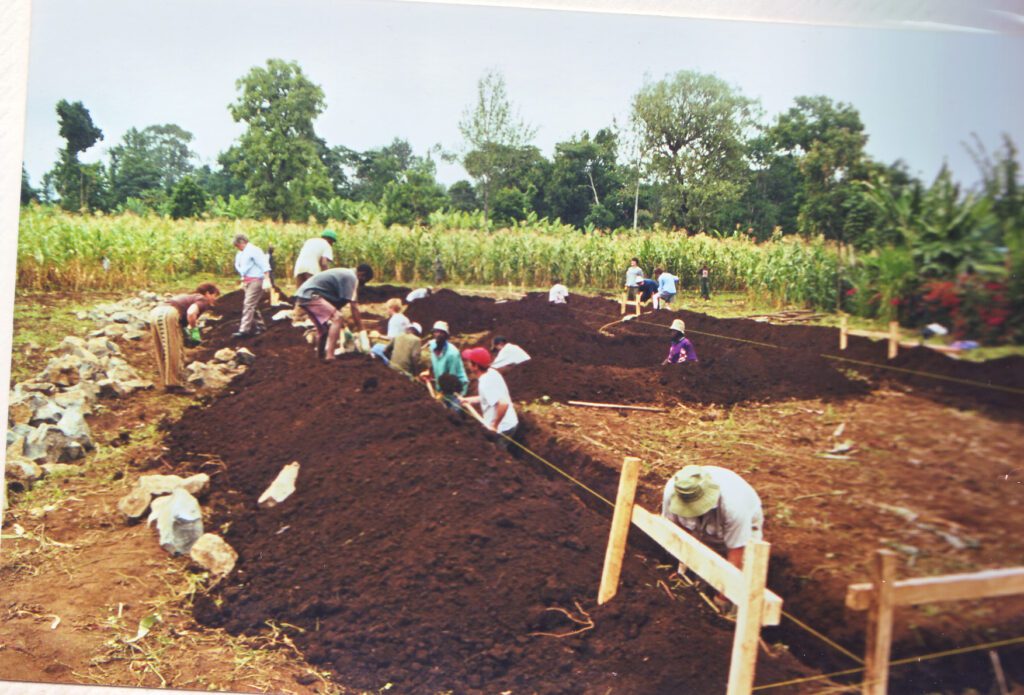 In this year, the very first classrooms were built at St Jude's, thanks to some amazing Rotary volunteers from the Armidale Central and Gosford North clubs.
Gemma recalls in her book, St Jude's, "A great friend of my family, Rotarian David Steller, who was an engineer with Armidale Council, offered to lead the Rotary team and there was a young builder, Tyson Jackson, who'd just finished his apprenticeship, but apart from these two, the main building qualification of the first team that went over was goodwill."
The very first building still stands today as the Visitors Centre.
2002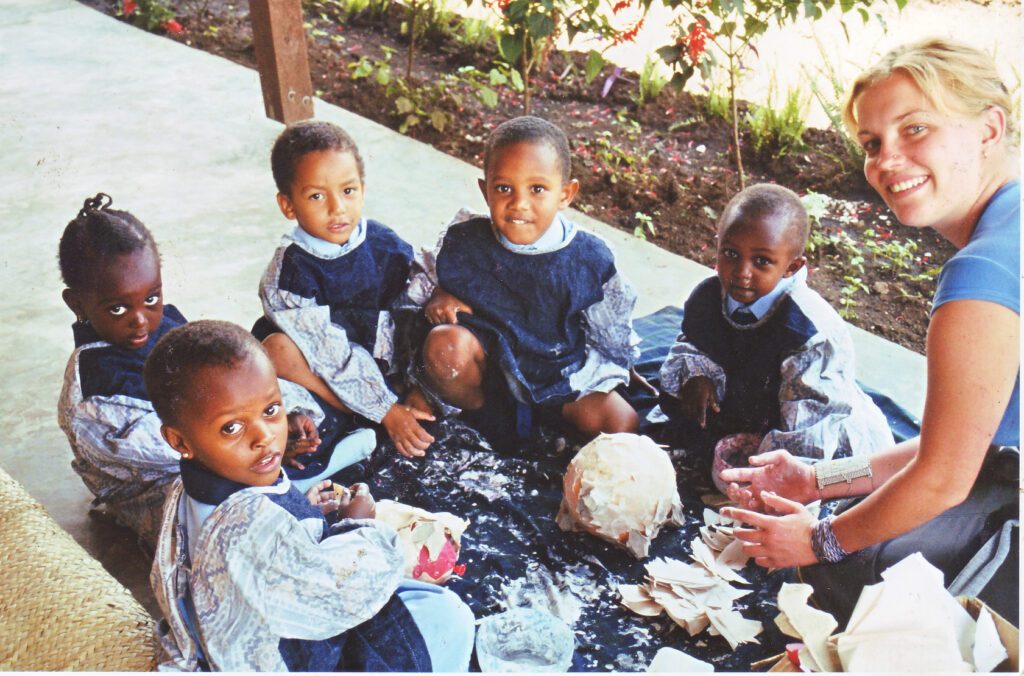 29 January 2002 marked the first day of classes at St Jude's. Volunteer teacher, Angela Bailey, was just 19 at the time. She reflects, "It was so exciting, I was a little nervous… It was mostly about orientation on the first day, showing the students our first small library, where the toilets were… My students were completely overwhelmed and shy. It was only a few hours and then they went home for lunch."
"I remember, I asked Gemma what her vision (for St Jude's) was and she said she would love to have two streams all the way to the end of primary... I thought that was an incredible vision!"
By 2003 the number of students at St Jude's had grown to 120 and the school was in serious need of extra classrooms.
2005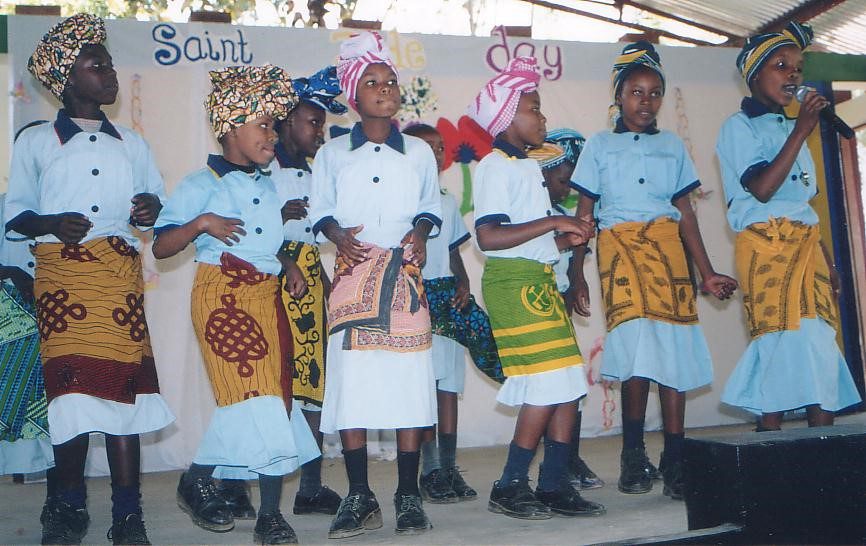 In 2005, Gemma and St Jude's were featured in an episode of the ABC's (Australian Broadcasting Commission) Australian Story. The episode told Gemma's story of growing up country New South Wales, moving to Tanzania and starting St Jude's.
The response to Australian Story was extraordinary. After watching the episode, many new people decided to support St Jude's as sponsors, donors and volunteers. This increased support encouraged Gemma to consider opening boarding houses and a second school.
This same year, St Jude's Standard 4 students sat their first-ever national examinations and received amazing results, placing St Jude's third from 204 schools in the region and establishing a tradition of academic excellence.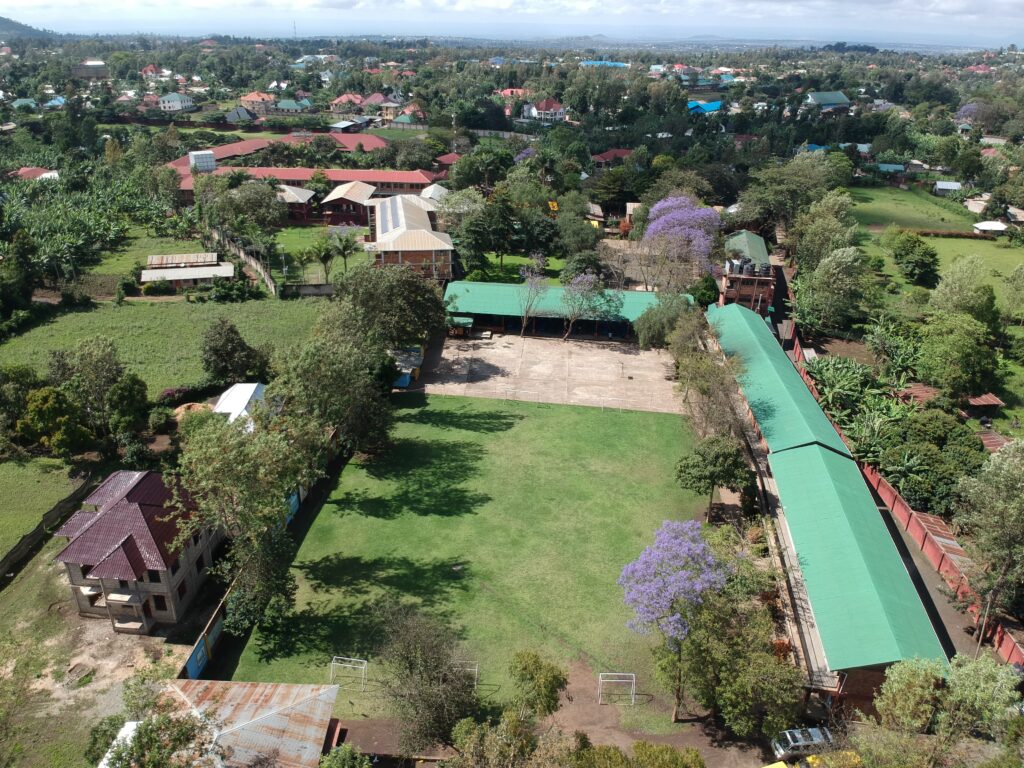 2008
In 2008, St Jude's took a big step by opening a second school. The new school, located in Usa River, about 50 minutes' drive from our original site, began as another primary school.
Today, the campus at Usa River is called Smith Campus in recognition of the generous Smith family, long-time supporters of St Jude's. It now houses St Jude's Secondary School, where our Form 1 to 4 boys and Form 5 and 6 girls and boys live and study.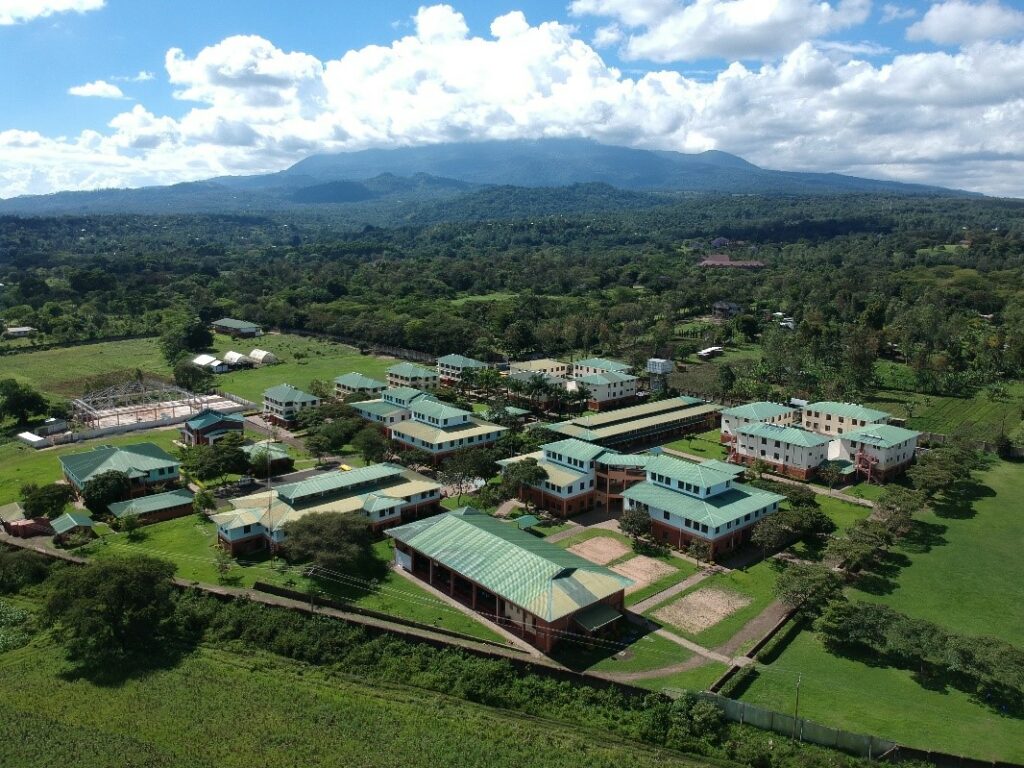 In the same year, we opened a third campus – Moivaro Boarding Campus. As a boarding school, St Jude's is able to offer students with a safe, stable environment where they can focus on learning without the pressures and challenges they often face at home.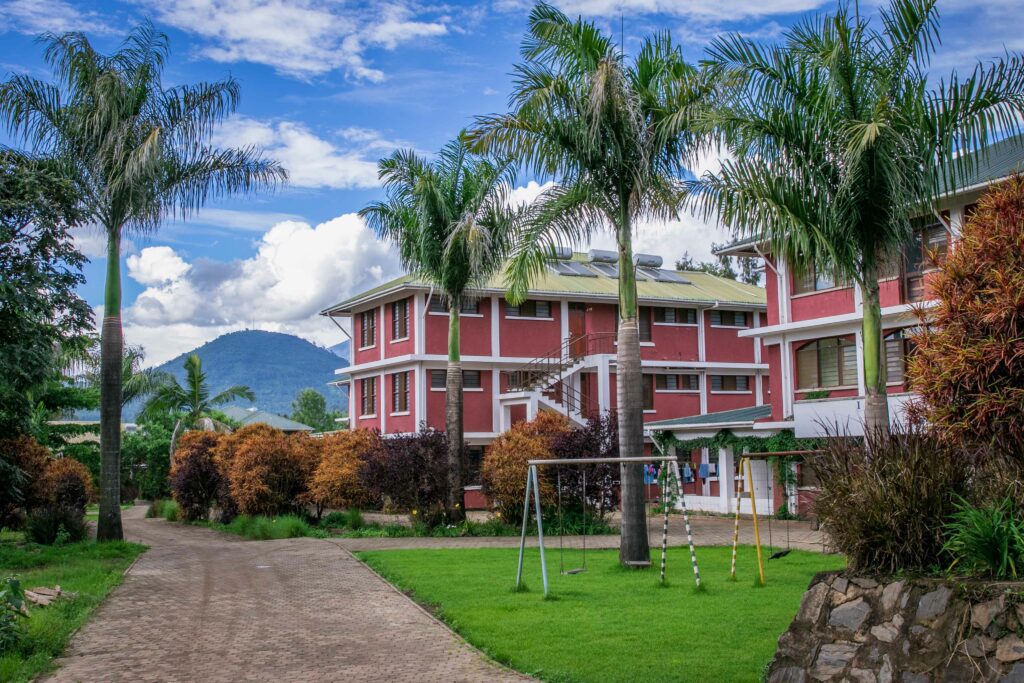 2014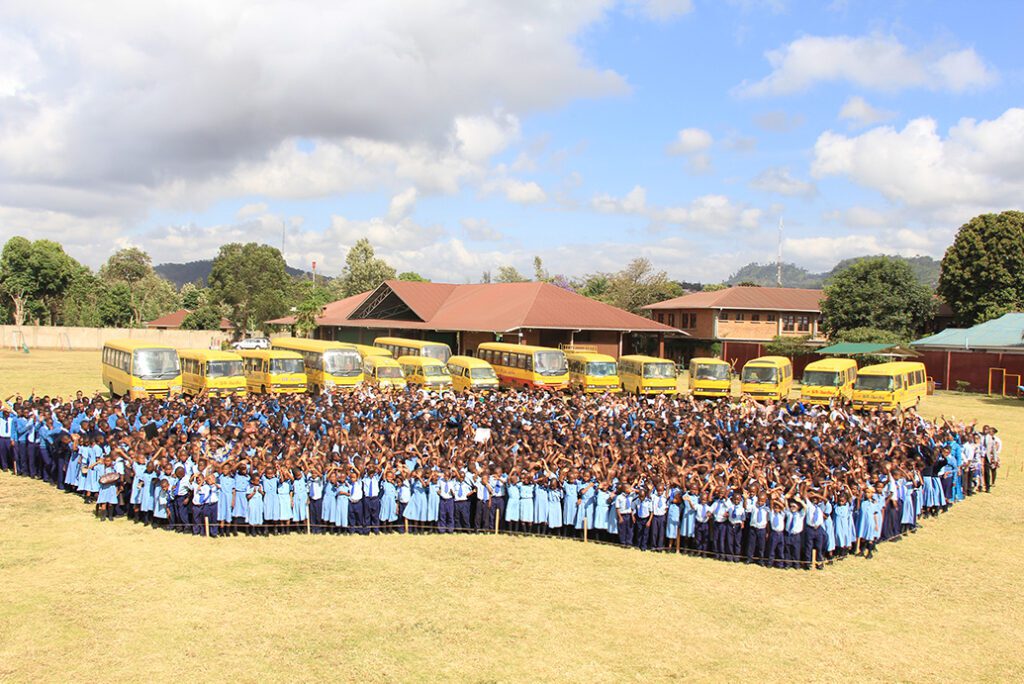 In 2014, we celebrated an exciting milestone – St Jude's was finally a whole school, with classes from Standard 1 (the first year of primary school), to Form 6 (the final year of secondary school).
In this year, our decade long building program was completed!
2015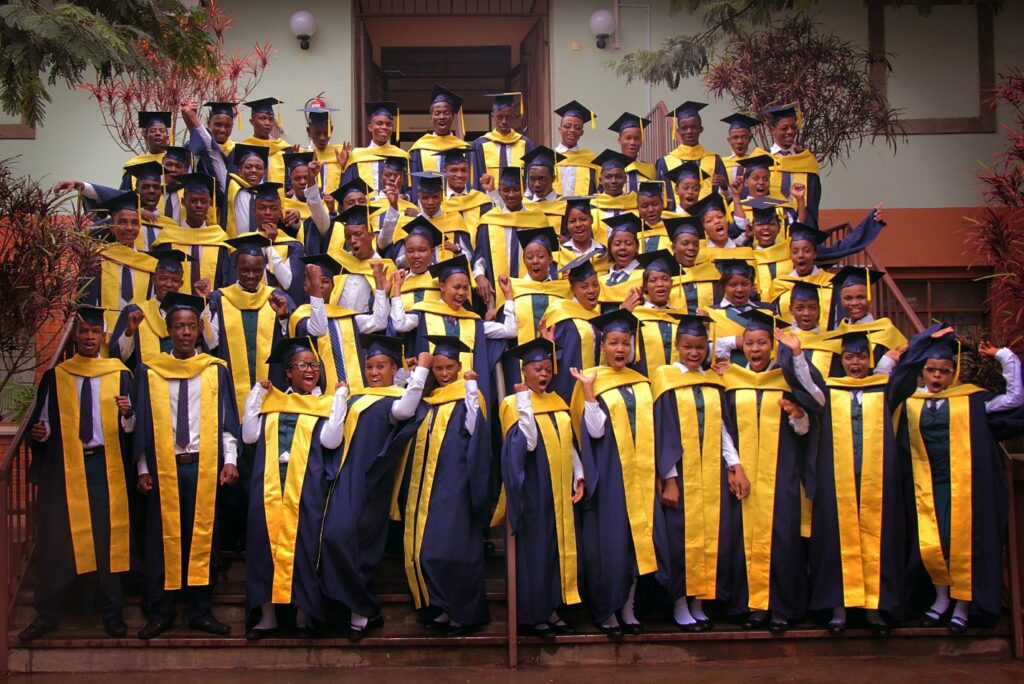 In 2015, we held our inaugural Form 6 graduation. 61 overjoyed graduates celebrated the end of their secondary education in the presence of 1,000 guests, including supporters from around the world. We've now celebrated seven Form 6 graduations and each time it is a wonderful reminder of how far we have come.
Later that year, these graduates became the very first Community Service Year (CSY) volunteers through our newly established Beyond St Jude's Program (BSJ). To this day, BSJ supports secondary graduates through a period of community service and then a higher education qualification.
These first graduates spent a year volunteering in the community to share their skills and knowledge. Some volunteers lent a hand in the St Jude's office, while others taught in understaffed government schools, reaching more than 10,000 students.
2019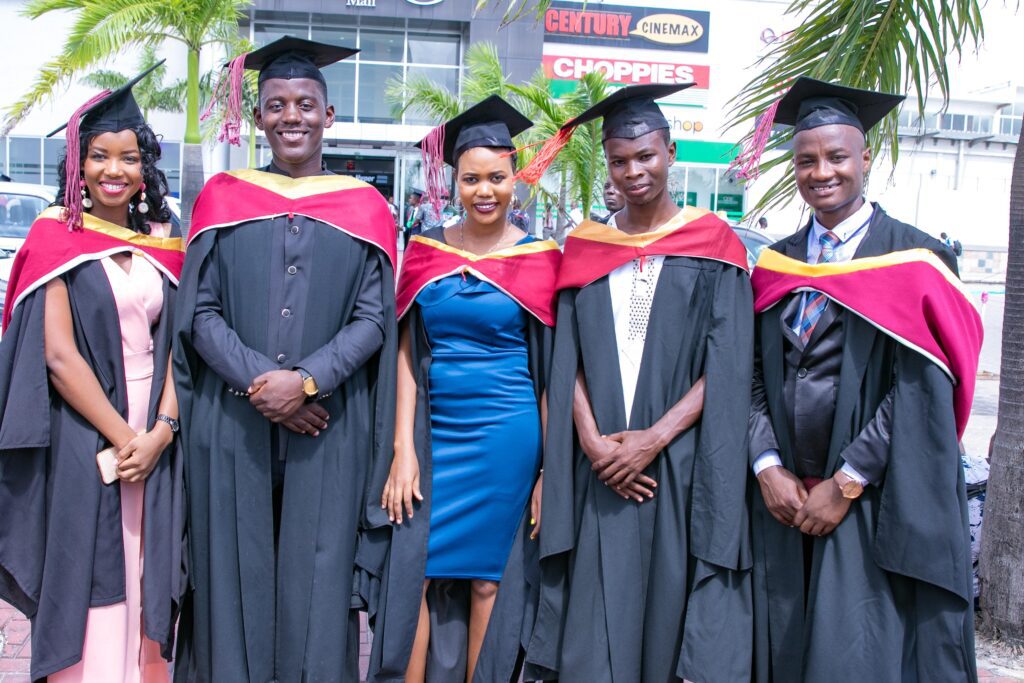 In 2019, after 17 years of St Jude's, the very first BSJ scholars graduated from university. Since the earliest days of St Jude's, we had dreamed of our students graduating from university, starting their careers and breaking the poverty cycle. We were so excited to celebrate the graduation of 26 BSJ Tertiary graduates.
The number of BSJ Tertiary graduates continues to grow each year with hundreds more being supported through their tertiary studies.
2020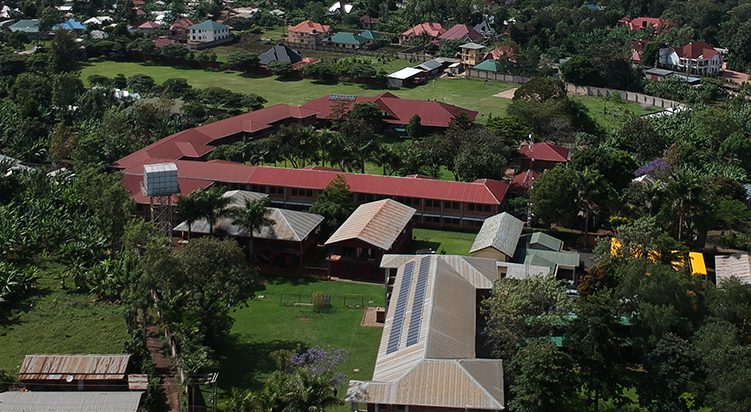 In 2020, we opened a third school – St Jude's Girls' Secondary School, to give more girls, and more students overall, an opportunity to attend secondary school.
On average, girls in Tanzania from poor, rural backgrounds receive just four years of education, and this was being reflected in our scholarship application process. The new school has a capacity for 600 students all of whom are boarders in Form 1 to Form 4. The same number of boys continue to be educated at St Jude's Secondary School.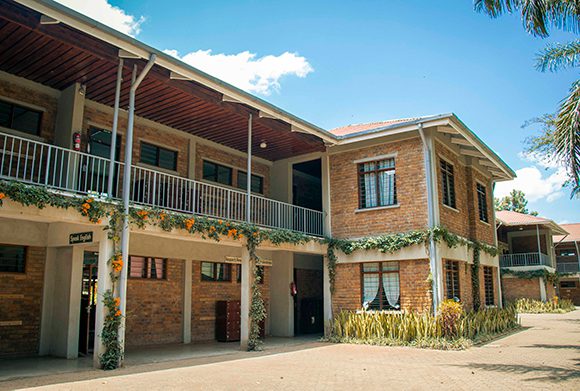 2021
In 2021, we celebrated the graduation of the very first BSJ medical scholars – the first St Jude's educated doctors! Following jubilant graduation celebrations, the graduate doctors started internships at hospitals across Tanzania in preparation for impactful careers.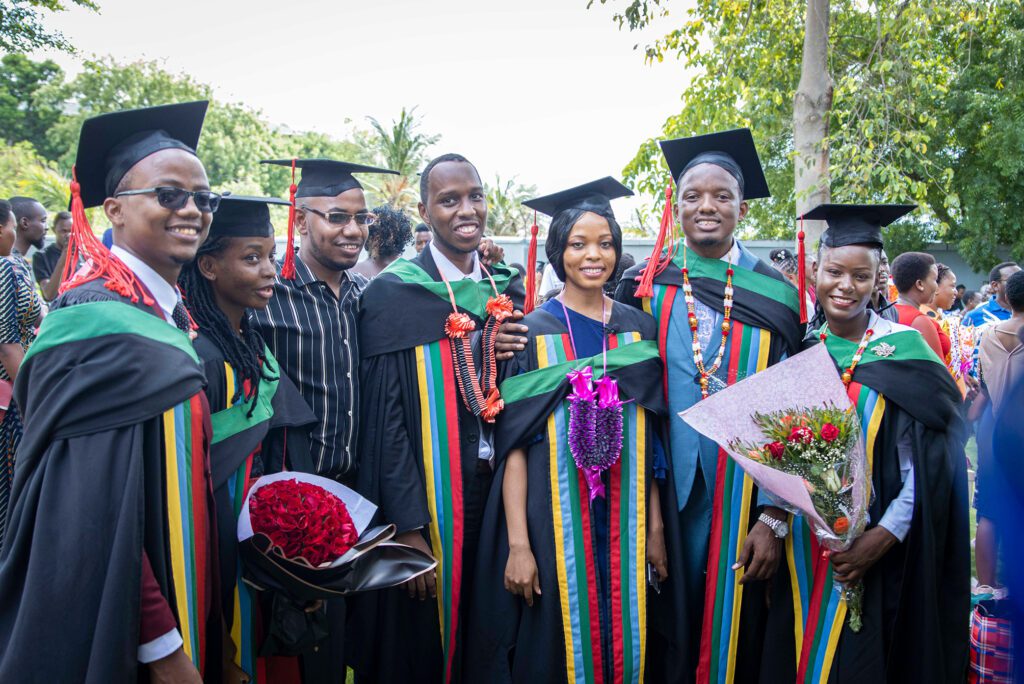 2022 and Beyond
This year, we celebrate our 20th birthday, take a moment to look back and turn our eyes to the next 20 years. What began with three students, has, with your support, become a school of 1,800 with a successful graduate program.
So much has changed since 2002, but our motivation is the same as ever; together, we are fighting poverty through education.
In Tanzania, the advent of free primary school education means that an impressive 84% of children aged seven to thirteen are enrolled in school. However; only 30% of 14 to 17 year olds are enrolled in secondary school, largely due to financial pressures and a shortage of secondary schools.
These figures are the reason that The School of St Jude offers scholarships for students entering Form 1 (the first year of secondary school). Instead of finishing their education after just seven years, these bright, poor students receive a second chance at education; a St Jude's scholarship for O Level studies (the first four years of secondary).
On 21 November, St Jude's held our annual Form 1 Scholarship Application Day. More than 300 staff, Parent Representatives, Community Service Year (CSY) volunteers, and helpful senior students were split across three locations; St Jude's Sisia Campus in Arusha and centres in Babati and Moshi.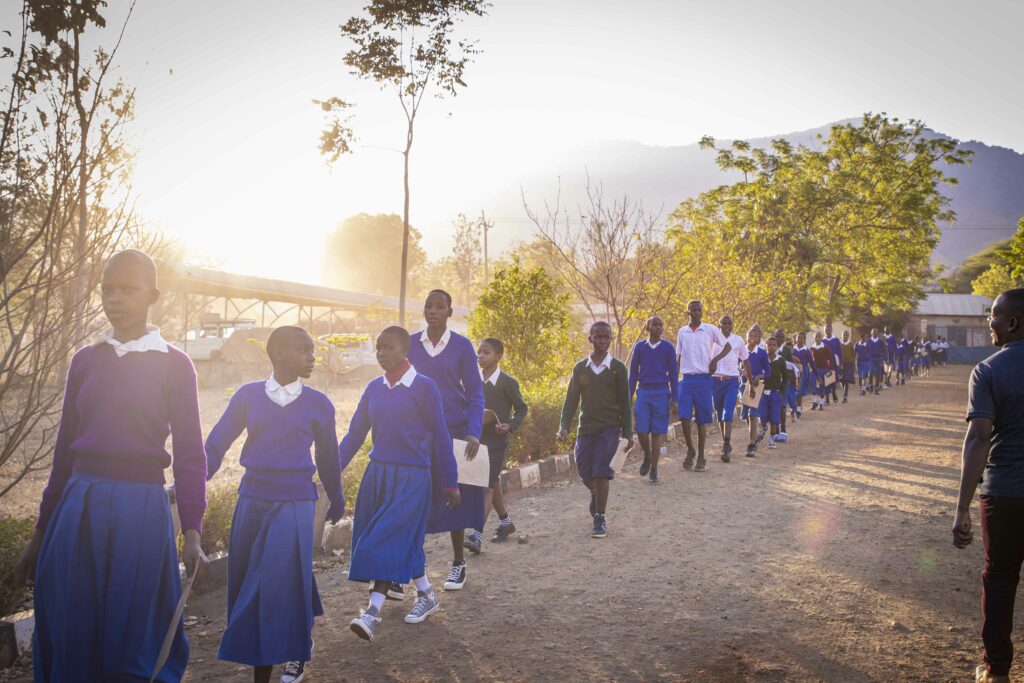 While the St Jude's team were in different locations, their tasks were identical; to interview and test prospective students to identify those who will benefit most from a St Jude's scholarship. In total, 1613 students were registered, which included 908 students in Arusha, 325 students in Babati, and 380 students in Moshi.
At each location, the first order of the day was registering the crowds of students who had been queuing since before 6am. Liz, a team leader stationed in Moshi says, "When I saw them arrive I felt awesome because I knew it was the start of a busy day in a good way."
The students were lined up according to their districts and then registered by a St Jude's staff member, who checked their documents and marked their names on a list. Next, students proceeded to examinations, where they were tested in key subjects.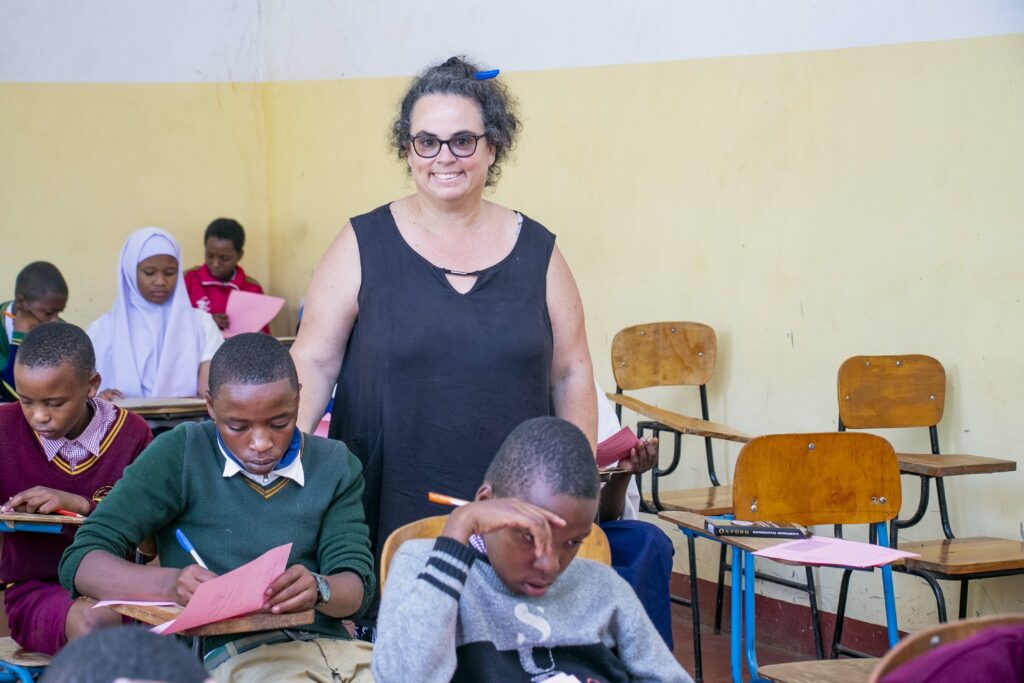 "The most challenging part of the day was having to communicate with the other sites for the examination cut-off scores," explains Sarah, who played a key role in organising the whole operation. To determine which students would progress to the next step in the scholarship application process, the three teams had to liaise after marking the exam papers.
Around 500 students passed the exams and are in the running for the next stage – Poverty Assessments. Following these assessments, 150 students will be offered scholarships for O Level secondary education at St Jude's. "The day was a wonderful display of how team work and team spirit get the job done," Sarah enthuses.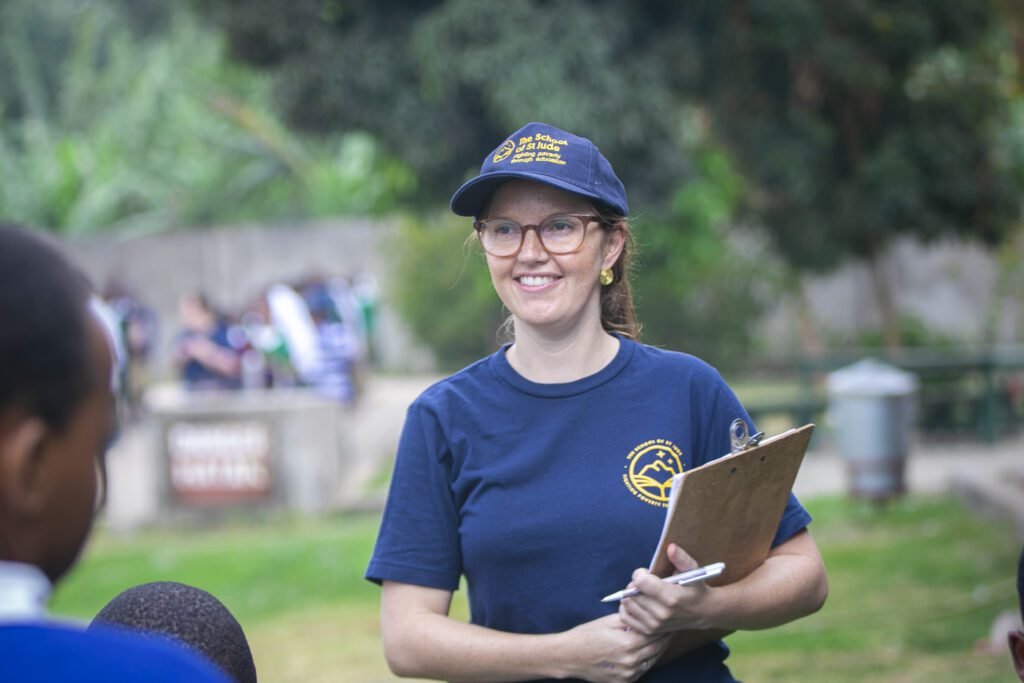 A year ago, Perpetua had just attended Scholarship Application Day in Babati. Today, she is a Form 1 student at St Jude's Girls' Secondary School.
"I thought I would not pass the exams," Perpetua shares. "There were many other people there and I was a bit nervous."
At only 14, Perpetua is already a trailblazer in her family of 16. Her father was only able to attend school until the end of primary, while her mother did not have the opportunity to attend school at all.
"I'd like to be a doctor because in my village we lack professional doctors. If someone gets sick or injured they need to take the bus for one hour to reach a doctor," she explains.
But before university, Perpetua is adjusting to the regular challenges of secondary school. "My biggest challenge when I started was that I didn't know a lot of people, but now I have made a lot of friends. We like to tell stories and discuss our subjects," she smiles.
"Compared to my primary school there are many differences. In my primary school, there were 100 students in my class. There was no food at school, no boarding, no computer labs, no library or upstairs classrooms. And we had to share textbooks, up to five students to one book," Perpetua recalls.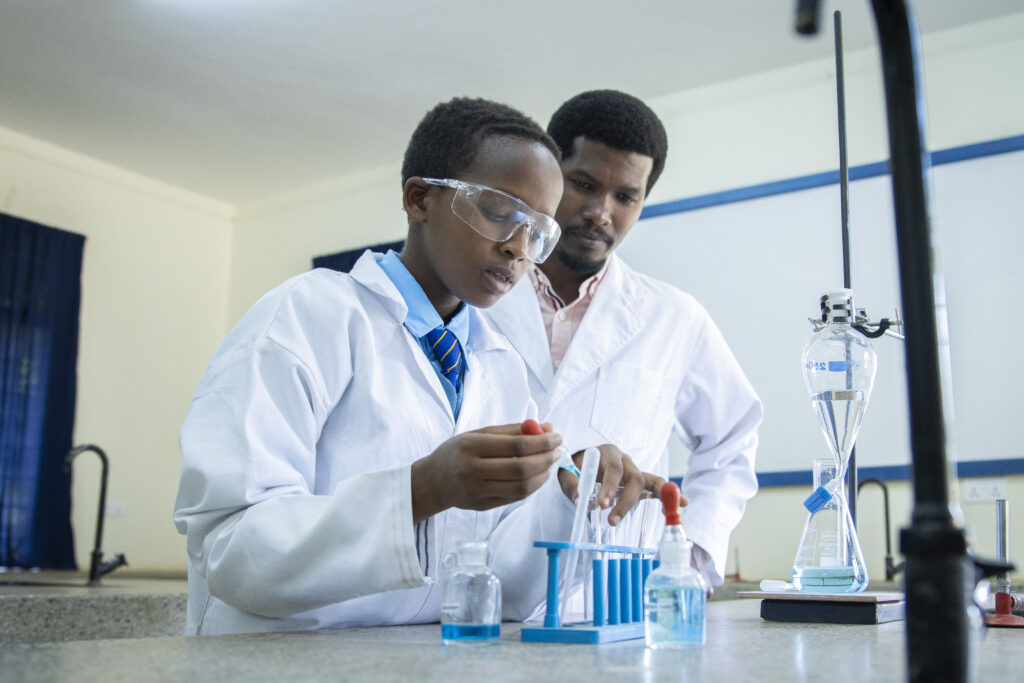 A Future Doctor: Perpetua enjoys the opportunity to study in the specialist science labs under the supervision of Mr Elisante.
Now at St Jude's, Perpetua has discovered new ways of learning and is benefitting from St Jude's plentiful learning resources and facilities.
"I like the school environment and the way the teachers are teaching us. My favourite subjects are physics, chemistry, and biology," she says.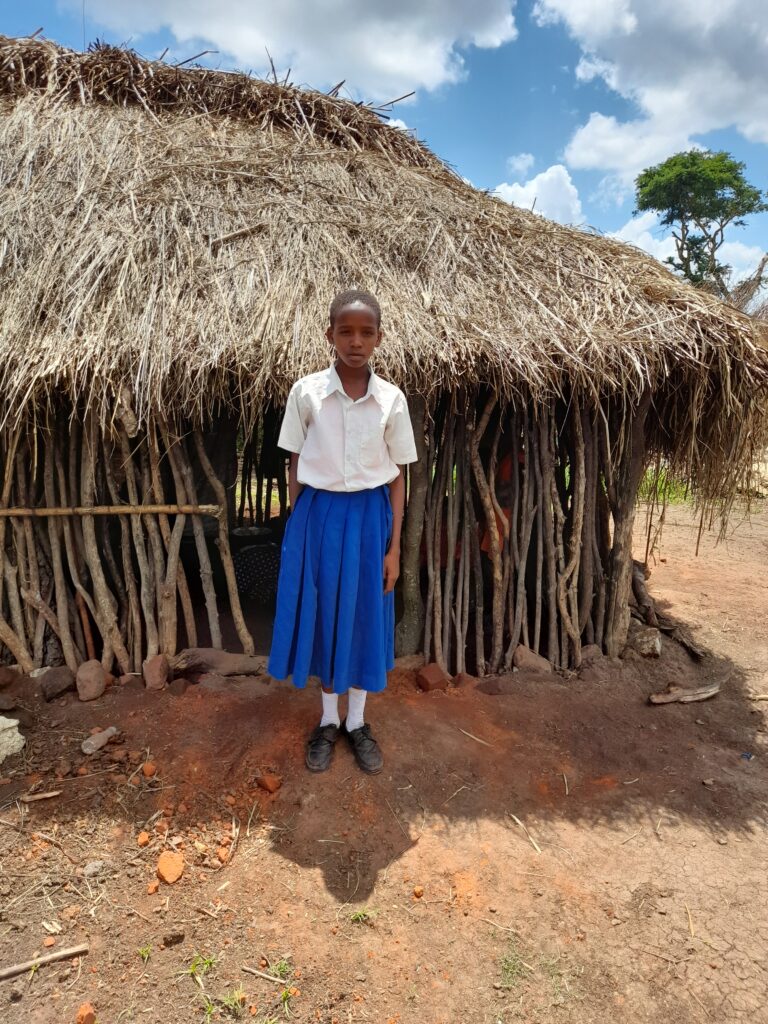 One of the biggest changes for Perpetua this year was moving from her home in a village outside Babati into boarding at St Jude's with her fellow secondary students. Here, she has her own warm bed, reliable water for washing and drinking, nutritious meals, and a stable environment for study and fun with her new friends.
Like Perpetua, 150 more students will soon receive a second chance at education in the form of a St Jude's Scholarship. Like Perpetua, they'll receive learning resources, safe boarding accommodation, meals, uniforms, tuition, extracurricular activities, and transport, completely free of charge. For every one of these students, the journey towards a successful secondary education began on 21 November 2021; Scholarship Application Day.
It's no secret that English is a difficult language to learn. However, as the most widely spoken language in the world, it's incredibly useful to know.
In order to help St Jude's students become the best English speakers they can be, the school has introduced an ESL (English as a Second Language) Program, where students learn using state-of-the-art computer software, in addition to their regular English lessons.
Since the school's establishment, English has been the language of instruction at St Jude's. Students read, write, and speak English daily, and achieve outstanding exam results. So, what more can the ESL Program offer St Jude's students?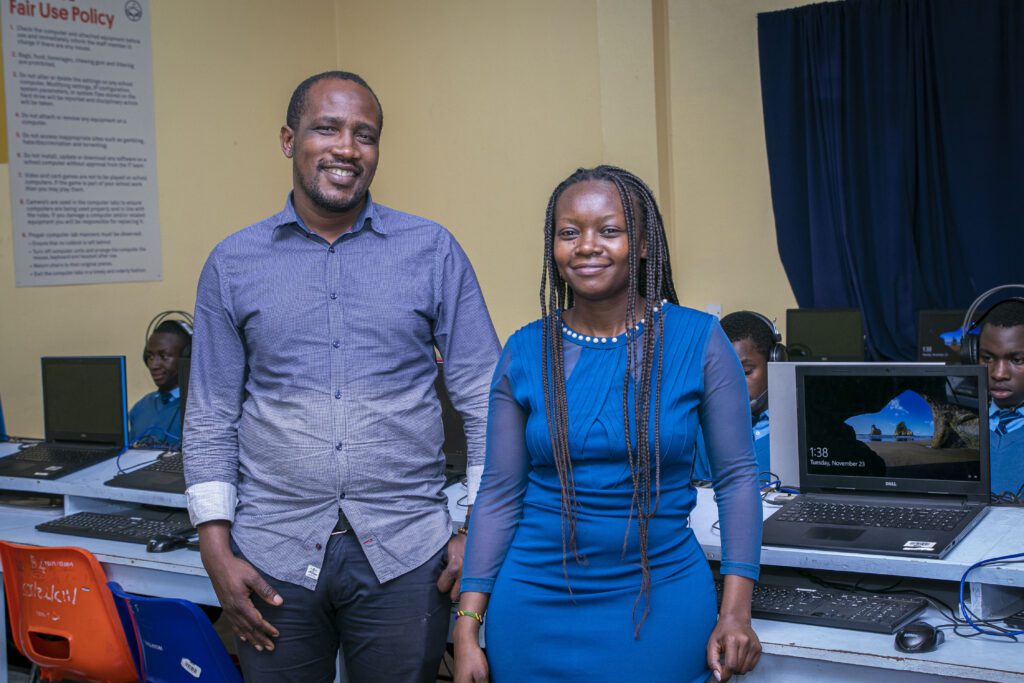 "There's no worry about whether our students can read or understand English," says Mr. Valence, Head of ESL at St Jude's Secondary School. "Our ESL Program is aimed at improving their speaking skills. We have tailored it to focus on listening and speaking skills."
Ms. Mary, another ESL Teacher, elaborates, "Regular English classes are more focused on examinations and the mechanics of language, but ESL classes are more focused on conversational English, like, how students can interact with other people using the English language."
And how does the software help the students learn?
"The ESL software is self-guided. The students use the computers and move through the modules and lessons. It's interactive and the students can read, write, listen, speak and get instant feedback," explains Mr. Valence.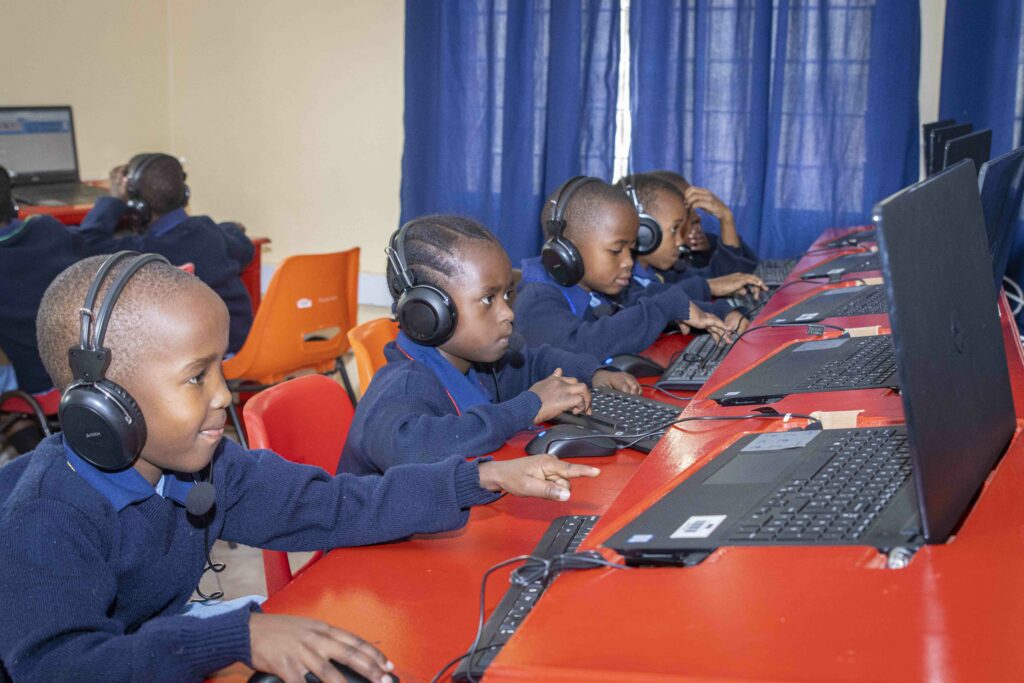 In order to implement the program, St Jude's ESL staff have worked with the IT team to create four dedicated ESL Labs – two at St Jude's Secondary School, one at St Jude's Girls' Secondary School, and one at St Jude's Primary School. Here, students from Standard 1 to Form 6 attend twice-weekly lessons under the guidance of the school's five specialist ESL teachers. Students can also visit the labs during free periods and on Sundays.
One student who is already benefitting from the new ESL classes is Shani, in Form 1. Twice a week he visits one of the two dedicated ESL Labs at Smith Campus. Under the guidance of Mr. Valence, he collects a headset, logs into his profile, and begins learning.
"I started secondary school this year after attending primary school at St Jude's, so I have been speaking English for many years," says Shani. "I feel good about ESL because it is helping me improve my English speaking. I think it is very useful."
With strong English skills, when students like Shani graduate from St Jude's, they'll be better equipped for tertiary studies and eventually, employment.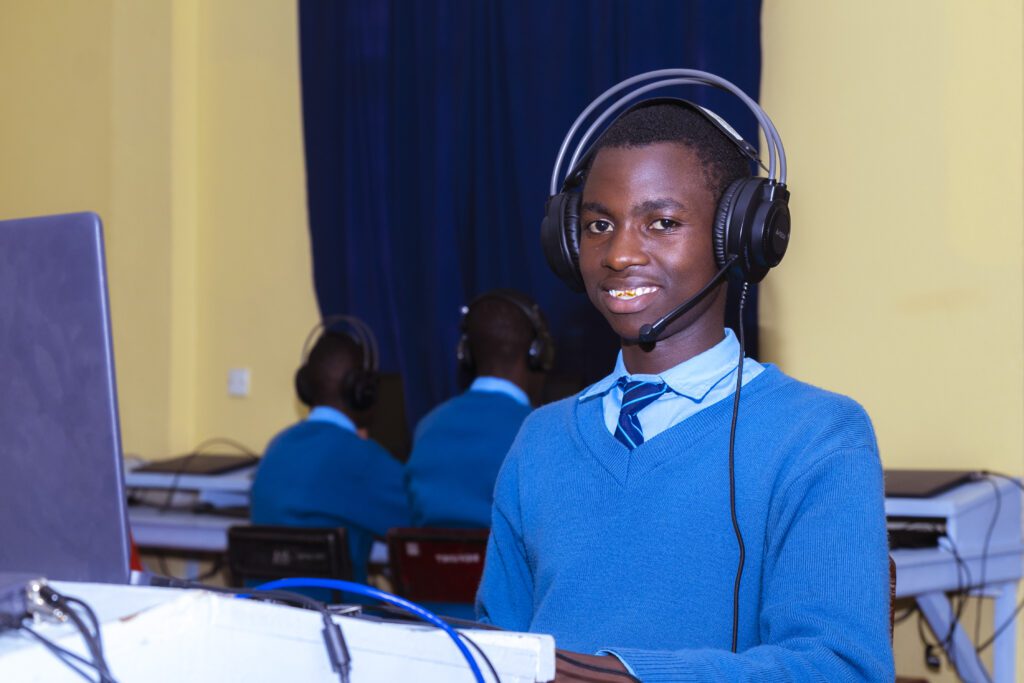 The program is particularly useful for students who join St Jude's in Form 1 or Form 5. "ESL helps these students a lot because the medium of instruction for all their subjects is English. ESL helps them catch up quickly and learn new vocabulary to help them learn in all their other classes," says Ms. Mary.
One way the software helps students improve their speaking is through voice recognition technology. When students speak into their headset microphone, the software rates their pronunciation. As students improve, they move to the next module where they learn more challenging skills.
"They really like that challenge. And they get competitive with each other too! They really enjoy it," smiles Mr. Valence.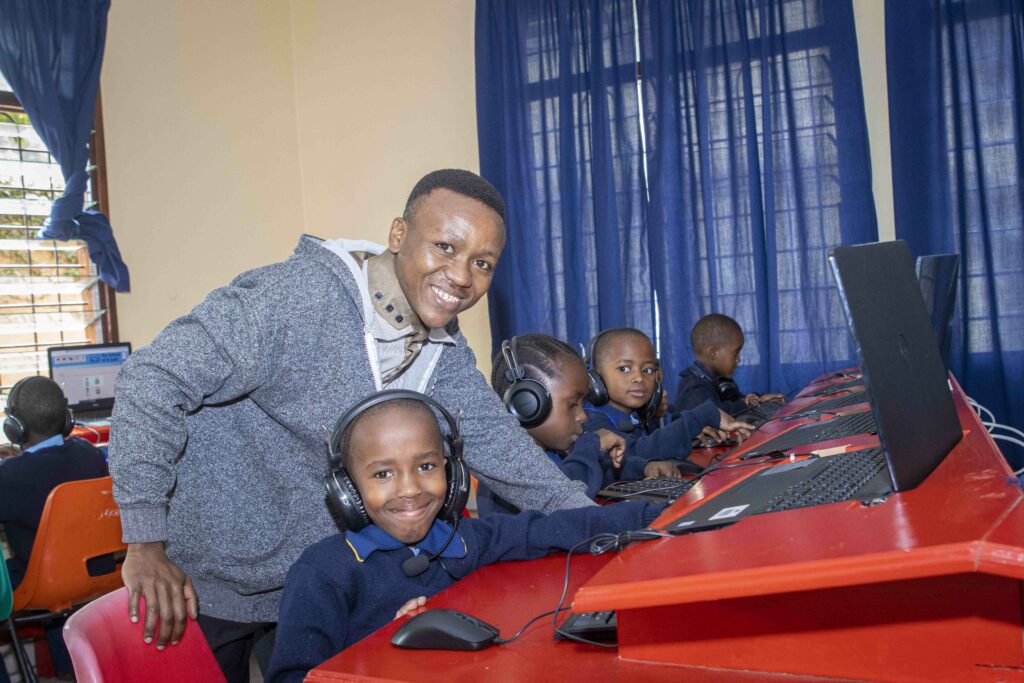 But ESL isn't just fun and games, it's already bringing tangible benefits to St Jude's students as they move through the modules and build their skills.
"I see that they want to try hard and break barriers. They want to be the best they can be in conversational English," says Ms. Mary of her hardworking students.
"It's always great to see someone change over the course of time. When I receive students who can't pronounce words very well developing into competent students who are confident in the language, who can speak well and communicate freely and accurately… it brings me joy to see that change," says Mr. Valence.
As a school, St Jude's aims to provide students with an international standard of education, which includes English as a key element, in order to help them break the poverty cycle. Now, with the advent of our ESL Program, students will receive a further opportunity to become world-class English speakers.
Taking their seats, proud parents gather during the Standard 7 Graduation ceremony to watch their children receive their primary school leaving certificates. This is a special day for the students as it signifies the end of their primary education.
Primary education in Tanzania is the first seven years of school. Students begin in Standard 1 and graduate in Standard 7 before moving on to the secondary level of education.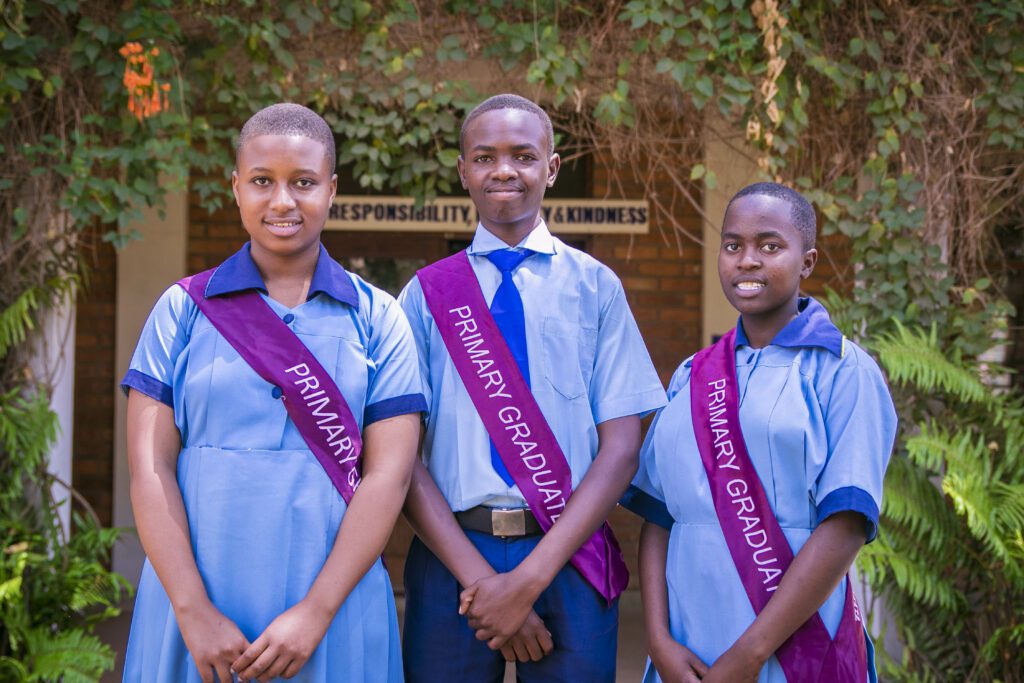 Alice, Hans, and Julieth are among the students graduating from Standard 7. They received their academic scholarships in 2015 following a thorough and fair scholarship application process.
Every year, The School of St Jude offers academic scholarships to bright, poor students with the vision of fighting poverty through education.
"It's been a good seven years. I am excited to be graduating today. I can't wait to start my secondary education," says thrilled Alice.
"My hope for the future is to become an optician," she adds.
Sharing the same sentiments is Hans who hopes to be a pilot in the future. "I would like to focus on science subjects in my secondary education. I would like to be a pilot. My dream is to one day to fly far and beyond, reaching countries such as India and Australia."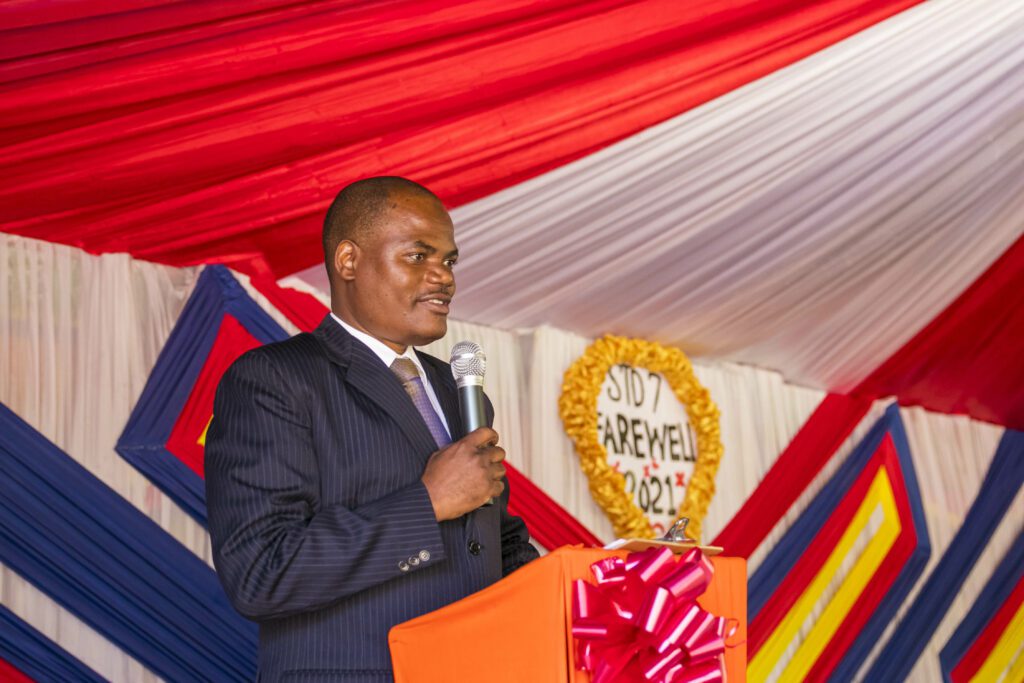 Pleased with the Standard 7 results is Mr. Silomba, the primary Head Teacher, "I'm happy with this year's results. We've made it to the top 10 position in both the district and regionally," explains Mr. Silomba.
From more than 10,000 schools in the country, Standard 7 results have placed St Jude's in the top 0.6% of Tanzania.
"88 primary students sat for the National Examination this year, 47 girls and 41 boys, and they all passed with flying colours," adds Mr. Silomba.
Dedicated to educating the future leaders of Tanzania, Mr. Silomba strives to see the best in each student. "Teaching is an honourable profession. It is a fulfilling career. As you see the students you taught when they were young, grow up to become young leaders in their communities and have completely transformed their lives. Knowing that you played a role in it is a rewarding feeling."
Having worked at St Jude's since 2013, Mr. Silomba has seen five Standard 7 groups graduate.
"At St Jude's, we are committed to providing world-class teaching. Our current focus is on a holistic education approach. Music, sports, and art are now integral parts of the curriculum."
"I believe that nurturing children's talents and developing their real-world skills and self-confidence will help us produce future leaders of this country", says Mr. Silomba.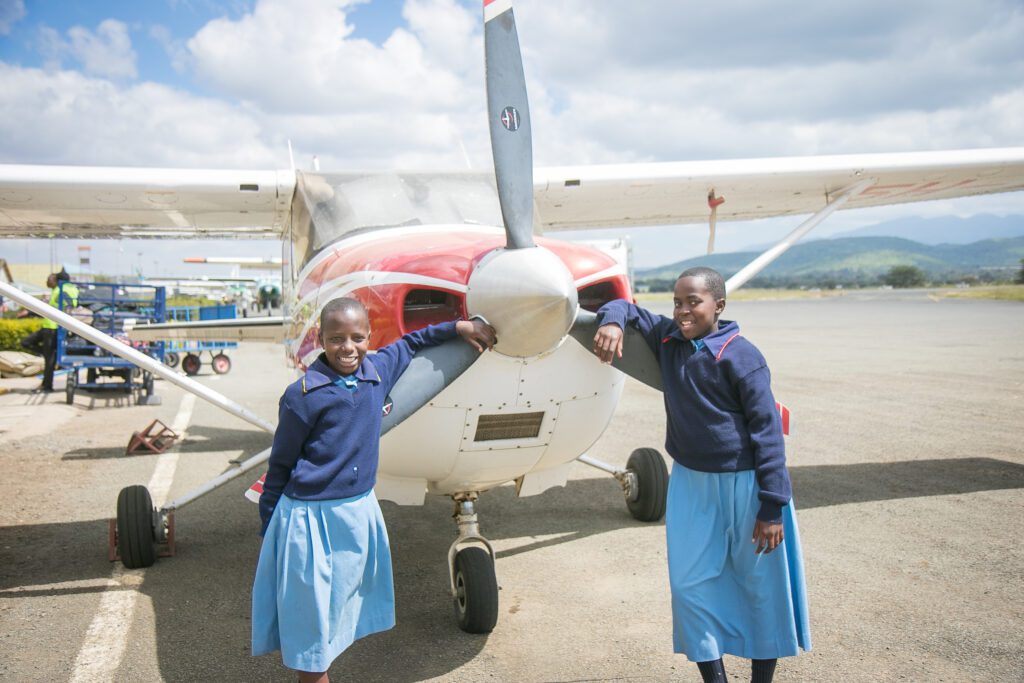 St Jude's encourages students to become well-rounded individuals. The school allows the students to volunteer for a variety of activities every year after they complete their primary education.
One of the volunteers was Julieth, "I volunteered at the primary kitchen. My duties included cleaning and serving food."
"It was a good experience. I learned how to manage and utilise my time well, a skill that will help in the future as I get ready to start Form 1," she adds.
Over the past two years, approximately 300,000 Tanzanian children have been unable to start secondary education due to a lack of space. Thanks to your support, Alice, Hans, and Julieth are now able to move on to secondary education with a hope for future success.
As you approach the dining hall at St Jude's Girls' Secondary School, beautiful voices are heard singing and offering a thanksgiving prayer to St Jude.
Every October, The School St Jude celebrates St Jude's Day to honour the patron saint after which the school is named.
Students, teachers, staff and guests gather as a community and observe the school's culture, with a focus on giving back to the community and those in need.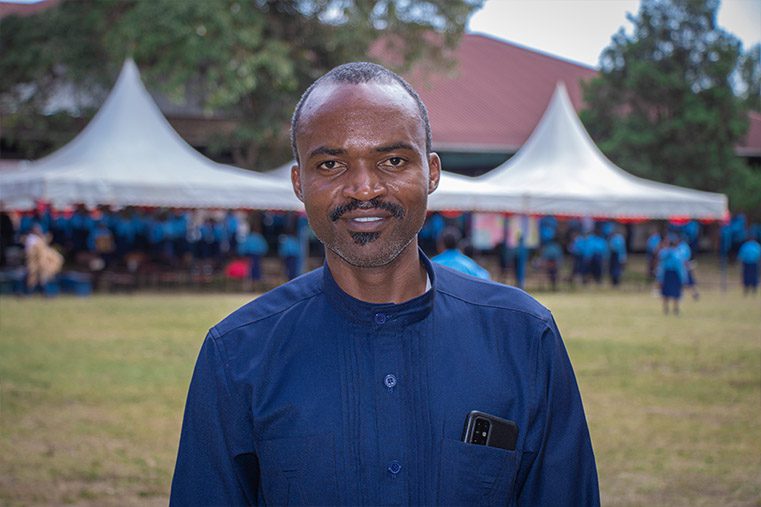 "To me, St Jude's Day is a day to commemorate what St Jude, the patron saint, did for the community. This is a day we express those good deeds," says Mr Elimringi, Headmaster of the girls' secondary school.
"During this day, we have a photo taken of the entire school and then we hold a special thanksgiving mass. In the course of the mass, our students, through their parents, offer items such as sugar, soap, toys and more, which are then donated back to the community and those in need," explains Mr Elimringi.
"The purpose of the offerings is to instill a spirit of giving in our students. It is important that they are ready to sacrifice for other people the way that our supporters sacrifice so that they can receive a free, quality education," he adds.
It was the first time that this special day was held at the girls' secondary school. "Being the youngest of the three schools, I feel honoured and proud to host St Jude's Day," says Mr Elimringi.
"I'm pleased with how the mass went. We prepared a delicious, special lunch for people to enjoy, and the entertainment was wonderful. As part of St Jude's Day tradition, students compete in traditional dance, drama, and singing. Students take today's competition seriously as each hopes to walk away with a trophy," states Elimringi.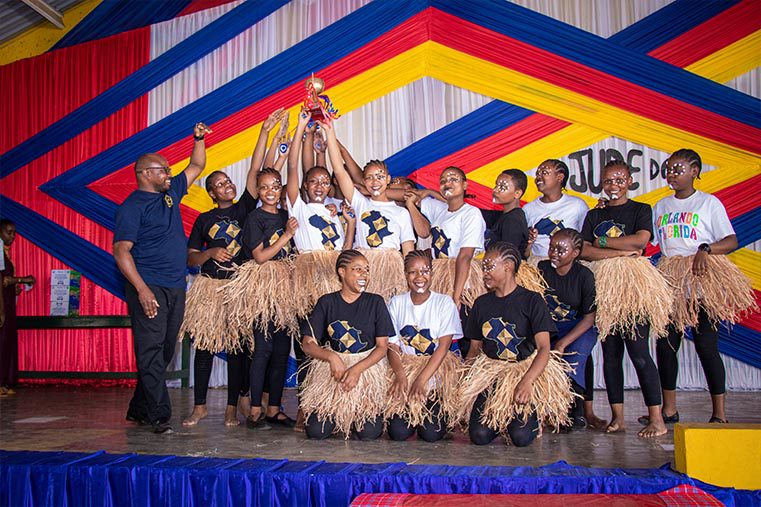 "We performed a traditional dance today," says Magdalena with excitement.
Magdalena, a Form 2 student, is one of the winners along with her teammates. "Our performance was awesome. This is why we won," says Magdalena.
"There was a lot of competition today, and other groups also performed well. So, I'm glad we won because winning always feels good," she says with a smile.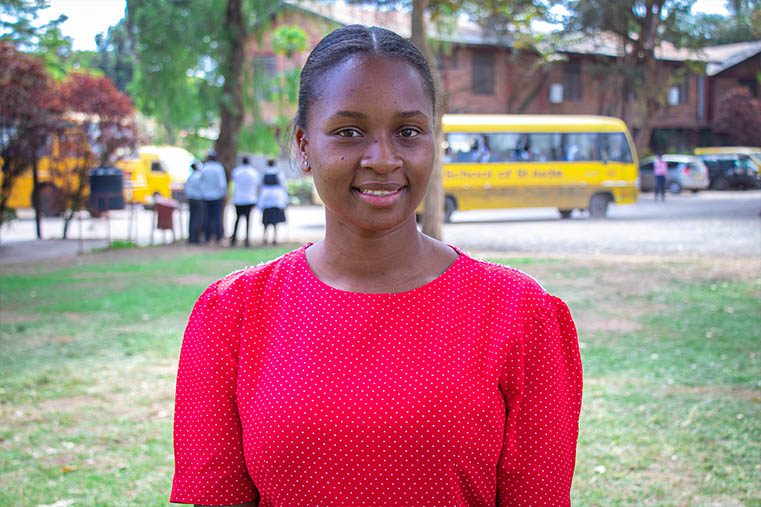 St Jude's Day is filled with festivities, which students, teachers and non-academic staff can enjoy.
"It is my first time attending St Jude's Day," says Winfrida, who works in the Head Office helping to communicate with our supporters.
"It's a beautiful and memorable day. The highlight of my day was seeing the students from all three schools come together to celebrate this day as well as the teachers and non-academic staff," says Winfrida.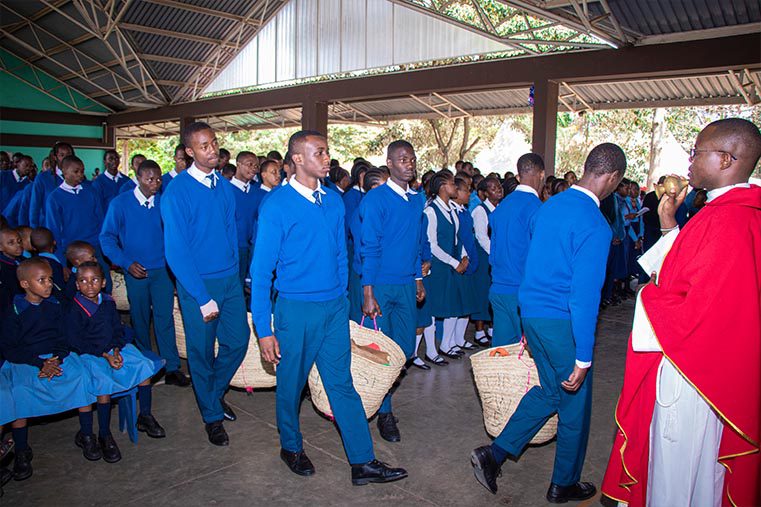 "It was moving! One of the biggest memories I will carry from this day was how students gave offerings during the mass so that whatever they offered could be given to those in need. This demonstrates that our school extends its helping hand beyond its borders, as well," she adds.
The act of giving is one of the pillars of St Jude's culture and is an important component of creating strong, moral leaders of Tanzania.
Is there such a thing as too many celebrations? We don't think so!
October has been a month of celebrations here at St Jude's. Each weekend has included an exciting event, commencing with Cultural Day at St Jude's Secondary School, followed by Form 4 Farewells for our Form 4 boys and girls and concluding with the Alumni Reunion.
Cultural Day at St Jude's Secondary School
Tanzania is home to more than 100 tribes, 69 of which are represented in the St Jude's student body. Each of these tribes has its own songs, dances, foods and fashions, which makes Cultural Day a diverse celebration.
This year, as always, St Jude's Secondary School's Cultural Day was a colourful event. Students performed traditional dances, sang songs in Kiswahili, and modelled their own handmade fashions in the hopes of being crowned the winners of their section.
Tumaini, in Form 6, presented a selection of original outfits for the design section. "I have always been a designer," she explains. "When I was a kid I'd spend time with tailors in my village making ragdolls and outfits for those dolls. My fashion designs carry a message, this year my collection was based on preventive measures against COVID-19. I spent my time creating designs that could attract people but still raise awareness of the preventive measures against COVID-19," Tumaini reflected.
In the audience were students, community members, staff and invited guests from a local cultural centre. Although Cultural Day is a lot of fun, it is also a competition, and the students were all hoping to win. In the end, the Bugana Group were crowned winners of the poetry section, Graacious Group won both the dance and choir sections and Swahili Fashion, Tumaini's fashion line, won the design section. All winners received an enthusiastic round of applause!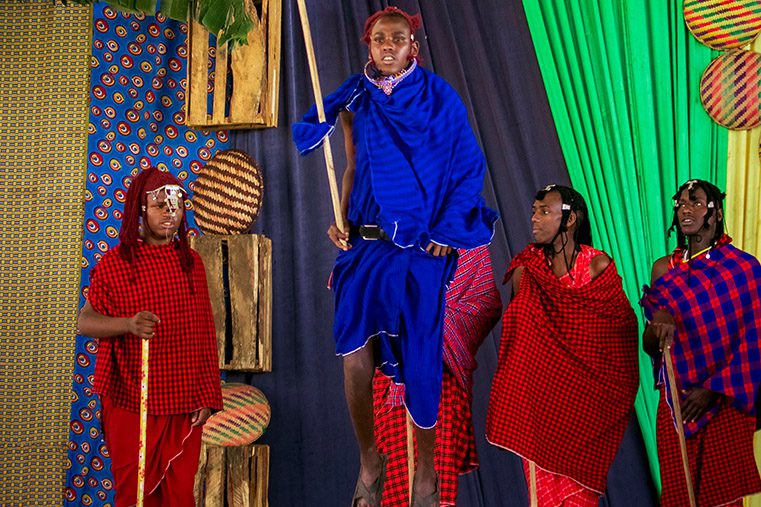 The high-energy event finished with a delicious lunch, including many different cultural specialties.
Boys' Form 4 Farewell
The ninth of October was a very special day at St Jude's Secondary School; the Form 4 Farewell. In Tanzania, Form 4 is the fourth year of secondary school and marks the end of O Level studies.
The average education level of St Jude's students' mothers is Standard 7, the final year of primary school and for students' fathers, the average education level is Form 2, the second year of secondary school. So, graduation from Form 4 is a huge milestone for St Jude's students!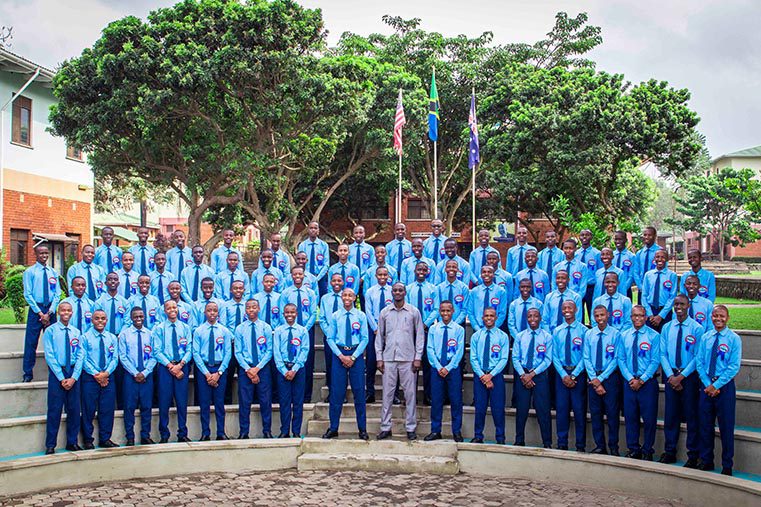 For Ally, one of the 66 graduating students, the day was made even more special by the presence of an American visitor, Laurel. Laurel and her husband, Jeff, have sponsored Ally's academic scholarship since 2018 and visited the school in the same year. In addition to being a sponsor, Laurel also sits on the American Friends of St Jude's Board, where she works to increase knowledge of St Jude's among Rotary clubs in the US.
When Laurel heard that Ally's Form 4 Farewell was approaching, she organised a group of friends; Marcia, Adrienne, Sally and Sandra – all members of the Cultural Arts Rotary Club of Fresno, California– to travel to Tanzania to cheer Ally. The Rotary club are committed St Jude's supporters and even sponsor the scholarship of a St Jude's student. Back in 2014, Laurel was the incoming President of her Rotary club, and attended the Rotary International Convention in Sydney, where she heard Gemma speak about the school.
"The ladies who are here with me today remember me coming back to our club and saying, 'We have to get involved with The School of St Jude' – I went on and on! So that's how our club got involved. I sponsored a scholarship for a student, Ally, and then our club started to sponsor a scholarship for another student. When I decided to visit St Jude's again this year, all I had to do was say, 'I'm going' and then everyone wanted to come too."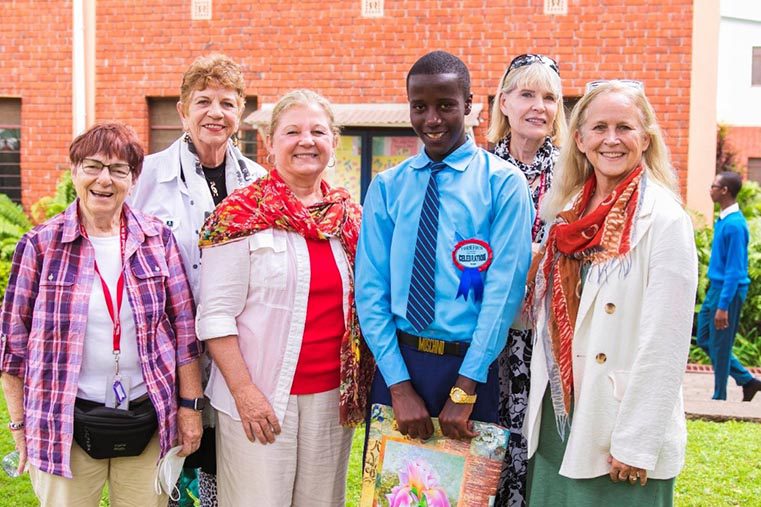 At the event, the visitors were not just audience members, in fact, they helped out by handing the students their certificates on stage. It was a very special moment when Laurel handed Ally his Form 4 graduation certificate.
"That was the highlight of my whole trip," says Laurel. "I had no idea I would be handing out certificates, but seeing Ally walk across that stage was certainly the highlight. I'm just so proud of him."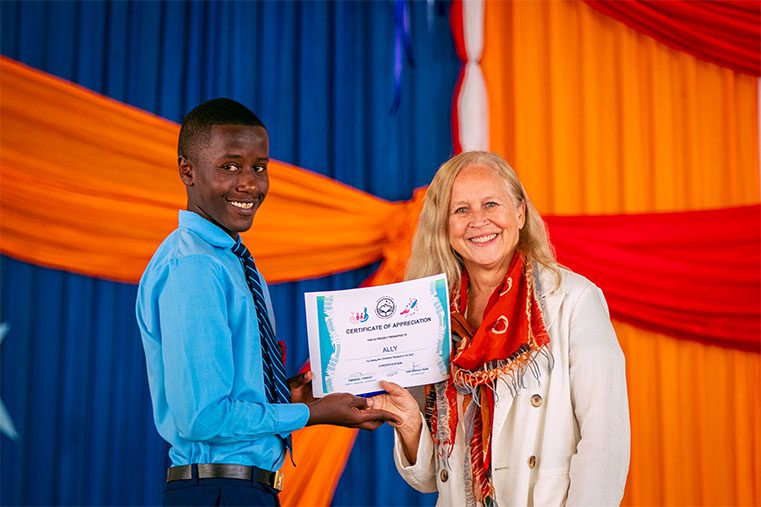 Girls' Form 4 Graduation
Since the opening of St Jude's Girls' Secondary School in 2020, St Jude's has enjoyed celebrating not one, but two Form 4 Farewells each year. While both Form 4 Farewells celebrate the same milestone, the individual schools bring their own spirit to the event.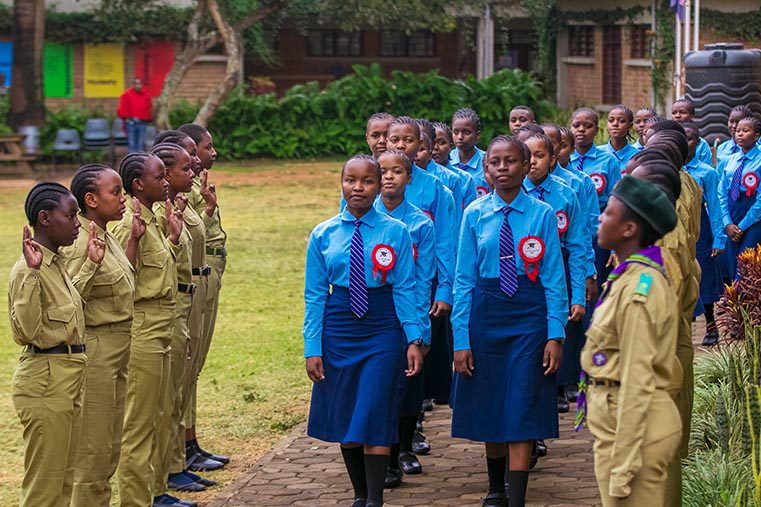 On the morning of the girls' Form 4 Farewell, parents, students and special guests arrived at St Jude's under grey skies, but as the joyful ceremony progressed the sun began to shine to complement the celebrations. The whole audience enjoyed listening to inspiring speeches by students and special guests and each of the 115 students received a certificate to commemorate her completion of O Level studies.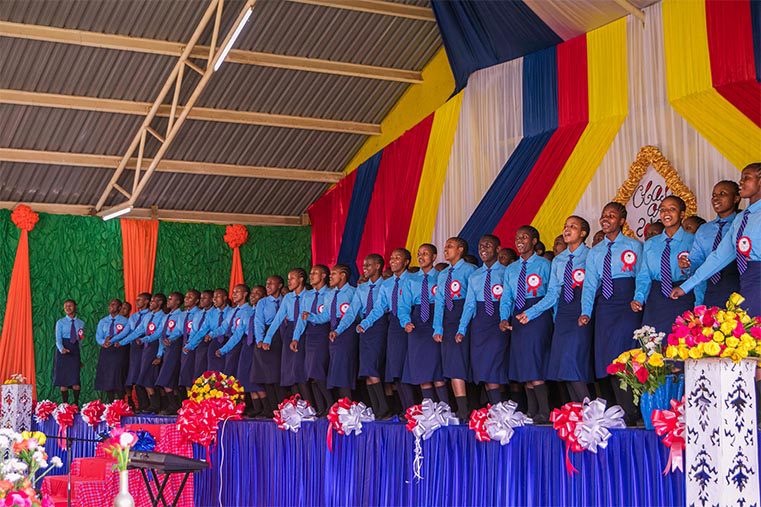 Perhaps the most moving moment of the ceremony was a special song written and performed by the graduating class.
Today is the day
When we celebrate
By holding eachother once again
Today is the day
When we celebrate
By sharing love and joy to everyone
As these lyrics rang out across the school, it was a poignant reminder of what these students have achieved so far and their achievements yet to come.
Alumni Reunion
St Jude's students spend up to 13 years learning, living and growing together with their classmates. These are strong connections, but after secondary school, graduates must make their way to universities and colleges right across Tanzania, Africa and the world, to continue their learning journeys.
The annual Alumni Reunion is an opportunity for St Jude's 800+ alumni who graduated from 2015 to 2021 to reconnect with eachother and share their knowledge with St Jude's students.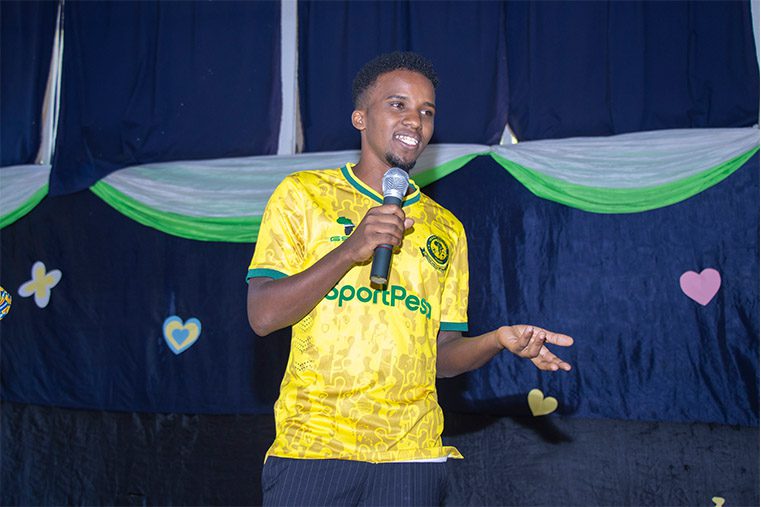 The Alumni team organised for alumni to share their experience of university and employment with senior students. Keynote speakers, including Thomas, a recently graduated Occupational Therapist, and Vedasto, a graduate in the conservation and wildlife management sector, shared their stories of finding their passions and forging a path for themselves through study. Then students split into groups for Q and A sessions about their areas of interest.
In the afternoon, it was time for sports! Alumni and students went head to head in games of football and basketball, both of which were narrowly won by the student teams.
In the evening, alumni enjoyed the main event of the weekend – a special dinner, alumni awards and dancing. Old friendships were reignited and new friendships were formed between alumni from different graduating years.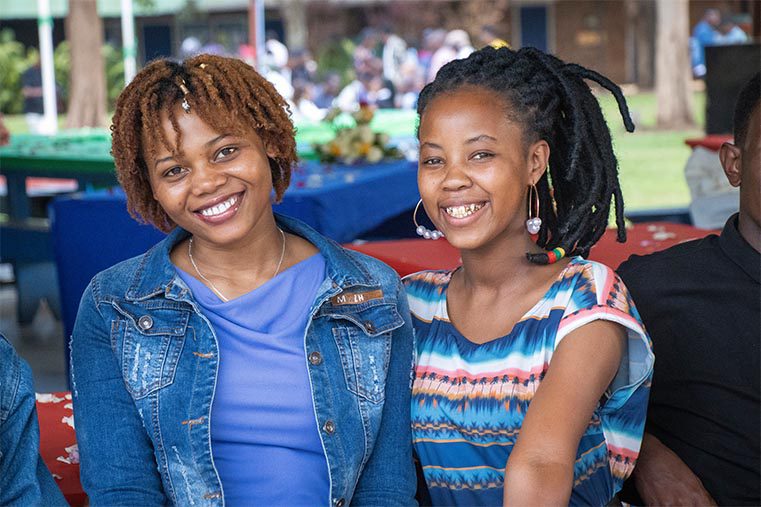 Founder, Gemma Sisia, made the opening speech, during which she reminded alumni to maintain the bonds of friendship they formed at school.
"I still visit my old school every year when I'm in Sydney," she told the assembled alumni. "Don't forget to keep up with your classmates as you never know how you can help eachother." The daily work of fighting poverty through education keeps the St Jude's community busy, but there is always something to celebrate at St Jude's, from big events like graduations, to smaller milestones, like a Standard 1 student learning a new word. This month, the whole community appreciated the opportunity to pause, celebrate and reflect on recent achievements.