The results from our first ever Form 6 national exams have been released and the achievements are inspiring. 
Years of dedication has paid off for our incredible students, who all passed, with more than half of them achieving the highest possible mark of 'Distinction'. The class also ranked in the top 10% in Tanzania for chemistry, economics, advanced mathematics and physics.
The results placed St Jude's 3rd in our Region and 25th in the Nation!
The full results illustrate the success of our hardworking and talented graduates:
Individual pass marks:
| | |
| --- | --- |
| Distinction |  32 |
| Merit |  19 |
| Credit |  9 |
| Pass |  1 |
| Fail |  0 |
Class rankings by subject:
| | | |
| --- | --- | --- |
| Subject |  Regional Ranking  |  National Ranking  |
| Accountancy | 1/5 | 10/50 |
| Advanced Mathematics | 4/17 | 15/245 |
| Biology | 3/15 | 25/220 |
| Chemistry | 4/17 | 12/234 |
| Commerce | 2/5 | 14/50 |
| Economics | 2/17 | 16/207 |
| Geography | 5/27 | 81/403 |
| History | 3/26 | 44/374 |
| Physics | 4/13 | 22/210 |
We couldn't be more proud of our inaugural graduates, who have set an exceptional example for their St Jude's peers to follow.
Click here to find out more about sponsoring one of these future leaders.
While visiting The School of St Jude for our recent graduation, Australians Julie and Kevin Smith shared their experience about sponsoring new graduate Amos and Form 3 (Year 9) Student Faith.
"We started sponsoring Faith about nine years ago. We found out about St Jude's when Julie saw a program on Australian television, Sunrise.
The same day, she said, 'look, I've got to find out more about this school' and went out and bought the book, and we had a look at what it took to be a sponsor," Kevin explained.The Western Australian couple also started sponsoring Amos when he began at St Jude's in Form 1.
"It's been a great experience watching them grow, we've seen the school grow as well from those fairly humble, small beginnings. We've thoroughly enjoyed it," Kevin said.
"This is the second time we've visited the school. In fact, this time we've spent lots more time with them then we did the first time, which has been really nice," Julie said, explaining that staying at the same campus has allowed them all a great opportunity to build their relationship, even with Amos' parents.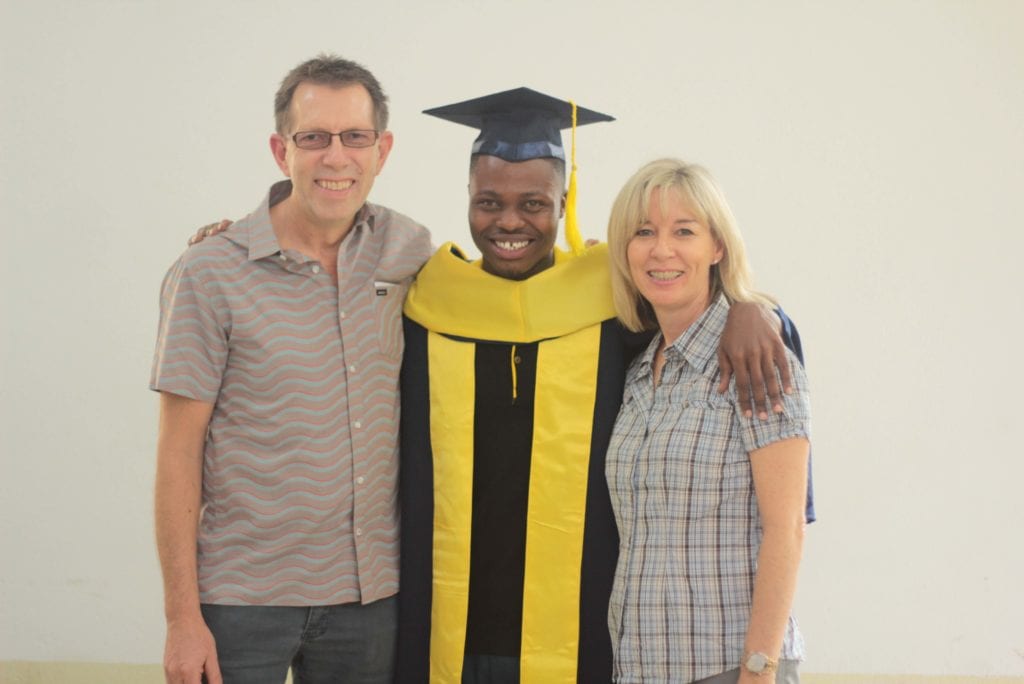 As parents with two daughters of their own, it's clear that Kevin and Julie also hold their student sponsorship relationships very close to their hearts.
"I think we get a lot more back than what we give. It's really lovely to see (Faith and Amos) grow and to know that you're helping someone that may not have been able to do this. They don't have the opportunities here, and we come from such easy backgrounds so to help someone, make it easier for them, is very satisfying," Julie said.
"We have their pictures alongside our girls' pictures on the kitchen counter - they're just part of our family. One big, happy family," Julie said.
"When we first started sponsoring, our girls were much younger, they were still teenagers themselves," Kevin said, adding that their daughters would excitedly open and read the letters from Faith and Amos.
"It's really benefitted our children, because they have a very easy life," Julie said, laughing.
"Although they don't correspond directly with these two, they certainly know about all the letters that I get. I quite often read the lovely letters we get from the children, and Faith's quite good with her drawings as well.
"We also get letters from the girls in the boarding house, so our girls get to see all of that. Of course, we've told them everything about the school and how wonderful it is.
"They're quite aware now how lucky they are, with the life that they've had. We would love to bring them and shown them, but they're both adults now and they have jobs, but hopefully one day we'll be able to bring them."
It's clear, as the four of them sit comfortably in conversation on a sunny Tanzanian afternoon, that the Smith's visit has been mutually beneficial.
"Being sponsored by Julie and Kevin is such an amazing opportunity, so I really appreciate that. I am so happy I will be together with my sponsors and my parents for this very special day (graduation). I think it's going to be amazing, it will be wonderful," Amos said with a grin.
"In Tanzania, the education system is very different and it is very hard. In public schools, the situation there is very hard. There is a lack of resources, such as books and teachers, but here at St Jude's the situation is a little bit different.
"For example, in studies, we have enough books so you can study very easily, and the school also has got a very big library where there are many different kinds of books.
"The school also has other resources such as computers where you can go and research different information, so at St Jude's the education system is very improved compared to government schools. I am very happy to be in such an institution that cares about education."
"It's so interesting to be sponsored – they have been sponsoring me since I was at prep and Grade 1, they give me challenges and I'm proud to be at St Jude's. It's really fun," Faith added, a shy smile spreading across her lips, as her eyes flick over to Julie and Kevin.
Later that night, during a student-held variety concert, Kevin and Julie watched Amos demonstrate one of his passions – dance.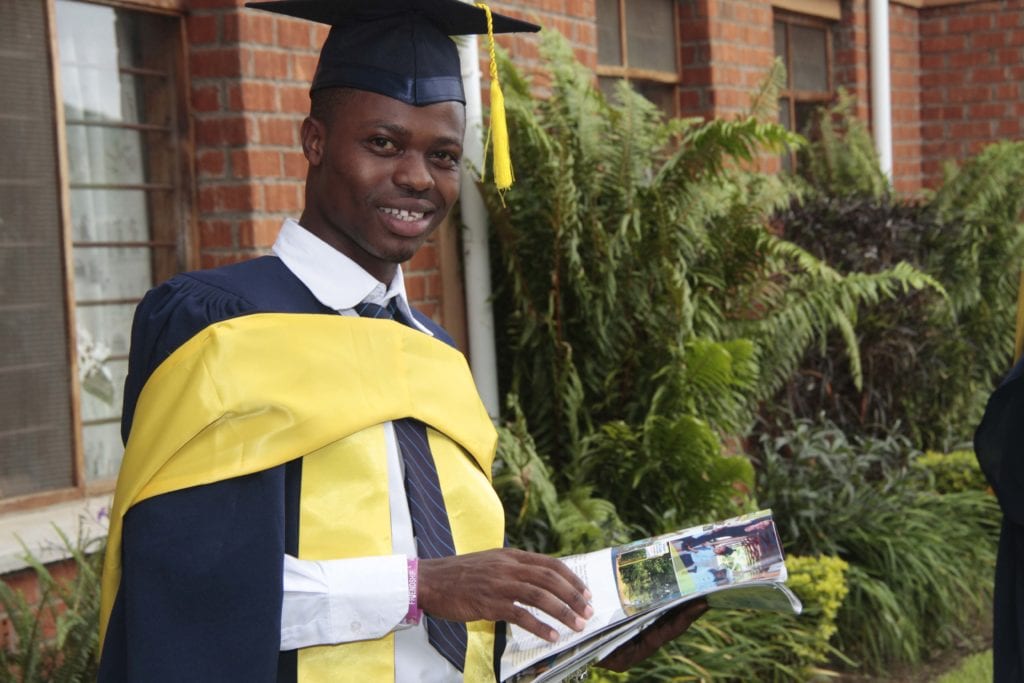 "I like dancing, I like to do artworks, I mean drawing cartoons, playing soccer and singing," he said.
Julie said she was pleased the couple could mate it to Tanzania to witness Amos graduate from Form 6.
"We're so happy to be here for graduation and to see (the Form 6's) come to the completion of their secondary schooling," she said.
"It's also wonderful to know that they're going to continue on and that we can hopefully continue to support them to fulfilling their dreams - Amos has some wonderful dreams and some great plans to get to those dreams, and they're all very positive and happy about what they're doing."
It was 13 years in the making, and it lived up to the hype.
Supporters from around the world flew to Arusha on Saturday to celebrate The School of St Jude's first ever Form 6 graduation.
The milestone event saw the 61 students, proudly draped in gowns of navy blue and canary yellow and wearing matching mortarboard hats, complete their secondary schooling.
More than 500 local family and community members, special guests, fellow students and school staff attended the event at the school's Smith campus at Usa River.
"I am so proud of these students and what they have accomplished," school founder Gemma Sisia said.
"This is a very special time for both them and the whole St Jude's community."
Special guest Deputy Education Minister Anne Kilango Malecela expressed her high expectations for the students, and wished them well in their future pursuits.
The ceremony featured cultural songs and dances, as well as special "gifts" of chickens and a goat to various honourees.
The School of St Jude's opened 13 years ago with just three students, and now almost 2000 of Arusha's most promising and underprivileged pupils receive a free education there.
Each year the school accepts 150 new pupils, who are tested and screened to see if they pass St Jude's education and poverty tests before receiving a free education.
The school will continue to support the students in the coming year as they embark on community service, with the majority volunteering to teach at government schools around Arusha.
A Q&A with Gemma Sisia, lunch with Australian Story producer Ben Cheshire and a collaborative art project were the highlights of a jam-packed second day of our Graduation celebrations.
As excitement builds ahead of our first ever Form 6 graduation on May 30, visitors have been soaking up the opportunity to get to know our students and learn more about our school.
On Thursday, school founder Gemma Sisia hosted a Q&A session where she talked about St Jude's and how we will continue to support students as they embark on tertiary education.
Australian journalist Ben Cheshire, whose coverage on Australian Story was vital to spreading the word about St Jude's, shared his story over lunch at our Smith (secondary school) Campus.
Our Form 6 students guided visitors through an "Achievement Exhibition", showcasing some of the highlights from their education at St Jude's.
"It was just beautiful," said Suzie, a representative from the organisation Clarendon Residential Holdings, which has been supporting St Jude's since 2005.
"It was heartwarming and the students were just so excited and so inspirational with the achievements that they need and they want."
The exhibition displayed academic achievements as well as some of the inspiring extra-curricular activities our students have undertaken.
"We saw examples of their commitment to community service," said Charlie, a St Jude's supporter from Australia.
"(We saw) some fine examples of serving rather than taking for granted or just self-centredness."
The "Big Picture" is an art project, created by Form 6 students and visitors that highlights the history of the school.
"The idea is about the evolution of the school, from where it starts up to the moment," said Dickson, one of our secondary school art teachers.
The day ended with a visitors, where everyone unwound and prepared for another day of activities.
Our first ever Form 6 graduation is almost here.
With three days to go until the May 30 celebrations, visitors began festivities by soaking up the culture and fun at our Smith (secondary school) Campus.
The day began with students treating our visitors, who have traveled from all over the world to join us, to an entertaining drumming and dance performance before joining them for a relaxing lunch.
The fun ramped up in the afternoon at a sports session that included Form 6 students and their longtime sponsors playfully pelting each other with wet sponges, competing in an egg-and-spoon race, then a fun game of volleyball.
The day ended with a warm welcome dinner at our Sisia (primary school) Campus and yet another entertaining display from our talented primary school students.
There is an air of trepidation when speaking to a soon-to-be graduate of St Jude's.
Like most final year students, there is a mix of nervousness around finishing up school and excitement about taking their first tentative steps into the "real world" as adults.
However, the Form 6 class of 2015 of The School of St Jude carry a heavier weight of expectation than most, as they are the first ever graduating class in the school's history.
Hosiana Jonas is one such graduating student. She has been at St Jude's since starting as a Year 1 student in 2004. The second eldest of four children, Hosiana is a member of the Maasai tribe and comes from a small farm close to Arusha.
She is very aware of the significance of her time at the school.
"St Jude's has really changed my perspective of my future," she says.
"In the past I could only see darkness in front of me," she said. "St Jude's gives me an opportunity across the country and the world. I got to meet people from around the world and was encouraged to express my talents in different ways".
An excellent student, Hosiana's talents are extensive and she has a love of scientific subjects including chemistry and physics. Her favourite is biology.
She plans to put this aptitude to work when she goes on to study medicine at university, specialising in orthopedics. She said she realised that her life as a tertiary student will be very different to her time at St Jude's, yet is looking forward to the independence university will afford her.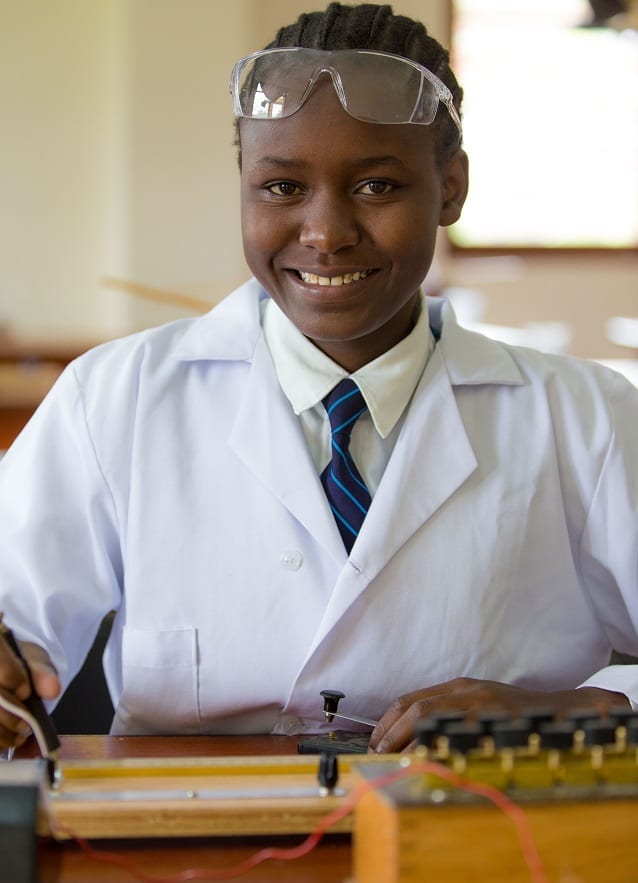 Although she will have to get used to having no timetable and having to organise herself – a situation very different to being at boarding student!
Before embarking on her tertiary studies, Hosiana will experience another, different journey. For one year she will undertake community service, teaching physics and chemistry in a local government school.
With classes of up to 50 students and no labs, Hosiana knows she has her work cut out for her. However, it will come with a reward as she will be able to return home after being away for so long.
"I am looking forward to spending time with my family as I have been boarding for many years," she said, a smile on her lips and eyes dancing.
She will be no stranger in her role as teacher, as it is one that she has played within her community for many years.
In the tradition of St Jude's, she has shared the knowledge gained throughout her schooling with her siblings and friends.
Her whole community is ready for the next step in her journey and "are eagerly waiting for me to make the most of my opportunity", she said. "I will need discipline and I am hard working. I will help my community and care for others, not just myself," she said.
Like all of the students graduating in her class, there are high expectations on her young shoulders. However, with the continued support of St Jude's, her sponsors, her community and a simple steely look of determination that gives away more than she can say, it's most likely Hosiana will exceed all expectations.