For decades International Women's Day (IWD) has been bringing awareness to equality and empowering women from all walks of life to achieve their hopes and dreams in business and community.
Australian humanitarian Gemma Sisia (nee Rice), who established the School of St Jude in Tanzania in 2002, is one of the many women making a difference to underprivileged people on the world stage.
She will be special guest at the IWD luncheon to be hosted by Salamander Bay Rotary Club at Soldiers Point Bowling Club on Wednesday, March 6, from 11.30am.
Rotary president Ina George said that the club was proud and honoured to have Gemma to provide her inspirational story on a day celebrating the strength, courage and resilience of women everywhere.
"We are indeed fortunate to have Gemma as our guest speaker to provide an insight into how she started fundraising to invest in the education of Africa's poorest and the support she received from friends, family and Rotary groups," Ms George said.
"We in Port Stephens are also fortunate to have women in prominent leadership roles in business and community who are passionate about making a difference."
Some of those women include Leah Anderson, president of the Tomaree Business Chamber who was founding member and first president of the Port Stephens Women In Business.
Emily Perry now heads the Women In Business organisation, and Kathy Rimmer, the Port Stephens Business Person of the Year, is into her second year as president of the Nelson Bay Rotary Club.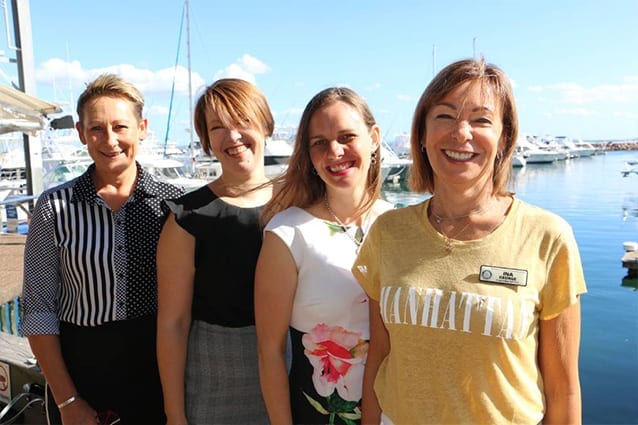 Ms Anderson said that organisation and prioritisation were key elements in most women's lives, many who have to juggle family life with career.
"Most of the successful women I know have very busy lives but they mange them through planning and making time for family, socialising and charity work," said Ms Anderson.
Ms Perry, who juggles two businesses and family with two young children, said she was grateful for the support of Women In Business.
"The group has taught me many things and the motto of 'Connect, Inspire, Support' sums it up. We have a fantastic mentoring program, we are active in support of each other and also in support of charitable organisations."
Ms Rimmer said that work/life balance became most essential to her after she was diagnosed with multiple sclerosis in 2013. "I learned the art of saying no and the importance of doing what you love, and love what you're doing."
Charlie Elias, The Port Stephen Examiner (read original article here).
After moving from her home in Australia to Africa at the age of 22, Gemma Sisia decided to start a school in Tanzania with the mission of educating the nation's smartest students who did not have the means to attend private school. 16 years on, the School of St Jude is thriving, with around 1800 students on academic scholarships, and 90 per cent of the funding coming from Australian donors. Ms Sisia joins Sky News with one of her star students, Godwin, to discuss the inspiration behind founding the school and the great things its students are achieving.
Bega solicitor Andrew Warren is pumping up the tires ready for a cross-country bicycle ride – in Tanzania!
In February 2019, Mr Warren plans to ride the length of the African country, alone and unsupported, to raise funds for the School of St Jude in Arusha, Tanzania.
All up, the ride covers about 1600km.
"If you agree to sponsor me, you will get your money back if I do not pedal every kilometre of the way – I promise!" Mr Warren said on his GoFundMe page.
Since only launching his fundraising page on Wednesday, December 5, he has already raised more than $2500 of his $3000 stated goal.
"If I can raise $3000 from sponsors of my ride, that will pay for a student to receive an education for a year," Mr Warren said.
Mr Warren said St Jude's provides a free, non-demoninational, high-quality education to children who, due to poverty and social pressures, would otherwise be unlikely to complete their schooling.
"I made contact with Gemma Sisia [the school's founder] about 15 years ago – she's an amazing woman," Mr Warren said this week.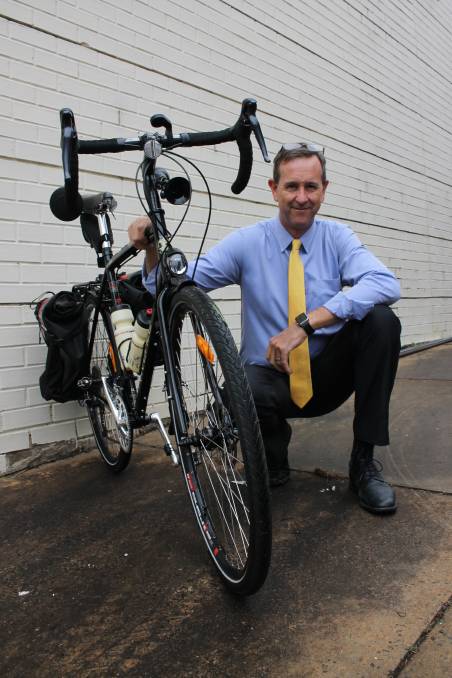 "She started the school with mud bricks and three children. Now it's three campuses with 1800 children.
"We sponsored some kids at the school years ago and then this year we visited the school on a family holiday.
"It costs only $3000 a year to sponsor a student and for they St Jude's provides full board, uniforms, all meals, books and pencils and so on.
"Every single one of their students was chosen because they combined academic promise with a desperately poor background and a great attitude to work. They feed them, house them, educate them, and do everything possible to ensure their students' wellbeing and future success."
Mr Warren said he could ride anywhere in order to raise some money for the school and its students, "but it seemed more appropriate to go back to Tanzania".
He heads out on February 8 – "it's all booked in so I can't back out now!"
"I'm not a competitive rider, just your typical middle aged man in lycra. I just enjoy going for a ride."
Mr Warren said he hoped to find guest houses along the route, but given the African country's landscape that may not always be possible.
"So I'm packing a tent but maybe I will need to hang a sign on it saying 'Lions not welcome'," he joked.
Bega District News (read the original article here).
Gemma Sisia's parents, Sue and Basil, fervently believed in the power of education to change the future.
The couple, who raised eight children on a sheep wool farm in New South Wales, Australia, made significant sacrifices to ensure that their seven sons and one daughter had excellent educational opportunities. They also were strong believers in community service.
"They had an open-door policy at home for people wanting to come, stay, and have someone to listen to them," she says. "My parents constantly showed me how important it is to help others."
So, it's not surprising that after she graduated from the Universities of Melbourne, Northern Territory and New England at 22 years of age, she took her newly minted Bachelor of Science degree and Graduate Diploma in Education to Africa. She taught math, science, and sewing at an under-resourced private girls' school in Uganda.
She loved the work but was aware that her students' parents were wealthy enough to afford private school for their girls. Gemma and the local art teacher who were good friends often talked about how to break the cycle of poverty that was rampant in East Africa, particularly for underprivileged girls. They concluded that without raising the standards of education across the board in the region, no amount of foreign money could alleviate the widespread poverty.
"That's where the seed of building a school was planted," she said.
Then came a fateful trip to Tanzania to visit one of that nation's beautiful wildlife parks – and Gemma fell in love with her safari guide. The two married, and while Gemma was looking forward to raising her own family (the couple has four children), she knew she also wanted to pursue her dream of a school that would provide an excellent education to Tanzania's poorest children.
She confided her dream to a close friend in Australia, who gave her 10 dollars. Gemma promptly opened up a bank account with that first donation. Her father-in-law gifted her with two acres of land in the Arusha District of Tanzania, so she'd have a site for the school. And her father, Basil, introduced her to the Rotarians.
Gemma shared her dream with local Rotary clubs in and around New South Wales. She told them the startling statistics of how poverty wrecks havoc with education in East Africa: according to UNICEF, 70 percent of children aged 14–17 years in Tanzania are not enrolled in school. Less than 4 percent make it to the final two years of secondary education.
"Without our school, these students might not attend school at all, or if they were one of the lucky few, their schooling would have been in an under-resourced government school with a handful of teachers for every 1,000 pupils," she says. "And without a good education, they won't be able to gain skilled employment, and their families would continue to lead lives of perpetual economic struggle."
Gemma was persuasive. By the end of her "speaking engagement" weekend, the Rotary clubs raised $20,000 towards the school. Not only that, teams of volunteers out of the clubs came to Arusha to build the two blocks of classrooms and a playground. The Brisbane Planetarium Club built the foundations of the school library.
Gemma named the school after the patron saint of hopeless causes, saying it is a nod to her unwavering faith in a cause that thousands of people, united by a shared dream, have worked tirelessly to support.
The School of St Jude opened in 2002 with a mere three students, but it grew quickly. Now enrollment is almost 2,000 and the school's three campuses (one primary, one secondary and one boarding) are spread over 50 acres. All the students attend on full scholarships, which not only pay for their teachers, books and supplies, but transportation, school uniforms and at least one hot meal a day. Students old enough to board (over two-thirds of the pupils attending St Jude's) live in dorms on campus and are provided three meals a day.
The school has a competitive and highly extensive application process.
Each year, over 3,000 candidates from government schools are invited to attend the selection process (where up to 150 places are available across first-grade, seventh-grade and ninth-grade). They complete a series of tests, with the youngest needing to show an enthusiasm for learning and some proficiency in Swahili, the native language, and the older students completing tests in math, science, and English. Ultimately, the children will be taught in English, as most universities and jobs in the key professions require fluency in English.
The students who show the most promise are then assessed as to their financial and social circumstances to make sure the family falls within the income guidelines and are truly deserving of a place at St Jude's.
Once they are accepted, they are given a free, high-quality and varied education, plus resources to help them in their post-secondary education or training. The co-educational student body reflects a wide swath of Tanzanian society, with students representing numerous religions and tribes.
Seventeen years after opening its doors, the first few cohorts have graduated from the school. Gemma says that most of these 392 graduates have undertaken a year of community service, voluntarily teaching core subjects to thousands of children in local government schools who otherwise wouldn't have had teachers. Many have now also gone on to study at universities in much-needed fields such as medicine, engineering, law, and education.
"A number of our students have earned international recognition for science and entrepreneurship," she adds, "and we will soon be seeing our first university graduates!"
Throughout it all, Rotarians and other Australian-based donors have been the core of The School of St Jude supporters, with a now growing donor-base in America too. Gemma returns to Australia every year for a multi-week tour to drum up support as part of the school's annual fundraising campaign. It's day after day of meetings, presentation, and events to secure the millions of dollars it takes to pay for a staff of about 300 local teachers and support staff as well as food, books, supplies, and campus maintenance.
"It's always a killer itinerary, but it's essential," she says. "There are hundreds of local workers and thousands of students depending on it."

Cindy May, Cindy May Marketing (read the original article here).
An African school offering vital free education to nearly 2,000 underprivileged pupils has issued a sponsorship plea to the UAE - to ensure 27 youngsters get the chance of a brighter future.
The School of St Jude, in Tanzania, offers all-important support to more than 1,800 bright pupils who would may have otherwise see their access to quality education blocked by a lack of cash.
The free private school has three branches in the East African nation and benefits from global goodwill to fund its endeavours - much of which comes from right here in the UAE.
The school was set up by Australian humanitarian Gemma Sisia, who landed in Africa to do volunteer work for a year back in 1993 at the age of 22, only to end up setting up home in the continent with a mission to bring fresh hope to the next generation.
Ms Sisia started The School of St Jude in 2002 with a class of just three children, and today the school has over 1,800 pupils.
This year's intake includes 33 Muslim pupils, 27 of whom remain unsponsored. The school is calling for sponsors in the UAE to come forward and ensure that the 14 girls and 13 boys requiring are able to continue their education. The school already has a few sponsors from Dubai and is hoping the nation's generosity will spread a little further.
Coming from a big family with seven brothers and growing up on a sheep farm, Gemma's parents instilled in her the belief that education is the most important thing for children.
"My mother bought one dress every decade because school fees were the priority. After finishing university, I wanted to work in Africa to give back because I had a blessed childhood," said, Ms Sisia.
In Africa, she was working at a private school for wealthy parents. "I thought to myself why are private schools all over the world so expensive?"
"I told my family that I was going to build a free private school in Africa. I started with nothing now we have about 1,800 pupils all enjoying a free education," she said.
The School of St Jude will be opening a girl's secondary school next year which will provide for 600 pupils.
The UAE's involvement in the School of St Jude has grown organically, said the humanitarian.
"We got a visitor and sponsor who was from Dubai and they asked me to stop in Dubai and make a few presentations. We found that some of the donors in UAE went back home and the word spread," said, Ms Sisia.
"With the new girl's school, we are hoping to get sponsors from UAE. It's very kind of them to sacrifice a little bit of what they have for people," said Ms Sisia.
People can also help by spreading the word on social media and by visiting the school.
A child has to be bright but under a certain poverty level to attend The School of St Jude.
"If your family has electricity or have in-house plumbing or more than two rooms in your home, you are too wealthy to attend school here. We are looking for families living in mud houses," she added.
The school sends teams to investigate the children's homes to ensure they fall under the poverty line.
Children start around seven and graduate from school when they are 20. After leaving school, they have to do a year of service where they teach at government schools, and after that attend university.
"The biggest challenge is finding someone willing to sponsor a child, " she said.
Bonds develop between the sponsors and the children and at a recent graduation, many of the sponsors flew to Tanzania just to see their sponsored child graduate.
Bernadette King-Turner, founding partner of Yellow Brick Road Nursery in Dubai has sponsored Glory Joachim since she first started at The School of St Jude at the age of six in 2007. They have also paid for a teacher's salary, a school bus and many mosquito nets.
"I was shopping with my mother in a Brisbane Mall where we visited three bookshops and in each bookshop we noticed the School of St Jude book, so I took the 'message', bought Gemma Sisia's book and within the next few hours I contacted the school and begun our very special and loving School of St. Jude journey," said Ms King-Turner.
"I arranged for my two nursery managers Ms Elizabeth and Ms Sharon to visit the school during the summer of 2008, so they could meet with Glory, her family and the school faculty," she said.
"I plan to travel to Arusha, Tanzania in June 2019 to attend Glory's graduation ceremony. We will always look out for Glory and be with her throughout her future," said Ms King-Turner.
There are three kinds of sponsorship and the and the amount remains the same across the years. In the shared sponsorship format, three people can share the expenses of a child which comes to about Dhs164 a month. In a co-sponsorship, two people can sponsor a child for about Dh328 per month. A full sponsorship comes to about Dhs656 a month. Sponsors have to make a commitment of three years.
The sponsorship covers the pupil's educational and boarding expenses including learning resources and classroom essentials, school uniforms, daily meals and clean water.
If you want to support The School of St Jude by providing an academic scholarship for a student, or any of their other requirements, please refer to the website: http://www.schoolofstjude.org
The National, United Arab Emirates (read the original article here).
Cloncurry local, Lexie Hudson, is one of seven young Australian leaders who have embarked on a three week Tanzanian Immersion trip.
yLead's Tanzanian Immersion has focused on connecting young people through adventure, service, connection and cultural immersion, through which it is hoped these women are inspired to make a difference in their local communities.
Ms Hudson and the other leaders climbed to The Roof of Africa, at the peak of the highest free-standing mountain in the world, Mount Kilimanjaro, immersed themselves in the African wildlife during a safari, spent a night in a local teacher's home on a cultural homestay and relaxed on the island of Zanzibar.
A key objective of the Immersion this year was to celebrate women supporting women, with a special visit to The School of St Jude in Arusha.
The group spent just over a week teaching English in local schools, holding an athletics carnival, planting trees, and building their cultural understanding with the people of Tanzania.
This year's participants alone raised $8000, and were able to see the life-changing impact that this fundraising has on the school, and community of Arusha first hand.
Founded by Australian woman, Gemma Sisia in 2002, St Jude has grown from three attendees and one teacher on its opening day, to now providing an education to over 1800 local children who would otherwise be unable to get an education due to living in an impoverished community.
yLead has harvested a partnership with The School of St Jude, funding the opening of a girl's boarding house in 2011, which now houses 80 girls. Since connecting with Gemma Sisia in 2009, yLead has donated over $230,000 to The School of St Jude.
yLead CEO, Bel Yorston, speaks passionately, saying that "it is so important that we connect young Australian women with inspiring mentors across the globe, and inspire them to use their knowledge and skills to make a difference in their own communities,"
Bel Yorston also said "we often read about these remarkable women, however, to actually see this first hand puts the impact that one strong woman can have on both her community, and other women across the globe into perspective."