For decades International Women's Day (IWD) has been bringing awareness to equality and empowering women from all walks of life to achieve their hopes and dreams in business and community.
Australian humanitarian Gemma Sisia (nee Rice), who established the School of St Jude in Tanzania in 2002, is one of the many women making a difference to underprivileged people on the world stage.
She will be special guest at the IWD luncheon to be hosted by Salamander Bay Rotary Club at Soldiers Point Bowling Club on Wednesday, March 6, from 11.30am.
Rotary president Ina George said that the club was proud and honoured to have Gemma to provide her inspirational story on a day celebrating the strength, courage and resilience of women everywhere.
"We are indeed fortunate to have Gemma as our guest speaker to provide an insight into how she started fundraising to invest in the education of Africa's poorest and the support she received from friends, family and Rotary groups," Ms George said.
"We in Port Stephens are also fortunate to have women in prominent leadership roles in business and community who are passionate about making a difference."
Some of those women include Leah Anderson, president of the Tomaree Business Chamber who was founding member and first president of the Port Stephens Women In Business.
Emily Perry now heads the Women In Business organisation, and Kathy Rimmer, the Port Stephens Business Person of the Year, is into her second year as president of the Nelson Bay Rotary Club.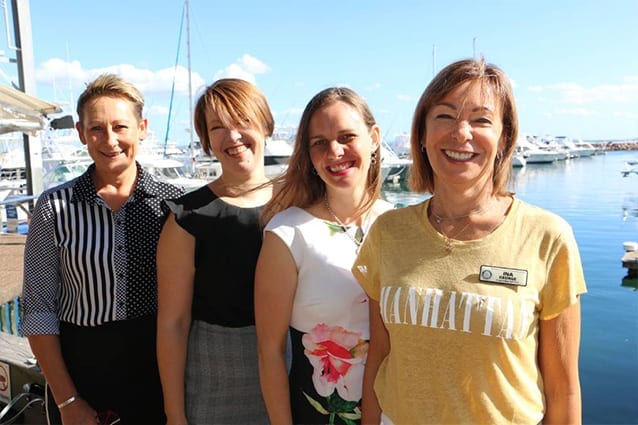 Ms Anderson said that organisation and prioritisation were key elements in most women's lives, many who have to juggle family life with career.
"Most of the successful women I know have very busy lives but they mange them through planning and making time for family, socialising and charity work," said Ms Anderson.
Ms Perry, who juggles two businesses and family with two young children, said she was grateful for the support of Women In Business.
"The group has taught me many things and the motto of 'Connect, Inspire, Support' sums it up. We have a fantastic mentoring program, we are active in support of each other and also in support of charitable organisations."
Ms Rimmer said that work/life balance became most essential to her after she was diagnosed with multiple sclerosis in 2013. "I learned the art of saying no and the importance of doing what you love, and love what you're doing."
Charlie Elias, The Port Stephen Examiner (read original article here).
After moving from her home in Australia to Africa at the age of 22, Gemma Sisia decided to start a school in Tanzania with the mission of educating the nation's smartest students who did not have the means to attend private school. 16 years on, the School of St Jude is thriving, with around 1800 students on academic scholarships, and 90 per cent of the funding coming from Australian donors. Ms Sisia joins Sky News with one of her star students, Godwin, to discuss the inspiration behind founding the school and the great things its students are achieving.
Students from the Dominican College Wicklow were blessed with some great weather as they carried out a five-hour fundraising car wash at the school.
The event on Saturday, April 21, was held to raise funds for the School of St Jude in Tanzania.
The School of St Jude educates disadvantaged, bright students in the Arusha area of Tanzania to help them become moral and intellectual leaders in their country. The school receives no State funding so depends entirely on voluntary donations.
Some Dominican students will travel over to Tanzania in the summer.
Some of the students plan on running marathons to raise money while other fundraisers were held during the week, including a cinema day. The funds raised through the car wash are still being established but €22,000 had already been raised prior to that through a series of other different events.
Bray People (read the original article here).
Exclusively for our graduates, we help The School of St Jude recruit and support top creative talent to best communicate their important mission—providing high-quality education to 1800 of the brightest and poorest students in Tanzania. Selected from families living on less than $2 a day, St Jude's students receive an education that consistently ranks in the top 10% nationally. Andy Shillington, Founder and CEO of Shillington is a long-time donor and loves connecting our design graduates to the school's important work.
In 2016, New York graduate Connie Leung spent one year designing for good at St Jude's, and now—in 2018, London graduate Kate Holland takes the reins. "A talented, enthusiastic graphic designer helps us find new and exciting ways to share our story," says Gemma Sisia, Founder of St Jude's. "Good design connects with our supporters from all over the world who help us do an amazing job fighting poverty through education here in Tanzania."
Here's our full interview with Kate. Find out why she's pumped to work with such a beautiful brand for a good cause, what life is like so far in Arusha and why she's passionate about this important work.
Congratulations on being selected for the Shillington Design Safari at St Jude's in Arusha, Tanzania! How does it feel?
Seriously incredible and totally surreal at the same time! I had such build up of anticipation before coming here and now that I'm actually standing on Tanzanian soil I can't believe it. What they're doing here at St Jude's is beyond words. It's very moving to see the students gorgeous, cheery smiles around the campus every day, it's a constant reminder of why I'm here.
Since arriving, I've been blown away by the kindness and contentment of the people, their humble approach to life, the way people greet each other and just the everyday on-goings of life in Arusha. I've never been to Tanzania before so it's all extremely eye opening but I feel like I'm meant to be here, I'm ready to call this place home.
You actually saw Gemma Sisia, founder of St Jude's speak while studying at All Saints Anglican School and it "shifted and heightened [your] interest to aid others". Tell us more about what her talk meant to you.
Having grown up on the Gold Coast and then seen others parts of the world, I think we have no idea just how lucky we are to have access to privileges that many people do not experience. Listening to this inspiring woman talk about the unimaginable extremes of poverty and lack of education in Tanzania, it really put a lot of things in perspective for me.
It was about 10 years ago so the school was still in its early stages, but you could tell that St Jude's was no ordinary organisation. Even then, what Gemma had done was incredible – to think that she started with $10 in a bank account and not much knowledge of building schools is probably the most inspiring story I've ever heard. A few of my closest friends went over to visit St Jude's on a school trip and seeing their pictures made me realise that one day I just had to go over, experience it for myself and help in whatever way possible.
Before coming here I read Gemma's book about St Jude's—an absolute must read! It gives such an insight into her background and shows how one person with enough good-will, motivation, love and selflessness can actually change lives and have huge positive impacts on a community. Her story is incredibly moving and really prompted me to think about the way I live my life.
Besides being inspired by Gemma, why else did you decide to apply for the opportunity?
I love seeing the world, I love new challenges, I love immersing myself in other cultures and also, why not? I think it was a sign when I received the email from Shillington advertising the design safari and I wasn't going to ignore it. It was a great opportunity to not only continue working in design but also produce work that is fulfilling and for a fantastic cause. Sometimes you can get caught up in all the materialism and mundanity of design so it'll be nice to feel like my work is making a difference, even if it's ever so small!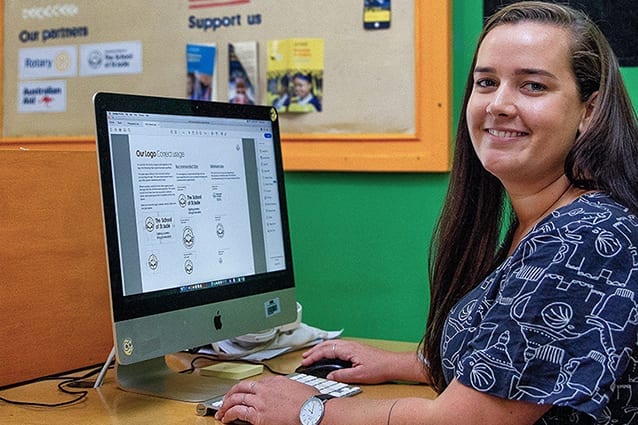 Why are you excited to work with Seesaw's branding?
St Jude's has taken such a massive leap in the right direction with this rebrand. I'm only two weeks in and I can already see how imperative this new brand is for St Jude's.
It's energetic and fun, it's colourful, it's the kids on the playground at lunchtime, it's positive, it's impactful, it's the atmosphere of the campus and it's also so much more!
Seesaw Studio and Connie have done an incredible job and I hope I can fill their shoes as I continue to roll out the branding across bigger and better things!
What else are you most looking forward to during your time at St Jude's?
Making life-long friends and memories with like-minded people who are here for a great cause. Trying to understand and immerse myself as much as I can in the Tanzanian way of life and maybe becoming fluent in Swahili! I also can't wait to interact with and get to know some of the students a bit more, we have some interns in our team who are completing a Community Service Year internship through our graduate program, Beyond St Jude's. Many graduates choose to participate in the program as a way to give back to the school that gave them so much, and when they're working right beside you, you realise just how far they've come, thanks to an education at St Jude's.
I'm also really looking forward to going on Safari, I've heard so many great things about the safaris in Tanzania and can't wait to see it for myself!
What were you up to before studying at Shillington? Why did you want to study design?
I've always been quite creative but also very methodical and logical so design seemed like the perfect avenue for me. I went to a Shillington Info Session in Brisbane while I was still at school and something about it definitely felt right, so it was always in the back of my mind.
Then I finished high school in 2011, turned 18 the following year and jetted off to Europe for a gap year. I fell in love with London and made the decision to stay as I was having the time of my life. After a year, I decided (with the help of my lovely parents!) that I would enrol to study at Shillington in London, and the rest is history!
Where has life taken you since graduating?
Since graduating I moved back to Australia as no one would marry me for a UK visa! I worked on the Gold Coast for a year and then moved to Brisbane for two years working for a boutique hospitality group and then back to the Gold Coast to work on the 2018 Commonwealth Games and now to Tanzania! I think studying at Shillington was one of the best decisions I've ever made. It was exactly what I needed and look where it has taken me—I couldn't ask for anything more!
Anything else you'd like to share?
ASANTE SANA ('thank you' in Swahili) to Shillington for giving me this opportunity and supporting such a great cause!
Huge thanks to Kate for sharing her Shillington Design Safari story! Be sure to check out her website.
Good afternoon lovelies! Hope everyone around the world is enjoying the weekend, especially over here in the UAE where we have been treated to an extra day off! This month has been particularly busy at work which resulted in this post being published so late. Nevertheless, I am absolutely thrilled to share this month's power lady, who is doing her bit to change the world.
Gemma Sisia is the founder of The School of St. Jude in Tanzania which provides a free high quality education to underprivileged children in Tanzania.
Gemma's humble beginnings started in Australia where education was always a strong part of her life. It is through her belief that children from poor families should also have access to education that The School of St. Jude was created. Gemma's fascination with helping African children started when she witnessed the news coverage of the Ethiopian famine, which led her to volunteer in Uganda and eventually set her life path to Tanzania.
Gemma overcame all obstacles which tried to falter with her goals, especially being a white woman trying to set up a school in a small closed society which she was not a native of. Through these hardships, she has established a successful school which has provided an education to over 1,800 students who may never have had the opportunity.
She is currently working on building a girls only school in order to encourage Muslim girls to get a proper education, as she noticed that most families do not allow a co-educational environment.
You must be wondering how this ties back to My Pink Diary? Well, although I have never met Gemma, I was inspired by her story having spent half of my life in Africa and witnessing first hand how much poverty affects children.
This topic is very close to my heart as I had the opportunity to work with different organisations to help the youngsters whose lives were so different from mine in Nigeria. While it is difficult to change governmental systems and corrupt politicians, I strongly support and respect women like Gemma who take a stand and create a platform which encourages and empowers children to realise their full potential and to give them a future.
Enjoy her story!
Quick facts:
Name: Gemma Sisia
Profession: Teacher, CEO, Founder of The School of St. Jude
Favourite destination: Home with my family in Australia and Tanzania
Horoscope sign: Scorpio
Loves: Being with my family, travelling, watching our alumni grow
Hates: Not having enough hours in the day, racism
1. Tell us a little bit about yourself.
I have never been one to reflect, so find it difficult to describe myself. My priorities in life are being a good wife and mother. My family is the most important aspect of my life. I love establishing things, being involved in start-ups and am always willing to help others who, in turn, are working towards helping those less fortunate than themselves.
2. How do you handle difficult times in your life?
"This too will pass" – no matter how bad something appears, ride it out. I count it down – just get to noon, just get to 5pm – everything passes, you just need to be patient and wait it out.
3. What is your secret to achieving the right balance between your career, family, friends and doing what you really love?
I say 'NO'. There are things that I know I would enjoy – like going out more – but I can't. So, I say 'NO'.
4. What are your hobbies?
I love organising family trips and adventures like going camping on a Saturday night, or going on safari with my husband and kids. It's magic away from the bustle – just quiet time with my family and the sounds of the animals in the dark. Getting away with family is a hobby, a passion and my idea of complete happiness.
5. What are your tips for happiness?
Enjoy the little things – they are the most precious. It makes me happy to listen to the next student who walks in and tells me what he/she is doing with their life since leaving St Jude's. It makes me happy to attend a formal event, which has been completely organised by my staff and like other guests, I learn what is happening as the evening progresses, without having zero input into the organisation. The best time of the day is an evening walk with my kids and our dogs. All little things, but all so precious in the scheme of life.
6. Who is your role model or someone you look up to?
As a young girl, I kept a picture of Mother Teresa on my wall. Now, as an adult, I know my true heroes were my parents. They instilled in me the importance of education, faith and a willingness to help others. They were always counselling or helping others, doing things for the community. We had a pile of mattresses stored at home for extra people who needed somewhere to stay. When my father died, there was an honour guard formed by so many people who society had turned their backs on and my father helped them. It was a real lesson on how much a little can mean to a lot.
7. What have been the most exciting milestones in your life?
Getting married and having my four wonderful children; the first day of school when we opened the gates of The School of St Jude and the first day of every school term as we welcome more and more children of all faiths and tribes, giving them a future their parents never dreamed possible. Watching our first set of graduates go into community service and then onward to university – and my next exciting milestone will be 2019 when our first students begin graduating from university going into the world as tertiary educated young men and women forging their way in the world.
8. If you could change one thing in the world right now, what would it be?
I'd do away with the need for bureaucracy! If people acted ethically and honestly, there would be no need to have myriads of rules and contracts, but sadly, that is not the world we currently live in.
9. There are still a lot of cultures and societies who frown upon successful women. Why do you think that is, and how can it change?
Fortunately, that has never been an issue for me in Tanzania and I have never been disadvantaged by being a woman. I have always been respected here. I grew up in an old-fashioned household where my father was always the head and with seven brothers, I am used to living and working with men. However, some men simply don't like change and in fact have an irrational fear of change. At The School of St Jude, we have many male teachers and they are always encouraging the young female students to succeed, to seize their power and be a force in the world – after all, women are the first teachers in the home.
In Africa, girls are often considered second-class citizens and many families believe that it is a waste of time educating them, putting a lot of pressure on girls to drop out of school, but we are facilitating changes in traditional community mind-sets. St Jude's firmly believes in the education of girls. The school does not discriminate when selecting students although over the years St Jude's has educated more female than male students. Our female teachers and leaders are strong role models, and the school's welfare team works through any issues of discrimination, both with the students and their families.
10. What advice can you offer for men and women, trying to balance a career, family and personal life?
Don't measure yourself against others. Do what works for you and your situation. Don't conform to social pressure. I need to work to be a happy mum – happy mum equals happy husband and kids. Create a family lifestyle that, as a woman, makes you happy. Set realistic expectations and be content – content and thankful for what you have.
The School of St Jude is a special project of UAE Lions Clubs. For more information please contact: augusto.dipietro@internationallionsclub.com
My Pink Diary (read the original article here).
Ms Hart has been a sponsor at The School of St Jude for over 12 years and was at the graduation to see her academically gifted sponsor student, Erick, graduate.
According to UNICEF, in Tanzania, almost 70 per cent of children aged 14–17 years are not enrolled in secondary education, while a mere 3.2 per cent are enrolled for the final two years of schooling.
At the graduation, amidst the colourful and vibrant celebrations, speeches and traditional dance, Ms Hart took to the stage to say a word on behalf of all St Jude's sponsors.
"You are a true example of what you can achieve when the opportunity presents itself," Ms Hart proudly told the graduates.
"You have proved that you are all capable of applying yourselves and reaching the heights that were once so unattainable.
"You should always remember that we will always be by your side encouraging you, loving you as one of our own and taking delight in your future careers," she said.
St Jude's is a charity-funded school founded in 2002 by NSW humanitarian, Ms Gemma Sisia.
The School offers a free, high-quality education to over 1,800 students, and boarding to over 1,400 students.
With a predominantly Tanzanian staff and resources, and supplies bought locally, it injects over $4m Australian dollars into the local economy every year.
Unlike most schools, the students of St Jude's are selected based on their academic potential and genuine financial need, often coming from families that live on less than US$1.90 a day.
"I first met Mama Gemma 20 years ago," Ms Hart recalled.
"She told us of her dreams to build a school in Tanzania, such an unbelievable idea for one so young who was brought up in Australia and had no money to build a school.
"She faced many hurdles along the way but did she ever give up?
"No, she held her head up high and kept going.
"Where is she today; taking pride in all of you and knowing she has made a difference to so many lives, and has given a future to those who would never have had the opportunity that you have," Ms Hart told the crowd.
Ms Hart played an integral role in the beginnings of the school.
After hearing Ms Sisia speak at a Rotary conference in Australia, she accompanied her fellow Erina Rotarians to Arusha and helped to build the School.
She then went on to become the chief Financial Coordinator for the School, processing charitable contributions on its behalf up until 2010.
"Monica played a massive role at the very beginning of the St Jude's story", Ms Sisia fondly recalls.
"She generously gave up a lot of time and effort, not only in physically building the school, but in managing and processing its Australian contributions," she said.
After a year of great academic success for the class of 2018, almost all graduates have elected to take part in the optional Beyond St Jude's program and undertake a Community Service Year before embarking on tertiary and further education.
Most will teach in government schools across the region as a means of giving thanks for their free, high quality education at St Jude's.
"They are bringing to life the school's mission of educating the moral and intellectual future leaders of Tanzania, and in turn are emulating the values and altruism of loyal supporters like Monica," Ms Sisia concluded.
Central Coast Newspapers (read the original article here).