It was a cool, grey morning and all was quiet in the St Jude's lower primary library.
All but the clear, steady voice of 15-year-old Edgar, as he read a carefully chosen tale aloud to an eager, captivated Grade 2 class. 
The beloved adventures of Frog and Toad, brimming with lessons for children to understand and appreciate their individuality, was chosen by Edgar as he wants to see these students reach their potential.
"When we read to the students, it's different from a teacher. They're comfortable and can express their feelings," Edgar, who is in Form 3 at St Jude's, said.
"We are in the middle of teachers and students, and the students see us as brothers," fellow storyteller Praise said. "It's good helping and it's full of fun."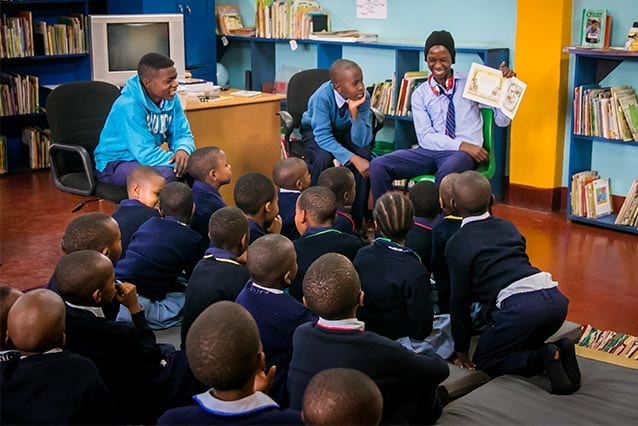 The children's silence was only broken by the interactive part of the lesson, where they were asked questions about the book.
"We ask questions when we're reading to make sure they're on track,"
Edgar explained. "Maybe someone was not listening, so next time they know they should be listening to answer the question."
The enchanting scene, which saw Edgar and fellow Interactors shared the magic of a good book, was more than just a tale.
Numerous Interactors gave their June secondary school break to volunteer at our primary school.
The Interactors said it was vital that students learn early on to pay attention to the material, and that is why they each chose to read books with a lesson to learn.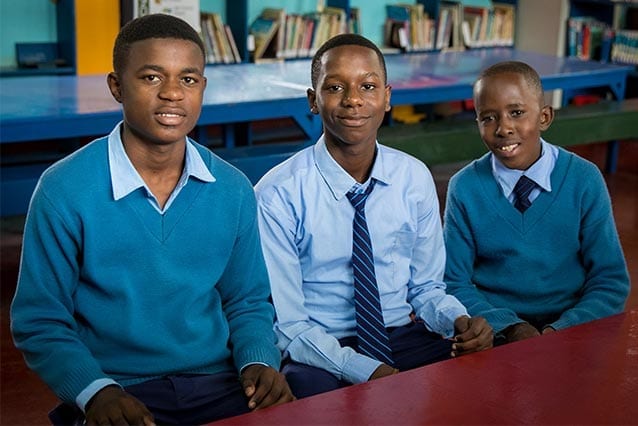 "If you're reading a book, you need to know what the implication of the book is, gain some knowledge. It's not just for leisure," Edgar said. 
"When they come to secondary (school), and come to a reading in an exam, they'll have to analyse the theme so reading like this is helpful."
"Every book in the library has a lesson. They have meaning," Praise chimed in.
"When they reach secondary (the work) will be much easier for students who think like this. You need to be able to analyze critically - think big."
Praise, Erasto and Edgar also spoke about the importance of ensuring children become comfortable with, and make a habit of reading, the English language early on.
"Did you see the girl who was reading the story there?," Edgar said, gesturing towards a young girl who volunteered to tell a story to the class at the end of the lesson. "I know that story, it's a Swahili story. She was translating it, and it was very good."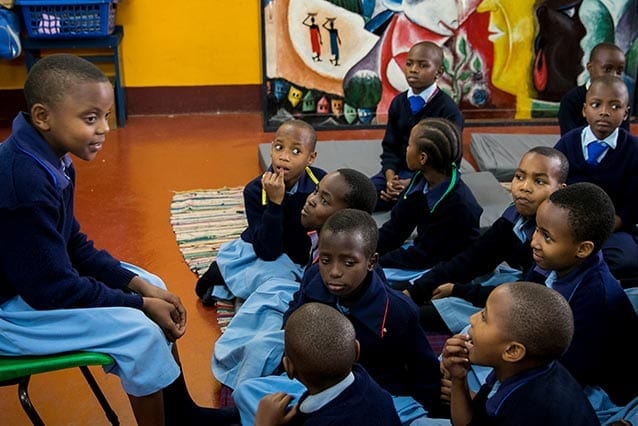 Numerous Interact students came to the primary school campus during their holidays to help in various areas, from the library to the kitchen and helping with exams in upper primary. 
Daudi, one of four students helping with exams, said the experience was a "good" one and he chose to help in that area because there was a specific need for it. 
"The teachers need a lot of assistance at this time, and are grateful for the help," he said.
St Jude's Interact club, made up of 80 secondary students between the ages of 12 and 18, have been working on increasing projects such as this to help their community.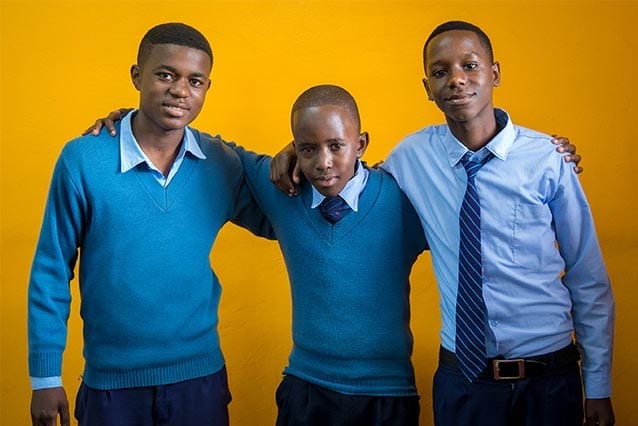 They are aided by coordinator Seb Cox, a 21-year-old education student and Rotaractor from Canberra.
Stay tuned to find out about the progress our Interactors are making, or talk to your local Rotary club about helping St Jude's.
Dr Louise Crossley was a scientific, academic and political pioneer; she was also an early and treasured supporter of The School of St Jude.
Her passing last year was profoundly felt by two of our most senior academic staff, who she both sponsored and inspired.
The first of those sponsorships was for now Secondary Headmaster Nestory Msoffe, who caught Louise's eye back in 2006 when he was a Kiswahili teacher.
"We became very close. She was a very special person to me and my family," Nestory said.
"To us, Louise was a gift from God and I will always remember her positive influence on my life."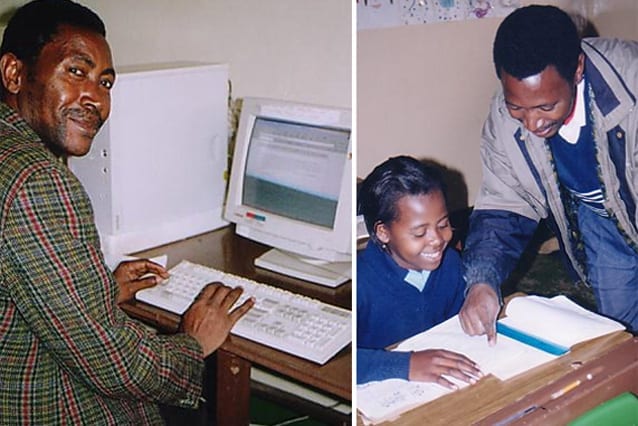 When Nestory took leave from teaching to pursue higher education, he said she continued her much-appreciated correspondence and support. 
Nestory was the first St Jude's individual to benefit from Louise's generosity, after she was taken with our school and its mission more than a decade ago.
In our school's infancy, Louise camped out on the lawns of our office with a group of study abroad students from America.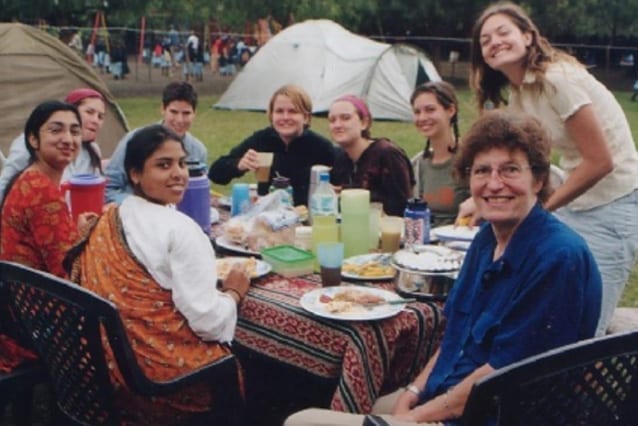 She was so encouraged by Nestory's development that she began sponsoring then science teacher, Nzinyangwa Mcharo, in 2012. Louise had a keen eye for talent, as Mcharo has since been promoted to head of physics and assistant academic master. 
"My sponsor was an exceptional woman, an outstanding leader with a passion for adventures and teamwork," Mcharo said. 
"I will always be motivated by her trust in me and support, her leadership qualities, readiness to learn, ways she approached challenges and the meaningful life she lived for others."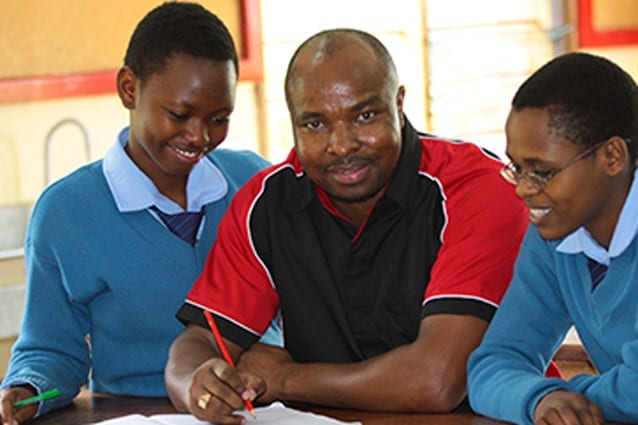 With her knack for scouting talent, it's no surprise Louise was a professionally impressive person herself. Born in Johannesburg, she obtained a degree in science from Cambridge and in 1980 earned her doctorate from the University of New South Wales.
In 1991, she became the second woman ever to a lead a scientific station in the Antarctic and the very next year was appointed the first convener of the Greens Party in Tasmania.
It was on a trip to Antarctica in 2011 that she was diagnosed with cancer.
Her passing in September last year was mourned by students, colleagues, friends and family around the world, and tribute was paid to her in the Australian Senate.
In her will, Louise made provisions to continue supporting Mcharo in his professional development at St Jude's. A further part of her generous, $10,000 bequest was set aside to support projects at St Jude's that enhance science and information technology. 
Join Dr Louise and St Jude's in fighting poverty through education. Find out more by downloading our Wills and Bequests Information pack, or by making a donation.
Winnie was Rebel Wilson's first fan in Tanzania.
Before the Pitch Perfect star became a household name, she was a hero to Winnie, an 11 year-old, living in a mud house with no electricity, let alone a TV.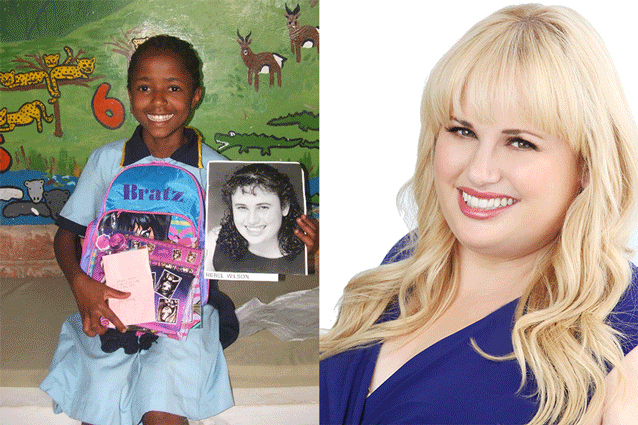 "I was just happy that my sponsor sent me very beautiful letters and a gift and I feel lucky because I had a sponsor," Winnie said.
"In our letters we talked about very many things, and I always look forward to her letters. 
"When I was older I started learning about her, that she is a great actress and a very nice funny woman.
"Some of my friends were jealous, others say, you are so lucky, all I could think was, 'why me, why does she care about me, why am I so lucky?'."
In the 10 years since Rebel started sponsoring Winnie, both of their lives have changed for the better.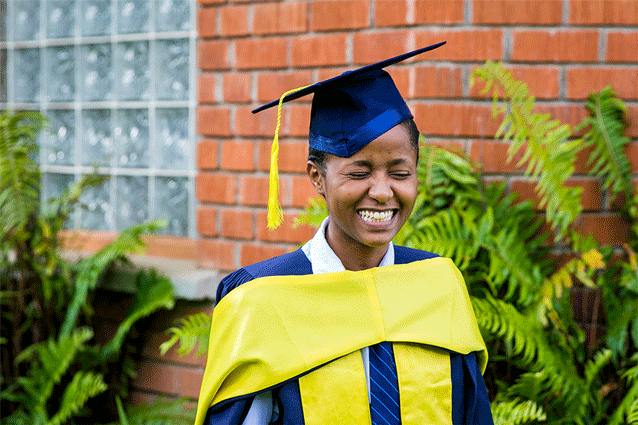 Rebel has become one of Hollywood's most recognisable faces, a star of the hit franchise Pitch Perfect and a frequent guest on US talk show, Ellen.
Winnie just became the first woman in her family to graduate high school and she will use her education to lift her family out of poverty.
Rebel was prevented by a busy work schedule from attending the graduation ceremony.
Winnie is also half sponsored by a group of wonderful women from Western Australia. 
The grateful graduate said that as she dressed for Saturday's ceremony she stopped to think, "wow, all these women supporting me in my life, my mother, my teachers, my sponsors, I am so glad I made it to here, for them." 
One of Winnie's favourite memories from school was her first face-to-face meeting with Rebel in 2014.
"I was sitting with my mum on a bench when I saw her coming. When I saw her, I really ran to her and I hugged her and she was really happy, we were so excited to see each other. Mum hugged her too," Winnie said.
St Jude's has transformed Winnie's life. Coming from a poor family, in a country where most girls don't even make it to Year 5, Winnie would never have had a chance at a high-quality education.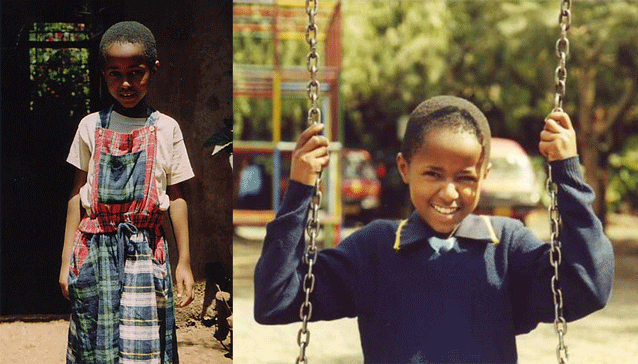 Now Winnie is preparing to give back by spending her gap year volunteering in the Beyond St Jude's program.
"From my heart, the school and my sponsor have provided me so much, much more than I expected in my life, so I want to give thanks, give back," she said.
"If I wasn't at St Jude's, I don't think I would be graduating, I would maybe be doing odd jobs and selling things in the streets.
"And I'm sure I would not be friends with a movie star."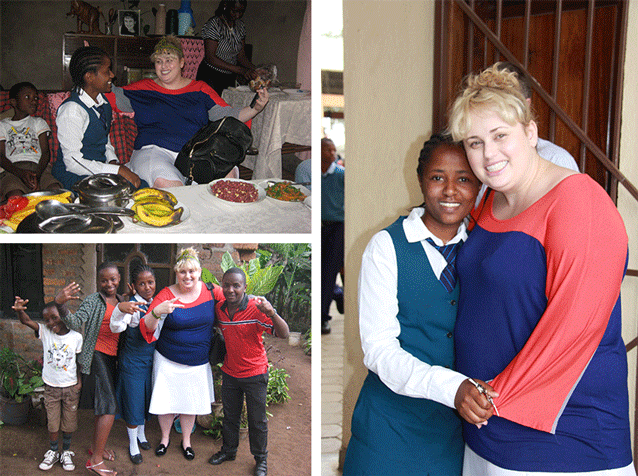 People who give are happier - just ask our supporters!
Copious studies have shown generosity leads to a happy, healthy life, so we're delighted to know our wonderful supporters get as much out of it as we do!
The variety of creative and thoughtful ways people have helped us 'spread the word' of St Jude's while fundraising show you can pursue your passion while doing good.
We're motivated and inspired by their generosity, and think you will be too, so here are some examples of how easy it can be to support an educated future in Tanzania:
1.What better place to start than the classroom?!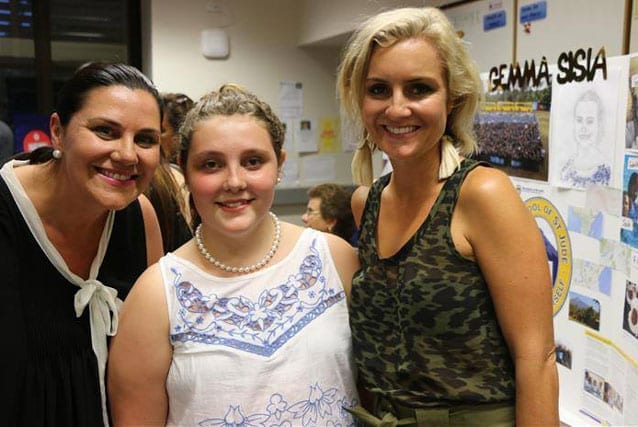 Lovely Luella Green, a student at All Hallows Catholic School in Sydney, recently chose school founder Gemma Sisia as her "Notable" person to focus a project on.
Dressed as Gemma, she made a presentation about her achievements before the audience of 60 families, to raise awareness and money. Good on you Luella, love your work!
Find out how your school can support St Jude's by going to our At Your School page.
2. A healthy way to grow interest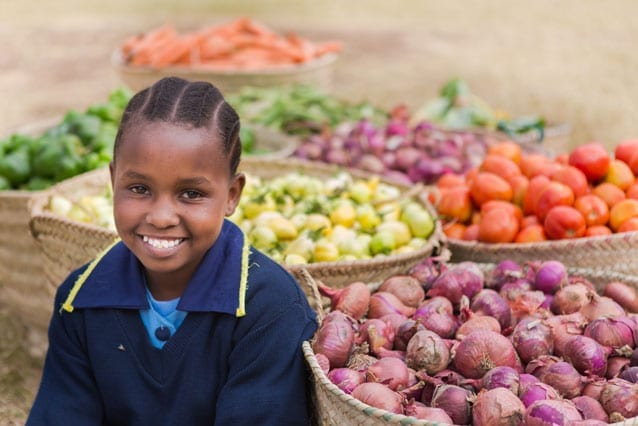 Student sponsor Denis McKercher has supported St Jude's for many years through his tomato plant fundraising.
The generous green thumb lovingly tended to about 1600 plants (about 40 varieties of tomatoes!) in his Tasmanian backyard this past year, and has developed a good network of buyers throughout the years.
His hard work in just this past year has raised more than $5000 that will go towards educating Tanzania's poorest and most promising students.
Thanks for using your passion to please so many Denis!
Get your organisation involved by starting a workplace fundraiser!
3. Spreading the word, a page at a time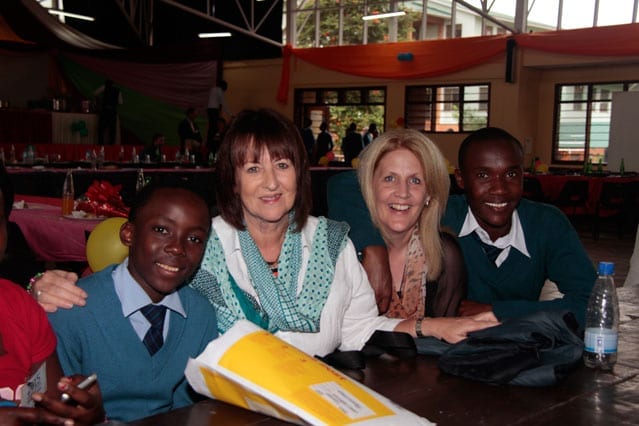 Student sponsor Margo Salmon has been busy recently with her annual book fundraiser at Monaghan's Pharmacy in Warrnambool, Victoria.
While donations for the second-hand and donated books may be as little as a gold coin, Margo has already raised more than $1000 and pages of awareness. Keep up the great work Margo!
Have an idea for an event that will raise money for St Jude's? Register in online here.
4. Brisbane practice makes perfect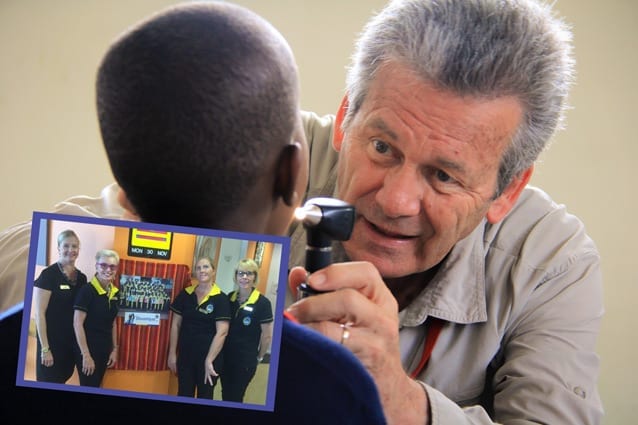 In March, Dr Gordon Mor will journey to Arusha for the fifth consecutive year as a dedicated member of our international medical check team.
Dr Mor and his Brisbane practice team have also, for numerous years, held a special Christmas appeal for St Jude's. Staff members promoted the most recent one by wearing our Shanga necklaces and graduation polo shirts, and displaying a school signage in the waiting room.
We look forward to thanking Dr Mor in person in March!
See the important work the Medical Check team are doing at St Jude's in this video.
Don't have the time to arrange an event? Support St Jude's by making a donation.
A desire to travel and help others led Angela Black to the other side of the world and on the doorstep of the marketing team at The School of St Jude.
She never envisioned it would be three years before she left, let alone with such a cherished swag of memories, accomplishments and friends.
"I was working in Japan, teaching English, but I really did want to live in Africa. I asked around because I wanted to come over here and do something in my profession so that I was adding value," the former marketing manager recently explained, as she packed her bags for a new job near Hong Kong.
"Then my sister, who works for a travel company in Australia, told me about St Jude's because they have tour groups come through here. I went on the website and found there was a marketing job, and obviously the school sells itself in a lot of ways and it's something you'd want to be part of."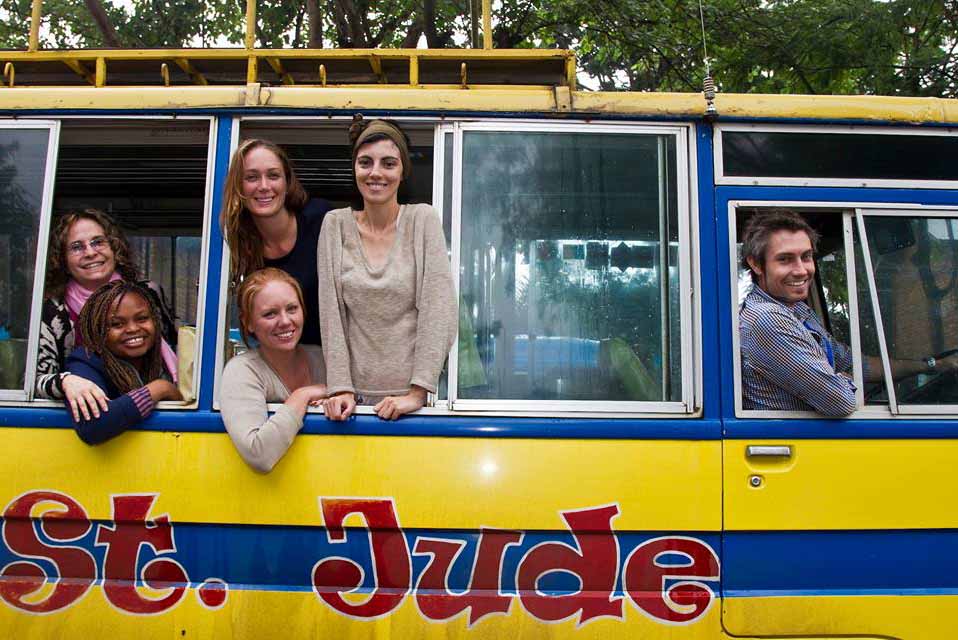 Angela initially agreed to a year-long contract as our marketing assistant, but found it difficult to consider leaving as the 12 month mark neared.
"When I arrived, I started as marketing assistant and it just evolved. There was a need for someone to step in and do the appeals and videos, so I sort of took that on as my project. I guess the good thing about working on the marketing team is you get to be an all-rounder. You get to help out in a lot of different areas," she said.
"You learn a lot as you go, especially working in an NGO, as we have limited resources. I've come away with a lot more skills than what I arrived with. Even though you're not earning as much as you could in other places, it's a really cool project to be a part of. I've become really close with the team and we've all been on this journey together. It's a really great place to be creative and come up with ideas and try new things. There's definitely good energy about working here, and there's something quite special about being able to hear the students when you're working.
"And it's not about healing Africa, it's about giving a group of people a really great opportunity and knowing that those people, because this project's so successful, will have a better opportunity for the future, and at the moment a lot of people do have quite hard lives."
Not only was her volunteer role fulfilling and rewarding, Angela found plenty to enjoy about living in Arusha.
"Arusha's a really fun town, I've loved living here. It's definitely a quieter life than living in Melbourne (Australia), and has a bit of a small, country town feel. It's a bit rough around the edges but it's really charming and the location's fantastic, near Kilimanjaro and the Serengeti, so it's a really cool part of the world and it's a pretty easy place to adjust to. You can live a pretty good life here and be quite happy," she said.
"I've gotten so much out of it I don't see myself as a volunteer at all. This has become just like home."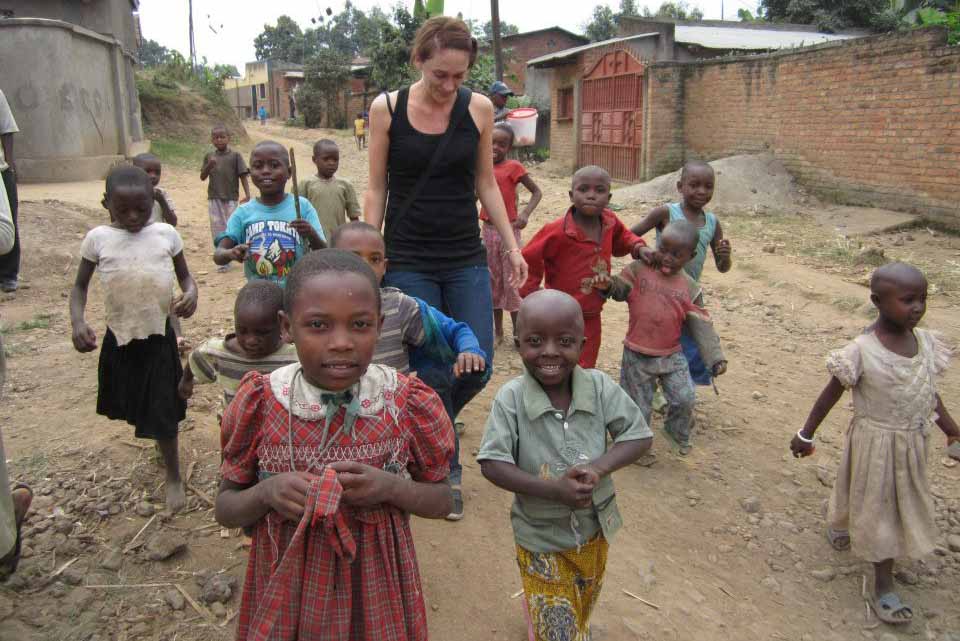 However, Angela is excited to take the next step in her career as the marketing manager of a 3D printing company.
"I hear a lot of people who leave here have great career opportunities. (Volunteering at St Jude's does) make you quite employable. It definitely shows a lot of skills, and employers like people who are adaptable and versatile, and especially all-rounders, which is a big bonus for people who have worked in the not-for-profit sector."
While Angela's vacated marketing manager role has been filled, the marketing team at The School of St Jude is currently looking for a volunteer Marketing and Graphics Designer. See more about the position here.
If you're a teacher looking for an exciting new job, experience living abroad, and the chance to give back, then you could be one of the next Teacher Mentors at The School of St. Jude. 
In this interview, Gaye Tiplady, a St Jude's Leadership Mentor with over 25 years of education experience, explains what it's like to work at the school, live in Arusha, and help make a difference in the lives of hundreds of students.  
Why did you decide to decide to come to The School of St Jude's? 
I actually wasn't looking for a new job. I just glanced at a newspaper and saw the Teacher Mentor position advertised. In the past, I'd worked overseas in corporate, for-profit schools that were all about making money and that just wasn't for me. I was drawn to St Jude's mission to help disadvantaged children in the region. Ultimately, that mission was the reason I decided to take the position. I wanted to experience something different and I wanted to give back to those who needed it the most. 
What is it like to work as a teacher mentor?
Some teachers are nervous coming to the school to work in a mentor role because they don't have experience in a senior position or working with other teachers. Don't be! You have nothing to fear and so much to offer.
Any good teacher can easily and effectively work as a mentor. Teachers have communication skills and an education background that is invaluable to the local staff here. This program gives local teachers a chance to work with and learn from mentors who have a different background in education.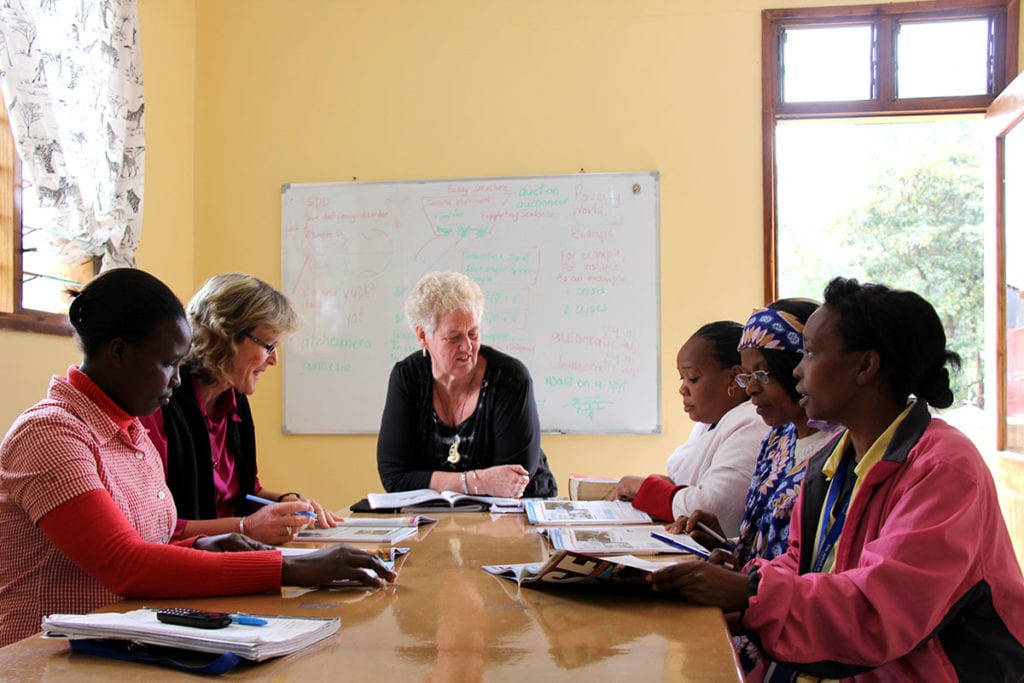 Mentors spend the day with local teachers during their planning sessions. We help them find resources and figure out creative ways to implement them in the classroom. But, more than anything, we are a sounding board for the teachers and respond to whatever needs they might have. Rather than try to implement what we think should be done or changed, we provide solutions to problems they bring up.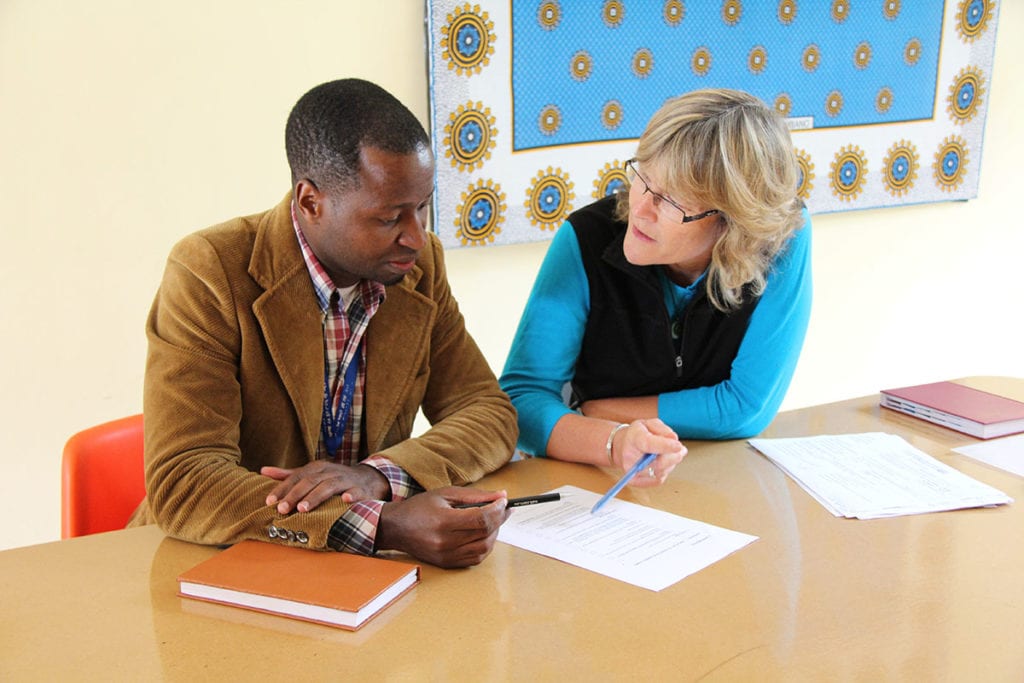 Working as a teacher mentor has been amazing (not only in content, but in our ability to make an impact). If I worked in a classroom, I could help that class of students. But, as a mentor, I get to work with 10 teachers who teach 25 students each, which means I can help 250 people! 
Why do you think a year commitment is important for this position?
I'm so glad the contract has a year minimum. It can take some time to build trust and confidence with the teachers. They're used to seeing people come and go and things continually changing from person to person. A longer commitment provides continuity and gives us the opportunity to become trusted resources they feel comfortable approaching for help.
What is it like to live in Arusha and at St Jude's?
I've lived on St Jude's campus for two years and it has been wonderful. We almost always have water, electricity, and internet, and the accommodation is lovely. 
When I first moved to Arusha, I didn't have culture shock at all. The city has a sort of organized chaos that I really enjoy. Over all, it's an easy place to live and work.  I thought I'd end up eating rice and beans every day, but there are so many nice restaurants and places to go out that offer a variety of food.
I've been invited to weddings, taken Swahili lessons, and attend drumming lessons on Friday nights. So, while many comforts from home are available, there are also so many opportunities to experience and learn about the local culture.  
Have there been any surprises during your time here?
The surprises have all been good! The school is much more organized and established than I thought it would be. The students, compared to others I've taught, are easy to manage and eager to learn. 
As a mentor, you can get so much out of this experience, but also have so much to give. We all come from different backgrounds and experiences, so hopefully we can have some positive influence on the people here.