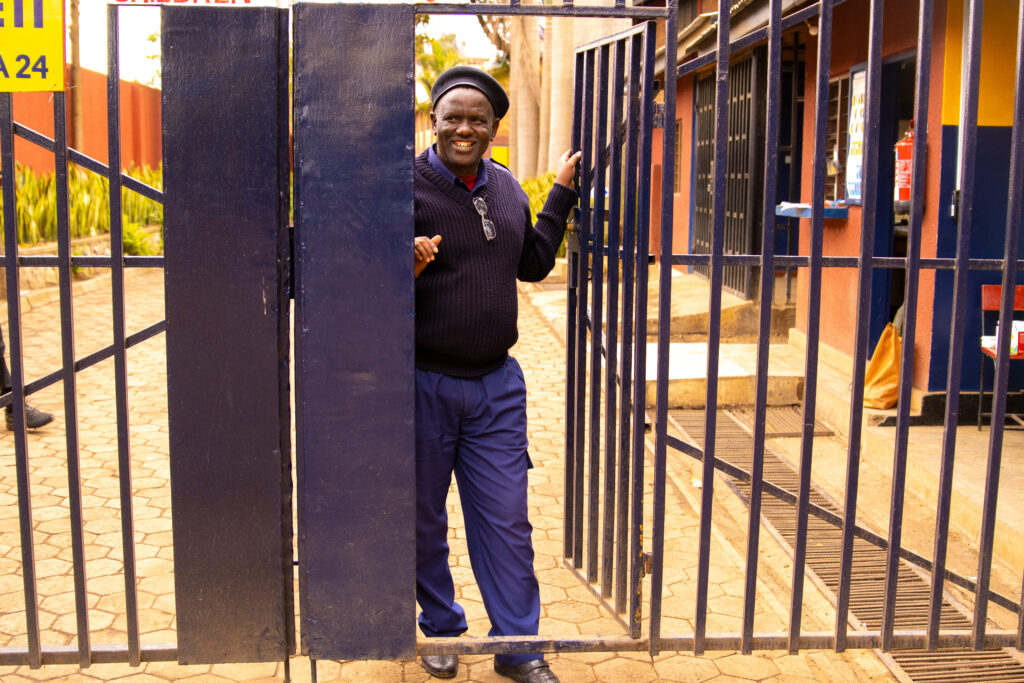 Stationed at the entrance gate to St Jude's Sisia Campus in Moshono is Israel, a security guard of 15 years. Israel's contagious smile and friendly personality is the first impression that staff, students, and visitors get as they arrive at the school.
"I love my job," says Israel. "It is what I have always wanted to do," he adds with a smile.
St Jude's security guards keep the school property, staff and students safe at all hours. In addition to this, they're the first people visitors meet when they come to St Jude's.
Israel's journey to becoming a security officer started in the early 1990s, when he opted to join a civic security training program. There he learnt basic combat training and other skills such as team work and self-discipline.
"By the time I completed my training, I knew I was going to be working as a security guard," recalls Israel. "But I never thought I would have such a fulfilling and rewarding career ahead of me at St Jude's," he adds.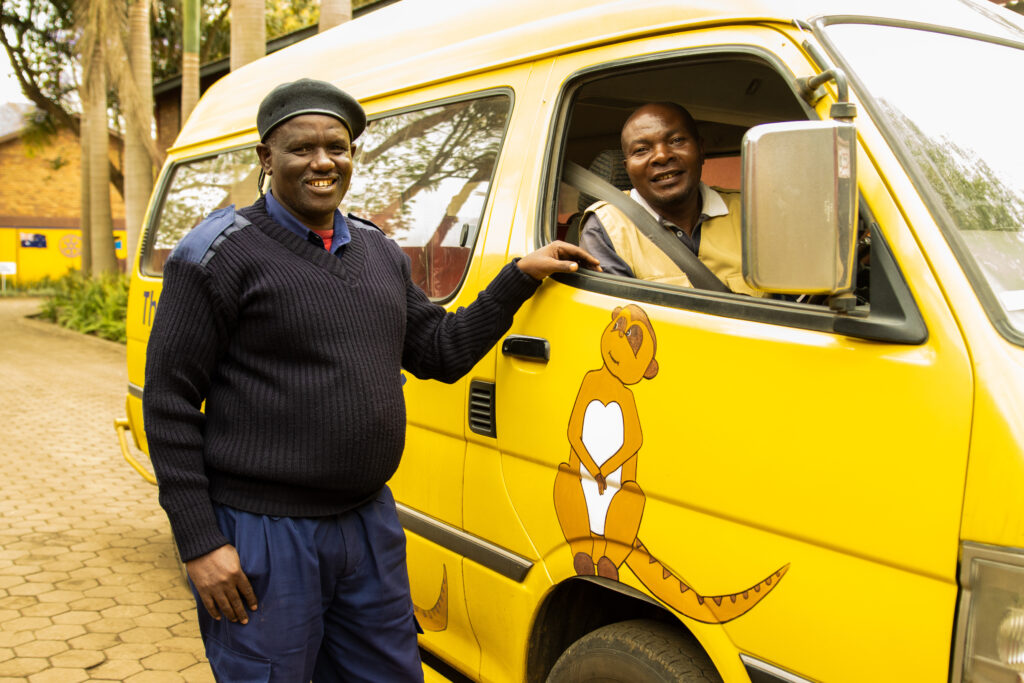 In Tanzania, uniformed guards are referred to by their Kiswahili name, askari. Traditionally, askaris are known for their serious character, but Israel has gained some perspective after working at St Jude's.
"As a security officer, I thought I had to be serious all the time," says Israel. "But at St Jude's, I realised that I could smile and enjoy my time even when I'm on duty," he adds with a smile.
St Jude's impact on Israel's life doesn't just stop there. Working at St Jude's has enabled him to build a house for his family, take his six children to school and university, and explore his passion in agriculture.
"My journey with St Jude's has been one improvement after another," reflects Israel. "It is incredible," he adds.
Along with Israel is Melami, St Jude's security officer of five years. For Melami, coming to work is something he looks forward to.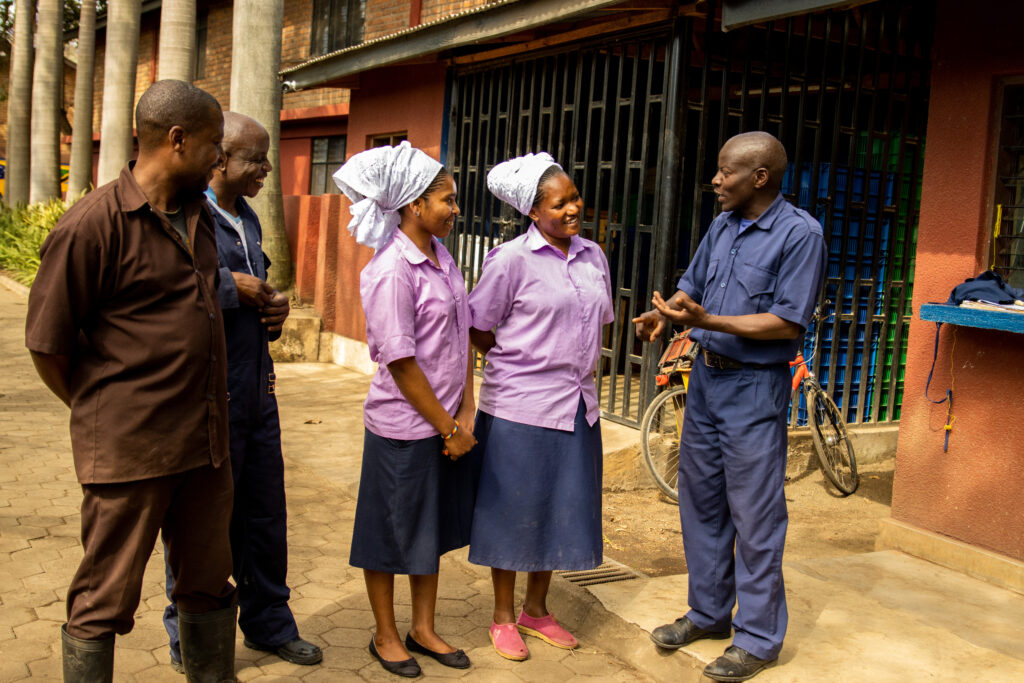 "I love interacting with people," says Melami. "As a security guard, I have the privilege of meeting different people every day so it's very fulfilling," adds Melami with a smile.
Melami has a long working history with St Jude's. Prior to working as a security officer, Melami served as a cook for nine months and later worked in the library for five years. These roles equipped Melami with skills that he now applies to his current position.
"Working at St Jude's has improved my English and communication skills greatly," says Melami. "I can now speak confidently with a vast variety of people from all over the world," he proudly adds.
As the first contact of for all visitors to St Jude's, Israel's gentle smile and Melami's charm serve as the perfect introduction to the school's values and way of life.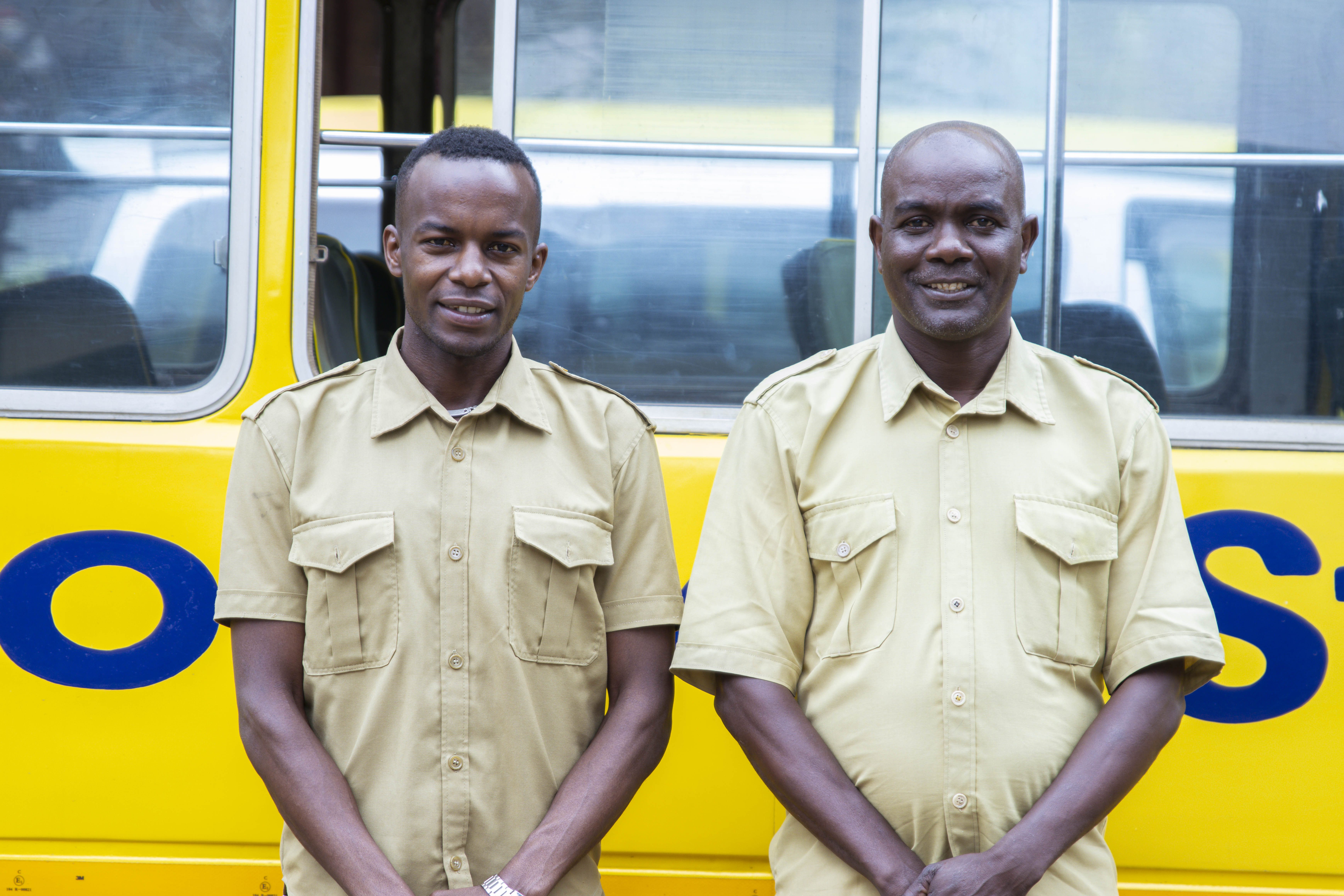 Around 6:40am every weekday, the engines of St Jude's buses start roaring. Soon, the bright yellow vehicles make their way out of St Jude's campuses. They return around two hours later, this time full of students and staff, ready to start the day.
Between St Jude's Smith and Sisia Campuses, St Jude's buses transport staff and students to and from school, to sports matches and excursions, covering about 1,600 kilometres every day.
"Waking up at 5am in the morning has become a habit for me," says Kaungame, a St Jude's driver of 10 years.
Kaungame is the Assistant Supervisor of all St Jude's drivers. His primary work station is at Smith Campus, where he oversees a team of four drivers.
"Transportation is an essential part of any institution or school," says Kaungame. "In addition to organising regular transport, I make sure there is always a standby emergency transport. That way, even if a student suddenly falls ill, quick transport to the hospital is always available."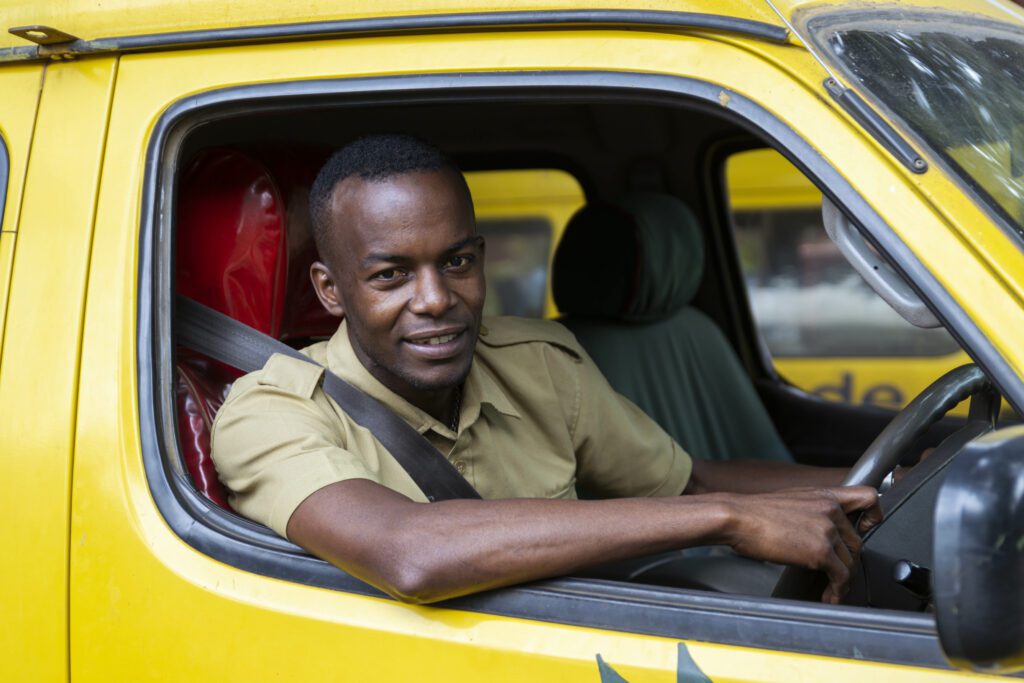 Over at Sisia Campus is Chief Supervisor, Severin. He is one of St Jude's first drivers, having spent 18 years at the school!
Severin coordinates all transport logistics at Sisia Campus.
St Jude's takes the safety of students very seriously. One of the most important tasks of the supervisor is making sure that all St Jude's vehicles are up to the required standards in safety and compliance. The supervisor prepares a daily report on the state of all vehicles.
"My favourite part of the job is driving students," says Severin, "but as the supervisor, I also take on administrative tasks."
The administrative part of his job has allowed Severin to gain new skills.
"I can now use the computer to write emails, request replacements, prepare reports, and so forth. I didn't know any of these when I first started at St Jude's" says Severin.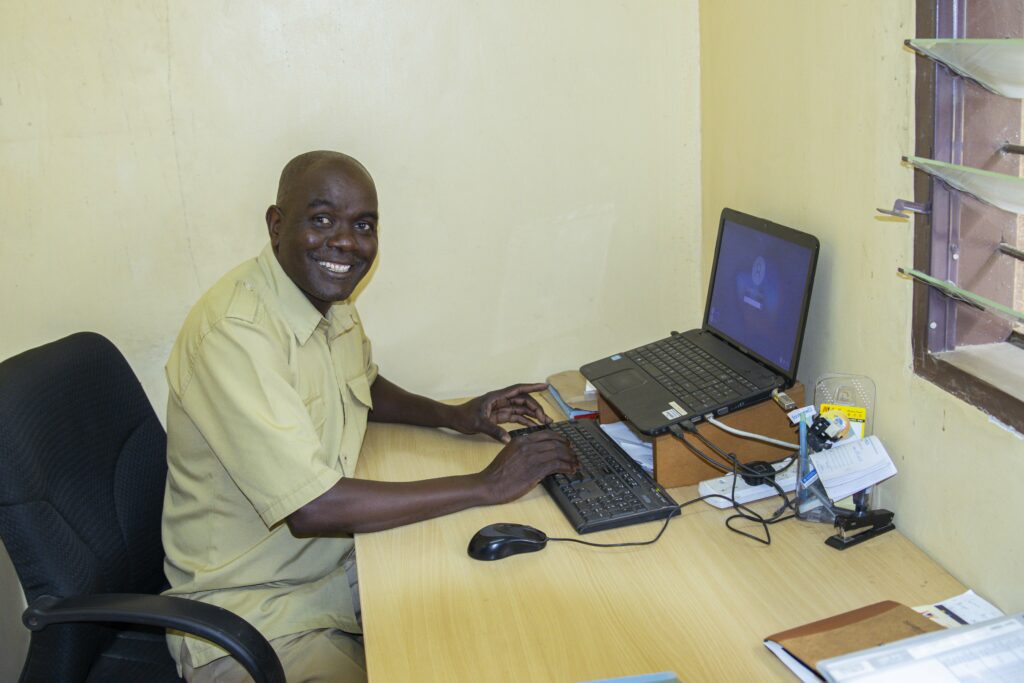 For Kaungame, the favourite part of his job is interacting with the students.
"They usually sing on the way back home from school," says Kaungame. "There's nothing like happy students singing to cap off your day. It is something I look forward to."
Severin and Kaungame manage a team of 20 drivers and oversee a fleet of 32 vehicles, including 26 school buses. Their punctuality, responsibility, and commitment keep St Jude's transport logistics working smoothly.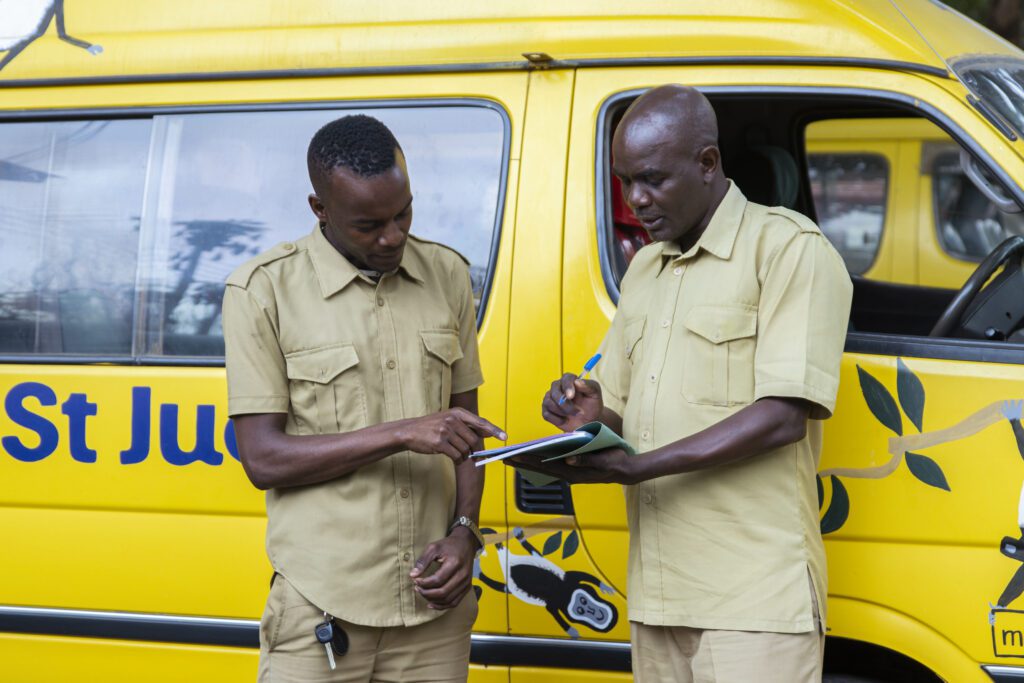 As the people behind the wheel, St Jude's bus drivers steer students towards moral and intellectual leadership.
"When I first joined St Jude's I was given the role of photographer," Rachael recalls.
"Being a photographer was the best way to get to know the school," she explains... "I was part of every excursion, each event, and I was in the classrooms and in buses. I also organised schedules for other professional photographers who visited the school."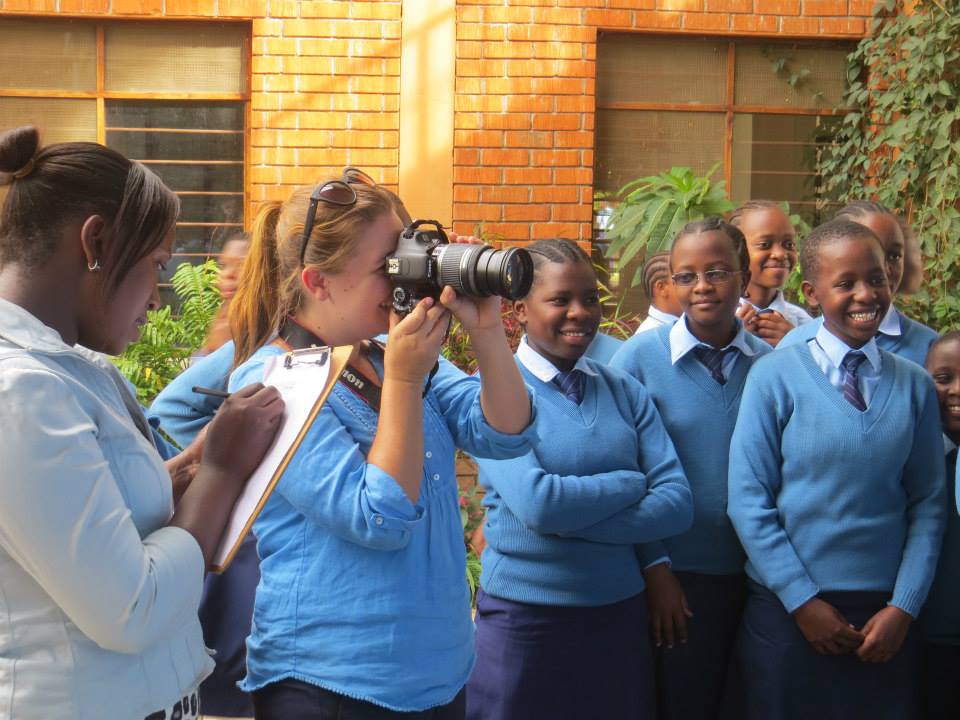 Rachael joined The School of St Jude in 2012. She gradually rose through the ranks to become the Donors and Sponsors Relations Manager, now leading a team of 21.
"As a Donor and Sponsor Relations Manager, my core responsibility is to ensure that we have quality communication with our donors and sponsors, thanking them for the donations and sponsorships, and updating them on the impact of their support," states Rachael.
Rachael leads three teams; the Sponsor Relations team which deals with sponsors of students' and graduates' academic scholarships; the Donor Relations team which deals with monthly donors and those who fundraise or spread the word about St Jude's; and the Supporter Relations team who deal with some of the school's most generous supporters.
"Working for an organisation that has a great mission and vision and seeing that we are making a difference motivates me to keep going and stay dedicated," Rachael says.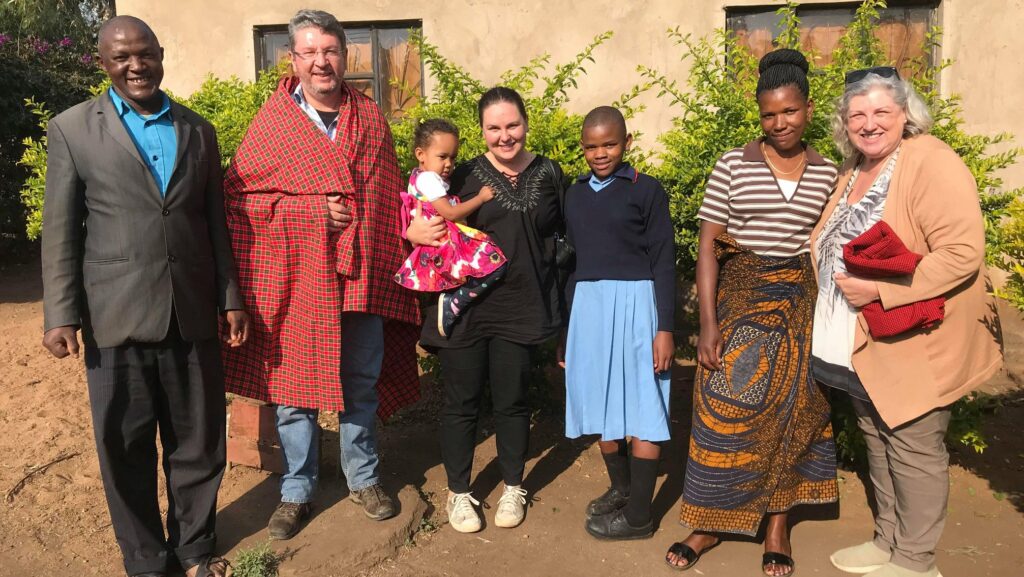 St Jude's offers academic scholarships to students who come from considerably poor backgrounds yet demonstrate academic promise and a great attitude towards studies. The school receives help from supporters through sponsorships of students and graduates, donations that help cover costs in areas where they are most needed, fundraising, or through sharing St Jude's story with others.
"My parents have supported two students academically since their primary school years," states Rachael.
"I have watched these two students go through all of their primary school while I'm working at St Jude's and they are now in Form 2 which is O Level," she adds.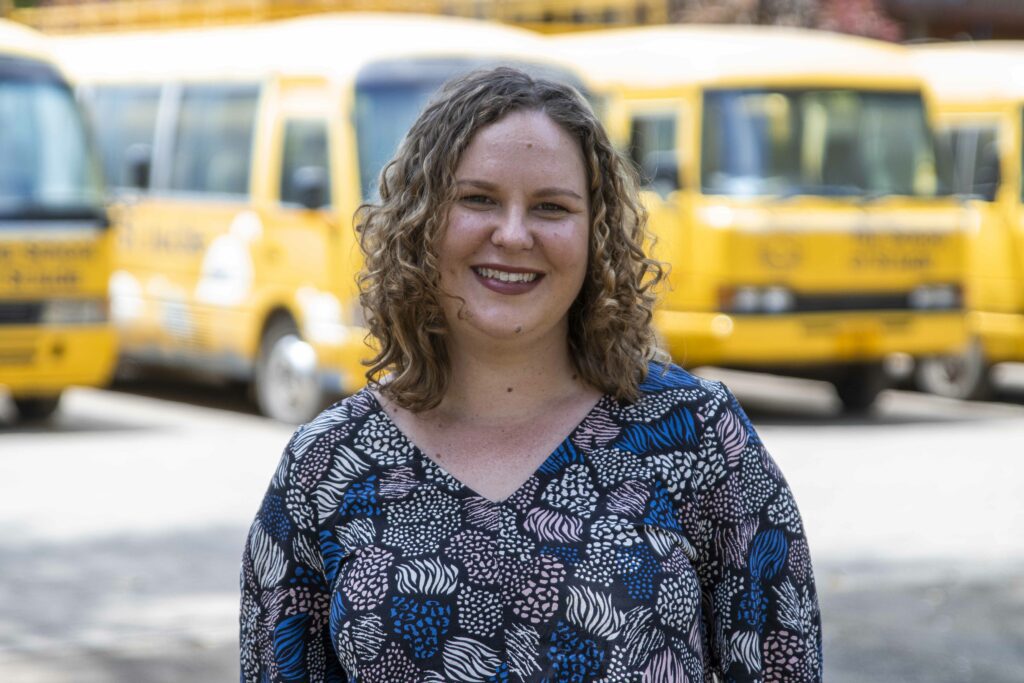 As the end of the school year approaches, it is tradition for students to send letters, postcards, and Christmas greetings to sponsors and donors. However, for the past two years, these physical letters have not been posted due to travel restrictions.
"I plan to go to Australia for a couple of weeks to see my family and I will be taking back more than 2,000 letters from our students to send to sponsors and donors in Australia via Australian post," Rachael says.
"Thank you to all our supporters in Australia, America, and everywhere else in the world who helped the school and remained loyal and supportive during the past two challenging years."
"I would like to wish all of our sponsors and donors a merry Christmas and a happy new year," she adds.
St Jude's rely entirely on the generosity of supporters from around the world to make the school's mission of providing free, quality education for 1,800 bright, poor students a reality.
It would be hard to find an Australian who hasn't got one eye on current COVID-19 vaccination rates. Many supporters have reached out to St Jude's to ask about how Tanzania is addressing the pandemic and the availability of vaccines.
While eligible Australians were first able to access vaccinations in February this year, the vaccine didn't become available in Tanzania until late July. The cost of purchasing vaccines has put them out of reach of many developing countries, but when Samia Suluhu Hassan assumed the presidency of Tanzania in March, she made sourcing vaccines a priority.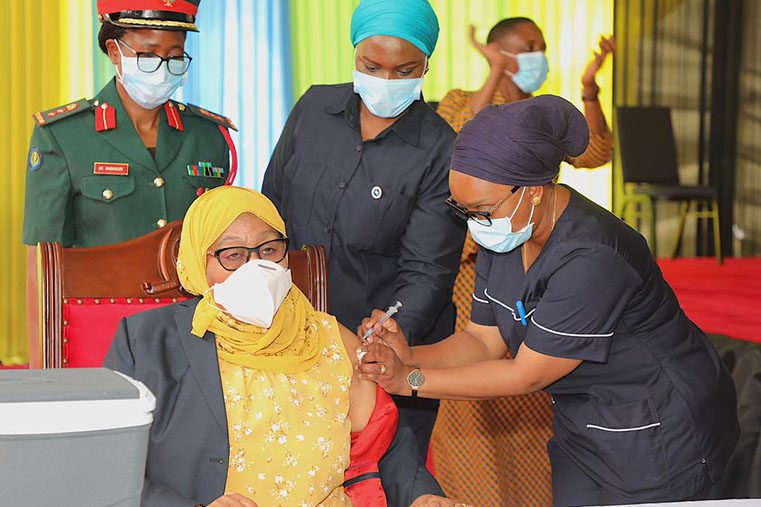 After talks with her US counterparts, President Samia secured a donation of one million Johnson and Johnson vaccines for Tanzanians with hopes for more to follow. Arusha, where St Jude's is located, was among the first regions to receive vaccines due to its status as a tourist destination. The vaccine requires a single dose and is freely available to those adults who wish to be vaccinated.
Since the arrival of the vaccines almost 900,000 Tanzanians have been vaccinated, however this accounts for a small fraction of the total population of almost 60 million people. Around 1.5% of Tanzanians have been vaccinated, in comparison to 75.5% of Australians over 16 years old.
St Jude's staff were among some of the first to be vaccinated. When it was found that staff who wished to be vaccinated were struggling to find time during their busy days to visit a vaccination centre, St Jude's organised for two busloads of staff to visit a vaccination centre in Arusha.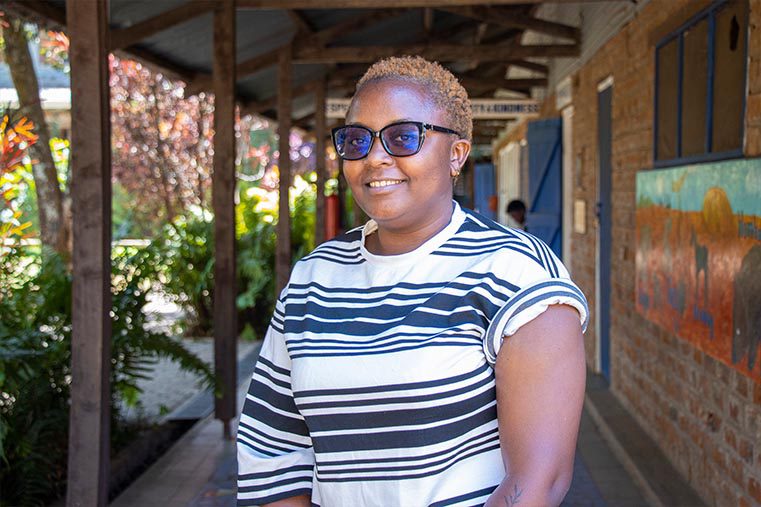 Liz, who works in the Head Office, thanking the school's generous donors, was looking forward to receiving her vaccination.
"I contracted COVID-19 twice, but the first time was the worse experience I have ever been through. I stayed in bed for almost two weeks. So, when the opportunity to get vaccinated presented itself, I didn't think twice because I didn't want to get sick anymore." Liz explains of her decision.
In late September, St Jude's staff requested for another vaccination day. This time, the school provided an opportunity for those who wished to get vaccinated at Sisia Campus, the site of the primary and girls' secondary schools.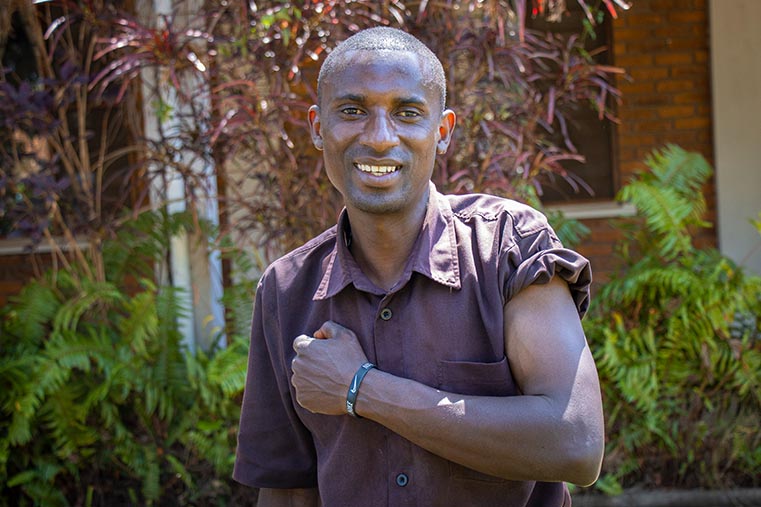 Moses, a gardener at Sisia Campus, was one of the staff members who decided to get the vaccination during September after seeing many of his colleagues get vaccinated the previous month.
"I decided to get vaccinated to protect my health," he shares. "It did hurt at first but only for the first day. I feel so happy and safe now that I am vaccinated." (Translated from Kiswahili)
Still other staff have organised their own vaccinations outside of work hours.
Of surveyed staff throughout the St Jude's, more than 35% are vaccinated and a further 34% plan to get their vaccination soon.
As a country which relies heavily on tourism, Tanzania has struggled during travel restrictions. Many St Jude's students' parents have lost work as porters, guides and hotel cleaners as the flow of tourists stopped abruptly. However, the country's slowly growing vaccination rate offers hope for the return of safari-goers, Kilimanjaro-climbers and most importantly, visitors to St Jude's.
It's inarguable that Tanzania's vaccination rate is far lower than those of developed nations, like the US and Australia. However, it's expected that vaccination rates will continue to increase as more vaccines become available. Vaccination remains entirely optional for St Jude's staff and Tanzanian citizens in general.
At The School of St Jude, one of the most important days on the calendar is the annual Standard 1 and 2 Student Selection Day. Long-term supporters will know the images of a sea of brightly-dressed students and parents at the St Jude's gates. Each year, 1000 or more government school students are invited to the school for the first step in St Jude's student selection process.
What these familiar images do not show are the months of planning and preparation needed to make Student Selection Day, and therefore our mission, a success.
This mission is to give bright, poor Tanzanian students a free, quality education. Through student selection, we find students who will benefit most from everything St Jude's has to offer, including free uniforms, stationery, transport to school, daily meals, tuition and extracurricular activities. They'll join a class of around 25 students, compared to classes of around 60 students in many of their government schools.
The job of organising student selection belongs to the Community Relations team. Theopister, who works in Community Relations, explains:
"Student Selection Day is the first part of our selection process. We invite students from government schools to come and try for a chance to join St Jude's. This year we started planning it more than two months before the selection, in May."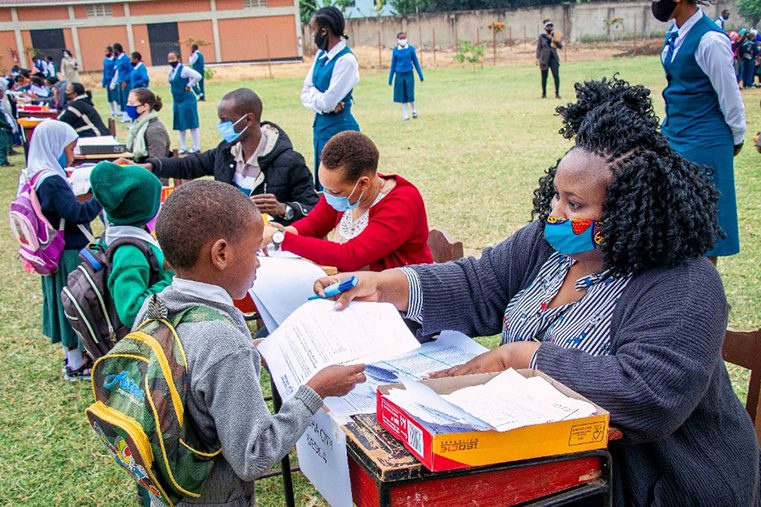 The planning process begins with inviting potential government school students. Theo's team works closely with the Regional Education Officer to find the most academically gifted students St Jude's should consider. "We get the top ten names from each stream at all the surrounding government schools in Arusha," she says. "Then, we send an invitation letter to each student through their school and the headmasters give the letters to the respective students."
The Community Relations team also makes an announcement on local radio about the upcoming Selection Day and, this year, a group of staff visited a number of markets to give out pamphlets and spread the word further to parents of potential St Jude's students.
"Getting to interact with people was fantastic," says Ziada, a member of the Marketing team who handed out pamphlets and spoke to community members about St Jude's. "It was great to hear from the parents that our school is trying to reach."
Finally, after months of planning, the big day arrives. This year, it's 31 July. Today, 1,778 students and their parents have come to St Jude's, all hopeful of receiving one of 50 academic scholarships to start at St Jude's in 2022. A scholarship can change everything for a student and their family.
"Government school is free, but if you want lunch you have to pay. You need a uniform, you have to pay. Some parents will tell their children to skip their meals because they won't be allowed to eat if they haven't been able to pay. So some of these students will eat just once per day," explains Theopister.
The school gates open at 7am and many people have been lining up since before 6am! When the students enter, their parents remain outside and the huge task begins.
"The process starts in the registration area. First we split the students up into districts; Arusha, Arusha City, Arusha DC and Arusha Meru and our staff help them move to the right area. Then we check their documents," says Theopister.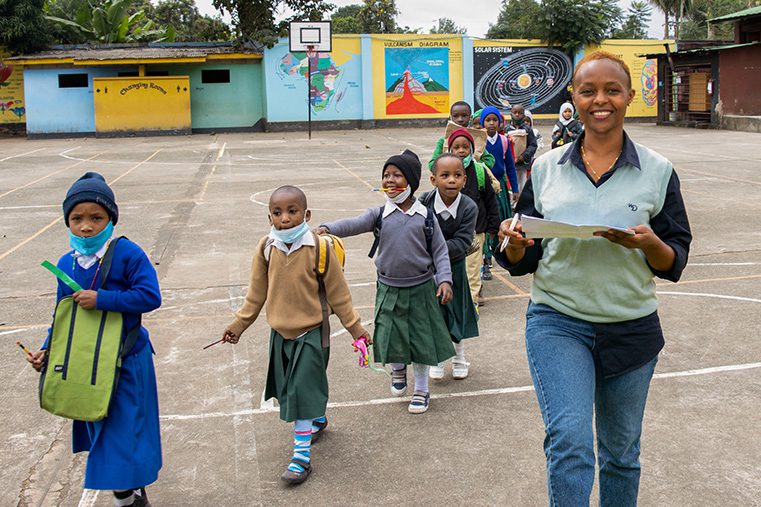 After that, it's time for testing, gently overseen by our academic staff.
"We do arithmetic, counting one to ten and one to 20, recognising numbers. And writing a self-introduction in Swahili," says Miss Juliet, a Standard 1 teacher who has now been involved in nine Standard 1 and 2 Student Selection Days.
It's a huge day, but there are small moments when staff have time to think about what's being achieved.
"My favourite time is when I'm in the hall, doing the reading test and I find a student who is just reading perfectly. It's exciting," smiles Miss Juliet.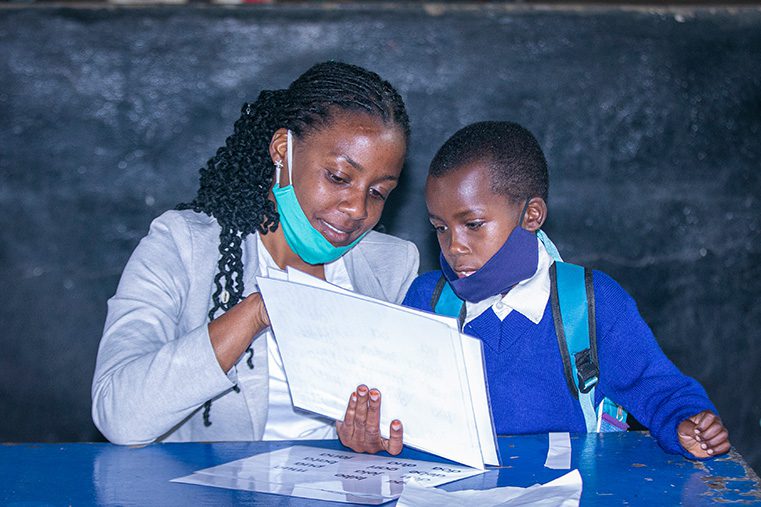 When the potential students are not being tested it's the role of staff to keep them safe and contained. Luckily, the St Jude's Primary School offers plenty of fun.
"Our school is blessed because we have playgrounds, and some of these students, they have never seen anything like this. So, we take them to the playgrounds and supervise them to keep them busy between testing," she explains.
After testing, document checks and time on the playground, there's a shortlist of potential students who meet document requirements and have passed their exams with distinction. They're reunited with their parents and given a note, explaining when they should return to school for the next step in the selection process.
Like most staff, Miss Juliet is glad to be part of Student Selection Day at St Jude's. In 2022, she'll have the unique privilege of teaching the students she helped select today.
"When they come into my class, I feel excited. You get to see the change from the day you select them to the day they move to the next class," she beams.
For 50 students, today is the beginning of that change.
Up-skilling and empowering the academic leaders of The School of St Jude is one of the school's strategic goals.
The School of St Jude developed a five-year strategic plan (2019-2023), with seven focus areas, to help implement its vision and mission as well as ensure its long-term sustainability as a charitable organisation.
As part of St Jude's current strategic plan, the school aims to have both academic and non-academic staff be highly skilled, proactive and demonstrating the school values with the majority of leadership positions held by Tanzanians.
In demonstrating this, 32 members of the academic leadership team attended a Leadership and Management Training day in Arusha to sharpen their skills on productivity and effectiveness.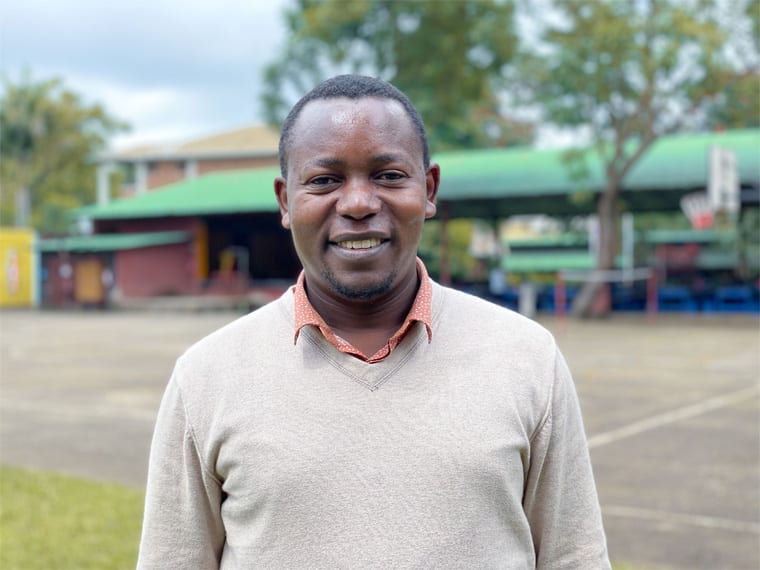 Sharing his experience, Mr Elineema says, "For me, the training was an eye-opener."
Mr Elineema teaches Kiswahili and English at St Jude's Primary School and leads a language department that has a team of nine members.
"The training covered topics such as monitoring and evaluation, planning and executing projects, qualities of leaders, as well as emotional intelligence… this topic inspired me the most" he explains.
"St Jude's is an educational institution, and we deal with people at different levels. I believe it is important for all staff to have a basic understanding of the topic."
"We are here to prepare future leaders. In the training, we examined how employment will evolve in the next 20 years. That alone is going to help us shape students that will demonstrate moral and intellectual leadership in the community," Mr Elineema states.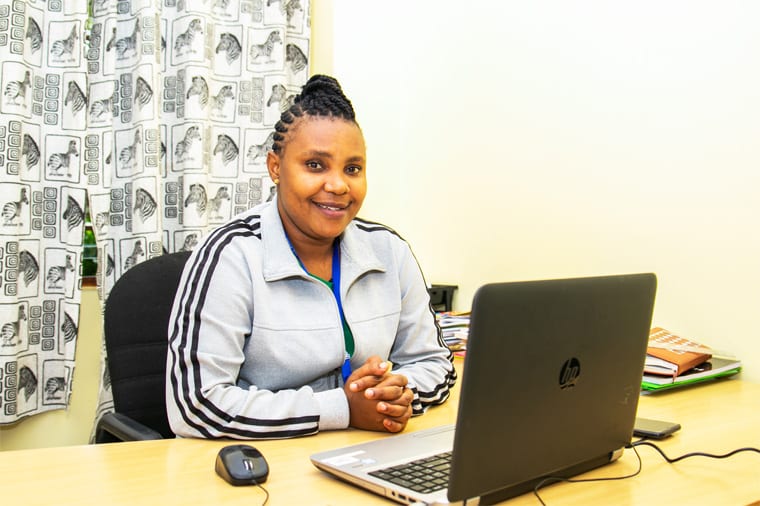 Among other modules taught to equip academic leaders with modern leadership and management skills were project management, teamwork, team management and conflict resolution.
"The training was interactive and a topic of particular interest to me was conflict resolution," says Ms Yukunda, who assists with the school's core values, welfare and discipline at St Jude's Girls' Secondary School and is also a Child Protection Officer.
Ms Yukunda monitors compliance with the school's Child Protection Policy and provides regular training on the policy to staff and students.
"The best way to resolve a conflict is to prevent it, that's what the facilitator said. I learned a lot about how to interact with people and how to resolve situations," she states.
"If we, as leaders, can manage and resolve conflicts effectively, our teams will work in a peaceful environment and as a result, we will be able to achieve our goals."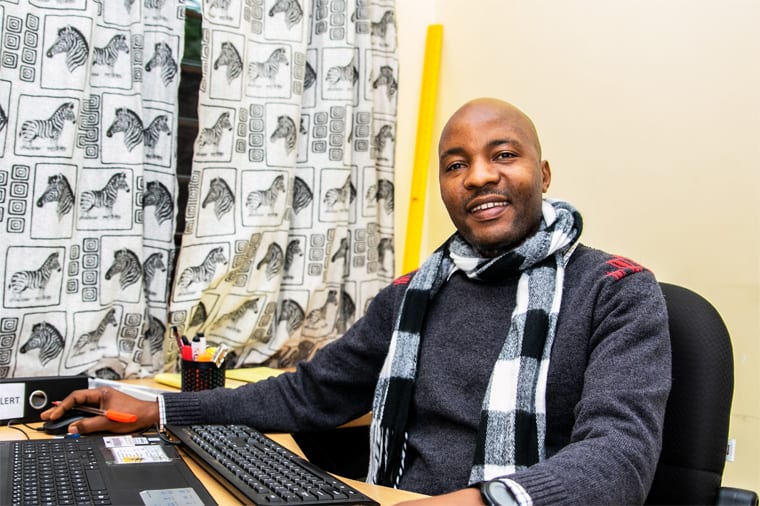 Inspired by the training is Mr Oisso, who works as an academic deputy at St Jude's Girls' Secondary school, helping the headmaster monitor and evaluate teachers and students' progress.
"Monitoring and evaluation was a highlight for me. During the session, we discussed how to monitor and evaluate staff, as well as how to appraise them. Additionally, we covered the importance of teamwork; how to initiate teams, evaluate teams' performance and how to have effective teams," Mr Oisso explains.
"As a leader, I have learned how to identify and make clear goals to monitor the performance of both teachers and students. I believe clear and defined goals will help us reach a common goal and drive us to fulfil the mission and vision of the school."
St Jude's has over 300 local and international staff. Together, the teams are working hard to ensure that the school achieves its status of becoming a Centre of Excellence for teaching and learning in East Africa and a model for fighting poverty through education. If you would like to know more about our strategic plan (2019-2023) you can view it on our website here.