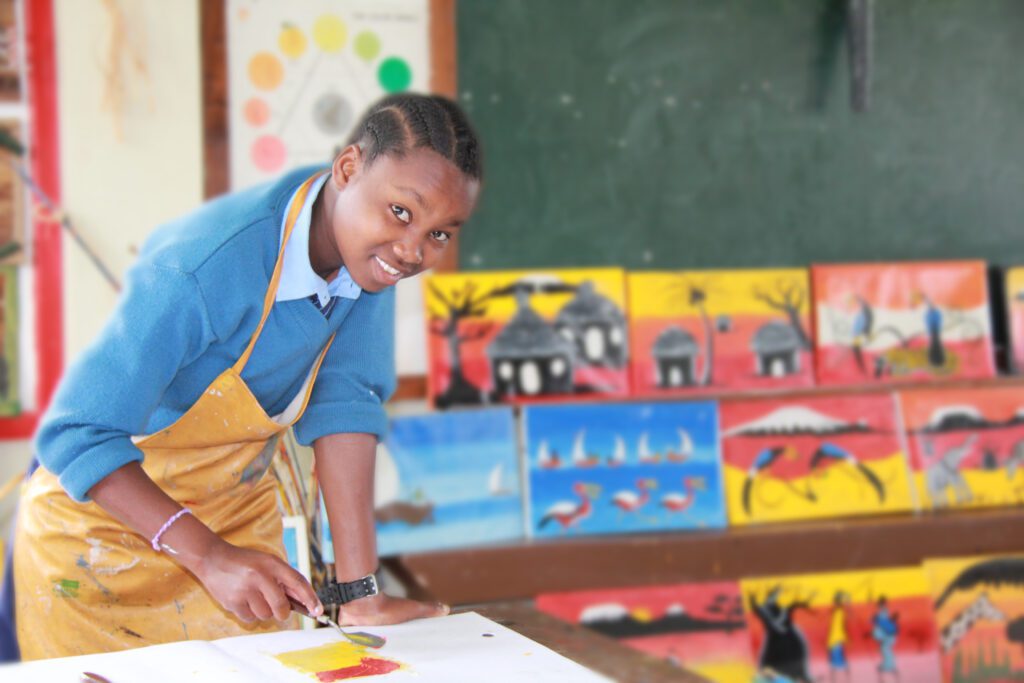 Abdallah first discovered his love for art when he had to draw a picture as part of a school assignment. The teacher had asked the class to select a reference picture of their choice from an English textbook, and one picture, in particular, caught his attention.
"It was a picture of a woman with a headwrap sitting on a wooden stool cooking a meal on a charcoal stove," recalls Abdallah. "My exercise book was full, so I drew the picture on the very last page and it remained there many days," he adds.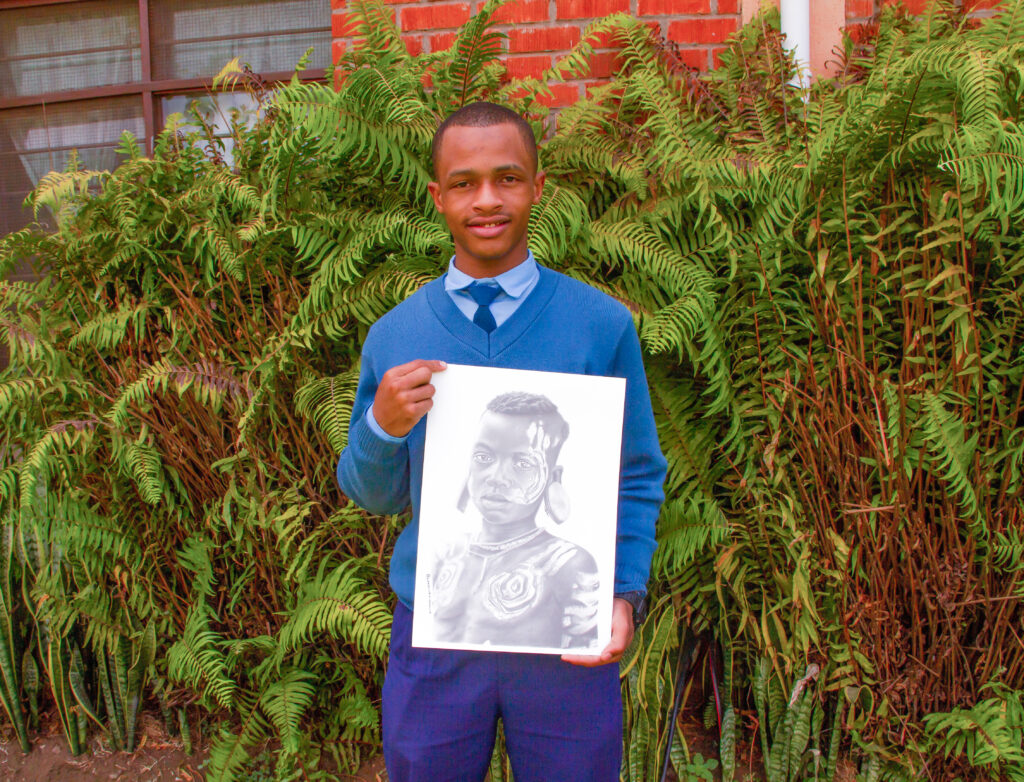 Fast forward to 10 years later, Abdallah is a student at St Jude's Secondary School and an aspiring artist. The rich resources at St Jude's have inspired him to develop his passion for art even further, exploring his creativity in new and exciting ways. He no longer uses a single reference book for inspiration and nor does he have to use the back of his exercise book for his creations.
"St Jude's support for my talent has been incredible," says Abdallah. "In addition to resources, I also get mentorship and support from my teachers and fellow students," he adds.
Despite art not being a core subject in Tanzania's national curriculum, St Jude's focus on holistic education has made art a part of the school's curriculum from the start. This gives opportunities to students like Abdallah who would love to express their creativity on a blank white canvas.
"I first volunteered at St Jude's as an art teacher back in 2006," says Alicia, St Jude's Art Initiative Coordinator and one of the early volunteers at the school. "Although the school was only four years old back then, it was obvious that art was a priority," she recalls.
Alicia is currently back at St Jude's to kick start the new Student Art Program, an initiative designed to support, encourage and develop the skills of budding artists at the school, while giving supporters the opportunity to have a little piece of St Jude's in their own home.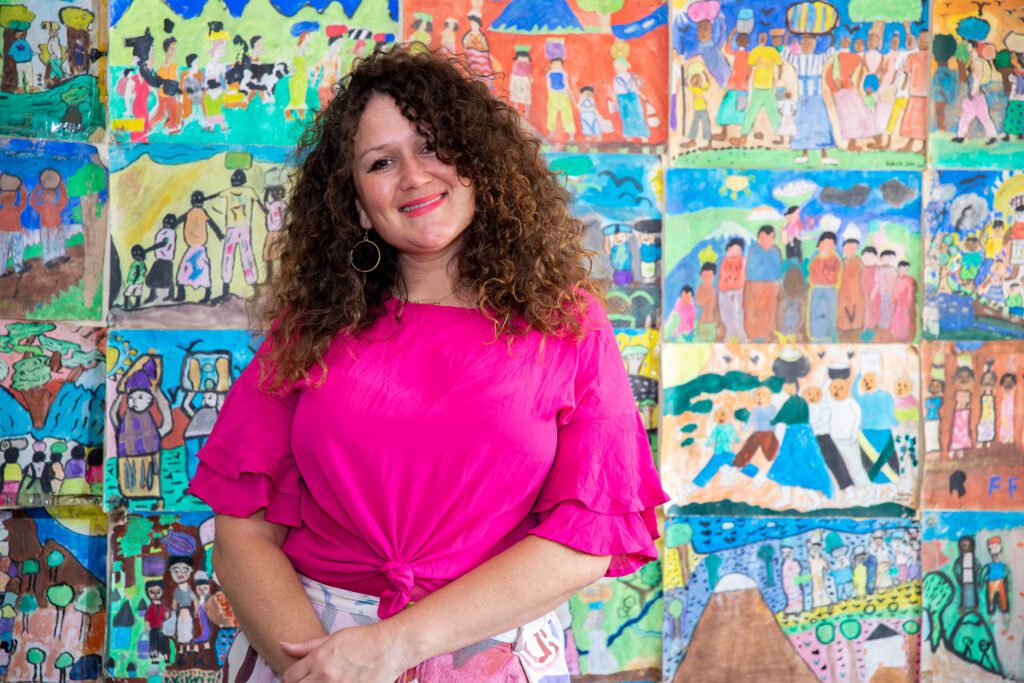 "The Student Art Program came about as a recognition of our students' talents, both from us and visitors coming to St Jude's," explains Alicia. "So, we worked to launch a virtual gallery on our website to showcase students' artworks and also allow for visitors to order artworks in support of the program and as gifts," she continues.
St Jude's Student Art Program complements the already thriving extracurricular Art Clubs and classes at the school. All proceeds from artwork orders go straight back into developing the Art Program with quality resources and materials, building a gallery, and much more.
There are three ways to support the Student Art Program directly from St Jude's website.
"We have set it up so that it works like an online shop which is familiar to most people," says Alicia. "You can order an original artwork and have it mailed to you in Australia, or you can buy the original and donate it back to St Jude's where it will be displayed in the school for everyone to enjoy, and the third option is ordering a digital print of the artwork," explains Alicia.
Currently, original artwork can only be mailed to Australia, but the school hopes to expand delivery countries in 2023.
There is a lot to look forward to with this new project at St Jude's, especially for Abdallah who sees it as a bigger stage to express his creativity.
"This new Art Program is great because it will raise awareness about art to the St Jude's community and beyond," he says.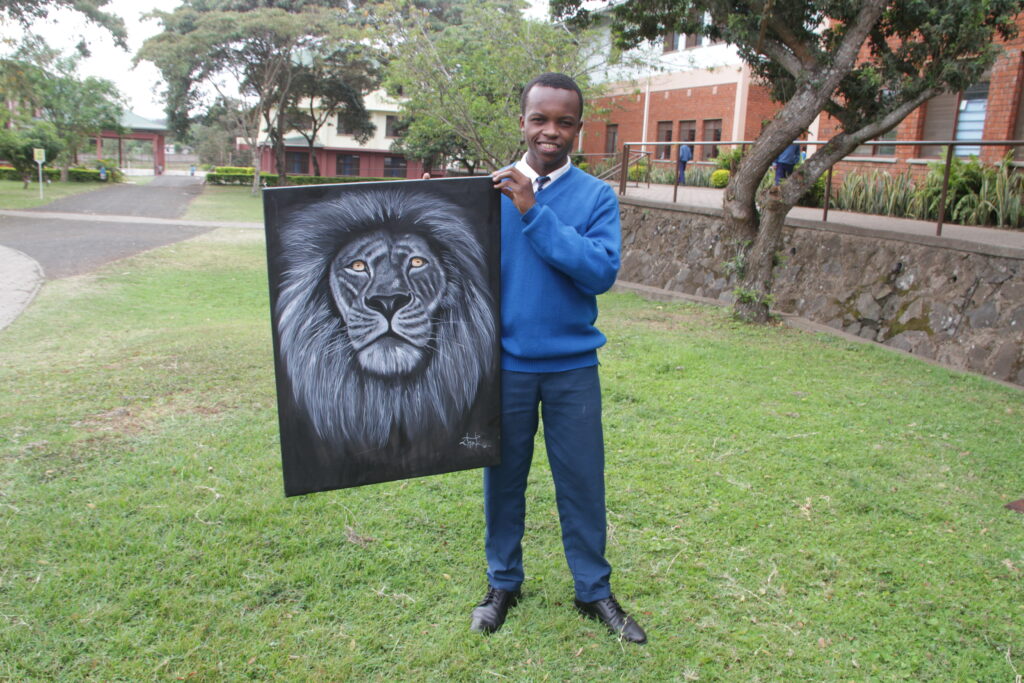 His sentiments are echoed by a fellow budding artist at St Jude's Secondary School, Emanuel. Like Abdallah, Emanuel discovered his talent at a young age and has ambitions of setting up his own art gallery in future.
"Besides supporting students already doing art," explains Emanuel. "This new program will motivate others who have talents but never got a chance to show it," he adds.
This program is a new way for supporters to connect with St Jude's through a shared love for art. Soon, artworks will be proudly displayed in homes around Australia, a reminder of Tanzania's rich culture and St Jude's work fighting poverty through education.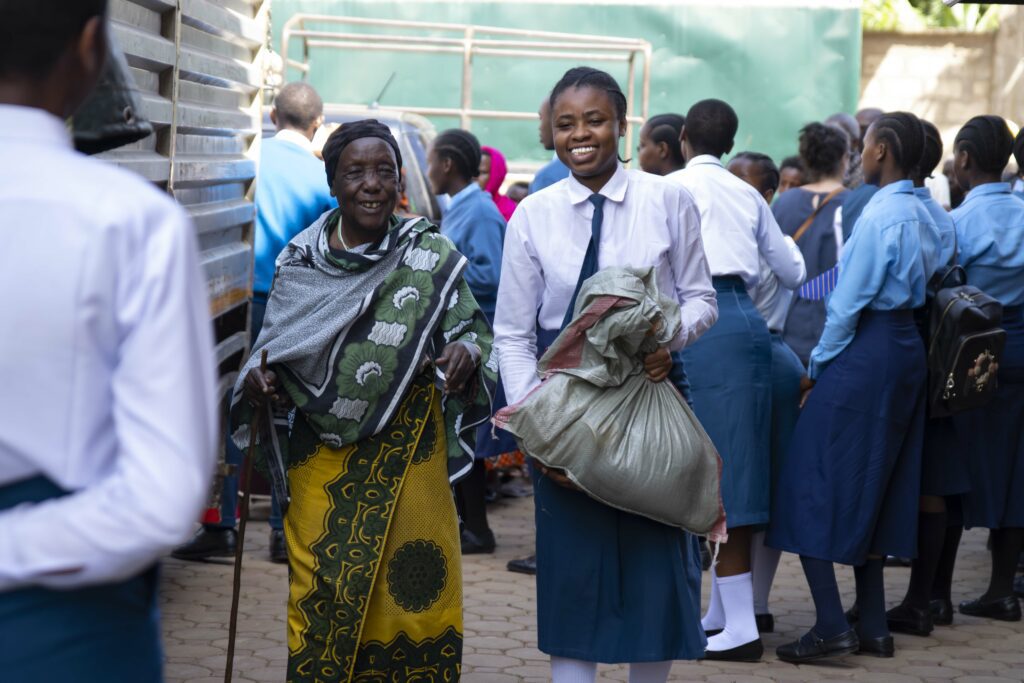 Saturdays are typically uneventful at St Jude's. Boarding students usually spend the weekend catching up with their studies, taking extra ESL lessons or engaging in extracurricular activities and sports.
However, the Saturday of November 12 was unusually lively. St Jude's Sisia Campus was bustling with action as students inspected and carefully loaded a specially prepared lunch and hundreds of packs of food to be distributed to the elderly community.
At the centre of the action were Goodluck and Diana, Head Boy and Head Girl at St Jude's Secondary School.
A few months ago, Goodluck and Diana organised a campaign to help members of the elderly community in Arusha who were struggling with the rising costs of food.
"We had an ambitious goal of helping 400 elderly people in need during this year's St Jude's Day," recalls Goodluck. "With help from our international supporters and St Jude's community, we reached our target," he adds proudly.
To help the elderly, Goodluck and fellow student leaders created a St Jude's Day Essentials Pack, a special package consisting of a variety of staple food items to be delivered to the elderly in need.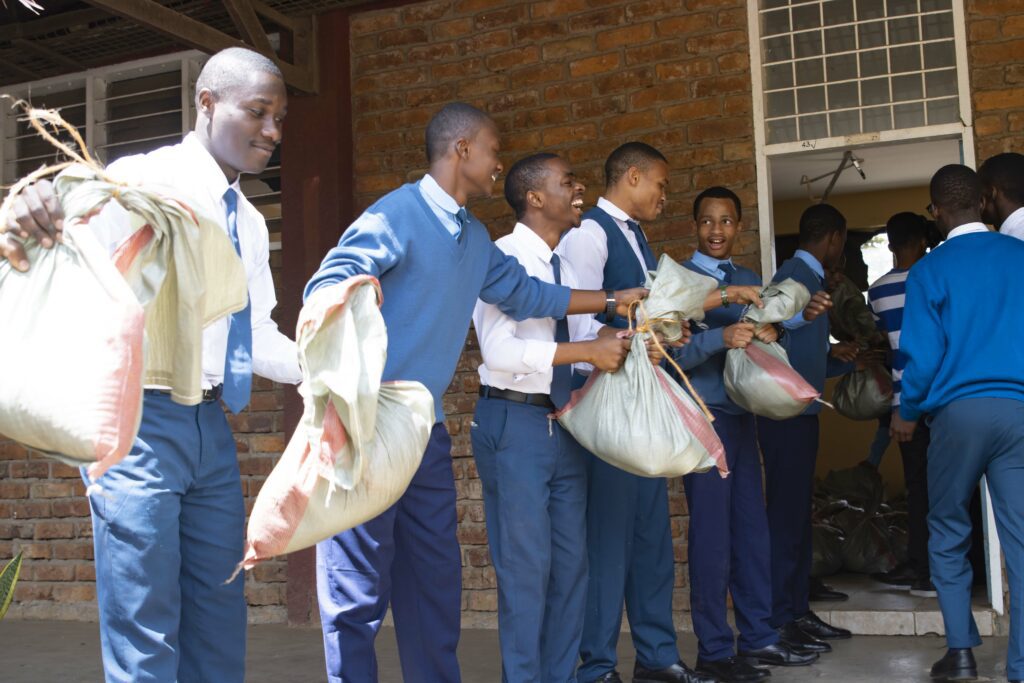 Many of the items were donated on St Jude's Day by St Jude's staff and students. In order to complete the 400 packs with maize and missing items, our international supporters had an opportunity to donate towards a St Jude's Day Essentials Pack and help provide a special lunch.
As students made their way out of St Jude's to finally meet members of the elderly community and deliver the gifts, their enthusiasm was palpable as they sang on the bus journey.
After a 15 minutes' drive to one of the poorest residential areas in Arusha, St Jude's students were met with hundreds of members of the elderly community, who gladly welcomed them. After exchanging warm greetings and introductions; students proceeded to interact with the elderly in the best way they knew.
"A community lunch is a great way to cultivate social interaction," says Diana, Head Girl at St Jude's Secondary School. "It always works like a charm!" she adds with a smile.
On this occasion, Diana was manning serving tables making sure every elderly member present enjoys a plate of food and a drink.
"My job was to make sure the elderly people have the best day possible," said Diana. "I couldn't think of a more fulfilling activity," she adds with a smile.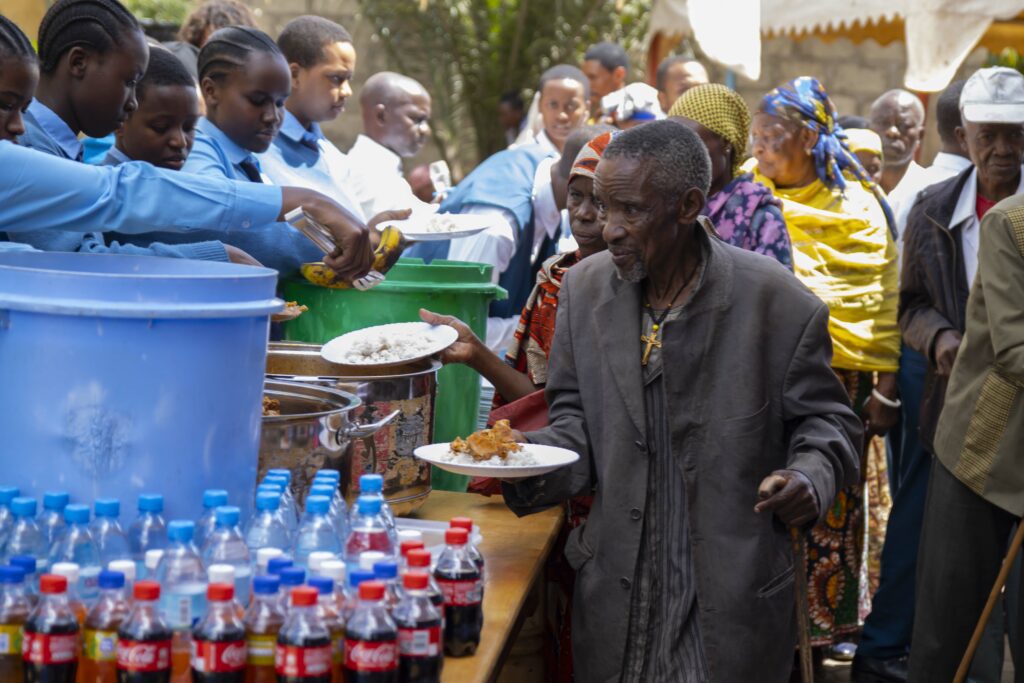 After lunch, the next activity was the handover of St Jude's Day Essentials Packs.
St Jude's students unloaded hundreds of packs and proceeded to personally hand them over to the elderly members. It was an emotionally touching moment, with several elderly members uttering words of blessings and gratitude as they received the gifts.
"God bless you my sons and daughters," they said, deeply moved by the kindness and generosity of the students.
The feeling was visibly mutual, as students responded with warm remarks and kindness; offering a hand to help by carrying their gifts.
For some elderly members of the community, travelling was not an option for them. So our St Jude's students personally delivered almost 150 lunch boxes and packs to the homes of the elderly that were housebound.
For the past few months, this community of elderly members has been battling the effects of rising costs of living that have plagued the country. Today was a much-needed break from their problems as they enjoyed a full day of social interaction, community lunch, and a gift pack to take home with them. It is undoubtedly a day they will remember for many years to come.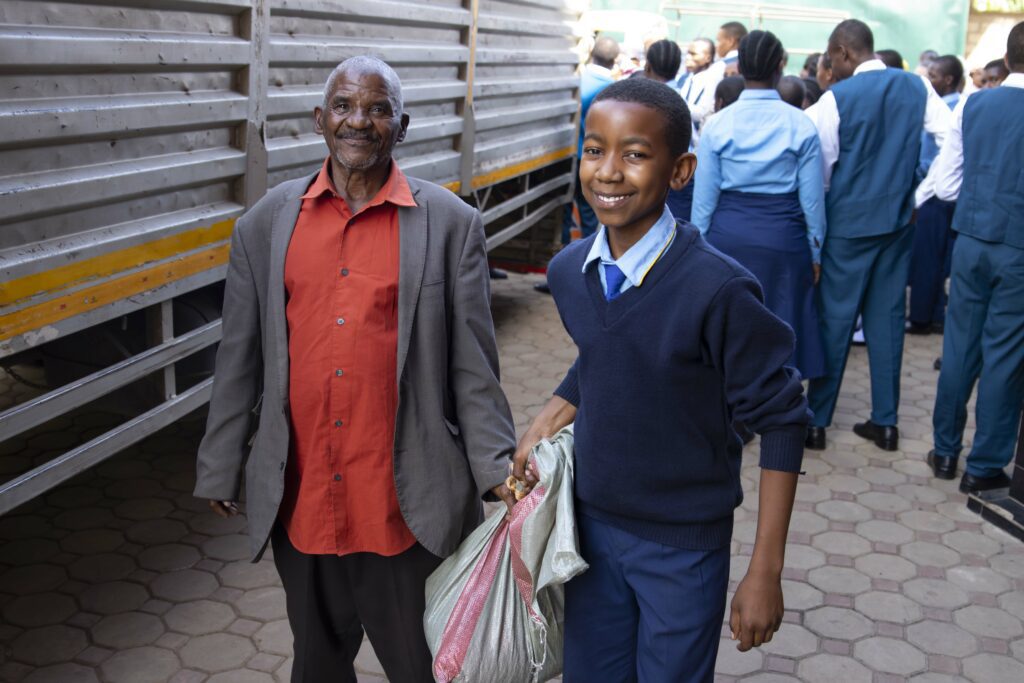 It is also a proud moment for St Jude's students as they personify the school's core values of Respect, Responsibility, Honesty, and Kindness in taking the initiative to address a problem in their community.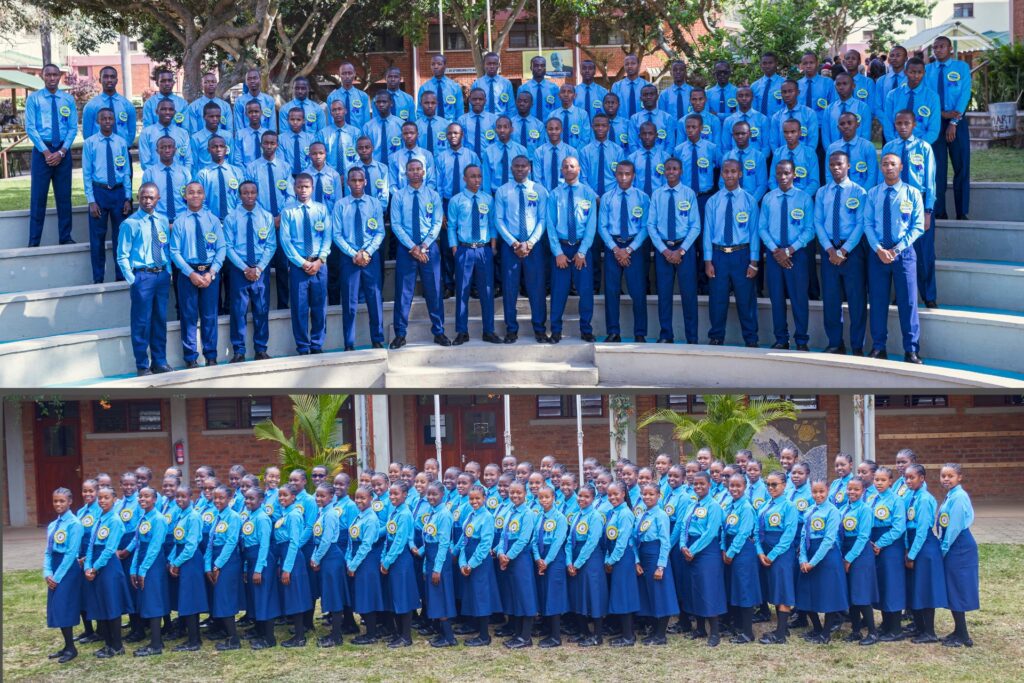 At 17 years old, Stephen is the first member of his family to graduate Form 4. In years to come, he will be look back at this accomplishment as one of his defining moments in life.
"This is a historical moment for me," says Stephen. "I have younger siblings who are looking up to me. Making it past this point is an inspiration to everyone who comes after."
In Tanzania, secondary education comprises two key stages, Form 1 to 4, which is called Ordinary Level (O Level) and the final two years of secondary school, Form 5 and 6, which are called Advanced Level (A Level).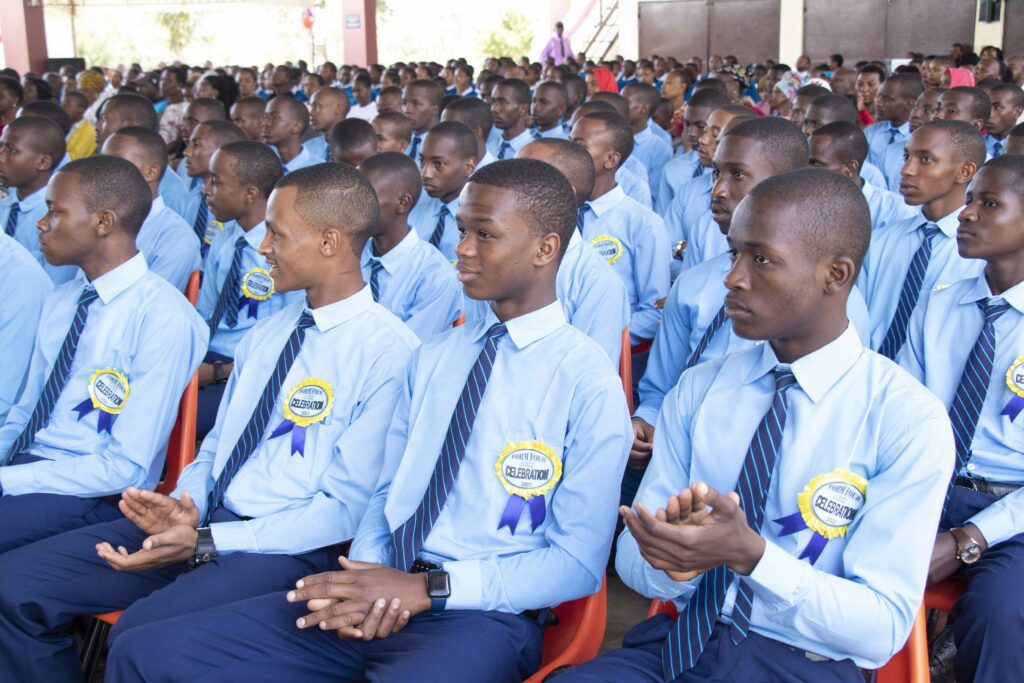 Graduating Form 4 is a huge milestone for secondary school students in Tanzania. On average, just 12% of Tanzanian students who start Form 1 graduate from Form 4. At St Jude's, 100% of students who start Form 1 graduate from Form 4. This year 146 St Jude's students, from both St Jude's Secondary School and St Jude's Girls' Secondary school, are celebrating this exciting milestone.
Stephen joined St Jude's in 2012 when he was in Standard 1, the first year of primary school. Since then, he has developed his passion for football, enabling him to play in interschool and interclass sports competitions. Stephen has also had the opportunity to develop his leadership skills.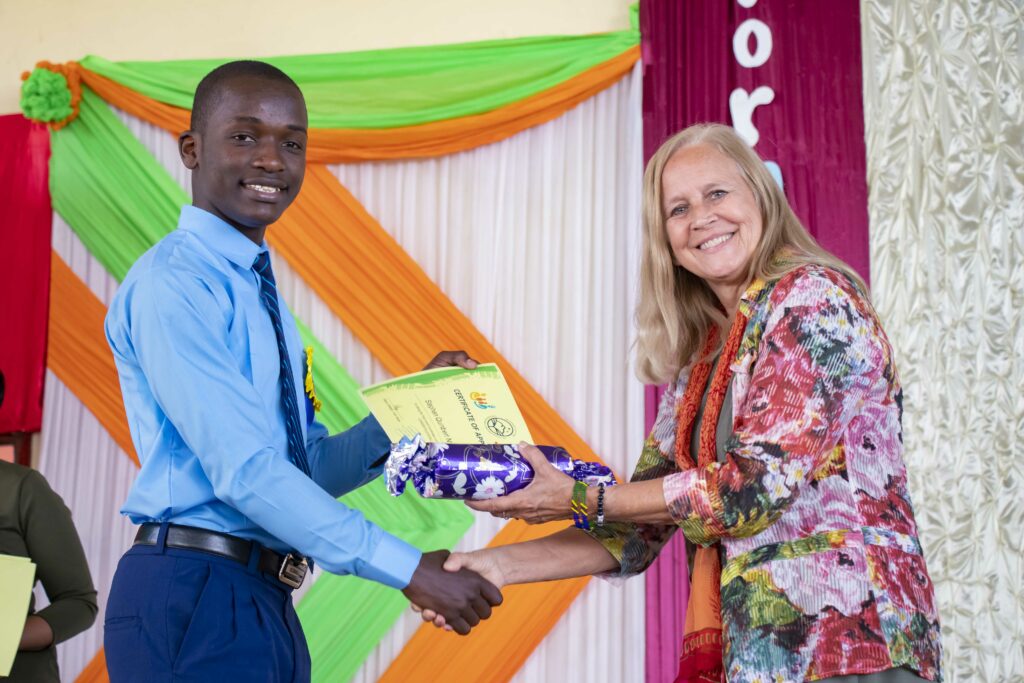 "When I first arrived at St Jude's, I was quite shy," recalls Stephen. "But as I slowly settled in, my fellow students noticed my rise in confidence and leadership skills."
Stephen was appointed leader of his class and is currently an active member of the UN Club, where students organise activities and initiatives inspired by the United Nations.
"Being at St Jude's has unlocked a wealth of talents in me," says Stephen. "As I graduate Form 4, I feel the responsibility of using all that was deposited in me to help others in my community, starting with my siblings back home."
Graduating along with Stephen is Fatina, another Form 4 student motivated to make a positive change in her community following her studies at St Jude's. Like Stephen, Fatina joined St Jude's from a government school in 2012 when she was in Standard 1. She still remembers her most surprising moments when she first arrived at St Jude's.
"We had mats and cushions in class," recalls Fatina. "I must have dozed off a few times during reading lessons because it was so comfy. I had never imagined a class so comfortable," she adds with a smile.
The massive opportunities available at St Jude's only served to Fatina's curiosity. She has practised art and music; aired her opinion in debates and public speaking; and tried her hand at basketball and netball.
"Studying at St Jude's has been such an immersive experience for me," says Fatina. "I feel the responsibility of sharing what I have freely acquired with others," she adds.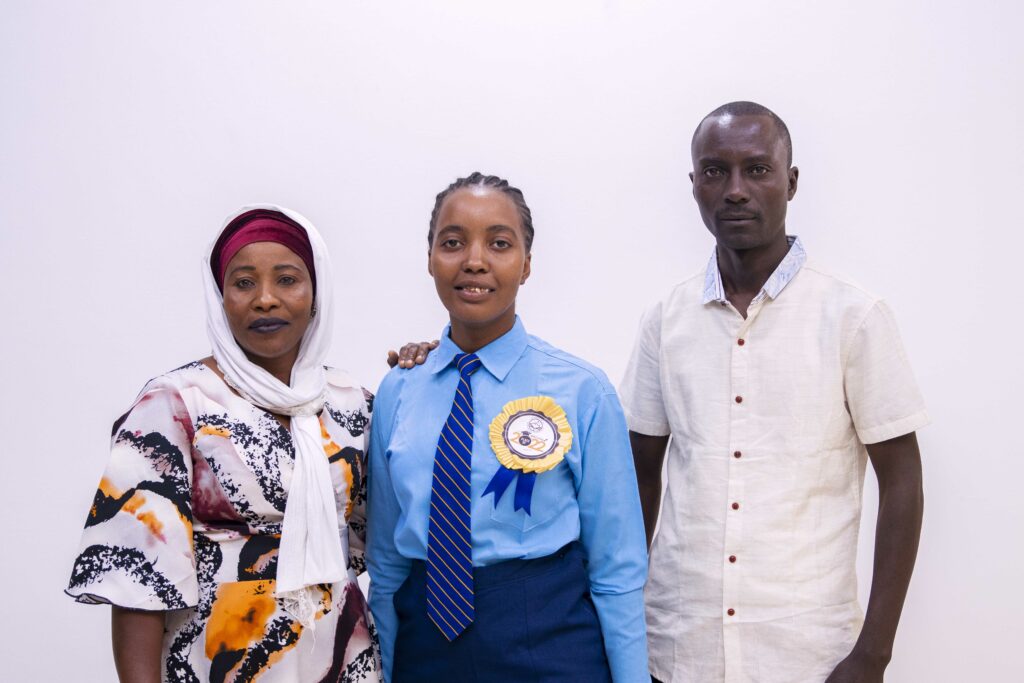 Fatina is passionate about women and youth and aspires to become a social worker and an activist for women's rights. Her dream is to see a society where young people, particularly women live to fulfil their potential and improve their communities.
Fatina and Stephen graduate Form 4 equipped with not only a strong academic background, but also a wealth of extracurricular skills that would surely come in handy down the line. In the next few weeks, they will sit their Form 4 National Examinations and we all wish them all the best. After exams comes a long wait for results before they apply for scholarships either to join A Level or join the Beyond St Jude's Alternative Pathways Program. Whichever path they take in pursuit of their dreams, the experience at St Jude's will remain a constant source of inspiration and courage.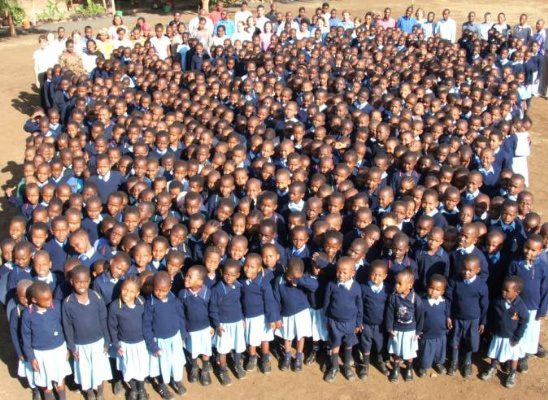 Back in 2006, The School of St Jude held its first ever St Jude's Day, a day for thanksgiving, celebration and sharing. The whole school, which numbered just 662 primary students and 114 staff at the time, gathered for a service, entertainment by students and a special meal.
Sixteen years later, and the general format for the day has remained the same, but almost everything else has changed! In 2022, the school numbers 1,800, with more than 300 staff.
Back in 2006, St Jude's catered to the first five years of primary school, but today St Jude's comprises three schools; one primary and two secondary. Now, St Jude's Day is held at each school on a rotating basis, and in 2022, the event was held at St Jude's Girls' Secondary School.
Though St Jude's is a relatively young school, its traditions, like the annual St Jude's Day celebration, have a special role in the school community.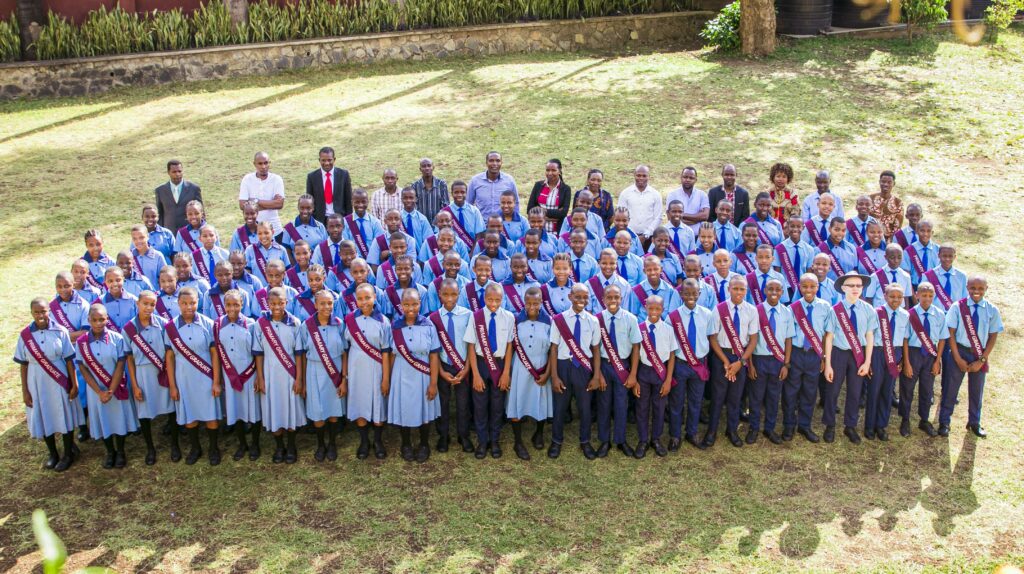 In Tanzania, Standard 7 National Examinations are incredibly important. Not only do they mark the end of primary school, but for government school students, a good result means a ticket to secondary school, while a fail grade can mean the end of formal education.
In October, St Jude's current Standard 7 class will sit these important exams. St Jude's has a history of great performance in Standard 7 examinations, which goes all the way back to the first class to sit them in 2008. Over the last 14 years, 100% of St Jude's students have passed, with many receiving top marks.
Last year, 86% of St Jude's primary students scored A grades in all subjects, which placed the school within the top 0.1% nationally.
Back in 2008, Enock was among the first St Jude's students to sit their Standard 7 National Examinations. In a sign of things to come, Enock was top of his class and among the top 10 students in Arusha.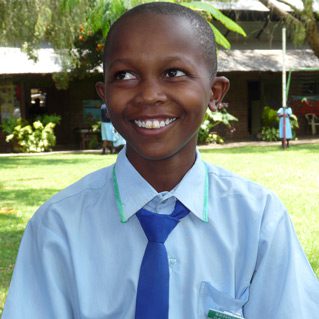 "Primary education determined my path. Because of the strong foundation I got, it helped me move forward and opened gates for many more opportunities," says Enock.
Today, Enock is back at St Jude's, where he works with alumni to secure international scholarships for tertiary education.
"The feeling of being back at St Jude's is nostalgic. I get a sense of satisfaction knowing that I am back where it all began," says Enock with a smile.
"I would like to tell this year's Standard 7 students that they are all excellent with amazing strengths. They have worked hard for the exams and I have total faith in their abilities. I wish them all the best," he adds.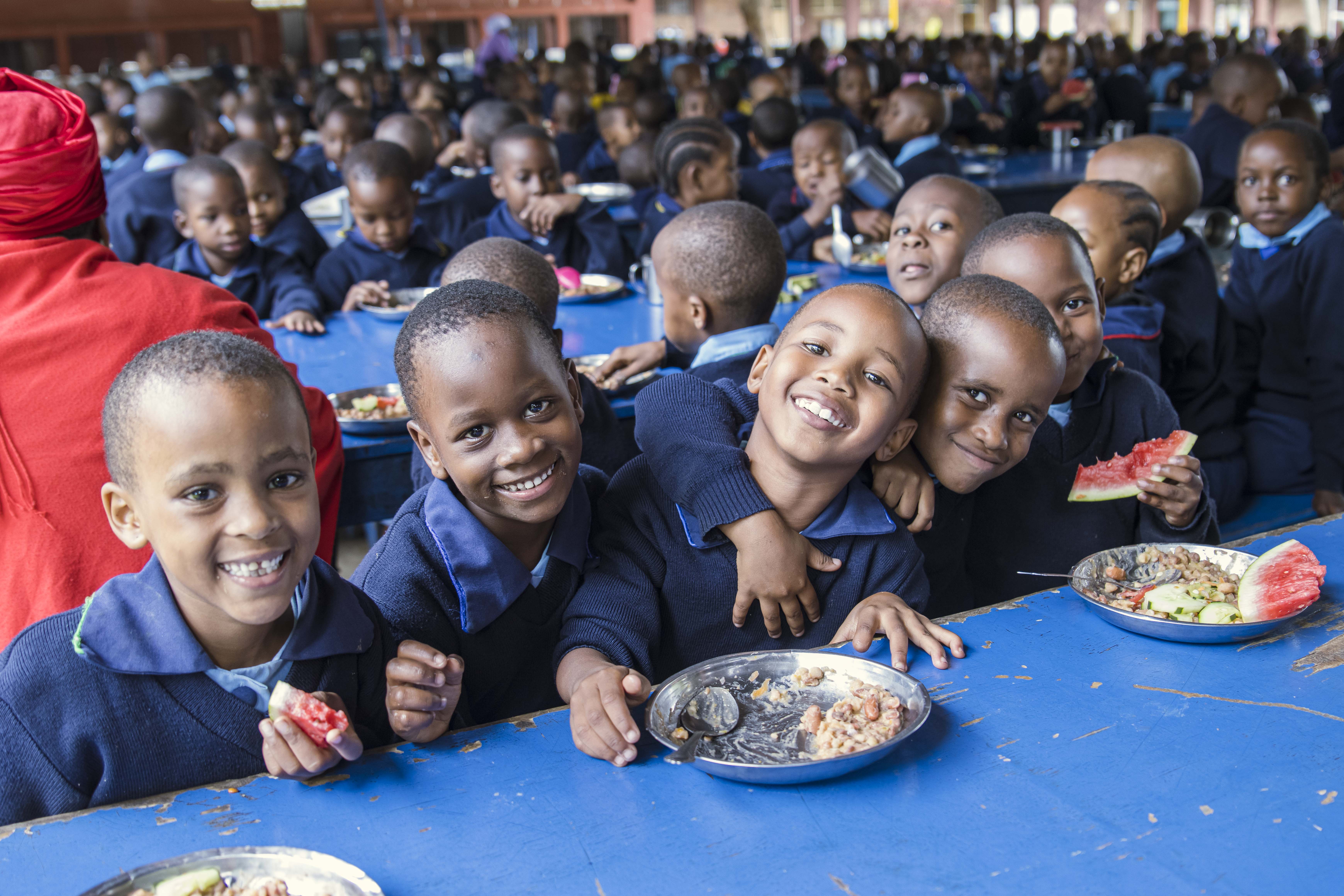 Motivated, healthy and happy students start with daily, hot and nutritious meals, regular health check-ups and physical activity.
With generous support from St Jude's supporters, the school gives scholarships that cover more than academics, but also provide students with daily nutritious meals and health and welfare support, ensuring their present wellbeing and future success.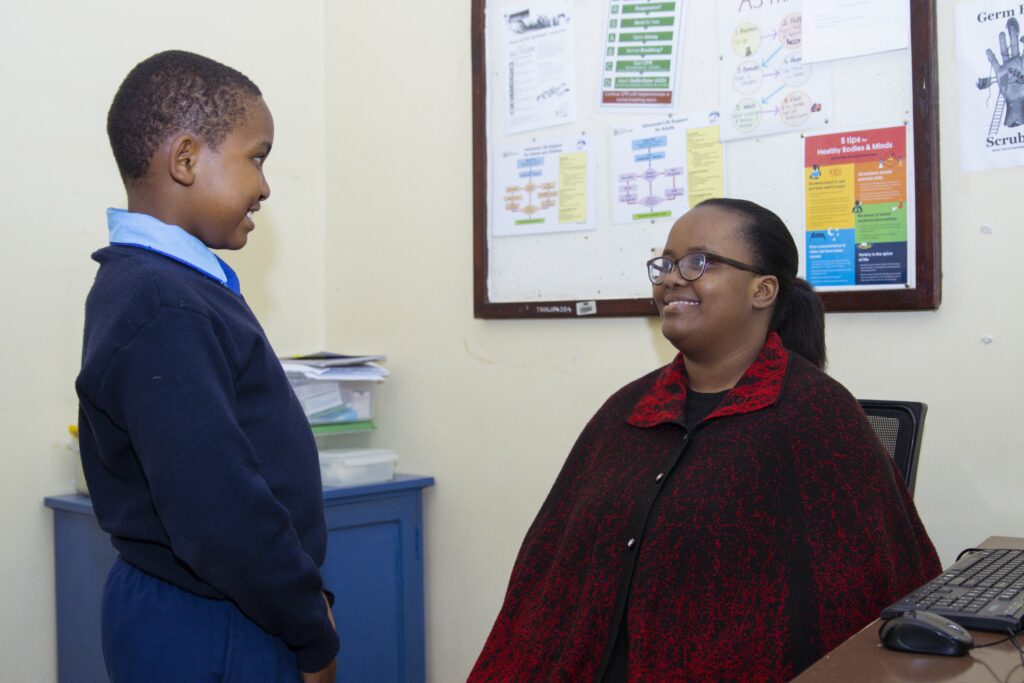 "It's satisfying knowing that I'm contributing in ensuring that we have healthy students who are likely to perform well in their academics," says Lisa, who coordinates the Health and Welfare team.
"As Coordinator, I work with the team to make sure that all health and welfare cases are well monitored, recorded and where possible communicated with school leadership. I organise our school counsellor's monthly schedule so that the needs of the students are well met. I assist with hospital visits of serious health cases and special diet when needed," Lisa elaborates.
Part of the Health and Welfare team's role is to organise annual checks on students, including monitoring height and weight. "With the help of the health check team, who mostly come from Australia, we check eyes, ears, skin and flag any other health issues," Lisa explains.
The team also provides health education on various health topics in secondary schools and oral hygiene workshops for Standard 1 and 2 (the first two years of primary school) students, and reinforces of the school's Child Protection Policy.
"To make sure our students remain healthy, we discuss health issues of students with their parents and where possible and applicable they get counselling from our school counsellor as a group session," Lisa states.
While St Jude's is primarily an educational institution, students who receive academic scholarships come from poor backgrounds where families are particularly susceptible to range of physical and psychological issue.
"It honestly feels great working in line to support the school's mission, vision and strategic plan," she adds.
Understanding that nutrition influences student's learning potential, the school puts special emphasis on healthy and nutritious meals.
The school serves more than 26,000 hot meals to students and staff every week - that makes up more than one million meals served each year!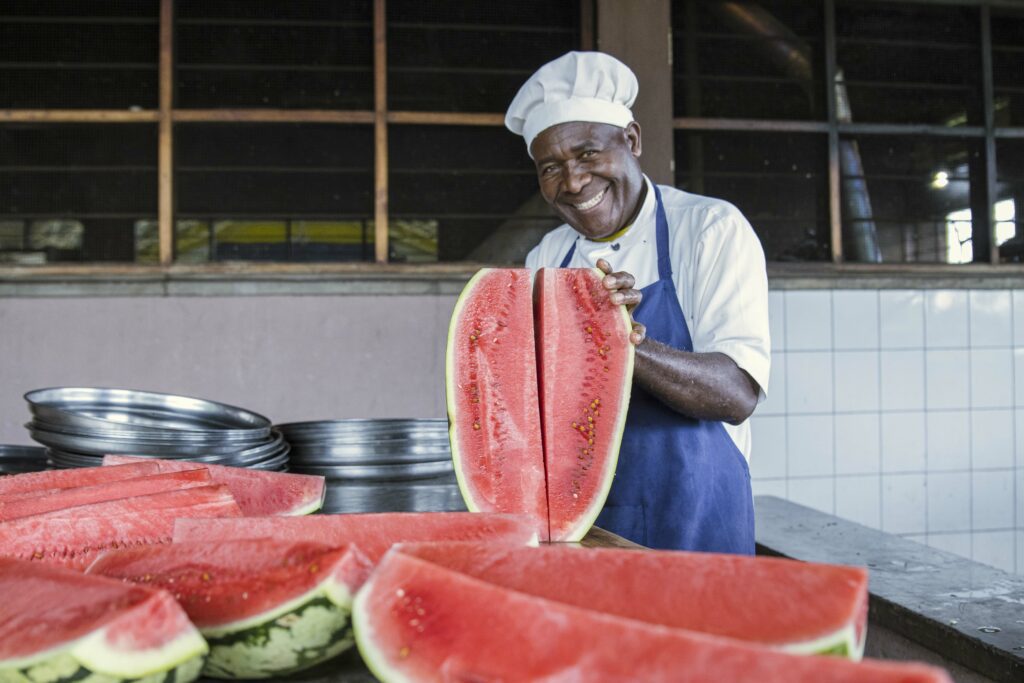 "Every month we serve almost 7,000 kilograms of beans, nearly 6,000 kilograms of rice and nearly 17,000 kilograms of vegetables and fruits," says Julius, the Head Cook at Sisia Campus.
Julius, who has been with St Jude's for ten years, knows the importance of offering nutritious meals to students. "I'm proud to be serving these healthy meals to students every day. I see them growing up and I know that my meals are helping them grow big and strong."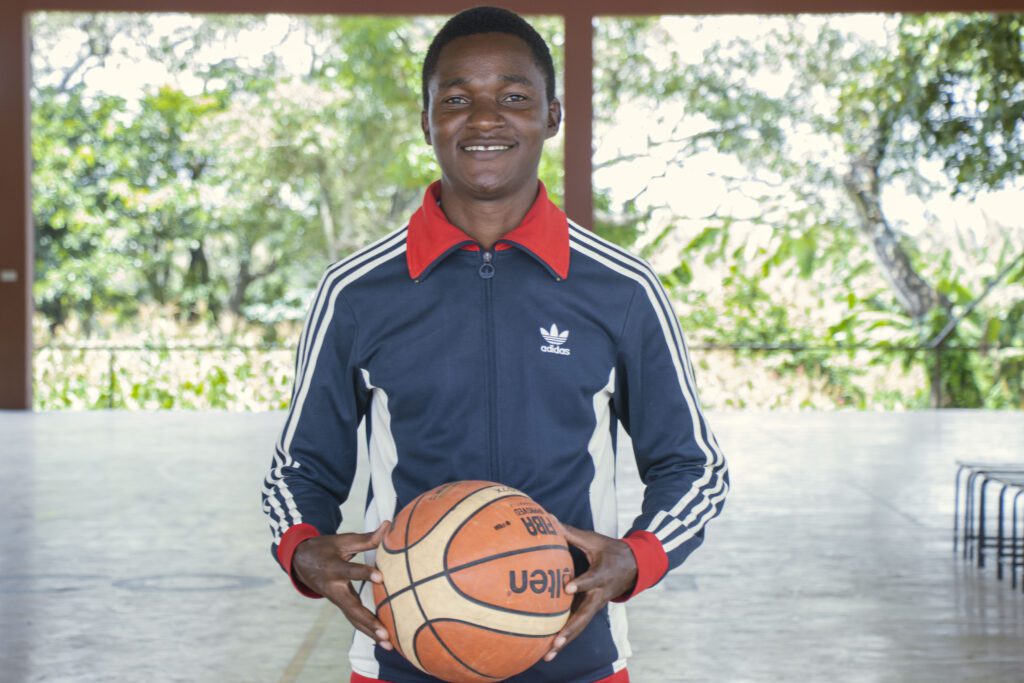 Students' health is especially important for teachers who are providing the support in physical education (PE) and sports.
"Research shows that students who participate in sport and other extracurricular activities have favourable mental health compared to inactive students," explains Mr Paul, Head of Sports at St Jude's Secondary School.
"Participation in sports and physical activities at a young age encourages positive cognitive development in youth-developing and learning to use the core skills of the brain to think, read, learn, remember, reason and problem-solving," he adds.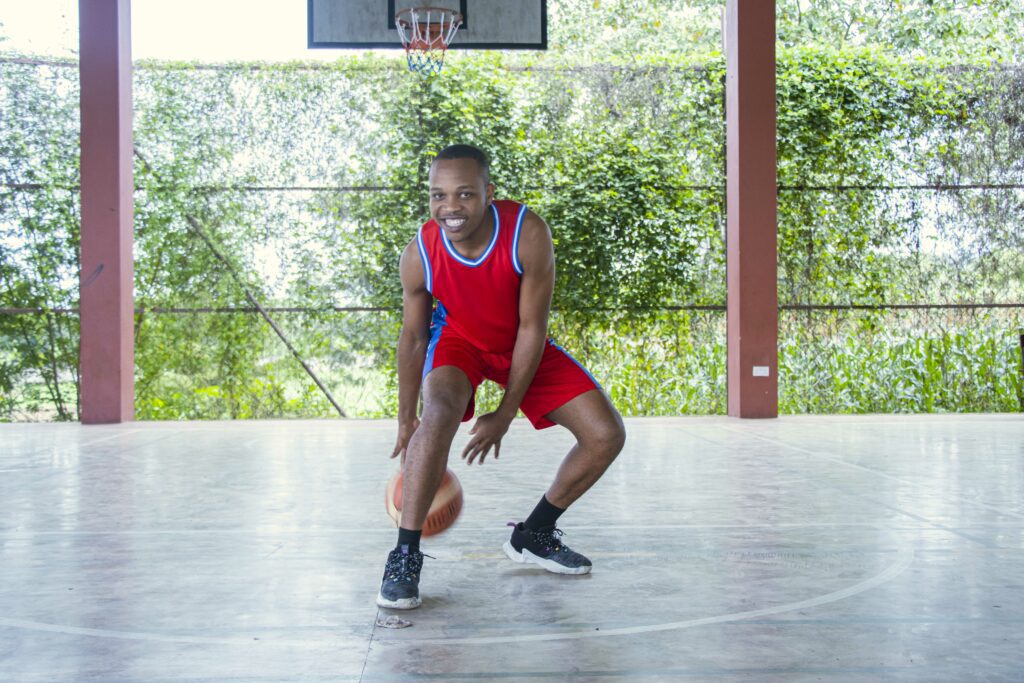 As part of a holistic education, the school prioritises sports in students' lessons, ensuring they develop the skills and self-confidence to become future leaders in Tanzania.
"Sports help me to be more motivated, and focused. Also, I have gained teamwork skills," says Kelvin.
Kelvin is in Form 5 and loves playing basketball during his free time. "I started playing basketball when I joined St Jude's in Form 1. Before that I couldn't play the sport because the government school I came from did not have sports facilities," he states.
St Jude's strives to nurture students who are healthy, motivated, and have academic and moral excellence. By providing a strong, healthy foundation, St Jude's is setting up students for long term success.