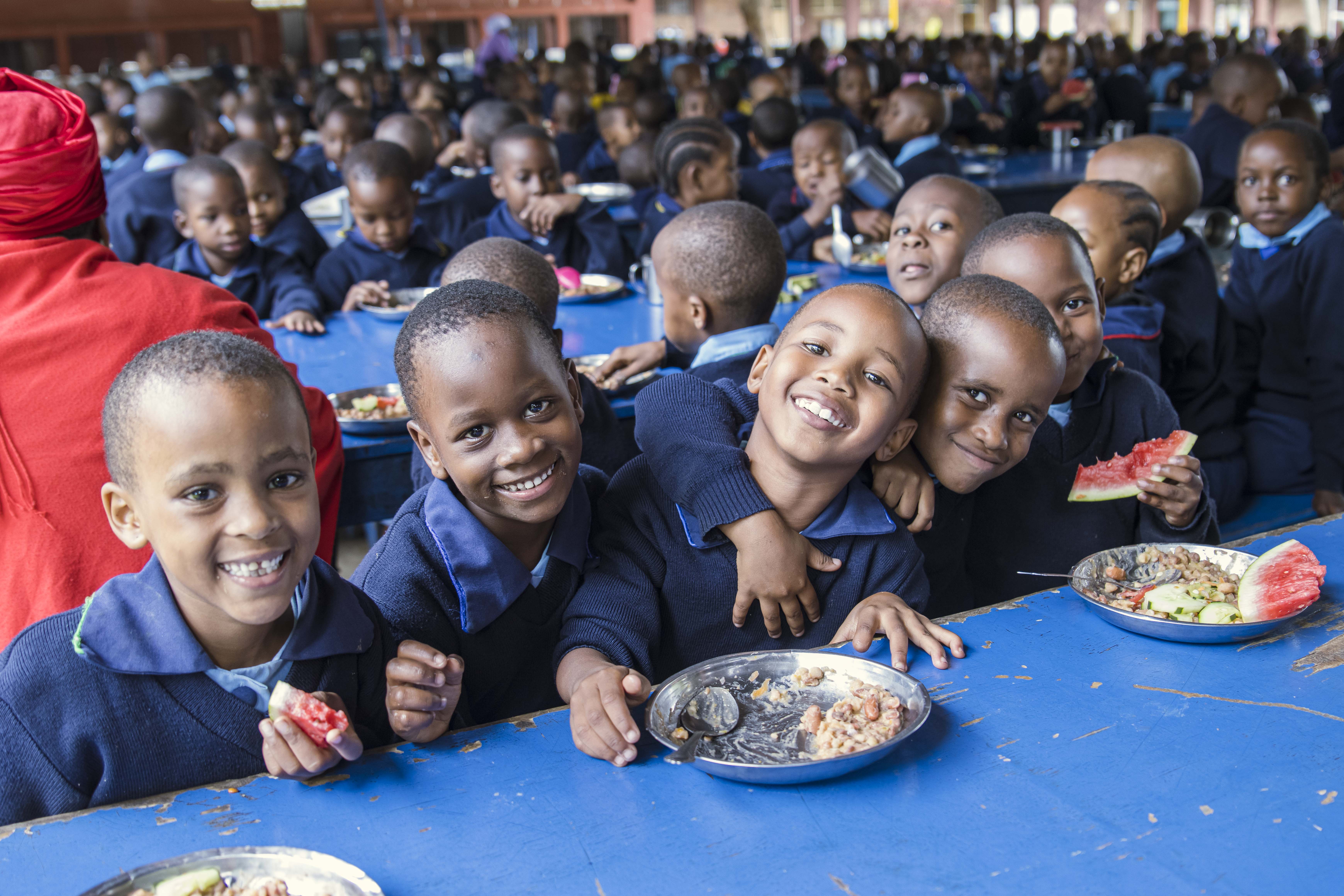 Motivated, healthy and happy students start with daily, hot and nutritious meals, regular health check-ups and physical activity.
With generous support from St Jude's supporters, the school gives scholarships that cover more than academics, but also provide students with daily nutritious meals and health and welfare support, ensuring their present wellbeing and future success.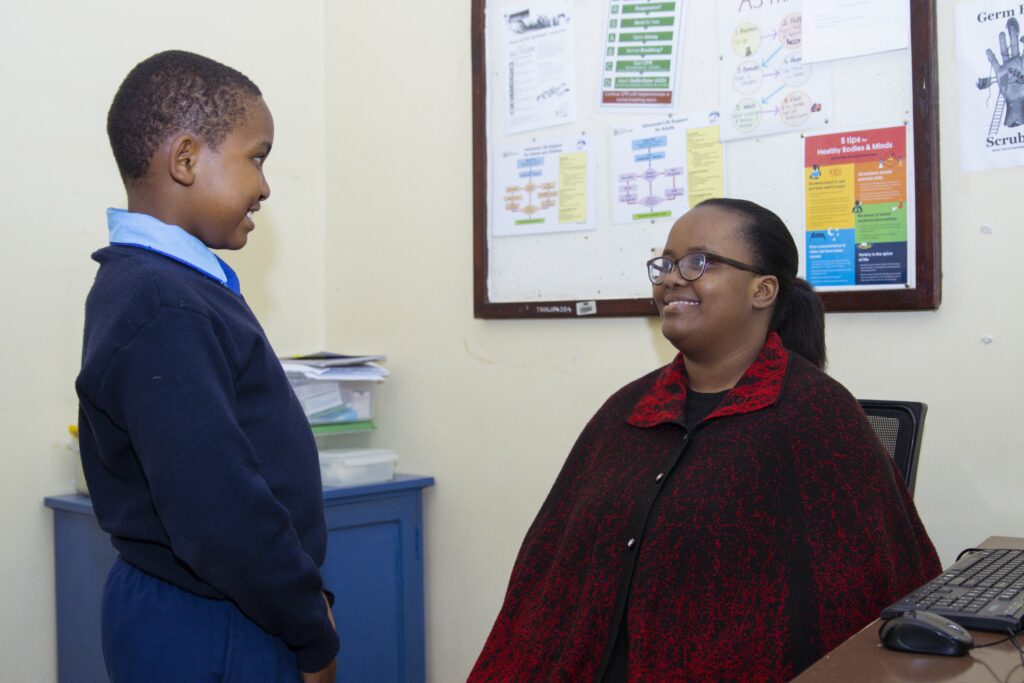 "It's satisfying knowing that I'm contributing in ensuring that we have healthy students who are likely to perform well in their academics," says Lisa, who coordinates the Health and Welfare team.
"As Coordinator, I work with the team to make sure that all health and welfare cases are well monitored, recorded and where possible communicated with school leadership. I organise our school counsellor's monthly schedule so that the needs of the students are well met. I assist with hospital visits of serious health cases and special diet when needed," Lisa elaborates.
Part of the Health and Welfare team's role is to organise annual checks on students, including monitoring height and weight. "With the help of the health check team, who mostly come from Australia, we check eyes, ears, skin and flag any other health issues," Lisa explains.
The team also provides health education on various health topics in secondary schools and oral hygiene workshops for Standard 1 and 2 (the first two years of primary school) students, and reinforces of the school's Child Protection Policy.
"To make sure our students remain healthy, we discuss health issues of students with their parents and where possible and applicable they get counselling from our school counsellor as a group session," Lisa states.
While St Jude's is primarily an educational institution, students who receive academic scholarships come from poor backgrounds where families are particularly susceptible to range of physical and psychological issue.
"It honestly feels great working in line to support the school's mission, vision and strategic plan," she adds.
Understanding that nutrition influences student's learning potential, the school puts special emphasis on healthy and nutritious meals.
The school serves more than 26,000 hot meals to students and staff every week - that makes up more than one million meals served each year!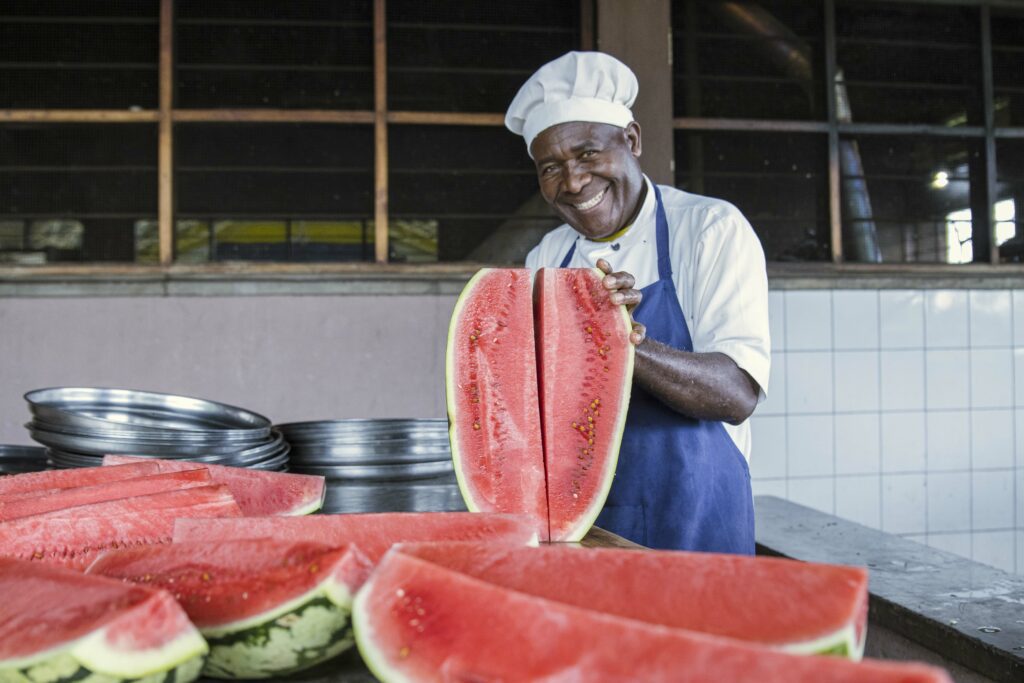 "Every month we serve almost 7,000 kilograms of beans, nearly 6,000 kilograms of rice and nearly 17,000 kilograms of vegetables and fruits," says Julius, the Head Cook at Sisia Campus.
Julius, who has been with St Jude's for ten years, knows the importance of offering nutritious meals to students. "I'm proud to be serving these healthy meals to students every day. I see them growing up and I know that my meals are helping them grow big and strong."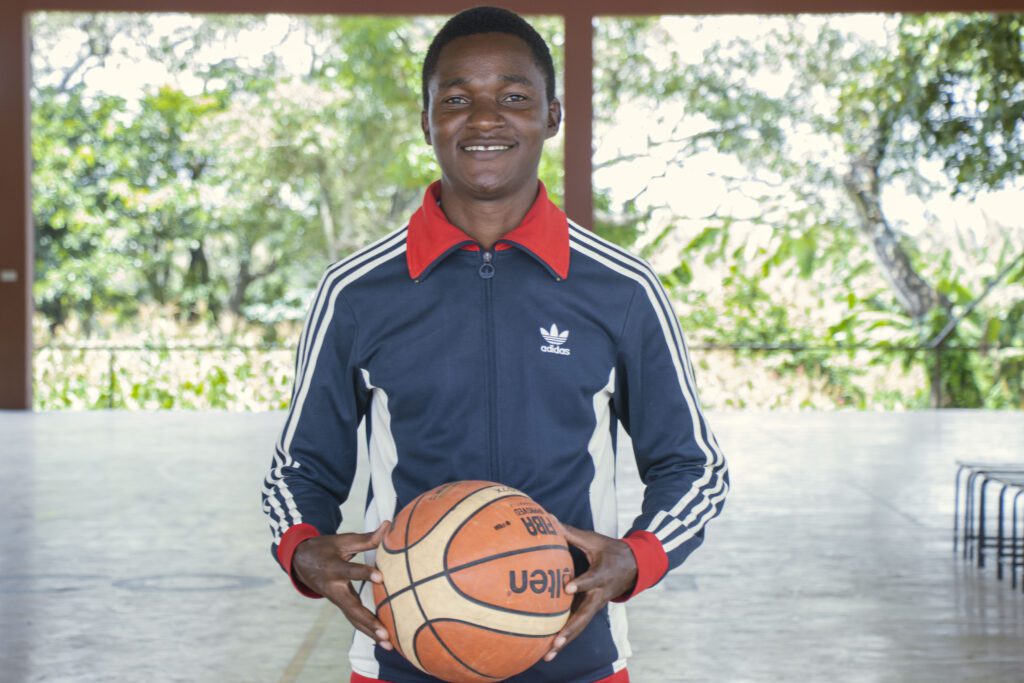 Students' health is especially important for teachers who are providing the support in physical education (PE) and sports.
"Research shows that students who participate in sport and other extracurricular activities have favourable mental health compared to inactive students," explains Mr Paul, Head of Sports at St Jude's Secondary School.
"Participation in sports and physical activities at a young age encourages positive cognitive development in youth-developing and learning to use the core skills of the brain to think, read, learn, remember, reason and problem-solving," he adds.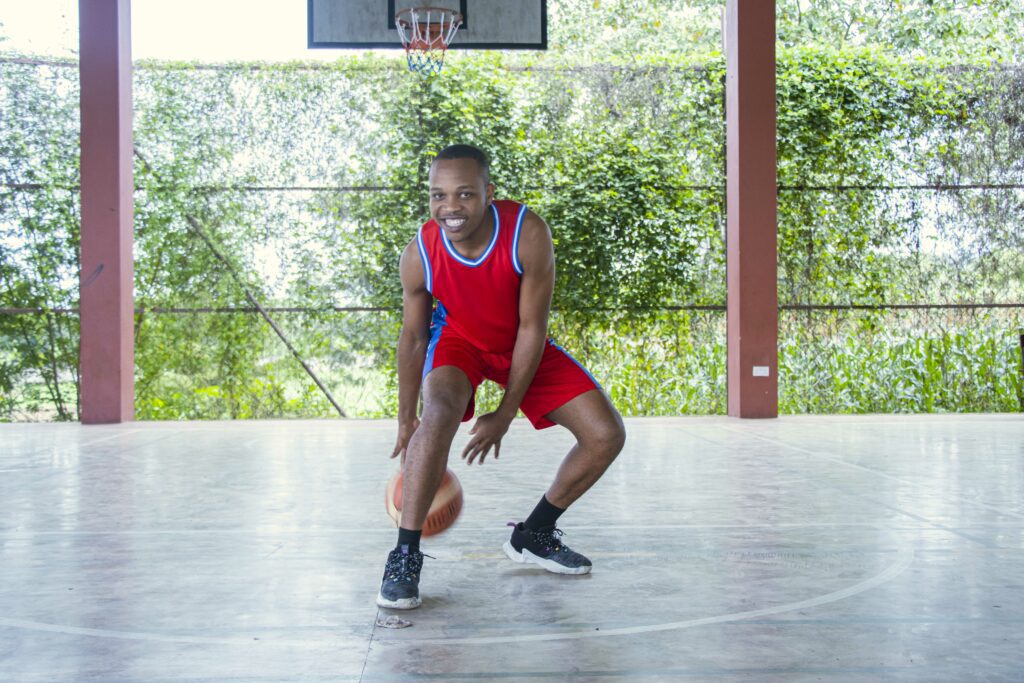 As part of a holistic education, the school prioritises sports in students' lessons, ensuring they develop the skills and self-confidence to become future leaders in Tanzania.
"Sports help me to be more motivated, and focused. Also, I have gained teamwork skills," says Kelvin.
Kelvin is in Form 5 and loves playing basketball during his free time. "I started playing basketball when I joined St Jude's in Form 1. Before that I couldn't play the sport because the government school I came from did not have sports facilities," he states.
St Jude's strives to nurture students who are healthy, motivated, and have academic and moral excellence. By providing a strong, healthy foundation, St Jude's is setting up students for long term success.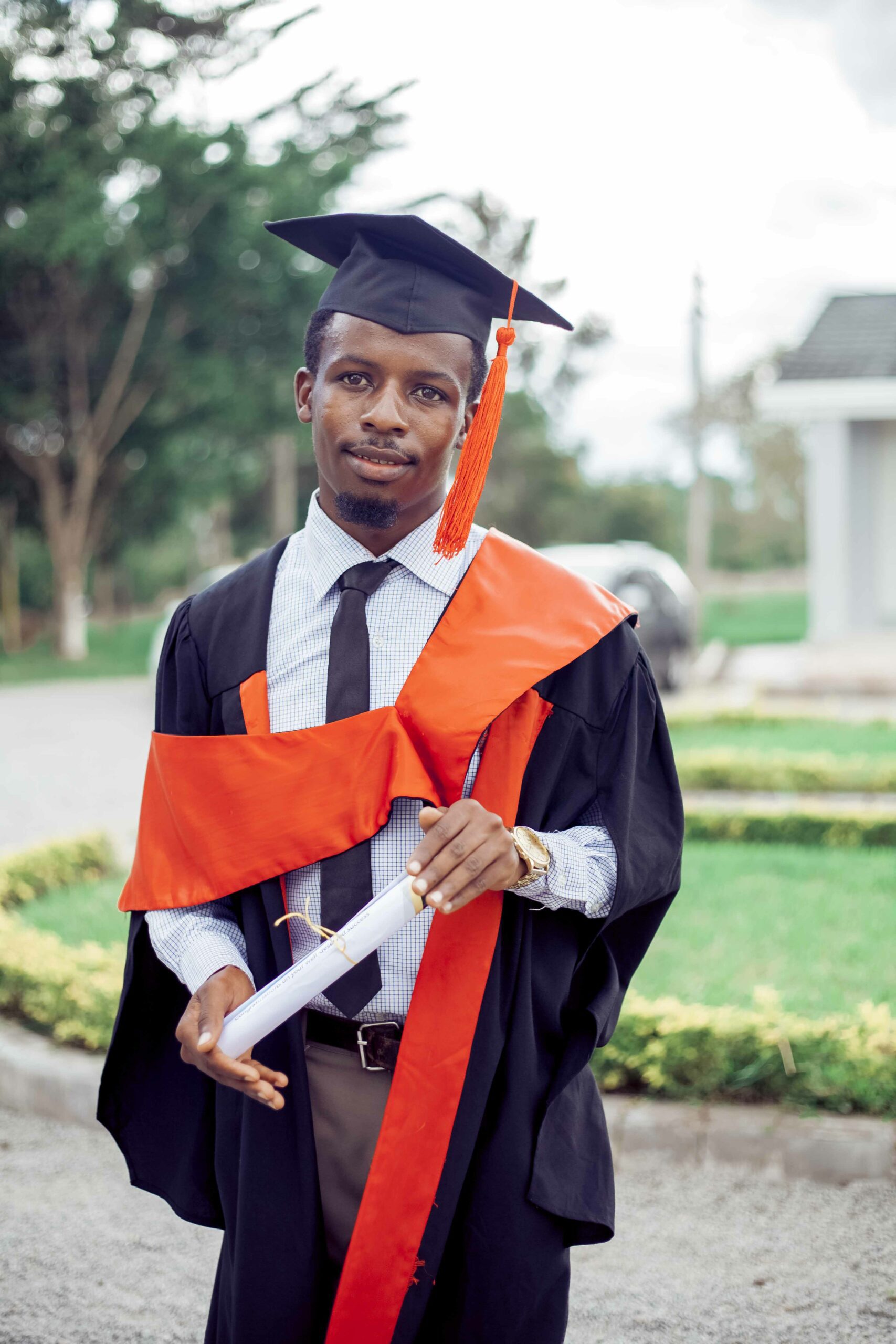 Coming from a family of 10 in a rural area outside Arusha, Salim did not have high hopes for his education or his future. This changed when he met Furahini, a St Jude's alum Salim now calls his mentor.
When the two met in 2017, Furahini was a Community Service Year (CSY) volunteer teaching at Kimnyaki Secondary School and Salim was his student. The CSY is the first part of the Beyond St Jude's Scholarship Program (BSJSP), St Jude's program for secondary school graduates. During the CSY, volunteers share their skills through volunteering on campus at St Jude's, or as teachers in government schools.
"I wouldn't have had any hope of joining St Jude's if it wasn't for Furahini," says Salim. "He's played a big role in changing my life."
"He was my physics and biology teacher when I was in Form 4. He motivated me and pushed me to increase my efforts in my studies. He also gave me hope, showing me that if I did well academically, I could get the chance of getting a scholarship to St Jude's and sure enough, this dream was made a reality," he beams.
After attending seven years of government school for primary, and another four years of secondary, Salim was invited to apply for a St Jude's scholarship to enter in Form 5, the penultimate year of secondary school. Encouraged to study hard by Furahini, Salim passed through St Jude's Scholarship Application Process with flying colours.
Form 5 is the final opportunity to enter St Jude's, so it was a special moment when Salim was offered a scholarship to start at St Jude's in 2018. Coincidentally, Furahini also joined St Jude's in Form 5, just three years earlier, in 2015.
"I couldn't believe it when I was told I got the scholarship. I knew then that my future had been changed," Salim recalls.
"Furahini's tireless contribution in teaching me and mentoring me through my last year in my government school had a huge impact, not only on my life, but on my family's life. I can never forget his help," Salim shares.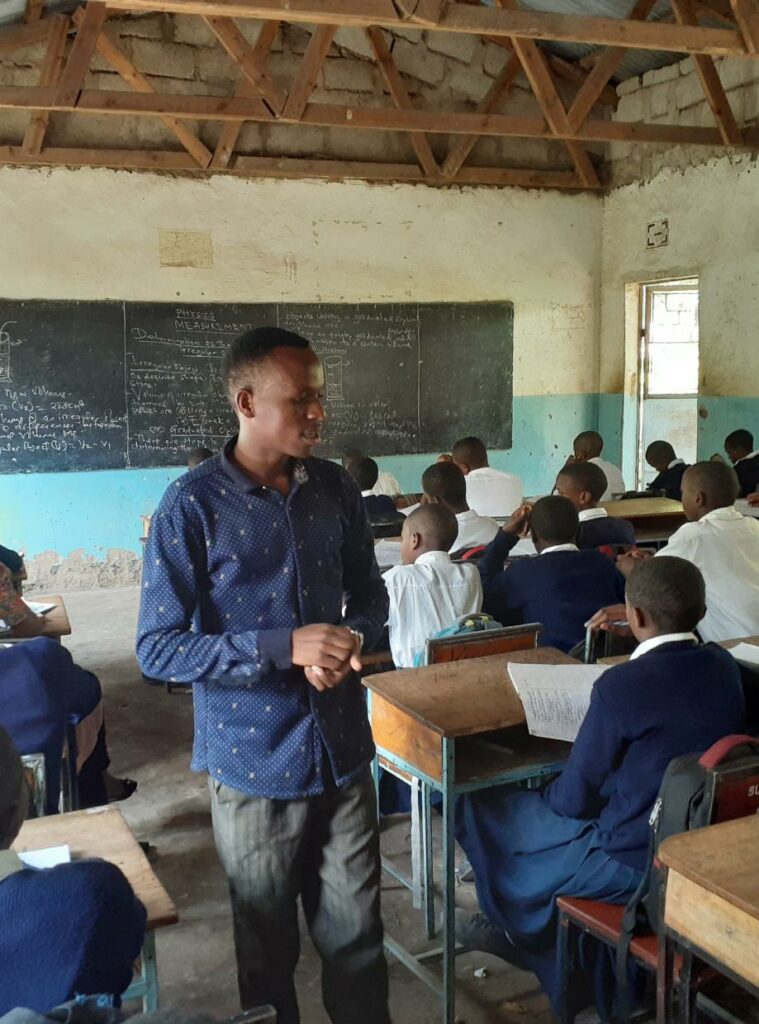 Like Furahini before him, Salim has a mind for science, and chose to pursue physics, chemistry and biology during his two years of studies at St Jude's. After graduating in 2020 with impressive marks, he chose to follow in his mentor's footsteps and began his CSY as a volunteer teacher back at Kimnyaki Secondary School, where he had once been a student.
"Volunteering in a school that I once went to was exceptional. Having studied there, I already knew the environment and challenges. My presence covered the shortage of science teachers and I also helped out as a sports coach," Salim explains.
During his CSY, Salim taught physics sharing the skills and knowledge he received at St Jude's.
"Almost 98% of students that I helped during my CSY managed to pass their final exams, and for that I'm happy and grateful," Salim adds, rightfully proud.
Today, Salim is a tertiary scholar, pursuing a degree in medicine in one of the biggest universities in Tanzania with the support of BSJSP. In just a few years, he'll be a doctor, serving the people of Tanzania.
"I can honestly say without Furahini walking into my life and St Jude's providing me with the scholarship, this would not be possible. Many thanks to Furahini, the St Jude's community and Mama Gemma for making this journey possible for me," he says.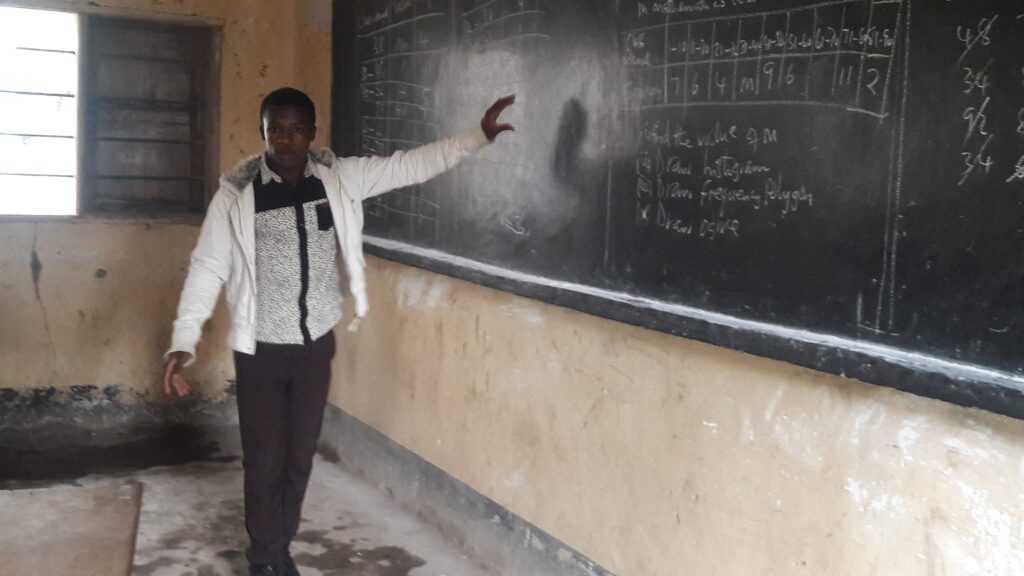 One step ahead of Salim is Furahini, who completed a Diploma of Clinical Medicine last year.
"My aspiration in life is to be a health care provider and building my own health centre," Furahini shares.
Furahini plans to make a big positive impact in his community, but the impact he has already made on Salim cannot be underestimated.
"I was so grateful when Salim was offered the academic scholarship at St Jude's," smiles Furahini. "I remember when he shared the news with me, I asked for us to meet so I could congratulate him in person and talk about his future. I'm proud of him, from where he's come from, to the leader he is shaping up to be," he says.
Over the last 20 years, there have been many wonderful stories like Furahini and Salim's; stories of students becoming leaders and sharing the gifts they have been given to help others, in big and small ways.
How could Furahini have known, in 2017, that with his encouragement and a St Jude's scholarship, the studious but disadvantaged boy in his class would become a much-needed doctor for Tanzania? This is St Jude's work coming full circle. This is fighting poverty through education.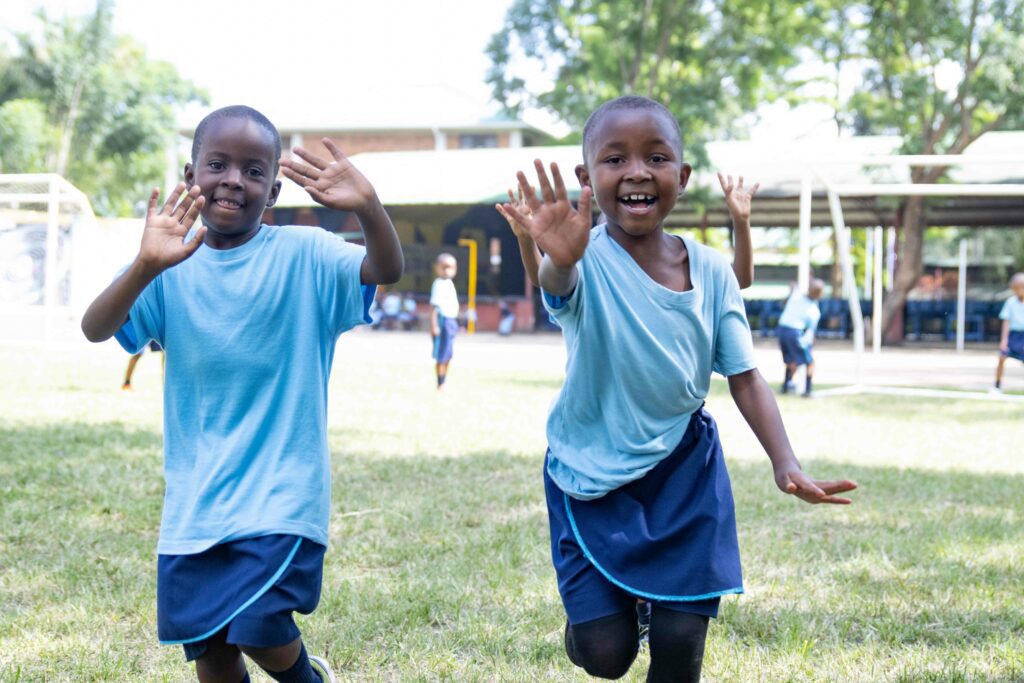 At The School of St Jude, students have the chance to learn outside the classroom through participation in extracurricular activities (ECAs). These include twice weekly sports practices and weekly clubs.
Let's take a closer look at the numbers on ECAs at St Jude's!
St Jude's has over 50 clubs across its three schools; Primary school, Girls' Secondary School and St Jude's Secondary School.
There are 10 different sports played at St Jude's.
More than 600 St Jude's students compete at district and national level in Extracurricular Activities.
There are 21 external specialist coaches for Winter sports and 23 external specialist coaches for Summer sports.
160 St Jude's staff choose to coach sports as their second core duty.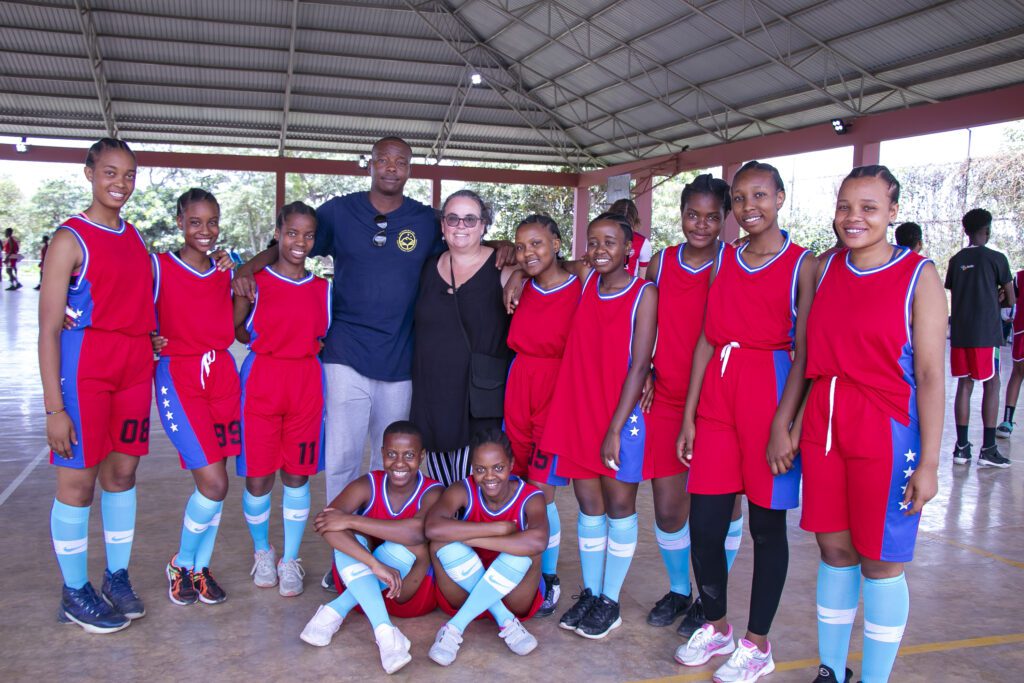 Over the past two years, The School of St Jude has been making a concerted effort to improve and expand its Sports Program. More sports have been added, more coaches have been hired and more time has been dedicated to sports practice.
After all this hard work, St Jude's decided it was time to put its student athletes' skills to the test, with its very first interschool basketball competition. In late March, St Jude's hosted the Bluesand Basketball Tournament at Smith Campus.
Six local schools paid an entry fee and fielded 5 boys teams and 4 girls teams.
"The tournament aimed to get the students competing at the highest level, having fun, fundraising, and building good relationships with other schools," says Mr Mziray, the school's Sports Officer and one of the tournament organisers.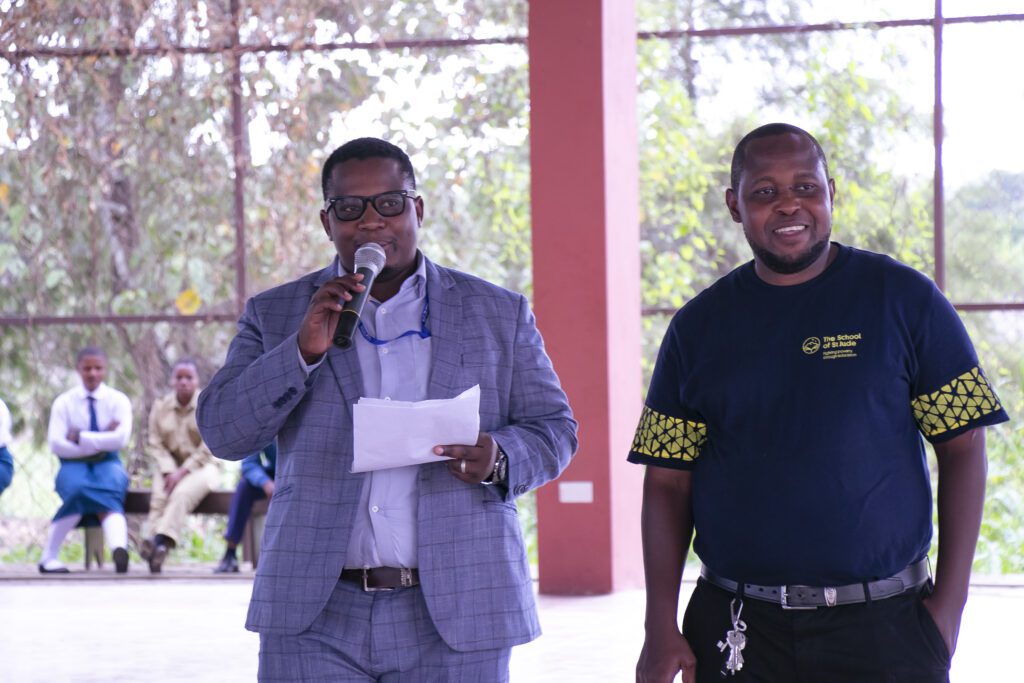 The competition was played round-robin style, so all teams of the same gender got the chance to play against each other. This made for a busy day of competition, but the enthusiastic players took it all in their stride.
In addition to these main competitions, there were challenges for individual players. Mr Mziray explains, "We had three challenges in between the rounds which were One vs One, Free Throw and Three-Point Shooting."
These challenges proved popular, with plenty of players signing up to test their skills.
In addition to the on-court action, there was also a busy food tent where hungry competitors could purchase lunch. The St Jude's teams all enjoyed hot dogs – definitely a change from their nutritious school meals!
At the end of the day, the boys' team was thrilled to place second in their section. The girls' team just missed out on a place, but had a great day nonetheless.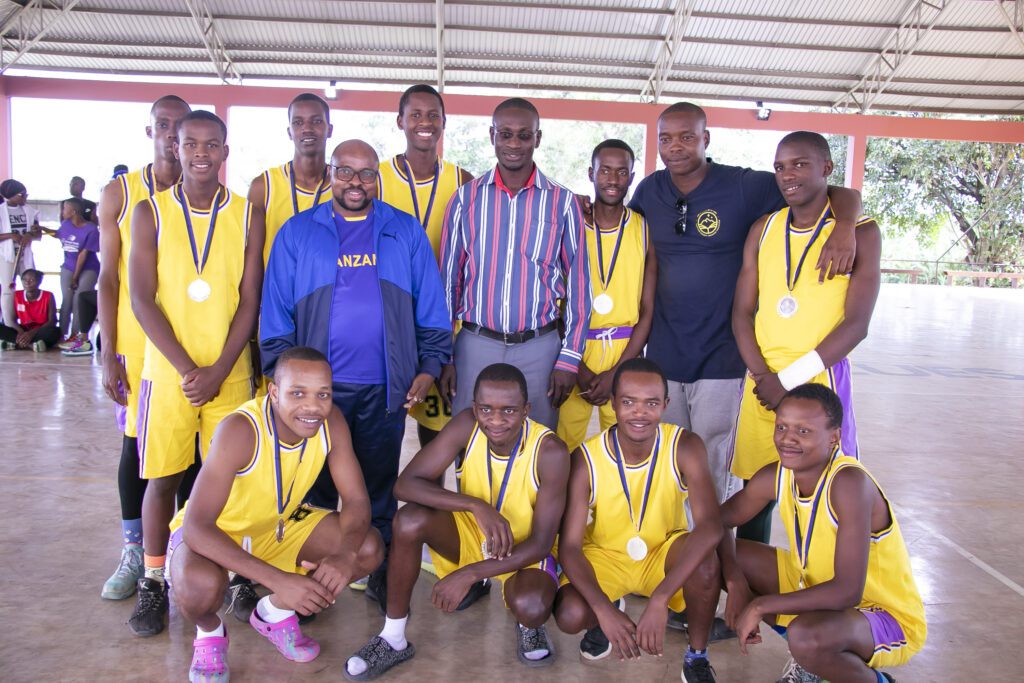 Placing or no placing, Mr Mziray judges the day to be a success. "As our first-ever sports tournament, it was successful. We plan to host more tournaments in other sports like football, netball, volleyball, and athletics in the future," Mr Mziray reports.
"We encourage our students to participate more in sports activities and allow them to compete with different schools. We are showing other schools how serious we are in sports, nurturing our students' morale, developing a sports culture and building a network with other schools," he reflects.
The Bluesand Basketball Tournament is the first of many to come at St Jude's. Through competitions like this, students get the chance to hone their physical skills, improve their teamwork and meet peers from different schools. It might seem like 'just sport' to some, but St Jude's knows that opportunities like this offer students so much more than the chance to win a medal.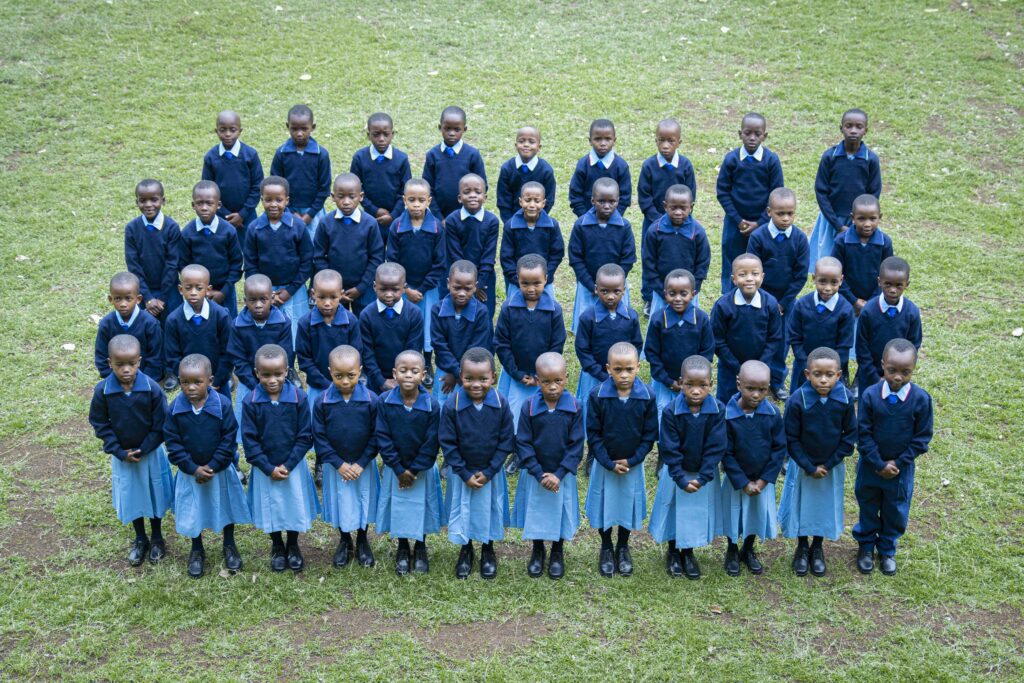 Every year, a St Jude's uniform is a gleaming ray of hope for the brightest, poorest Tanzanian students who are lucky recipients of an academic scholarship.
The school's blue uniform is a dream come true for these students joining either in Standard 1, Form 1 (O Level), or Form 5 (A-Level).
There are three key stages of school in Tanzania; seven years of primary school from Standard 1 to 7, then four years of secondary school from Form 1 to 4 in Ordinary Level (O Level) studies, and finally the final two years of secondary school, Form 5 and 6 in Advanced Level (A-Level) studies.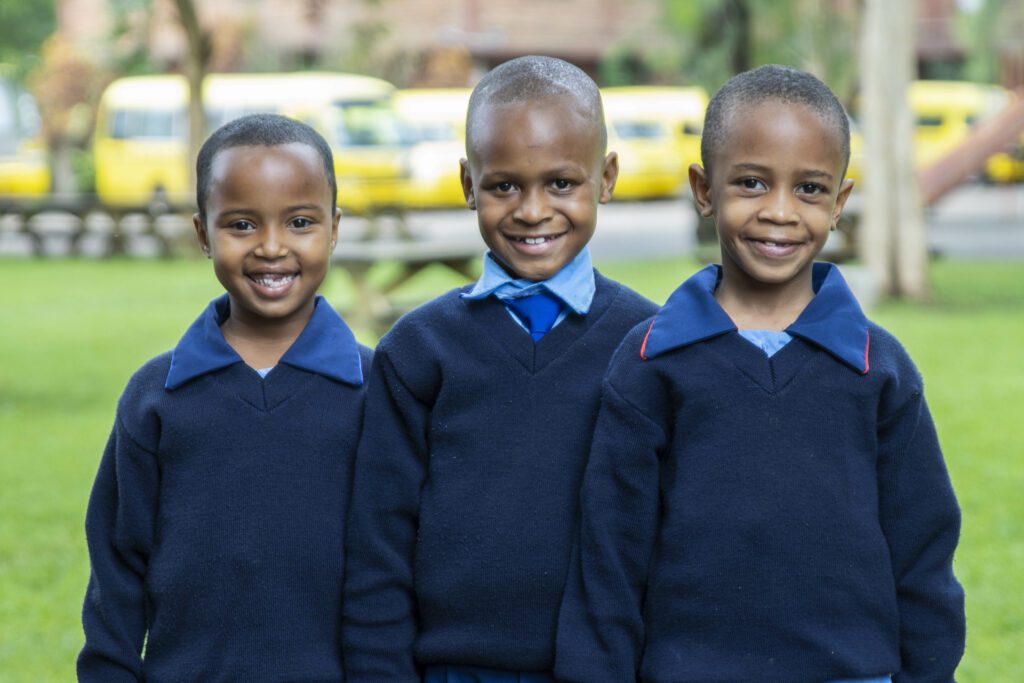 Primary Students
Meet Happiness, Alvin, and Rahma, the newest Standard 1 and 2 students at St Jude's.
Rahma and Alvin hope to become pilots when they grow up.
"I am happy to wear these new uniforms," says Rahma who is Standard 1.
"When my mother saw me with the new uniforms, she congratulated me and we celebrated together," she adds.
Recalling his own experience, Alvin says, "My mother brought me to the school on Uniform Day, she was delighted to see me wearing my St Jude's uniform."
"In class, I now enjoy writing and reading. Hopefully one day I will achieve my dream of becoming a pilot," Alvin adds. Happiness who aspires to become a doctor when she grows up showed off her new uniform. "I look really smart in my uniform. I love it!" she says shyly.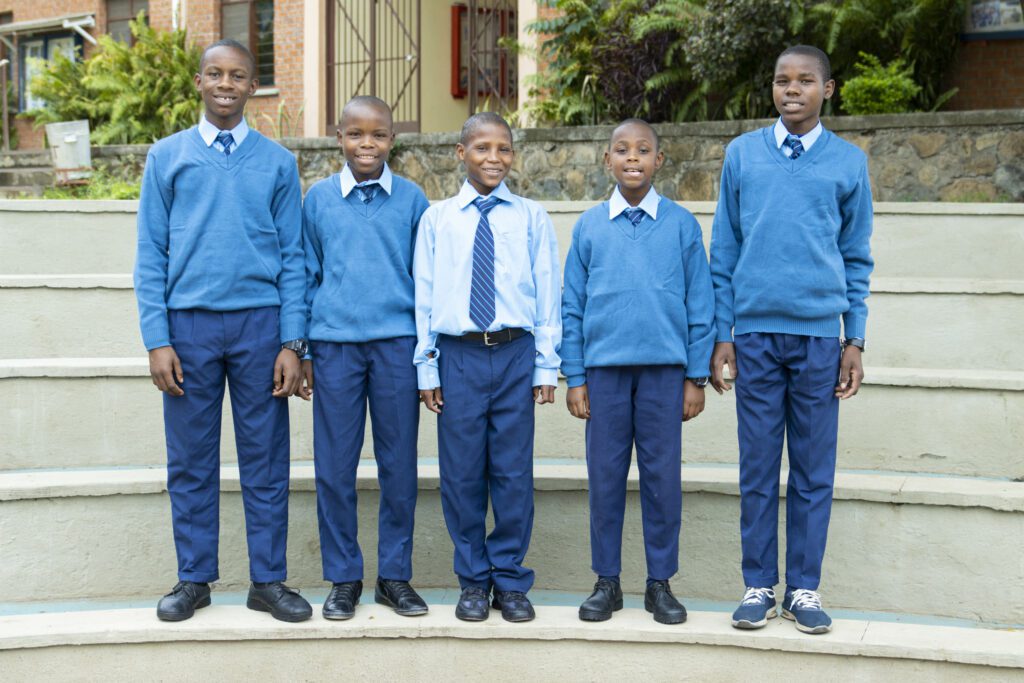 Form 1 Students (O Level)
Wearing the St Jude's uniform for the first time is a proud moment for new secondary school students who have completed their entire primary education in a government school.
The school invites top-performing students from government schools to take part in the scholarship application process. Scholarships are awarded only to the brightest and poorest students.
Juma, who just started his first year of secondary school at Smith Campus, is thankful for the opportunity to wear a St Jude's uniform.
"Wearing these uniforms gives me hope for my future. I used to walk for hours to get to school, we didn't have hot lunches, proper learning resources and classroom essentials like we do here," says Juma.
"With St Jude's, I don't have to worry about walking far to get to school. I can now focus on my studies and become a better student," Juma explains. Similarly, Naftal, who joined St Jude's this year, is thrilled to be receiving a free education. "Compared to the government school I attended before, I get the opportunity to study more at St Jude's. I'm looking forward to a beautiful future," Naftal says with excitement.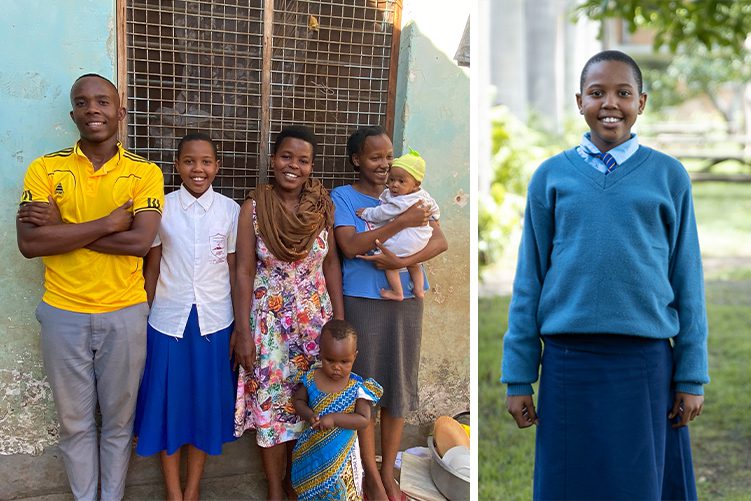 Aspiring to become a president, Maurene believes that wearing a St Jude's uniform brings her closer to her dreams. "Being accepted to receive free quality education means that I can study hard and help my parents when I graduate."
"I hope to become a leader one day. It is my dream to help my community out of poverty. Should I not be a leader, I wish to become a doctor," Maurene adds.
Academic scholarships for secondary students cover a student's educational and boarding expenses including; uniforms, boarding facilities, learning resources, daily nutritious meals, clean water, health and welfare support, and everything else needed for a successful education.
Now that they have uniforms, all the new students are ready to begin taking steps towards a brighter and better future for themselves and their families.
Art and music are integral parts of St Jude's curriculum, helping to deliver a holistic education that allows students to develop real-world skills and self-confidence. Our teachers' dedication in every lesson contributes to this ethos.
Inside Art Class
"Grab your soap and let's get carving!" Mr Kephas says to his students.
To demonstrate the process of sculpting, he turns on a projector and monitors each student.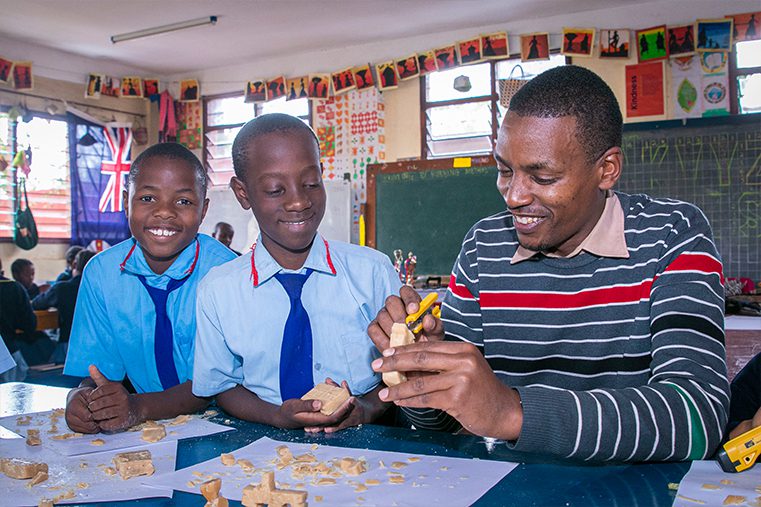 "Today's lesson is about carving with soap. Soap carving inspires creativity in students, especially younger ones," explains Mr Kephas.
"I teach Standard 1 to 7 in primary school and Form 1 and 2 at our girls' secondary school. I am, however, always available to assist older students in their spare time," says Mr Kephas.
Having begun his artistic journey at a young age, Mr Kephas understands the importance of nurturing talent at an early age.
"I have loved art since I was a child. I would go through my brother's school books, drawing on them. I remember I would get in trouble for that," chuckles Mr Kephas.
"But, my parents noticed my talent and supported me by giving me papers and pencils that I could use for drawing," he adds.
"Students learn soft skills such as time management and teamwork through art. It helps them develop social and emotional skills as well. We can develop well-rounded individuals by cultivating these qualities from an early age," emphasises Mr Kephas.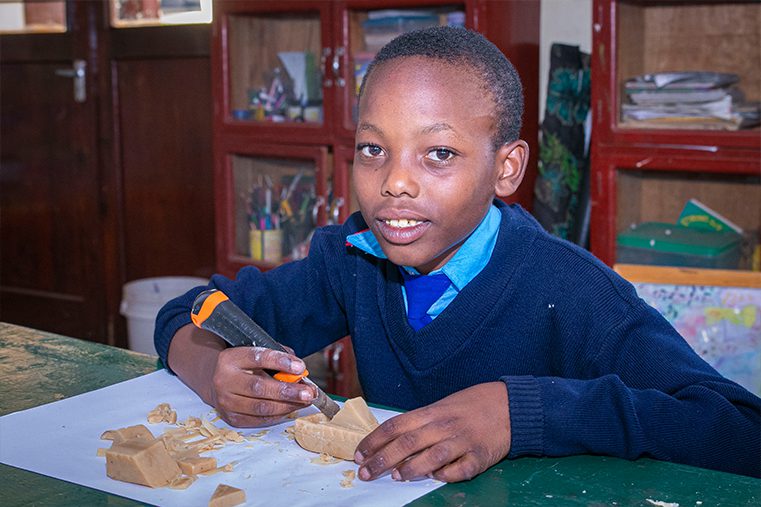 George, a Standard 5 student, is thrilled with today's lesson. "I'm carving a boat today," he says.
"Art lessons are so much fun for me. I get to learn how to make things in different ways," George adds with enthusiasm.
Inside Music Class
In the music classroom, more laughter and excitement can be heard. Mr Beda has been a music teacher at St Jude's for 13 years.
Like Mr Kephas, Mr Beda is passionate about inspiring students' innovative spirit and watching their imagination come to life.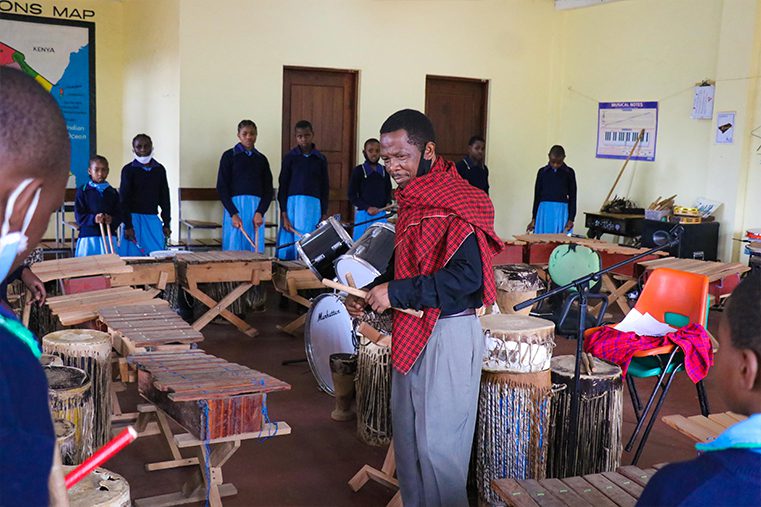 "Coming from a musical background, I love music. The art of music goes beyond singing… it's about learning sounds, the music language and the instruments."
"I help my students develop their talent by practising. I teach them how to play both traditional and modern instruments."
"Music stimulates creative thinking. Even if students don't pursue music careers in the future, they learn how to be expressive and gain the confidence to try new things without fear of failure," explains Mr Beda.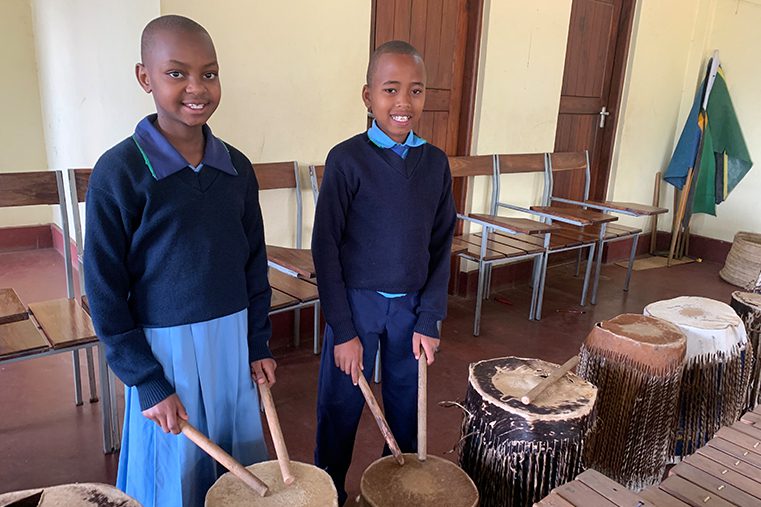 Learning how to play the drums are Joan and Joshua, Standard 4 students. "Music helps us learn about our traditional dances and culture. We also learn to dance, play instruments, and sing," says Joan.
"Mr Beda is teaching us how to play the national anthem on the drums," describes Joshua.
Joan hopes to one day be a music teacher, "I want to pursue teaching music after I complete my higher education."
St Jude's encourages students to express themselves through art and music, transforming their creative energy into beautiful works of art and empowering them with skills to help them thrive in the future.