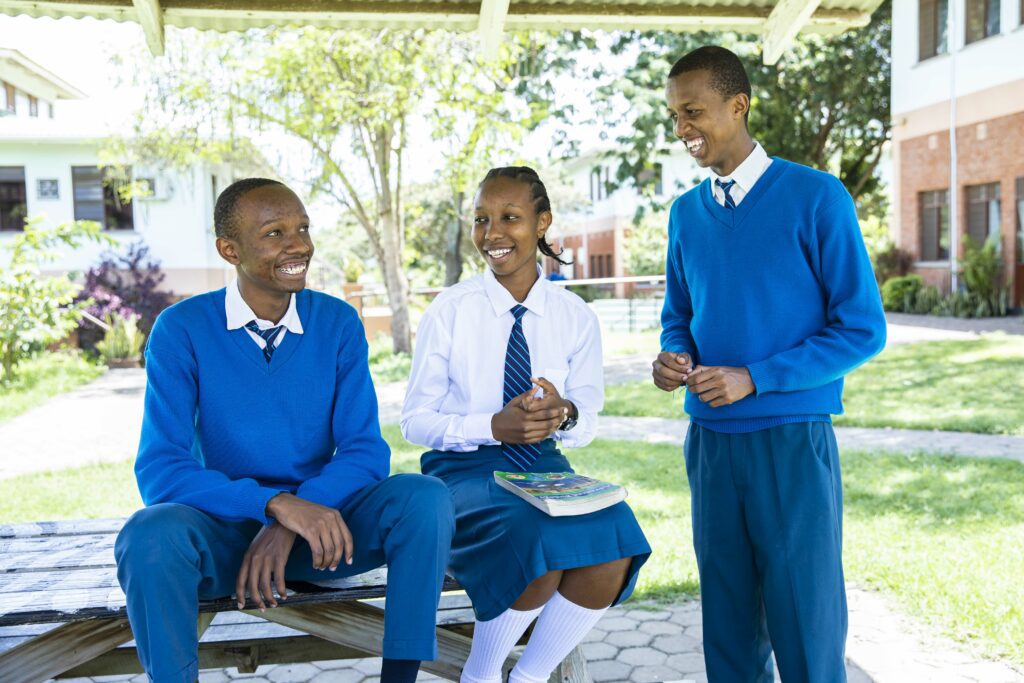 When one major life chapter closes, it marks the beginning of a brand new chapter. Facing this reality can be both exhilarating and unsettling at the same time. As graduation approaches, three outstanding Form 6 students were asked about their time at The School of St Jude and their vision for the future.
There are three key stages of schooling in Tanzania. It starts with seven years of primary school from Standard 1 to 7, then four years of secondary school from Form 1 to Form 4 in Ordinary Level (O Level) studies and two years of secondary school from Form 5 to 6 in Advanced Level (A Level) studies.
Brayan, who started at St Jude's in Form 5 and studied Advanced Mathematics, Chemistry and Physics, is a passionate individual who approaches the future with a purpose. "My goal is to address community problems like assisting health and education issues through computer coding solutions," he says enthusiastically.
Brayan is determined to study Computer Science at university. He sees himself becoming a businessman that uses his computer skills to create new software to help better the community. When asked about the challenges he may face, he responded with "the possibility of unemployment because of very few job vacancies in my field," before adding, "that's why I feel grateful to have gone to St Jude's, as the quality education I gained here increases my employability."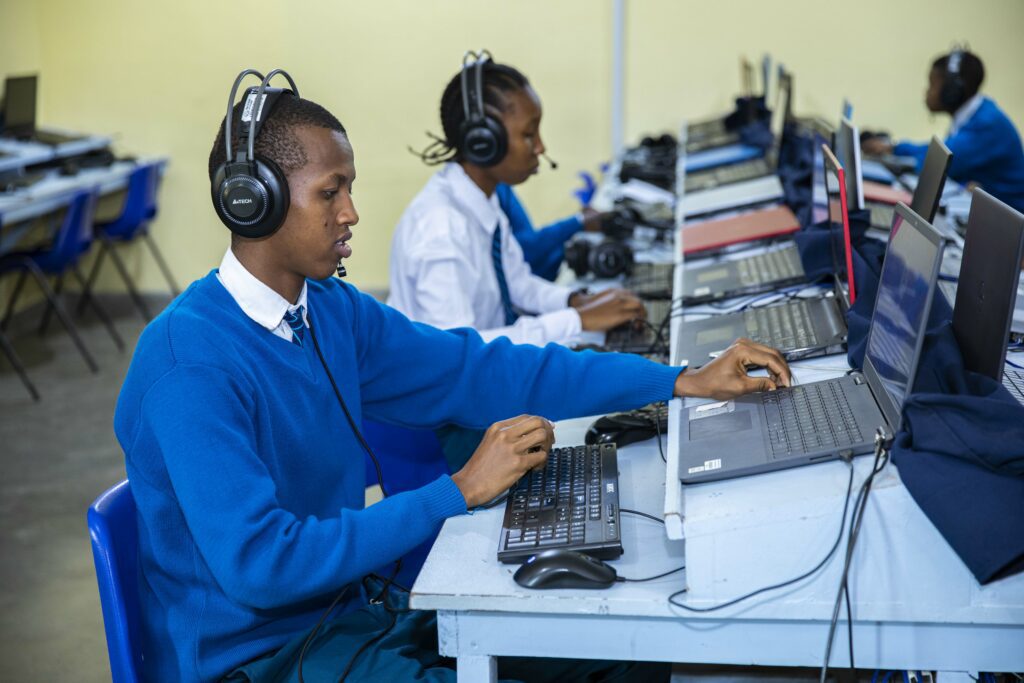 Ibrahim, who started at St Jude's in Form 1 and studied Geography, History and Language, is a quiet inspiration. "I loved the holistic education, mainly the opportunity to play sports," he says beaming. When prompted about what he wishes to study at university, he answered "I'd really love to study a Bachelor in Hospitality and Tourism. I'm passionate about the idea of being in tourism so I can learn about other people's cultures." Ibrahim spoke of the invaluable skills he learnt here at St Jude's. So, while Ibrahim knows there will be challenges ahead, such as moving away from home to study, he feels confident in the problem-solving life skills he gained during his time at St Jude's.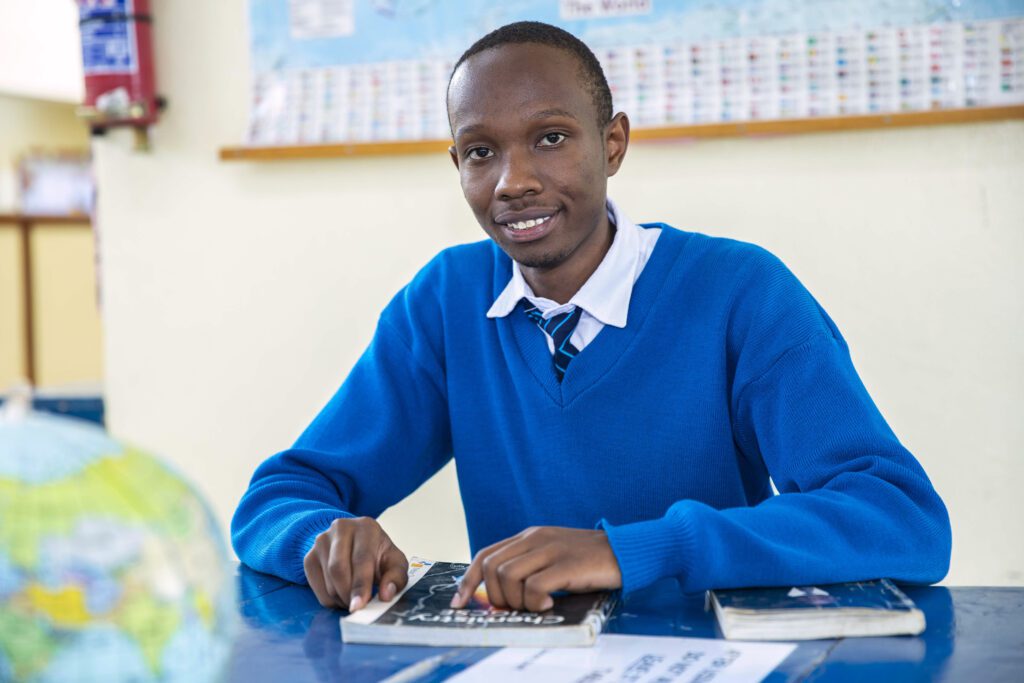 Agnes, who started at St Jude's in Standard 1 and studied Biology, Chemistry and Geography, presented herself with an upbeat and positive attitude. "I have been nurtured and have grown seeing how people exhaust their potential to the maximum just to make the world a better place," she comments cheerfully. "The heart of giving not only time but also resources, and to see how people have worked together to end the cycle of poverty makes me honoured to be here at St Jude's," she adds with enthusiasm. Agnes is driven by a passion for serving people and leading positive change in her community. This is why she wants to study Applied Biology in Environmental Conservation at university. When asked about where she sees herself in the future, she replied "As a successful person. And I define a successful person as someone that creates positive change in the lives of others."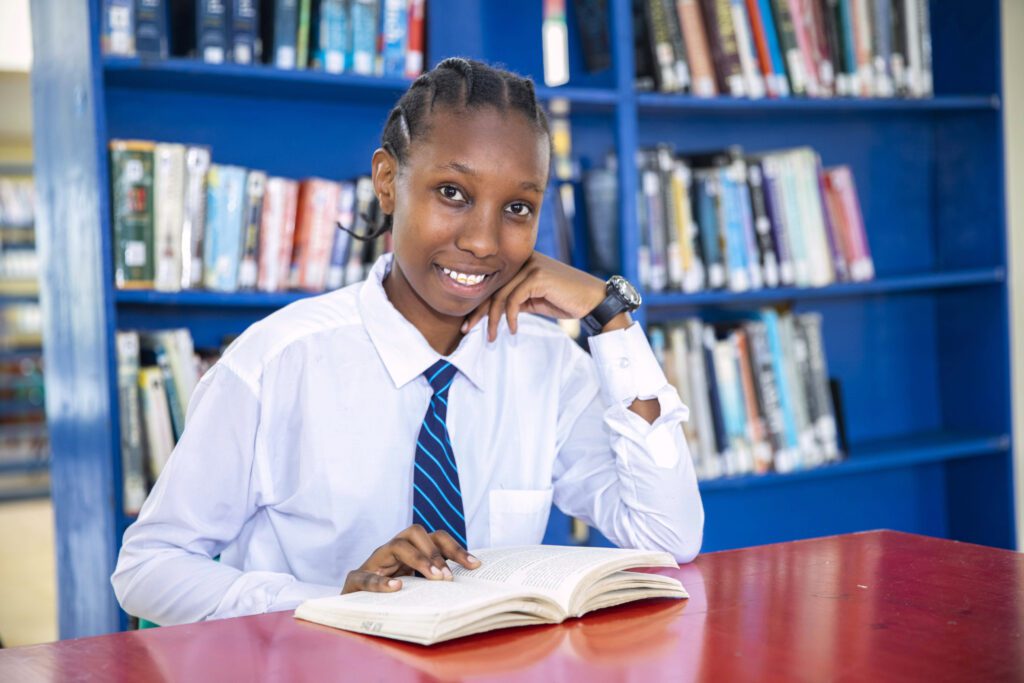 With the graduation taking place on the 20th May, it is the beginning of an exciting, new journey for Brayan, Ibrahim, Agnes and the rest of their cohort. These students of St Jude's are an inspiration in their own rights, all looking towards the future with positivity, determination and enthusiasm.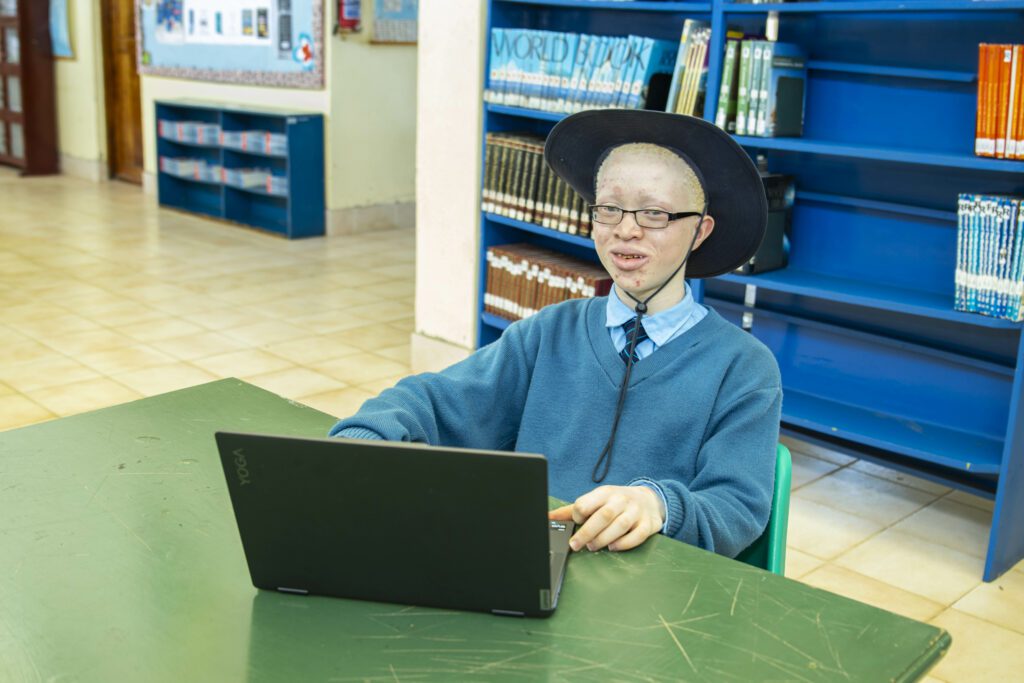 All students at St Jude's have overcome barriers to receiving education, but Sebastian has had to contend with greater challenges than many.
Born with Albinism, Sebastian is in his second year of secondary school and can see at five metres what most people see from 60 metres.
"I have poor eyesight and I can't always recognise my classmates. In class, it means I can't see the board very well," explains Sebastian, who plans on becoming a lawyer.
However, Sebastian's vision impairment doesn't mean he's being left behind at school. He regularly ranks near the top of his class and his report cards are evidence of an intelligent, hardworking student.
"Of course, I do have some challenges, but I do my best to solve them. I work with staff at school and people from Australia who can help me learn ways to solve them," says the determined Sebastian.
Louise and Noela, both from Brisbane, Australia, first met Sebastian back in 2015 when he was just starting primary school. Both women had experience in assisting students with different ways of learning; Louise, through more than three decades of work with Vision Australia, and Noela, as a special needs teacher.
"Seb's motivation and desire to achieve was all the motivation Louise and I needed to make a commitment to assist him. Yes, there would be challenges - Seb in Tanzania and both of us in Brisbane, however, we were not going to let distance deter us," Noela recalls.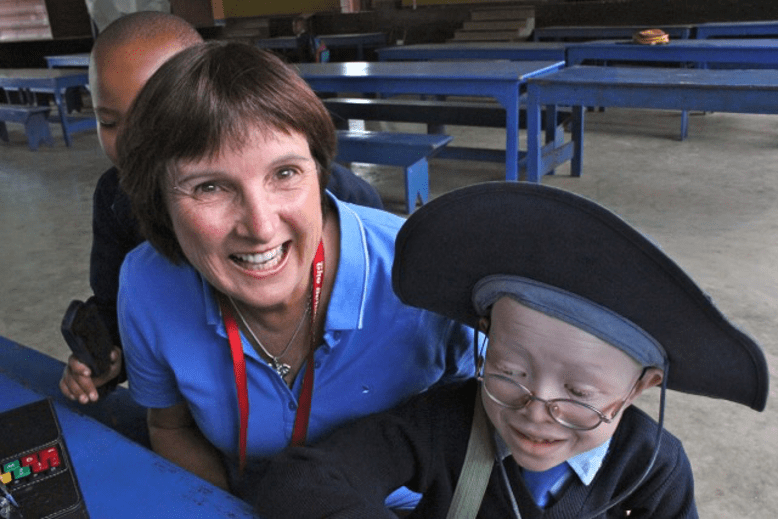 During his primary years, Noela and Louise, along with Brisbane High Rise Rotary Club, donated a tablet to allow Sebastian to take photographs of the teacher's writing on the blackboard and zoom in to suit his vision, and a slopeboard that enabled him to place the tablet at a comfortable angle.
In 2022, Sebastian moved up to secondary school, an exciting step which meant a more challenging curriculum. In 2023, in recognition of this new challenge, Brisbane High Rise Rotary Club, where both Noela and Louise are members, donated a brand-new laptop for him, software which allows him to access his textbooks electronically, plus new sunglasses, a new stand for his tablet and Bluetooth earphones, so that he can listen to information rather than reading it.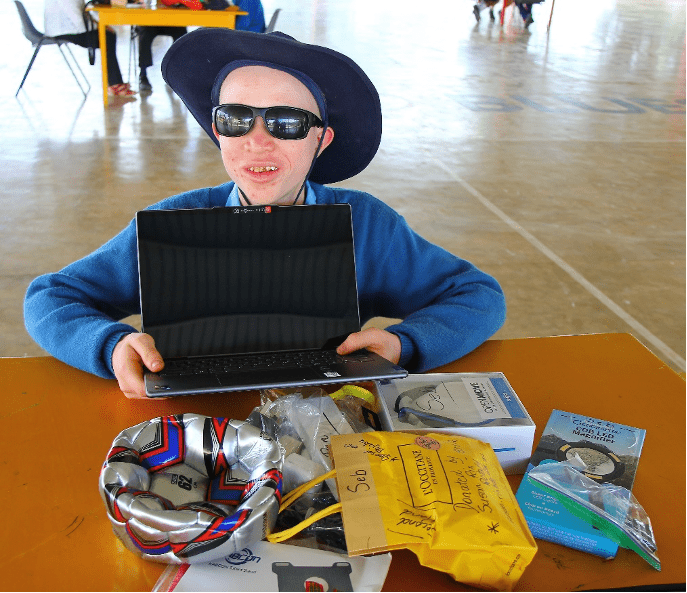 He says, "The laptop is helping a lot. It has made it easy for me so I can access textbooks online and zoom in so I can read it easily."
Sebastian's new equipment requires a little getting used to, and the two women are full of praise for Sebastian and the staff who work closely with him as he adjusts, saying, "Many of the applications are new to them, but somehow in between their extremely busy schedule, they take time out to attend our Zoom meetings and get Seb's equipment working."
When speaking about disability, a common refrain is 'different not less'. This is true for Sebastian, who, while learning differently to his classmates, is certainly not achieving any less. A talented student, particularly in English and Kiswahili, Sebastian has a bright future ahead of him, equipped with the tools he needs to learn differently and advocate for his needs.
He's still at school, but Elia has already represented his country at international competitions in sprinting and long jump with astonishing success, bringing home gold for Tanzania. In March, Elia, a Form 6 student at St Jude's Secondary School, won Tanzania its only gold medal at the Eastern and Central African U-18 and U-20 Championships, and qualified for a continental competition in Zambia later this year.
Despite his promising future in athletics and rising stardom status, Elia remembers how it all began.
"I never thought that I would represent my country on the international stage," says Elia. "A few years ago, I was just a kid having fun with my friends on the field!" he recalls.
Elia joined The School of St Jude back in Standard 1, in 2007. Like many students, he was drawn to the playing field and spent his primary years trying the different sports available at the school.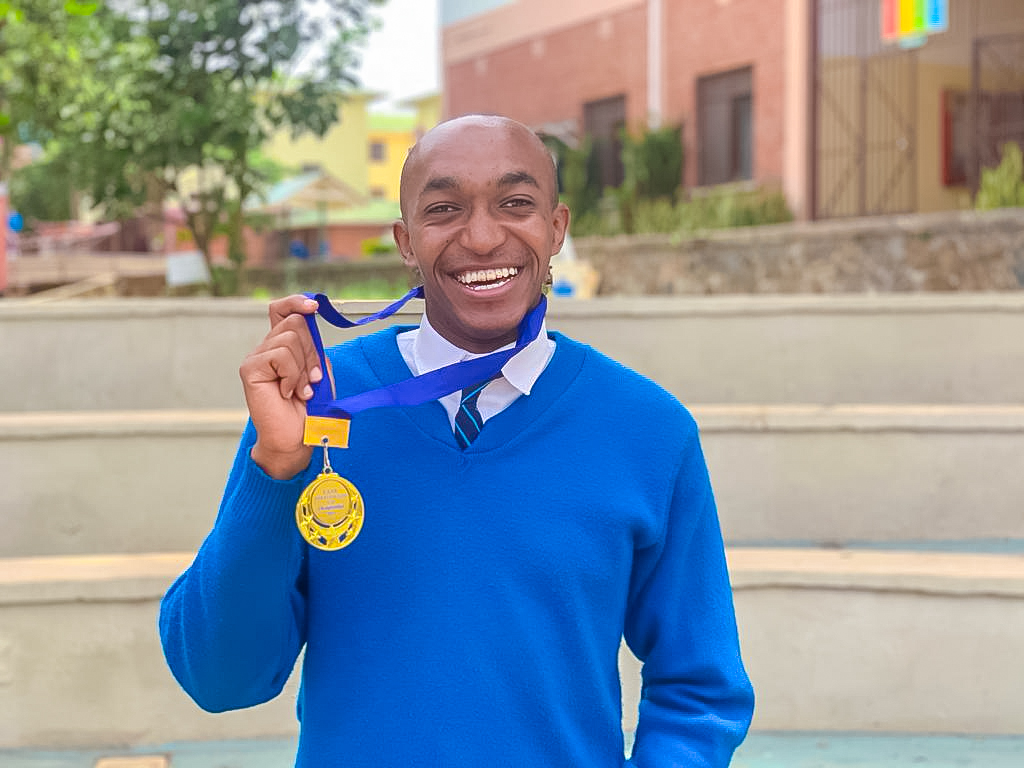 "Over time, my peers began to notice my athletics prowess and encouraged me to participate in interlevel competitions at school," narrates Elia. "I remember enrolling in one of those competitions on a whim and ended up winning the second prize overall. My journey in athletics started there!" he adds excitedly.
Since then Elia has represented the school in different capacities, from the regional level in interschool competitions to the national level. His continued success through the levels eventually earned him a spot to represent Tanzania in international competitions.
Elia specialises in 100m and 200m sprints and long jump. He trains at St Jude's least four times a week and works closely with a coach who monitors his progress.
"The key to proficiency in any sports is repetition," says Elia. "This requires plenty of discipline and dedication to stay competitive. Luckily, I have a very supportive community around me that helps me stay on track and pursue my passion," he adds.
As part of the holistic education approach at St Jude's, all students take on a sport to develop their fitness and support their mental health.
"As a sports teacher, I routinely work with students at different capacities," says Paul, the Head of Sports at St Jude's Secondary School. "So, it fills me with great pride and excitement when one of our students breaks into the international stage," he adds.
Paul also monitors Elia's progress along with his coach and accompanies him to competitions.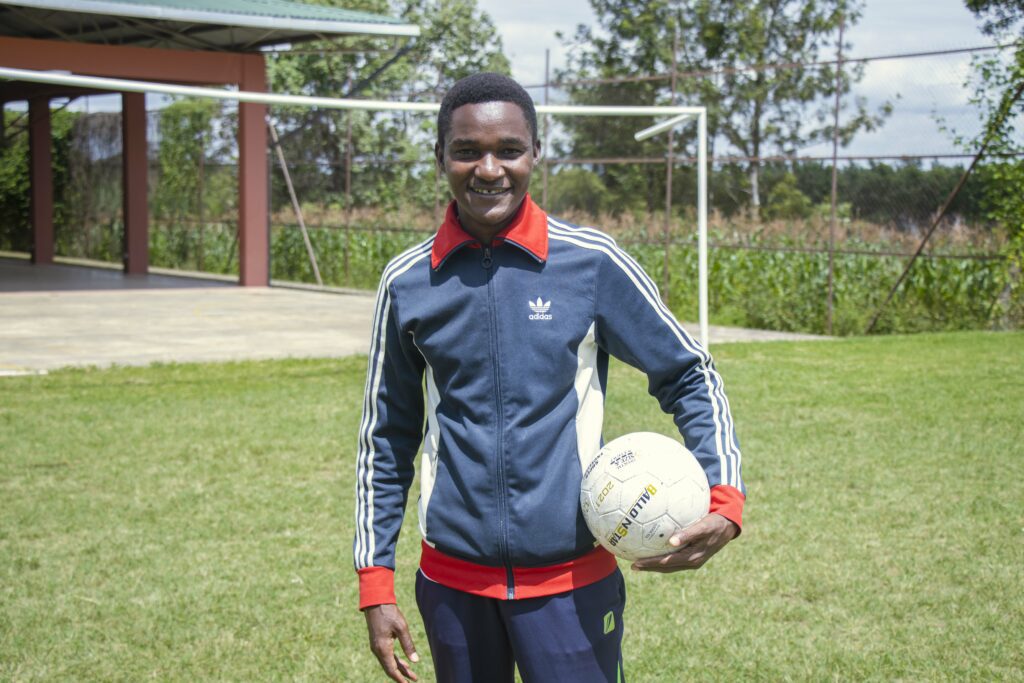 "We take Elia's talent very seriously and we want to support him in every way possible so he can reach his full potential not just in sports but also academically," says Paul. "This involves making necessary accommodations to his training schedules so that he can effectively optimise his time between academics and sports," he adds.
Balancing between academics and sports may seem like a daunting task, especially when you are already representing your country in international competitions. However, for Elia, his involvement in sports only complements his academic aptitude.
"My involvement in sports over the years has enabled me to develop highly productive traits that have helped me in academics," reflects Elia. "My mind is sharper and clearer than ever, and I am more disciplined with my study schedule," he adds.
Still, Elia is not alone. The entire academic staff and fellow students are all rallying behind him in support in the best way they can.
"Elia is in his last year of secondary school and he will be sitting for his national examinations soon," says Mr Sabas, the Headmaster at St Jude's Secondary School. "Everyone, including Elia, understands the gravity of the situation and are making necessary efforts and accommodations to ensure he performs well," he adds.
Mr Sabas has consulted with the academic office to support Elia and enable him to catch up on all important topics leading up to his finals.
Paying Heed to Advice: Mr Erespidus catches up with Elia at St Jude's.
"I am very impressed with the collective effort of his class as well," says Mr Erespidus. "They have organised themselves into groups of study and discussions during their prep time to support everyone," he adds proudly.
Elia dreams of flying the Tanzanian flag in the Olympics competitions one day. Although he realises this won't be easy, he is encouraged by supporters at St Jude's, home and all around the world.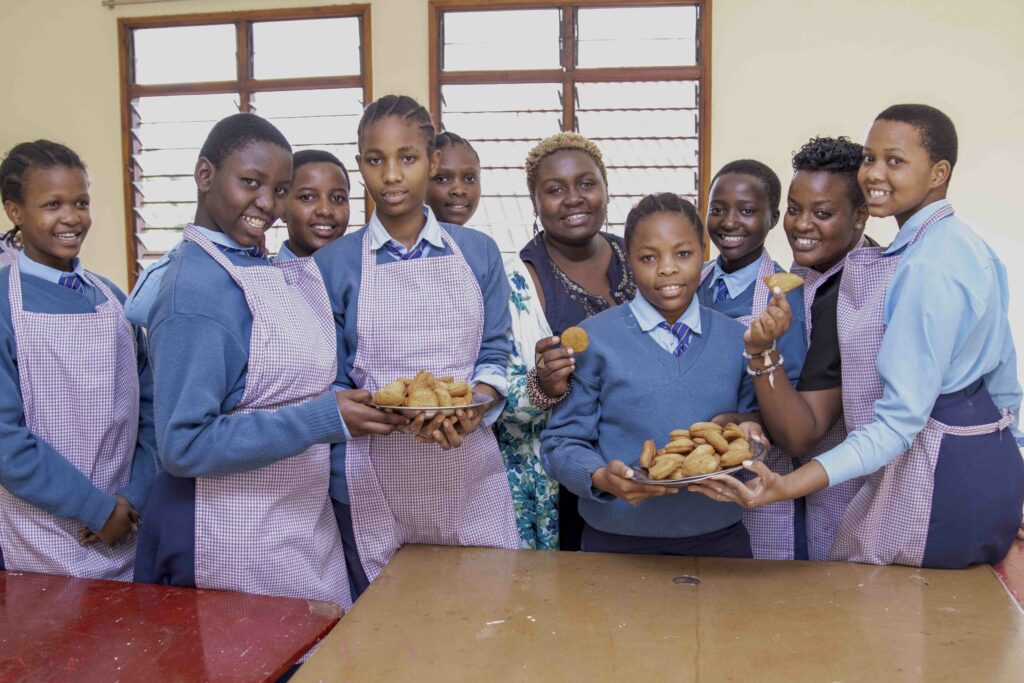 Once a week, about 80 students from St Jude's Girls' Secondary School take part in a cooking class. They are part of the Cooking Club, one of the extracurricular clubs on campus which teaches students basic cooking skills. Among them is Amina, a Form 3 student with a particular interest in cooking.
"I learned how to cook from my father," says Amina. "Being an older sister at home meant that I had to adopt cooking skills early on so that I could take care of my younger siblings when parents weren't home," she explains.
Like many children in Tanzania, Amina learned to cook so that she could help her increasingly busy parents with day-to-day house chores. The more she tried her hand at cooking, the more she loved it and it soon became a favourite activity for her.
"My father showed me how to prepare simple meals that didn't require much skill or time," recalls Amina. "Naturally, this meant ugali, which was my favourite food and reinforced my desire to learn cooking," she adds.
Ugali is a stiff porridge made of maize flour, similar to polenta. It is one of the most popular foods in Tanzania. Ugali is traditionally taken with a side dish which may include beans, vegetables, meat, or fish.
When Amina joined secondary school and moved into boarding, she knew she would spend less time practising her favourite hobby – but she needn't have worried. In 2021, a new Cooking Club was started at St Jude's Girls' Secondary School to cater to students who enjoyed cooking.
"In Tanzania, most boarding students don't really get the chance to practise cooking until they move on to university or start living on their own, which is quite unfortunate because cooking is such an essential skill to have," says Bertha, one of the founders and mentors of the Cooking Club. "With the Cooking Club, students can still improve their cooking skills while keeping up with their studies," she adds.
As a mentor of the club, Bertha aspires to equip students to do more than just prepare food. She prepares them to be resourceful in their next phase of life.
"At the club, we teach our students about kitchen hygiene, organisation, sourcing and purchasing, and even management skills," says Bertha. "These are important life skills that go all the way into their future lives," she adds.
When students learn how to cook, they gain a new appreciation of where food comes from and how to prepare simple, healthy meals and snacks.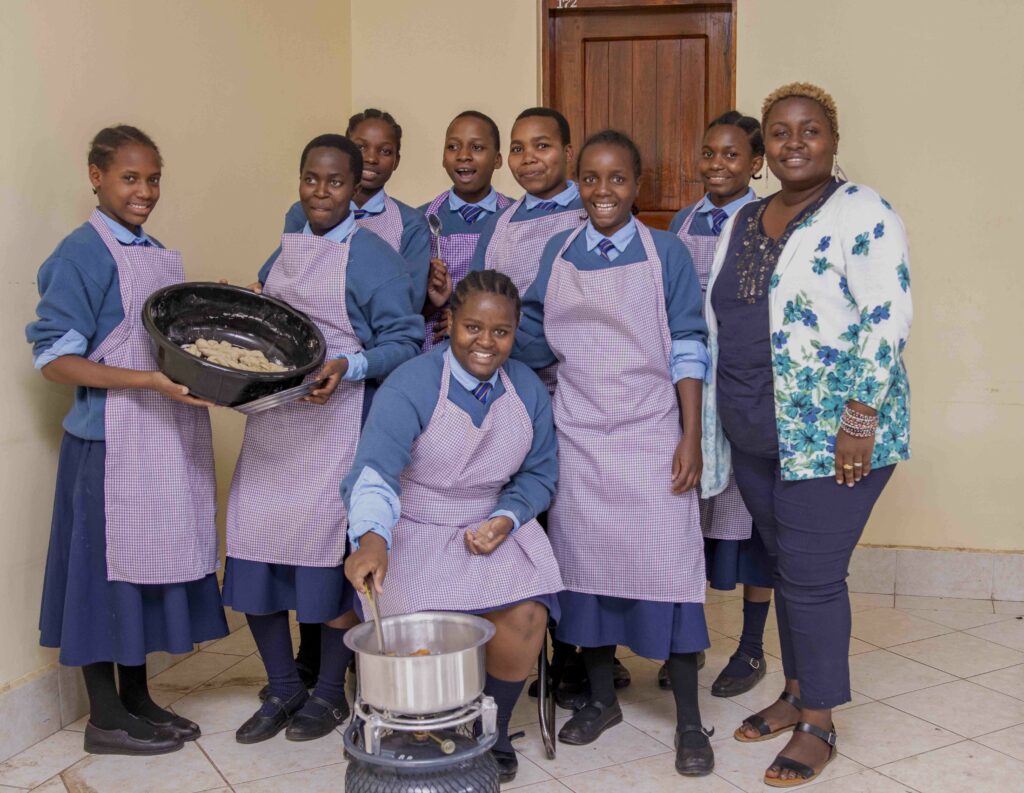 The Cooking Club is one of the 41 clubs at The School of St Jude which equips students with valuable extracurricular and co-curricular skills. With the resources St Jude's supplies, and mentors like Bertha, students like Amina are acquiring valuable practical knowledge for a healthy, happy future.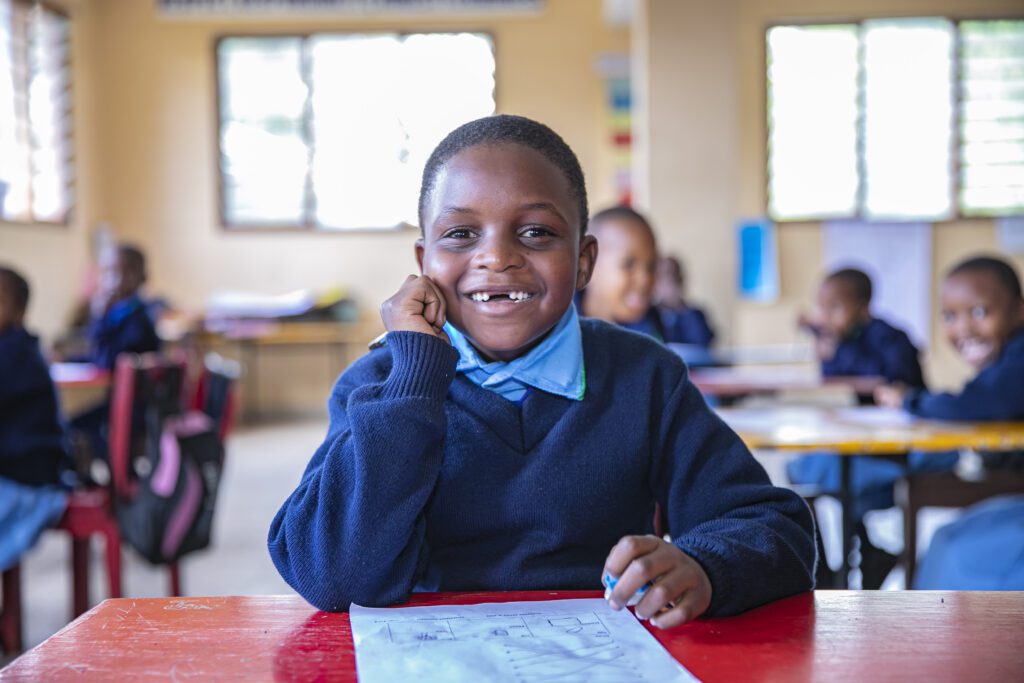 On 9 January, there are 51 new faces at St Jude's Primary School; the most recently enrolled students in Standard 1 and 2 (the first two years of primary). Sporting brand new school uniforms and radiant smiles, you can easily spot them in the playground during morning tea and lunch, excitedly trying one game after another.
"I was amazed at the soccer field," says Tonny*, a Standard 1 student at St Jude's.
Like many Tanzanian students, Tonny's favourite sport is soccer. Back at his former school, there was just one soccer ball for the entire school and during break time, everyone scrambled for it. With many games and sports options at St Jude's, Tonny can choose to have fun in a variety of ways.
"The playground is full of exciting games," says Tonny. "Sometimes, I like swinging on the swings and sometimes I play soccer with my friends," he admits.
As the recipient of a St Jude's scholarship, Tonny is receiving everything he needs for a successful education – the tuition of experienced teachers, school uniforms, safe bus transport, stationery, textbooks, extracurricular activities, daily morning tea and hot lunch, access to a well-stocked library and up-to-date computer labs.
"I have seen a lot of interesting books at the library," he says. "And the music and art rooms are great," he adds excitedly. In class, Tonny's favourite subject is mathematics.
For Miss Julieth, a Standard 1 teacher, watching students like Tonny explore their curiosity and passion is a fulfilling sight to see.
"I have been a teacher at St Jude's for over 10 years now," says Miss Julieth. "My experience with new students keeps getting better and better," she adds passionately.
Miss Julieth is particularly excited about this year's Standard 1 and 2 students. The more she gets to know her students, the more she is impressed with their potential and excited about their future.
"They learn and adapt very quickly, both in class and outside," she says. "I can tell they are having the time of their lives," she adds.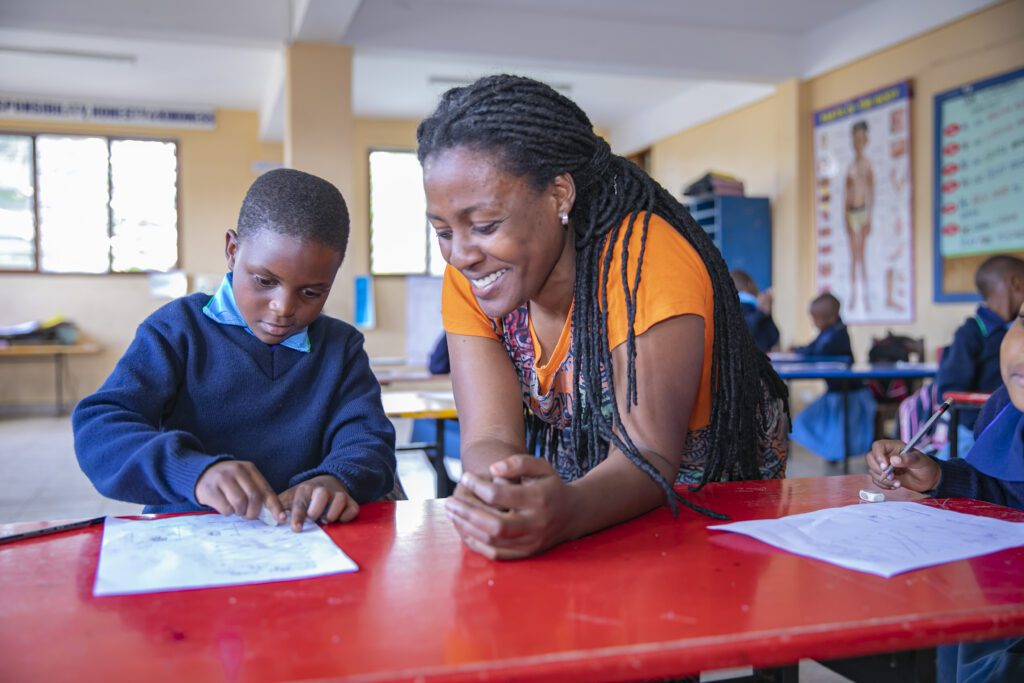 Although Tonny has always enjoyed school, St Jude's has become his new favourite place. He is not only looking forward to learning new things at school, but he enjoys the experience of going and coming from school as well.
"Back at my old school, I used to walk to and from school every day," says Tonny. "But now I am jumping on the school bus."
Like Tonny, the rest of his classmates in Standard 1 and 2 are slowly finding their way around St Jude's, curiously feeding their minds with all the resources available at the school. With guidance from teachers like Miss Julieth, and support from St Jude's global community of supporters, these students are well on the path to becoming the moral and intellectual leaders that their country needs.
*Tonny has only been learning English for three weeks, so his responses here are translated from Kiswahili.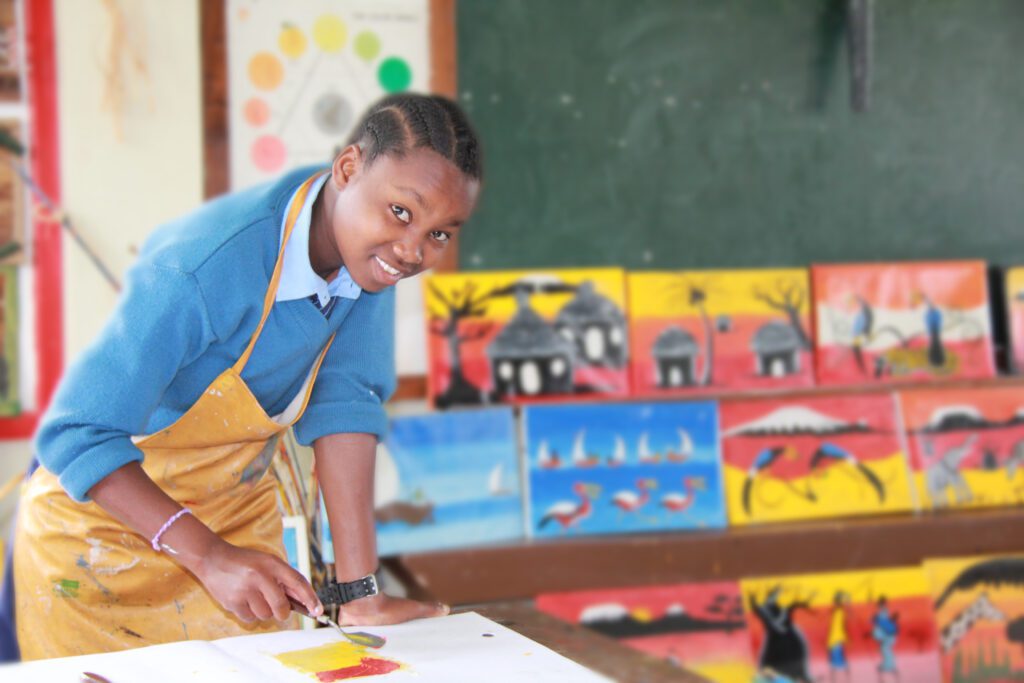 Abdallah first discovered his love for art when he had to draw a picture as part of a school assignment. The teacher had asked the class to select a reference picture of their choice from an English textbook, and one picture, in particular, caught his attention.
"It was a picture of a woman with a headwrap sitting on a wooden stool cooking a meal on a charcoal stove," recalls Abdallah. "My exercise book was full, so I drew the picture on the very last page and it remained there many days," he adds.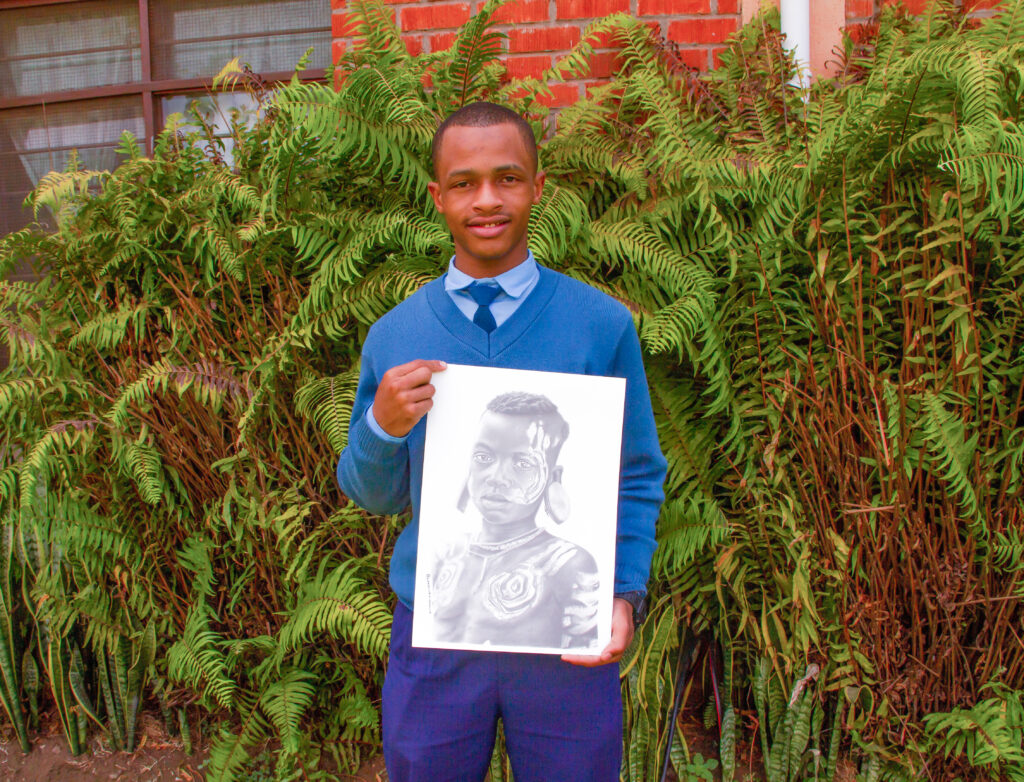 Fast forward to 10 years later, Abdallah is a student at St Jude's Secondary School and an aspiring artist. The rich resources at St Jude's have inspired him to develop his passion for art even further, exploring his creativity in new and exciting ways. He no longer uses a single reference book for inspiration and nor does he have to use the back of his exercise book for his creations.
"St Jude's support for my talent has been incredible," says Abdallah. "In addition to resources, I also get mentorship and support from my teachers and fellow students," he adds.
Despite art not being a core subject in Tanzania's national curriculum, St Jude's focus on holistic education has made art a part of the school's curriculum from the start. This gives opportunities to students like Abdallah who would love to express their creativity on a blank white canvas.
"I first volunteered at St Jude's as an art teacher back in 2006," says Alicia, St Jude's Art Initiative Coordinator and one of the early volunteers at the school. "Although the school was only four years old back then, it was obvious that art was a priority," she recalls.
Alicia is currently back at St Jude's to kick start the new Student Art Program, an initiative designed to support, encourage and develop the skills of budding artists at the school, while giving supporters the opportunity to have a little piece of St Jude's in their own home.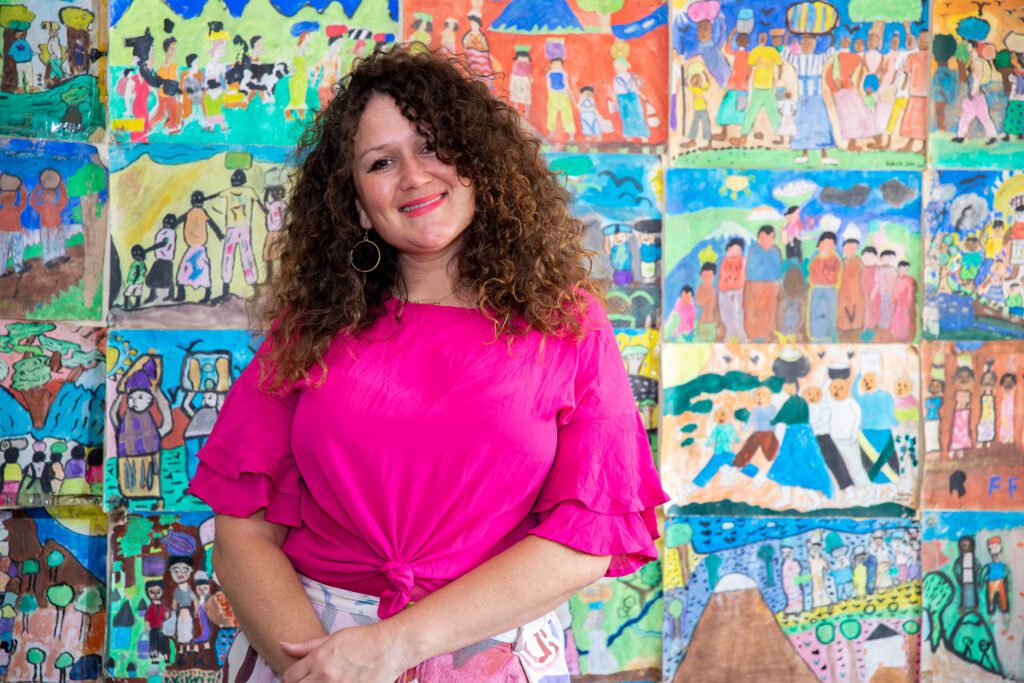 "The Student Art Program came about as a recognition of our students' talents, both from us and visitors coming to St Jude's," explains Alicia. "So, we worked to launch a virtual gallery on our website to showcase students' artworks and also allow for visitors to order artworks in support of the program and as gifts," she continues.
St Jude's Student Art Program complements the already thriving extracurricular Art Clubs and classes at the school. All proceeds from artwork orders go straight back into developing the Art Program with quality resources and materials, building a gallery, and much more.
There are three ways to support the Student Art Program directly from St Jude's website.
"We have set it up so that it works like an online shop which is familiar to most people," says Alicia. "You can order an original artwork and have it mailed to you in Australia, or you can buy the original and donate it back to St Jude's where it will be displayed in the school for everyone to enjoy, and the third option is ordering a digital print of the artwork," explains Alicia.
Currently, original artwork can only be mailed to Australia, but the school hopes to expand delivery countries in 2023.
There is a lot to look forward to with this new project at St Jude's, especially for Abdallah who sees it as a bigger stage to express his creativity.
"This new Art Program is great because it will raise awareness about art to the St Jude's community and beyond," he says.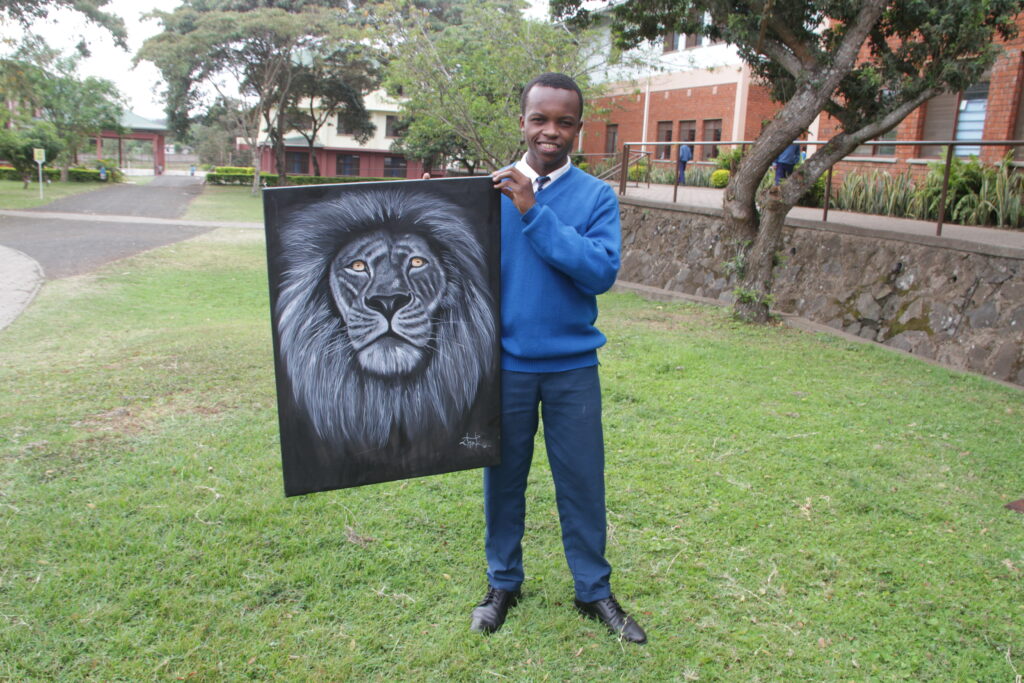 His sentiments are echoed by a fellow budding artist at St Jude's Secondary School, Emanuel. Like Abdallah, Emanuel discovered his talent at a young age and has ambitions of setting up his own art gallery in future.
"Besides supporting students already doing art," explains Emanuel. "This new program will motivate others who have talents but never got a chance to show it," he adds.
This program is a new way for supporters to connect with St Jude's through a shared love for art. Soon, artworks will be proudly displayed in homes around Australia, a reminder of Tanzania's rich culture and St Jude's work fighting poverty through education.