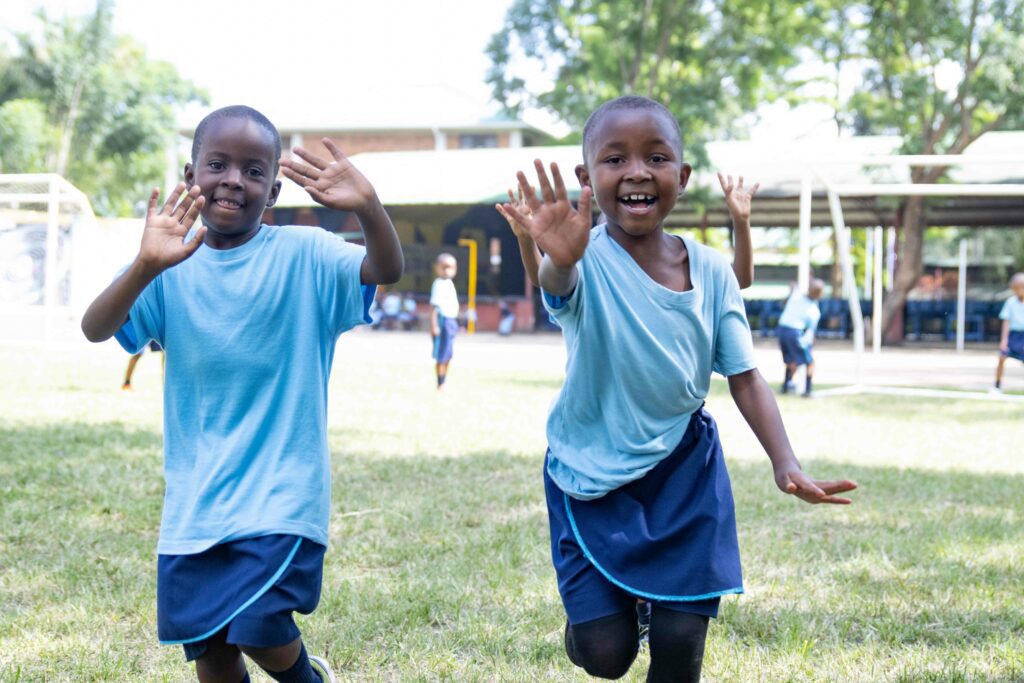 At The School of St Jude, students have the chance to learn outside the classroom through participation in extracurricular activities (ECAs). These include twice weekly sports practices and weekly clubs.
Let's take a closer look at the numbers on ECAs at St Jude's!
St Jude's has over 50 clubs across its three schools; Primary school, Girls' Secondary School and St Jude's Secondary School.
There are 10 different sports played at St Jude's.
More than 600 St Jude's students compete at district and national level in Extracurricular Activities.
There are 21 external specialist coaches for Winter sports and 23 external specialist coaches for Summer sports.
160 St Jude's staff choose to coach sports as their second core duty.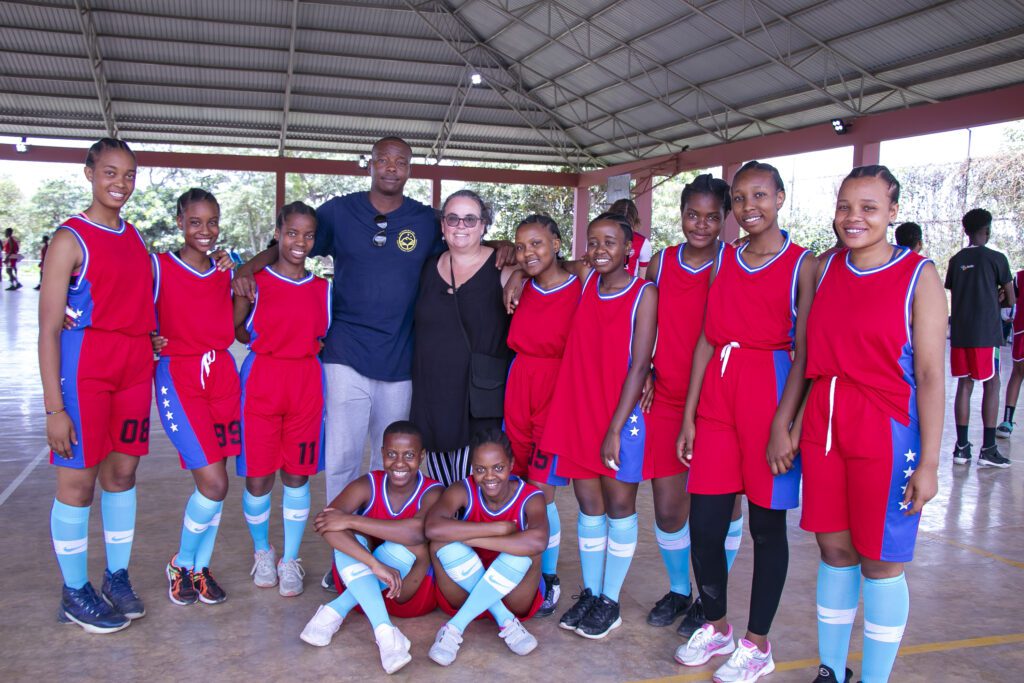 Over the past two years, The School of St Jude has been making a concerted effort to improve and expand its Sports Program. More sports have been added, more coaches have been hired and more time has been dedicated to sports practice.
After all this hard work, St Jude's decided it was time to put its student athletes' skills to the test, with its very first interschool basketball competition. In late March, St Jude's hosted the Bluesand Basketball Tournament at Smith Campus.
Six local schools paid an entry fee and fielded 5 boys teams and 4 girls teams.
"The tournament aimed to get the students competing at the highest level, having fun, fundraising, and building good relationships with other schools," says Mr Mziray, the school's Sports Officer and one of the tournament organisers.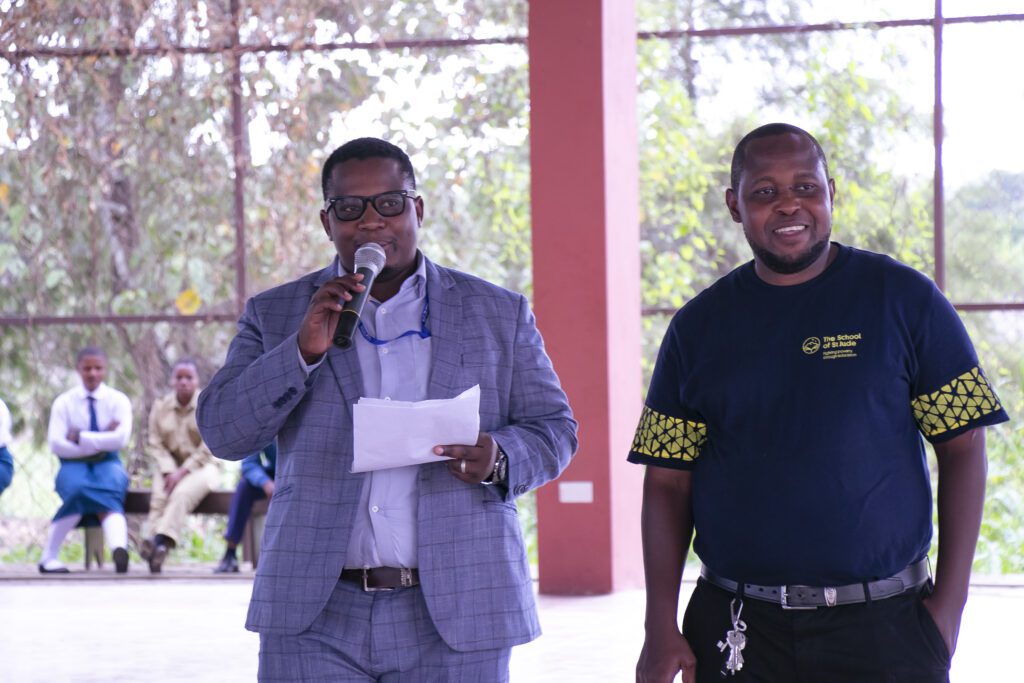 The competition was played round-robin style, so all teams of the same gender got the chance to play against each other. This made for a busy day of competition, but the enthusiastic players took it all in their stride.
In addition to these main competitions, there were challenges for individual players. Mr Mziray explains, "We had three challenges in between the rounds which were One vs One, Free Throw and Three-Point Shooting."
These challenges proved popular, with plenty of players signing up to test their skills.
In addition to the on-court action, there was also a busy food tent where hungry competitors could purchase lunch. The St Jude's teams all enjoyed hot dogs – definitely a change from their nutritious school meals!
At the end of the day, the boys' team was thrilled to place second in their section. The girls' team just missed out on a place, but had a great day nonetheless.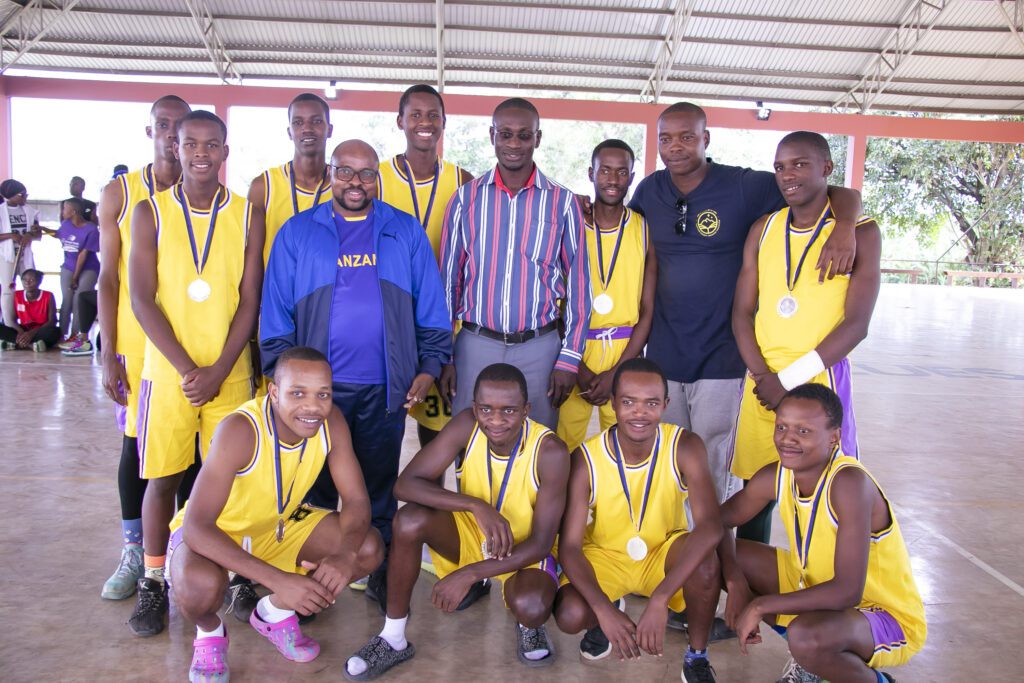 Placing or no placing, Mr Mziray judges the day to be a success. "As our first-ever sports tournament, it was successful. We plan to host more tournaments in other sports like football, netball, volleyball, and athletics in the future," Mr Mziray reports.
"We encourage our students to participate more in sports activities and allow them to compete with different schools. We are showing other schools how serious we are in sports, nurturing our students' morale, developing a sports culture and building a network with other schools," he reflects.
The Bluesand Basketball Tournament is the first of many to come at St Jude's. Through competitions like this, students get the chance to hone their physical skills, improve their teamwork and meet peers from different schools. It might seem like 'just sport' to some, but St Jude's knows that opportunities like this offer students so much more than the chance to win a medal.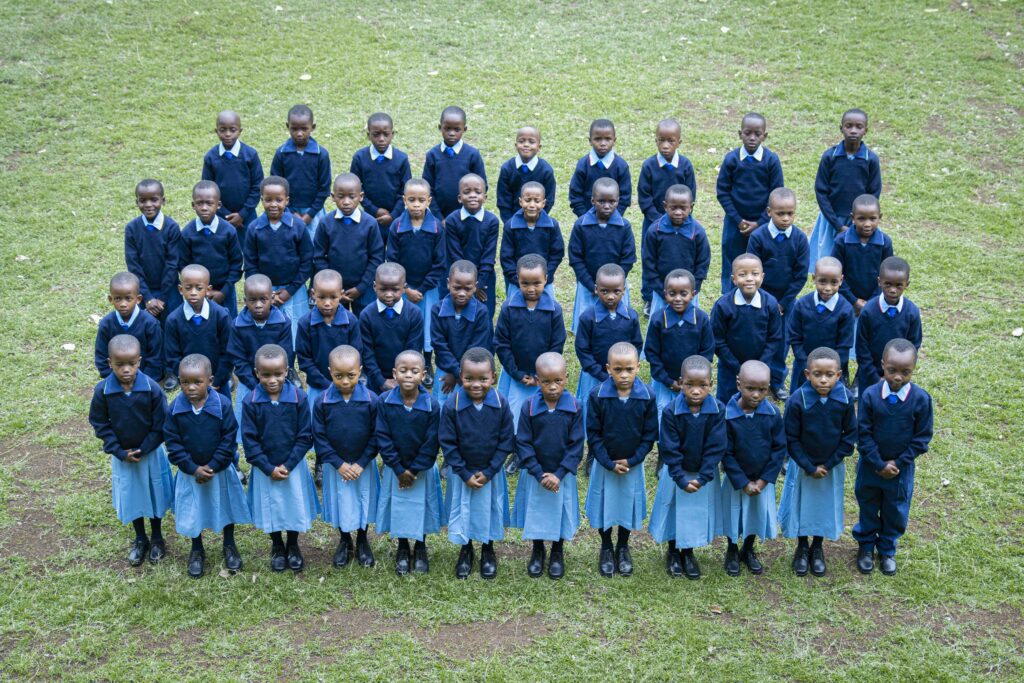 Every year, a St Jude's uniform is a gleaming ray of hope for the brightest, poorest Tanzanian students who are lucky recipients of an academic scholarship.
The school's blue uniform is a dream come true for these students joining either in Standard 1, Form 1 (O Level), or Form 5 (A-Level).
There are three key stages of school in Tanzania; seven years of primary school from Standard 1 to 7, then four years of secondary school from Form 1 to 4 in Ordinary Level (O Level) studies, and finally the final two years of secondary school, Form 5 and 6 in Advanced Level (A-Level) studies.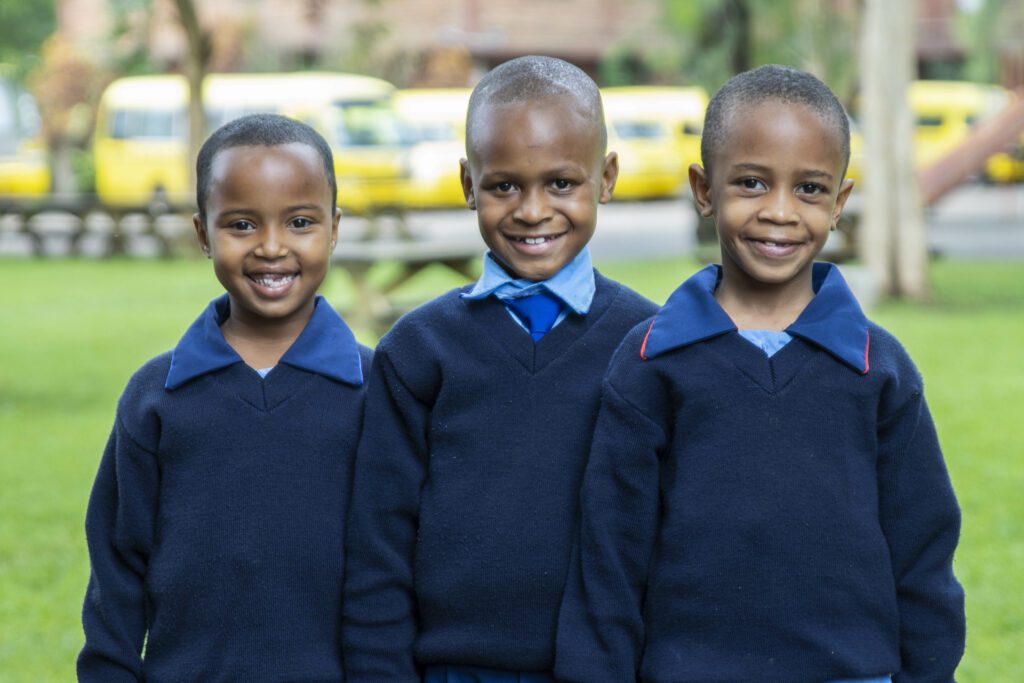 Primary Students
Meet Happiness, Alvin, and Rahma, the newest Standard 1 and 2 students at St Jude's.
Rahma and Alvin hope to become pilots when they grow up.
"I am happy to wear these new uniforms," says Rahma who is Standard 1.
"When my mother saw me with the new uniforms, she congratulated me and we celebrated together," she adds.
Recalling his own experience, Alvin says, "My mother brought me to the school on Uniform Day, she was delighted to see me wearing my St Jude's uniform."
"In class, I now enjoy writing and reading. Hopefully one day I will achieve my dream of becoming a pilot," Alvin adds. Happiness who aspires to become a doctor when she grows up showed off her new uniform. "I look really smart in my uniform. I love it!" she says shyly.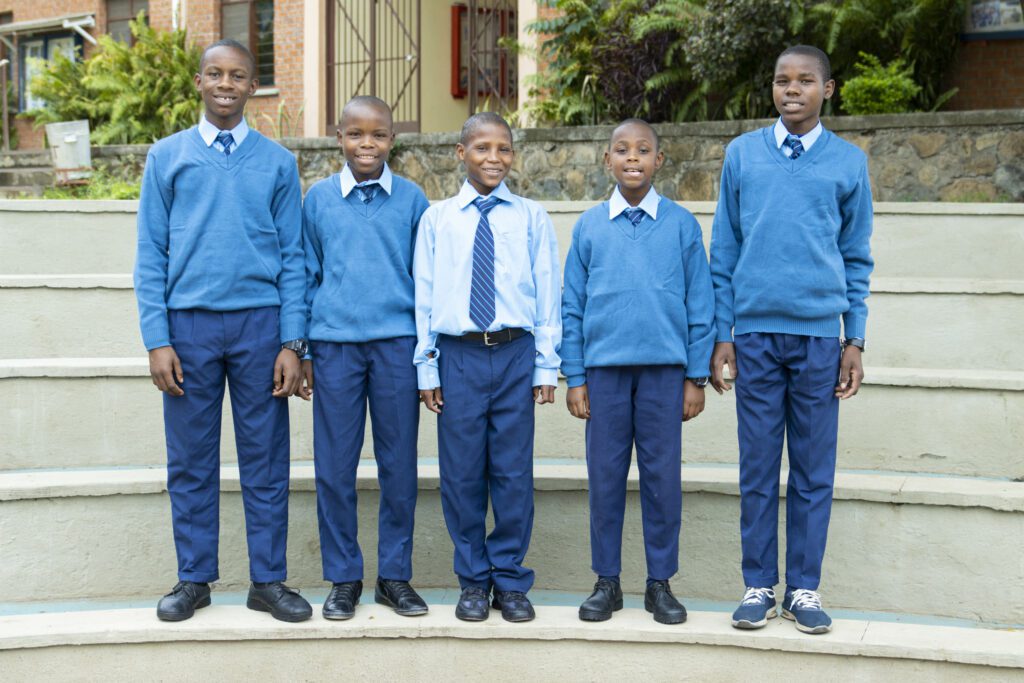 Form 1 Students (O Level)
Wearing the St Jude's uniform for the first time is a proud moment for new secondary school students who have completed their entire primary education in a government school.
The school invites top-performing students from government schools to take part in the scholarship application process. Scholarships are awarded only to the brightest and poorest students.
Juma, who just started his first year of secondary school at Smith Campus, is thankful for the opportunity to wear a St Jude's uniform.
"Wearing these uniforms gives me hope for my future. I used to walk for hours to get to school, we didn't have hot lunches, proper learning resources and classroom essentials like we do here," says Juma.
"With St Jude's, I don't have to worry about walking far to get to school. I can now focus on my studies and become a better student," Juma explains. Similarly, Naftal, who joined St Jude's this year, is thrilled to be receiving a free education. "Compared to the government school I attended before, I get the opportunity to study more at St Jude's. I'm looking forward to a beautiful future," Naftal says with excitement.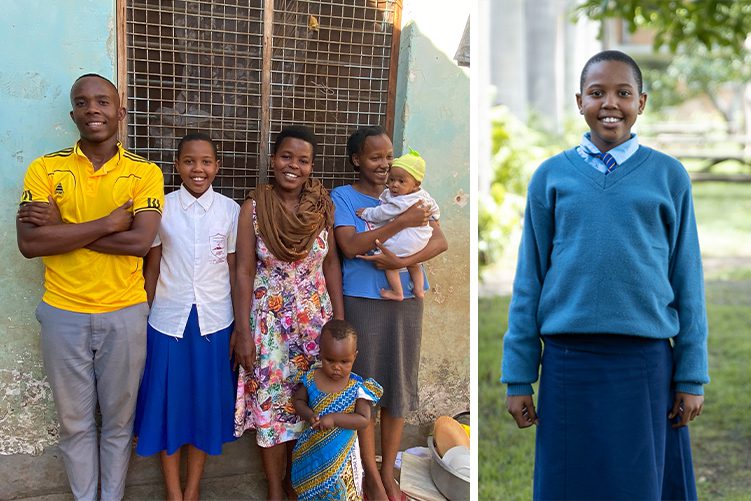 Aspiring to become a president, Maurene believes that wearing a St Jude's uniform brings her closer to her dreams. "Being accepted to receive free quality education means that I can study hard and help my parents when I graduate."
"I hope to become a leader one day. It is my dream to help my community out of poverty. Should I not be a leader, I wish to become a doctor," Maurene adds.
Academic scholarships for secondary students cover a student's educational and boarding expenses including; uniforms, boarding facilities, learning resources, daily nutritious meals, clean water, health and welfare support, and everything else needed for a successful education.
Now that they have uniforms, all the new students are ready to begin taking steps towards a brighter and better future for themselves and their families.
Art and music are integral parts of St Jude's curriculum, helping to deliver a holistic education that allows students to develop real-world skills and self-confidence. Our teachers' dedication in every lesson contributes to this ethos.
Inside Art Class
"Grab your soap and let's get carving!" Mr Kephas says to his students.
To demonstrate the process of sculpting, he turns on a projector and monitors each student.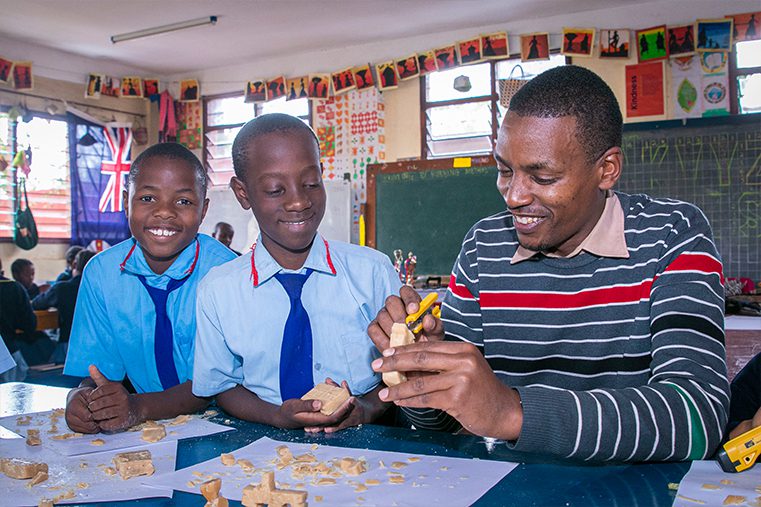 "Today's lesson is about carving with soap. Soap carving inspires creativity in students, especially younger ones," explains Mr Kephas.
"I teach Standard 1 to 7 in primary school and Form 1 and 2 at our girls' secondary school. I am, however, always available to assist older students in their spare time," says Mr Kephas.
Having begun his artistic journey at a young age, Mr Kephas understands the importance of nurturing talent at an early age.
"I have loved art since I was a child. I would go through my brother's school books, drawing on them. I remember I would get in trouble for that," chuckles Mr Kephas.
"But, my parents noticed my talent and supported me by giving me papers and pencils that I could use for drawing," he adds.
"Students learn soft skills such as time management and teamwork through art. It helps them develop social and emotional skills as well. We can develop well-rounded individuals by cultivating these qualities from an early age," emphasises Mr Kephas.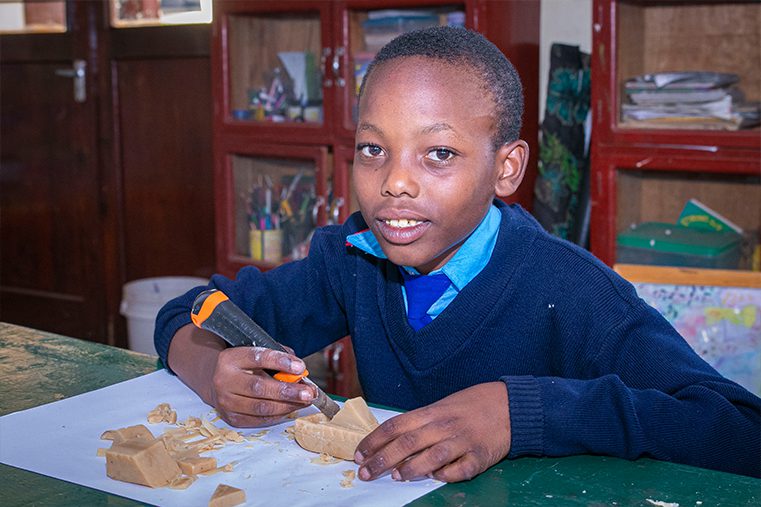 George, a Standard 5 student, is thrilled with today's lesson. "I'm carving a boat today," he says.
"Art lessons are so much fun for me. I get to learn how to make things in different ways," George adds with enthusiasm.
Inside Music Class
In the music classroom, more laughter and excitement can be heard. Mr Beda has been a music teacher at St Jude's for 13 years.
Like Mr Kephas, Mr Beda is passionate about inspiring students' innovative spirit and watching their imagination come to life.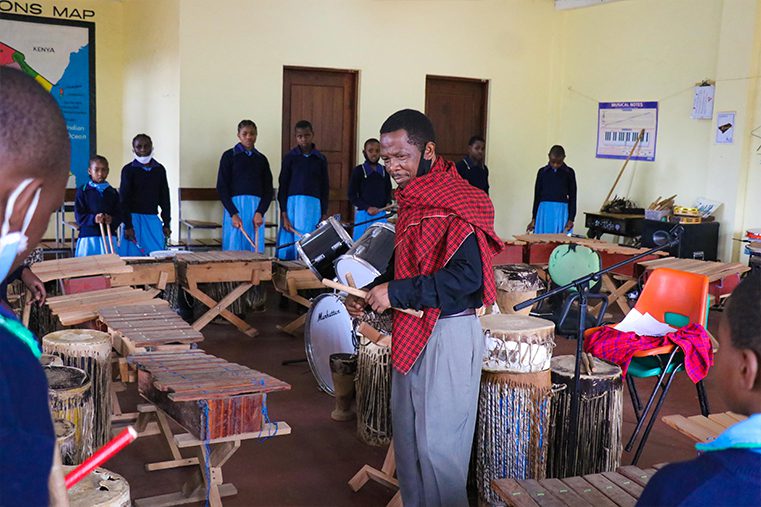 "Coming from a musical background, I love music. The art of music goes beyond singing… it's about learning sounds, the music language and the instruments."
"I help my students develop their talent by practising. I teach them how to play both traditional and modern instruments."
"Music stimulates creative thinking. Even if students don't pursue music careers in the future, they learn how to be expressive and gain the confidence to try new things without fear of failure," explains Mr Beda.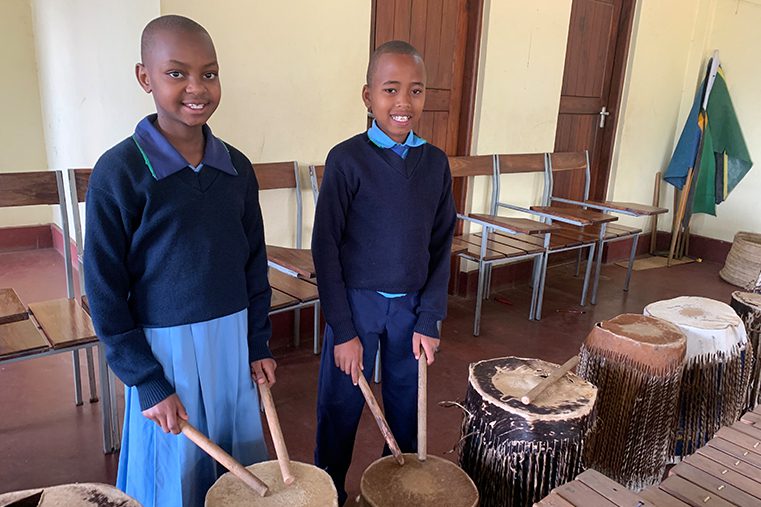 Learning how to play the drums are Joan and Joshua, Standard 4 students. "Music helps us learn about our traditional dances and culture. We also learn to dance, play instruments, and sing," says Joan.
"Mr Beda is teaching us how to play the national anthem on the drums," describes Joshua.
Joan hopes to one day be a music teacher, "I want to pursue teaching music after I complete my higher education."
St Jude's encourages students to express themselves through art and music, transforming their creative energy into beautiful works of art and empowering them with skills to help them thrive in the future.
St Jude's students come from families who don't have many material things to share, indeed, many are struggling to make ends meet. Despite this, our students are always looking for ways to give to others.
A group of kind students from St Jude's Girls' Secondary School have made it their mission to visit local orphanages during their school holidays. While the students don't have money to donate, they give staple foods, help with homework, play with the children and help with chores around the orphanage. With compassion and creativity, the students have found a way to make a difference in the community with few resources.
Salome, Form 2, and Caroline, Form 4, are two students who have taken it upon themselves to volunteer their time in orphanages during school holidays this year. They are members of the YOTA (Youth of Tanzania) Club – its current and former Presidents respectively. One of the core purposes of YOTA Club is to serve the community, which is what drew both students to the club.
"Instead of just staying at home during the holidays, we can help people," explains Salome. "We can contribute to the children at the orphanage by volunteering and bringing items to help them, like sugar, soap, rice and pencils."
"Our goal is to help our society. We also want to create a spirit of thanksgiving and hard work among our members," says Caroline.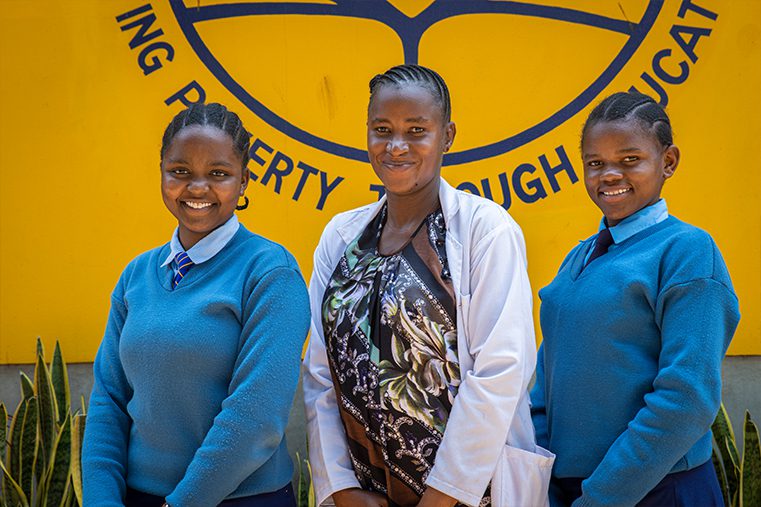 The YOTA Club, like all clubs at St Jude's, has a staff mentor to guide its activities. Ms Kimori, a lab technician, is the YOTA Club mentor. While she offers a guiding hand, she has found the students very capable of planning their own activities.
"The students proposed the volunteering and asked me if they could visit orphanages," Ms Kimori recalls. "Once they had permission, they organised it all themselves."
On the day of the visit, the students make their own way to the orphanage using public transport or on foot.
"When we arrive, we help them to get ready and with activities in their house," begins Salome. "Then we teach them games, feed them and wash their clothes for them," continues Caroline.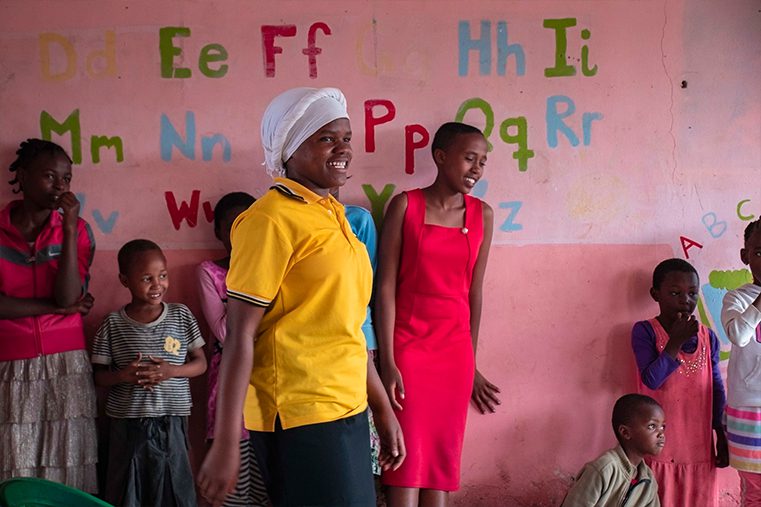 At the orphanage, there about 50 children, from babies to 17 year olds.
"Most orphanages in Tanzania depend on contributions from donors, so it can be difficult. Often, they will have just two or three staff caring for all the children," explains Ms Kimori.
"Sometimes, the children have just one meal per day," adds Salome.
It's clear that the children at the orphanage are happy to spend time with the St Jude's students. By feeding the youngest children and taking care of some laundry, the students are able to help the staff, who have a lot on their hands with so many young children to care for.
But it's not all hard work. St Jude's students all agree that they have a lot of fun while volunteering.
"It's so nice to spend time with children," enthuses Salome. Caroline agrees. "I really love volunteering. I know I'm making an impact," she smiles.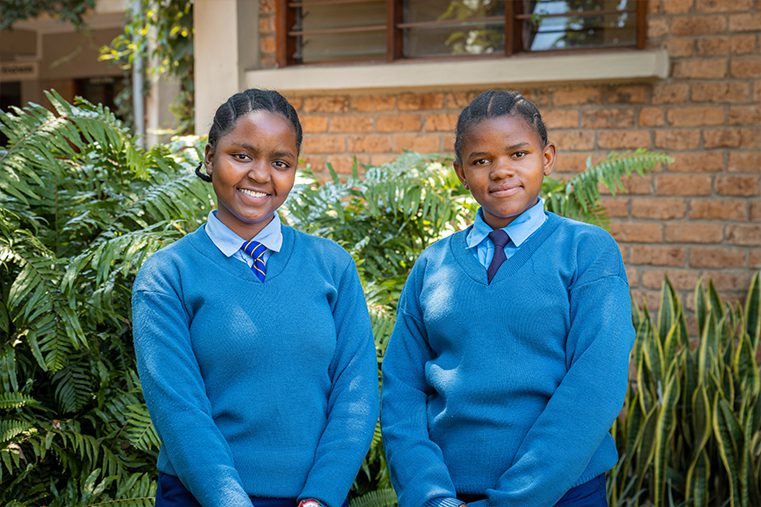 Salome and Caroline, while wonderful students, are not anomalies at St Jude's. In fact, the spirit of volunteering is strong throughout the student body.
Despite coming from underprivileged backgrounds themselves, St Jude's students consider those who have less than they do – including those without parents, families or homes. With creativity, our students have found ways to help others using what they have, a skill which will stand them in good stead for a life of kindness and compassion.
As the bell rings, students are excited to be heading home for their midterm break.
Half way through each term, students return to their homes to spend time with their families. As most students enjoy their holidays relaxing with their loved ones; Semu, Jessica, Andrea, and Veronica use this time to give back to the community, as one way to appreciate the free, quality education they receive at The School of St Jude.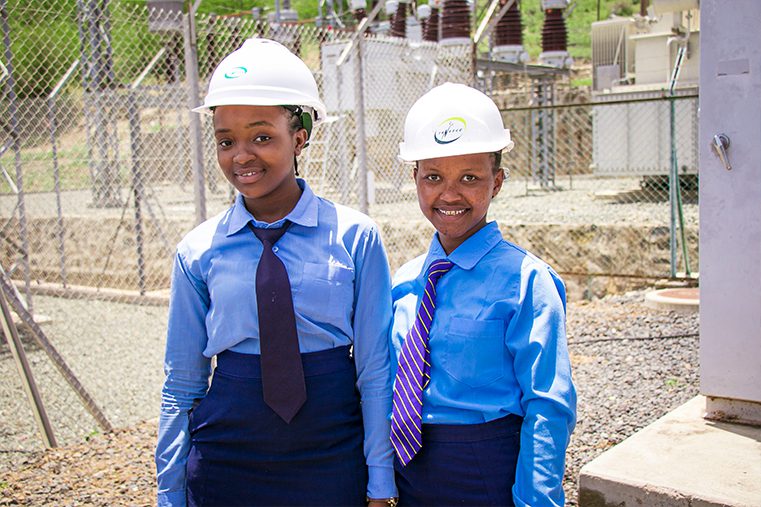 "Charity begins at home," says Veronica, a Form 4 science student at St Jude's Girls' Secondary School.
Veronica spends most of her holidays working in different orphanages around her area. "I started visiting different orphanages in Form 2 and have been going ever since. Having access to the free, quality education I receive at St Jude's has inspired me to help others in the same way I have been helped at the school," explains Veronica.
Veronica and a few of her friends have started a campaign titled, 'Who has the Voice to Speak for a Girl', because they want to see a change in their community and see girls, like them, rise up and have access to equal opportunities. She believes that even a little bit of help goes a long way towards helping other girls.
"Girls studying in government schools face many challenges. My friends and I decided to help them in different ways, like tutoring students in the subjects they need help with and donating sanitary towels to girls in several orphanages."
Despite coming from extremely poor backgrounds, St Jude's students work hard to fulfil their academic potential and to develop leadership skills to lift their communities out of poverty.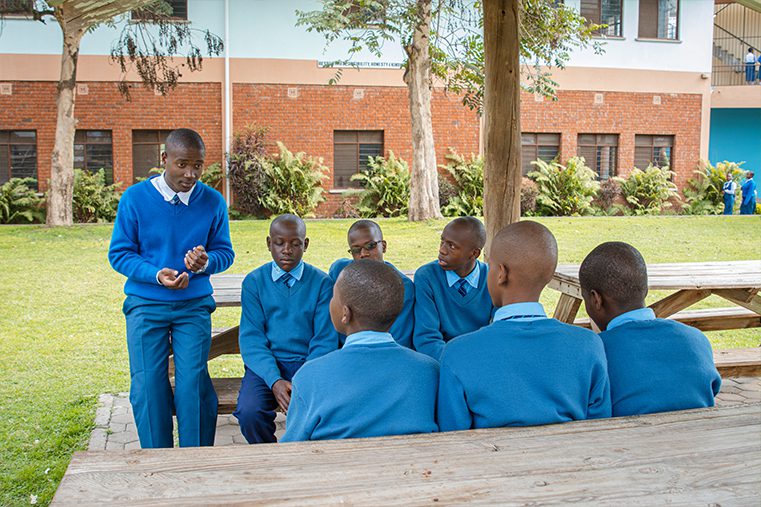 Semu, a Form 6 student at St Jude's Secondary School, embodies the spirit of leadership. He's dedicated to helping his fellow youth in his community who are struggling with drug abuse. He believes that transforming the socio-economic future of his family and community rests on his shoulders.
"Many of my peers in my neighbourhood suffer from addiction, and that's why I'm compelled to speak out against it," states Semu.
"I use my holiday time to talk to my fellow peers about the negative effects of drug abuse."
"I started a movement called Me Against Drug Abuse (MADA) where I speak to youth in government schools, churches, and in my community about the adverse effects of drug abuse," adds Semu, whose dream is to see a drug-free society one day.
St Jude's motto is 'Challenge Yourself'. It encourages students to strive for academic excellence, moral excellence and to develop a diverse set of skills, preparing them to become community-focused leaders of the future.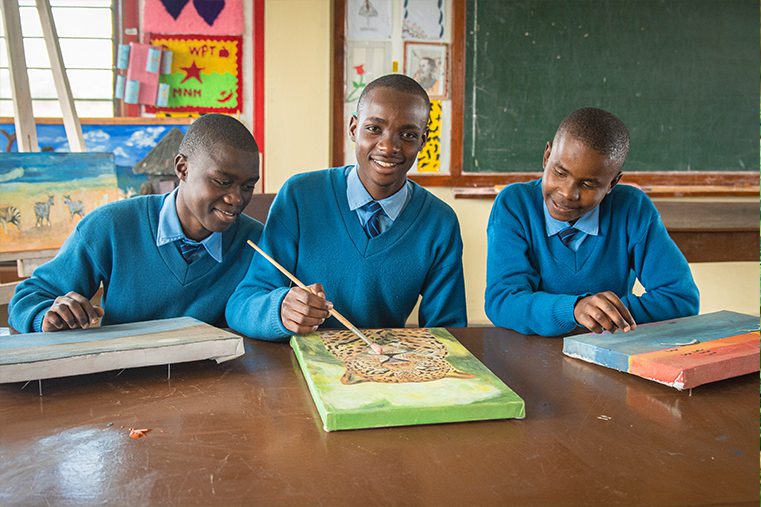 Andrea, a Form 4 student, spends his holidays teaching art to orphans. "During the holidays, I spend my time teaching creative art to orphans and the less fortunate."
"I enjoy sharing the knowledge I gain at St Jude's with my peers, younger brothers and sisters in my community. In addition to teaching them different art skills, I also show them how to weave vases and make bracelets," says Andrea.
St Jude's students are provided with a holistic education to help them develop valuable, real-world skills and self-confidence.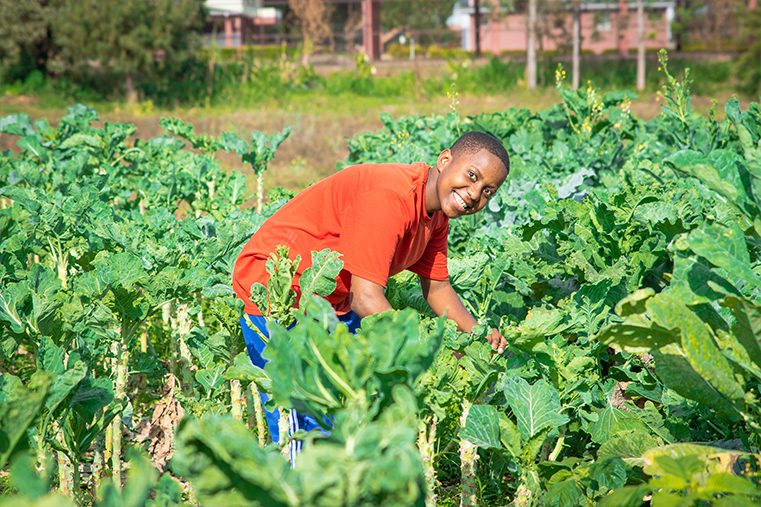 "I have a farm at home, so during the holidays, I tend to the vegetables," says Jessica, a Form 6 student.
Jessica gains her agricultural know-how from tending to the school shamba (shamba means farm in Kiswahili), which is a compulsory activity for students. Through shamba activities, students increase their knowledge about crop management and techniques to improve land productivity.
Agriculture plays a major part in the Tanzanian economy with most Tanzanians involved in agriculture in some way.
"I engage in vegetable farming during holidays because farming contributes to feeding my family. With the farm now up and running, they'll have an endless supply of vegetables," Jessica adds.
Jessica, Semu, Andrea and Veronica don't stop learning when the school closes, they use creative ways to reach out and help their communities during the holidays. As outstanding St Jude's role models, they demonstrate that education creates hope for the future of Tanzania.