When a student receives a free, high-quality education at The School of St Jude it helps lift their whole family out of a life of poverty and this is best illustrated by Form 6 student Alice's family.The seed was first planted when Alice joined in 2006 as a Standard 1 student. Her family was living in a small room in her grandfather's home and her parents were concerned about how they were going to give their daughter an education. 
"Oh I remember bringing Alice to the student selection day myself, I carried her on my shoulders and when we got final word she had been accepted it was really good news for everyone in the family," Alice's father, John, smiled more than a decade on. 
By a generous supporter of St Jude's sponsoring the 18-year-old's academic scholarship, Alice's family had opportunities they had previously only dreamt of.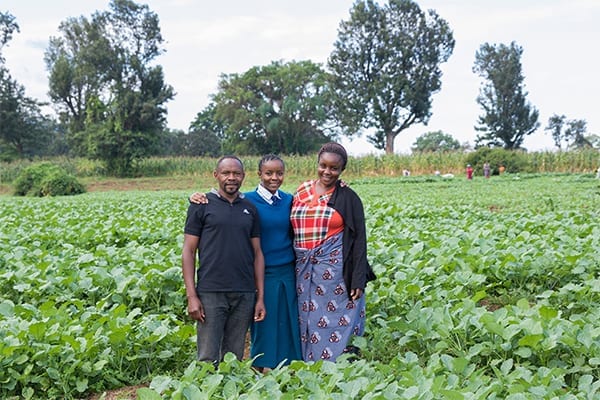 "The money we saved by Alice getting a free scholarship allowed us to pay for Alice's younger sister to go to school and motivated me to get back to working," Alice's mum, Nice, quietly reflected. 
Six years ago the family were able to start what has become a successful vegetable farm, buying some cattle and employing others from the community. The School of St Jude was one of their first customers before the school built their own shamba at Smith Secondary Campus.
Last year, St Jude's injected over AU$6 million into the Tanzanian economy, supporting many families who operate businesses in the region.
"St Jude's really helped our business grow in the initial stages and those profits have helped us during the tough times. I am proud to say that we have been an example to our community, they have seen our hard work and success and admire the happy life we now live," Nice added.
That success helped build the family a house. An achievement that Alice's father calls his proudest moment, other than watching his daughter excel at school. 
"Lots of things that our family has done so far has been done because of St Jude's. I was finally able to start making my family a five-roomed home. A union of St Jude's staff even helped me in the building process to get the house to what you see today," John proudly shared while looking over his handiwork.
That handiwork, a family home, a place Alice can be proud of. She will be one of the 80% of St Jude's graduates who would not meet the school's poverty criteria if they applied for a scholarship at the time of graduation. An indication that St Jude's is fulfilling its vision of fighting poverty through education.
"I am proud to say our family has been the most successful in our neighbourhood in changing our lives and it's all thanks to St Jude's," Alice shared.
Alice parents are happy for her to not take over the family business when she graduates next year however, instead supporting her to follow a career in the medical field.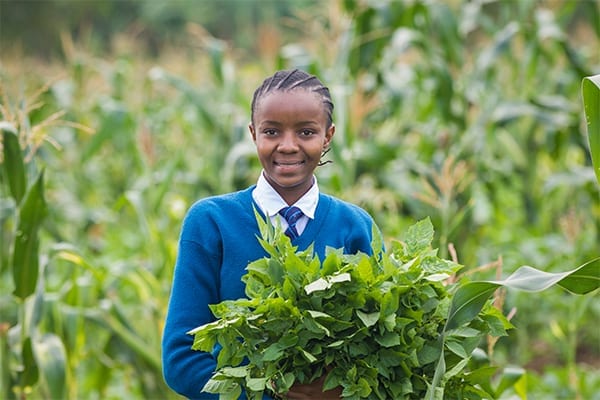 "I get emotional when I think of how St Jude's has helped Alice academically. I cannot really imagine the joy when Alice walks across the stage at Form 6 Graduation, it will be like magic. I can't explain the joy and gratitude that I will have by then," John said wiping away tears. 
"I want to be a dermatologist so people feel happy in their own skin," Alice explained, standing with her proud parents in their vegetable shamba.
A picture of a flourishing family and business, creating positive change in the community, thanks to St Jude's.
A donation to St Jude's helps students help their whole family. Give today to increase our impact.
Getruda is seven years old, she dreams of becoming a doctor. She lives with her mum, dad and three siblings in their two-roomed house in a suburb of Arusha.
Having applied to attend The School of St Jude along with over 600 other six and seven year-olds, she was one of the lucky few to secure a place and the opportunity of a free, high-quality education.
Her mother, Veraeli, who works from home repairing clothes, remembers the day she brought Getruda to St Jude's student selection testing.
"When I saw how many people were waiting and hoping their kids would get a chance at St Jude's I gave up and thought, 'there is no way she is going to get a chance', but I am so thankful to God that she was able to get in."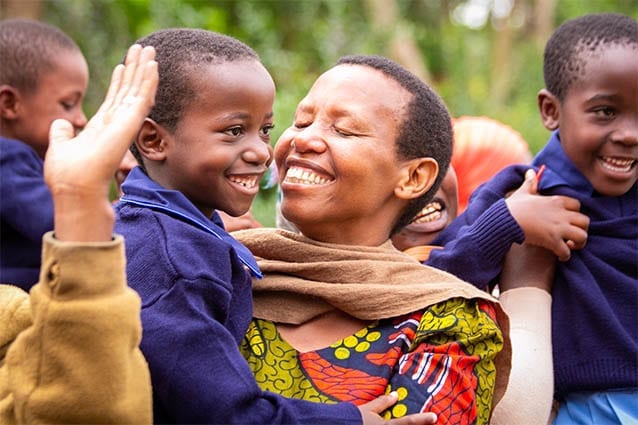 Like the majority of the adult Tanzanian population, Veraeli and her husband didn't go to secondary school and only received seven years of formal education. She hopes of a different life for her daughter.
"I also really wanted to go to school and even higher education and really wanted to one day be a teacher, but due to the situations of life I couldn't reach those goals," Veraeli reflected.
"Ever since Getruda was in kindergarten she said she wanted to be a doctor and now since she is going to St Jude's and because St Jude's is a very good school, among the best, I truly believe she will reach her dreams."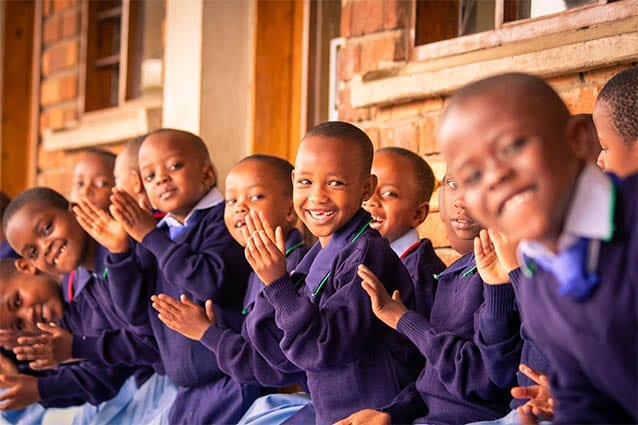 As a student at St Jude's, Getruda will have access to quality teacher support, appropriate class sizes, facilities such as science and computer labs, educational excursions and will be taught in English, giving her a huge head start compared with her peers in government schools.
Veraeli knows that Getruda has a special chance and that her education at St Jude's can make a difference to the whole family.
"I expect a lot from the education that she will receive at St Jude's, I hope that she will be able to help her siblings in learning what they haven't had the opportunity to. Even the older ones will be able to learn from her."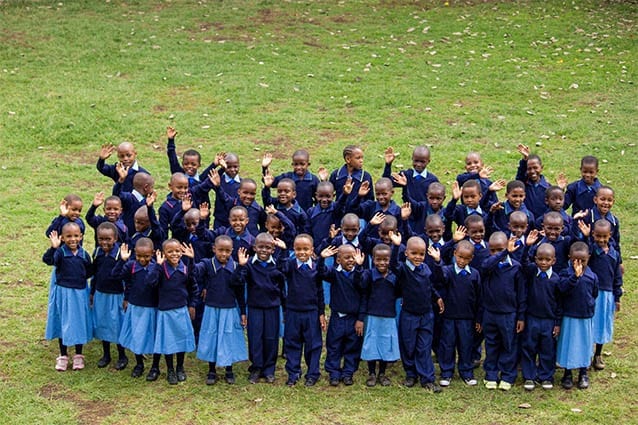 Attending St Jude's also removes the extra burden of having to find the money for uniform, books and contributions towards food that Veraeli already has to pay for her two older children to attend school and is standard practice throughout Tanzanian government schools.
"It makes me feel so happy to have my child study here. I know my child will get the education that I wouldn't be able to offer her in a better school out there. I am so happy."
If Getruda successfully retains her academic scholarship as she moves from each school level, she will have the opportunity to graduate Form 6, an achievement that less than 3% of children in Tanzania achieved in 2018. And with it, the chance to go on university and become the doctor she dreams of being.
Donate to St Jude's today to help make dreams come true.
Amanda signed up to sponsor an academic scholarship with St Jude's in 2009. Almost a decade later, she and her mother, Jenny, made the long journey from Australia to Tanzania to support Form 6 graduate, Dainess, on Graduation Day last month.
Amanda and Jenny have been so impressed by St Jude's sponsorship scheme, and excited by Graduation Week, that they decided to sponsor another student together, Glory, who is currently in Form 3 at Smith Secondary Campus.
"I have always believed in the adage that if you give a man a fish, you feed him for a day. Teach a man to fish, and you feed him for a lifetime."
"Gemma's story really resonated with me because I come from a teaching background. I was, and still am, a firm believer in the power of education to transform lives. The joy of making a difference to a stranger halfway around the world, and the great expectation and desire to one day meet them in person… it's been a goal many years in the making," Amanda said.
"Mum always used to say, 'you have no control over which house you are born into.' As a baby, no one chooses their family's economic situation, so I think it is especially important to sponsor the most disadvantaged children, as is the St Jude's path," she said.
"The best part of being a sponsor with St Jude's is writing to and receiving letters from your sponsor student. Dainess said she hoped and prayed I would come to visit her. To cry and laugh and smile with her, and finally meet the student's family with whom you share a common bond, is life changing."
Amanda and Jenny's visit took a heartwarming turn on their final day at St Jude's, when they had the impromptu opportunity to surprise their newly sponsored student, Glory, at one of her football matches.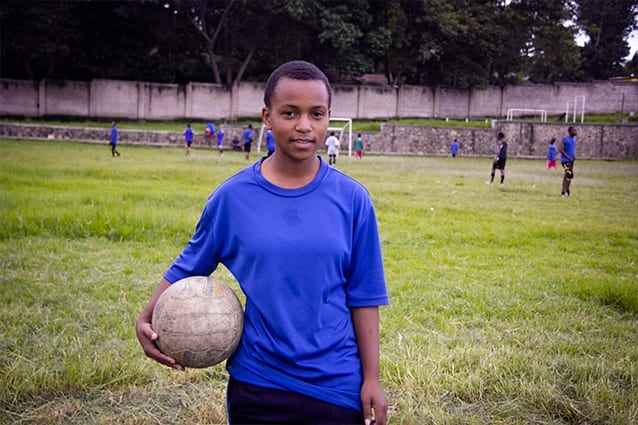 "It was such a special encounter. Mum in particular was affected, knowing this may be the only opportunity she'll have to meet Glory, since she may not be able to travel back in three years for her Form 6 graduation," Amanda said.
Having started Dainess on the path to a bright future nine years ago, Amanda is now settled back with her family in Queensland after a whirlwind visit, but her journey with St Jude's is far from over.
"Some of my friends who read all my happy social media posts about St Jude's and Graduation Day were also moved and wanted to know how to sponsor. So, I have suggested we co-sponsor some female students next year and make it our goal to travel over for their Form 6 graduation," she excitedly shared.
"That's the thing about St Jude's. Once you start sponsoring, and especially when you visit, it gets under your skin and weaves its way into your heart."
Weave a thread in St Jude's rich tapestry and join thousands of international sponsors and donors, who make it possible for 1,800 students to break the cycle of poverty. Our Annual Appeal runs until June 30 - donate or sponsor before then to have your contribution matched!
Uniform Day promises to be an annual highlight at The School of St Jude, and this year's celebration did not disappoint.
Veronica, a hard-working mother-of-three, stood excitedly outside the gates of St Jude's Sisia primary campus for the second time.
The first time was during student selection testing last year, when she waited many hours, hoping her daughter, Maureen, would score highly enough in St Jude's entrance tests to earn an academic scholarship.
Four months on, Veronica waited eagerly among hundreds of overjoyed parents once more: this time, to catch a first glimpse of her daughter triumphantly parading in her brand new school uniform.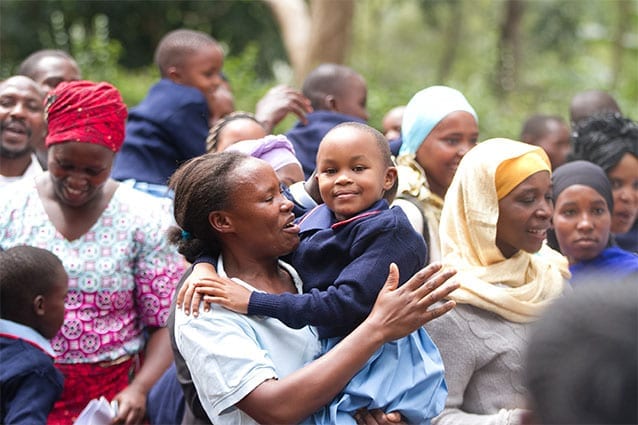 Maureen flung herself into her mother's arms, and Veronica, sweeping her into a tight embrace, wore a telling expression of relief, pride and hope.
Maureen, along with her 75 new classmates, now have the opportunity to win the fight against poverty and change their families' lives.
"I am so happy…so happy," said a speechless Veronica, overcome with emotion and glee.
"I have three children. I wash people's clothes for work. Maureen has been very sick, and it is because of doctors that she is alive. Now that she is at St Jude's, she will have the chance to become a doctor herself."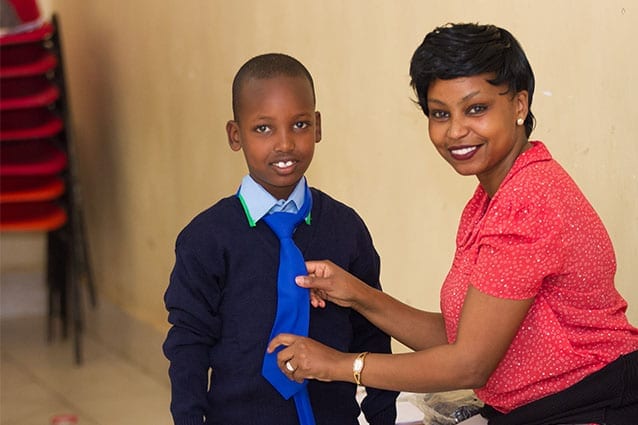 Many adults in Tanzania do not have the chance to receive education beyond primary school.
However, thanks to St Jude's donors and supporters worldwide, Maureen and her classmates will have the chance to finish secondary school and receive a tertiary education.
Their opportunity is a gift unlike any other. It is a gift which may influence generations of Tanzanians to come.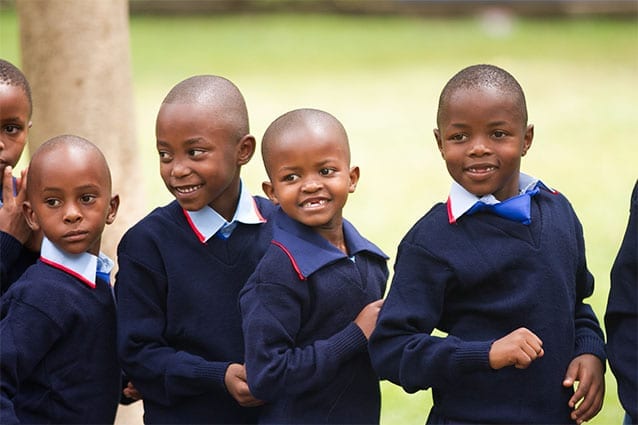 Our newest Standard 1s and 2s have already surpassed the odds and proved themselves as outstanding leaders.
Each of them scored among the top 10% in their government school results last year, out of as many as 200 students per class.
At The School of St Jude, they will have access to quality teacher support, appropriate class sizes, facilities and equipment, to help them reach their full potential.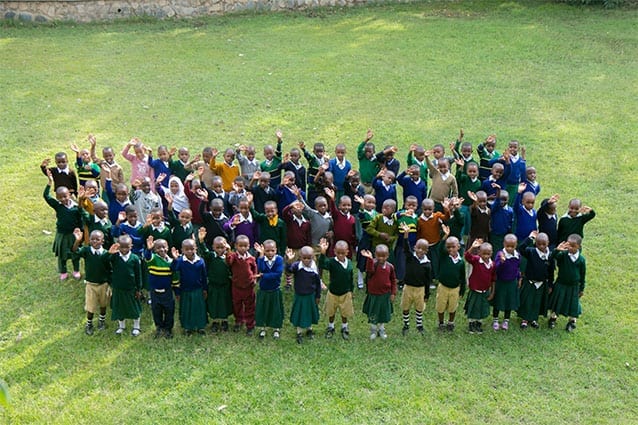 Sponsorship is crucial to ensuring each of our youngest students will be able to receive an education for the next 12 years and beyond.
Sponsorship Coordinator, Grace Mahenge, has worked at St Jude's for seven years and knows academic sponsorship ensures the sustainability of a child's education and their future.
"St Jude's provides transport, food and boarding, as well as education, to make sure students are comfortable as they grow, compared to what they may miss out on in government schools. Without your sponsorship, we wouldn't be able to support all of the new students."
Currently, 70 of the 76 new students have yet to secure sponsorship. By sponsoring a School of St Jude academic scholarship, you will help to change the life of one of Tanzania's most disadvantaged, yet extremely bright young people. Through you, there is hope — find out how to become a sponsor today. 
It has been an incredible year for St Jude's eco-entrepreneur, Edgar. His quiet and unassuming nature belies the talented and driven young man who can now boast worldwide acclaim.
Last month, 17 year-old Edgar travelled to Sweden to collect the Children's Climate Prize 2017 award, where he got to experience first-hand Sweden's revolutionary recycling industry… and snow!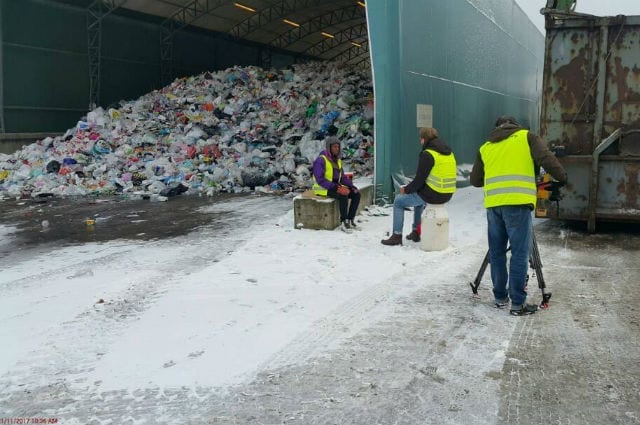 Established in 2016, the Prize is awarded to a child or youth, aged 10-17 years, who has done something extraordinary for the climate and the environment.
When presenting him with his award, the Children's Climate Prize jury said:
"With his invention, Edgar has made a great contribution locally in his area, and in the long run an admiring effort also for the environment and climate on a global scale." 
"The jury is full of admiration of his solutions and see great potential for scaling up and further developing his methods."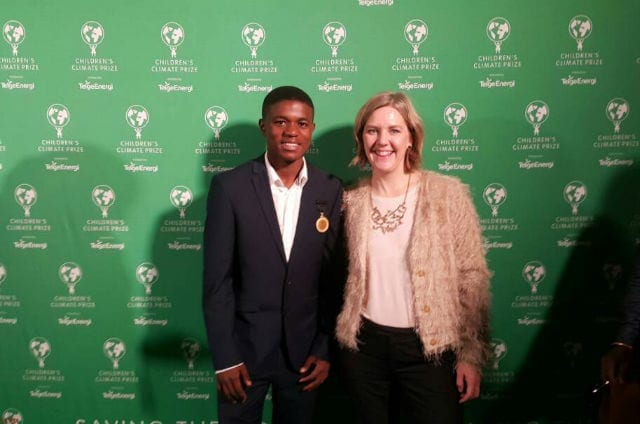 Two years ago Edgar started his own company, Green Venture Recycles. It turns plastic waste into cheap and affordable building products such as paving blocks, roof tiles and bricks, with no negative impact on the environment.
Edgar was inspired by a trip to Dar es Salam where he saw how deeply people had been affected by floods. He witnessed mud-brick homes almost completely washed away because the families living in them couldn't afford better materials to build with.
Given the opportunity to attend innovation workshops on the weekend through The School of St Jude, Edgar dreamed up his concept and it was here that he designed the first prototype, entering it into the School's annual Science Fair.
Speaking about his journey so far, Edgar credits The School for helping to provide him with the opportunity:
"I couldn't have achieved this without the help of my school!"
"I think this idea can change the world, but I'd like to start here in Africa. Tanzania is a developing country and it's important for us to use our skills to serve the local community. Yes, we have problems. It is up to individuals to help solve them."
In addition to his latest accolade, Edgar was also recently awarded first runner-up of the Anzisha Prize. Supported by African Leadership Academy (ALA) in partnership with the Mastercard Foundation, the Prize celebrates the next generation of young African entrepreneurial leaders, recognising their contribution in helping create job opportunities, solving local development problems and driving economies.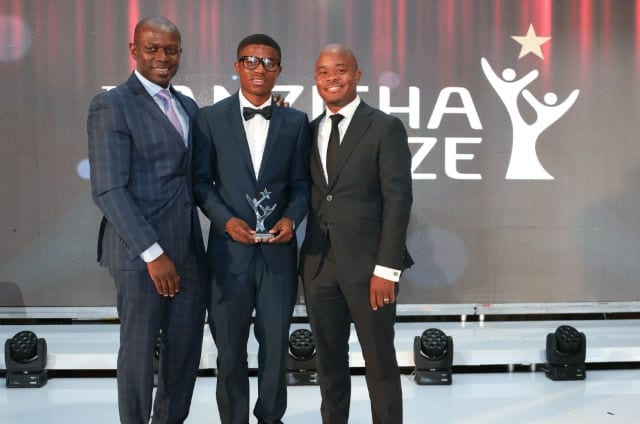 As the second youngest candidate selected to attend, he had tough competition, but it proved hard for the judges to argue with a 17 year-old who is already employing over 50 people, ridding his local community of more than 1.2 million plastic bags and providing strong, affordable and eco-friendly building materials to those who really need them.
As a shortlisted candidate, Edgar attended a 'boot camp' in South Africa where he received business training and mentorship as well as money towards expanding his business further. 
Edgar's achievements are incredible, but they're not a one-off. The School of St Jude sets out to provide all of its students with the education, attitude and belief to become the future leaders of Tanzania, leaders who care about their communities, their country and the world we all live in. Our students are talented and motivated and our science and technology laboratories have the facilities for students to experiment with new ideas. 
This is how Edgar started working on his invention, and look where he has got to now! Sponsor a St Jude's student and give someone else the chance to follow in his footsteps.
Vicky is one of Beyond St Jude's newest Community Service Year interns. Confident and motivated, she's having an impact on almost 300 government school students, who otherwise wouldn't have a mathematics teacher. 
Vicky attended the primary school linked to the government secondary school she now teaches at, before she was accepted into St Jude's for Standard 2 in 2006. 
More than 10 years after her St Jude's journey began, she's well on her way to achieving success, thanks to her free, quality education.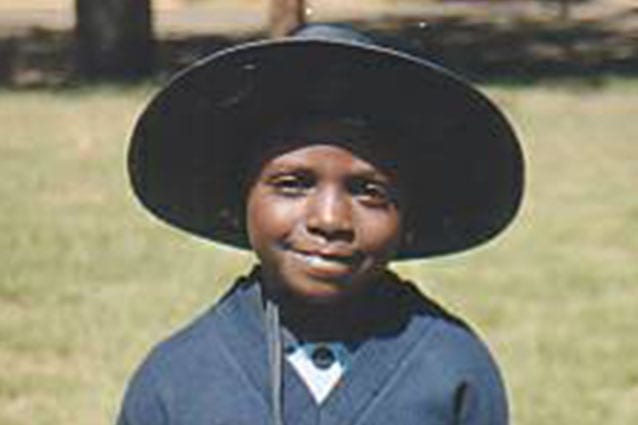 "I feel great. I have the chance to teach these students what I know, and make sure they reach where I am. I was once like them." 
"Every student has come from a different background and most of them are poor, so being with them and helping them is teaching me a lot of things."
Community Service Year interns are able to empathise with the students they teach, as St Jude's graduates know all too well the perils of growing up in poverty. 
Vicky was raised by a courageous single mother in a village near our Sisia primary campus. Her mother worked as a labourer on building sites while raising her only daughter.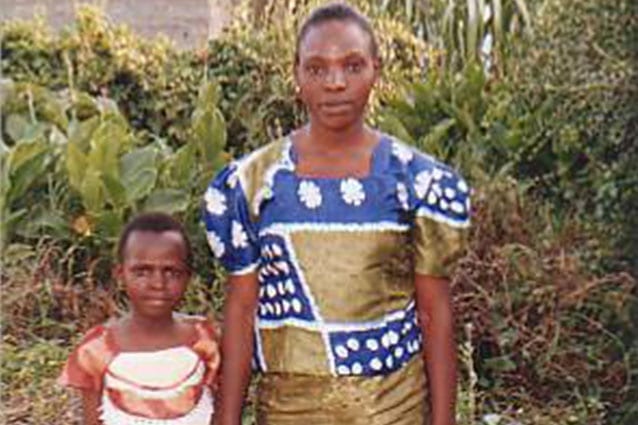 Resilient and headstrong, Vicky is determined to now be the first person in her family to receive a tertiary qualification. 
"In my family, it is me, my mother and my grandmother and none of them have been to university."

"After finishing my Community Service Year, I would like to attend Sokoine University of Agriculture or the University of Dar es Salaam." 
"Most people will say that if they are educated, they will get good jobs and then they will be able to earn money so they won't be poor again, but I think it's much more than that."
"I don't just think that if you study, you get a job, you get paid. I think education opens your mind, you start thinking outside the box."
"You see it's not just about you being rich, it's about thinking more deeply about society."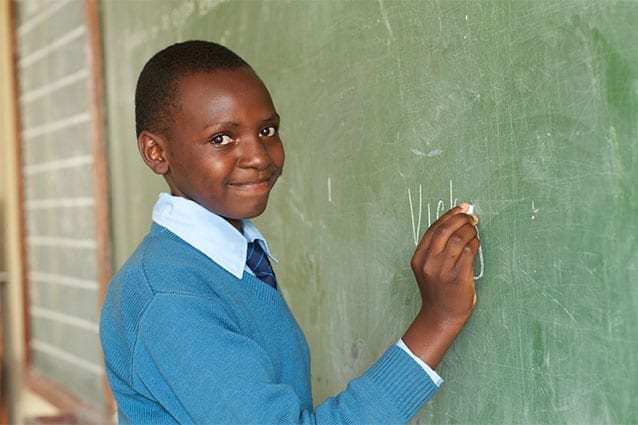 The aspiring agricultural economist sets high expectations for herself, and she holds similar hopes for her students. 
"I'm the kind of person who wants quick results. I'm trying to move the students with the lowest scores to the front of the classroom, so I can attend to them individually, and ask if they understand." 
"I'll be happy if all my kids get As or Bs."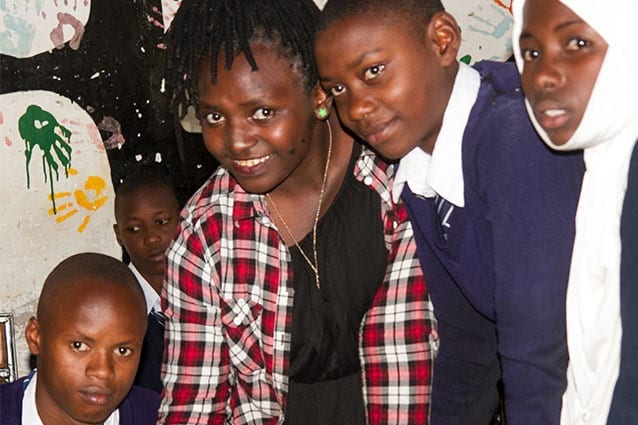 In addition to providing underprivileged students with a quality learning experience, Vicky sets an example they'll follow in years to come: to work hard and try their best. 
"I would just like to make sure that all of them believe in themselves, believe that they can do everything because it's not that they cannot do things, they can, they just don't trust in themselves so if I make them believe in themselves, I think they can do great things."
With her ambition, Vicky is sure to achieve great things, and inspire others to do the same along the way. Find out more about the Beyond St Jude's program and how you can support students like her.