When a long-term St Jude's sponsor supports a student's scholarship right from the beginning of primary school, through secondary school and then university studies, there comes a day when the scholarship ends.
The end of a scholarship is a new beginning in more ways than one. For the graduating scholar, it's the beginning of working life. For the sponsor, it can be the beginning of a brand-new scholarship and the opportunity to change another life.
This was the case for two committed St Jude's sponsors, Taree Rotary Club and the O'Hara and Doyle families.
The members of Taree Rotary Club began sponsoring a scholarship for St Jude's alum, Blandina, back in 2006, and saw her through primary, secondary and tertiary studies, right up until her graduation from university with a Bachelor of Commerce in Marketing in 2019. Then, without hesitation, they began the sponsorship journey again, this time with a scholarship for Given, who was then in his first year of primary school, Standard 1.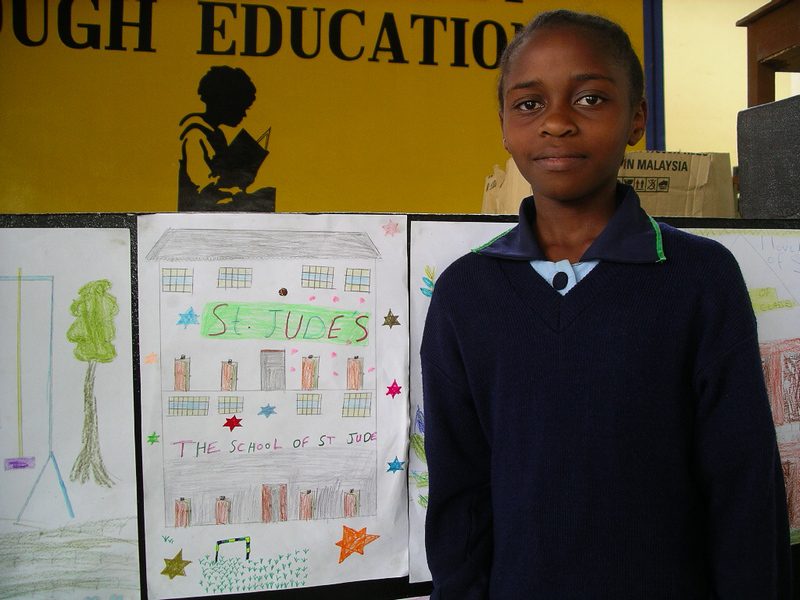 Philip Streatfield, the Director of International Service of Taree Rotary Club, explains, "Our member, Ian Dyball, first met Gemma in 1999. Ian supported and encouraged Gemma long before the first brick was laid at The School of St Jude. Gemma's concept of 'Fighting Poverty Through Education' struck a chord with Ian who, as Club President (2004-2005), convinced our members that we should sponsor a student at St Jude's."
For the O'Hara and Doyle families, sponsorship is a family affair. Today, Colleen O'Hara, her son Lachie, her sister Rhonda, Rhonda's husband Jade and their children Mitchel and Ivy share the sponsorship of scholarships for students, Yasiri (currently in Standard 6, the second last year of primary) and Joyce, who has just commenced her final year of secondary school. They began their sponsorship back in 2009 when Colleen and Rhonda visited the school.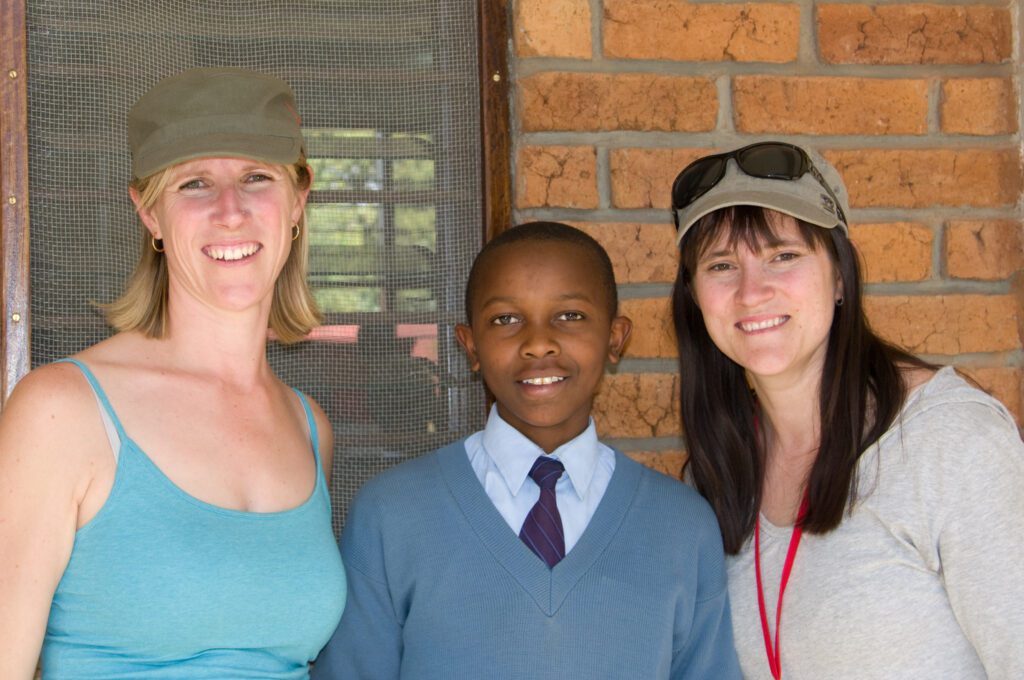 Colleen recalls, "We were captivated by the kids and the wonderful work the school was doing for the underprivileged children of Arusha and surrounds."
They immediately began sponsoring scholarships for Enock and Madina, who were in Form 1 (the first year of secondary) and Standard 4 (the fourth year of primary) respectively. In 2015, Enock graduated with St Jude's inaugural Form 6 class and won an external scholarship to study in the US, and the families generously decided to transfer their sponsorship to Tumaini, who went on to graduate from university with a Bachelor of Science in Microbiology in 2020 with their support.
Their favourite part of sponsorship is, "Seeing the kids grow into adults and get their letters of appreciation. It makes you grateful for the life we lead here in Australia and to be able to help enrich these young people's lives is such a gift for us."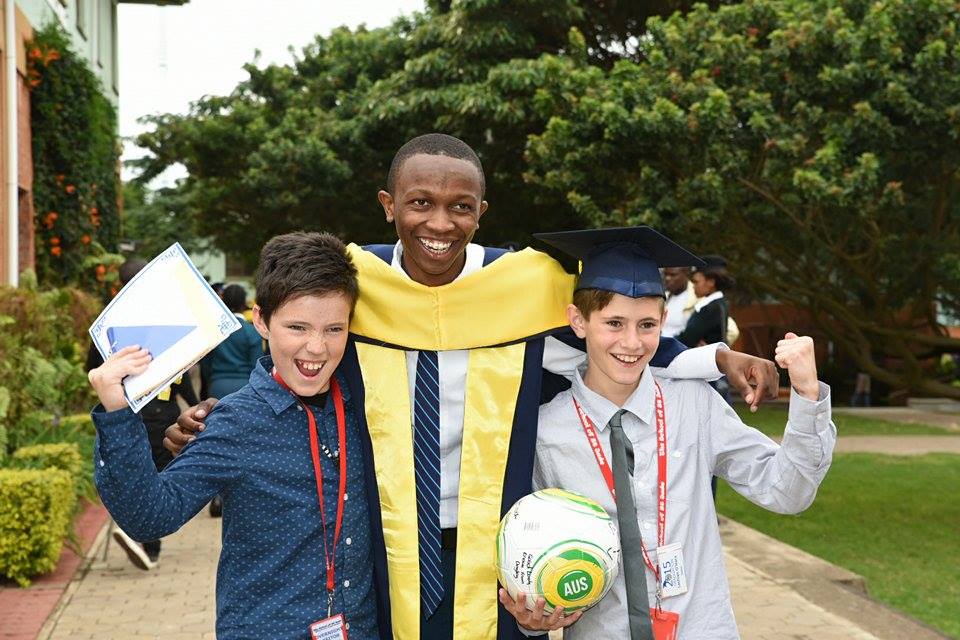 On their decision to continue sponsoring following the end of Enock and Madina's scholarships, Colleen says, "We wanted to continue to support the school and we have loved the experience of seeing the students grow into amazing adults, so we couldn't not continue!"
The members of Taree Rotary Club feel the same way, reports Philip, who says of Blandina, "It was exciting for our club to watch this outstanding young lady progress through school, and to receive regular school reports, letters, and photos. Our members could readily see the impact that education was having not only for Blandina but also her family and the wider community of Arusha."
"Our club members had no hesitation in recommencing the journey having seen the valuable opportunities given to students of St Jude's," Philip shares.

Sponsors see students' progress through regular communications, including letters from students, school reports and updates from the St Jude's Sponsor Relations team, plus plenty of photos. The O'Hara and Doyle families even made the trip to Tanzania to see the sponsored students in person!
After their initial visit in 2009, they returned in 2015 to witness Enock's graduation from Form 6 and came again in 2019 to see Madina's.
"We love coming to the school and we hope to be back next year to see Joyce graduate. Everyone is so welcoming and the week leading up to the graduation is such a fun week with so many activities to immerse in the Tanzanian culture," says Colleen.
These two committed sponsors demonstrate that the end of a scholarship can be a brand-new beginning. By recommencing their sponsorship journeys as sponsored students graduate, Taree Rotary Club and the O'Hara and Doyle families have extended their positive impact to a brand new generation of St Jude's students.
Fundraise, donate, sponsor or share our story – those are four main ways you can support St Jude's. Yet, time and time again, our supporters find the most creative ways to help St Jude's.
There are 3, 407 St Jude's supporters which means there are 3,407 ways to support the school. These creative supporters challenge themselves to perform athletic feats, put their craft skills to the test, make speeches, bake cakes and host trivia evenings in order to help St Jude's fight poverty through education.
Today, we'd like to introduce you to two of our super supporters.These are people who get particularly creative to spread the word and raise funds for St Jude's.
Chris and friends: A winning hand for St Jude's
Chris and his friends visited Tanzania and St Jude's in January 2020, just before COVID - 19 turned the world upside - down. "We met the teachers, students and some of the families and it highlighted how important the school was in changing the lives of many, as well as for the future of Tanzania," he says.
Chris, Jayson and Dan came up with a unique idea. "One of the guys is a part owner of a local brewery and we all liked playing poker so we thought it would be great to combine the two – a poker tournament in a brewery," Chris remembers. So far, Chris and his friends have held two poker fundraisers. A portion of each player's entry fee is a donation to St Jude's and on the day of the tournament there's an auction to raise further funds for St Jude's.
"We have approximately 40 players who progress through a series of rounds to a final table," Chris explains. "We sent the message around to all of our friends and from there word of mouth has spread."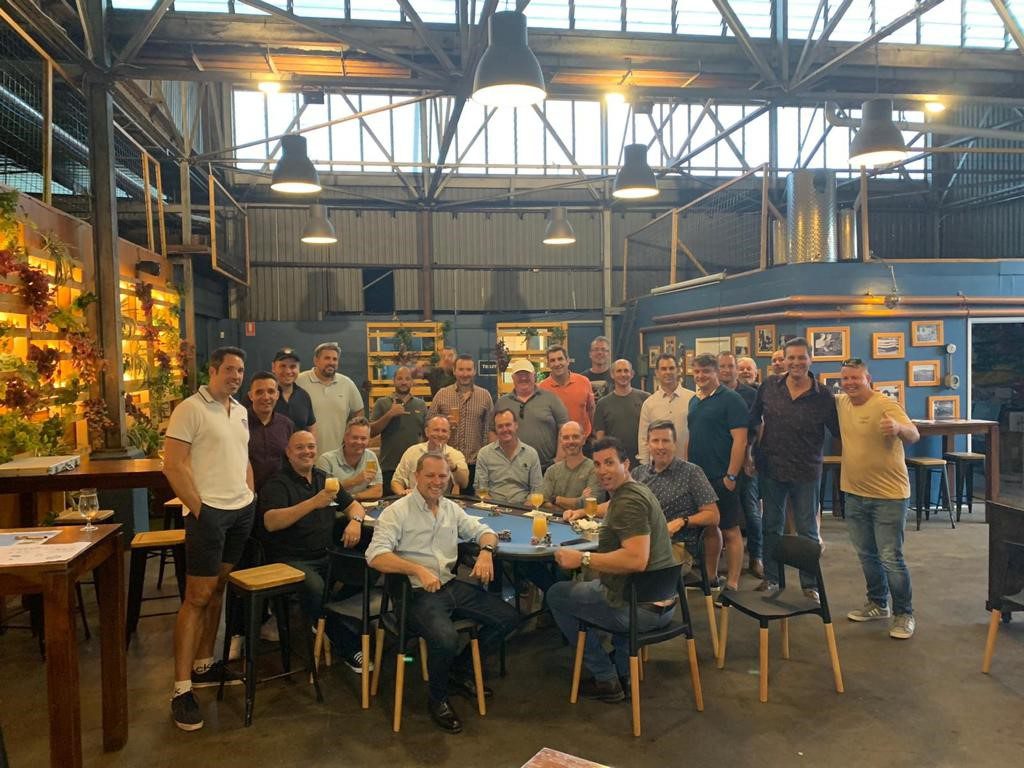 The tournaments have been a huge success, both in terms of fundraising and spreading the word about St Jude's. "Before we start the tournament we always explain to everyone our experience at St Jude's and why we are doing this… Everyone has been really supportive and many have dug deep in their pockets to donate more. It's great to see," Chris says.
To date, the friends have donated over AU $5000 to the school following their poker tournaments.
We're so grateful for the way Chris and his friends have used their creativity to help St Jude's and excited to hear that they're planning another fundraising tournament for February 2022.
Maddie: The long and short of it
Maddie, a Communications and Editorial Specialist at St Jude's for the last four and half years, has always had long, beautiful, curly hair.
Or she used to, anyway. In May 2020, she shaved her head to raise funds for St Jude's and today she has short, beautiful, curly hair.
"When I told people, 'I'll shave my head if I can raise this amount,' I got so many laughs because my hair was almost like my trademark. I had long, waist-length, massive, curly hair. I'd never had short hair," Maddie recalls.
Despite the trademark status of Maddie's hair, she considered it a small price to pay in order to help St Jude's. "I knew I wanted to do a big fundraiser of some sort. I was supposed to go home last year for a visit in May, but then with COVID-19 I couldn't and I knew I would be staying here (in Tanzania). So I thought, well, people could use a bit of a giggle!" Maddie laughs.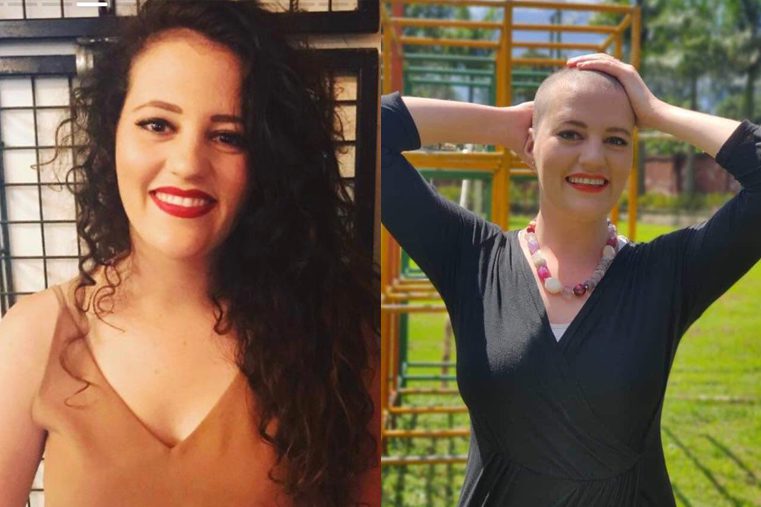 Maddie created a GoFundMe page and shared it from her Facebook and Instagram accounts to encourage donations. Overnight, she hit her fundraising goal and her friends encouraged her to increase her goal. Soon, Maddie had raised $4,600 and decided it was time for the big shave.
"I borrowed some clippers but I forgot to put on the attachment to do a number six length. So I botched it completely and my hair was down to the scalp, as bald as you could go. It was so, so cold! But, there was also the feeling of elation, because I'd done something good for the school which was beyond just giving time and it'd brought a smile to people's faces," Maddie says.
Not everyone needs to shave their head in order to fundraise for St Jude's, but Maddie has a few words for people considering any sort of fundraiser, "Put yourself out of your comfort zone. Do something different and wacky if you can and try to link in stories of the people here at St Jude's. More than anything, the stories of our Tanzanian staff, students and graduates will convince people to donate and support. Put yourself out there, be brave and have a go," she says.
A creative challenge
Coming up in November, we have a chance for you to flex your creative muscles while fighting poverty through education like Chris and Maddie. The St Jude's Challenge is on again!
When you join the St Jude's Challenge you can choose a reading challenge, a steps challenge or get really creative and design your own challenge. Register your challenge, create a fundraising page and then share your challenge with friends and family and encourage them to donate. Individuals, families, clubs and schools are all welcome.
Joshua, a charming and charismatic Standard 2 student, comes out of class and joins Jalilath, Hilary, and Getruda, eager to share his aspirations in life.
"When I grow up I would like to be a pilot. I will buy my mother, father and my grandmother each a plane of their own." Joshua says, almost bursting with ambition.
Joshua is one out of the 71% of Standard 1 and 2 students who are currently not fully sponsored, along with 42% of all newly enrolled secondary students.
Each of these students has a story that needs your support.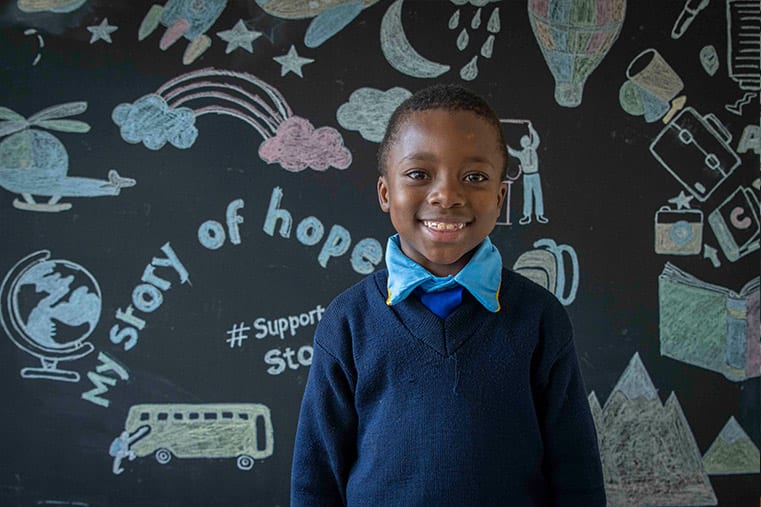 Joshua is seven years old. He joined The School of St Jude in Standard 2 in 2021. His favourite subject is arithmetic and he enjoys playing tennis.
"I'm happy that I've joined St Jude's. I can eat, play, and learn without worrying about anything," says Joshua.
"The first thing I'll do when I become a pilot is to build my parents a beautiful home so they can live a comfortable life," he passionately adds.
90 Standard 1 and 2 students were enrolled last year after a rigorous selection process to ensure that only the poorest and brightest students in Arusha receive academic scholarships to St Jude's.
The school provides academic scholarships for four key stages of student's education; Primary academic scholarships to support a primary student's education from Standard 1 to the end of Standard 7; O Level secondary academic scholarship to support a secondary student's education from Form 1 to the end of Form 4; A Level secondary academic scholarship to support a secondary student's education for their final two years of school in Form 5 and Form 6; and Beyond St Jude's scholarship to cover phases of Form 4 and Form 6 graduates' higher education.
Jalilath is seven years old. She is in Standard 1 and her favourite sport is cricket.
"I love being in Standard 1. St Jude's is a great school that teaches really well compared to my old school," Jalilath says shyly.
"When I grow up I would like to be a nurse because I want to take care of the sick and those who can't help themselves. I'll be the first nurse in my family," she adds.
Also aspiring to be a nurse is Getruda, who is in in Standard 2. She is six years old with big plans for her future.
"I love arithmetic, health care, writing and reading. I want to become a nurse because I'll get to help people,' Getruda explains.
Getruda is a bright student who has been winning academic awards since she joined St Jude's in 2021. Her awards include Best Performance in Midterm Exams, Best Handwriting Always and Finishing Work on Time.
At St Jude's, we strive for academic and moral excellence and promote the development of well rounded individuals who will become community-focused leaders of Tanzania.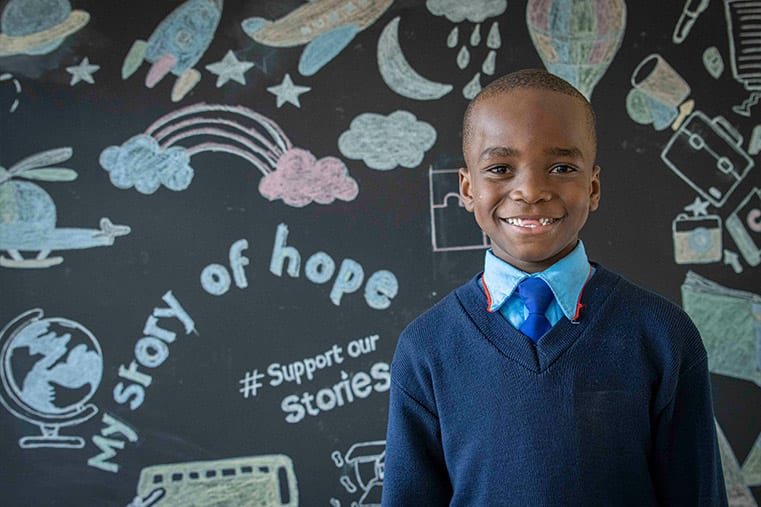 Hilary is a six years old. He's in Standard 1. Hilary enjoys studying and playing football with his friends.
"My dream is to become a soldier when I finish school so I can protect my school and protect my country," Hilary says.
Primary school is an early and important chapter in a successful educational story. It's where important fundamentals are taught and a love of learning is established.
St Jude's offers scholarships to students in their first two years of primary school. But, even these youngest students are not exempt from our current sponsorship gap. You can help fill this gap by sponsoring the academic scholarship of Joshua, Jalilath, Getruda or Hilary and help change the story for them and their families.
By sponsoring a St Jude's academic scholarship or donating to the school, you are changing the story for a Tanzanian student. You allow St Jude's to provide free, quality education for students who, due to financial pressures, would likely have joined the three quarters of Tanzanian students who do not finish secondary school.
To show the true impact of your support, this year's Annual Appeal will feature three St Jude's stories. Over the coming month, you'll see these stories in video form, but today, you can get to know alum Judica and students Seuri and Joylina a little better.
Judica's Story of Transformation
"I've achieved my dream to be a business woman." - Judica, Class of 2015.
Judica is a St Jude's alum with an amazing story of transformation. As one of the earliest St Jude's students, Judica's story is inextricably linked with the school.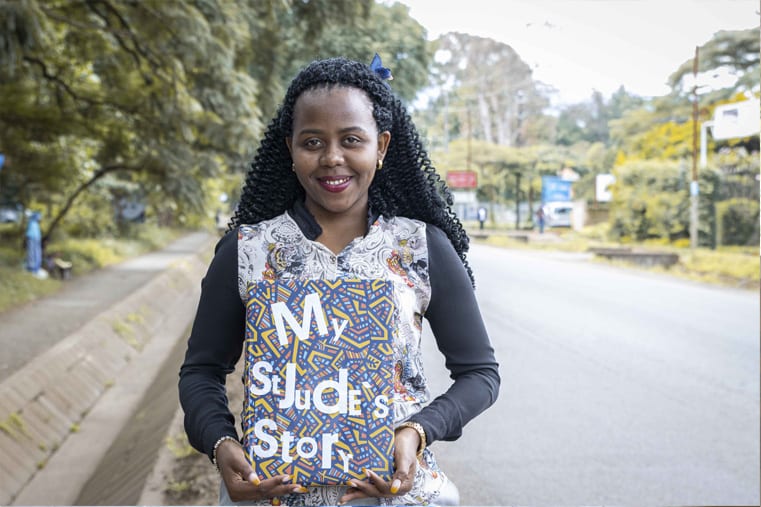 Judica started in Standard 1 at St Jude's in 2003 when the school had just 120 students. As farmers, Judica's parents struggled to afford school fees for her and their eight older children. After 13 years of free, quality education and serving as the school's head girl, she graduated with the Class of 2015, our inaugural graduates.
Following graduation, Judica was quick to apply for the Beyond St Jude's (BSJ) Program and spent a year volunteering as a book-keeping teacher in a government school as part of the Community Service Year. Then, Judica left home to study a Bachelor of Commerce, Banking and Financial Services at the University of Dar Es Saalam supported by BSJ. In 2019, Judica was one of the very first St Jude's university graduates and today she is employed full-time at a national bank in Arusha.
Seuri's Story of Determination
"I want to become a doctor to help my community, as there are not many doctors here." - Seuri, Form 4.
Seuri's story is a tribute to his determination. Seuri attended a government primary school in his village, which lacked electricity, water and learning resources. Despite this, Seuri was determined to get an education.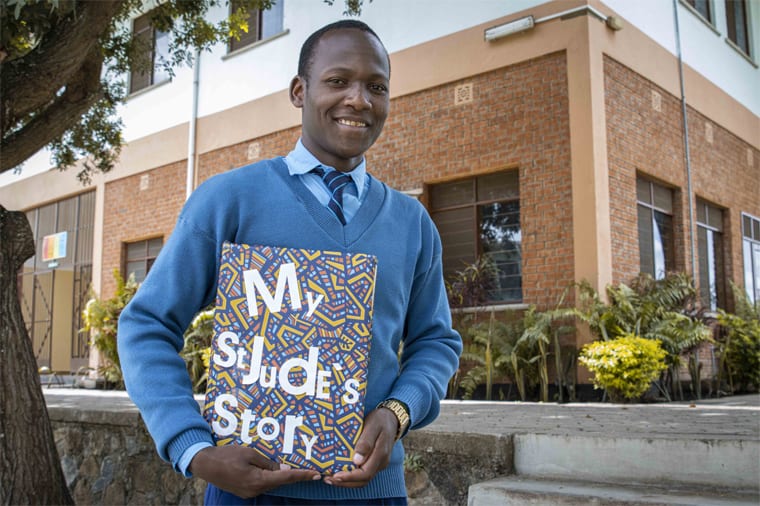 Seuri's determination lead him to achieve great results in his Standard 7 National Examinations and earned him an academic scholarship for secondary school at St Jude's. Seuri boards at St Jude's during term time, but he returns home to his family boma (a traditional Maasai home) during holidays. Seuri's father has two wives; he lives with his mother and four siblings as well as his father's first wife and her six children.
After almost four years at St Jude's, Seuri is more determined than ever. With quality resources, highly-trained teachers and a stable boarding environment at St Jude's, Seuri has learnt volumes and is determined to achieve the results he needs to study medicine and become a doctor.
Joylina's Story of Hope
"I want to be a nurse so I can help my family, friends and all the people who are sick." - Joylina, Standard 2.
Joylina only started at St Jude's in 2020, but her St Jude's academic scholarship has already given Joylina and her mother hope for the future.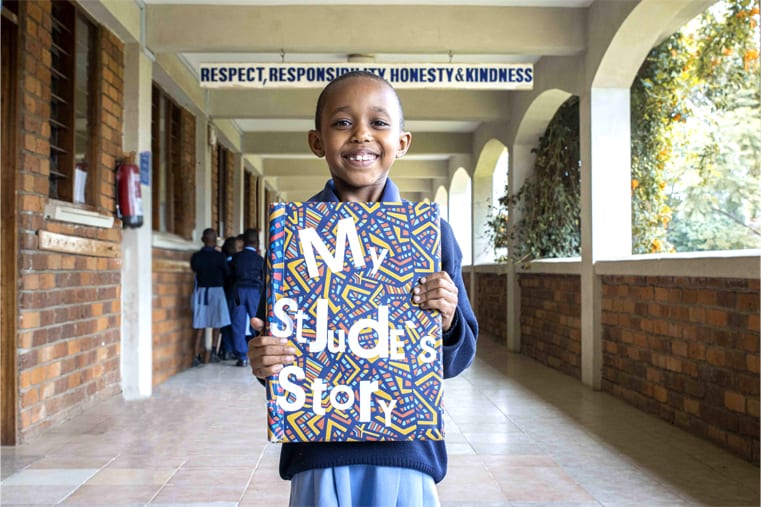 Joylina, her mother and her sisters live in a single room where they moved following the death of Joylina's father in 2018. When she heard about St Jude's, Joylina's mother decided to bring Joylina to a Student Selection Day. She was overjoyed when Joylina was offered a scholarship.
During the last 18 months at St Jude's, Joylina has been an enthusiastic learner and become one of the top students in her class. Like her classmates, Joylina receives uniforms, resources, bus transport and highly-trained teachers. In addition, she receives special diet provisions as she was found to be undernourished. With a carefully planned diet, she has been able to gain weight and her mother is pleased that Joylina now falls sick less often and has more energy.
Joylina especially likes healthcare class as she hopes to be a nurse when she finishes school.
Joylina, Seuri and Judica are proof that when you support a story, you can change the world. Generous sponsors and donors have changed the story for them and for thousands of others of St Jude's students.
Be sure to follow us on social media and hear more from these featured students over the next month as they share their stories.
Known for her humour and charitable heart, Rebel Wilson has been a champion for St Jude's since 2006, well before she became one of Australia's beloved household names.
Rebel, an internationally acclaimed actress, writer and producer, is best known for starring in blockbuster films including Pitch Perfect, Bridesmaids and, more recently, Cats.
Although her life has changed dramatically since 2006, one thing has never waned… her loyal support for The School of St Jude.
Nearly 15 years ago, Rebel began sponsoring an academic scholarship for Winnie, one of the school's first students. Since graduating from St Jude's in 2016, Winnie has gone on to pursue a degree in Business Studies at university.
Rebel and Winnie finally met in person during Rebel's visit to St Jude's in 2014. During her time in Arusha, Rebel saw firsthand how her support had made a profound impact on St Jude's and its students.
Rebel delivered a heartfelt message of hope to our students during her visit to the school six years ago… a message that's never lost its impact:
"Education is your key to opportunity. I know I come from Australia, but I didn't grow up with much. I just believed in myself and always tried to improve. My advice would be to try your absolute hardest at school. Study hard and try different activities so that when you finish secondary school, there will be lots of opportunities for you to pursue," she encouraged.
Rebel recently won US$250,000 as a contestant on the hit television show, Who Wants to Be a Millionaire USA – Celebrity Edition and pledged to donate her winnings to The School of St Jude – a pledge that, after the perils of 2020, came as a thrill to our whole school community.
Rebel's donation will fund the entire education of 20 university students through our Beyond St Jude's (BSJ) program; all of whom come from backgrounds of severe poverty.
Furaha is one of BSJ's Tertiary scholars who will benefit directly from Rebel's support and receive the gift of free education. She is the youngest of four children. The opportunities she's received at St Jude's so far, and thanks to further support from Rebel, allow her to proudly step towards a brighter future.
Since graduating from St Jude's in 2019, Furaha has been helping her fellow Tanzanians through BSJ's Community Service Year program, teaching chemistry and biology to students in one of Tanzania's under-resourced government schools.
BSJ's Community Service Year program encourages St Jude's graduates to volunteer within their communities, giving to others with the same spirit of generosity that St Jude's international supporters, like Rebel Wilson, have given to them.
Now, thanks to Rebel's gift, Furaha can take her next bold leap: studying at one of Tanzania's most renowned universities.
"I'm going to study Environmental Health Science. My dream is to become an Environmental Health Officer and help others in my community!" Furaha joyfully declared.
Rebel, too, reaps rewards from supporting St Jude's and supporting others in need.
"I think the work that of St Jude's is important and amazing. I love that my donations are directly helping individuals at the school. Now that I am in a fortunate position, it feels good to give back," Rebel said.
St Jude's Founder, Gemma Sisia, is also overjoyed by Rebel's continued support for St Jude's.
"Rebel, because of you, 20 of our amazing graduates can soar to new heights as they pursue higher education. They will lead their families and communities to growth and prosperity," Gemma said.
It certainly pays to be a Rebel with a cause.
In support of Rebel's cause, The American Friends of The School of St Jude, AFSJ, ran a contest to predict how much Rebel would win, and Rachelle, a supporter from America, emerged the winner and walked away with a Tanzanian goodie bag.
The season of giving is upon us again, and there's no better present to pass on than the gift of education!
The School of St Jude mission is to educate the poorest and brightest students in Tanzania to fight poverty through education. From a big dream and a donation of just AU$10, the school has grown immensely over the past 18 years. This would not have been possible without the support and generosity of thousands of donors from around the world who give what they can to help St Jude's fulfil its mission.
St Jude's students, from primary school all the way through to higher education programs have been receiving the gift of free education from sponsors. By sponsoring the academic scholarship of a student, you can help them to lift themselves, their families and their communities out of poverty.
St Jude's educates 1,800 students in primary and secondary and assists over 300 scholars through higher education. All have the potential to be future leaders within their community, and many dream of doing just that.
"We have three levels of sponsorship packages that cater for primary, secondary and higher education scholarships," said Brenda, Head of Sponsor Relations.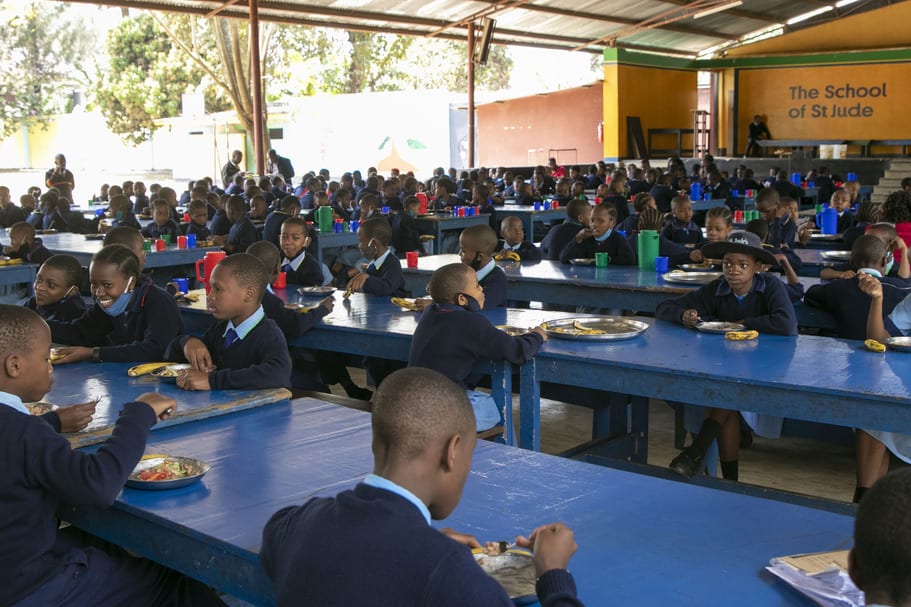 Sponsoring a student's academic scholarship is much greater than just providing education. It also gives them educational resources, transport, school and boarding uniforms, hot, nutritious meals daily as well as a safe, clean living environment with reliable electricity and water for students in boarding… everything required for a successful education!
"Supporters can choose any three types of sponsorship packages: sole sponsorship, co-sponsorship or shared sponsorship," Brenda explained.
"Sole sponsorship means that a person will cover the full cost of a student's academic scholarship. Co-sponsorship covers half the cost of an academic scholarship. You can also sign up for a shared sponsorship package; this covers a part of the cost of an academic scholarship."
Sponsorship packages extend to higher education scholarships; this means that a supporter can help a St Jude's graduate through the Beyond St Jude's (BSJ) program. The Beyond St Jude's (BSJ) program was first introduced in 2015 to help our graduating Form 6 students start the next stage of their life while continuing to develop their leadership potential and community spirit. The program enables graduates to give back to their communities in an educational context as volunteers through a Community Service Year (CSY) and then provides them with the support they need to go on to access higher education.
All of the students awarded St Jude's scholarships, show academic promise, but their families are trapped in a cycle of poverty. Without additional academic support, they may not be able to finish school.
"For any generous supporter who would like to know what it takes to be a sponsor and contribute to the quality education of a St Jude's student or graduate, our website has all the information. Visit www.schoolofstjude.org, open the 'Support Us' tab, and you can select a sponsorship package of your choice. Or, you can email info@schoolofstjude.co.tz. We will be glad to assist," Brenda assured.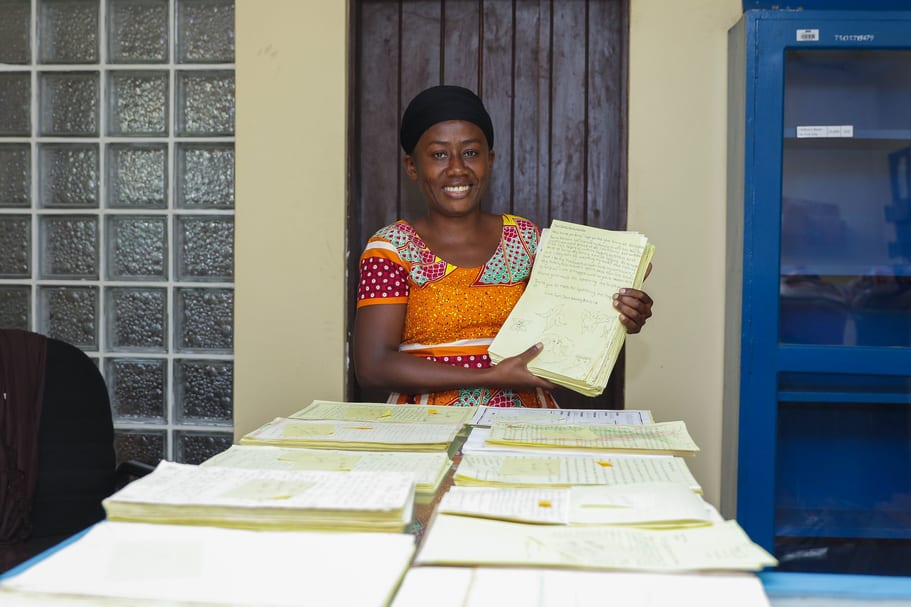 Optimal communication is an integral part of the sponsorship program; it enables sponsors and students to build a connection.
"For every student, we make sure that the sponsor gets all the information… progress reports, academic reports, awards, information about ceremonies and other updates. This communication is well-coordinated and monitored," Brenda added.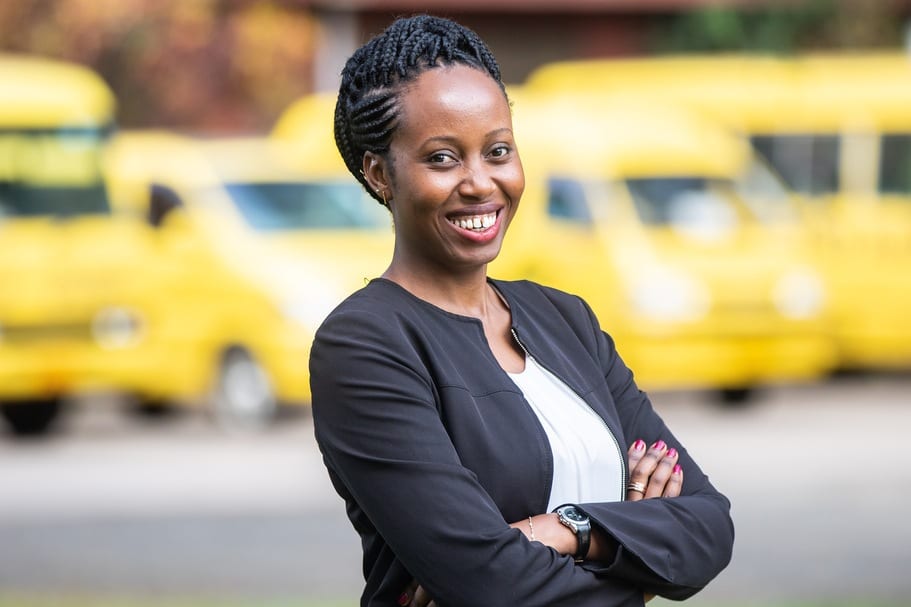 Sponsors, donors and all supporters are the backbones of St Jude's accomplishments. Every milestone achieved by the school would not have been possible if it wasn't for all the kind-hearted supporters that continue to form St Jude's multi-national family.
"As we enter December, a month of giving, we would like to thank all the supporters who have dedicated themselves to making an impact. We truly appreciate their continuous support of the school and especially the students. It's because of this blessing that The School of St Jude can continue its mission of fighting poverty through education," Brenda said.
The School of St Jude still has a long way to go, but with the continued support from generous supporters around the world, St Jude's will be able to enrol and educate more students every year. Give the gift of education and help to transform Tanzania's future generations!