Whether our visitors are touring one of our beautiful campuses, or participating in interactive class activities, such as art, music, PE or in the library… a visit to The School of St Jude is always an unforgettable experience.
Faraja Nayalandu, a prominent social entrepreneur in Tanzania who is passionate about promoting systemic transformation in digital learning in primary and secondary education in Africa graced St Jude's with her presence to get a first-hand experience on how the school is changing the lives of 1,800 students and their families.
Greeted by Odemari, a cheerful and enthusiastic host from the Visitors Team, Faraja was led to the Visitors Lounge to learn about the school's history.
The Visitor Lounge is a hub of activity and information. The eye-catching timeline provides an overview of significant events in St Jude's history. Within a few walking paces, along the back of the room you can see the progression of the school community.
Faraja, who is well-known for developing social and educational programs in Tanzania, took a brief tour of Sisia Campus, stopping by the library, computer labs and the science class.
"I've visited Smith Campus before but I never thought Sisia Campus would be this big," said Faraja with great delight.
To show her around the girls' school, Irene, Form 4 Head Girl, was excited to lead the tour and meet Faraja, who is a role model to many students in Tanzania.
On entering the computer lab, Faraja received a warm, cheerful greeting from the overjoyed students who were delighted to meet a local legend.
Faraja told Irene, "I went to a boarding school as well. I used to love being part of the student government. Being a school leader gives you the confidence and the skill set needed to lead others even after school."
The tour didn't end at the girls' school; Faraja also had a chance to visit and have a chat with Vivian, Beyond St Jude's (BSJ) Manager.
"The Beyond St Jude's program is an eye-opener for me. I didn't know that the school has such a wonderful program for the graduates," Faraja said.
She further suggested, "I truly believe the program paired with digital learning can equip the students with all the necessary tools to also be able to give back to the community as they do in their Community Service placements in the government schools."
BSJ is an optional, yet popular, scholarship program for the Form 4 graduates (O Level) and Form 6 graduates (A Level). It is comprised of two parts; the program enables graduates to give back to their communities in an educational context as volunteers through a Community Service placement as one way of giving back in appreciation for the free education they received at St Jude's. Those who successfully complete their Community Service placement may then be eligible to receive a BSJ scholarship to pursue higher education, enabling them to become the future professionals that their country needs.
Advising the students, Faraja said, "To be an entrepreneur is not easy, but like anything else in life you have to work hard to reach your goals make your dreams come true. I was never good at dancing, acting or singing in school, but I was always a bookworm and loved the concept of how technology can transform lives. I built on that and here I am today."
"I enjoyed my visit so much today and meeting the students. I promise to come back and bring my children along so they can have the same experience."
A visit to St Jude's can open your mind; from inside the classroom to beyond the school gates, you'll see first-hand how St Jude's is fighting poverty through education. The enthralling itinerary comprises many activities, including a visit to a student's home, allowing visitors to create a memorable experience and showing them the difference the school is making in the lives of students, their families and the wider community.
The outbreak of COVID-19 sent the whole world into lockdown and it continues to cause major challenges for friends around the globe. However, thanks to technology, it has opened up a unique and exciting opportunity to connect with St Jude's international family of supporters in a whole new way.
In the spirit of bringing new experiences to all supporters, St Jude's is introducing a Virtual Visit! International travel is postponed for the foreseeable future, severely reducing the annual number of visitors to the school. Visiting St Jude's is a highlight on many travellers' itineraries to Tanzania. The goal of the Virtual Visit is to capture the essence of a visit to St Jude's (virtually!), providing supporters with a taste of campus culture from the comfort of their couch.
The Virtual Visit will explore campus life, boarding facilities, lunchtime, class visits and more!
The visit will also extend to a students' home; a memorable experience on many visitor's trips to St Jude's. A home visit is a special part of the school, where the St Jude's team and visitor are welcomed into a student's home, gaining a unique insight into the student's home life. It is a chance to meet a St Jude's student and their family, shining a light on the impact of free, quality education.
"We can't wait to take all supporters and followers of St Jude's on this virtual tour. It's a new experience for many of us; one that allows us to connect, even though parts of the world seem so disconnected," says Gemma Sisia, Founder of The School of St Jude.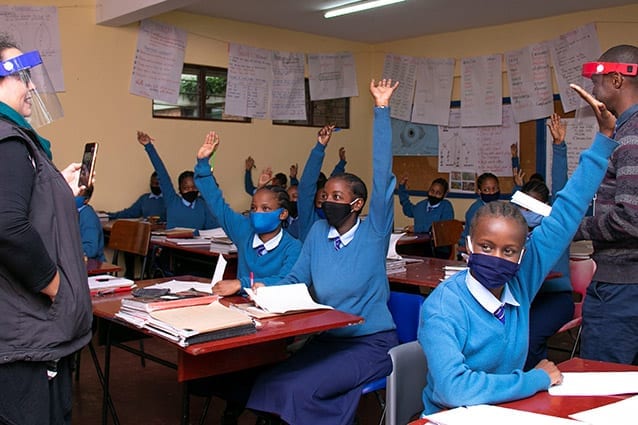 St Jude's has also been able to continue sharing all the wonderful news and stories from the school with supporters thanks to the 'boom in Zoom'.The school introduced Zoom sessions in early June this year with the aim to network, share updates, answer questions and communicate with new and existing sponsors and donors.
"2020 has been such a tough year for many of us, but, there's always a silver lining. By adapting to the corona-crisis, we have created entirely new experiences for the school and myself. Unfortunately, I couldn't see everyone in Australia this year so 'Zooming' was the perfect opportunity to reach out!" says Gemma.
The reception of the Zoom sessions exceeded expectations, proving to be intimate and engaging for both the school and Zoom guests. With extremely positive feedback and encouragement from supporters, the school aims to continue connecting in this way.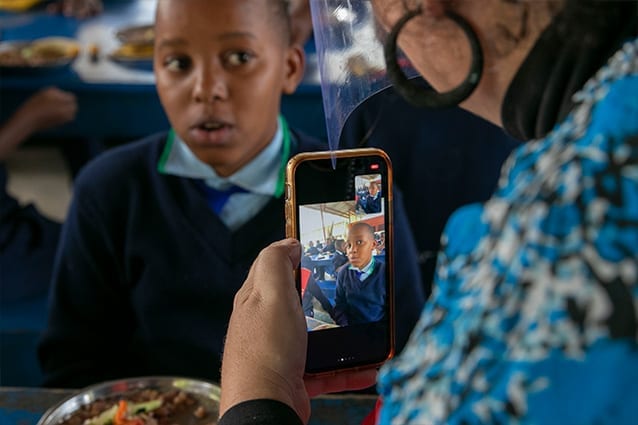 "Technology is truly amazing… I'm able to be in the living rooms of our supporters and on the ground here in Tanzania all at once!" Gemma exclaims.
"This is awesome! So wonderful to make this sort of connection with everyone that ordinarily wouldn't be able to see what is happening at St Jude's. I have so enjoyed this walk around!" writes Donald in a Zoom chat.
"Thank you sincerely for this Zoom. It was very much appreciated. St Jude's work for the children of Africa has been simply amazing," Lyn comments, a Zoom guest.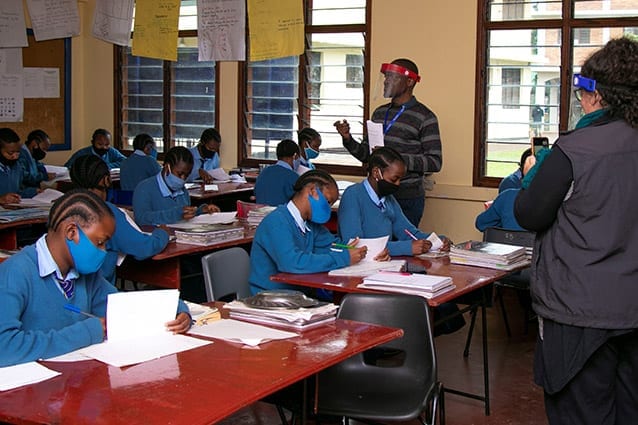 Whilst previous Zoom sessions involved Q&A's and brief snippets of the school, the Virtual Visit will provide a full 360 view of St Jude's, making the experience as real as possible. The Virtual Visit will take place on Wednesday 23 September, and places will be limited.
Each year during March, our school Founder, Gemma Sisia, tours internationally to raise awareness and support for The School of St Jude. It is also her opportunity to personally thank many of our thousands of Australian supporters who are helping in fighting poverty through education.
This year's journey was unique. Many Australians were already mourning the loss of land, homes, lives and wildlife due to the devastating bushfires that ravaged much of the country early in the year. Gemma was keen to travel to Australia and bring our supporters a good news story, a tale of hope, in such a testing time.
Now, it is more important than ever that we continue to share inspiring news and seek meaningful connections.
Alongside Gemma this year was Judith, a St Jude's Form 6 graduate, who bravely shared her testimony of triumph with thousands of enthusiastic listeners.
"The absolute best part of being in Australia was sharing my story, having in mind that I was doing it for my younger peers back at St Jude's. The reaction from guests at the events carried me away!" Judith shared.
Judith also expressed her joy at meeting the wide range of St Jude's supporters, noting that we are one big family; diverse in age, skills and nationalities.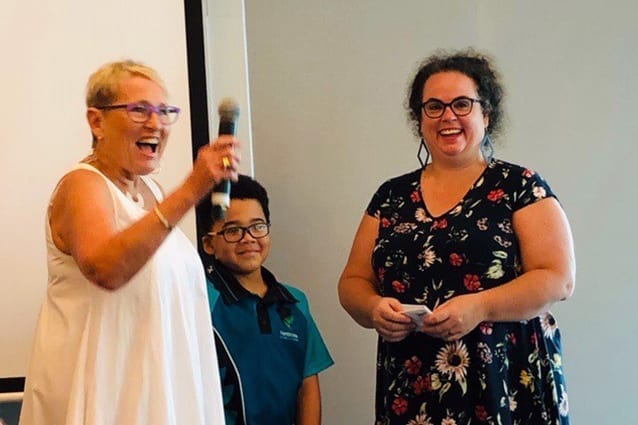 "There were so many people who helped me feel comfortable in Australia. People cooked for us in their homes and helped me adjust to new food. I really loved meeting supporters like a young boy named Harry, whose father is Tanzanian. Harry is eight years old. He lives in Brisbane and he raised money for St Jude's by collecting cans and taking them to the depot," she related.
It is this spirit of service, demonstrated by supporters like young Harry, that reminds us in these trying times of something Gemma says often: everyone can do something.
Gemma and Judith's three-week tour started in Queensland, continued to New South Wales, and reached a premature halt in the Australian Capital Territory. The impact of COVID-19 was hitting Australia hard, causing them to return to Tanzania two weeks earlier than expected.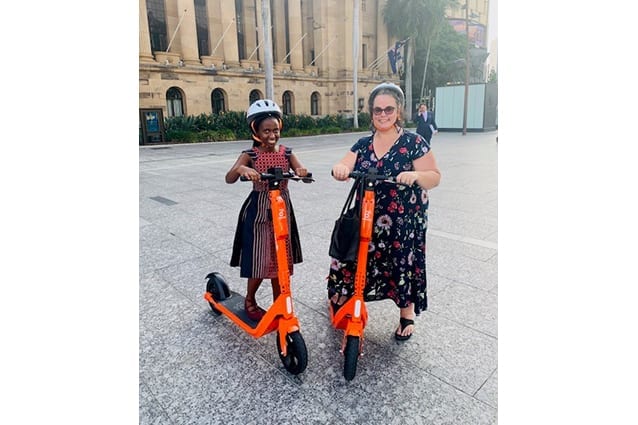 "It was a very difficult decision for us to make, though necessary. We needed to consider the health and safety of supporters attending the events, as well as the growing risk of not being able to return to Tanzania if we were to continue with the tour until its intended end," Gemma explained.
"I'd like to say a huge thank you to everyone who held such wonderful and welcoming events for us, opened their homes to us, and made time to meet us. Although Australia was rather different in late February and early March from what it is today, it is clear to me, more than ever, that Australians' iconic sense of mateship is well and truly alive."
"I've heard it said that while this is a time of necessary physical distancing, it is not a time for social distancing. We are continuing to look at ways to keep St Jude's community in good spirits during this time of uncertainty, and I am confident that our school values of Respect, Responsibility, Honesty and Kindness, will guide us all. I look forward to catching up with many more supporters during our next promotional tour."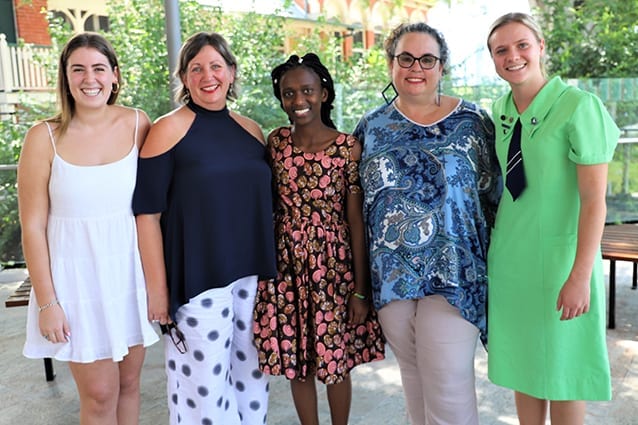 The School of St Jude, founded on the premise that no cause is hopeless, reminds us to be positive when faced with challenges. Our students and staff know just how powerful a positive mindset can be. One only needs to hear a story like Judith's, who confidently represented thousands of young Tanzanians, to realise that, too.
Since we couldn't finish spreading the word in Australia, could you give us a hand by spreading the word about St Jude's? Follow us on Facebook or Instagram and share this article with your loved ones? Thank you for fighting poverty through education with us. We hope you all keep well.
St Jude's knows a healthy mind and a healthy body go hand in hand, which is why, for the thirteenth year in a row, a team of international doctors and health professionals volunteered for two weeks at The School of St Jude to perform free health check-ups for all students.
For the first time, the International Health Check team tested students across three different schools – the primary school, Smith secondary school and the new girls' secondary school. Each student received a physical exam, checking their height and weight and an eye and ear test as well.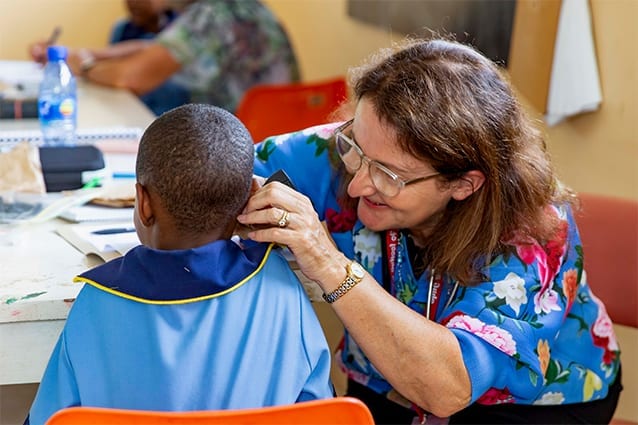 The team was made up of eight doctors, four orthoptists, two audiologists, a physiotherapist and seven dedicated helpers. There was also a social worker and a psychologist who worked with the welfare department and the new school counsellor.
"This year we are lucky enough to have quite a number of female doctors on our team which has meant we can have more female doctors at the girls' school and target the male doctors to the boys in the lower grades over at Smith Secondary Campus," Melbourne physiotherapist and team leader Jane says.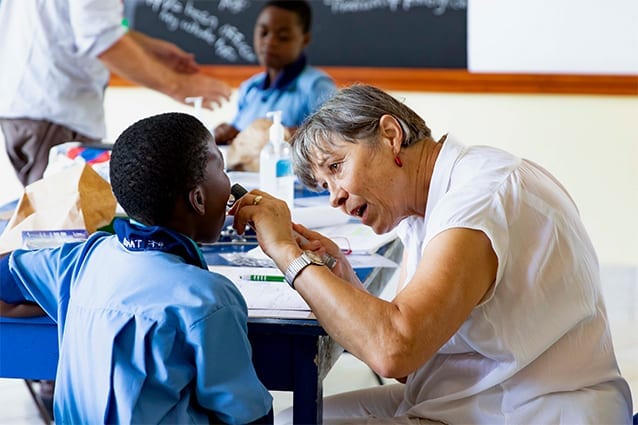 Dr Astrid, a semi-retired doctor, was new to the Health Check team but not to St Jude's. She decided to sponsor two male students, Shabani and Joffrey, after meeting St Jude's Founder Gemma Sisia when she was presenting in Armidale over 15 years ago.
"To see [the students'] excitement at being part of this school, from being selected to attend the school and in later years to see their commitment to this school is amazing. All the Form 6 students I spoke to intend on joining the Community Service Year program after graduation," Astrid reflects, when asked about what she liked most about the health checks.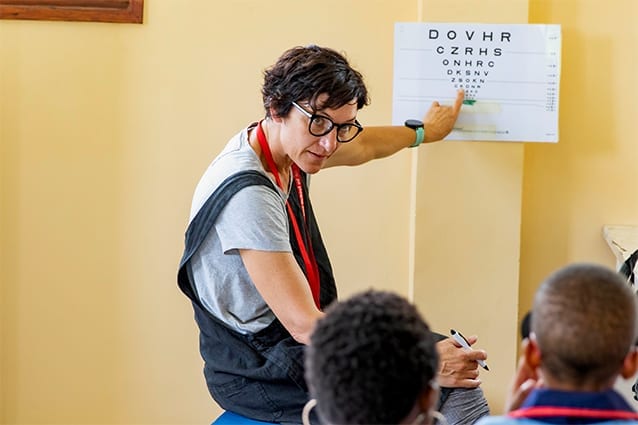 Caroline, an orthoptist, has been part of the team for three years now. She says the opportunity for all students to be seen by health professionals is what she likes about the program. She says a highlight has been returning this year and seeing improvements in the eye health of students.
"Last year, I tested a boy's eyes for the first time. His vision was 6/15, which is not very good and indicated he had a vision impairment," she explains, "so, last year we recommended he go to an optometrist to get a pair of glasses. Today when I saw him, he had his glasses on and he could see 6/6, which is equivalent to 20/20 vision. That was only possible because we assessed him last year. It was amazing!"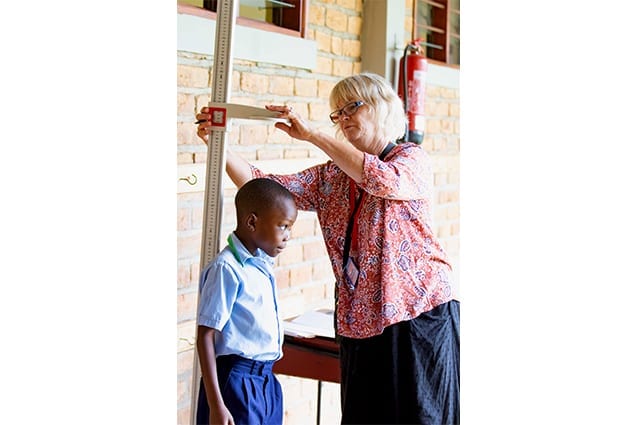 The annual health checks are pivotal in ensuring our students' success in their studies. Conducting them early in the academic calendar year allows any health concerns to be detected and then referred to health professionals in Arusha for further support when required.
The timing of this year's health checks was very opportune in the current context of COVID-19. Dr Craig, an infectious diseases specialist joining us on his seventh health check visit advised St Jude's on best measures and preparations to keep our staff and students safe during this challenging time.
Until next year's health checks, we are certain our students are now ready to tackle this academic year healthy and strong!
You can keep our students and staff healthy too by donating to our Area of Greatest Need! Your support will ensure St Jude's has access to the resources it needs to tackle the new challenges ahead.
"We love visitors!" It's impossible to miss the blue words emblazoned on the back of the bright yellow school buses belonging to The School of St Jude in Arusha, Tanzania.
It's also impossible not to feel welcome from the moment you set foot on the Sisia Campus in Moshono. We arrived at St Jude's halfway through our daughter Kate's two-year tenure there in the Marketing team.
Our guide for our four-day visit is Frank, a fresh St Jude's graduate undertaking a year-long internship with the Visitor Team as part of his Community Service Year, before commencing university. His first-hand experience makes him an authentic and invested host.
On day one, Frank gives us a tour of the primary campus, situated below stunning Mount Meru, Tanzania's second highest mountain. It's jacaranda time and in the morning, the students grab brooms and willingly help to sweep up the purple-carpet playground. Australian students would never embrace a task with such enthusiasm.
On entering a grade four music class, we are greeted with a loud, unified chorus of, "we love visitors" and I find myself learning some drumming alongside a couple of eager 11 year-olds. With more than 1,000 visitors per year, we're not a novelty; yet we are received with warmth and grace.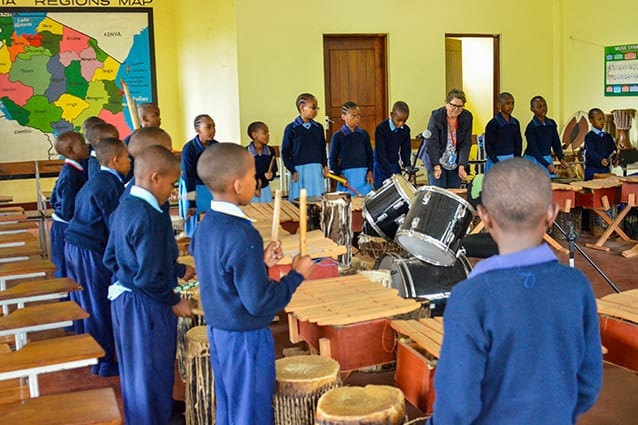 One afternoon, we take the school bus to visit the home of Justina, a Standard 5 student who lives with her older sister and father. We enter a single windowed room inside a basic brick compound, furnished with one double bed, a sofa, a coffee table and assorted possessions in stacked boxes against the wall. I foolishly think this is just one room of a larger house. Not so. This room is the sum total of their existence. There is no power, no running water and a kerosene burner for cooking.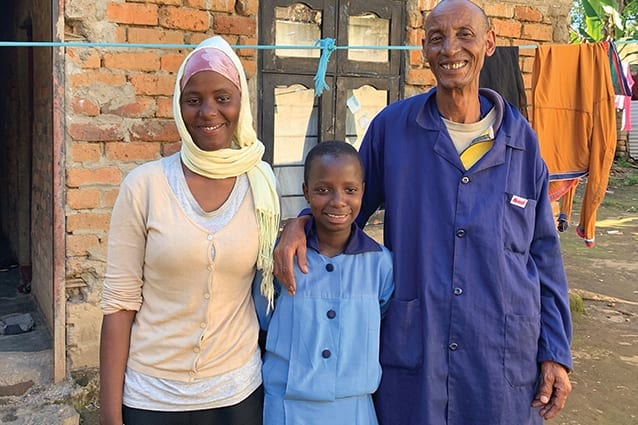 "How has being at St Jude's changed Justina?" I ask her father, a cobbler.
"Justina is doing so well, she really wants to learn and now she wants to be a teacher," he responds, his eyes shining with pride.
I am overwhelmed by this home visit. It reiterates the work St Jude's is doing: taking the poorest children with the brightest minds and educating them free of charge in order to fight poverty and create the leaders of tomorrow.
We leave the family with a customary St Jude's care package, to assist with some basic living needs including laundry soap, rice, flour, sugar, tea and a solar powered lamp. It is the least we can do. The best we can do though, is to sponsor Justina's scholarship for her remaining school years.
On our second day, we travel the 25km on the yellow bus out to the secondary school at Usa River, known as Smith Campus. Reminiscent of an American college campus, Smith is seriously impressive. It boasts a large library, computer labs, art room, well-kept sports fields and a farm, which supplies some of the vegetables for the 3,400 meals served daily across both of the campuses.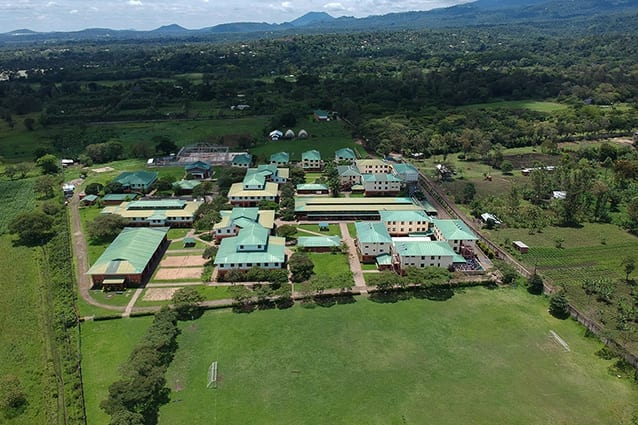 Importantly, our visitor experience is not confined to within the school gates. Frank takes us to visit a nearby government school where we meet another St Jude's intern who is volunteer teaching English as part of his Community Service Year. The contrast is confronting: blackboards with peeling paint, 40 plus children in each class, and a library with tattered World Book encyclopedias from the 1970s. It highlighted the real life situation for the majority of Tanzanian students. A Tanzanian adult averages only 5.8 years of schooling.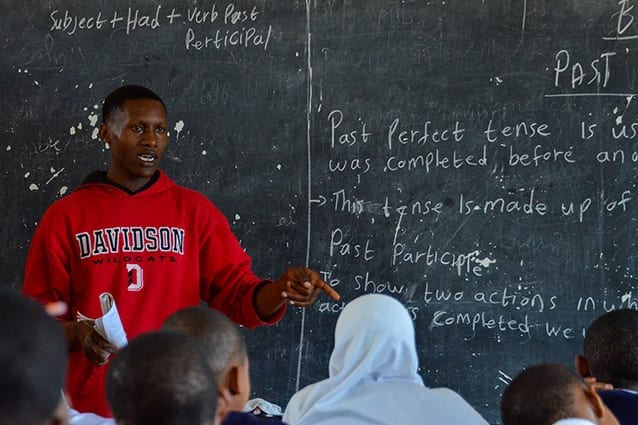 St Jude's was named after the patron saint of hopeless causes. Our visitor experience left us believing that this cause could not be any more hopeful.
P.S. On arriving home, we formalised our sponsorship arrangement and are looking forward to hearing about Justina's progress as she continues her education.
We love visitors! You too can have the experience of a life-time by visiting St Jude's. Visit our website for more information.
Judith stands confidently before two of her trusted peers in the Visitor Centre at The School of St Jude. It's rehearsal day for St Jude's 2020 Australian promotional tour and Judith's been handpicked by 'Mama Gemma' Sisia, St Jude's School Founder, to accompany her on her upcoming trip Down Under.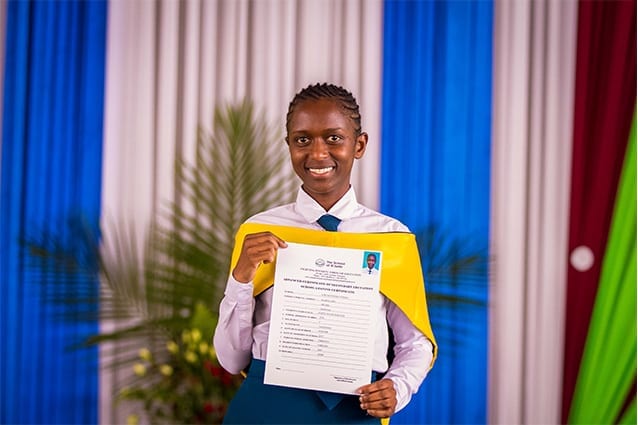 In front of some of her peers, Judith practices telling her tale of triumph. It's a tale that's well-known to those in the room and will soon be shared with people across Australia. It's the tale of how St Jude's transforms lives.
Judith is preparing for the journey of a lifetime. This month, she is boarding her very first flight, bound for Australia. There she will meet incredible Australian supporters, who have built the school she loves – the place she calls her home – from scratch.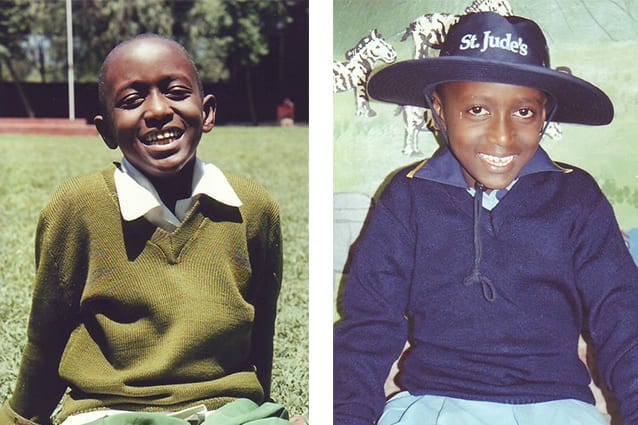 "When Gemma invited me to join her and help to spread the word about our school, I was so excited! I just couldn't believe it was me going there!" Judith enthuses.
"The culture in Tanzania is very different from Australian culture. I will try to learn the differences between here and there, and I will love learning about a new part of the world."
"Of course, I know that we share a great love for St Jude's, so I know I will love everyone I meet!" she says.
Judith started in Standard 1 at St Jude's and is now getting ready for university. She has benefitted from 13 years of 100% free, quality education and she believes it's made the world of difference to her.
"Joining St Jude's changed my life so much. I'm happy and grateful to meet our supporters. I came from a humble family and the sponsors and donors are the ones who enabled me to go to one of the best schools in Tanzania!" she shares.
"It was this golden chance that opened the door and helped me to realise that poverty could not hinder my success forever."
While it's been a challenging year for so many members of our international family, Judith hopes she will bring a story of joy to the people who gifted her with an education.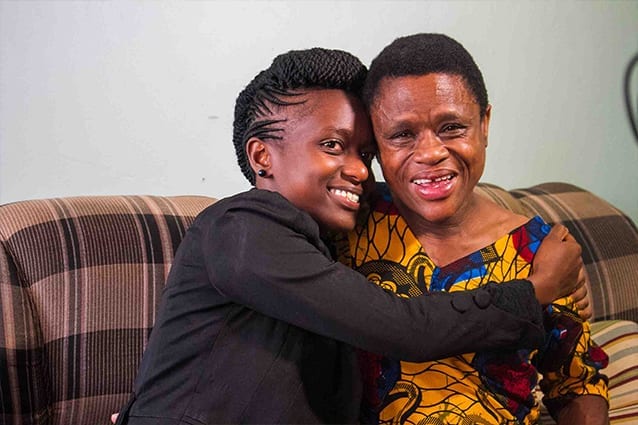 "I know that so many people in Australia are suffering right now, and it pains my heart. I hope Gemma and I can bring some smiles to their faces, because they really deserve to be happy."
Would you like to hear more about Judith's remarkable journey? Be sure to attend a public tour event in a town near you!