Susan Michell sits on a little children's chair in a classroom with seven- and eight-year-old students. Having more than 30 years experience in primary, secondary and special education classes, she is here to demonstrate to St Jude's teacher Robinson Mollel her suggestion how to use a set of flash cards that were donated to the school.
Susan pulls out the first card. It has the drawing of a stick figure behind a box with the word "behind" written above it. "Listen, look and speak," Susan instructs the students. "Behind," she says. "Behind," they repeat in unison. She grabs a container, one of the many materials she is seen carrying around campus, and asks a student to demonstrate the word. The girl gets up, gets the box and places it behind her back. The class claps.
Robinson joins the exercise and the children practice words and phrases such as "under", "on top of", and "in the middle of." He makes sure to call on different students, and lavishes praise on them. The kids put big smiles on their faces and clap.
"They love it when we use the new materials the mentors demonstrate to us," says Robinson.
The partnership between Susan and Robinson is an example of how St Jude's teacher mentors program works. Currently eight experienced volunteers from New Zealand, Australia and the U.S. work in the program across three campuses. They bring some of the best ideas for teaching and learning from around the world, and make up one of the pillars of St Jude's quality education.
"The mentors work alongside our talented local teaching staff helping to integrate new ideas into the Tanzanian curriculum as we seek to provide a quality education for the students," says Jon Ford, St Jude's School Director.
A few meters away from Robinson's class, Liz Underwood is busy sorting through the new books and resources recently donated to the school. She makes sure everything is classified into school grades and subjects, and works with teachers to come up with ideas on how to use them in the classroom.
"I help teachers put together hands-on and fun lessons for the kids," says Liz.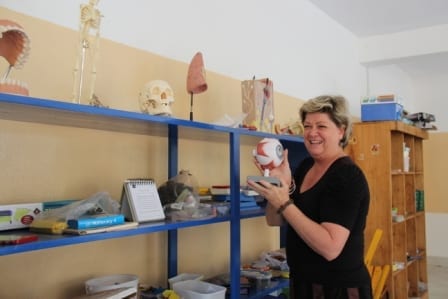 "The teachers are working with mentors to try to implement changes that we all believe could work better for the students' learning process," says George Stephen, Lower Primary Headmaster.
Lower Primary mentor Lynn McMahon is an early childhood specialist with 30 years experience teaching both children and adults in this field. One of her current projects is encouraging teachers of the youngest children to integrate the Tanzanian curriculum across different departments. "The idea is for lessons to be linked across all subject areas," says Lynn. "This provides reinforcement of new ideas and deeper understanding of new topics, and enhances the development of their new language."
Over at Smith campus, which houses the secondary school, Linda Kitto spends some time researching local plants and discussing experiment ideas with the biology teachers. St Jude's has a total of eight science labs for Physics, Biology, Chemistry, and multipurpose uses.
The teachers use the labs to make the curriculum come to life with practical experience of scientific concepts. Many students in Tanzania only get to do science from a book. Most don't even have access to science books.
"The mentors suggest experiments and show how to use them effectively to introduce a new topic," says Humprey Nkya, Head of the Biology Department.
"We share ideas and experiences," says Rasul Abdul, Head of the Secondary School. "We learn from each other how to make lessons even more engaging."
St Jude's mentors specialize in different areas. Glenyce Surtees is a library educator. She creates programs to help teachers and library staff to enhance their research skills and look deeper for different sources of information throughout the school's more than 30 thousand books, DVDs and CDs (not including textbooks) in three libraries.
Sika Somberg acts as a career guidance mentor. She works closely with teacher Mshauri Calistus to create activities and counseling sessions. The two want to raise the students' awareness about the broad range of professional paths they can pursue after high school graduation.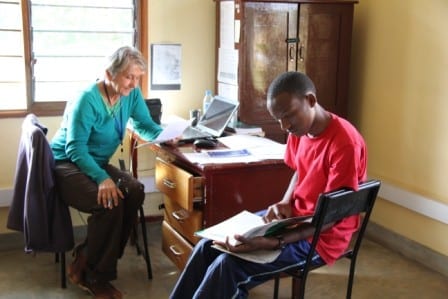 St Jude's academic leaders are actively involved. Every week a group of Upper Primary school leaders sit around a table with Gaye Tiplady and discuss leadership methods and techniques to ensure St Jude's meets its strategic goals. Gaye has over 25 years of experience in education, 11 of which as principal of a primary school in New Zealand.
On a recent Monday morning the topic was the school's goal of being a center of excellence. The discussion focused on how to help underperforming students.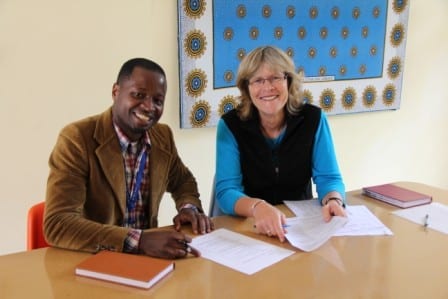 "I take strong responsibility for student performance," said Peter Manjalla, Headmaster of Upper Primary. "Our job is to make sure every student passes."
The leaders first identified a clear goal: for all underperforming students to improve their marks. Each one suggested a number of strategies, which were listed and then combined into four, ranging from the proper use of available resources to each child getting individual support and encouragement.
"Leaders have to make lots of difficult decisions, so we really appreciate Gaye's advice and guidance," says Peter.
"We support the teachers and leaders through guidance, coaching and responding to requests for assistance in a particular area," says Gaye. "Our aim is to build capacity in the academic staff so it's important that they feel empowered and comfortable with what is being suggested." 
Replies