The moment you step outside a St Jude's school bus and into the grounds of Sisia primary campus, chances are, Irene and Wens will be among the first people to greet you with a 'karibu sana' (you're very welcome) and broad smiles.
Irene and Wens's confidence and attention to detail suggest they've spent years in training as Tanzanian tourism professionals, to prepare them for important roles in St Jude's Visitor team.
Indeed, it's taken 13 years of fieldwork for the dynamic duo to develop their thorough knowledge about The School of St Jude — first, as our students, and now, as 2017 graduates and participants in Beyond St Jude's Community Service Year program!
The Community Service Year offers graduates an internship opportunity to teach in under-resourced government schools or work in various departments at St Jude's, to gain work experience, increase confidence and help give back to their local community.
As interns in the School's Visitor team, Irene and Wens help to prepare itineraries, lead school tours, translate conversations during our guests' visits to students' homes, chaperone excursions to government schools and Maasai communities, and guide visitors through the bustling streets of Arusha.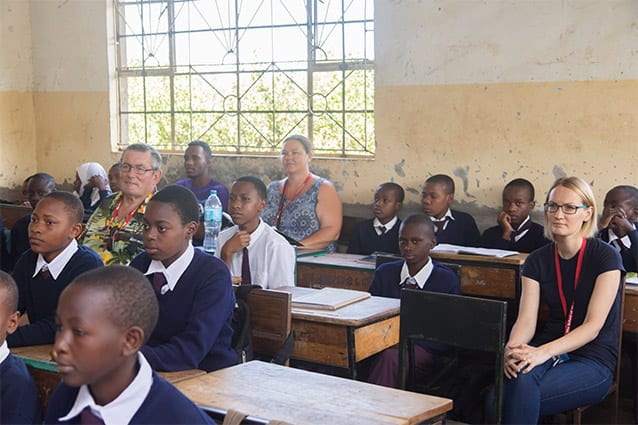 Irene and Wens are overjoyed that they have the opportunity to represent St Jude's, but it isn't a responsibility they take lightly.
"We are so fortunate to have the opportunity to express gratitude to sponsors, donors and visitors who come to St Jude's, every day. No matter if you have heard about the School before or not, you are helping just by being here. You become a part of the school family," Wens said.
"We had the chance to apply for an internship in a government school, but I really wanted to do something within St Jude's as a way to show thanks."
"Just to know that the people who sponsored us for more than 10 years — read our letters and saw our photos — that our stories were enough to inspire them to sponsor… I need to find a way to say 'thank you' for that," Irene added.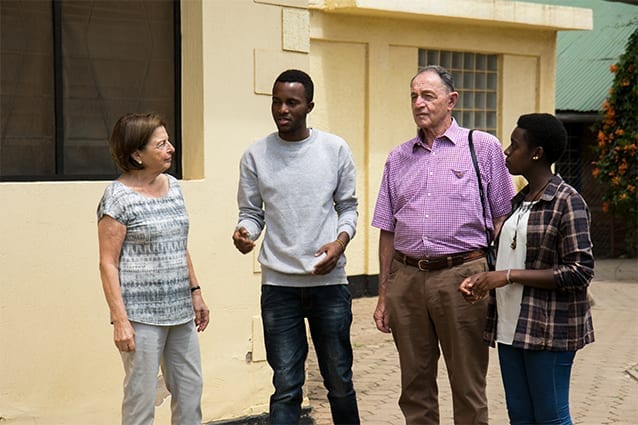 "For all Beyond St Jude's interns, whether you are teaching in a government school or doing a Community Service Year inside St Jude's, it feels good knowing that even if we can't give back to our sponsors in the same way, we are at least doing something for our society."
"And, for our families too, they are proud to see us coming into St Jude's office every day. It is like a flashback for them — remembering how we were as small children in 2005 and 2006 when we started Standard 1, and now as adults working here," Wens shared.
Participants in Beyond St Jude's Community Service Year develop professional skills and experience personal growth.
Wens is hoping to study Electrical Engineering when he starts university.
"In the Visitor team, I have learnt many things which will help me with my career. I know how to be organised and how to communicate with people from many cultural backgrounds."
Irene has aspirations of becoming an international business leader.
"As a member of the Visitor team, we are already leaders. We are people's hosts and all the information they receive about the School comes through our stories. We may not be interning in government schools, but I think this is another form of teaching."
"There is no organisation that compares to St Jude's. Coming here, you will see the full effect of a St Jude's education. Visitors see how far their donation goes and how it can change our lives."
If you would like to meet inspiring Beyond St Jude's interns like Irene and Wens, be sure to book a visit to St Jude's. Email us at visitor@schoolofstjude.co.tz
Replies