A stone's throw away from The School of St Jude's original building, stands a crowd of people. They chatter quietly amongst themselves, anticipation rife.
It is the morning of the 10th of January and the crowd are gathered to officially open St Jude's Girls' Secondary School.
The pounding of the drums begins and the school choir launches into a beautiful rendition of the Tanzanian National Anthem. Approaching up the pathway is School Founder, Gemma Sisia, accompanied by His Grace, the Archbishop of Arusha, Isaac Amani, and the Honourable Adelardus Kilangi, Attorney-General of Tanzania – who began driving at 1am in order to be the guest of honour at the ceremony.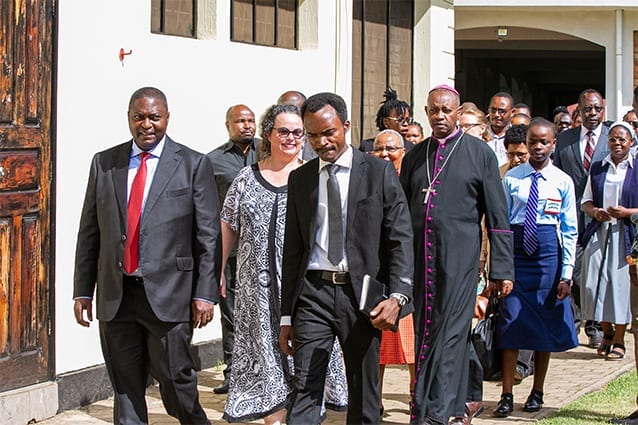 Behind them walk parent representatives of St Jude's students, members of the school board and academic management and their families. They are walking towards an archway decorated with white tufts of fabric made to resemble flowers. Stretching across this archway is a yellow ceremonial ribbon – the entrance to the new girls' school.
Academic Manager, Mr Mcharo steps forward, "I would like to invite our School Founder, Gemma Sisia, to speak to you all."
Gemma takes the microphone, gazing out at the audience.
"We opened this school back in 2002 with three kids," she says, pausing to gain her composure, jokingly pretending to hit herself to stop the tears that are welling up. The audience laughs.
"We would never have got here without the incredible faith and generosity of our sponsors and donors, the unbelievable commitment of our staff and parents and, of course, our students."
Archbishop Amani steps forward to bless the school and the audience, heads bowed.
Finally, the moment the crowd has eagerly been waiting for – the unveiling of the sign and the cutting of the ribbon. This historic gesture has been given to Attorney-General (and Professor) Adelardus Kilangi.
Professor Kilangi cuts the ribbon with a smile, the crowd cheers, and the school is officially open.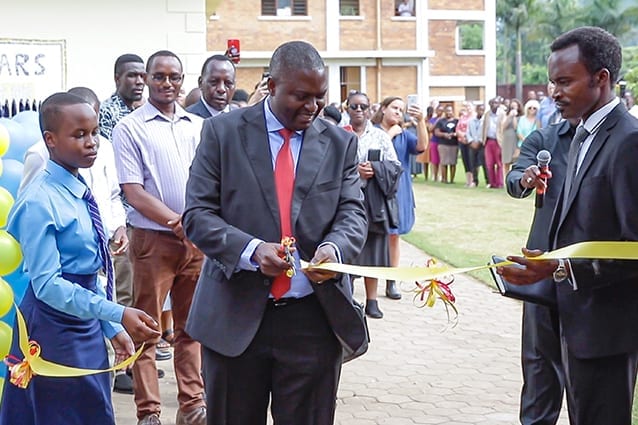 As the honoured guests, staff and choir walk up the new footpath and around the bend, they are greeted by the entire student and staff body of The School of St Jude – over 2,000 people in total. They sing and cheer as one.
As everyone settles into their seats, the speeches begin, Professor Kilangi steps on to the stage, invited to give a keynote address.
"When I first came here to St Jude's I saw faces full of hope," says Professor Kilangi to a silently attentive audience.
"Great dreams become a reality if you work hard," he continues. "If you don't work hard then they will only remain dreams."
"The formation of the intellect is the most noble thing you can do. So make sure you work hard, study hard and you will achieve."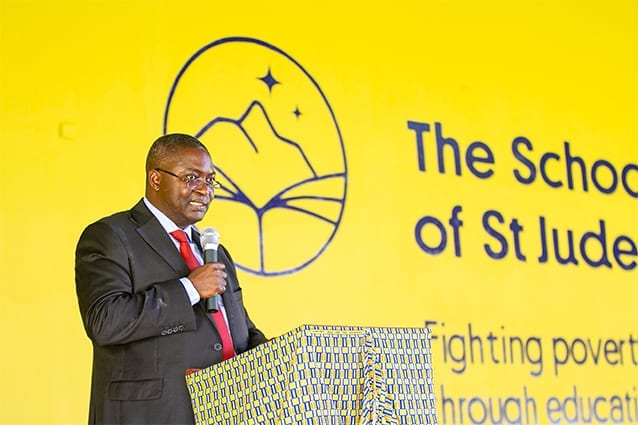 Professor Kilangi looks at the students and pauses, before saying with the hint of a smile, "I'm talking to you kids! What did I say?"
"Work hard! Study hard! Achieve!" the students chorus in response.
The ceremony concludes, with a communal lunch next on the agenda.
Underneath the beating African sun, students, teachers, special guests, visitors, sponsors and donors sit side-by-side. Their plates are full of food and they talk about their dreams; they laugh at jokes, exchange stories and reminisce about the past.
These conversations, full of hope and laughter, are the kind of conversations that can only be had at the beginning of a new year, and the beginning of a new era.
Help St Jude's continue to take bold steps by donating today.
It's official!
I've been dreaming about this for a while and now it's finally going to happen! The official go ahead has come through to open a new secondary school for girls – and we're doing it in January!!!
You probably think we don't know when to stop, I sometimes wonder that myself! This is a really important next step for St Jude's though, a chance to make an even bigger impact than we are already.
By reconfiguring our current boarding and school facilities, we can turn part of our Sisia Primary Campus into a girls' secondary school, which in time, will cater for nearly 600 students. More students will get a free, high-quality education at St Jude's and we're so excited about what this means for Tanzania.
Because of the new school we'll be increasing the number of students who can graduate Form 6 and, in particular, increase the number of girls getting a secondary education.
Currently, when students are selected from government schools to St Jude's at the beginning of secondary school (Form 1), at least 60% are boys and for selection to A Levels (the last two years of school), it's more than 80%. As you go up the levels, there's less and less girls staying in school. That means by Form 5 there are fewer girls to invite to sit our A level entrance exams and less girls being offered St Jude's A Level scholarships.
By increasing our intake of girls into secondary school, St Jude's can help stack the odds in their favour, in a country where girls from a poor rural background will only receive 3.7 years of schooling on average. And it's pretty hard to argue with the mountain of research about the MANY benefits to families and communities in having educated women.
This means there'll be more girls in secondary school, more graduates and more future leaders because of St Jude's each year. I can't wait to keep you updated on our progress in the next few months.
Gemma
Find out how you can support this exciting new venture.
Mr Firmin is St Jude's Head of Religion and Vocational Skills at Smith secondary campus.
He oversees our physical education, music, art and religious education programs, but understands that nurturing future role models entails more than marking essays. A mission-driven leader and born teacher, Firmin believes wholeheartedly that the work of St Jude's will have a profound impact on Tanzania.
"At St Jude's, we want to create an environment which promotes the development of a balanced person: not just academically gifted, but cultural and values-based leaders. Someone who can think, reason, believe."
For all his talents as an educator, Firmin's career did not begin in the classroom.
"I was working in the church as a chaplain, which is a form of teaching in itself. Then I decided to do further study and get my teaching qualification," he explained.
"I wanted to work at St Jude's because I was inspired by the spirit of the founder, Gemma Sisia. This charitable school gives opportunities to very disadvantaged people. The students show potential and have integrity."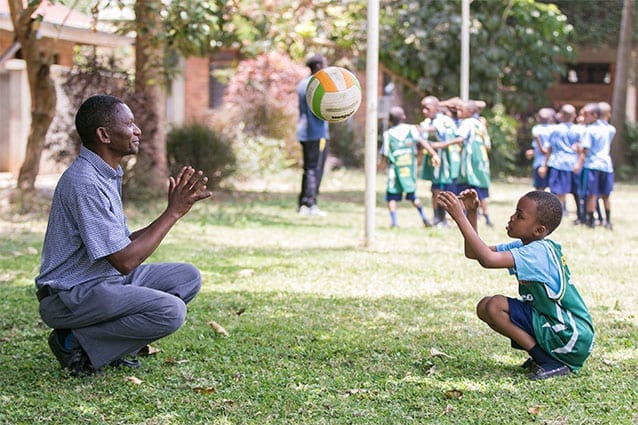 Firmin knows that as a teacher, he can learn from and be enriched by his students, which is why he says his job is so rewarding.
"The future is so bright! There is hope for this generation. Our roots, where we come from, is so important. I am impressed with St Jude's students because they are future leaders, but they are already starting to make a difference."  
"They will go out to their families and communities and share the spirit of our school."
Firmin says the role teachers play in supporting students is vital to ensure they become moral and intellectual leaders in the future.
"A teacher must be a role model and inspire their students. They will look to our actions as well as our words. Moral and intellectual leadership is a core part of the St Jude's vision."
 "We are not just robots. We have the ability to impact upon others and make choices about the kind of impact we leave."
"Being an intellectual leader alone is not enough. One must also be moral, because this shows a sense of justice, spirit, and the respect you give to others."
"We will see one day the people running St Jude's, and being in positions of responsibility in their community, are our former students. Here, we give them a good foundation," Firmin added.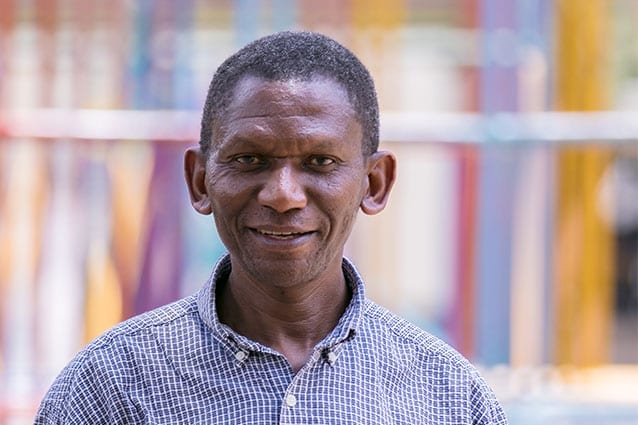 Thanks to teachers like Firmin, St Jude's students are already branching out and proving themselves as change-makers and critical thinkers. 

Last month, three secondary students earned international accolades for scientific innovation. 
Edgar attended the Anzisha Prize workshop at African Leadership Academy, while Eric and Prosper represented Tanzania at Exposcience. Both events were held in South Africa. 
"In our students' efforts and achievements, we can see the fruits of our school are already growing."
You can be a part of St Jude's vision. Give opportunity and purpose to some of Tanzania's poorest and brightest students by making a donation today. 
If you spotted Jonas, an Academic Leader, strolling around Sisia primary campus, you could be forgiven for thinking he had glided straight off a fashion runway. 
The reality is almost as exciting! When he's not moulding the minds of our talented students, the teacher-turned-visionary-designer is likely to be found at Arusha's fabric markets, fashioning stylish outfits for himself and his friends.  
"I have a vision and idea about the clothes I'd like to wear, so I draw the design and purchase the materials. Then, I take them to a tailor and share my idea with him and the tailor brings it to life." 
This process, Jonas says, is similar to Gemma's early dream for The School of St Jude. 
"The inspiring thing about Gemma is how she had a vision. She has kept the vision close to her heart, shared it with other people, so it could grow. Gemma is an inspiration to me." 
"There is a big tree in Tanzania called the baobab tree. It starts small, but with some rain, it grows to be very big. The dream for our school is the same."  
"To see how St Jude's has grown from three children to 1,800 is a miracle."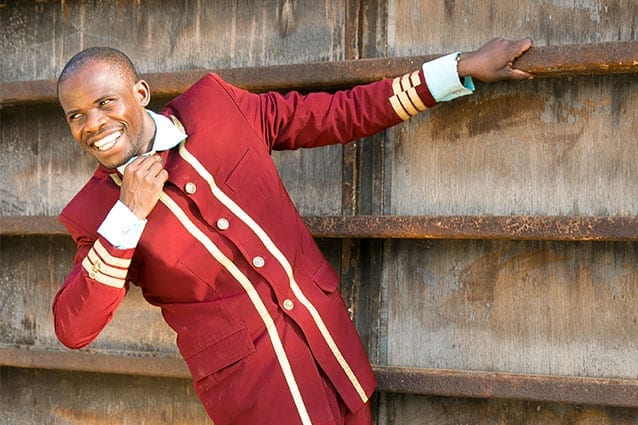 Jonas knows a thing or two about crafting a dream and overcoming challenges. He started working at St Jude's in 2012 as a physical education teacher. 
Before this, he'd been a Headmaster at two private primary schools.
It was a desire to fight poverty through education, spurred by his own humble beginnings, and devout faith, that inspired Jonas to join St Jude's. 
"I attended government primary and secondary schools. I was selected to attend a government teaching college, and then I was sponsored by generous people so I could go to an English Medium teaching college."
"Teaching is a calling in my family. Both my parents are teachers and I saw how they helped people to become good leaders and professionals in society."
"Many leaders in Africa are corrupt and do not have integrity. Moral leaders are not corrupt; they use their position to benefit others."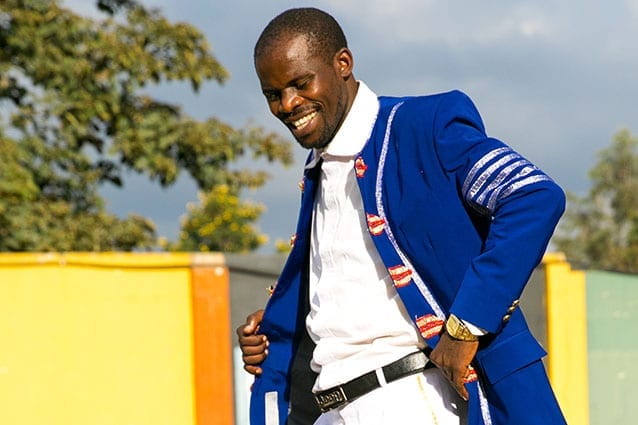 "My dream is to identify students' potential. Some want to be teachers, doctors, nurses. When I know their goal, I can give them the right knowledge to help them perform well. Students need to be passionate and have a good character, because that will ground them as good leaders." 
Generous Jonas doesn't stop caring when the school gates close at the end of each day. He is so committed to the work of St Jude's, that he sacrifices a portion of his monthly salary as a donation to our cause.
A study conducted by the United States National Institutes of Health concluded that altruism activates the brain's social connection, trust and pleasure regions, creating a 'warm glow' effect. 
It's no wonder Jonas's radiant smile lights up the whole schoolyard!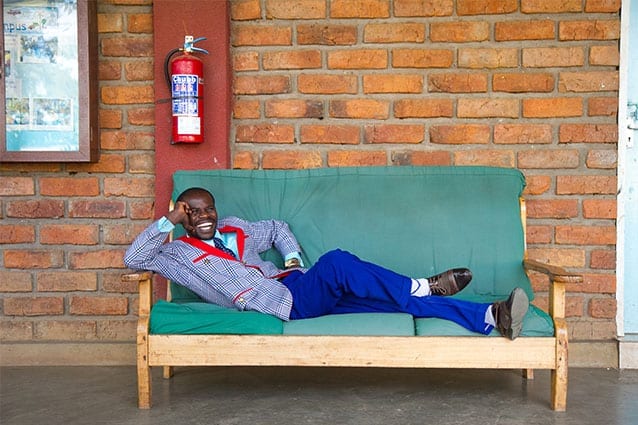 "At St Jude's, we are a centre of excellence. We help children who come from very poor families. By doing this, we will help Tanzania, and take the students from a low place, to a high place. These students will do great things."
Like the growth of a baobab tree, it takes a little rain and a lot of perseverance to fight poverty. 
Passion is in fashion at St Jude's, and in the creative, capable hands of teachers like Jonas, the future is bright for our students.
Come and visit St Jude's so you can meet our wonderful staff! 
When you support St Jude's, you aren't just providing free education to the poorest and brightest students in Arusha. You're supporting almost 300 talented, dedicated staff members committed to fighting poverty in their community. 

Meet Anna – at just 26 years old, the impassioned teacher, is earnest, forthright and a quiet inspiration to our Primary students. 
Ms Anna was chosen for this month's staff profile by our Appeal Ambassador, and Grade 4 student, Joseph. 
"She knows where she came from; she told us that she started learning under a tree, so she reminds us we are having a free, private education and should always study hard, for everyone," Joseph said.
Now it's time for you to hear from Anna herself…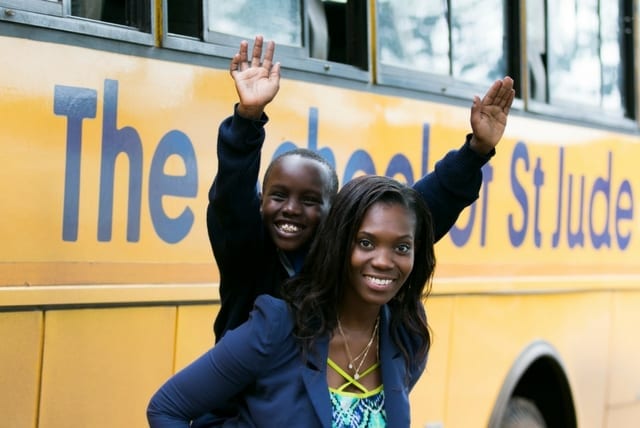 What is it like to be a teacher in Tanzania? 
Sometimes it is hard for teachers to feel supported in Tanzania. I have always done my best and I love to teach.  I think attitudes towards teachers are slowly changing and it is becoming easier. 
Why did you apply to work at St Jude's? 
It is a very happy place to be. I love all my students so much - I always wanted to work at this school because it helps our community in such a big way, with so many students and families.
You went to a government school and now you teach at a private school.  What are the key differences you've noticed between the two?
Government schools didn't have enough resources or materials for all of us to learn well. Here at The School of St Jude, we have everything we need for the students to receive a good education. As teachers, we need to be able to have examples of work to show the students; we need books and supplies for them to learn. It is very hard for teachers and students in some government schools without these things.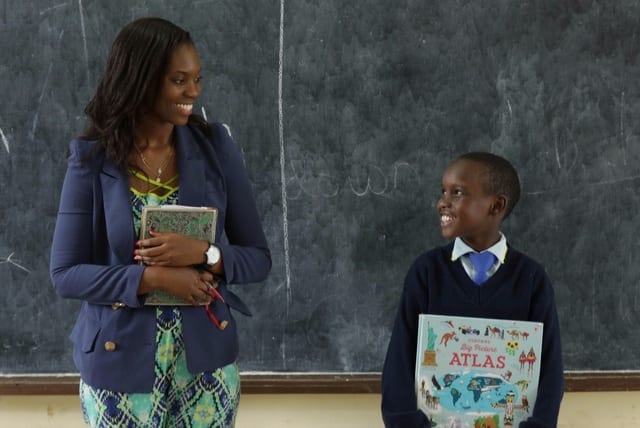 Did you learn to speak English during your time at government school
It is really challenging for children in government schools to learn English because, in primary school, lessons are taught in Kiswahili. I taught myself to speak English and dreamed of becoming a teacher. I learned by reading books under a tree in the school yard. My friends and I used to have discussions about our studies at break times. Some of them spoke a bit of English, so I was able to learn from them. My mother is a teacher and she helped me too. 
Did you have any teachers who inspired you? 
I had two female teachers who really inspired me and encouraged me. I knew I wanted to be just like them when I grew up. Now, I try to use the qualities I learnt from them to inspire my students. A student once gave me a gift and thanked me for being one of her favourite teachers. I felt so proud – like I had made a difference to her. It helped me realise I was doing a good job. I always tell my students stories about when I was at school. I want to be a role model, especially for the girls. 
What are your hopes for your students? 
I would encourage my students to always follow their passions and believe in themselves, even if they fail at something. I always tell them their strengths and encourage them so they can have more self-confidence, especially when they face challenges, which we all do in life.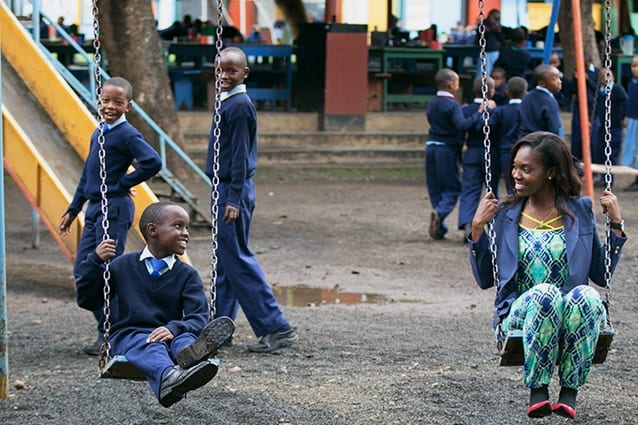 What is Joseph like to teach?
Joseph is so enthusiastic and always raises his hand to answer questions. His class is one of my favourites to teach because they are so charming and love to have discussions. I want Joseph to always grow and develop, to have confidence in himself, to be a leader, to be doing whatever makes him happy in the future. I wish for him to stay as enthusiastic, curious and hard working as he is forever, he will be a great man for his community. 
Help Anna to educate her charming and curious classes -  donate to our 2017 Appeal
Innovative Form 3 student Erick can create a vending machine from scratch and turn a mobile into a home safety system – but this budding gadget whiz doesn't dream about being the next Steve Jobs or Bill Gates.
"I want to be a volunteer at The School of St Jude," Erick says.
"That's my number one priority. I've seen what the opportunity this school has given me and my family.
"I have 10 siblings and none of them are in school – I know the importance of my education."
At last year's Science Fair he was part of a group that invented an automatic vending machine but missed out on first place to Form 4 student Edgar, who created a created a system that converted plastic bags to roof tiles.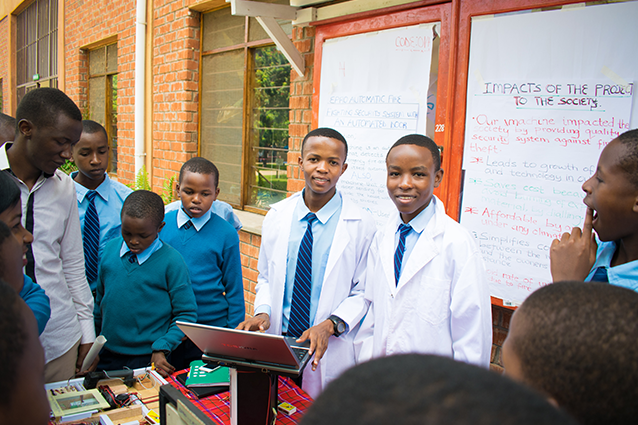 Erick's goal in 2017 was to win the overall prize at Science Fair, and with his partner Prosper succeeded by creating a home safety system that was controlled using repurposed mobile phones.
Their system used the computer from a basic mobile phone that was connected to a smoke detection device to automatically open doors in case of a fire.
The system could be used to increase home safety but Erick said the main purpose of the project was to show people that popular devices such as mobile phones can be used in a variety of ways.
"Phones are already powerful devices and they are quite common in Tanzania, but they can be used for different purposes than just calls and texts," Erick said.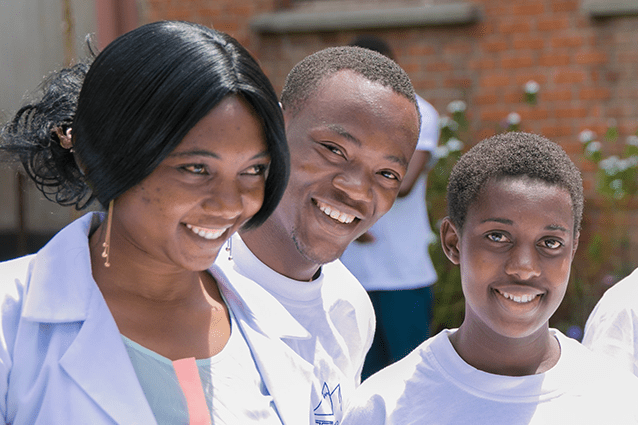 Science Fair organiser Shaban Ramadhan said he was impressed by the innovation on display at this year's event.
"It was incredibly tough to pick winners because there were a lot of good projects," he said.
In the lead-up to each year's Science Fair, students are asked to create projects that will address the needs of their communities. This year – the seventh running of the event – technology and the environment were major themes.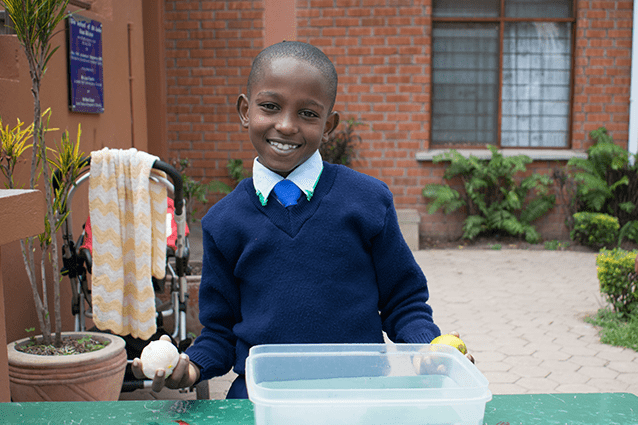 "St Jude's mission is to produce future leaders of Tanzania and it is important that our students have the skills to address the needs of their community," Shaban said.
"That is why our annual Science Fair is important. It encourages students to think creatively and come up with solutions."
Support St Jude's commitment to academic excellent by donating here.
Our 2017 Science Fair Prize Winners
Overall winners
1st: Epro fire-fighting automatic security system (Erick and Prosper)
2nd: Vibration and voltage locking system (Christopher and Rickson)
3rd: Water level indicator (John, Samwel and David)
Category winners
Science (lower primary): Does an orange float or sink (Joshua, Nesta and Joanitha)
Science (upper primary): Tonaldo Robot (Hemed, David G and David S)
Chemistry: Artificial water gills (Eliamani and Elias)
Biology: Natural insecticides (Amos, Christian and Praise)
Physics: Automatic rain sensor and security system (Rafael and Ramadhani)
Mathematics: Linear programming (Denis and Godwin)
Geography: Recycling plastic bottles (Sweet, Hilda, Rahma and Jackline)
ICT: Library management system (Stephen and Godbless)
Chairman Award: Statistical attendance (Johnson, Peter, Issack and Ezekiel)