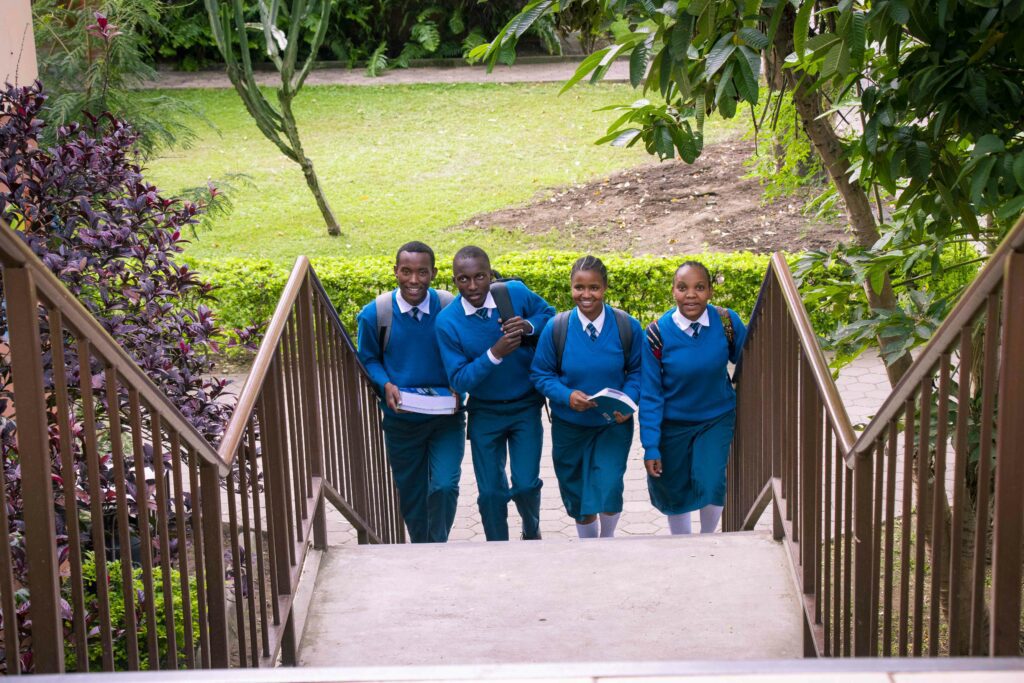 Every July, St Jude's Secondary School is graced with new students eager to start their A Level studies. Sporting their new, brightly coloured school uniforms and typically walking in clusters, they stand out from their seasoned schoolmates. Among them is Saumu, an ambitious Form 5 student whose dreams and ambitions have found their perfect home at the school.
"Coming to St Jude's was a dream come true for me," Saumu says passionately. "I have been hearing good things about the school for many years. So, being here means a lot to me and my family," she adds excitedly.
In Tanzania, there are two key stages to secondary schooling; the first four years of secondary school are called Ordinary Level (O Level) studies; from Form 1 to Form 4 and the final two years of secondary schooling are called Advanced Level (A Level); from Form 5 and 6.
Every year, St Jude's awards full academic scholarships to the highest-performing primary and secondary school students from disadvantaged backgrounds through a fair and thorough scholarship application process. Hundreds of potential candidates from government schools across four regions in northern Tanzania are invited to apply for a scholarship at St Jude's and subsequently go through a series of written and oral examinations and poverty assessments.
"The first time I applied for a scholarship at St Jude's was in 2019 when I had just completed my primary education," recalls Saumu. "I was the top performer from my school in the national exams and was pleasantly surprised when I also got invited to apply for a scholarship at St Jude's!" she adds.
Unfortunately, Saumu didn't get a scholarship on that occasion. Undeterred by the setback, she worked hard in school and four years later, she was invited again to apply for a scholarship at St Jude's.
"You don't always get second chances in life," reflects Saumu. "So, when I came in for my second attempt, I gave it my all and passed through all the stages!" she adds excitedly.
Saumu is among 66 students who joined St Jude's Secondary School for the first time in July. She is still adapting to her new school and has so far joined a public speaking club, and is excited to improve her English with the English as a Second Language (ESL) program at St Jude's.
"Coming to a new school like this can be an overwhelming experience," says Mr Elia, a teacher at St Jude's Secondary School. "So, we have a system that guides and helps new students settle in and cope with the environment," he adds.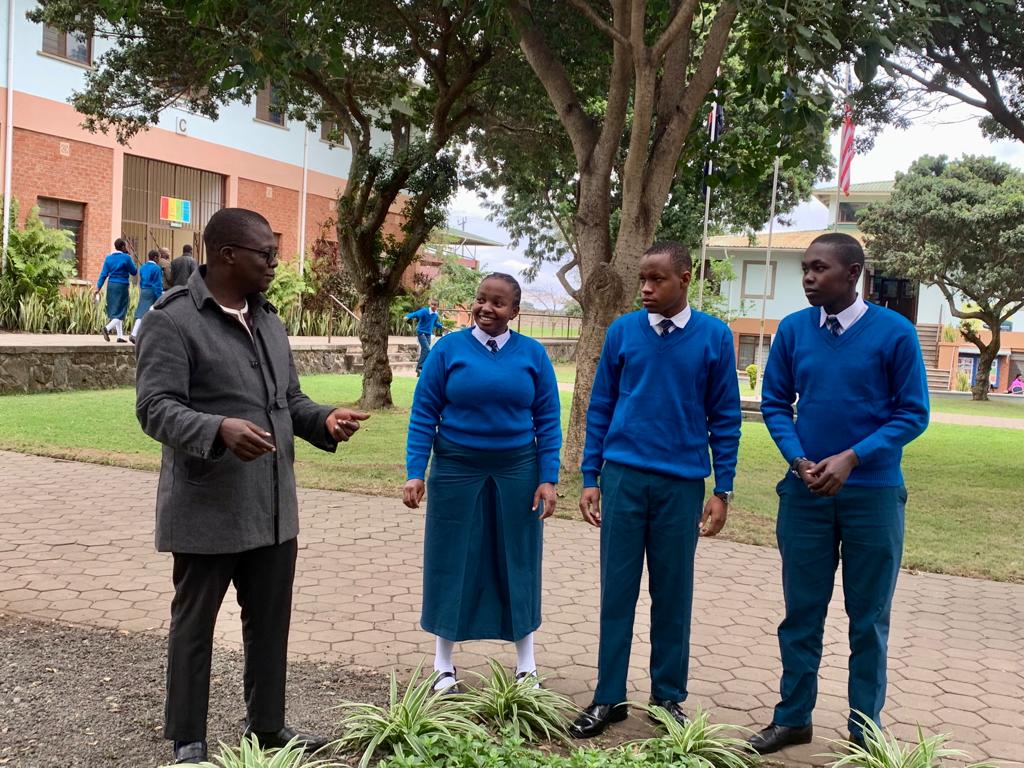 Mr Elia is the Level Coordinator of Form 5. In this role, he looks after all aspects of the class; from academics to non-academics, to discipline matters, and how they cope in the new environment.
"Soon after reporting to school, we organise a one-week orientation for all students joining our campus," says Mr Elia. "During this week, we introduce them to the entire school leadership structure, including teachers and student leaders. We also show them around the school and all the important places," he adds.
The supportive environment at St Jude's coupled with the school's huge resources helps new students settle in quickly. In only a matter of a few months, most students would have already found their favourite sport, extra-curricular activity, and favourite subjects.
A good example of this is Nuhu, a Form 1 student who joined St Jude's from a government school in January this year. In just a few months, he is now one of the top performers in his class, has secured a starting spot on his class football team and performed in a cultural competition earlier this year!
"When I first came in, I was blown away at how big the school was," says Nuhu. "I thought it was going to take me a year to find my way around!" he adds with a smile.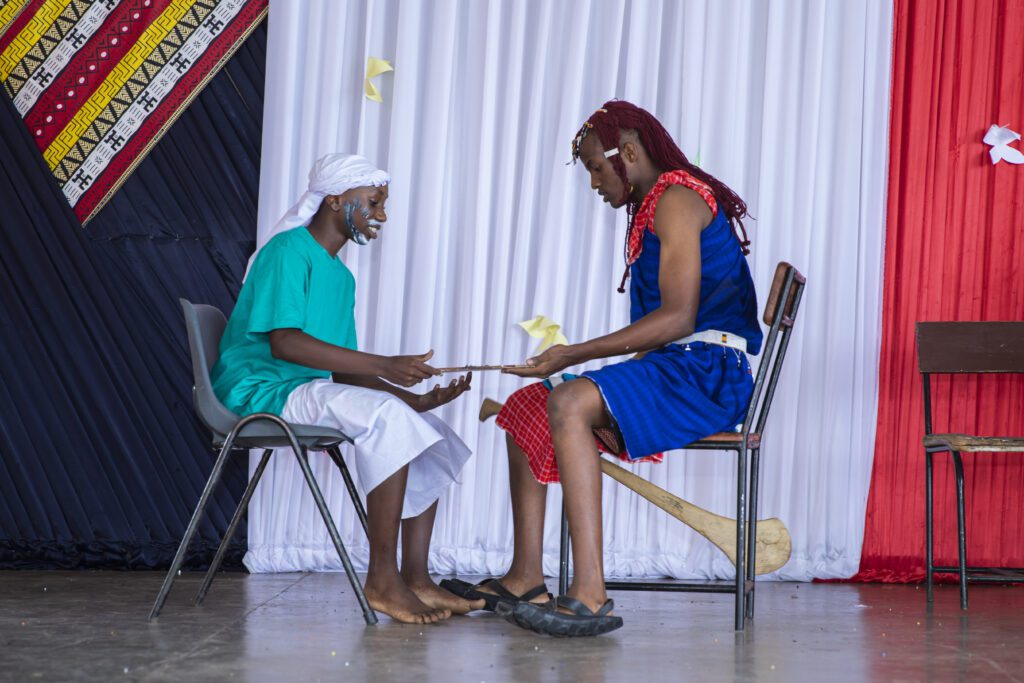 Both Nuhu and Saumu are the first members of their family to reach secondary school. Prior to getting a scholarship at St Jude's, they were both at risk of not continuing with advanced secondary education due to cost demands. With a scholarship at St Jude's, their future is now secured thanks to the generous donations of sponsors around the world.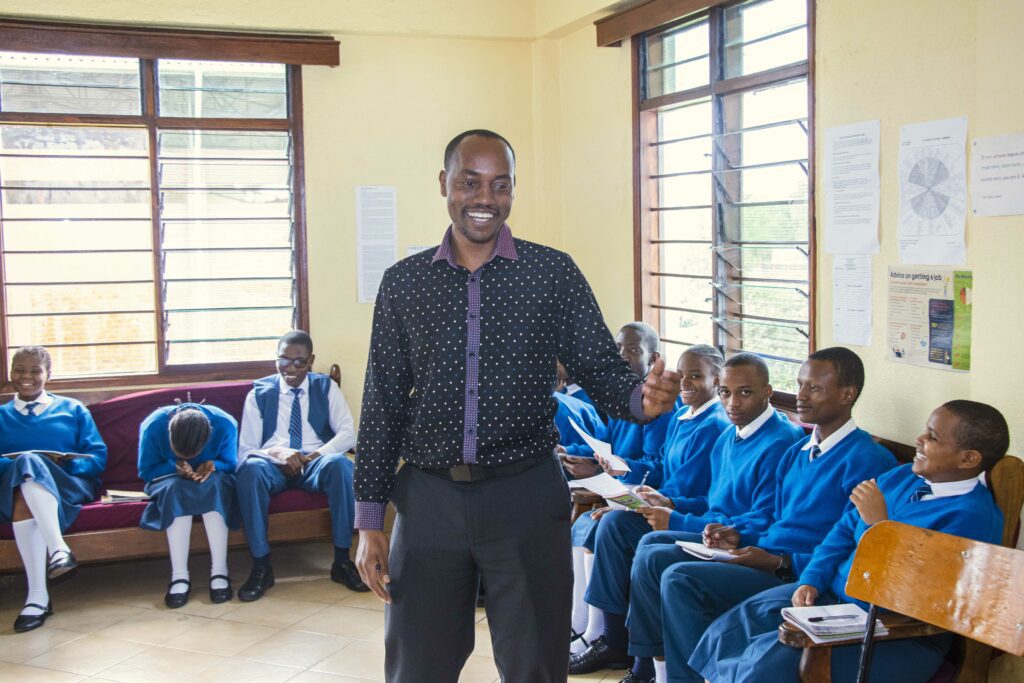 As any adult will know, there's a lot that goes into creating a career. Subject choices, study, diplomas, degrees, internships, maybe even starting a business – it can all be very confusing!
Fortunately, for secondary students at The School of St Jude, weekly Career Guidance classes are helping pave the way to future careers. Students receive advice about subject selection, higher education and tertiary institutions so they can make informed plans.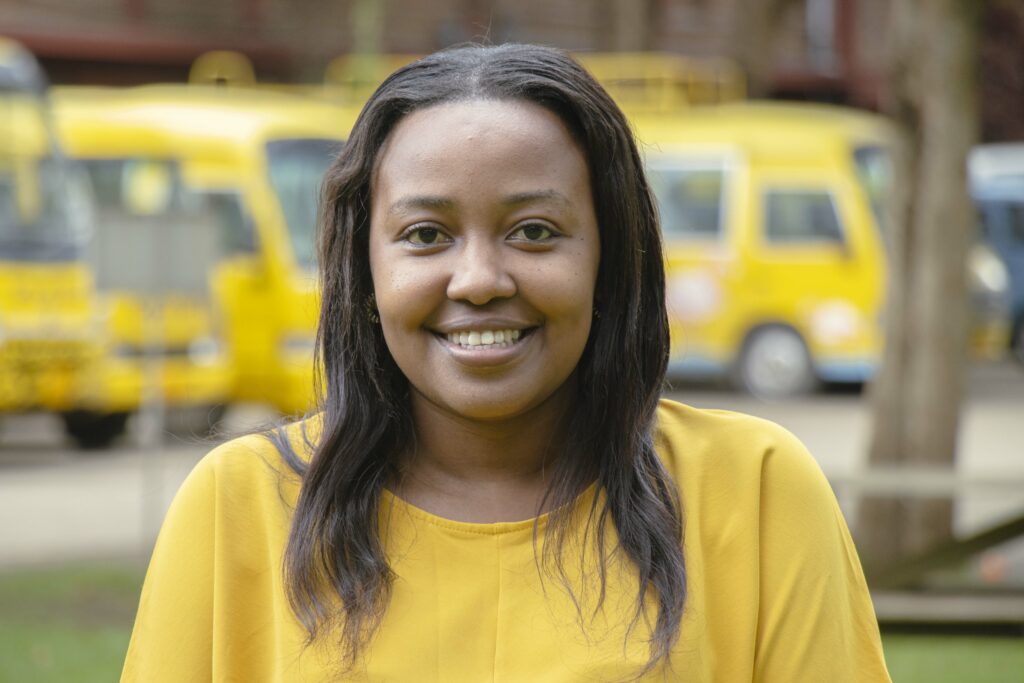 "Our students come from considerably poor backgrounds. They are not exposed to all industries and career paths," explains Irene, who works in Career Guidance for both students and alumni.
As a result, a major part of Career Guidance is simply making students aware of the career options available to them. When they're exposed to the different options, students can discover a career that suits their interests, strengths and goals.
As the saying goes, 'You can't be what you can't see,' so the Career Guidance team invites a variety of professionals to share their experience with students.
"Bringing mentors who have been successful in their careers, whether they are doctors, journalists, lawyers, or entrepreneurs, helps our students to affirm their career choices," says Irene.
These mentors are the focus of the school's annual Careers Day, where secondary students have the opportunity to participate in seminars with mentors from inside and outside St Jude's.
"We always ask students which career path they want to pursue and bring in professionals from those fields to inspire and motivate them on what to do, what subjects to take, and everything they need to know to excel in those fields," says Mr Elibariki, Career Counsellor at St Jude's Secondary School.
During the event, students are grouped in different clusters based on their interests and matched with a mentor for a briefing and question-and-answer session.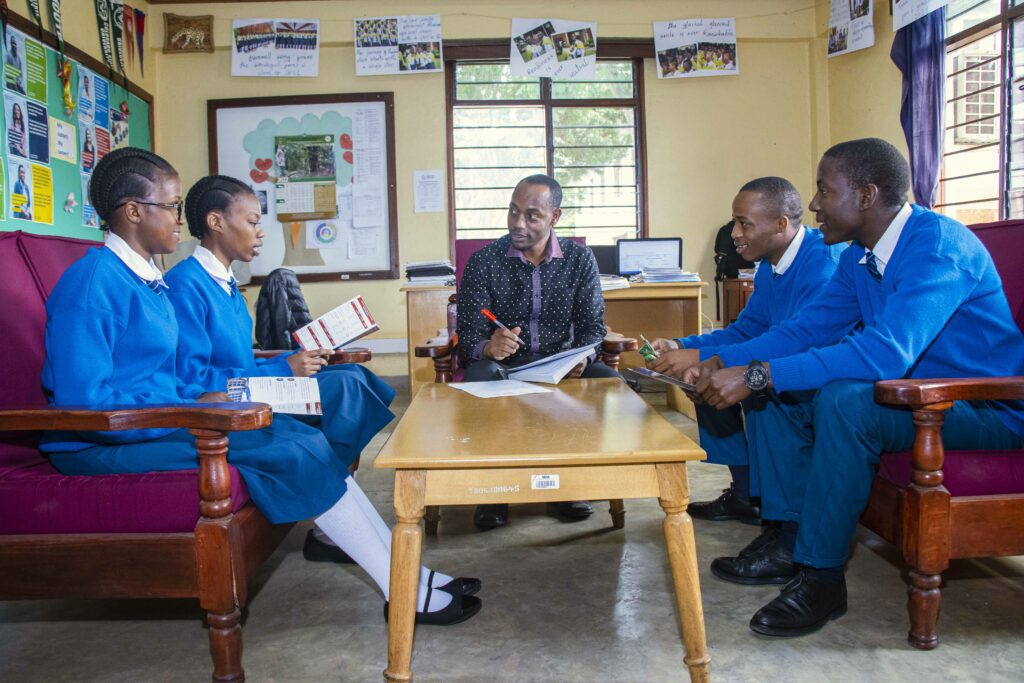 Mr Elibariki recalls, "In 2021, we had 8 industry clusters with more than 19 professional speakers."
At the upcoming 2022 Careers Day, to be held at St Jude's Girls' Secondary School, students will again have the opportunity to hear fromspeakers and ask questions. This year, for the first time, the sessions will be recorded to allow students to refer to them in the future.
In recent years, St Jude's alumni have been a wonderful resource for the Career Guidance team to inspire current students. Since the tertiary graduation of the first 24 Beyond St Jude's scholars in 2019, alumni have been sharing their experience of university life, study and entering employment with their younger counterparts.
St Jude's alumni are employed in a wide variety of fields, from engineering to community development, information technology to accounting, teaching to marketing.
With the expert advice of the Career Guidance team and the inspiring example of more than 950 alumni before them, St Jude's students are certainly receiving thorough preparation for their future careers. In a few short years, the students now in Mr Elibariki's classes will be the young professionals Tanzania needs.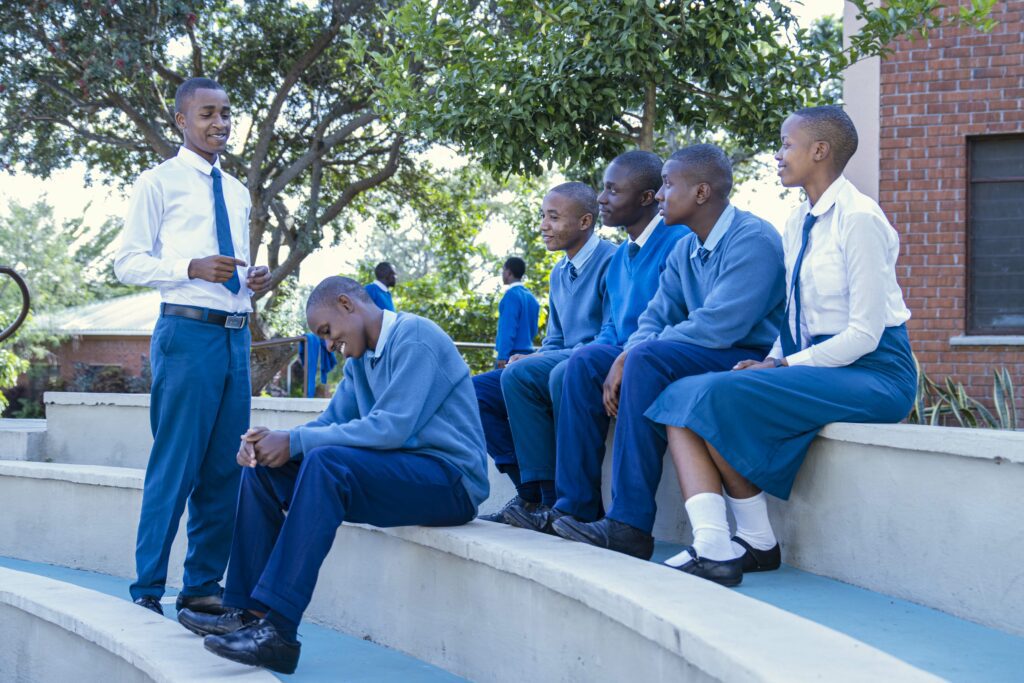 The School of St Jude has a vision for its students; an educated community of moral and intellectual leaders, fighting poverty in Tanzania. To make this vision a reality, St Jude's instils leadership skills in students from an early age, nurturing responsible and confident individuals.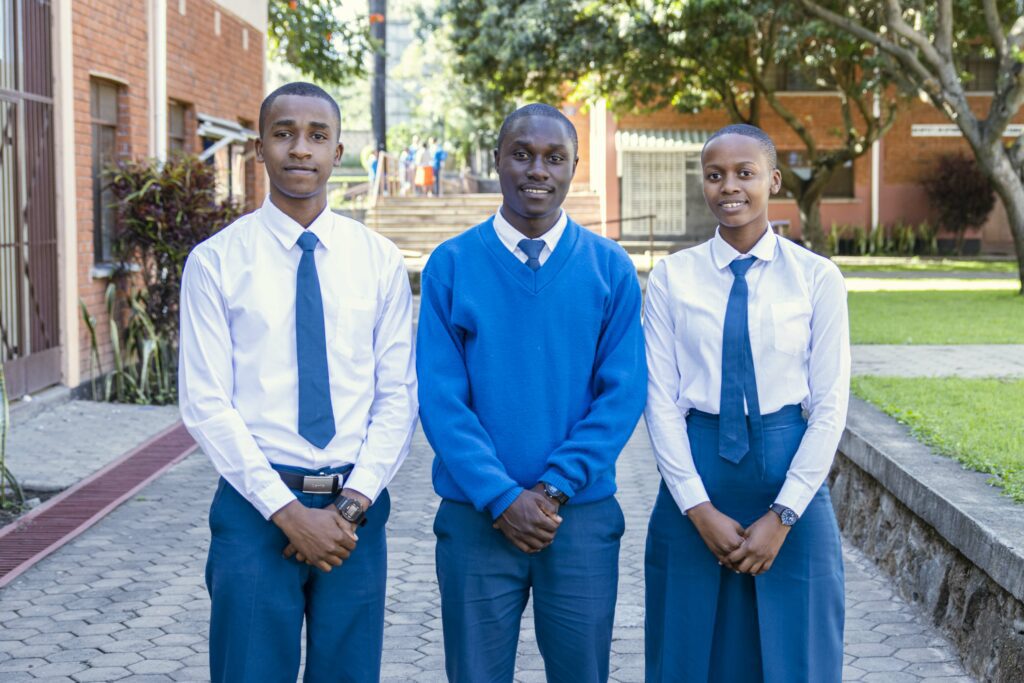 One emerging leader is Diana, Head Girl at St Jude's Secondary School.
She says, "St Jude's helps develop our leadership skills by providing and attending seminars and workshops inside and outside the campus. It also gives us the opportunity to exercise our leadership in different platforms."
"The leadership positions are not just handed to us. We have to go through an election. Anyone passionate about being a leader takes the form. Then, we go through an interview with the electoral committee, we run campaigns, then we go for elections," Diana explains.
The election process for the student leaders is open and fair. Interested students put their names forward and run for the available positions. Thereafter, students elect candidates who they think have what it takes to lead them.
"Leading means being a role model for others. As a result, I've become a more responsible individual who works hard to succeed and achieve my academic goals," Diana adds.
Each of St Jude's three schools has its own student leaders. At St Jude's Primary School and St Jude's Secondary School, there is a Head Girl, Head Boy and a variety of other prefects. At St Jude's Girls' Secondary School, it's a little different, with a Head Girl, General Secretary and other prefects.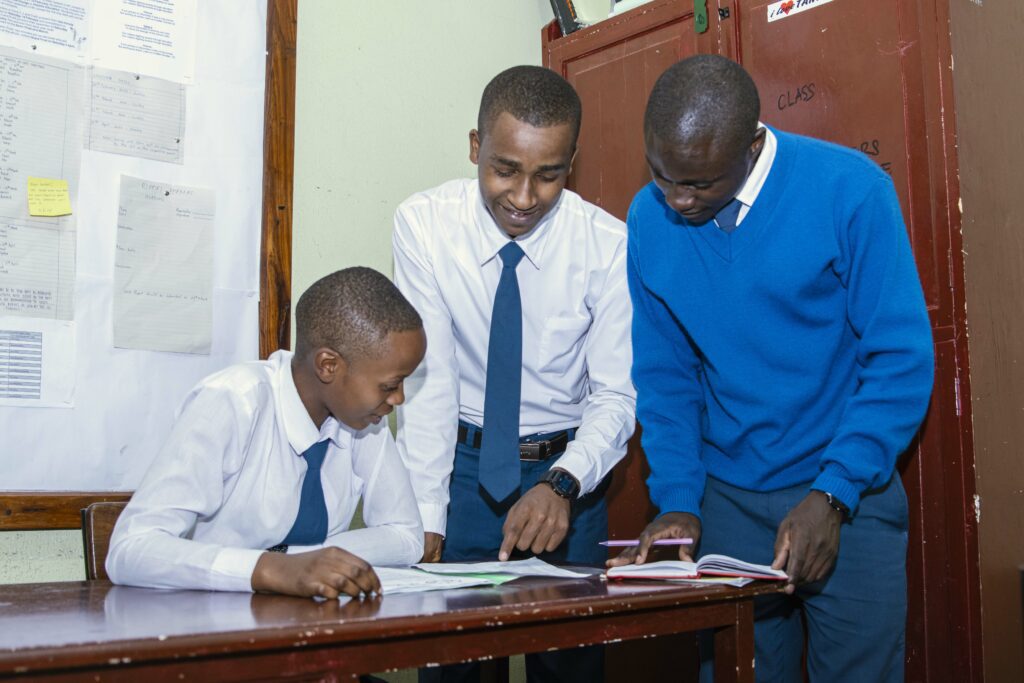 Goodluck, Head Boy at St Jude's Secondary School, appreciates the way that St Jude's encourages students to become future leaders. "From the beginning, as we enter the school's gates, the school shows faith in us and believes that one day we will become great leaders of this country," he says.
"In my opinion, a good leader should be self-motivated and self-disciplined. They must also have influence, be able to mobilise others to do good and be determined," Goodluck shares. 
Leadership plays a key role in a holistic St Jude's education. More than that, the school hopes that by equipping students with leadership skills, they'll go on to become leaders in their communities, sharing the skills and knowledge they gain at St Jude's.
Step by step, St Jude's is coming closer to its vision; a community of moral and intellectual leaders, fighting poverty in Tanzania.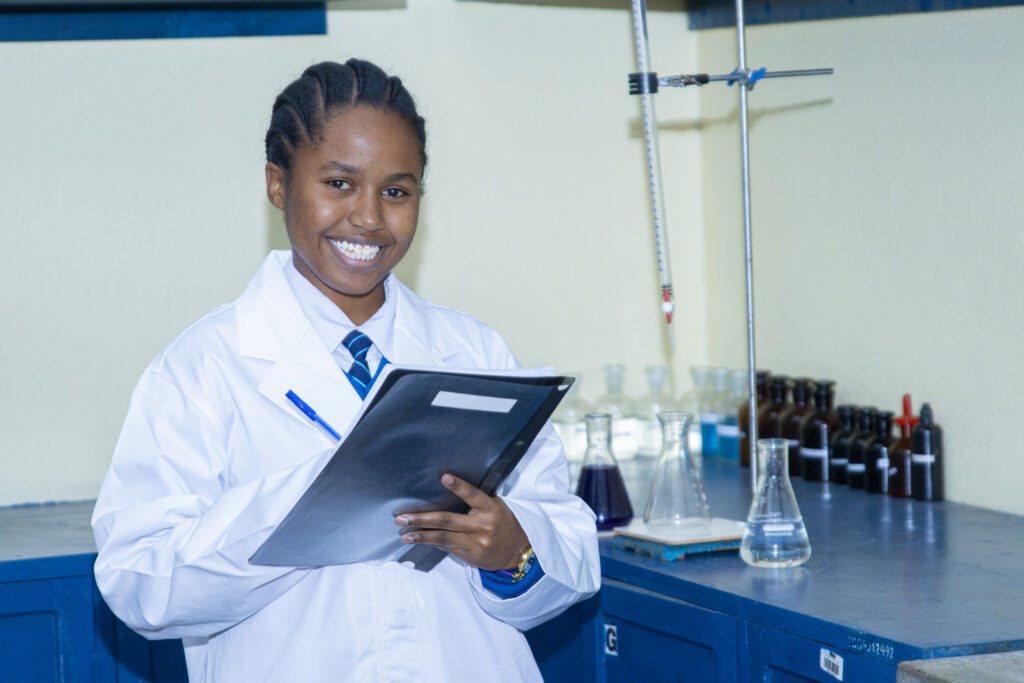 Encouraging participation in STEM (science, technology, engineering, mathematics) subjects for female students is a strong focus area of The School of St Jude. The school's well-equipped science and computer labs provide students with ample opportunities to explore their interests in STEM subjects.
Two prominent female STEM teachers, Ms Teddy and Ms Elizabeth, are important role models in motivating more female students to study science.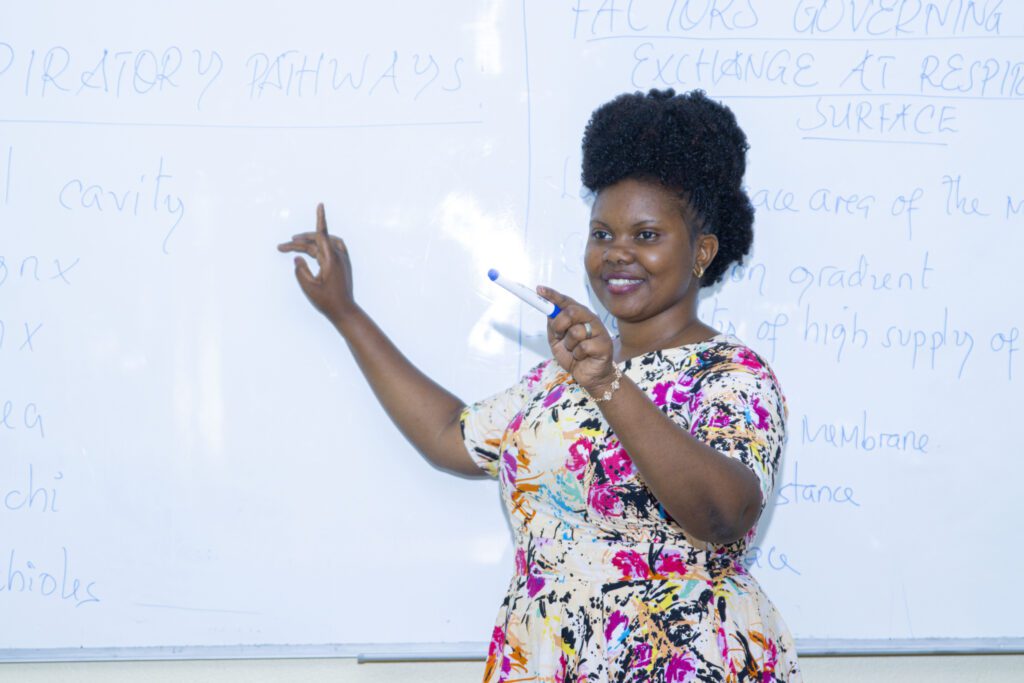 "I believe every woman can be a scientist, especially if you relate it to the current world we live in," says Ms Teddy, who teaches biology at Smith Campus.
"Careers in STEM sectors are predominantly male-dominated, but if female students are given a priority, empowered through workshops and allowed to explore science subjects from a young age, they will gain confidence to engage with the industry," she says with a smile.
In Tanzania, there are far fewer female tertiary graduates than male in the field of STEM. Only 30% of females study STEM in their higher education.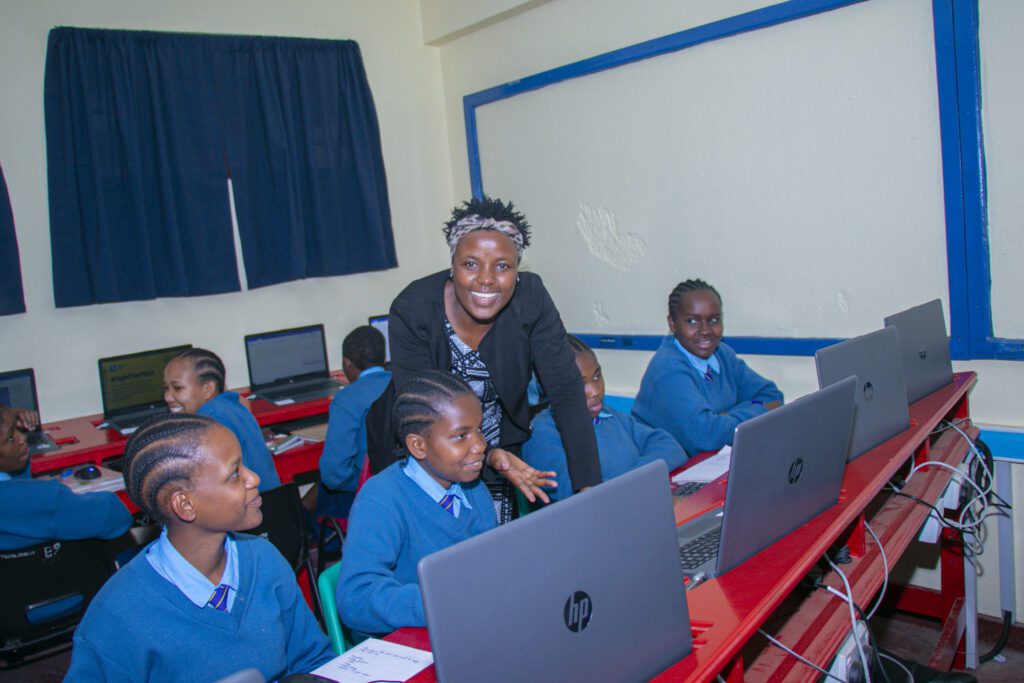 "My students at St Jude's Girls' Secondary School are encouraged to pursue STEM subjects, as it is possible. I don't believe the subjects are hard, but rather the amount of effort put in. They just need to work hard," says Ms Elizabeth, an ICT Teacher.
Challenging the notion that STEM subjects are exclusively for boys, Ms Elizabeth says, "Whether it's science or any other subject, I believe every human being has an equal chance of pursuing anything they choose."
"As a teacher, it's my responsibility to provide students with all the information they need to pursue STEM subjects and show them the career opportunities that await them in the STEM industry," she adds.
Sharon and Ester are among the best science students at St Jude's, proving that girls can excel in science if given the opportunity.
Sharon is a Form 6 student majoring in physics, chemistry, and mathematics. "Science fascinates me. Since my primary school days, I have enjoyed working on science projects."
"I have won several awards during my secondary years," says Sharon, one of the top science students in A Level at St Jude's. "In Form 4, I won the top prize at a national science competition. During the December holidays, I also participated in a science boot camp and was the first runner up," she adds.
Sharon, who would like to work as a computer programmer or in the computer software industry, actively encourages younger students to pursue science subjects.
"I am currently in Form 6 and am about to complete my secondary education. One piece of advice I would give to younger students is not to give up on science subjects. If they love science, all they need is the dedication to succeed," she explains.
In the Tanzanian education system, students must choose a combination of subjects between science and mathematics or humanities when they reach Form 3, the third year of Ordinary Level (O Level). The choice of their combination of subjects then determines what degrees they can study in higher education and what their career path might be. So, choosing science at this stage of their education is a pivotal moment.
"Women make better scientists because they are more careful and more determined," says Ester, a Form 4 science student.
"I like science because I want to one day become an engineer," she eagerly states.
"I still have a few years left to complete my secondary education, but one thing I'm learning is that studying science is about commitment, hard work, and following your passion," she adds.
At St Jude's, students like Sharon and Ester receive many learning resources, well-equipped science and computer labs and support from inspiring female teachers so they can reach their full potential of becoming future scientists.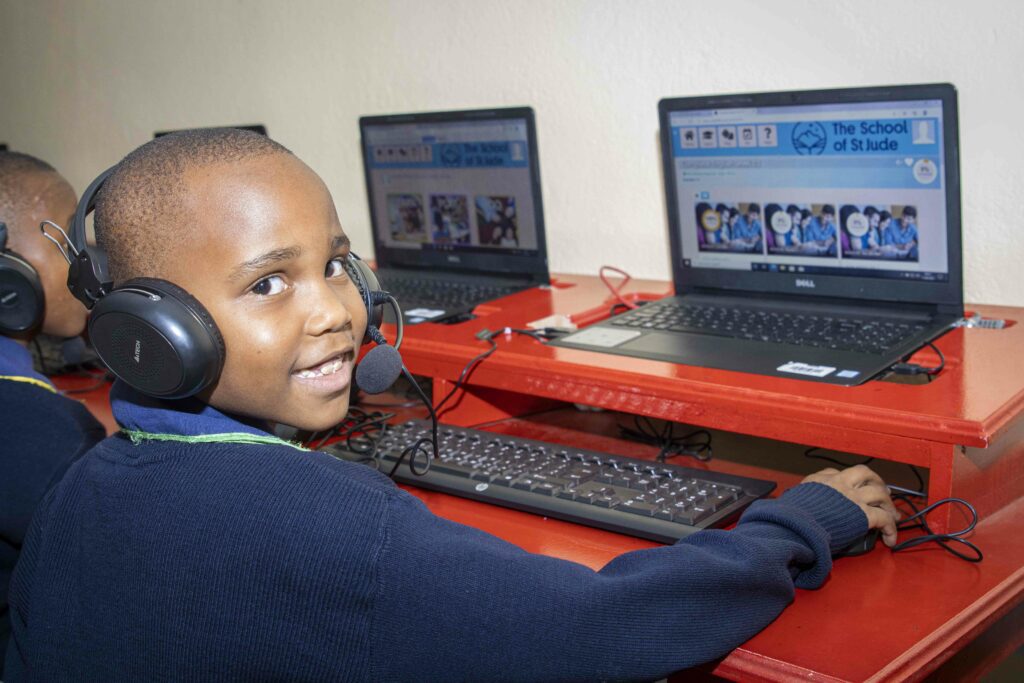 "Education can free anyone from poverty," says Ms Helen, primary teacher. She teaches social studies and civic and moral education to Standard 3, 4 and 6 students.
January 24 each year is the International Day of Education. Led by UNESCO, the day aims to highlight and promote every human's fundamental right to education. And in celebrating this day, Ms Helen believes that good quality education has the power to help end poverty.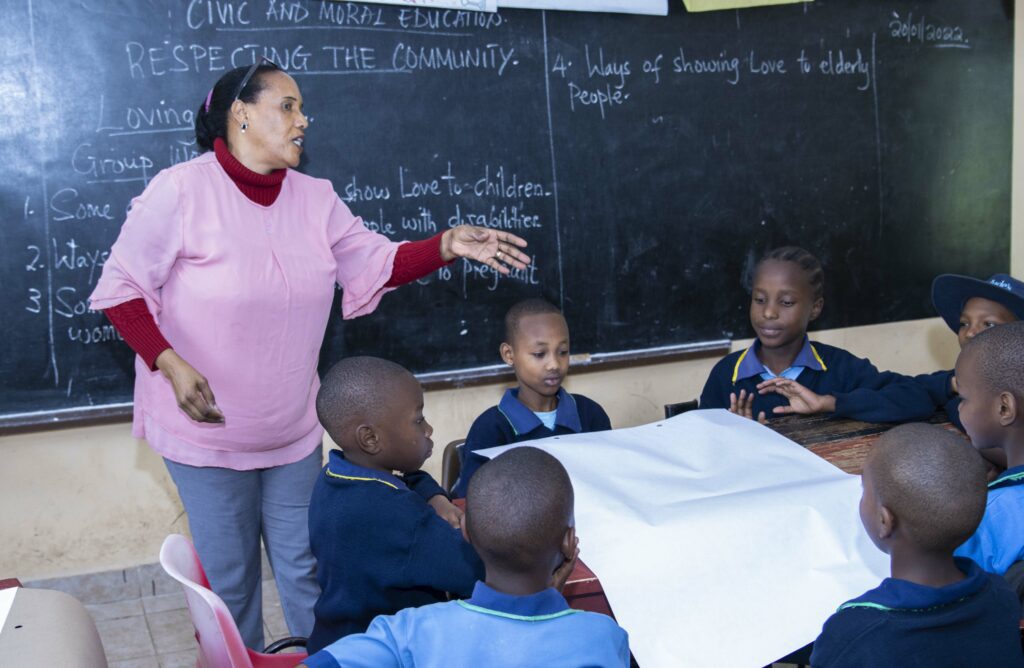 "Education enables students to develop different skills, such as critical thinking, creativity, and problem-solving. To be able to help their society and lift themselves out of poverty, students need to develop these skills," Ms Helen explains.
In Tanzania, about 60,000 students drop out of the lower secondary schools per year, of which 50% are girls.
The School of St Jude empowers students to become community-focused leaders who challenge the status quo and find solutions to assist Tanzanians living in poverty.
"Education is important for changing people's perceptions. This is especially important when it comes to gender equality in education. For example, women in our communities still believe that a woman's place is at home. But as awareness increases, this mindset is slowly changing when it comes to increasing the number of girls attending school," Ms Helen states.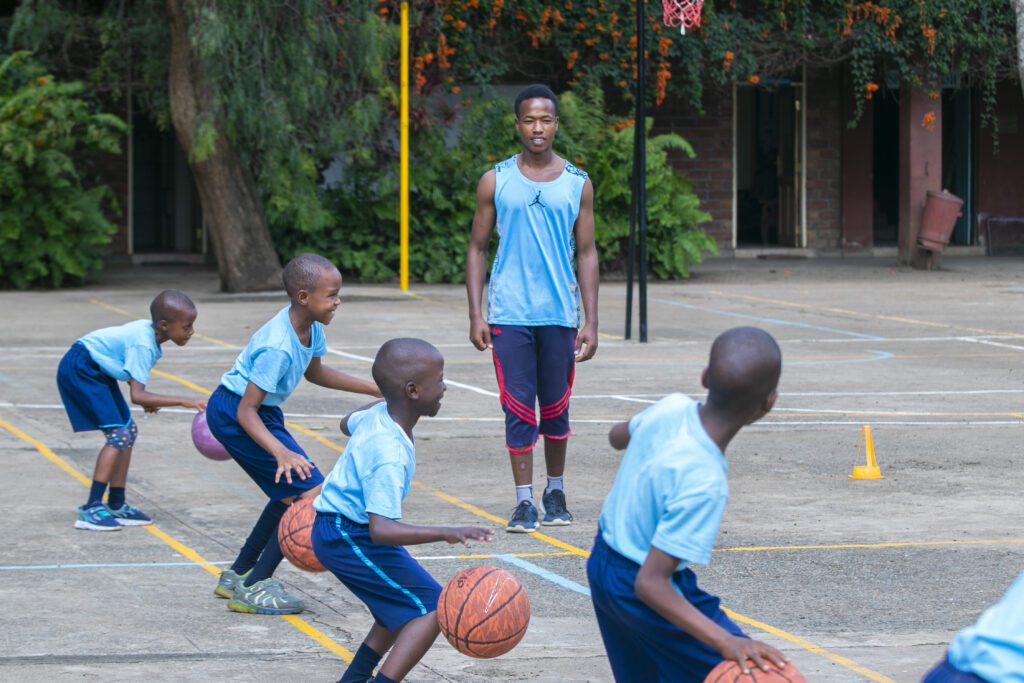 Attesting to the importance of education is Daudi. He has recently finished Form 6 (A-Level) and is now volunteering as a PE teacher in the primary school and assisting the Social Impact team through the Beyond St Jude's Program (BSJ).
"Because of the free, quality education I received here at St Jude's, I have the confidence to stand and speak on my own and to make informed decisions," says Daudi.
In BSJ, Form 6 (A-Level) graduates can volunteer through a Community Service Year (CSY), and then get the funding they need to continue onto higher education.
"My goal is to major in project planning management or agriculture in university. I believe the two majors will assist me not only in the job market but, I can also be an entrepreneur and hire other youth from my society, thus providing them with a path out of poverty," Daudi adds.
"To be educated means to get the knowledge and information so that you can go back to your community and solve the problems they are facing. Our country doesn't just need graduates, it needs problem-solvers."
St Jude's strives for academic and moral excellence. The school promotes a holistic education so students can develop self-confidence and broader world views to become future leaders in Tanzania.
"Education transforms lives, and I am a living testament to that," says Geovin, a Form 3 student who recently placed first out of 600,000 Tanzanian students in the Form 2 National Examinations last year.
"Because of the good education, I'm receiving at St Jude's, I am now more focused and interested in finding ways to solve my community's problems. This is an important step towards eliminating poverty," Geovin adds.
With three-quarters of Tanzania's school-aged children not in secondary school and unable to access skilled employment, St Jude's encourages students to fulfil their academic potential and develop leadership qualities to lift their communities out of poverty.
A stone's throw away from The School of St Jude's original building, stands a crowd of people. They chatter quietly amongst themselves, anticipation rife.
It is the morning of the 10th of January and the crowd are gathered to officially open St Jude's Girls' Secondary School.
The pounding of the drums begins and the school choir launches into a beautiful rendition of the Tanzanian National Anthem. Approaching up the pathway is School Founder, Gemma Sisia, accompanied by His Grace, the Archbishop of Arusha, Isaac Amani, and the Honourable Adelardus Kilangi, Attorney-General of Tanzania – who began driving at 1am in order to be the guest of honour at the ceremony.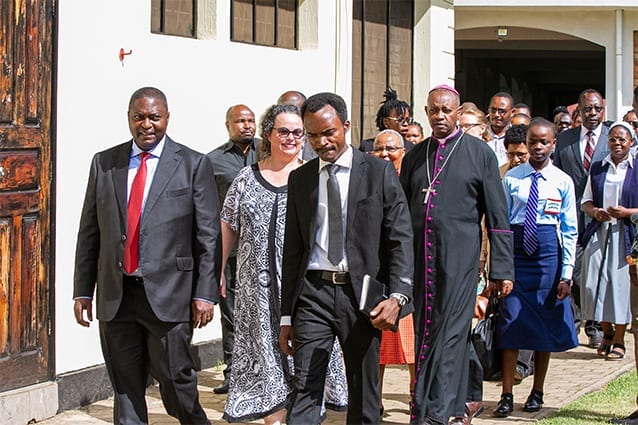 Behind them walk parent representatives of St Jude's students, members of the school board and academic management and their families. They are walking towards an archway decorated with white tufts of fabric made to resemble flowers. Stretching across this archway is a yellow ceremonial ribbon – the entrance to the new girls' school.
Academic Manager, Mr Mcharo steps forward, "I would like to invite our School Founder, Gemma Sisia, to speak to you all."
Gemma takes the microphone, gazing out at the audience.
"We opened this school back in 2002 with three kids," she says, pausing to gain her composure, jokingly pretending to hit herself to stop the tears that are welling up. The audience laughs.
"We would never have got here without the incredible faith and generosity of our sponsors and donors, the unbelievable commitment of our staff and parents and, of course, our students."
Archbishop Amani steps forward to bless the school and the audience, heads bowed.
Finally, the moment the crowd has eagerly been waiting for – the unveiling of the sign and the cutting of the ribbon. This historic gesture has been given to Attorney-General (and Professor) Adelardus Kilangi.
Professor Kilangi cuts the ribbon with a smile, the crowd cheers, and the school is officially open.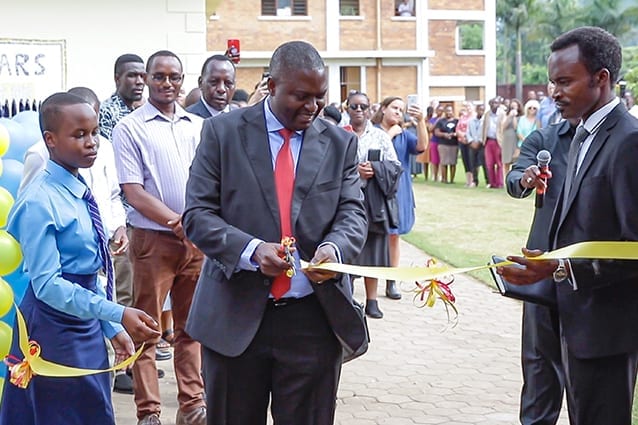 As the honoured guests, staff and choir walk up the new footpath and around the bend, they are greeted by the entire student and staff body of The School of St Jude – over 2,000 people in total. They sing and cheer as one.
As everyone settles into their seats, the speeches begin, Professor Kilangi steps on to the stage, invited to give a keynote address.
"When I first came here to St Jude's I saw faces full of hope," says Professor Kilangi to a silently attentive audience.
"Great dreams become a reality if you work hard," he continues. "If you don't work hard then they will only remain dreams."
"The formation of the intellect is the most noble thing you can do. So make sure you work hard, study hard and you will achieve."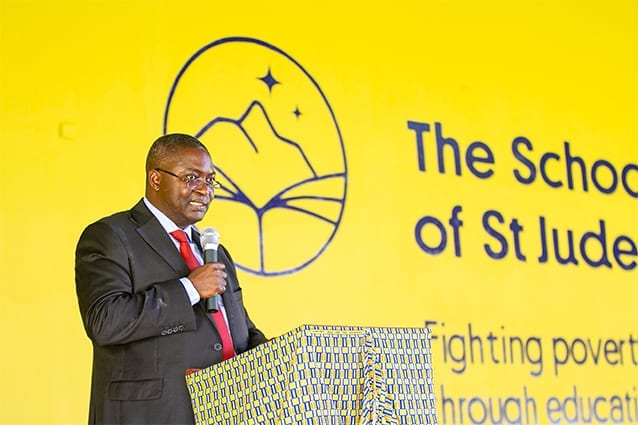 Professor Kilangi looks at the students and pauses, before saying with the hint of a smile, "I'm talking to you kids! What did I say?"
"Work hard! Study hard! Achieve!" the students chorus in response.
The ceremony concludes, with a communal lunch next on the agenda.
Underneath the beating African sun, students, teachers, special guests, visitors, sponsors and donors sit side-by-side. Their plates are full of food and they talk about their dreams; they laugh at jokes, exchange stories and reminisce about the past.
These conversations, full of hope and laughter, are the kind of conversations that can only be had at the beginning of a new year, and the beginning of a new era.
Help St Jude's continue to take bold steps by donating today.