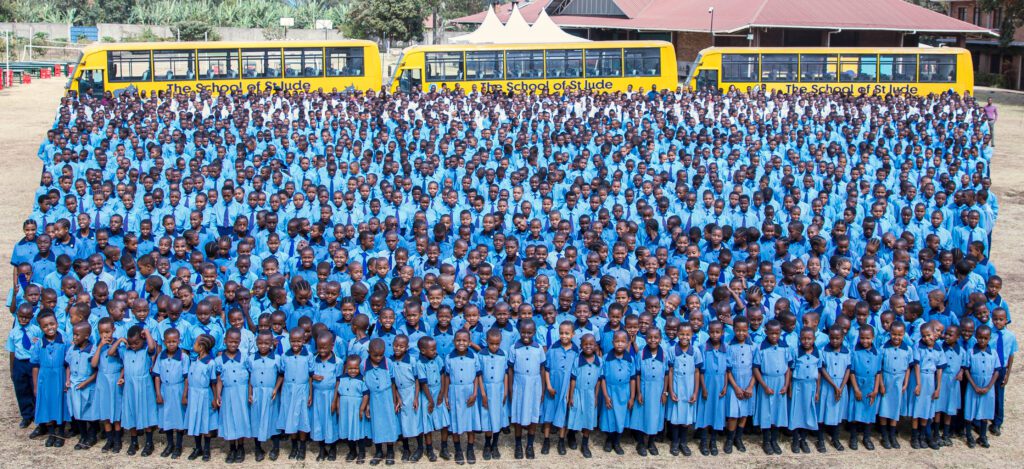 It is 28 October 2022 at The School of St Jude, Sisia Campus. Despite the cloudy weather, the school is particularly vibrant and lively on this Friday morning. Colourful hangings, banners and balloons decorate the dining hall and music can be heard in the air.
Today is a celebration.
"St Jude's Day is one of the events on the school calendar that I always look forward to," says Jasmine, a Form 6 (the final year of secondary school) student. "It is the day that brings everyone together as one big family," she adds.
St Jude's Day is a special day to honour Saint Jude, the patron saint of desperate and lost causes for whom the school is named. It has been a tradition over the years to celebrate this day as a community. So, students and staff from all three schools converge onto the one campus for this day.
The first activity of the day is a whole school photo. In a huge logistical effort, everybody assembles on one of the sports fields to pose for a photo, lining up from youngest to oldest.
"When I first started at St Jude's I was one of the students in the front row," recalls Jasmine. "This time, I was one of the students in the back row. That's how far I have come!" she reflects.
After the photograph comes a thanksgiving mass, during which students and staff alike make offerings of donated goods.
"On this day we exemplify the school's culture by extending the gift of generosity to other people in need," explains Goodluck, Head Boy at St Jude's Secondary School.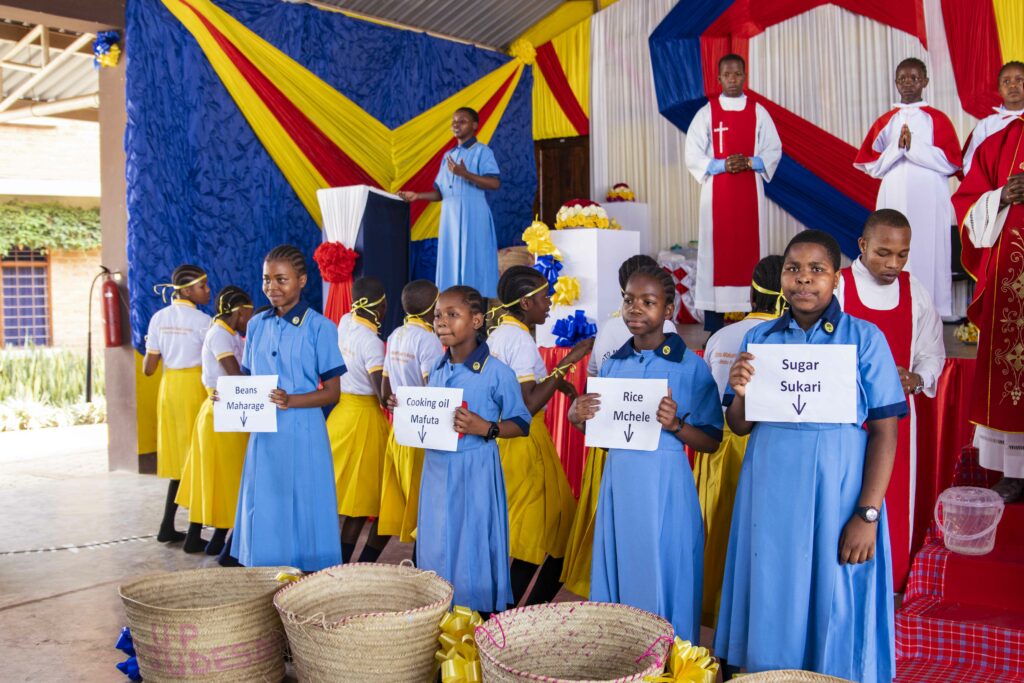 This year's St Jude's Day, Goodluck and his fellow student government leaders led the initiative to help elderly community members cope with the rising cost of living. Together with donations from generous international supporters, the student government created St Jude's Day Essentials Packs, a special package consisting of a variety of staple food items for the elderly in need. In the weeks leading up to St Jude's Day, Goodluck and fellow student leaders spearheaded the campaign and raised enough to cover 400 packs of St Jude's Day Essentials Packs for the elderly in need!
The St Jude's Day Essentials Packs will be distributed to the elderly on 12 November 2022. It will be a full day of social interaction where students from St Jude's will share conversations, stories and laughter whilst having lunch with the elderly.
"I would like to offer my sincere gratitude to everyone who joined our efforts by donating a St Jude's Day Essentials Pack," says Goodluck. "Because of your generosity, hundreds of elderly people in need will experience joy and relief in rather challenging times."
After a celebration lunch, the afternoon of St Jude's Day is dedicated to students' presentations and awards. Students from all year groups took to the stage to compete in various performances from traditional dances to drama. Demonstrating their love for St Jude's and its values, each performance evoked laughter and cheer from the audience.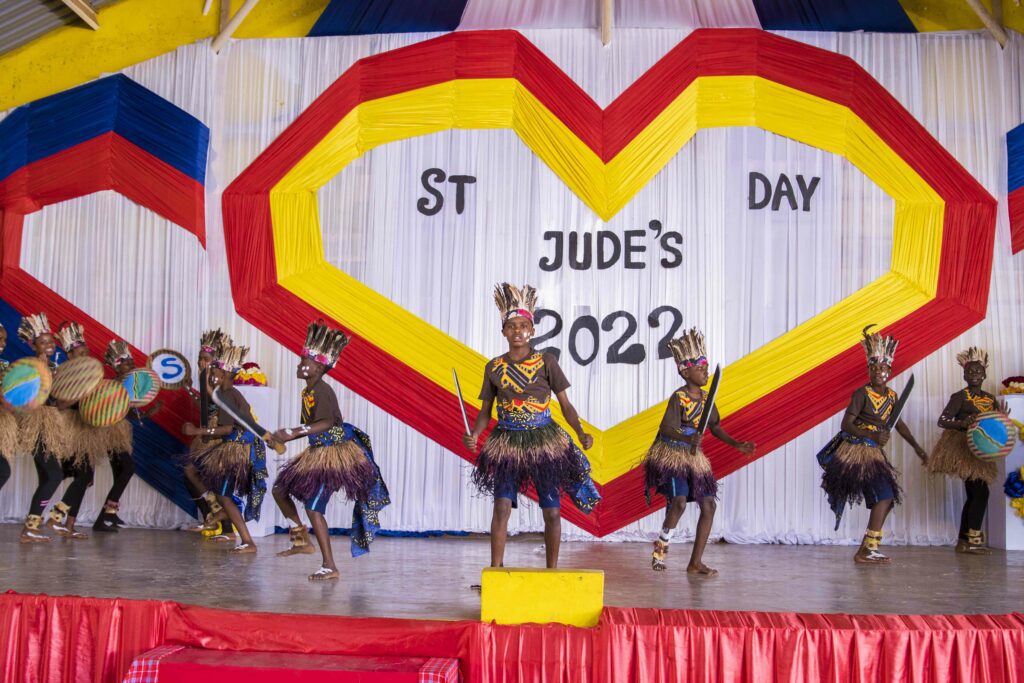 The 2022 St Jude's Day was capped off with a thrilling football match between staff from Sisia Campus and Smith Campus. On this occasion, staff from Smith Campus emerged with an emphatic victory over their Sisia counterparts.
The School of St Jude has come a long way over the last 20 years. As a community, St Jude's Day is an occasion of thanksgiving and togetherness and exemplifies the spirit of giving to those in need.
Sarah first landed in Tanzania almost a year ago to spend six months volunteering on an entrepreneurship program in rural villages. 
Inspired by the power of working with and not on behalf of Tanzanian communities, she jumped at the chance to use her marketing experience at St Jude's in October last year.  
"I fell in love with Tanzania. Being from the UK, I hadn't heard of the St Jude's story in as much depth as the Australian population."
"Being at the School has opened my eyes to what an incredible organisation this is." 
"I want to impact how we communicate the achievements of St Jude's and our students in new and exciting ways. I want a global audience to hear about the outcomes we have in raising communities out of poverty."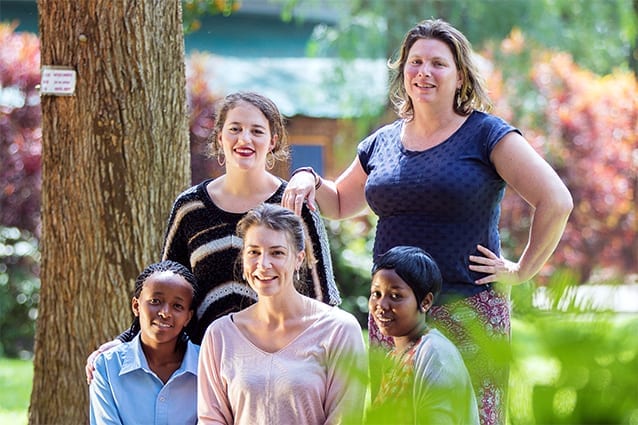 Equipped with eight years' experience in the charity sector, Sarah believes working at St Jude's provides a unique opportunity to live and work on the site of an international project which, every day, changes lives.
"You can see the progress of the people we support, from the youngest students, to those completing secondary school. And, with the development of Beyond St Jude's, graduates giving back through a Community Service Year and going on to university."
In the four months since Sarah started working at St Jude's, she says her life has already been changed. 
"There have been some incredible experiences so far. Uniform Day was very special, but St Jude's Day was my first experience of the whole school and local community coming together. The feeling of unity and celebration was indescribable."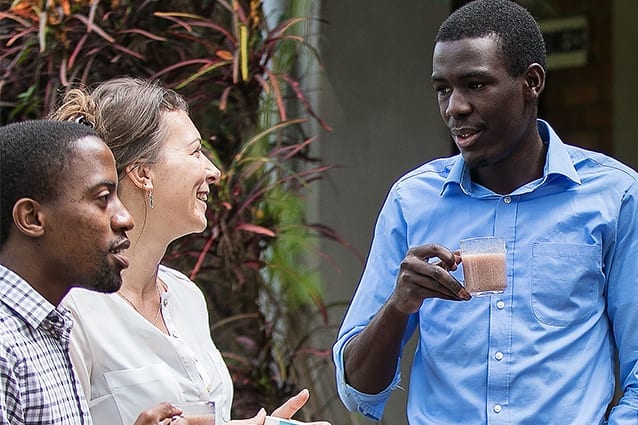 "In the Marketing team, we want to communicate how wonderful St Jude's is with as many people as possible around the world. To convey the same feelings I have when stood among our community — hearing the songs, watching the dancing, eating school lunches and the buzz of weekly assemblies. I want everyone to share those experiences." 
Life in Arusha may be vastly different from Cambridge, Sarah's hometown, but the bustling, mountainside city lends opportunity for international staff and St Jude's visitors to explore some of Tanzania's breathtaking sites. 
"Arusha is very green, and I love that it's in the foothills of Mount Meru, which you can always see. It's majestic."
"It's also a convenient place to live. The shops are good, transport is efficient, the climate is great. There's a wide range of local and international cuisine to try." 
"The truth is, I can't think of many challenges I've faced [living in Arusha]. St Jude's immediately felt familiar to me. I love that the commute between my house and the office takes about 40 seconds."
"It is a privilege to be in a situation where I can walk outside the office doors and speak to students, teachers, fellow workers, and to Gemma, the organisation's Founder, about what we do."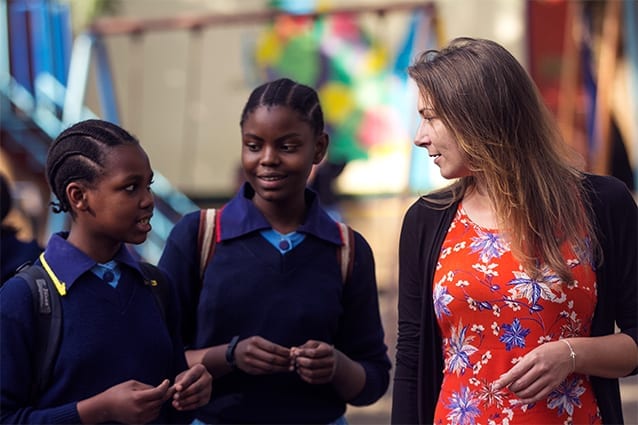 A word of advice for anyone considering applying for a position at St Jude's?
"Working at St Jude's ticks so many boxes. You can be part of a large not-for-profit with more than 300 staff, and it's one of the few chances you'll get to work in an international development organisation onsite at the cause." 
"If you are someone who values new experiences, adventure and philanthropy, then this is a great opportunity for you. Hurry up and get here! You won't regret it."
Tides are shifting at St Jude's and there has never been a more exciting time to join the fight against poverty through education. What are you waiting for? Check out our current vacancies and apply for the role of a lifetime today!
Intelligent, determined and articulate, Jenifa represented St Jude's at Nelson Mandela University's 'Women and Girls in Science' workshop. 
The Form 4 advocate hopes to empower African girls by defying gender stereotypes and advocating for education rights.
"I was in physics class when my teacher, Mr Mcharo, told me I was nominated to attend the workshop. The motto was 'Say No to the Kitchen', which I loved."
"We met young women working in many industries. They were very inspiring, encouraging us to pursue our career paths in the future," Jenifa enthused.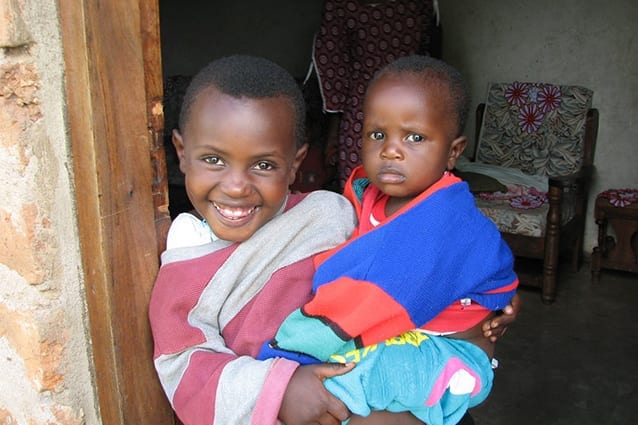 "My favourite subjects are physics, chemistry and mathematics. Many girls in Africa are kept inside the house instead of attending school. It was really wonderful to meet girls at the seminar who are being educated." 
According to New African Woman Magazine, it will take 80 years for workplace gender equality in Africa to be achieved.
Jenifa, the only daughter among three children, is adamant she won't conform to gender stereotypes. 
"I want to be an aeronautical engineer when I finish school. I want to be a leader."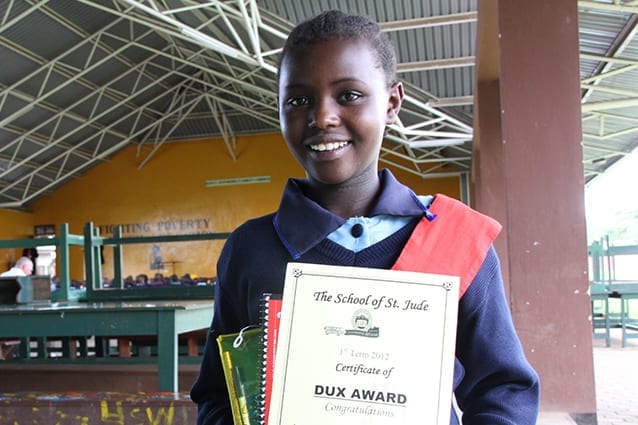 "My favourite memory of all time was scoring the highest mock exam results out of all the girls in Arusha. I was not expecting that!" 
In addition to her academic gifts, Jenifa enjoys public speaking and knows she can use her voice to make a difference. 
"I am still so young, but I am passionate and excited. I would like to be a strong woman, like Mama Gemma or Oprah Winfrey. They have both started schools in Africa. They definitely said no to the kitchen!"
"I have admired Oprah since first learning about her in Standard 7. She makes people feel like they can be successful and study anything, despite their background," she said.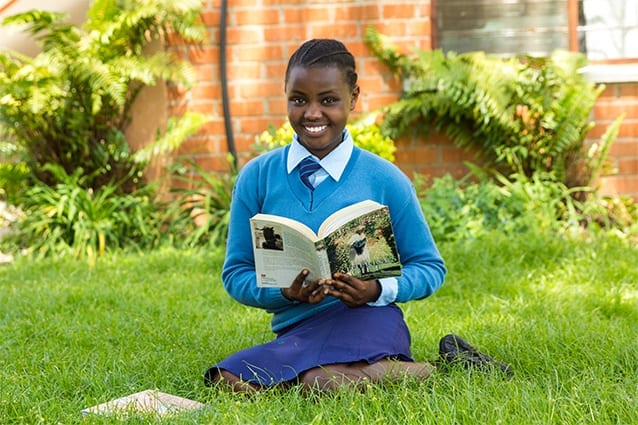 Jenifa dreams of meeting the philanthropic media mogul in the future, and thanking her for inspiring young African women. 
"Just imagine if I saw Oprah walking towards me right now… I would be so excited! I would like to tell her to keep on with the same spirit; to keep empowering young girls to create a better world." 
Indeed, with a St Jude's education behind her, Jenifa is in the position to craft the future she desires for herself and her community. Already, she's flying high.
Do you want to help empower young leaders like Jenifa? Donate today.
Gift is one of Beyond St Jude's newest Community Service Year interns, serving his community as an assistant physics teacher at a local government school.
The Beyond St Jude's program is an optional stepping stone for St Jude's graduates. Those who choose to participate demonstrate leadership and generosity as interns in our school's business office, library, boarding houses, Visitor team, entrepreneurial program, or by teaching in under-resourced government schools.
St Jude's students don't take their gift of a free, quality education for granted. Gift is one such graduate, whose sense of service is innate.
 "I studied at this government school previously, that's why I enjoy giving back!" the aspiring electrical engineer said.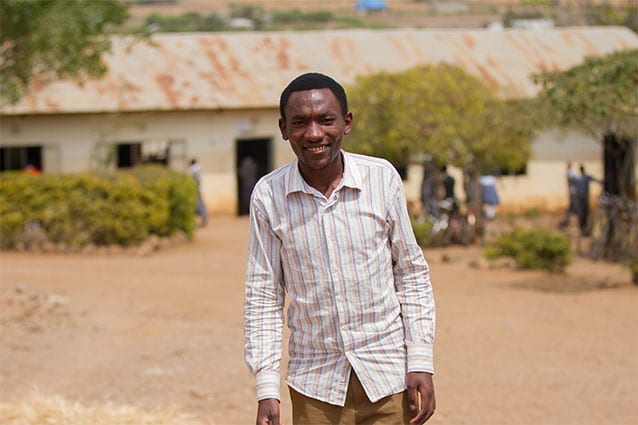 "I joined St Jude's when I was in Form 5. When I was a student at this government school, I taught Form 4s mathematics in my spare time," he explained.
"Volunteering at my old school was what I wanted from the beginning. I decided to use this one year before university."
It takes Gift 45 minutes to walk from his home to work. In total, he's responsible for 182 students; Gift's largest class has 68 pupils in it.
"There are big differences between this school and St Jude's," Gift remarked.
"We only have 43 teachers here, but at St Jude's, we have many more, and more resources as well. I loved the learning materials. St Jude's really expanded my knowledge."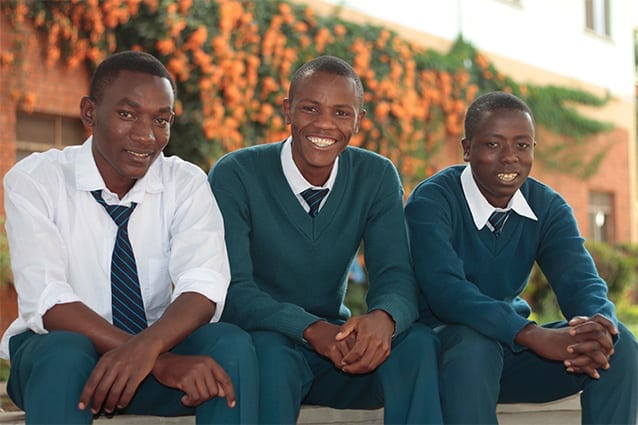 Gift hopes to nurture as many young scientists as possible during his Community Service Year.
"Sciences are key subjects because, in our country, these are important skills for employment."
"In government schools, we have a lack of science teachers. So, I will use this year to help the students achieve their goals. I know I can't do it 100%, but I know they'll appreciate my efforts," Gift said.
Being a teacher himself has also increased Gift's appreciation for St Jude's staff.
"When I came from a government school to St Jude's, I didn't know much English, which was a problem. During the activities at St Jude's, we learnt how to speak; we had to persevere. We learnt by speaking to our friends and teachers."
"Mr Meshack, a physics, ICT and mathematics teacher, was my favourite. I try to be like him. He encouraged me to face and solve any problem with maths. Because he did well in Form 6, he was counselling us to study. He was trying to help us learn to find resources in books, and how to work hard," Gift gleamed.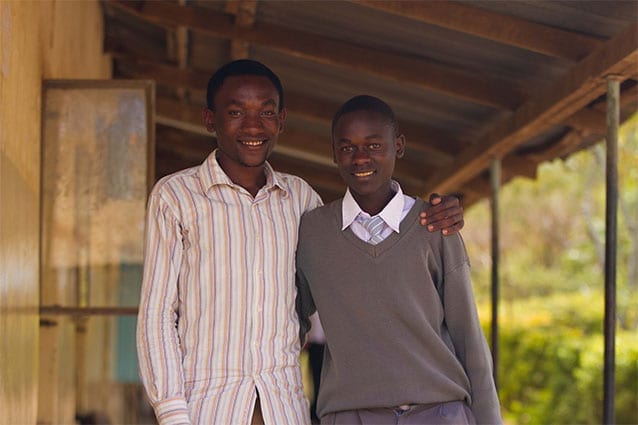 Through his giving, Gift's family has received abundantly. In fact, one of Gift's current students is his own brother, Ioishock!
"It is very nice having my brother as my teacher. I dream of becoming a teacher one day," Ioishock said.
Gift is proud to guide his brother through his schooling. 
"In the future, I expect I will help my family to achieve a lot!" He insisted. 
The 'Gift' of an education is one which keeps giving. If you'd like to sponsor a Beyond St Jude's participant, please email sponsorbeyond@schoolofstjude.co.tz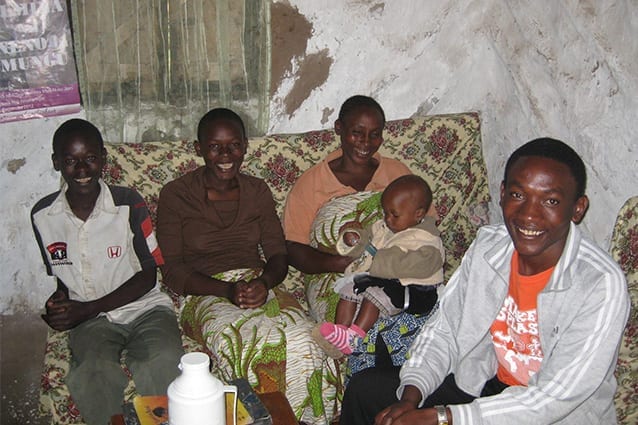 Meet Valentina. If you are a sponsor, you may already know her cheery tone and revel in her exciting emails announcing student awards.   
Commonly known as 'Vale', the superstar Sponsor Relations Assistant has worked at St Jude's for over 12 years!
The amazing mum-of-three young boys started working at St Jude's in 2004 as a cleaner. She spoke little English, but harboured big dreams and has now secured her place as a business office hero! 
"I worked for one year as a cleaner and after that, my supervisor chose me to become the Head of Cleaners," Valentina said. 
"After five years as the Head of Cleaners, I started going to secretarial classes at night. Around this time, a position in the Sponsorship Team was advertised and I decided to apply," she said. 
"An international staff member, Joanne, said to me, 'Vale! Wow, you applied for the Sponsorship position. That is wonderful!'"
"I said to her, 'I will try my best.'"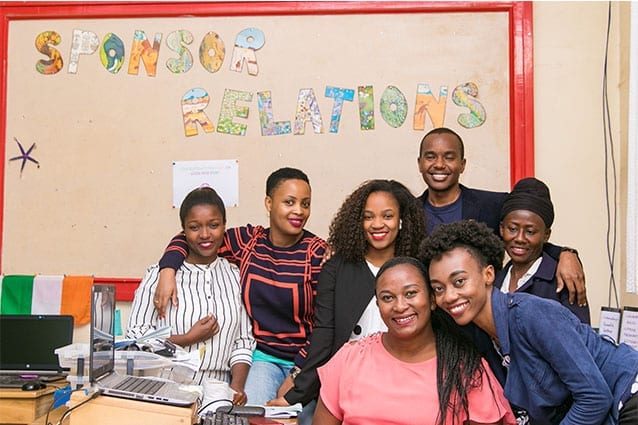 The rest, as they say, is history. 
"I was so excited when I started in the office. It was hard to communicate at first, but the international staff were so funny! At lunch and tea break, they would ask me for advice. They trusted me," she reflected. 
Eight years later, Vale continues to thrive.
"Sometimes now, people joke that I have been here forever. But, I have no need to go away. This place has taken me from nothing, to something," she said. 
And it's not just our school that Vale loves. It was here that she met former St Jude's bus driver, Herman, her now husband and father of her sons.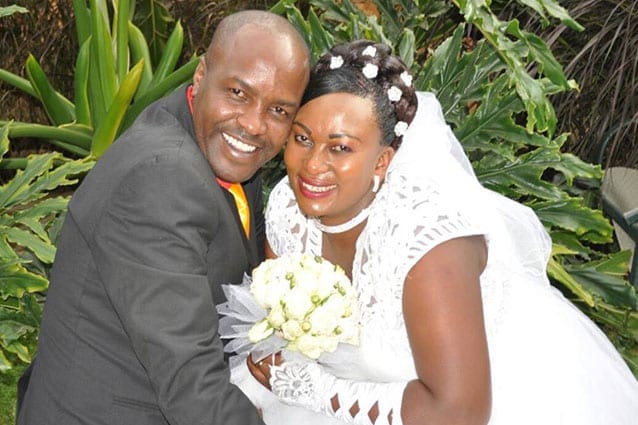 "I was still a cleaner when I met Herman," Valentina said. 
"He was very shy. He took my phone number from another driver and when he called me, at first, he refused to speak. One day, he had the courage to call again and invited me to meet his family. He said he loved me," she giggled. 
"We have been together for more than ten years." 
The School of St Jude's ripple effect flows far and wide; working at St Jude's has helped Vale provide for her family. 
"Because of this school, my kids can also get a nice meal and education, as I can pay school fees. We are getting a good salary. I love Mama Gemma and the sponsors. They are helping this community, my country, and me too."
Vale's come so far, but she's still dreaming, daring and doing. 
"This month, I will start a certificate in Procurement and Supply at university. Then, I want to do the diploma and later, the degree. St Jude's is helping me so much. I am confident."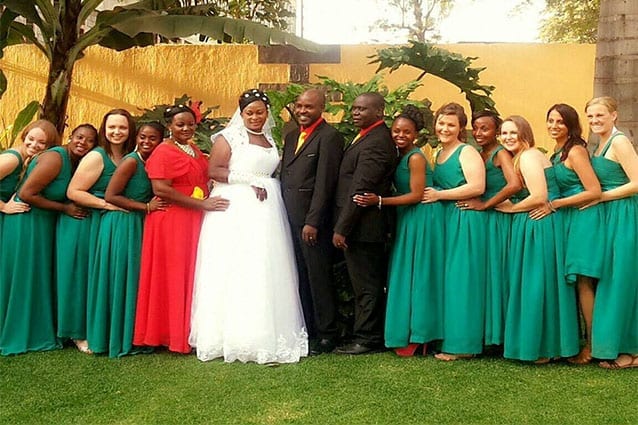 It's been 12 long years, but Valentina hopes this is still the beginning of the journey.
"This school was my very first workplace. It is the best place to work and I'll stay a long time — I wish to stay even 20 years!"
Check out our current vacancies if you'd like to join Valentina and the St Jude's staff!
Thrill-seekers and animal lovers traverse the globe to catch a glimpse of Tanzania's tembo (elephants). Sadly, these majestic creatures face extinction as targets of ivory poachers.
A group of St Jude's secondary students is committed to stamping out tembo terrorisers by raising awareness about poaching in the community.
Tembo Club was started in February by impassioned student activists, who boldly approached their teachers with the desire to save one of Tanzania's national treasures.
"Poaching means we destroy natural resources that are beneficial to us. And of course, elephants have rights, so why shouldn't they just live?"
"People think that conducting the black market of ivory is a good thing because they can get furniture. It's a disappointment," said Tembo Club President and Form 6 student, Christina.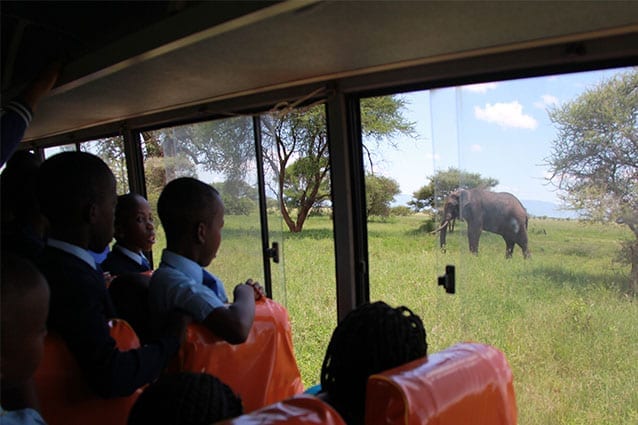 The students are right to be disappointed and concerned. Tanzania is one of Africa's poaching hotspots. Between 2009 and 2014, the illegal activity reduced Tanzania's elephant numbers by 60%.
"This is a big problem. If there are no more elephants, it will lower the status of our nation," said Tembo Club Chairman and Geography teacher, Mr Fauz.
"We are the ambassadors for Tanzania. Protecting the natural resources of any country is an important thing to do. So I am proud to be one of them," Christina said.
The club meets twice monthly. So far, 36 students and four teachers are a part of group, but this number is set to increase.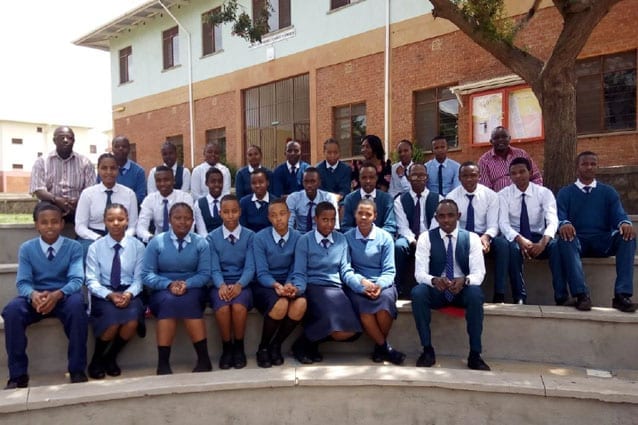 "Most students wish to join our club, although we limit the number and I'm sure even though they are not members, they are motivated to do something like what we are doing already," Christina said.
Nickson, Emmanuel and Nasra are three enthusiastic members of Tembo Club.
"I have a passion for art and this is one of the ways I can express my opinions to society. It can trigger someone to care about poaching," Nickson expressed.
"We have good resources, good teachers, good mentors and good members among us. I can't even express how glad I am for this group," Emmanuel beamed.
"The best part is conserving the environment, telling people more about wildlife and how precious wildlife is to our society," Nasra said. 
Deputy Chariman of Tembo Club, Mr Elias, believes the students' efforts will have a widespread impact, thanks to their opportunities at The School of St Jude.
"With the support of the international community, we can all make a difference by saying no to poaching and saying no to buying products made from elephants."
"We want the ivory market to be blacklisted and to disappear. If the market flourishes, the killing will continue. This is done by the very richest people in big business, so it requires a collective voice to say no to poaching," Mr Elias said.
Pay us a visit and learn more about Tembo Club. You might even get the chance to see some tembo in Arusha's beautiful national parks!