Down a small, windy dirt road in Sakina, Arusha's booming industrial area, the buzz of machinery and the smell of fresh wood filled the air.
The latest requirement for The School of St Jude, new chapel pews, are being constructed by local carpenters employed thanks to the school's investment in the local community.
Sam's Workshop is one of the local fundis (the Swahili word for tradesmen) who benefit from the 'ripple effects' of the day to day running of St Jude's. They build and repair the hundreds of desks, benches and equipment needed to operate the primary and secondary campuses.
'By having business from St Jude's I am able to employ extra local guys and it gives us work, company owner Sam proudly said, while examining the work.
It is estimated 70% of Tanzanian's live on less than AUS$2.50 a day, meaning every job makes a difference.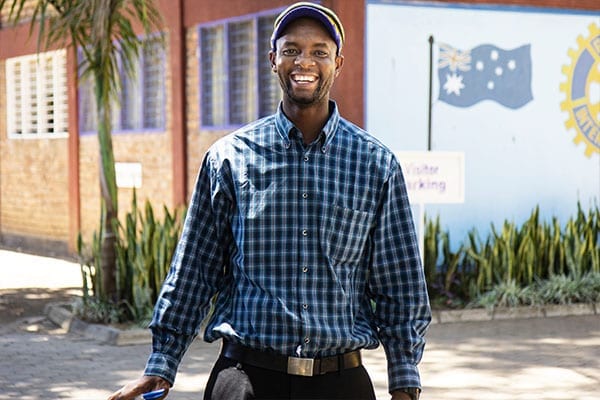 Economic Impact: Head of Maintenance and Facilities, Amani, is proud to give back to the Arusha community through local employment & investment.
Amani, Head of Maintenance and Facilities at St Jude's, explained that as the school continues to grow, so too does the positive impact on the local Arusha economy. By choosing to buy local over purchasing from a larger city like Dar es Saalam or importing from Nairobi St Jude's is ensuring that we impact many more families than just those of our students.
Last year, St Jude's injected over AUS$6 million into the East African economy, predominately in Arusha. That's made up of everything it takes to keep a school the size of St Jude's running day in and day out, from desks, books and computers to food and uniforms, right through to wages for staff.
'A lot of work goes to the local community. We pay fundis, tailors and others and we are buying materials and produce from local people. Local manufacturers and contractors are cheaper than imports because they are not including transport costs. They are thankful for the business, Amani shared with a smile.

Jobs boost: Tradesman work on the school's new chapel pews at Sam's Workshop. 
St Jude's is also at the heart of the community according to the swathe of farmers and shop owners who deliver produce to the school's hardworking cooks each day.
Head Chef at Moshono Primary Campus, Julius, estimated the school spends more than AUS$7,900 at the market each week, buying food needed to feed the 1,800 hungry students.
'The farmers and local shop keepers tell me regularly that they are very thankful for the existence of the school as it brings them more business. We order good quality produce to give the students nutritious foods - making sure they have fruit every day means buying over 600 bananas a day! We buy local to boost the economy of the Arusha region, he divulged while sorting tomatoes for that day's lunch.
The ripple effect continues through to Arusha's bustling central market, reaching Double Door Textiles who provide the fabrics for all the students' school uniforms.
'I love doing business with St Jude's. This year I am providing over 40 rolls of fabric just for the secondary students' school uniforms. They are one of my top clients because of the quantity required to support the school and they ask for quality material that lasts, Double Door Owner, Amer Nassor commented.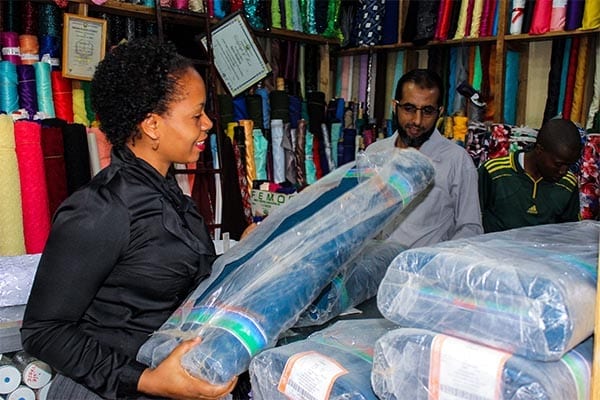 Major order: Purchasing Assistant, Grace, picks up school uniform materials from Double Door Textiles in Arusha town.
His team are hard at work sourcing materials for the influx of new Form 5 students needing uniforms in June.
'I feel very proud when I see the students in the school uniform and also when I heard the Founder, Gemma, was happy with the quality of the fabrics, Amer smiled resting on a pile of colorful textiles.
The uniform is an important part of starting school life at St Jude's, receiving it is often when it truly becomes a reality for new students that they're about to begin their journey with a prestigious school. But young students, grow and their first uniform doesn't last forever, so making the uniforms is an ongoing task.
'We purchase a huge amount of fabric so that our tailors, based at Sisia Primary Campus can produce uniforms our students can be proud to wear. Our seller has been very good to us for a very long time and we have a good relationship with him, Purchasing Assistant, Grace, explained while supervising the St Jude's tailors.
So whether it's furniture, food produce, fabrics or employing local Arushins, St Jude's is not only fighting poverty through education, but is creating a ripple effect felt well beyond the campus gates.
A donation to St Jude's does much more than help just one student. Help us continue to increase our impact, donate today.
Replies