Is there such a thing as too many celebrations? We don't think so!
October has been a month of celebrations here at St Jude's. Each weekend has included an exciting event, commencing with Cultural Day at St Jude's Secondary School, followed by Form 4 Farewells for our Form 4 boys and girls and concluding with the Alumni Reunion.
Cultural Day at St Jude's Secondary School
Tanzania is home to more than 100 tribes, 69 of which are represented in the St Jude's student body. Each of these tribes has its own songs, dances, foods and fashions, which makes Cultural Day a diverse celebration.
This year, as always, St Jude's Secondary School's Cultural Day was a colourful event. Students performed traditional dances, sang songs in Kiswahili, and modelled their own handmade fashions in the hopes of being crowned the winners of their section.
Tumaini, in Form 6, presented a selection of original outfits for the design section. "I have always been a designer," she explains. "When I was a kid I'd spend time with tailors in my village making ragdolls and outfits for those dolls. My fashion designs carry a message, this year my collection was based on preventive measures against COVID-19. I spent my time creating designs that could attract people but still raise awareness of the preventive measures against COVID-19," Tumaini reflected.
In the audience were students, community members, staff and invited guests from a local cultural centre. Although Cultural Day is a lot of fun, it is also a competition, and the students were all hoping to win. In the end, the Bugana Group were crowned winners of the poetry section, Graacious Group won both the dance and choir sections and Swahili Fashion, Tumaini's fashion line, won the design section. All winners received an enthusiastic round of applause!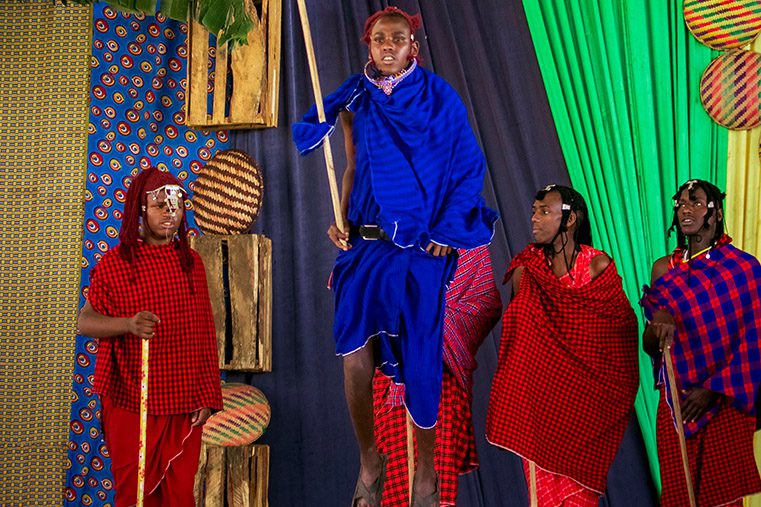 The high-energy event finished with a delicious lunch, including many different cultural specialties.
Boys' Form 4 Farewell
The ninth of October was a very special day at St Jude's Secondary School; the Form 4 Farewell. In Tanzania, Form 4 is the fourth year of secondary school and marks the end of O Level studies.
The average education level of St Jude's students' mothers is Standard 7, the final year of primary school and for students' fathers, the average education level is Form 2, the second year of secondary school. So, graduation from Form 4 is a huge milestone for St Jude's students!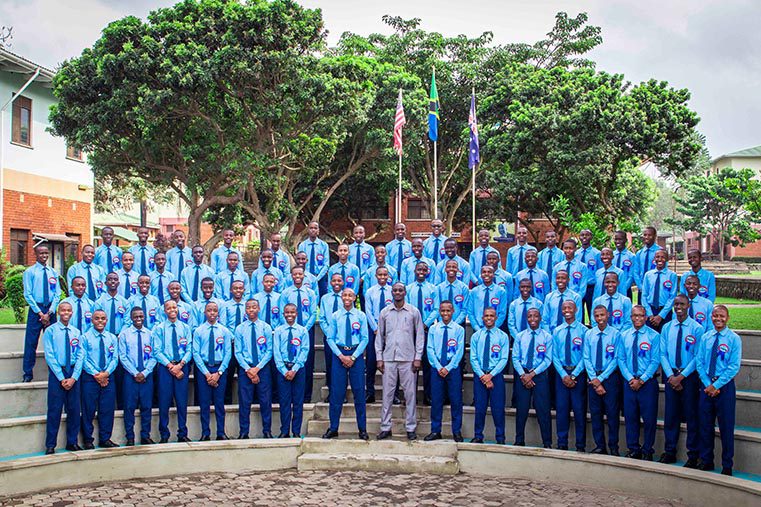 For Ally, one of the 66 graduating students, the day was made even more special by the presence of an American visitor, Laurel. Laurel and her husband, Jeff, have sponsored Ally's academic scholarship since 2018 and visited the school in the same year. In addition to being a sponsor, Laurel also sits on the American Friends of St Jude's Board, where she works to increase knowledge of St Jude's among Rotary clubs in the US.
When Laurel heard that Ally's Form 4 Farewell was approaching, she organised a group of friends; Marcia, Adrienne, Sally and Sandra – all members of the Cultural Arts Rotary Club of Fresno, California– to travel to Tanzania to cheer Ally. The Rotary club are committed St Jude's supporters and even sponsor the scholarship of a St Jude's student. Back in 2014, Laurel was the incoming President of her Rotary club, and attended the Rotary International Convention in Sydney, where she heard Gemma speak about the school.
"The ladies who are here with me today remember me coming back to our club and saying, 'We have to get involved with The School of St Jude' – I went on and on! So that's how our club got involved. I sponsored a scholarship for a student, Ally, and then our club started to sponsor a scholarship for another student. When I decided to visit St Jude's again this year, all I had to do was say, 'I'm going' and then everyone wanted to come too."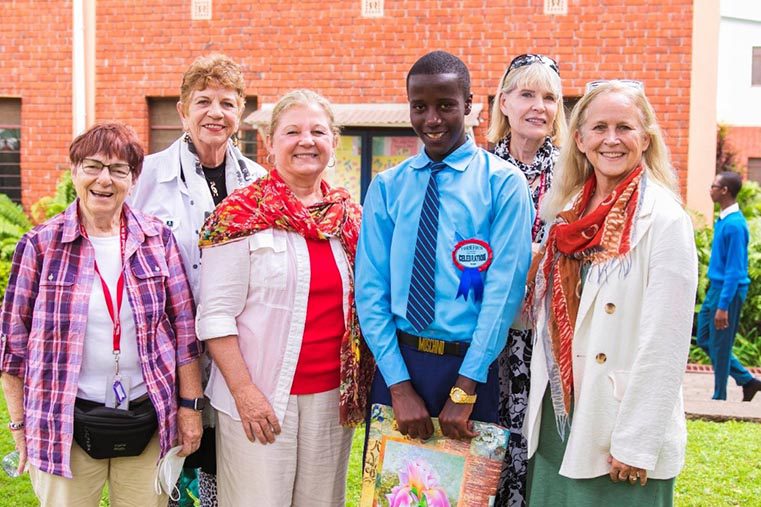 At the event, the visitors were not just audience members, in fact, they helped out by handing the students their certificates on stage. It was a very special moment when Laurel handed Ally his Form 4 graduation certificate.
"That was the highlight of my whole trip," says Laurel. "I had no idea I would be handing out certificates, but seeing Ally walk across that stage was certainly the highlight. I'm just so proud of him."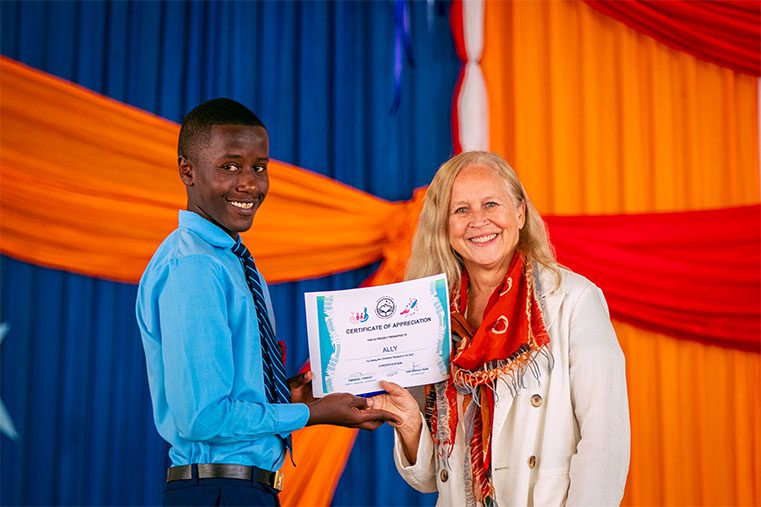 Girls' Form 4 Graduation
Since the opening of St Jude's Girls' Secondary School in 2020, St Jude's has enjoyed celebrating not one, but two Form 4 Farewells each year. While both Form 4 Farewells celebrate the same milestone, the individual schools bring their own spirit to the event.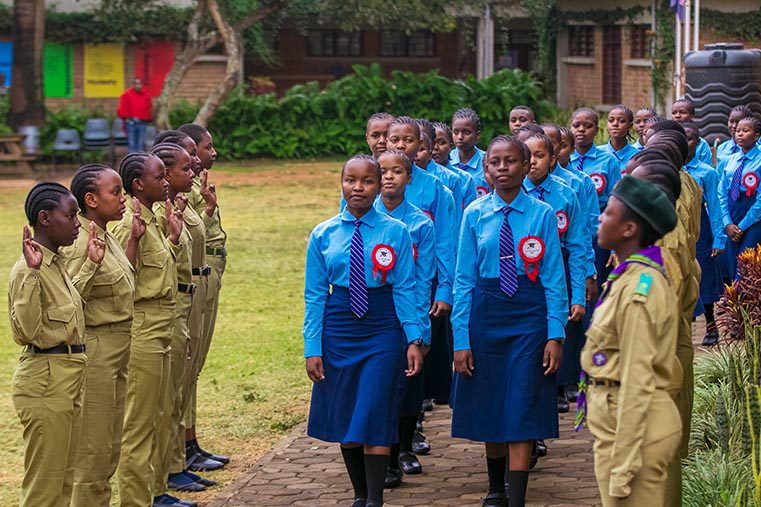 On the morning of the girls' Form 4 Farewell, parents, students and special guests arrived at St Jude's under grey skies, but as the joyful ceremony progressed the sun began to shine to complement the celebrations. The whole audience enjoyed listening to inspiring speeches by students and special guests and each of the 115 students received a certificate to commemorate her completion of O Level studies.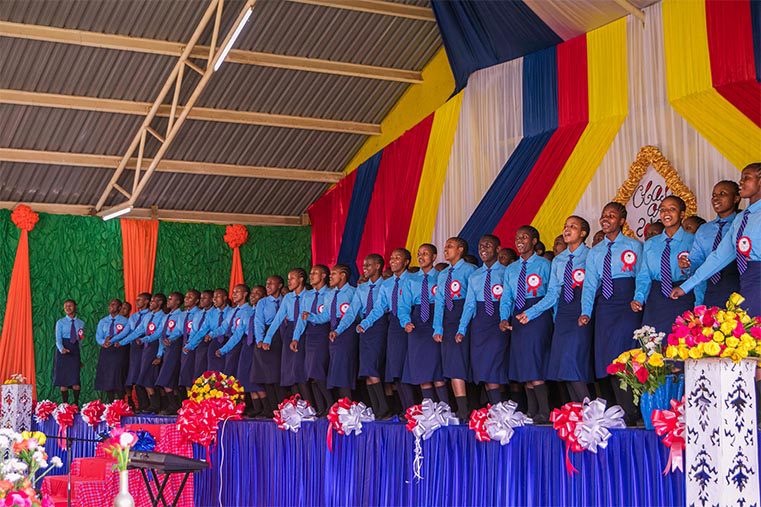 Perhaps the most moving moment of the ceremony was a special song written and performed by the graduating class.
Today is the day
When we celebrate
By holding eachother once again
Today is the day
When we celebrate
By sharing love and joy to everyone
As these lyrics rang out across the school, it was a poignant reminder of what these students have achieved so far and their achievements yet to come.
Alumni Reunion
St Jude's students spend up to 13 years learning, living and growing together with their classmates. These are strong connections, but after secondary school, graduates must make their way to universities and colleges right across Tanzania, Africa and the world, to continue their learning journeys.
The annual Alumni Reunion is an opportunity for St Jude's 800+ alumni who graduated from 2015 to 2021 to reconnect with eachother and share their knowledge with St Jude's students.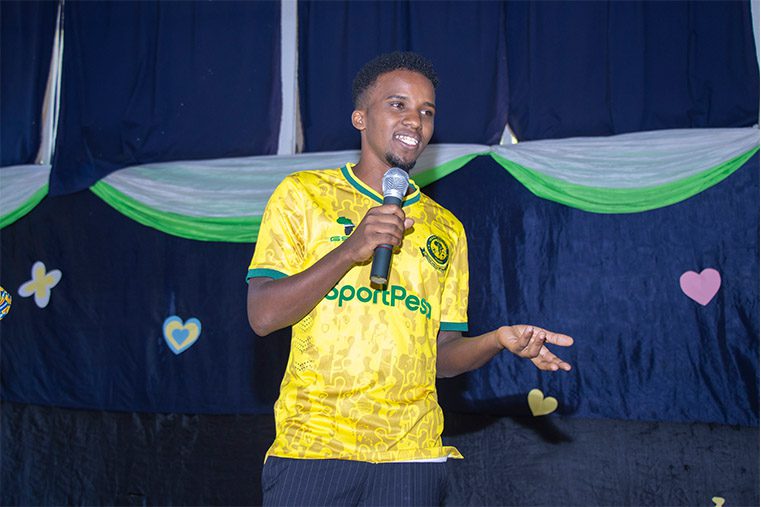 The Alumni team organised for alumni to share their experience of university and employment with senior students. Keynote speakers, including Thomas, a recently graduated Occupational Therapist, and Vedasto, a graduate in the conservation and wildlife management sector, shared their stories of finding their passions and forging a path for themselves through study. Then students split into groups for Q and A sessions about their areas of interest.
In the afternoon, it was time for sports! Alumni and students went head to head in games of football and basketball, both of which were narrowly won by the student teams.
In the evening, alumni enjoyed the main event of the weekend – a special dinner, alumni awards and dancing. Old friendships were reignited and new friendships were formed between alumni from different graduating years.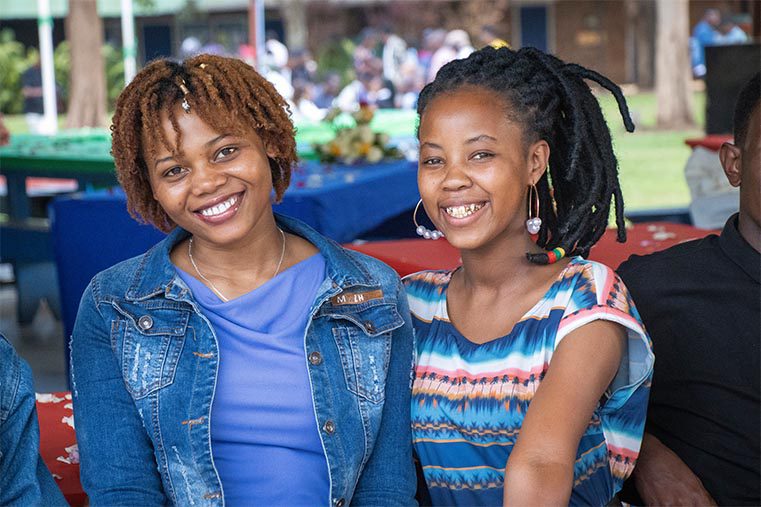 Founder, Gemma Sisia, made the opening speech, during which she reminded alumni to maintain the bonds of friendship they formed at school.
"I still visit my old school every year when I'm in Sydney," she told the assembled alumni. "Don't forget to keep up with your classmates as you never know how you can help eachother." The daily work of fighting poverty through education keeps the St Jude's community busy, but there is always something to celebrate at St Jude's, from big events like graduations, to smaller milestones, like a Standard 1 student learning a new word. This month, the whole community appreciated the opportunity to pause, celebrate and reflect on recent achievements.
You can give St Jude's students even more to celebrate. Help us continue fighting poverty through education by making a donation.
Replies