It's a milestone that was envisaged when St Jude's was founded in 2002 and became a reality when the first batch of students completed their secondary school education in 2015. Here, four Tertiary scholars give insight into the significance of the day.
It's a sea of a thousand smiles outside the Mlimani City Conference Centre close to the University of Dar es Salaam in Tanzania's largest city. The Centre is brimming with graduates, with every seat inside occupied. Relatives and friends sit outside in makeshift pavilions, with televisions at the front showing what is happening inside.
"My dream is coming true," says former St Jude's student Edwina, as she approaches the Centre. Edwina became the first person in her family to graduate from university, when she recently completed her Bachelor of Science with Education degree.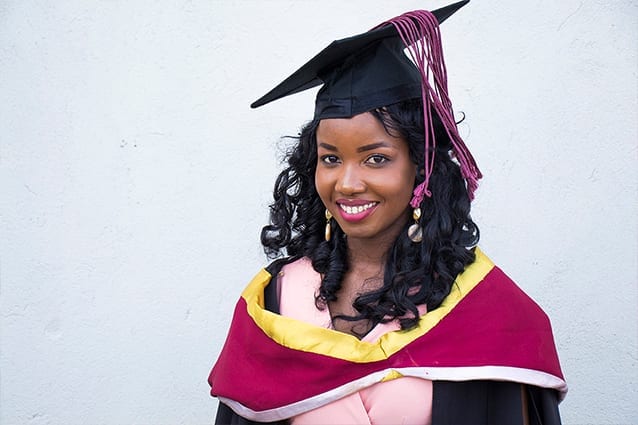 In fact, almost all of the 24 undergraduates from St Jude's are the first in their family to have received a university education. It's another significant achievement, not only for St Jude's, but families across Arusha.
"If I wasn't accepted into St Jude's, I couldn't have reached this far," Edwina says. "I definitely wouldn't have been able to afford to continue to study."
Standing next to Edwina is Seraphina, who graduated with a Bachelor of Science in Agriculture, Economics, Business and Natural Resources. She made the most of her time at university, being peer- elected as Senior Secretary of her University Hall in her second year.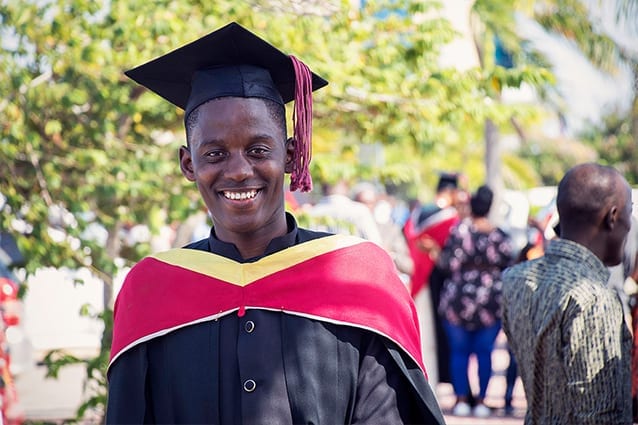 "If I wasn't at St Jude's I would have been in a government school," Seraphina says. "There's a big difference in the level of education you get, so the possibility of attending a top university like this one would be very low."
"When you have an education, you have a chance at making your own life. You get choices. Graduating today makes me feel very happy," she smiles. "I can't explain it – it feels like a dream!"
They are joined by two more excited St Jude's alumni, Omary and Baba. All four feel special in their black gowns and mortarboards.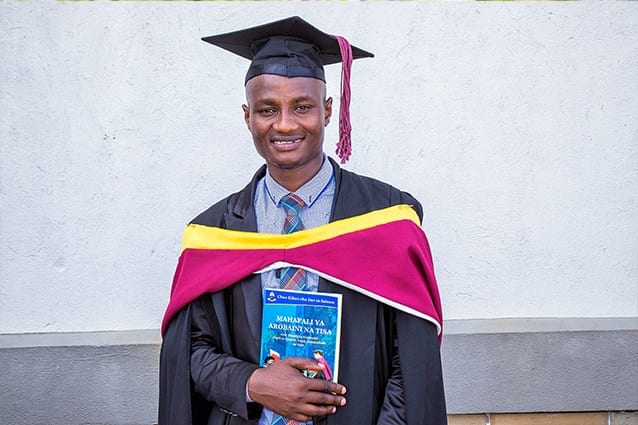 "University was a wonderful experience and I had an amazing time," says Omary, who graduated with the same degree as Seraphina. "My thanks go to The School of St Jude and my sponsors, who made sure I got this opportunity."
Baba, who graduated from a Bachelor of Science with Education, agrees.
"Being a university graduate makes me feel proud and happy," he says. "I'm so excited!"
Now that these 24 graduates have completed their degrees, they will take the next step in their lives and start their careers, all the while giving back to their communities.
The mission of St Jude's is to break the cycle of poverty by providing a 100% free, quality education to the poorest and brightest students from three regions of Tanzania. Today is a tangible example of 18 years of hard work coming to fruition.
Help St Jude's continue to make history by breaking the cycle of poverty through education. Sponsor a Beyond St Jude's tertiary scholarship today!
Replies