Outside the gates of St Jude's stands a crowd of people.Today is Selection Day for Standard 7 students who are vying to enter St Jude's in Form 1, the start of secondary school.
When St Jude's was just beginning, there was no gate. On Selection Day, students would breeze onto the school grounds, milling around chatting and using the swings on the playground.
Today it's a different story. Inside the gates, looking out, is Deputy Director, Angela.
"It used to be that when we invited students to sit the exam, we would ask them to bring two friends, because the hardest thing was getting the word out there to the right areas to build up the number of students we had," she says.
Those days are long gone, as the reputation of St Jude's has grown along with the knowledge that this is a unique chance to secure a free, quality education.
With the opening of St Jude's Girls Secondary School in January, demand is even higher.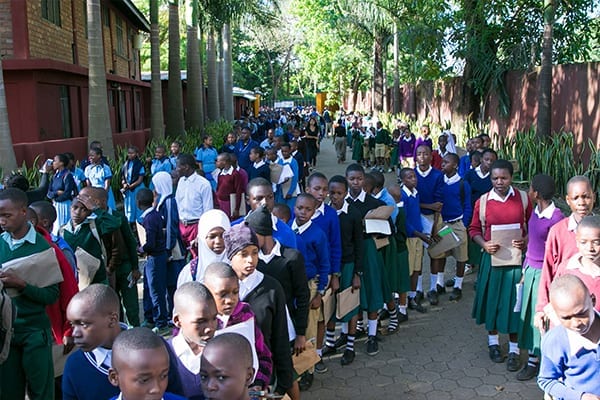 This year, just over 1,300 girls and boys were invited and ultimately, there will only be space for around 80 new additions joining the current St Jude's students moving up to secondary school – 20 new boys and 60 new girls.
For the first time ever, St Jude's has extended the invitation to all seven districts in Arusha, in what is a rigorous application process. There's only 25 desks and chairs in the Form 1 classrooms, but they could be filled many times over if enthusiasm was the only criteria.
The waiting teenagers are standing side-by-side, 20 wide, and snaking all the way back down the dirt road outside St Jude's.
They begin filing in, former St Jude's primary students on the left, and high-performing students from government schools in the Arusha region on the right.
Standing in the middle is Acting Academic Manager, Nzinyangwa Mcharo.
"There is no favouritism," says Mr Mcharo. "Today everyone is the same."
All of the students, including those who were enrolled at St Jude's primary school, will sit three exams throughout the day, with the brightest passing to the next stage, the all important poverty assessment.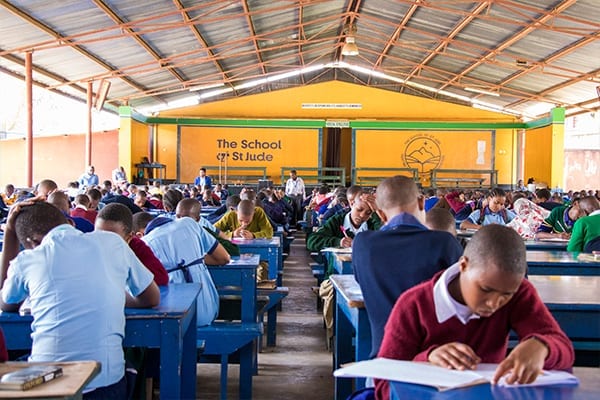 St Jude's graduate, Noah is currently working with the Supporter Relations team as part of his Beyond St Jude's Community Service Year. He can still remember his first Selection Day 13 years ago.
"Everyone in Arusha wants the chance to be a St Jude's student," says Noah. "After I passed I felt proud and my parents were very happy - even happier than me I think!"
Noah, who is now 22-years-old, says that if he didn't have the chance to go to St Jude's he would be a different person. The school gave him not just an education, it also taught him the values of respect, honesty, responsibility and kindness.
Today, Noah is ushering students from the gates, towards the registration lines. In the afternoon he will be taking photos of the successful applicants for their student profiles.
A lot of the students are understandably nervous; this is a massive opportunity. Noah knows how they feel and provides a comforting presence.
"I can remember standing outside the gates," says Noah. "I just wanted to get in there and do the exams."
Noah isn't the only St Jude's graduate helping out today, with other former students from the Community Service Year program also volunteering their time.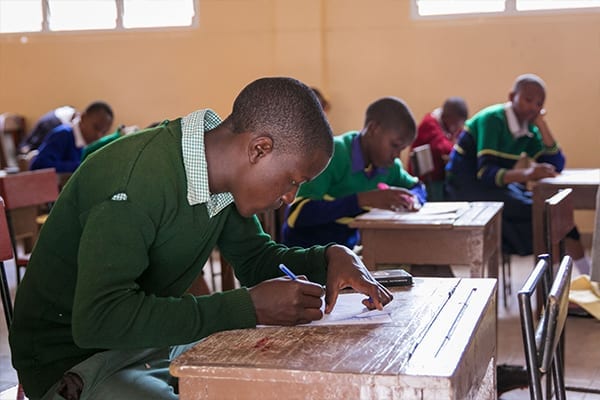 In total over 100 staff, parent representatives, and St Jude's graduates are helping out on one of the biggest days of the year.
The students sitting the exams have been siphoned off into classrooms spread throughout three different buildings – it's a complex logistical exercise to make sure everyone invited to the exams is treated fairly.
One frazzled boy, arrives late having travelled from Singida, over 300 kilometres away – a journey that took five hours. Despite looking weary from his trip, he is eager to start the exam as soon as he can, grateful to still have his chance at securing a place.
Not to worry though, School Founder, Gemma Sisia's 7-year-old daughter, Louisa, is at hand and offers to accompany him to a classroom.
"It's really good to see everyone pull together," says Gemma, standing next to her daughter, as she looks across the students sitting the exam in the assembly hall. "I wonder which ones will make it all the way through and be the Community Service Year interns giving directions or taking photos in 7 years."
With even more new students starting in January, more bright, poor students will be getting the education they deserve. Support a students' academic scholarship today.
Replies