As the St Jude's Smith Secondary Campus became a bustling exhibition for the annual Science Day, there were some new demonstrators delighted to be part of the much anticipated event. For the first time in the exhibitions' nine-year history, St Jude's graduates now teaching at under-resourced government schools as part of the Beyond St Jude's program, brought their students to demonstrate their hard work.
This collaboration is one of the ways our graduates are giving back to the community through their Community Service Year before going on to higher education.
Njiro Secondary School student, Emmanuel John, presented an impressive environmentally friendly car powered by solar panels and a remote control, with the help of his teacher and St Jude's graduate, Nembris.
"The direction of the car is created through positive and negative charges. This car has many advantages as it can be sent into remote areas where humans can't go. They can control it from a distance. It can also be used in our National Parks to protect them and replace cars that are using fuel," Emmanuel John proudly informed a crowd of students.
This entry caught the eye of the exhibition judges too, with Emmanuel's project winning the inaugural government school category and Emmanuel receiving a donation to help expand his idea.
But the judges job didn't stop there. The annual exhibition has traditionally been the birthplace of some of East Africa's most prominent youth innovations and this year did not disappoint.
"We have had lots of success in our Science Department on a national level and I expect we can have more. Science is growing at the school. We placed 1st and 2nd in the country over the last two years in Tanzania's Young Scientist Competition. Students are doing projects from the topics they are studying in class," Acting Science Deputy, Elibariki, explained while judging the projects.
The competition was fierce in the main exhibition categories, with many lab-coated students focusing on environmentally friendly innovations.
Form 4 students, John and Steven, were the overall winners with their creation of a digital home optimization system that works as a wireless security system.
"We are passionate in electronics and gaming. We want to see technology advanced in Tanzania. The project includes automation, a security system and a digital system," said John bursting with pride, as he and his team accepted their certificate in front of an audience of more than 700.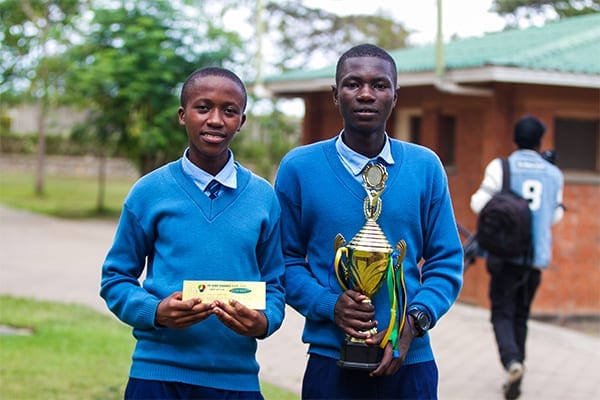 A tree planting drone, built by Form 3 students Rajab and Athuman, was named runner up with judges impressed with the practicality of the project.
"This is going to be cost effective for the Agriculture sector as we used materials like DVD cassettes to build it from scratch. We need to plant more trees to reduce the risk of global warming too," Athuman explained while showing students his project.
Taking third spot was Form 6 student David's natural take on plastic, creating a biodegradable plastic alternative from natural ingredients including water, olive oil, gelatin and table salt.
"It is needed in Tanzania because plastic bags that are not decomposable have recently been banned so this is an alternative that I think could really work," David enthused.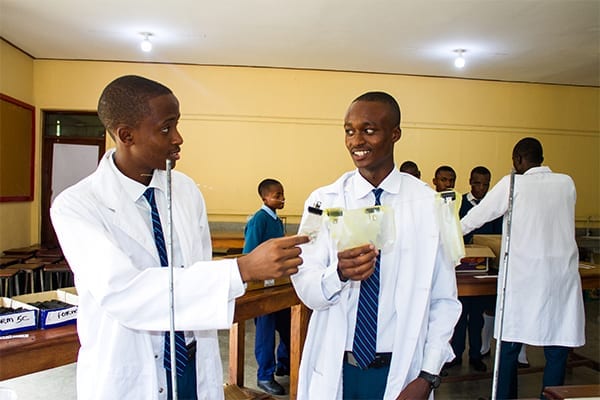 But innovation and scientific intrigue is not limited by age, with a security robot display curated by Standard 6 students another standout of the day.
"The aim of our project is making Tanzanian homes safer in an environmentally friendly way. We used wood, boxes, jugs, a bucket, solar panels and batteries. It will make an alarm if there is an intruder or if there is a fire near the home," Standard 7 student Karen shared.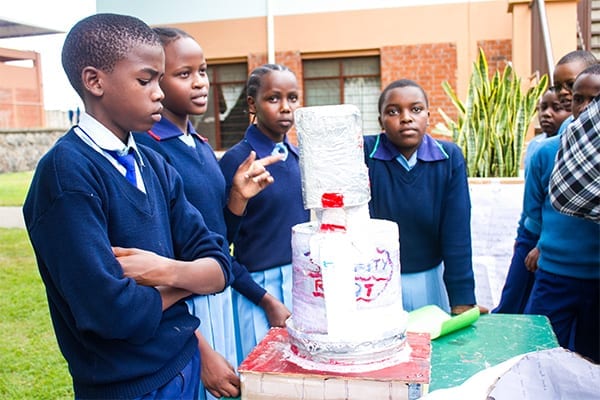 All exhibition winners now have the chance to represent St Jude's at major events across Tanzania but the success of the day certainly spreads much further, with hundreds of students from all backgrounds and areas now inspired to study science thanks to The School of St Jude.
The 2019 Science Fair may have just discovered the next internationally acclaimed young scientist! Sponsor a student's academic scholarship and help them achieve their dreams.
Replies