As the lunchtime bell rings, Mr Mcharo concludes his Form 1 physics lesson by confirming homework with students and ensuring all curriculum topics have been covered.
Then, during the short walk to his office, he begins taking calls from students' parents, stopping to answer questions from his team of teachers and replying to urgent emails on his phone.
This is the daily routine for the passionate Headmaster of St Jude's Smith Secondary Campus, who still teaches one class per week, while working tirelessly to lead the school to the top.
"I want our school to be in Tanzania's top five, that's what brings me to work each morning. I am proud of the model of education we offer our students. If you visit the homes of where these students come from, you see why it is important to support them," Mr Mcharo states, finally taking a seat in his office.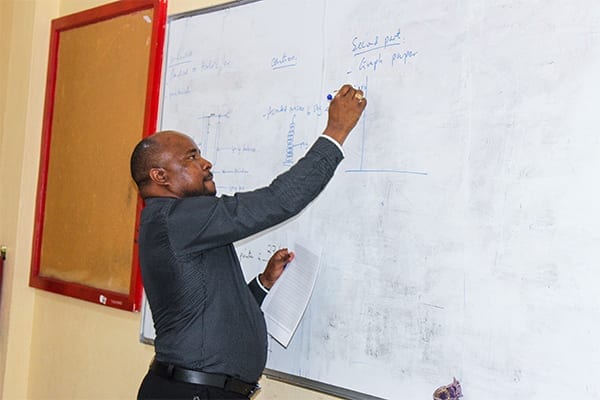 The journey to the Headmaster's office was not a conventional one for this proud Tanzanian. After a career in telecommunications, the 2009 economic recession saw him leave his job to return to teaching, which he studied year's earlier.
"I remember I brought my St Jude's application to the gate and was told to leave it there. Happily, I was called for an interview for the only available role at the time, a physical education teaching role. I loved playing football but it was a big challenge for me to train younger students in the primary school. I almost gave up but now, on the 9th of June 2019, I will be ten years at the school and I have no regrets," Mr Mcharo reflects.
After a position became available, he returned to teaching his real love, science, and his leadership potential was quickly spotted by the then academic manager.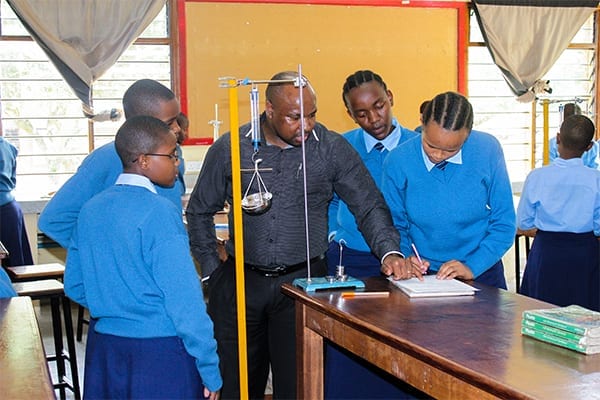 From a Homeroom Teacher, Level Coordinator and then a Head of Department, Mr Mcharo quickly progressed up the ranks and was finally offered the top job.
"I never thought I would be Headmaster and at the start it wasn't even a position I wanted. But I gradually became really inspired to be in the academic office, I suppose once I'd started to think in that direction it happened quicker than I even imagined. I was only Academic Deputy for a short time before I was promoted to Secondary Headmaster," Mr Mcharo says with surprise.
Through his rise to the top office Mr Mcharo credits one project in particular for his success, Science Day, an event becoming more embedded in the school each year.
"As a teacher I feel very proud of our science fair, I designed the logo and we had our first science fair without all the technology we know today. I think that through this project I started making a name for myself, and though I now have less involvement in the details of the event, it is still one of my favourite days in the academic calendar. It made a mark in this school because it has given many students opportunities in national and international science competitions and reinforces the concept of learning by doing," Mr Mcharo smiled, proudly holding the very first Science Day flyer.
But since taking over the top job Mr Mcharo's legacy has grown beyond the science fair. Under his watch the school's academic results have been markedly improving, with Mr Mcharo leading a team that are creating an environment that truly fosters students' growth.
"Our recent A Level and Form 2 results show we are making progress, but I have a lot of ambition for where I'd like us to get to. I don't get upset for too long if things don't initially go quite to plan as I don't want grey hairs at this stage! Every day I do check on our statistics and make sure we are getting closer to the goal of being one of Tanzania's top five schools."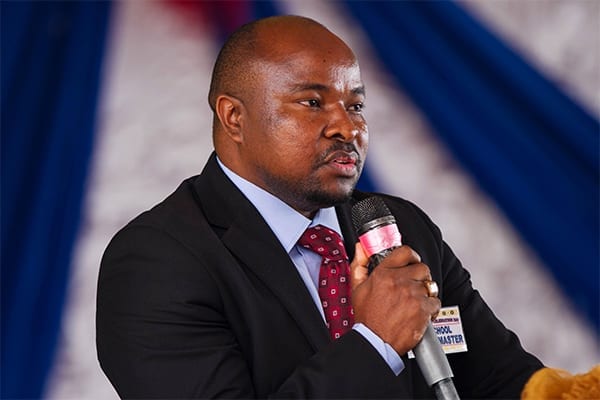 Plans to introduce Agriculture into the curriculum is something else that's close to this headmaster's heart.
"I am looking forward to introducing Agriculture as a lesson in the school, as our society depends on agriculture and this subject will give our students another good base. We have the advantage of having our school farm with a stream of water going through the campus grounds. We can do theory classes and then use our practical space."
That forward-thinking, the diversity and unpredictable nature of the job, along with the meetings and the emails, is what continues to motivate this esteemed physics teacher.
"As a Headmaster there are more meetings than you can schedule, so many things to be aware of, but I am still a teacher at heart and being in a classroom brings flavour to my week. The students are fun and they remind me why I am here. I like the school environment, it's frenetic and you actually interact with people. Every day I make sure I get out from behind my desk."
"I hope in another five years we would have hit that goal of being one of Tanzania's top five schools and maintaining that position. I'll have students who I taught in Form 1 graduating from university studies and then I will be able to see how I have really helped change their future," Mr Mcharo revealed.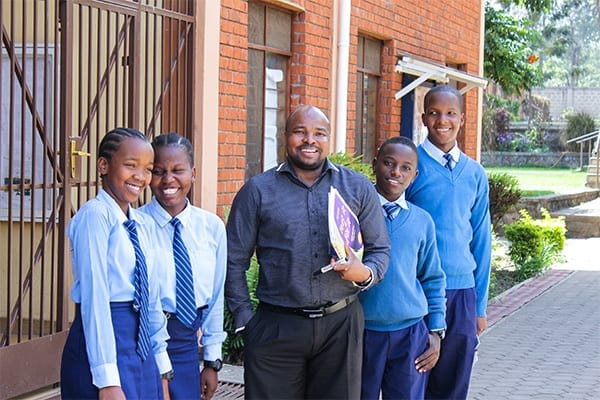 All the while the school's aim of fighting poverty through education is never far from Mr Mcharo's mind and heart.
"I still visit students' homes. I remember I went to one student's home and I was very tired. They didn't have a couch so I sat on the ground, looked up, and they had a torn roof. That touched me and will always stay with me."
Help Mr Mcharo achieve his vision for The School of St Jude by making a donation.
Replies