Amanda signed up to sponsor an academic scholarship with St Jude's in 2009. Almost a decade later, she and her mother, Jenny, made the long journey from Australia to Tanzania to support Form 6 graduate, Dainess, on Graduation Day last month.
Amanda and Jenny have been so impressed by St Jude's sponsorship scheme, and excited by Graduation Week, that they decided to sponsor another student together, Glory, who is currently in Form 3 at Smith Secondary Campus.
"I have always believed in the adage that if you give a man a fish, you feed him for a day. Teach a man to fish, and you feed him for a lifetime."
"Gemma's story really resonated with me because I come from a teaching background. I was, and still am, a firm believer in the power of education to transform lives. The joy of making a difference to a stranger halfway around the world, and the great expectation and desire to one day meet them in person… it's been a goal many years in the making," Amanda said.
"Mum always used to say, 'you have no control over which house you are born into.' As a baby, no one chooses their family's economic situation, so I think it is especially important to sponsor the most disadvantaged children, as is the St Jude's path," she said.
"The best part of being a sponsor with St Jude's is writing to and receiving letters from your sponsor student. Dainess said she hoped and prayed I would come to visit her. To cry and laugh and smile with her, and finally meet the student's family with whom you share a common bond, is life changing."
Amanda and Jenny's visit took a heartwarming turn on their final day at St Jude's, when they had the impromptu opportunity to surprise their newly sponsored student, Glory, at one of her football matches.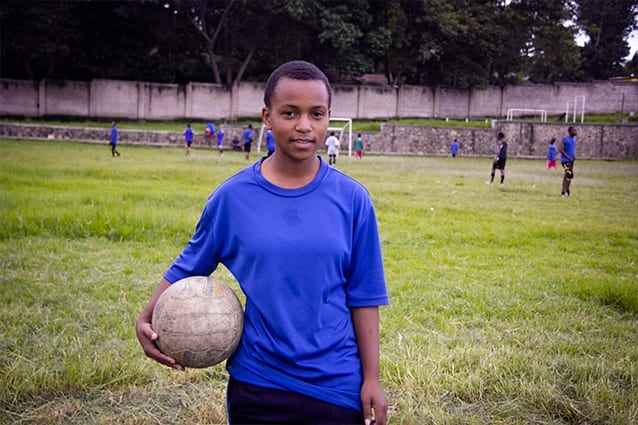 "It was such a special encounter. Mum in particular was affected, knowing this may be the only opportunity she'll have to meet Glory, since she may not be able to travel back in three years for her Form 6 graduation," Amanda said.
Having started Dainess on the path to a bright future nine years ago, Amanda is now settled back with her family in Queensland after a whirlwind visit, but her journey with St Jude's is far from over.
"Some of my friends who read all my happy social media posts about St Jude's and Graduation Day were also moved and wanted to know how to sponsor. So, I have suggested we co-sponsor some female students next year and make it our goal to travel over for their Form 6 graduation," she excitedly shared.
"That's the thing about St Jude's. Once you start sponsoring, and especially when you visit, it gets under your skin and weaves its way into your heart."
Weave a thread in St Jude's rich tapestry and join thousands of international sponsors and donors, who make it possible for 1,800 students to break the cycle of poverty. Our Annual Appeal runs until June 30 - donate or sponsor before then to have your contribution matched!
Replies