Laura joined St Jude's as our new Rotary Specialist in March, guiding the School's EarlyAct, Interact and Rotaract clubs, which were founded by former Rotary Specialist, Sebastian, in 2016.
Already, Laura has made her mark on our school and community. Almost as soon as she stepped off the plane, she literally landed herself in the mud – planting fruit trees at a local community school with the Rotaract Club of St Jude's, just two days after her arrival in Tanzania.
The tree-planting initiative is inspired by Rotary District 9211's Mission Green, which promotes environmental awareness and sustainability.
"Everyone involved with St Jude's Rotary programs is passionate about the environment and they see the value in taking care of their home. Mission Green is an avenue for them to act on that passion. They care about waste management and Rotary is the vehicle they use to realise that passion. It's a synergy," Laura said.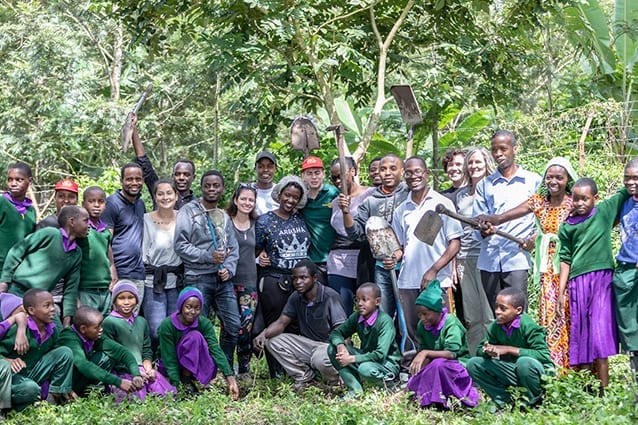 The synergy between St Jude's and Rotary has brought the School's vision to life, and through the efforts of young leaders like Laura and Sebastian, it continues to grow.
Laura has embraced her role at St Jude's with sheer determination, embarking on the exciting challenge of nurturing community relationships that were initiated by Sebastian.
Sebastian has returned to Tanzania for two months to reconnect with his friends at St Jude's and within Rotary.
"I'm really happy to be back here and to see the amazing work Laura has already done to ensure Rotary's sustainability at St Jude's. There so much room for expansion and I know she's the right person to lead the way," Sebastian said.
Laura is equally grateful for the opportunity to learn from the man himself!
"Having Seb here for a month has given me the chance to ask important questions and learn more about the relationship between Rotary and St Jude's. You really need that foundational understanding," she said.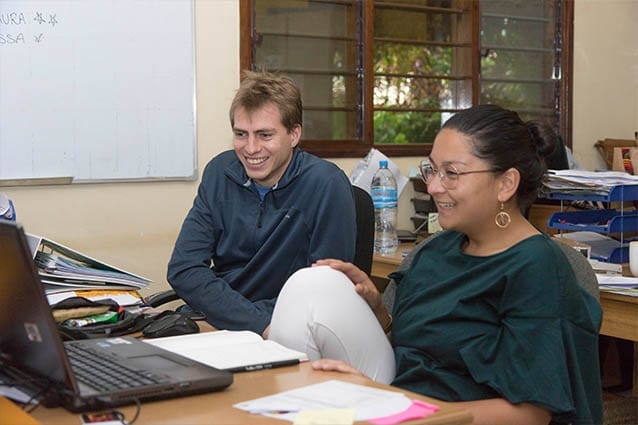 "Seb has taught me a lot about persistence. He simply walked around any brick wall he encountered during his time here as Rotary Specialist, and found a different solution. It's been very encouraging," Laura added.
Reflecting on his time as Rotary Specialist, Sebastian recalls an achievement that sets a high standard for projects to come.
"In January, I nominated the Rotaract Club of St Jude's Vijana Poa (Youth is Cool in Swahili) youth employment program in the 2018 Rotaract Outstanding Project Awards. To our club's amazement, we won for the Sub-Saharan Africa region!" Sebastian explained.
"Coming back to Tanzania and seeing the progress of Vijana Poa participants has been a highlight. One participant, Carlos, started 2017 unemployed. We helped him secure an internship and by the end of the year, he was awarded Customer Service Assistant of the Year for the organisation."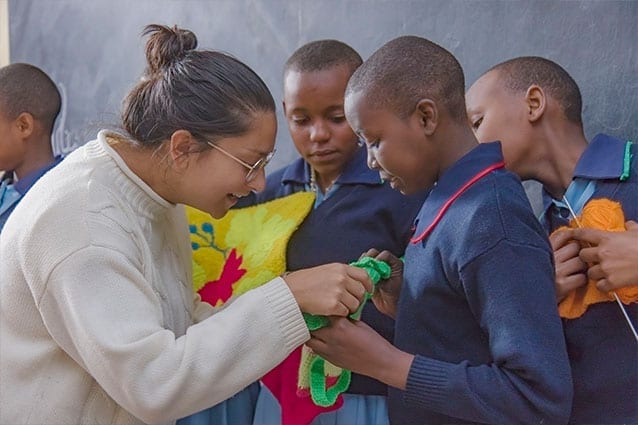 "Seb and I are both looking with anticipation towards the future. There is always more to be done. Rotary is a way for St Jude's students to develop leadership and networking skills, and it complements what they are already taught in class about citizenship and society. We hope that Rotarians and Rotaractors from around the world will come to Arusha and see how our clubs are making a difference!" Laura said.
Spread the word about St Jude's at your local Rotary or Rotaract club, and encourage them to visit us!
Replies