Students at The School of St Jude have access to well-equipped Information and Communication Technology (ICT) laboratories and reliable internet connection, this means our students are aware of emerging ideas, and can look to global trends to prepare them for the future in a globalised world.
Thanks to support from TechnologyOne last year, St Jude's purchased a new server, updated 200 computers with the latest licensing of Windows and Microsoft software, replaced 20 computers at Smith Secondary Campus and purchased a cloud-based software which filters spam.
When staff and students from Strathcona Baptist Girls Grammar School visited this month, they were keen to sit in on an ICT lesson with our Standard 5 students. Ally and Chantel, two of Strathcona's Year 11 students, were particularly impressed with the facilities students at St Jude's have access to.
"It was amazing to see how advanced the computer labs are. These students have more than what we had in an Australian private school when we were their age. They each have their own computer to sit at during lessons and you can see the teachers here really care about the learning experience of all their students," Ally said.
"Another great thing about St Jude's is you can see exactly where people's donations are going, and the skills these kids otherwise wouldn't learn in a Tanzanian government school," Chantel observed.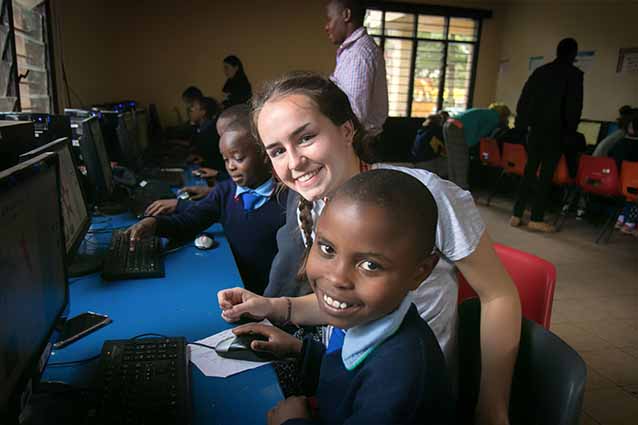 Lack of developed infrastructure and resources in Tanzania makes it challenging for government schools to efficiently and comprehensively teach subjects like ICT.
Joseph, St Jude's Head of Information Technology, is an expert at navigating infrastructural setbacks and ensuring our thousands of students, staff and visitors have consistent access to internet, and that all our equipment is well-maintained to ensure productivity and security.
"Technology gives our students the ability to become great innovators. The ability of our students and staff to access academic resources online helps students to succeed and helps with professional development of teachers," Joseph commented.
"Before St Jude's students are even accepted into university, they can browse the internet to find out the skills they need for certain careers, which prepares them well for the future."
Sara, a Standard 5 student, is still at the beginning of her St Jude's schooling, yet knows already that understanding technology will help her reach her dream to become a doctor.
"I love learning about computers. People need technology in the world to do everything. I dream to become a doctor, so it is important to understand technology and all about the machines and computers which help people to get better if they are sick," Sara said.
Thanks to TechnologyOne, our school is connected to the global community and we can provide a competitive, high quality education for free to some of Tanzania's most deserving students.
Be a part of the fight against poverty by donating to St Jude's today.
Replies