St Jude's is helping address the shortage of women in ICT professions by encouraging our students to gain experience on the World Wide Web.
With laptops in hand and the curiosity to try something new, a group of our female students attended a local college to learn how to build a Wikipedia web page in a special event designed to promote the next generation of female leaders in ICT in Tanzania.
In small teams our students worked together to write a new entry into the encyclopaedia on the internet. Salome was one of the fastest typists in her team.
"We are writing an article about Hotmail," she said. "I really like writing and seeing my work published online instantly!"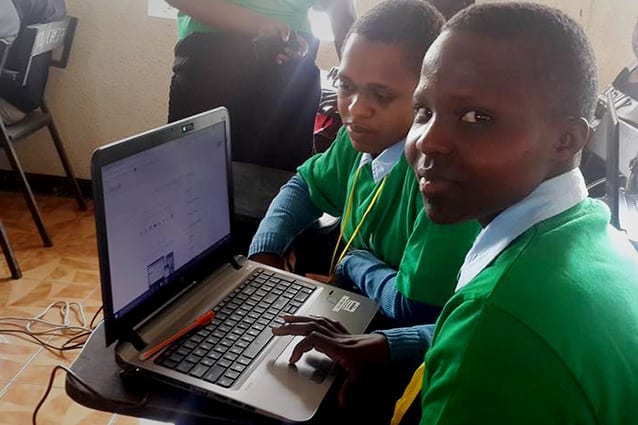 Multilingual Tech Gurus: The students editing a Wiki page in Swahili and English.
The School of St Jude's Head of ICT, Ernest Mayala, really enjoyed taking students out of the classroom and giving them a glimpse of what their future in education may look like."I am so impressed," he said. "Our students have taken part in a real college lecture and are working with maturity and impeccable behaviour."
Rebecca Ryakitimbo, event facilitator, shares St Jude's belief that tomorrow's female leaders are the children of today who just need the skills and confidence to grow. She spoke to students interested in taking up traditionally male subjects at university about her own personal experience of studying a Bachelor's degree in Electronics and Telecommunications Engineering in Kenya.
"I was the only woman in my whole university class," she said. "It took a lot of self-belief to tell everyone that this is what I wanted to do. Helping at events like today allows me to spark that confidence in other girls who were just like me.'
Also inspiring our students are Beyond St Jude's CSY interns Winrose and Miriam. It was the first time they had seen our secondary students since they graduated from St Jude's in May.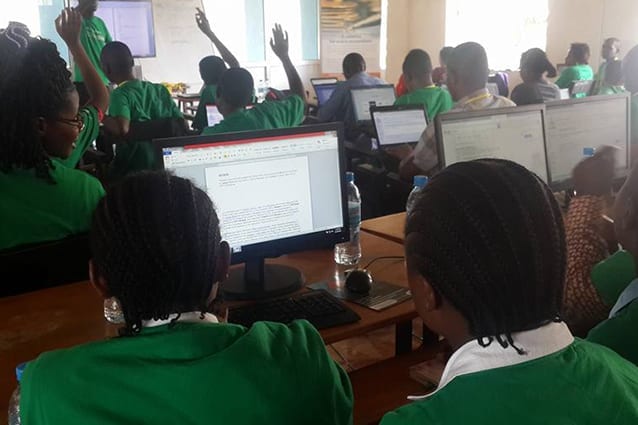 All hands on deck: Our students all participated to make this a successful workshop.
Miriam is now volunteering in our business office, where she is gaining valuable experience working in a professional workplace."It was so nice to tell the younger students what life is like after you leave school," she said. "I really enjoy working in a professional office and have learnt so much!"
Australia is beckoning in Winrose's future as she will be travelling with Gemma next year, spreading the word about St Jude's. She led a small team writing a Wikipedia article about Wi-Fi.
"St Jude's really gave me the confidence to think I can achieve anything," she said. "I like seeing students at events like today shine."
More than half of our students are women. Donate today to support more future female leaders in ICT and the sciences!
Replies