St Jude's is raising the standard of essay writing in Tanzania, with our students taking out six of the top 10 spots in a recent national competition.
Our talented students placed 1st to 3rd and 5th to 7th at the 2015 annual World Standard Day Essay Competitions ceremony in Dar Es Salaam. The competition is open to all secondary school students, college and higher learning institution students under 35 years and pursuing their studies in Tanzania.
The win is yet another example of how St Jude's is battling, and winning, Tanzania's education crisis.
Our students regularly win national and international essay competitions and are consistently ranked in the top 10% in national exams.
The achievement is even more amazing considering our students come from some of the poorest families in Tanzania, where only 7% of people have a secondary education.
Form 5 student Ayubu finished 1st, followed by 2nd-placed Pius (Form 5), 3rd-placed Arnold (Form 6), 5th-placed Denis M (Form 4), 6th-placed Denis T (Form 5) and 7th-placed Damson (Form 5).
Quietly spoken and shy about their achievement, the six students explained how they were able to complete their entries in just "a couple of weeks" after the competition theme was changed last-minute.
"Our essays were all about Standards: The World's Common Language," Denis T said.
The six students were proudly acknowledged and cheered during an afternoon assembly upon their return from the three-day trip to Dar, where they were accompanied by teacher Lightness Isojick. The top three were presented with high-tech rewards - Ayubu with a tablet for his efforts, Pius a laptop and Arnold a smart phone.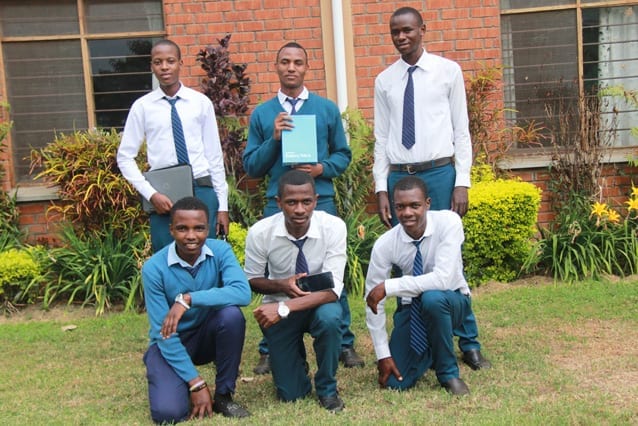 Lightness, who often coordinates academic competition entries for St Jude's, was very proud of how they performed.
"(The students) have done so well. Everyone wanted to know the secret behind our victory," she said.
Lightness responded by reminding people of St Jude's track record in the annual competition – six top 10 students in 2012 (including Denis T, who came second) and three last year (including Pius).
She said it would not have been possible without the support from school management, and so many individuals who can "share our students' victory, and that is the best reward we could get".
Help us create the next generation of Tanzanian leaders. Donate to The School of St Jude.
Replies