Zenith Media and Freudenberg show their community spirit by sponsoring the event.
Two Form 4 students, Eunice and Robert, took out first prize for their unique refrigerator project in the fourth annual St Jude's Science Fair, held on Saturday, March 29th.
The students made the refrigerator out of tiles, cement, charcoal and other materials and it is designed for Tanzanian people who don't have electricity in rural communities to use. Crops and other food can be preserved and stored in it.
It is a simple method utilising charcoals which are used for cooling and the tubes have porous holes to slowly leak circulating water. The tiles make the inside base for storage and the door is on top, while the double wall wire mesh allows the ventilation.
The students competed against many other innovative projects on the day, including a grinding machine which can be hand operated and used for juice and maize extraction while others developed computer software which could be used for online voting during African elections.
The judges granted the refrigerator first place based on its positive impact on society, its easiness to adopt because it doesn't involve electricity, the time spent on the task, the application of scientific theory and method, its simple design and low cost.
The students have spent the past few months researching and developing their idea of a refrigerator which differs from what is currently available.
Both were overwhelmed by their win and Eunice took to the stage to accept the prizes, giving a moving speech. "Science is like a body of knowledge that you have to use and know what you think is right to help the entire society," she said. "You really have to use all that you know and all that you have to bring changes in your societies."
As part of the win, they received 100,000 TSH and a trophy.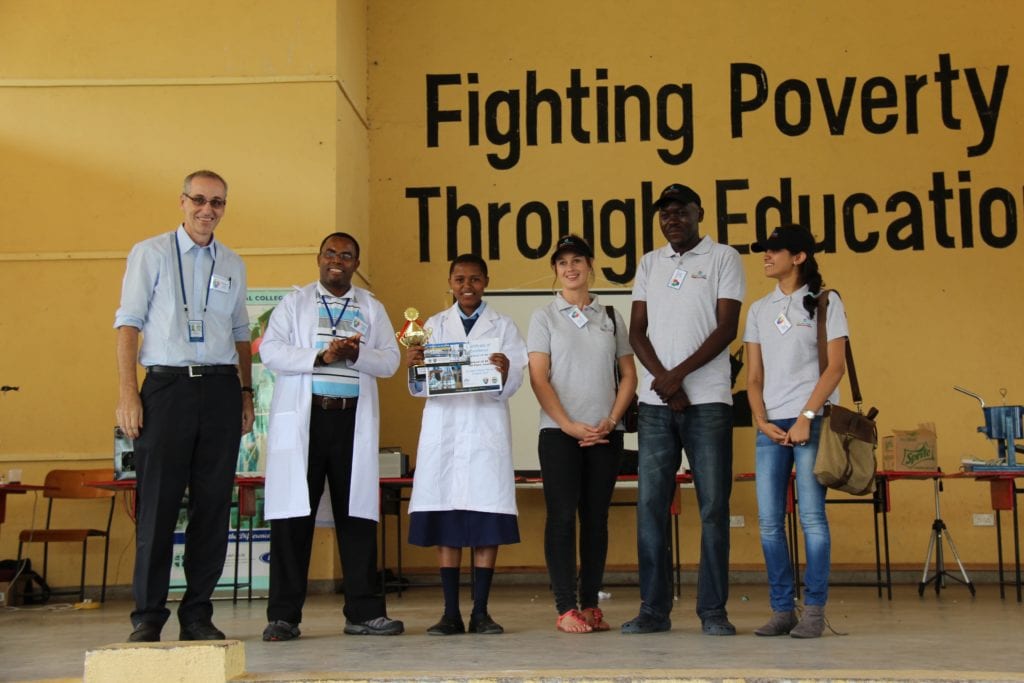 St Jude's secondary students continue to perform extremely well in science subjects, national competitions and exams.
"Across the school, two-thirds of our students now do science and love it and many want to become scientists, technologists, doctors or engineers" said Mr Mcharo, Head of Physical science department and Assistant Academic Master. "Our best winner for science fair last year went on to compete for the Tanzania Young Scientists competition and got national recognition with several awards as they ranked 2nd in technology."
The sponsors of the event, local company Zenith Media and Germany group Freudenberg, donated finances which went towards prizes on the day and science equipment for the school. Zenith Media hosted an engaging stall at the event, gave out merchandise on the day including pens, books and hats. They also had games for the students to learn and stay entertained.
"We're always looking for the people of tomorrow, they need to be creative and think outside of the box when working with our clients and we're very impressed by the projects the St Jude's students have designed at this year's science fair," said Richard Mwalyambi from Zenith Media.
Around 150 visitors attended the event including the Arusha Technical College Edmund Rice, Uraki, Soreny Star high and Nkoasenga secondary schools.
Replies