Hundreds of students from The School of St Jude proudly celebrated Tanzanian, African and other nationalities at its recent Cultural Day held at its secondary campus.
The students did a range of creative performances spanning from hip hop, modern and traditional African dances as well as drama pieces showing a tribal King's lunch and the hard work of African mamas.
"It was wonderful to see the creativity and imagination of the students," said St Jude's School Director Jon Ford. "It shows the wide range of skills our students have as well as the amazing academic achievements in the National Exam, including recently scoring 90 per cent Division 1 in the Form 4 mock exam."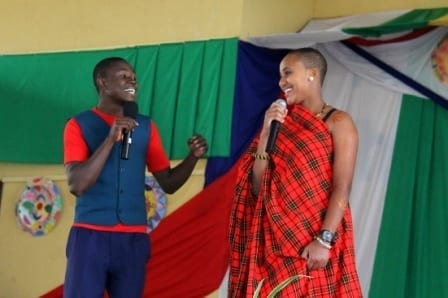 The fashion show was a highlight of the day with the students spending hours stitching together unique, colourful designs using kitenge, other East African fabrics and local produce including maize and leaves. It was a mark of respect for their culture but students also used Australian and US designs to show their appreciation of other nationalities.
"I used kanga, tissue paper, plastics and wood as they were local resources I could easily find," said Anastazia, Form 3 student at St Jude's. "My dad is a tailor so I feel sewing is in me as I love designing."
Anastazia's well-crafted clothes caught the eye of the judges and she won overall first prize and for her fashion label, Nyumbani Design.
Two talented St Jude's secondary musicians, Elisante and Dorcas put on a top performance and were surprised and excited to receive a recording session given by sponsor, Fnouk Studios, for their efforts.
"I was really impressed by the students' designs and performances and how Cultural Day builds a lot of confidence with the kids," said Sune Mushendwa, Director of Fnouk Studios.
The event's other sponsor, Kase Stores Ltd, gave book vouchers for the 1st, 2nd, and 3rd place overall winners.
Guests of honour included Miss Arusha Lillian Deus and Hisia, a Tanzanian singer and songwriter based in Nairobi who gave an inspirational speech on stage to the students about facing hard times in life.
"From an artist perspective, we have to do everything, when the road is rough and there are a lot of challenges, don't let the challenges get you down, shake off the dirt and keep going," said Hisia.
Replies