When Gemma first started building St Jude's she searched for ways to create an identity and character that would distinguish the school from others. It had to be a school that students could feel a sense of ownership of and take pride in. One of the initiatives was to purchase a school bus, but because funds were spread extremely thin, purchasing a bus would have to take extreme sacrifice. Richard, Gemma's husband, said to her, "You can't have a school without a school bus."
So Richard sold his Land Rover for a little white bus.
That little white bus would be painted royal blue and have "The School of St Jude" written in swirling gold across its body. For years "Little Blue" would carry hundreds of students to and from school battling unpaved dirt roads, four engine changes, countless tire replacements and numerous repairs. Little Blue would be retired in 2011 after nine long years of service. Its frame now rests proudly in the lower primary playground.
The St Jude's bus fleet has grown in accordance with the expanding student body. With 150 new students every year for the last ten years, we've made it a high priority to maintain and expand our bus fleet, which currently stands at 22, serving over 1,600 students and more than 400 staff. Not only do the vehicles transport students and staff they also pick up produce, school equipment and building materials.
Every day our buses carry approximately 500 lower primary students and 150 staff to our campus in Moshono, along with 100 staff to our Smith Secondary campus in Usa River. Then on Friday, when about 500 upper primary students go home from boarding they are bused as well. Every six weeks, for mid-term break and end-of-term break, all secondary students go home too. These buses travel up to 45km away in some instances to get everyone home safe and sound.
For such a massive logistical operation, the buses go through 10,000 liters (2,700 gallons) of fuel per month. Our garage houses nine tradesman, a workshop supervisor, two mechanics, two apprentice mechanics, two panel beaters, one auto electrician and one welder. Thanks to numerous sponsors and donors over the past two years, we've been able to acquire five new Tata Buses that carry 50 percent more students and use 20 percent less fuel compared to other buses in the fleet. Most importantly we have 21 dedicated, responsible and safe drivers.
Having one school bus, let alone 22, is a blessing in Tanzania. Not only are we able to transport everybody safely to and from school everyday, there's a sense of pride you feel when you see one of the colorful St Jude's buses stroll along in Arusha.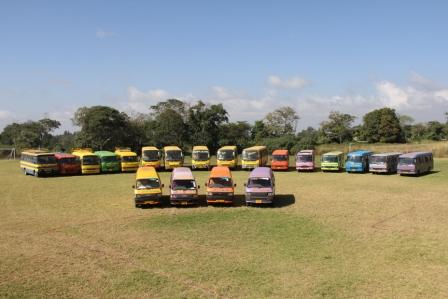 As part of our Annual Appeal, you can support the St Jude's bus fleet by purchasing a seat on a bus, or our new Flamingo or Colobus themed buses. Get your piece of the St Jude's puzzle and help transport our students and staff safely everyday!
Replies