Almost a quarter of young women aged 15-24 today (116 million) in developing countries have never completed primary school and, consequently, lack the skills necessary for gaining meaningful employment (source: UNESCO).
Those who miss out on going to school soon lose hope, and are forced to give up their career aspirations. Yet, when you 'educate a woman, you educate a nation;' (old African proverb) and some special St Jude's students are making sure that Tanzanian women won't be left behind in their mission to fight poverty through education.
Joyce, Christina, Irene, Martha and Monica are passionate about empowering women. Their idea started off as a seed when they held an exhibit at our Careers Day on the importance of giving women a voice, and displayed inspirational quotes and pictures of women from across the globe that are making their mark on society.
"We held a workshop, telling girls about their rights and that they're powerful even if they are not educated," said Irene.
However, our students knew that there was a female empowerment message which needed to be spread far and wide in their communities. In nearby villages, many young girls are dropping out of school for a range of reasons including falling pregnant.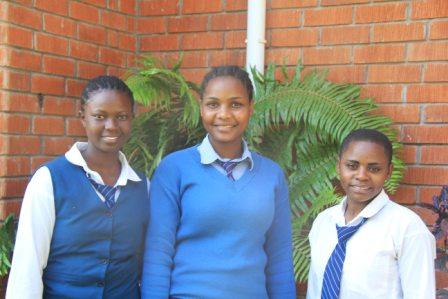 To combat this, the girls have used their own initiative and recently held a forum about topical women's issues at a packed church in Arusha. They divided the topics into two categories; for women it was 'Women and the family,' while for girls, it was 'Girls, do you understand yourselves?' They wanted to get rid of the sensitivities surrounding both topics so women of all ages could have a frank discussion on what needs to change or improve.
"We also talked about managing your income if you're not employed; at least do something so you can get an income. In addition, we also talked about health and maintaining peace in the family because sometimes you  find  it is an issue in some African families," said Irene.
The issues began to run deeper, though, as the girls encouraged the younger women at the forum to be comfortable about their appearance. "I talked to the girls about their black skin and most of them don't think it's good enough or presentable, and I told them that they should be proud of the colour of their skin and that they should never use chemicals to lighten it," said Christina.
The students also talked about natural beauty, health, nutrition and taking care of one's self.
The forum took a different turn, however, when men decided they wanted to be a part of it. "That was something that was really interesting during that day. We thought it'd be a few women there when we started, but eventually we saw men coming in to give their opinions," said Joyce. The church became very full and people of all ages were contributing their ideas and input to the forum.
The forum was a big success and the pastor of the church praised the girls on their program and the information they passed on to the audience. Their project is continuing to flourish and they are now planning to head out to visit girls and women in rural areas of the Arusha region, including in the Maasai land.
"We will go to those areas and tell them how they can succeed in this life, because no matter what their age is - 30, 50 or whatever - they can still do something with their lives," said Joyce. "Their age doesn't matter; what matters is their willingness and motivation to do something.
Replies