Amani started at St Jude's in 2005 when he was 10 years old. Throughout his schooling, he was well-respected by staff and students alike, and although he graduated from Form 6 in 2016, and moved to Zimbabwe for university last year, he has continued to inspire his classmates and younger students.
Amani is a shining example of how St Jude's academic scholarships change lives.
Raised in a local orphanage, Amani grew up with many other children and thought, for a while, he might like to become a teacher because he enjoyed passing on skills and techniques he learnt from excellent staff at St Jude's.
"The teachers at St Jude's did more for us than most teacher's in Tanzania. Learning well requires more than just having a book and resources, you also need strategies," Amani reflected.
As Amani grew, he found his niche in science and mathematics subjects and has decided he would best contribute to society by becoming a medical practitioner in Tanzania.
"Tanzania requires excellence in the medical field and this way I will help people in great need. My dream is to open my own medical laboratory and create employment for people."
Amani is well on his way to achieving the dream. He graduated from secondary school and earned a scholarship through the School's partnership with the MasterCard Foundations Scholars at African Leadership Academy, which has enabled him to study a Bachelor of Medical Laboratory Science at Africa University in Zimbabwe.
Prior to beginning his university course, Amani participated in Beyond St Jude's Community Service Year as an intern in our Beyond St Jude's team. This valuable experience empowered him to demonstrate independence and work ethic.
"University is different from school, but St Jude's made me feel prepared. They taught us always to be humble, but proud and because of that, I am so proud of who I have become. I am lucky to have many friends and they encouraged me to apply for university student elections, but I want to focus on my studies and just lead by my own example," Amani said.
With wisdom beyond his 23 years, Amani is eager to use his knowledge to help others in need. In his summer break, Amani has returned to Tanzania to complete a Community Action Project for his university scholarship and is voluntarily teaching academic techniques, like those he learnt at St Jude's, to children living in Arusha's orphanages.
"We must respect everybody, whether they are older than us or not. People are equal and these children are my younger brothers and sisters. I would like to teach these children self-discipline so they can work hard and reach success, and be proud of themselves too. St Jude's taught me that. I am so happy when I teach them because we all learn from each other," he shared.
Amani recalls his Form 6 Graduation ceremony whenever he is looking to find inspiration and motivation.
"I could never have dreamed of going to university before I came to St Jude's. I was just focused on getting to secondary school. Then I realised on the day of Form 6 Graduation that my dream was coming true."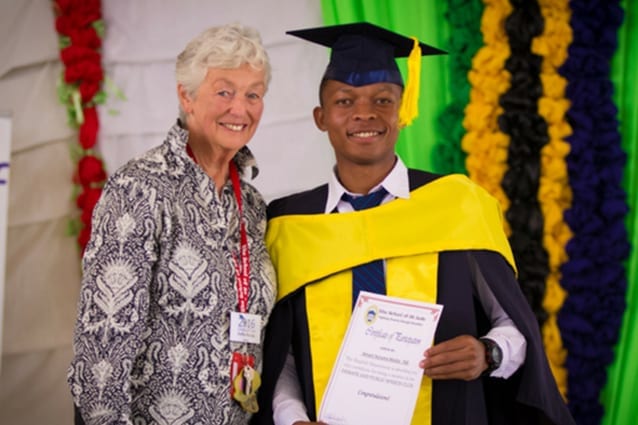 "I felt so happy on Graduation Day. My sponsors came to the ceremony with my uncle. I felt like I had gone from having no parents, to having many! My sponsors were so familiar to me. They always wrote to me and gave me words of encouragement. I felt complete when I met them," he smiled.
"I remember I was interviewed one day at school, and I said I wanted to grow up and be a good citizen and be able to financially support myself so I could give back. That is the big dream still."
Amani's almost there. In just a few years, he will graduate into a profession that will potentially see him helping thousands of Tanzanians. Supporters from around the world, who take our students hands, help them rise to meet their goals.
Give us your hand and sponsor an academic scholarship for the next young Amani!
Replies