Most teenagers treasure their sleep-ins, but 22 St Jude's students prefer to start the weekend soaking up sunshine among a bounty of fruits and vegetables at our Smith Campus shamba (farm).
Between 8.30am-12.00pm most Saturdays, farming tools slice through crisp morning air and the buzz of our chirpy Shamba Club rings across seven acres of lush harvest.
The club was formed in January this year and is overseen by Mr Ernest, the Head of Service at Smith. Students in the Shamba Club help to nourish their peers across our three school campuses.
"The shamba has really helped because we cultivate the vegetables and we are assured of the quality," Mr Ernest explained.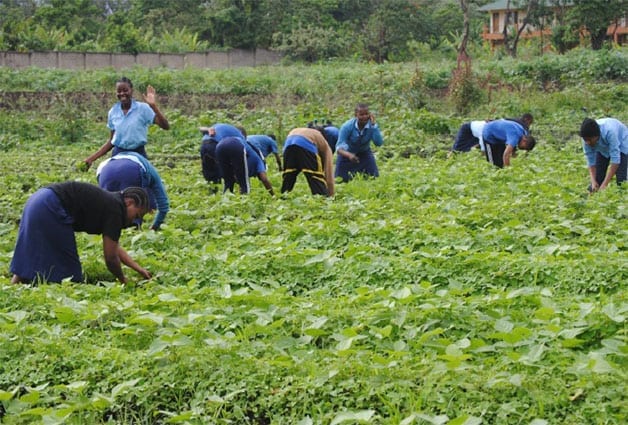 "When we buy the vegetables from outside, we are spending money. So if we are able to produce fruits and vegetables by ourselves, it is a great thing.
We can use what we have.""We grow eggplant, sukuma wiki (collared greens), cabbages, bananas, sweet potatoes, mangoes and tomatoes and other seasonal fruits and vegetables," Mr Ernest enthused. 
As well as feeding our hardworking school community, students involved with maintaining the shamba attain valuable life skills and learn appreciation for their environment.
Denis in Form 4 helped with weeding on his village shamba, and being part of the St Jude's Shamba Club has piqued his interest in agriculture.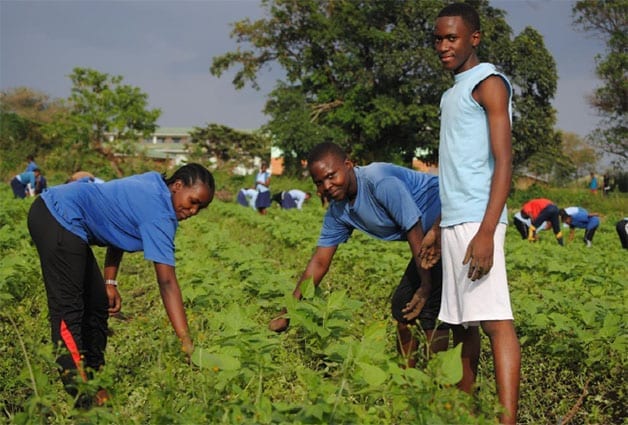 "I feel very happy because we can take what we have planted and nurtured. You have heart to give more and more, so you can get more and more," Denis said.
"After we have planted and harvested, we give the food to the kitchen and all of us eat it. They distribute produce to Moshono and Moivaro, so we feel proud because we can give to the younger ones. When they grow up, they can see where their veggies were from."
And it isn't all hard work for the eager environmentalists; the Shamba Club enjoys their bonding time, too!
"We sing songs to motivate us to do more and more and we don't get tired or bored quickly. We talk and have fun. You can't always just be in the class studying. This gives us different activities and we get to know things. Even when we go back to the village, we can have something to work on," Denis shared.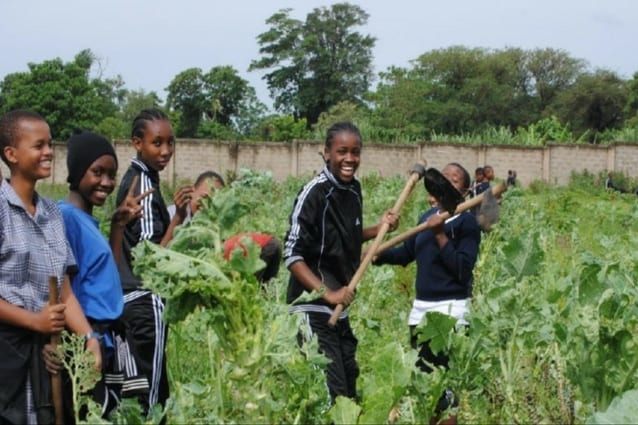 Working on the shamba gives students a chance to serve both their school and local communities. Indeed, the agricultural industry is the backbone of Tanzania's economy, employing 67% of Tanzanian workers.
"Most of us studying here have shamba back at home, so with these skills we can improve our family farm. Also, we can help different people learn about the techniques of farming," Denis said.
Importantly, Denis also feels that working on the shamba has heightened his sense of responsibility.
"We live in this environment. If we make it dirty, diseases may rise, so we should be caring and careful of our environment; we are living in it and it's living with us. We give to it, and it gives to us. You can see our school is beautiful and we want it to stay beautiful."
Would you like to sample some vegetables from our shamba? Come and visit us! 
Renatus spends a lot of time in the St Jude's infirmary, but it's not because he's ill. In fact, the Form 4 student uses the space to prepare a medicine which combats cold and flu symptoms.
According to the World Health Organization, respiratory diseases are a leading cause of death in Tanzania.
Renatus makes his medicine using organic produce. So far, he's helped 10 people – seven of his friends at The School of St Jude, and three people in his local community.
"I started the project earlier this year because my brother was sick for two months with a throat and chest problem and the medication he used wasn't working. I wanted to come up with a different way to help him and help society in general," Renatus said.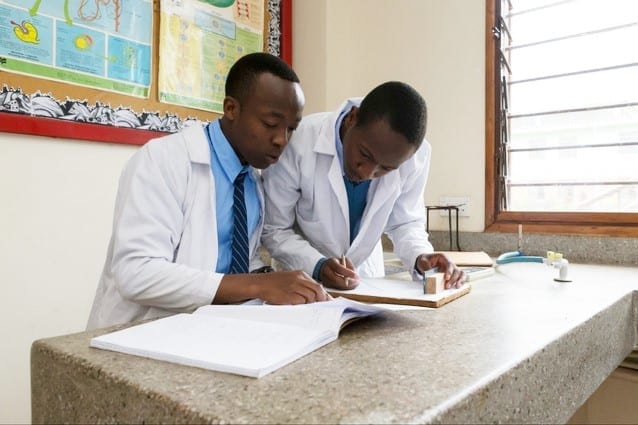 Renatus conducted a lot of research before starting his project and in doing so, he learnt about Tanzania's healthcare system. As a result, he's determined to make a positive difference to his fellow Tanzanians.
"Many medical services aren't available in our country, so some people have to go far away to find assistance. Tanzania needs good doctors. I believe I will be one of them someday. I want to be a Neurosurgeon, and I want to produce medical products," he explained.
The compassionate, young, science enthusiast is determined not to let any challenges overcome his willingness to help others.
"I am trying to determine how to preserve the medicine, so the people using it can do so for three days at morning, afternoon and evening. I would like to speak to a doctor at one of the big hospitals in Arusha to see if I can find out how to overcome this difficulty."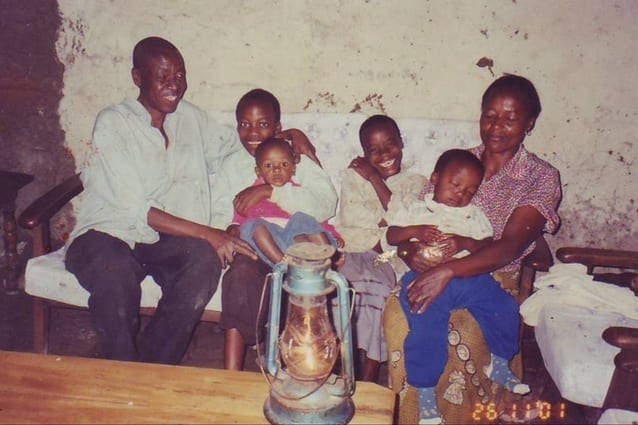 Renatus's eyes sparkled as he spoke about the kinds of people he admires.
"I am inspired by those who work and struggle hard for what they want, such as American Neurosurgeon, Ben Carson. People like this inspire me because even though at certain times in life I have faced difficulties, it is possible to overcome them," he assured.
Renatus says he owes a lot of his dream-making to The School of St Jude.
"The school is providing me with the supplies I need and it has become easy for me to work on the project here at school."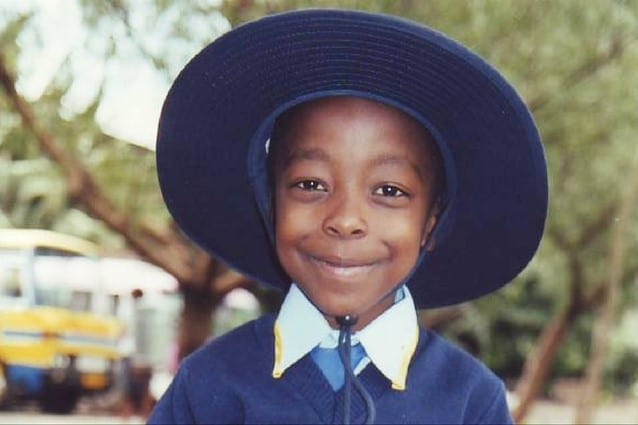 So far, everyone who's tried Renatus's home-made remedy has praised him for his efforts.
"Renatus has already reported a very good progress with fellows who have tested [the medicine]. While this is impressive he may need an expert's advice to know what he needs to focus on as he progresses, and how to do documentation. I am looking forward to hearing what he says next," said Academic Coordinator, Mr Mcharo. 
"I want people to know that Tanzanians can make our own medical products and when one tries to do such a thing, we must encourage and support that person," Renatus said. 
Have you come down with a cold or flu this season? Consider a visit to St Jude's so you can try Renatus's organic medicine for yourself!
Aspiring athletes from every corner of Tanzania come together each year to participate in UMISSETA – the Union Sports Secondary Schools Competition. 
The month-long event enables students from private and government schools to interact, share skills and compete as friendly rivals for ultimate success as national champions! 
Many 'shooting stars' from The School of St Jude attended the 38th annual event, and met with phenomenal success! More than 10 of our students progressed to the national round, after several weeks of fierce competition against local teams. 
Jovina in Form 4 is one of St Jude's team captains. She hopes to encourage other young people to pursue an interest in sports.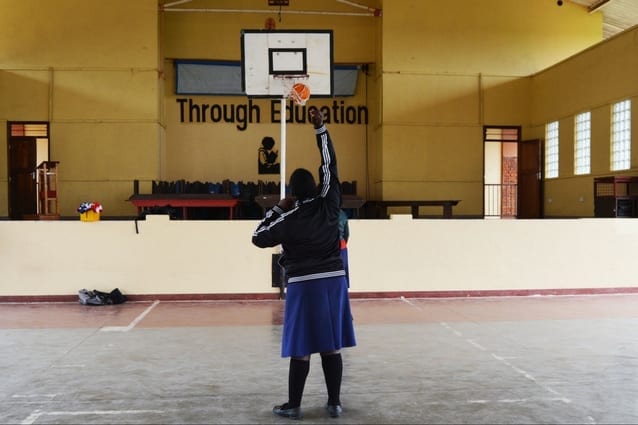 "I admire Mr James, our PE teacher. I want to join the national basketball or netball team so I can promote my talent and help other kids. I will teach them to be a good player and teammate," Jovina said. 
The talented netballer stunned peers and spectators with her impressive goal-shooting abilities. 
"She is perfect. She never misses," said Frank, a fellow St Jude's regional champion. 
Frank's outstanding talent on the volleyball and handball courts earned him a place in the National round.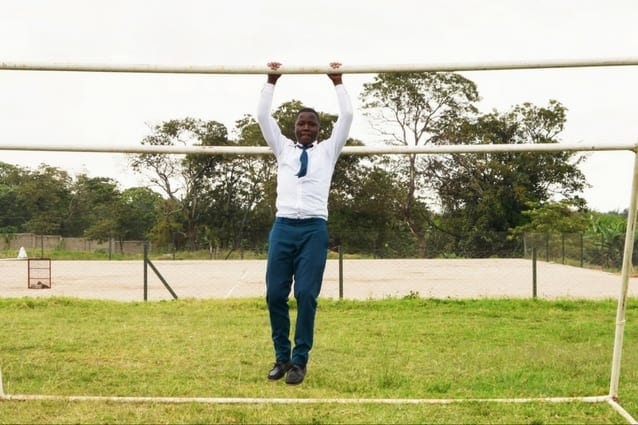 Like Jovina, Frank was inspired by Mr James, who trained the students and supported them during the district, regional and national competitions. 
"Mr James was more than great. First, I was so happy when he called us to join the competition. I was just proud to be part of it. Another thing is that he provided equipment for us. I didn't have any sports shoes, so he gave me some." 
"We really appreciate the help from our teachers and everyone who helps The School of St Jude," Frank added.  
As well as formidable skills, the students needed tremendous will and stamina. The training regime was no walk in the park. 
"They had to wake up at 5am every day to train at the competition. They would have tea break and then go back to training. They break for meal times and then practice," Mr James said. 
"I climbed many hills!" giggled Emiliana, a Form 4 basketballer. 
Her motivation?
"I want to be like Brittany Griner [US women's NBA champion]. I saw one of her [televised] matches and she was really good," Emiliana said. 
Although the students didn't place in the national round or progress to the East Africa Secondary Sports Competition in August, their hopes haven't been dimmed.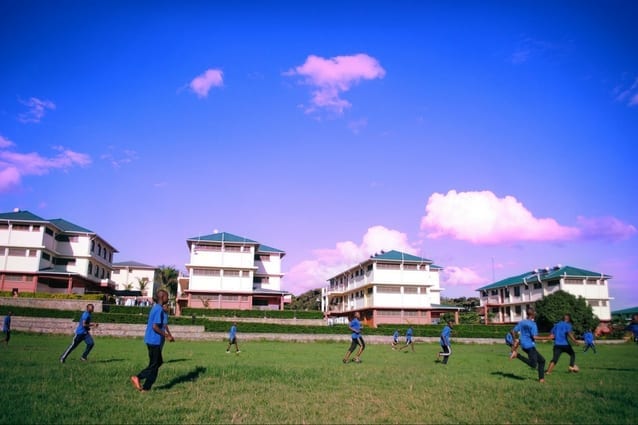 "A big challenge is competing against better players. It makes you feel like you are not capable, but fear gives you the pressure to keep practicing and improving so that we can be our best like them. That is how you get to the next stage," Frank insisted. 
"We want to say thanks to our supporters for how you have helped us. We are so very happy," Jovina added. 
Thanks to the generosity of our school's supporters, our students will continue shooting goals in all kinds of arenas. You can help us by making a donation! 
If you had to choose between facing death, seeing a spider or speaking in public, which would it be?
There's no argument over which option some of our young leaders would choose!
Public speaking is commonly ranked as the number one phobia, but students at The School of St Jude are suited up in an armour of cool confidence and delectable diction. Watch out, parliament!
English teacher, Mr Elisa, believes Debating Club is a way for students to improve their leadership skills and that it helps them practice English in a fun, unique way.
"The students enjoy the competition – it makes learning a new language exciting!" Mr Elisa enthused.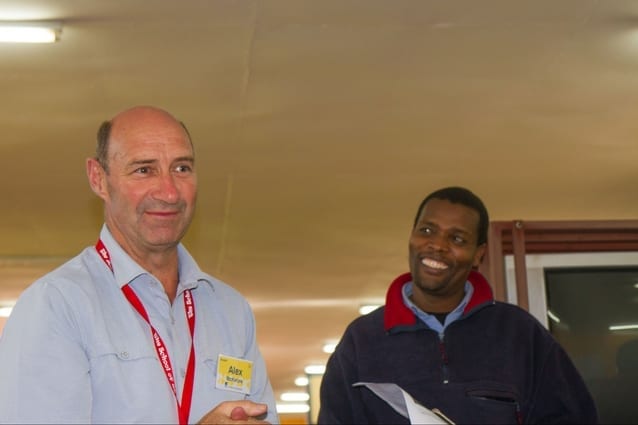 During Graduation Week, Standard 6 students impressed our international visitors with their quick wit in a two-hour series of debates.
Topics on the table ranged from 'rural life is better than urban life' and 'education is better than money', to 'boarding school is better than day school'.
Student Council Secretary, Faith, stood with poise and spoke eloquently as Madam Speaker of the debate. It was her job to choose the winner of her round – that 'teachers are better than robots'.
"The opposing side said that robots just give students motivation. Children need to also have love to be motivated, and teachers give love. So we decided that… teachers are better than robots!"
The audience couldn't agree more. Our international visitors wildly applauded the brave students, who humbly accepted the praise.
"I do debating because I would like to be a leader in the future and I love to speak in front of people!" Faith giggled.
Faith's debate-mates, Nice and Rahim, couldn't agree more.
"Debating gives me the courage to share my feelings. The teachers who help us are confident and we learn from them as well," said Nice.
"When you debate, you gain knowledge, hear many opinions and learn about differences," Rahim added.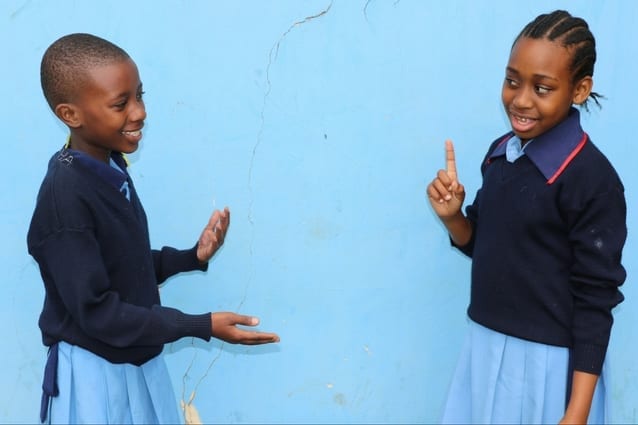 Whether for personal growth or leadership pursuits, our students are determined to use their 'gift of the gab' to serve the community.
"I want to increase my confidence because if I am to become a leader, then being a good speaker will help me express the wishes of the people I want to help," Faith explained.
Mr Elisa knows Faith's commitment will serve her well.
"Faith's English is especially good because she is always speaking and practicing her skills."
Fearless Faith and her friends are only 12 years old and already they've conquered one of the world's most terrifying tasks! With a St Jude's education under their belts, there's surely no podium too high for them to reach – we can't wait to see what else these young leaders will conquer!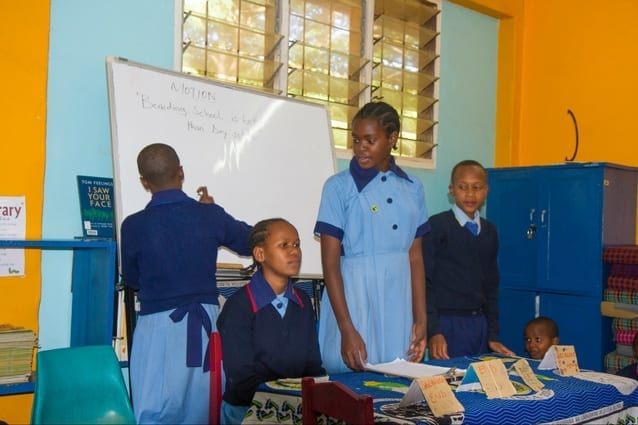 Consider a visit to The School of St Jude, where you'll take part in the action and get to meet some of Tanzania's future leaders!
Meet Pat & Willis Sutliff: Rapid City Rotarians, parents, grandparents, longtime supporters of St Jude's and members of 'The American Friends of The School of St Jude'. 
It's been 15 years since the Sutliffs heard Gemma speak at the Rotary International Convention in Brisbane – for them, it was 'support at first sight!' 
Pat and Willis have visited St Jude's multiple times, advocated for the school in America and sponsored three students.
Last month, the kind and humble pair visited us to see their sponsored student and Community Service Year intern, Robinson. They also came to share in the Graduation Week celebrations with their fellow Rotary club members and visitors from around the world.
The proud sponsors were excited to hear about Robinson's year, mentoring and tutoring St Jude's male boarding students.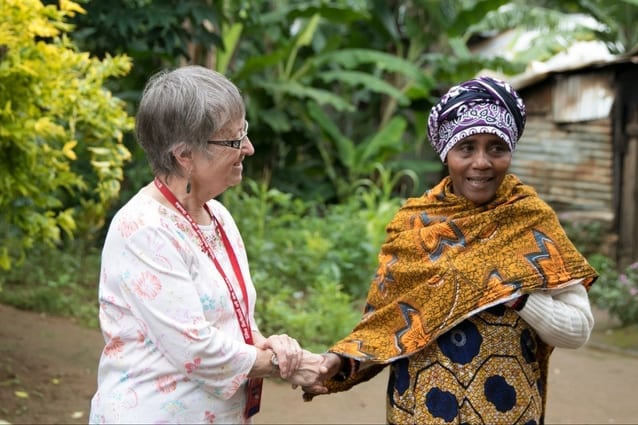 Their biggest highlight however, was a bumpy bus ride with Robinson, a translator and skilled driver.
The St Jude's mini-bus was bogged on the way to their home visit, delaying the journey, but Pat and Willis were determined to get to Robinson's house on Arusha's outskirts. 
The experience gave Pat an appreciation for our students' tenacity. 
"During the drive, you see how far Robinson travels to reach the school, the state of the roads between the school and his home, and where he must walk to so he can catch the bus," Pat said.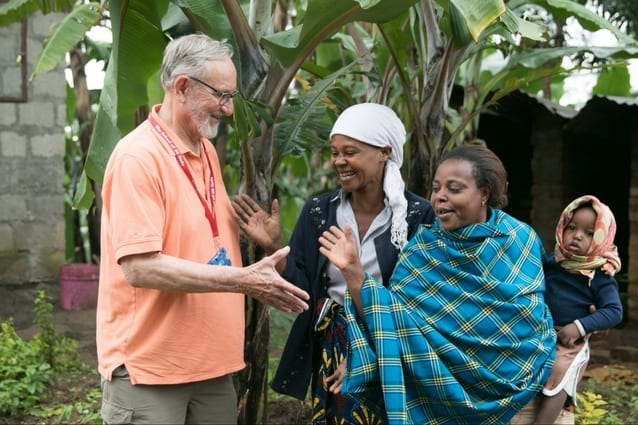 "The home visit is a very special chance to meet a student's family. When you arrive at their home, it is very humbling – this proud child with you is working so hard to overcome poverty."
Robinson's mother and many neighbours rushed to greet the Sutliffs when they arrived and performed the Maasai vigelegele – a ululated song of welcome and celebration.  
"During a home visit, you have a chance to share your pride of the student with people who love them. Seeing their gratitude and how much the whole family, as well as neighbours, value the student's education is truly amazing," Pat and Willis said. 
The Sutliffs walked away from the experience knowing just how much of a difference their support makes.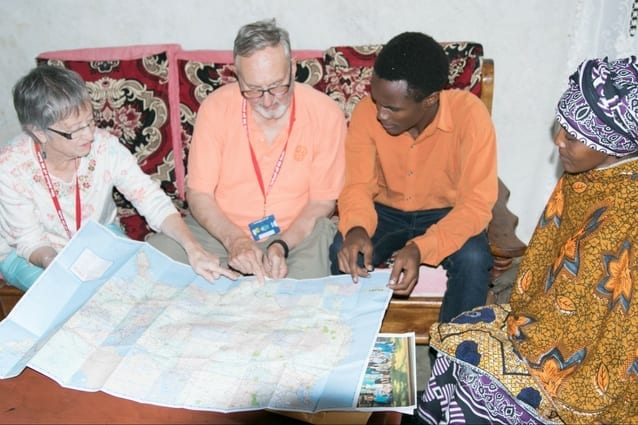 "We are very lucky to be part of this young man's life. We have so much and they have so little as far as material things are concerned. But, he has great determination and is working hard to have a better life for himself, his family and his community. 
What Robinson is doing with his life is very inspiring."
"The home visit really cements a special bond between you and the student you support." 
You can have the same impact as the Sutliffs on one of our students - check out our sponsorship program today!
Two months ago we welcomed a new staff member to St Jude's - Meet Maddie!
The curly-haired wonder hit the ground running - literally, running - after our students and staff.
As a Communications Officer, she is charged with supporting our fundraisers and sniffing out the best stories she can to share with our school community.
Maddie's St Jude's story had its start seven years ago in a South Australian high school classroom, where her teacher played the 'Africa Calling' - Australian Story episode.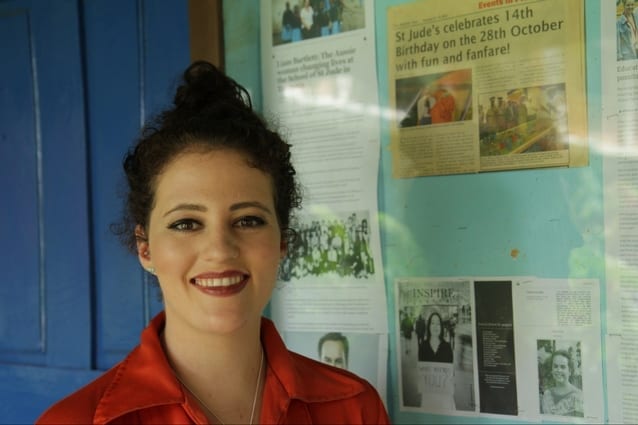 "Mum and Dad raised me with a solid work ethic and moral compass. They always encouraged me to be kind; to believe one person could make a difference. Learning about The School of St Jude as a teenager brought that message home to me," Maddie recalled.
"I was taken by the story of everyday Aussies, rolling up their sleeves and giving something a go. They did it without knowing what would happen years down the track and the opportunities they'd be giving to exceptional children who are in great need," she said.
With the story of The School of St Jude firmly planted at the back of her mind, Maddie set about making a difference, however she could, to young people in Australia.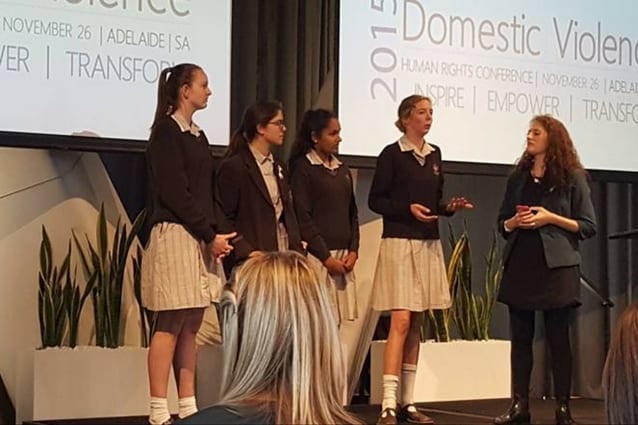 While completing university, she worked part-time for the Sisters of Mercy and at St Aloysius College in Adelaide, facilitating their Social Justice Program.
"I love communicating a message in a way that motivates and promotes action. I got to do that every day with students in Australia, and now I do it in a different way at St Jude's!"
What drove this young go-getter?
"Passion for the cause propels me. There's nothing more inspiring than a resilient attitude – gritting your teeth and getting an important job done, even if it's hard.'" she said.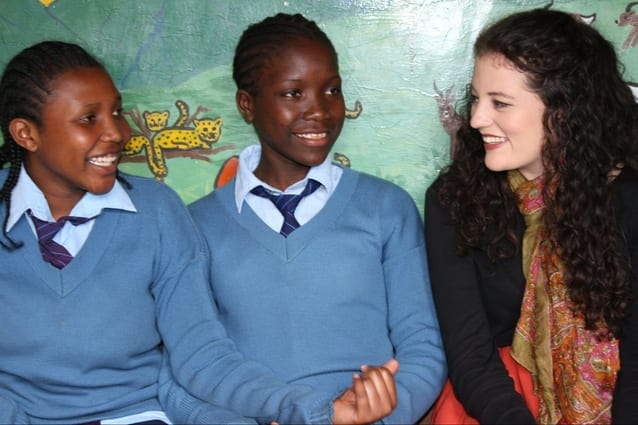 The little seed sewn years earlier finally saw the sun, when Maddie received a phone call from her Mum late last year.
"If it weren't for Mum, I might not have had the courage to apply. She phoned me when she heard about St Jude's for the first time on 60 Minutes and said, 'You need to find a way to get involved. This is so you.'"
"I gave it a few days' thought, visited the school's website, saw the advertisement for Communications Officer and sent in my application," Maddie grinned.
The rest, as they say, is history.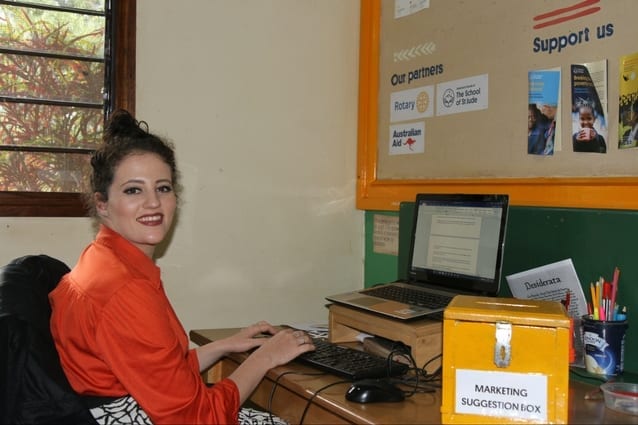 "After finding out I got the job, I went online to see if Gemma and Winrose were planning a visit to Adelaide on the March tour. They weren't – but, they were booked in to speak at my best friend's church, literally a stone's throw away from her home in Melbourne!"
"I wanted to visit loved ones there before leaving Australia, so the timing couldn't have been more perfect."
Maddie went to the talk at Holy Saviour Church, Glen Waverley, where she met Gemma and her now-friends and colleagues, Carla and Winrose.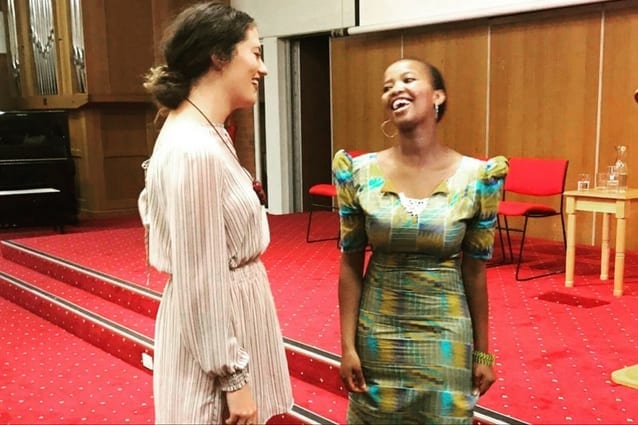 "People representing St Jude's and all in the crowd who'd visited, spoke about the school with a twinkle in their eye and a burning passion that warmed my spirit. Everyone, regardless of age, race or religion, is united by a shared vision of 'Fighting Poverty Through Education,'" she insisted.
The woman who inspired that vision is thrilled to have Maddie on the team.
"Maddie is doing a WONDERFUL job here at St Jude's. Her Head of Department can't stop raving about her! It's great to know that this is such a win-win," Gemma affirmed.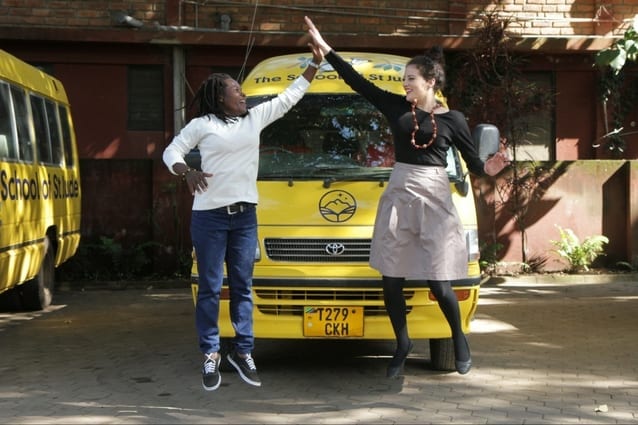 When sixteen-year-old Maddie watched 'Africa Calling', she had no way of knowing it would be her first call to Africa.
"Coming to St Jude's was a leap of faith that sent me soaring. There's nowhere else I'd rather be." 
Do you want to help 'Fight Poverty Through Education'? Join us today!