"Good afternoon, Mr Kephas!" sing 25 seven-year-old students as one. They are sitting in the shape of a horseshoe, their feet dangling from wooden benches, not quite touching the ground.
Mr Khepas breezes into the classroom, laughing, his arms spread wide. He is wearing a suit, with a light blue shirt and polished shoes. This is an unusual outfit for an art teacher.
"People wearing suits are usually lawyers or accountants," he says. "But as an artist, you can wear a suit."
Surrounding him is his Standard 2 class for the afternoon.
"What will we be doing today?" asks Mr Kephas, holding up a piece of paper with an outline of a shirt sketched onto it, as a clue.
The students rush to answer, eager to impress the popular Mr Kephas.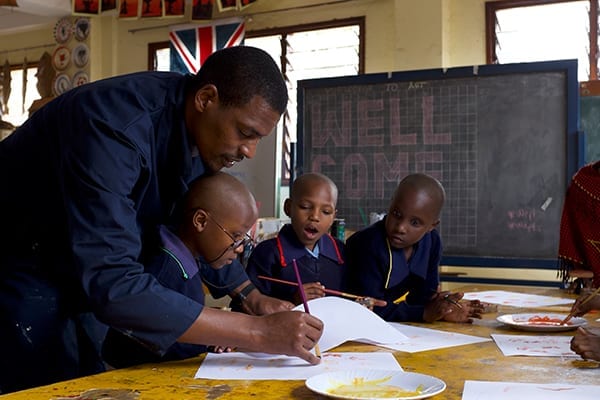 "Printing!"
"Pressing!"
"Stamping!"
"Yes!" says Mr Kephas triumphantly. "What do we say for great responses?"
"You are a superstar! You are a superstar!" the class say in unison to the students who gave the correct answers.
From a young age, Mr Kephas knew he wanted to be a teacher. At the age of fifteen, he began running classes for his cousins and neighbours out of his home in Mianzini, teaching not just art, but also science and mathematics.
He has now been working at St Jude's for seven years, having first heard about the school from one of his friends.
"I come from a poor background," Mr Kephas shares. "So when I discovered that St Jude's provides a free education for poor children, I knew this was a great thing."
When Mr Kephas was a boy he would sit on the ground, using sticks to draw in the dirt, boxes to make cars, and discarded plastic bottles to build models of houses. Occasionally his mother would find paper for him to draw on.
"I express my feelings and my ideas through art," he says.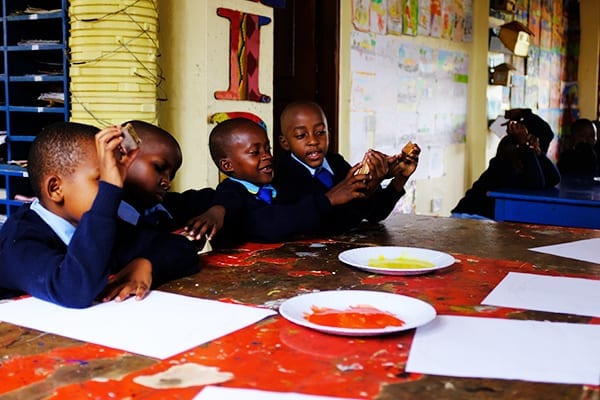 This is an idea Mr Kephas aims to extend to his students, by providing a sense of belonging in the classroom.
"What they do is what I display in the art room," he says. "It's not what I do. It will help them feel that this is the place where they belong."
The art room is an explosion of colour. Lining the walls are depictions of lions, elephants and rhinoceros; hanging from the ceiling are whacky designs of handbags. At the front, on the blackboard, it reads "WELCOME!" written in bright, pink chalk.
Mr Kephas distributes the paint, and hands out the stamps with carved images of echidnas, platypuses, koalas, and boomerangs, adding some Australiana to the typical Tanzanian selection.
In the corner sits a boy named Brayan. He is particularly eager and the first to begin, breathlessly covering his paper with stamps of echidnas.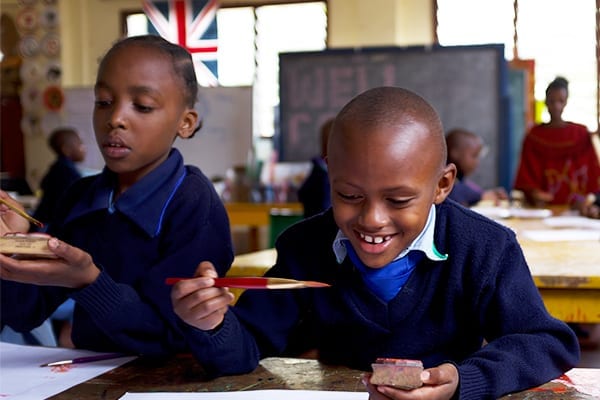 Seated next to Brayan is Magreth who has covered her paper with possums. When Magreth grows up she wants to be a teacher just like Mr Kephas. "He always makes me laugh, and I learn a lot," she says.
Opposite Brayan and Magreth, is Isaya who is methodically working away. Isaya likes to entertain his peers by standing at the front of the class and telling them stories. Despite his storytelling skills, he aspires to be a doctor one day, "I want to help everyone!" he declares.
"Okay," says Mr Kephas, raising his voice above the thud, thud, thud of the stamping. "Time to hold up your work!"
The children surround Mr Kephas, proudly showing off their artwork, laughing and vying for his attention.
"Today, I am impressed with all of you," he says. "You will all get stickers. How many do you want – three?"
"Four!" cry the students. "We want four!"
Mr Kephas throws his head back, and laughs.
Without passionate, committed teachers, our students wouldn't get the holistic, quality education they need to become the future teachers and doctors they dream of being. Your donations make this possible, donate today.
Replies