It's eight o'clock in the morning and the air smells fresh from a night of rain. Outside the entrance of St Jude's are dozens of eager families who've turned up hours early, waiting for the start of Uniform Day.
Some of the children, who will be studying in Standard 1 and 2 this year, have formed a conga line. Others cling to the hem of their mother's dress. Newfound friendships that will last for years are already being made.
Over 1,000 hopeful applicants attended the selection day in July 2019 and today's group of new students are the result of a rigorous process that helps ensure the limited places available go to those most in need and with the attitude and aptitude to make the most of this life-changing opportunity.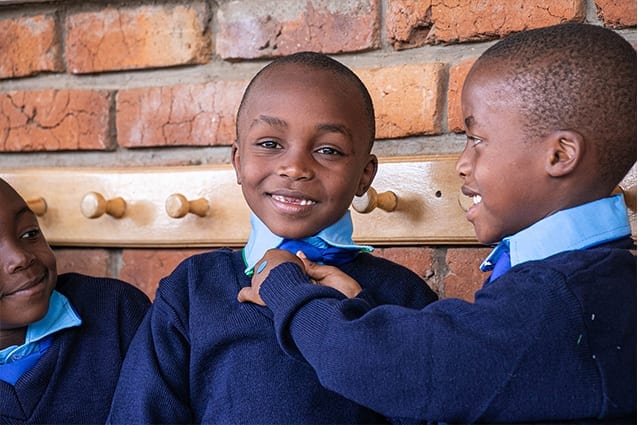 At nine o'clock the day commences. First stop, school photos. One girl named Fauzia decides to strike a pose. With one hand on her waist, the other raised in the air, she grins audaciously.
"That's my girl!" calls Vivian, one of the staff members helping out, "We need girls with confidence!"
After photos, it's time for the uniforms to be fitted.
While adults tend to walk from place to place, children often run. Today is a day of running. The students rush towards the main school building and up the stairs, plopping down on long wooden benches. One by one their names are called out and they have their uniform fitted. For many, this uniform is the first item of new clothing they've ever owned.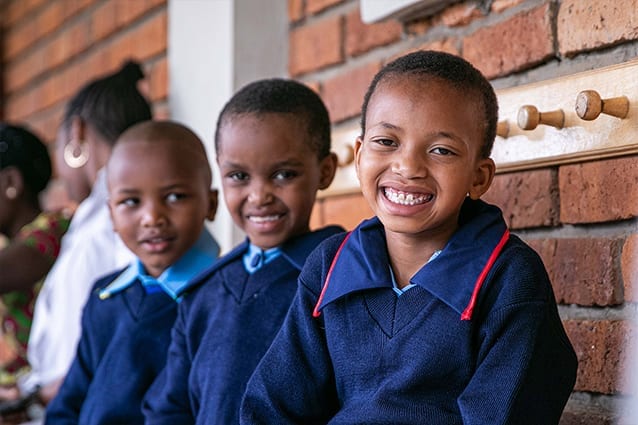 Arriving a little preoccupied is School Founder, Gemma Sisia. She's had a sleepless night, with one of her pet dogs giving birth to five puppies in the early hours.
As she walks past the smiling new students, she suddenly stops, recognising a girl with short hair and a toothy smile.
"Lightness!" she says excitedly.
As part of the application process, St Jude's staff members visit the home of future students. It was Gemma who completed Lightness' poverty check. While looking through a family photo album, Gemma noticed that Lightness was squinting at all the photos. Lightness needed glasses but the family couldn't afford to buy a pair. Yet, despite being visually impaired, Lightness was among the top two in her government school for academics. When Lightness starts at St Jude's she'll receive an annual health check by an international team of medical professionals and will soon have the glasses she needs to see properly.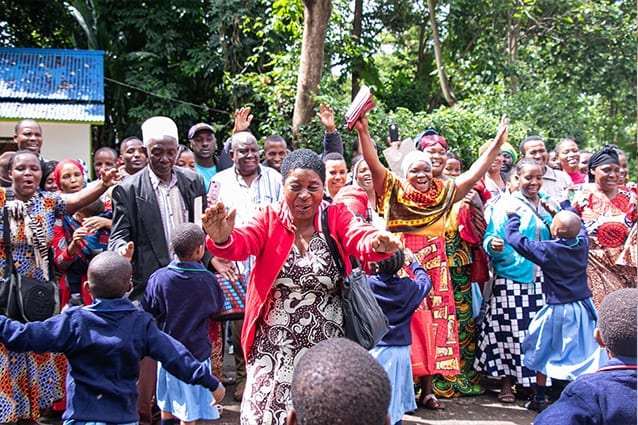 Sitting opposite Lightness, on a separate bench, is Fauzia, quietly waiting her turn. Out of the door strides Vivian. She crouches down in front of Fauzia, taking her hand.
"Fauzia – come with me!"
Vivian and Fauzia walk inside the room. Tables have been set that are creaking under the weight of newly stitched sky and navy-blue uniforms.
Fauzia begins trying on different dresses, finding her size. "What do you want to be when you grow up?" asks Vivian, watching on.
"A teacher," says Fauzia. "
What subjects will you teach?" "
All the subjects." "
That's my girl!" laughs Vivian.
Once all the students have been fitted, a blue wave of students sprint toward their families to show off their new uniforms. A father picks up his son, placing him on his shoulders, bouncing up and down. A mother smothers her daughter with kisses. A grandmother buries her face in her hands, the moment too much. All the while a group of St Jude's students have congregated, each of them armed with a drum and encouraging the children to dance.
Fauzia looks around and spots her teenage brother. The boy drops to one knee, welcoming his little sister into his arms
"This feels great," her brother, Yassin says, looking down at his sister in her new uniform. "I'm lost for words, I'm just so happy!"
Support new students, like Fauzia, by sponsoring an academic scholarship today.
Replies