Did you know that 61 African tribes are represented across St Jude's primary and secondary campuses?
Each year during September, the entire school celebrates the cultural unity of Tanzania and the beautiful, varied backgrounds from which our students and staff descend.
Julius Nyerere, the first President of Tanzania, set a bold example of strength in unity when he declared, "without unity, there is no future for Africa."
The founding leader of this country, which many of our students will become leaders within, believed that regardless of tribe or religion, Tanzanians are primarily united by their national citizenship.
Having founded Tanzania on this premise, he left a legacy of cultural harmony on a continent that, so frequently, is stereotyped as a hotbed of hostility and conflict.
With Nyerere's example underpinning the premise of cultural celebration, our 2018 Cultural Day was a colourful display of national pride and vision for the future.
Throughout the event, 13 groups of students performed entertaining arts showcases, ranging from Hindi songs to traditional ngoma dancing and fashion exhibitions.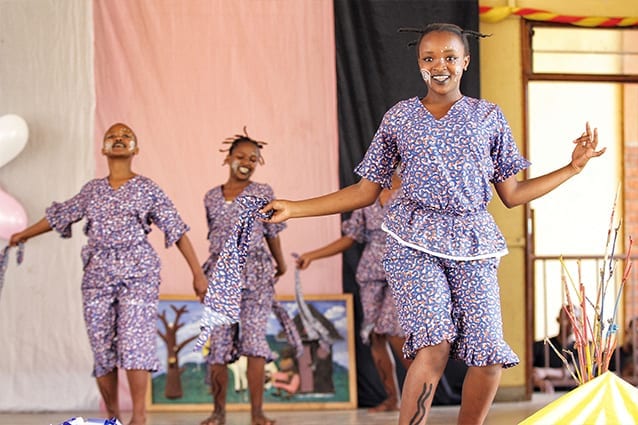 Mr Humphrey, Deputy Headmaster of Core Values and Operations, and Ms Irene, a secondary teacher, welcomed special guests to the event. Ms Irene officially opened the celebration with a stirring address.
"The theme of today is 'arts and culture promoting patriotism.' Culture is the total way of life, each community has its way of life, and we as Tanzanians have a way of life. The food we eat, how we dress, the language we use."
"Many Tanzanians adopt western ways of life. That is okay, it is progress, but we also have our own culture. You are receiving a western-style education, and will go out to the world, but please, you must remember, you are Tanzanian. We have our arts, traditional songs, drama, poems, our literature. Be broad-minded and read things from other countries, but remember to read about your own country."
"I am here to ask you to love your culture, love who you are, love your skin, your hair and your body. We have to love our country. No one will love this country more than we who are Tanzanian."
After the opening remarks, students between Forms 1 and 6 took to the stage to perform traditional ngoma dances and dramatic plays. Four student groups showcased cultural pride through visual arts and fashion exhibits.
One winning group in the visual arts category produced a captivating painting titled 'The Black Child'. It took out first prize in this category on the basis of originality, quality, and expression of cultural pride.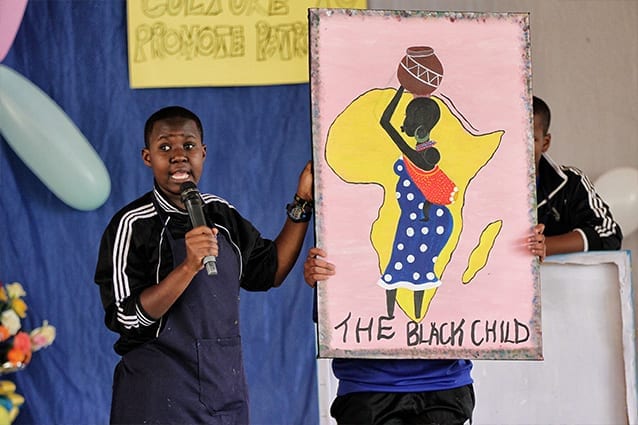 "This picture shows what it means to love your nation. This strong woman is a treasure to her nation, who is carrying her child. The child represents the future for Africa," group members explained.
An indisputable highlight from the day was a surprise performance from secondary staff! Mr Humphrey even took to the stage for a dance, together with cooks and teachers from a range of faculties.
The day concluded with a vote of thanks from Deputy Director, Angela, who called upon students to sustain a positive culture within St Jude's.
"Today has been a wonderful day to celebrate Tanzanian culture. As we know, there are many cultural areas within our lives, and school is one of those. Respect, responsibility, honesty and kindness are St Jude's school values. Let's all work together to make sure those values are always upheld."
Be a part of building St Jude's school culture by sponsoring an academic scholarship for one of Tanzania's future leaders.
Replies