Samwel and John in Form 4 have joined the ranks of Eric and Prosper, and are the overall winners of St Jude's Science Exhibition 2018.
Their invention of a solar panel which tracks and follows sunlight was deemed by the judging panel, comprised of St Jude's academic staff, to be one of the most technologically advanced they have seen.
Judging criteria was based on potential to positively impact society, environmental consideration, practicality and creativity.
Mr Mcharo, Acting Headmaster and esteemed physics teacher at Smith Secondary Campus, helped launch the first Science Exhibition in 2010. He said he is continually impressed each year with the calibre of entries into the exhibition.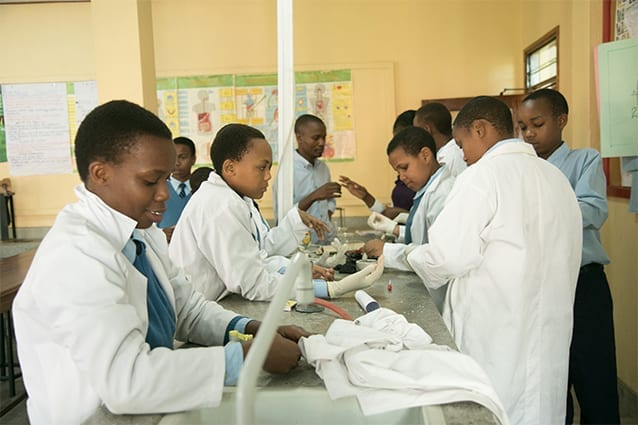 "The most important of any science exhibition is demonstration of skills. We are giving students the chance to demonstrate what they can do out of the classroom," he said.
Mr Mcharo had the honour of announcing Samwel and John as the overall winners this year.
"They have put a lot of effort and hard work into their project and we look forward to seeing how they progress in coming months. It is possible we may again receive national acclaim!" Mr Mcharo declared.
Samwell and John were overcome with pride when their success was announced in front of an audience of more than 700.
"Before we started, we thought we would just do our best and try to think of a project that will benefit others. This has made us so excited." Samwell said.
"Both of us hope that companies in Tanzania will take this innovation seriously. Reliable electricity is challenging to access in Tanzania, and our solar panel may be used in many industries as a generator. The battery is charged all day. The panel rotates east to west, meaning it is always catching some sunlight," John said.
"Through solar tracking, we reduce the costs of electricity significantly, which benefits everyone and the environment" Samwell added.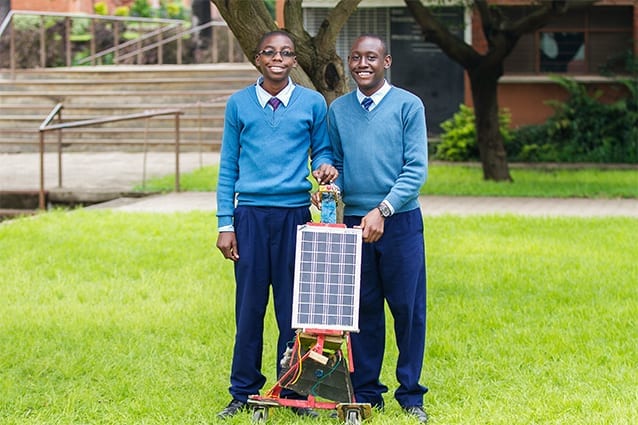 As part of their prize, Samwel and John will be selected to represent St Jude's at an upcoming science fair at Arusha's Nelson Mandela University. This opportunity will allow them to expand their knowledge and interact with students and experts working in Science, Technology, Engineering and Mathematics (STEM) fields across Tanzania.
"Undertaking this project has given me an insight into controlling different systems, which will be crucial for me in my future career as a robotic engineer," John said.
We look forward to updating you with the progress of Samwel and John's project as the year unfolds, and would like to acknowledge winners in all categories:
1st place: Automatic solar panel track (Samwel and John) Form 4
2nd place: Human waste hair recycling (David and Ojungu) Form 4
3rd place: Land tilling machine (Andrew Lenjima and Amir Rajabu Form 2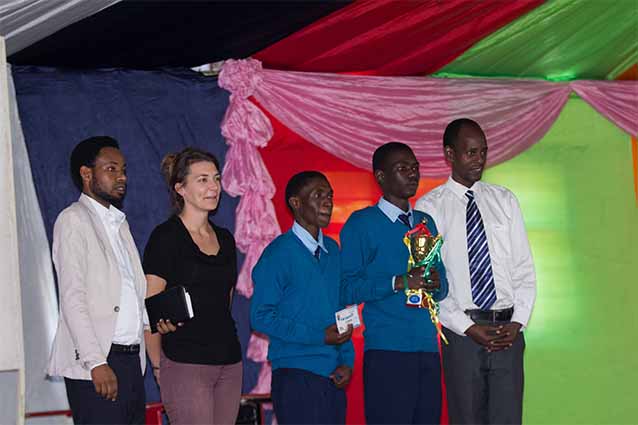 Category winners:
Science (lower primary): Drinking candle (Silvia, Ashura, Suleiman, Arafa, Maria) Standard 2
Science (upper primary): Egg incubator (Bahati, Shamimu, Jaclikne, Gwantwa) Standard 6
Chemistry: Poisons detector (Obadia and Elig) Form 3 Biology: Paper making from grass (Issac and Eliamani) Form 4
Physics: Electromagnetic generator for power saver (Jamal and Ramadhani) Form 2
Mathematics: Maths Games (Hadija, Juma, Benedict, Mulhatat, and Irene) Form 1
Geography: Land conservation and architectural design (Johnson and Ezekiel) Form 3
ICT: Labs inventory management (Francis and Evance) Form 5

Chairman Award: Recycling of plastic materials (Vicky, Irene, Fatuma, Danial) Form 3
Innovative Award (special award): Blind stick and E-book (Angela, Sharon, Juliana and Erick) Form 3
Any of these students may just be the next internationally acclaimed young scientist! Help them on their journey and share their story.
Replies