Increasingly, the best schools around the world are coming to the same conclusion; a holistic education that includes sports and arts alongside academics, helps students become well-rounded adults. Not to be left behind, St Jude's has re-evaluated the way we provide our students with a well-rounded education. Over the last 12 months, our popular Sports Program has been updated, modernised and expanded.
Mr Jenerali is the driving force behind St Jude's improved Sports Program.
"Sport is an avenue for students to let go, to get outside and de-stress, to burn a little energy. Then there's the social aspect of it as well. Students learn soft skills too; communication, grit, leadership skills, they learn to take responsibility and to see what they can contribute to the team," says Mr Jenerali.
A Driving Force: Mr Jenerali has spent the last 12 months revamping St Jude's Sports Program.
New Staff, News Sports
Until now, St Jude's students have participated and excelled in sports commonly played in Tanzania; football, basketball, netball, volleyball, handball and athletics. While these popular sports certainly have their place, Mr Jenerali was keen to diversify.
"It was important to introduce new sports," he explains. "Mainly it's about physical literacy. The philosophy of this program is about long-term athlete development. Younger students don't specialise in a certain sport, they do rotations every two months. It's all about fun and then they grow into specialising after a while. Then when they're older, they tend to be more active in sports, even after school. It builds enjoyment of physical activity."
Now, there is a year-round program of sports, which includes traditional sports in summer. In winter, students play martial arts, cricket, tennis, rugby and badminton. Athletics is offered all year.
To get these new sports started, St Jude's needed specialist coaches. Previously, three coaches taught St Jude's 1,800 students. Today, there are 22 coaches in addition to the schools' PE teachers.
These new sports have been enthusiastically received. In particular, martial arts has proved unexpectedly popular among secondary students. "We're actually struggling to have enough space for everyone who wants to do it," laughs Mr Jenerali.
Sensei Issa is the martial arts coach. He started at St Jude's just three months ago and has already seen improvement in his students. "Since they began taking my class, I have noticed progress. At the moment, I am teaching students how to defend themselves and I'm also working on getting them physically fit," he explains.
Since 2004, Sensei Issa has taught students privately, but he has enjoyed working with St Jude's. "I think St Jude's Sports Program is excellent," he says, "It helps makes sports more popular in the school."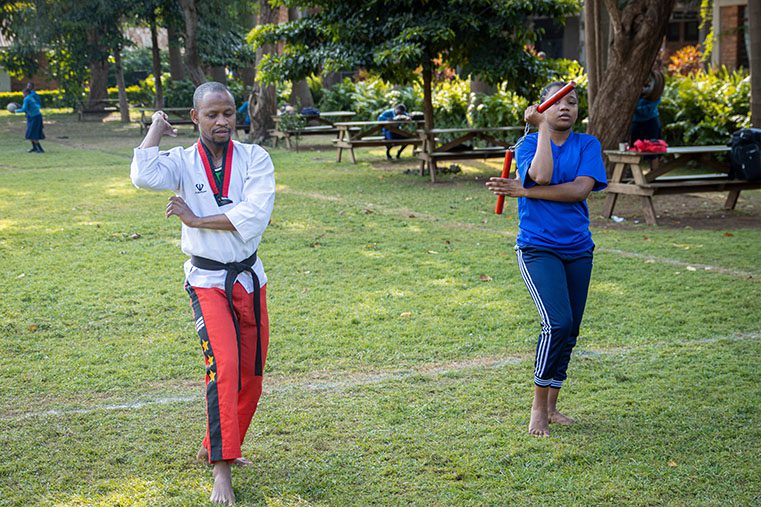 It's all fun and games
Students are enjoying their new-and-improved Sports Program. While not every student can be a star-player, everyone can have fun being active and learn from being on a team.
One such enthusiastic student is Costantine in Standard 5. In the summer, he loves to play football and during winter his favourite sport is athletics. He trains on Wednesday and Thursday afternoons and competes on most Saturday mornings.
"I like my athletics coach and I like training. It's really fun," he beams. "I hope one day I can be a professional football player. I play forward or mid-field and I am working on my speed."
Costantine agrees with experts who say that sports help students academically. "When you play sports you can stay fit and healthy, so you don't get sick and miss your studies," he says.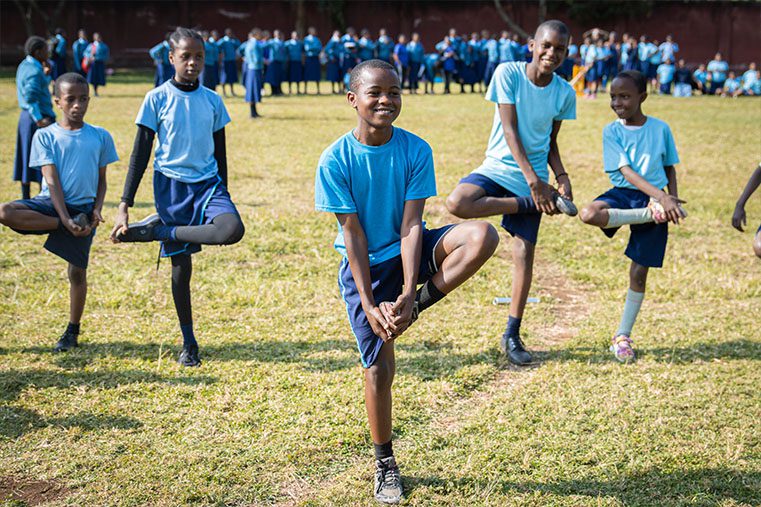 Over at St Jude's Girls' Secondary School, the new winter sports offerings have been welcomed by the students. Janet, in Form 3, is usually found on the basketball court, but this winter she's giving martial arts a go. "I like martial arts, it's really good. We can get fitness from it and also personal security," she says.
Her favourite part is using the 'dragon' implement as seen in the photograph above. "It is hard at the start. You might accidentally hit yourself many times, but then you learn," she laughs. "I feel more fit since I have started martial arts," Janet continues. "My mind is more fit too, when I'm in class."
One of Mr Jenerali's proudest achievements at St Jude's is, "…just seeing the enthusiasm from the students – that's a big reward for me," he smiles. Costantine and Janet are just two of the many enthusiastic students who make Mr Jenerali's job so rewarding.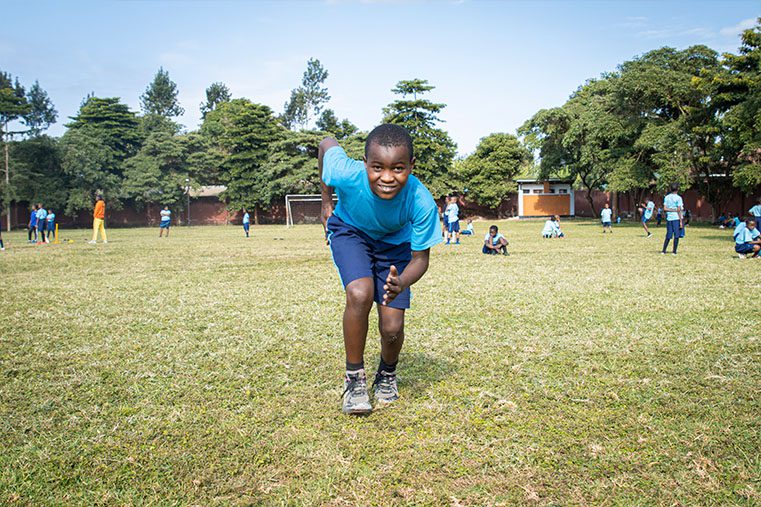 A Holistic Education
St Jude's is constantly striving to provide our students with the best education possible. Studies from around the world show that the best education is a holistic one; an education which includes arts and sport alongside academics. Our Sports Program is an important part of a holistic St Jude's education, which not only offers students an outlet but also complements their classroom studies.
You can donate to help St Jude's provide top quality extracurricular activities for 1,800 students in Arusha, Tanzania.
Replies